Sleepypod Review: Best Cat Carrier for Car Travel in 2021
In this article, I am going to review the Sleepypod Mobile Pet Bed. This may be the best cat carrier for travel on the market. Let's check it out!
At Simply Cat Care, we review products to help your cat live a happy life. In this review, I've analyzed the best cat carrier for car travel to help you find a safe way of transporting your cat. I am not a veterinarian and I recommend seeking the advice of a vet before making a purchase.
The Sleepypod Mobile Pet Bed is one of the best cat carriers for car travel. Unlike many cat carriers, this device is approved for car travel. It was certified by the Center for Pet Safety as safe for cats under 15 pounds. The carrier also doubles as a comfortable and attractive bed for use around the house.
Sleepypod is more expensive than other options on the market. For frequent car travels, the cost may be justified. There may be other ways to secure a cat to a car that include straps and handles.
In this review, I will be examining the Sleepypod Mobile Pet Bed safety features and whether it is a good cat carrier for car travel. Beyond that, I will look at some frequently asked questions around choosing a cat carrier. By the end of the article, you'll be able to make an informed decision on purchasing a cat carrier.
Keep reading to learn more.
PRODUCT DETAILS
Colors
Multiple color options available
Carrier weight: 4.5 pounds
Dimensions: 17 (L) x 6.5 (H) inches
Weight: 3 pounds
Pet weight limit: 15 pounds or less
Warranty: One year
Sleepypod Review: Key Features
Let's talk about the Sleepypod Mobile Pet Bed.
This product is designed as a premium car travel cat carrier. It is built for maximum safety, comfort, and style. It suits long car travels (e.g. cross country) or frequent car trips.
The Sleepypod is crash-tested by the Center for Pet Safety. When used properly, the cat carrier meets the secure safety standards for car travel.
The bed is also a comfortable resting space for your cat. It comes with an optional warming pad to keep your cat warm.
Let's look at some of the features of the product.
Mesh Dome
The Sleepypod comes with mesh windows on top that cover a wide range.
A cat carrier needs enough airflow for your cat to breathe. A soft cat carrier should contain mesh window exteriors.
Ventilation is especially important for car travel, whilst contained for long trips. Your cat should be as comfortable as possible and not under any stress. Sleepypods mesh windows are a great feature to help with airflow and comfort.
A hard-sided cat carrier should have a wireframe. Wire frame covers are, however, more dangerous (prone to cutting your pet) than quality mesh windows.
Top Load Entry
The Sleepypod's mesh window top dome is removable. This allows a generous amount of space for loading your cat securely to the Sleepypod.
Many cat carriers contain a top door that requires stuffing your pet in through a narrow gap. The Sleepypod allows for far easier entry, and the cat may hop into the carrier itself.
A front door is a nice advantage in many cat carriers. However, the way Sleepypod is built with a unique design allows easy top door access.
Ultra Plush Bedding
The best way to familiarise a cat with a cat carrier is by using it as a resting bed around the house. That way, they won't associate a cat carrier with a negative experience (e.g. vet).
The Sleepypod is perfectly equipped for daily comfort. The ultra-plush bedding encourages your cat to enjoy resting at home. The top door mesh window dome is removed to allow your cat to stretch out and get comfortable.
Many other cat carriers are too cramped or don't accommodate daily use. This leads to cats experiencing stress associated with use.
In addition, the bedding is machine washable with easy removal. This means you will never have a dirty and musty bed.
Crash Test Safety
Unfortunately, many cat carriers perform poorly under crash test simulations.
In 2015, the Center for Pet Safety (CPS) released a report evaluating the performance of a range of pet carriers for crash test safety. The CPS is a non-profit organization based in Washington DC.
The CPS carried out crash tests on a range of cat and dog carriers at speeds of 30 miles per hour. Many of the cat carriers failed to provide safety and security to the pet. Even more disturbing was the claim of products being crash-tested completely failing [1].
The hard plastic carriers performed worst, disintegrating and providing additional hazards [1]. If you want to be horrified at the performance of hard plastic carriers, check out the picture below.
The Sleepypod Mobile Pet Bed passed the CPS test with the use of a PPRS handilock using as 15-pound cat crash test dummy. The crash test dummy was contained and the carrier stayed connected to the seat of the car [1].
When the Sleepypod is secured correctly to the car, it provides rigorous crash test safety under typical urban driving speeds of 30 miles per hour or after.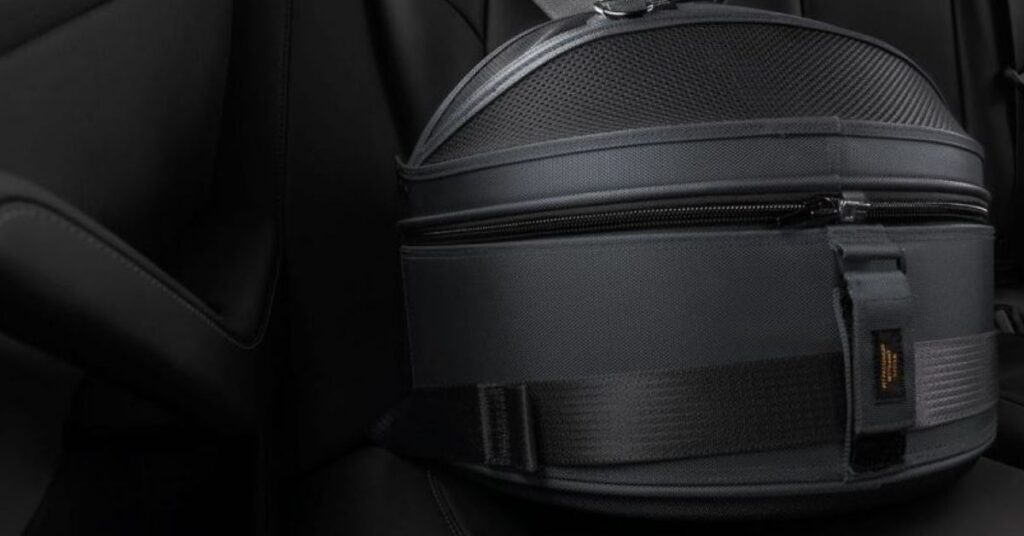 Padded Shoulder Strap
The best cat carriers are comfortable for pets and owners alike.
The Sleepypod carrier comes with a removable padded shoulder strap which gives allows for easy carrying. This is useful for people who are unable to hand-carry heavy plastic carriers due to injury or arthritis.
Unfortunately, there are no backpack options for the Sleepypod.
Warming Device
The Sleepypod warming device is an optional accessory.
This heats the Sleepypod carrier to 102 degrees Fahrenheit for maximum comfort. The device has a wall and cigarette adapter (i.e. for car travel).
Whilst this isn't an essential purchase, the device is another bonus for extra comfort.
Customer Reviews (Amazon)
OVERALL VERDICT
The Sleepypod is a sound cat carrier choice for style, comfort, and safety.
This cat carrier comes equipped with rigorous safety features which give you peace of mind for car travel at urban speeds. The bed comes in a range of colors to suit all your stylish needs.
The bed is lined with super plush for maximum comfort. This builds your cat's familiarity with the carrier as a resting bed.
Let's talk about the downsides. The product is steeply-priced, and may not suit those who only travel with their cat in emergency situations. The weight limit of 15 pounds is generous for most cats, but won't be suitable for larger felines. If you have a big cat, you may have to look elsewhere.
The product is crash tested under urban conditions (30mps) and will have reduced safety at high speeds. I don't recommend high-speed joy reading with your pet in any case.
The negative reviews frequently cite long-term durability problems with the zipper and only having a paltry one-year warranty. Frequent zipper use may wear down the product faster.
If the price is no barrier to the safety of your cat, the Sleepypod is a worthwhile consideration.
Frequently Asked Questions
What is the best cat carrier for car travel?
A safe cat carrier that is approved under rigorous crash testing conditions.
The Sleepypod with PPR Handilock passed safety testing under urban driving conditions.
Hard-cased cat carriers perform poorly under-car crash simulations. I recommend avoiding the use of most hard-cased cat carriers for frequent car travel.
Check out more about cat carriers for multiple purposes over in this article.
Do cats prefer hard or soft carriers?
It will depend on the cat.
Most will prefer a soft-sided cat carrier due to the increase in comfort. Most soft carriers come with soft mesh windows which aren't going to nick or scratch a cat causing injury. For cats that want to press their face against the opening for peeking, they will likely prefer soft mesh windows.
How do you travel long distances with a cat in a car?
Traveling with cats long distance is possibly a stressful experience for a cat.
Due to the higher speeds, I don't recommend traveling with a cat unless no other viable option is available. If you do travel with your cat long distances, then here are some suggestions for maximum comfort and safety.
Don't overfeed your cat before travel to avoid car sickness
Make sure your cat is secure in a safe cat carrier
Ensure the carrier is appropriately sized to allow your cat enough space to get up and move (the carrier should be 1.5 times the size of the cat)
Give your cat frequent breaks along the way to rest, eat, and use the toilet (consider a cat harness to walk outside)
Take your time with travel and make sure your cat is comfortable at all times.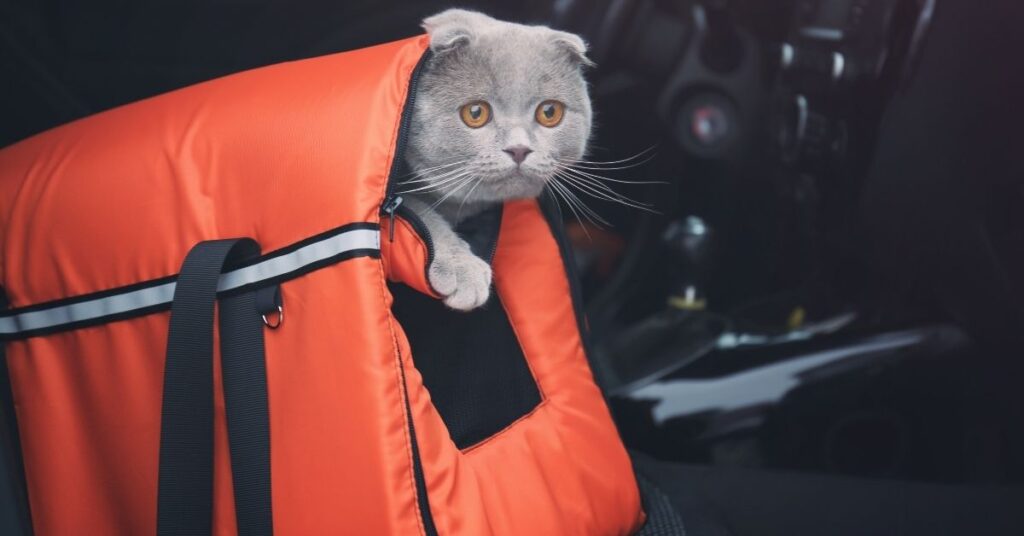 How large should a cat carrier be?
Cat carriers should be 1.5 times bigger than the average cat's size.
For example, if your cat is 10 inches tall, then the standing height of the carrier should be about 15 inches.
What should I consider when shopping for a pet carrier?
Make sure you take your time when buying a cat carrier.
Be sure to check the product on google for safety testing procedures. Many cat carrier manufacturers claim their product is crash tested and safe, however have not undergone independent testing.
Consider the other uses of the carrier and your physical capacity. A padded shoulder strap is a useful accessory for ease of transport.
Also, look at the comfort of the cat carrier. Remember, you want to use the carrier around the house as a bed to acclimate your cat (and not just tucked away in storage).
Make sure to measure your cat properly and ensure the sizing dimensions are correct. Also make sure the weight limit of the carrier is sufficient for your cat (e.g. if your cat weighs 12 pounds, the carrier weight limit should be more than 12 pounds).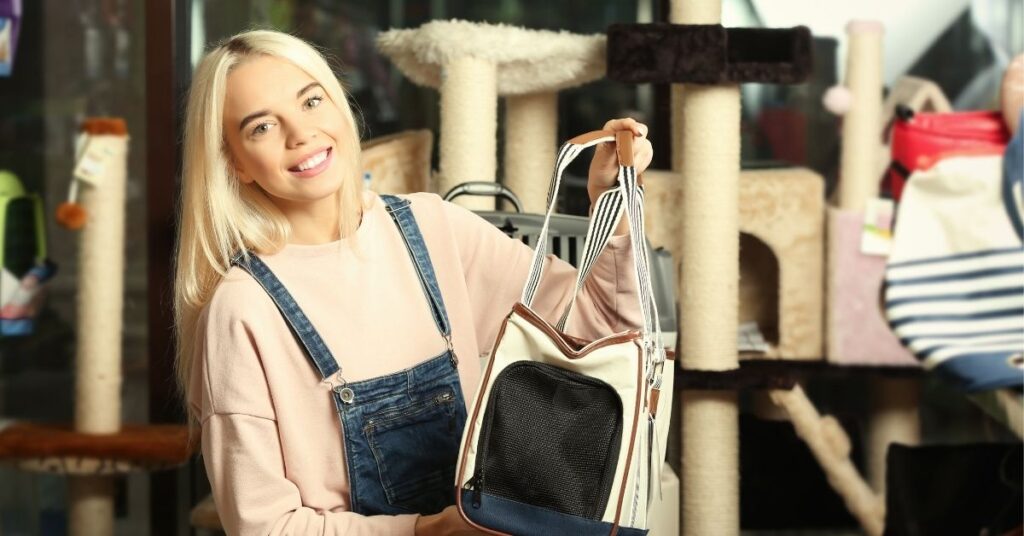 How to measure your pet to select the right carrier
Stand your pet upright and get out a measuring tape. Do the following measurements.
Length
Measure from chest to the rear
Height
Measure from the ground to the top of your cat
Weight
Weigh yourself on a scale with your cat and then by yourself – deduct your weight from the cat + person weight to get your cats weight
Use these measurements when deciding on a purchase, keeping in mind you should allow at least 50% more room on either side (e.g. if your cat is 12 inches in length, then have a carrier that is at least 18 inches long). Make sure your cat weighs under the specified limit for the carrier.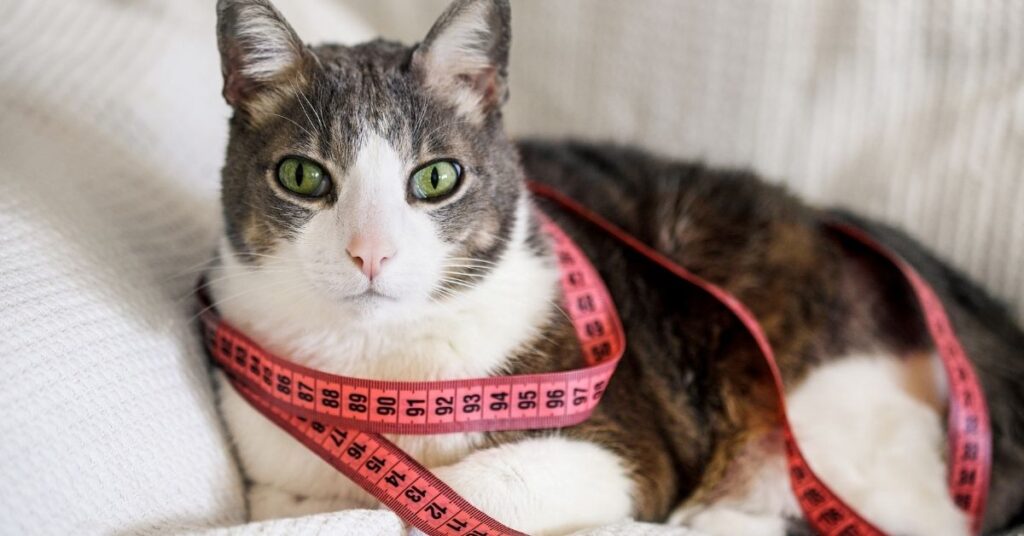 Which is the best cat carrier for long-distance car travel?
Make sure you select a cat carrier that has undergone rigorous crash testing.
Also, ensure you have properly selected the carrier for sizing as mentioned above.
The pet's safety is the most important thing. Make sure you take your time to find the product which fits your needs and purposes exactly.
I recommend consulting a vet for more assistance and recommendations.
Why should I get a cat carrier?
A cat carrier is necessary for car travel and emergencies.
In many states and countries, traveling without securing your cat is illegal. Check your local laws to ensure you know the requirements for pet travel.
Not securing your cat in a car is lazy and irresponsible. Make sure you take the time to investigate the options for you.
Can I use a cardboard carrier for a cat?
Cardboard carriers are only meant for temporary use.
This is usually provided when adopting a cat, as a bare minimum to ferry the pet back home. A cardboard carrier does not protect your cat in a car crash situation.
Make sure you take the time to prepare cat carriers ahead of time to ensure you are ready for owning a cat.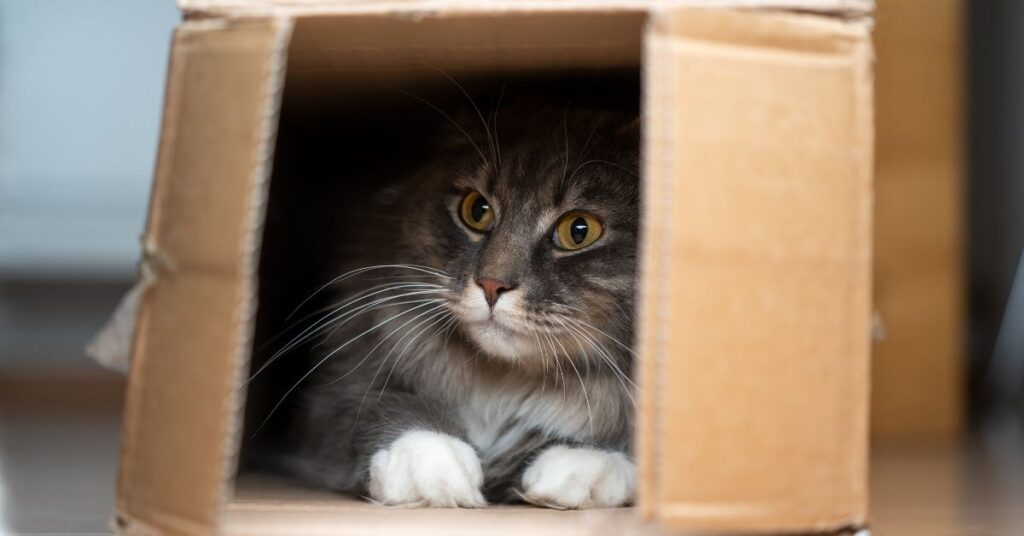 Conclusion
In this article, I've reviewed the Sleepypod Mobile Pet Bed as the best cat carrier option for car travel. I have also answered some frequently asked questions owners have when buying the best cat carrier for their needs.
The Sleepypod Pet Bed is one of the best cat carriers for car travel. This is due to certification with the CPS. The CPS tested the Sleepypod Pet Bed under urban (30 mps) car crash simulations with crash test dummy cats under 15 pounds. With proper seat belt securing, the carrier protected the cat. Many alternative soft-sided carriers disintegrated upon a car crash.
Sleepypod is a comfortable easy to carry carrier with an adjustable shoulder strap. The carrier also has a top-loading mesh ventilation window and attaches to a car seat via the use of a safety strap. The carrier has a heavy-duty durable design to withstand crash testing whilst being comfortable enough to use around the house as a bed.
The downsides of the product are the expensive price tag and a short one-year warranty.
When buying a cat carrier make sure you take your time to review the safety features of the product. Also, ensure you measure and size the carrier for your cat's needs. A carrier should carry your kitty comfortably with shoulder straps and a flat base. Some carriers also have suitability for airline luggage bag travel and could be further considerations for some owners.
Review your situation carefully and consult a vet for more assistance in purchasing the right cat carrier for your needs.
Verdict
The Sleepypod Pet Bed is one of the best crash-tested soft-sided cat carriers for a high level of safety and comfort. It's the perfect companion for frequent trips and emergency vet trips. It also doubles as a cozy bed for your cat to crawl into and rest. The carrier is easy to carry with an adjustable shoulder strap.
You can check out the Sleepypod Pet Bed over here.