7 Best Cat Litter For Small Apartments
Disclaimer
As a Chewy and Amazon affiliate, I earn from qualifying purchases. This does not impact our reviews and comparisons. We try our best to keep things fair and balanced, in order to help you make the best choice for yourself.
Living with your cat in a small apartment is pretty cramped.
Apartment dwelling cat owners tend to have problems with odor and tracking. What type of litter is best to stop this?
Large eco-friendly pellets litter work like corn best to stop tracking and can help control urine odor.
In this article I'll help you with the best cat litter for small apartments to keep your space clean and your cat happy.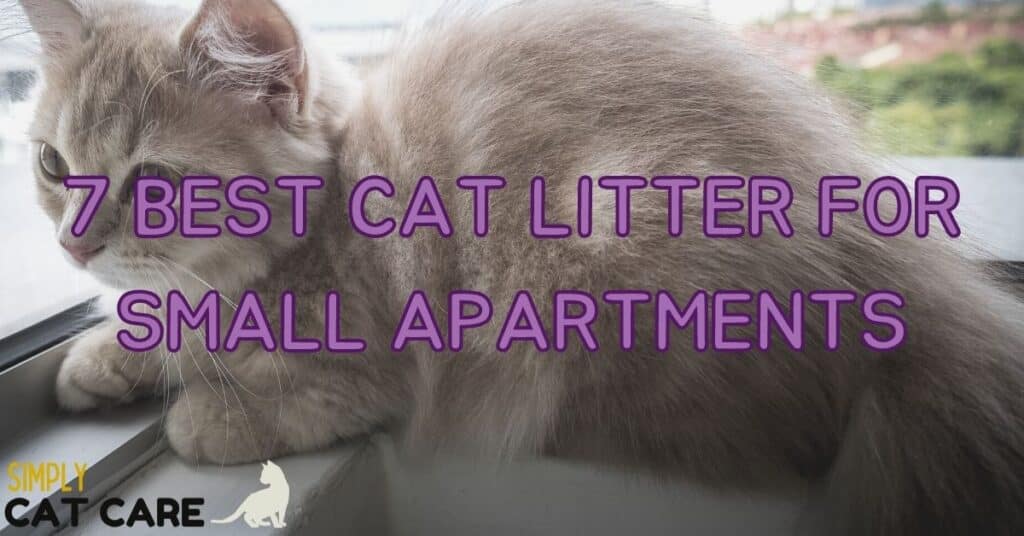 The goal of this website is to help cat owners learn more about taking care of their cats. I am not a veterinarian and I recommend seeking the advice of a vet for any further questions.
The advice in this article is not intended as medical advice.
Buying Guide
What's the best cat litter for small apartments?
Getting the wrong type of litter and litter box can make small spaces uninhabitable due to smell.
In this buying guide I'll help you when picking a litter to cut down on odor and tracking.
Odor Control
What's the best cat litter for odor control?
There's no real science on the topic or way to quantify what works best. Therefore, there's a lot of guesswork involved in choosing litter that claims to cut down on odor.
If your cat's litter box is smelly, they may experience frustration. This can result in symptoms such as:
Scratching the sides of the litter tray or floor
Hesitating before using the litter box (running around and pacing)
Going to the toilet outside of the box
The best way to control odor is to dispose of litter daily.
Litter that disintegrates on urine contact may be better as you can get rid of this waste.
Urine smells worse when allowed time to sit, as the urea waste product decomposes. Disposing of urine soaked litter is the best way to control odor.
Low Dust
For small apartments, natural litter such as tofu or pine litter creates less dust than clay or crystal.
Crystal cat litter is one of the dustiest litter choices. Clay releases silica dust that may be harmful to health. These options aren't the best choice for small apartments.
Look for customer review pictures or videos to check for a product's dust production.
Unscented vs Scented Cat Litter: What Should I Use?
Although it seems like a good idea to use a scented cat litter for small spaces, it's best to use unscented.
Research shows that cats prefer unscented cat litter. This encourages them to use their litter box without problem.
To keep odor at bay, it's better to focus on cleaning schedule. Make sure to clear the litter box daily and use a well ventilated area.
However:
It's your cat's decision that matters most and whether they are happy to use the litter.
One way to test this is to trial two different cat litters side by side using a 'cafeteria test'. Find out which cat litter your cat is gravitating towards and using more often.
It's your cats call at the end of the day.
Texture
The best litter for small apartments is something your cat wants to use. Texture is an important consideration, as cats have their preferred feel on the paw.
Most cats prefer a soft texture on the paws such as clay or crystal cat litter. Unfortunately, this type of litter isn't the best for small apartments as it gets kicked around more.
If you have a 'die hard' clay or crystal litter cat then you can try other ways to minimize tracking. Strategies include using a closed litter box (or higher sided), litter mat, or use an area away from carpet or main areas.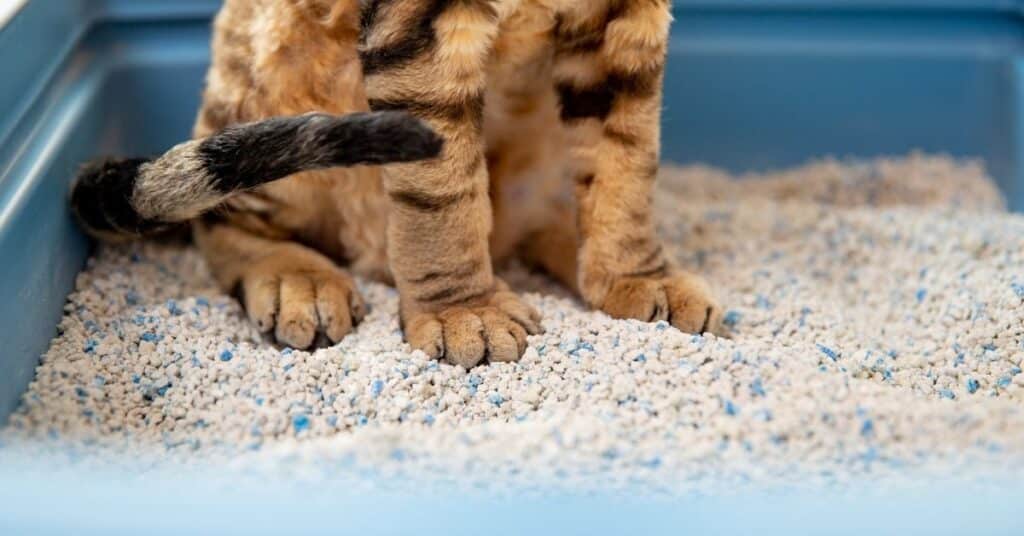 Should I Choose A Clumping Cat Litter For Small Apartments?
Clumping cat litter makes life easier for small apartments. This helps you clean out your cat's litter daily to keep odor at bay.
Most clay litters have clumping, which is handy for easy disposal.
Some natural litter choices like tofu litter, also form clumps. In general, though plant based products don't clump that well.
On the bright side, you can make disposal easier using a sifting litter box with plant based litter. A lift and sift system means you don't have to worry about whether the litter clumps or not.
Check out my article on the best sifting cat litter tray to learn more.
What's The Best Litter For Tracking?
The best low tracking cat litter for small apartments are large pellets like tofu, wheat, or pine. These types of litter don't get lodged in the paws as much as small litter.
Remember:
If your cat is a die hard clay or crystal litter lover you can stop tracking using a mat or high sided litter box.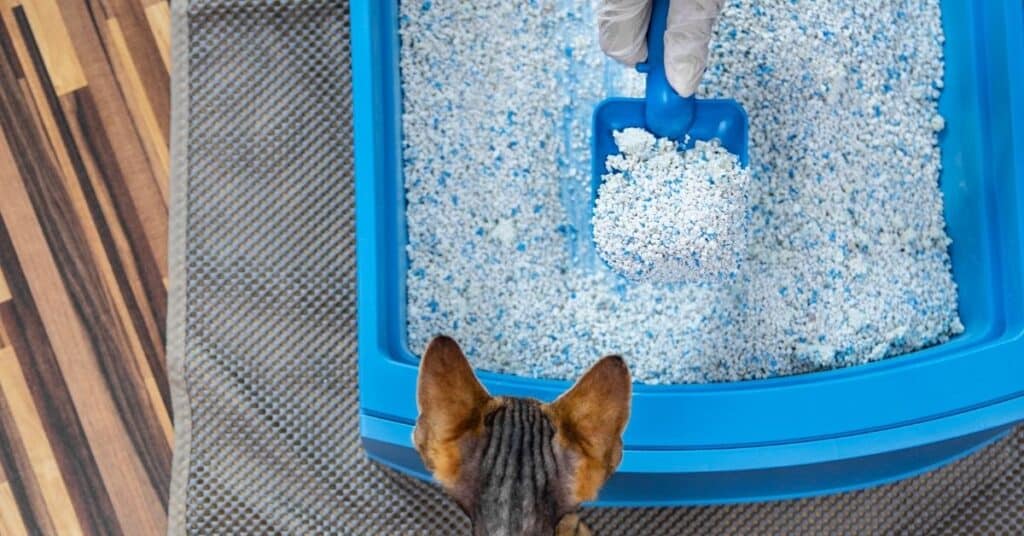 Frequently Asked Questions
How Do I Keep My Apartment From Smelling Like Cat Litter?
The best way to cut down on odor is to clean the litter box every day. If urine waste stays in the litter box, it gets smellier over time due to the break down of urea waste.
This works regardless of what cat litter you use and what litter box you use. A sifting litter box makes this process much easier to do this daily task as fast as possible.
Check out our best sifting litter box choices to learn more.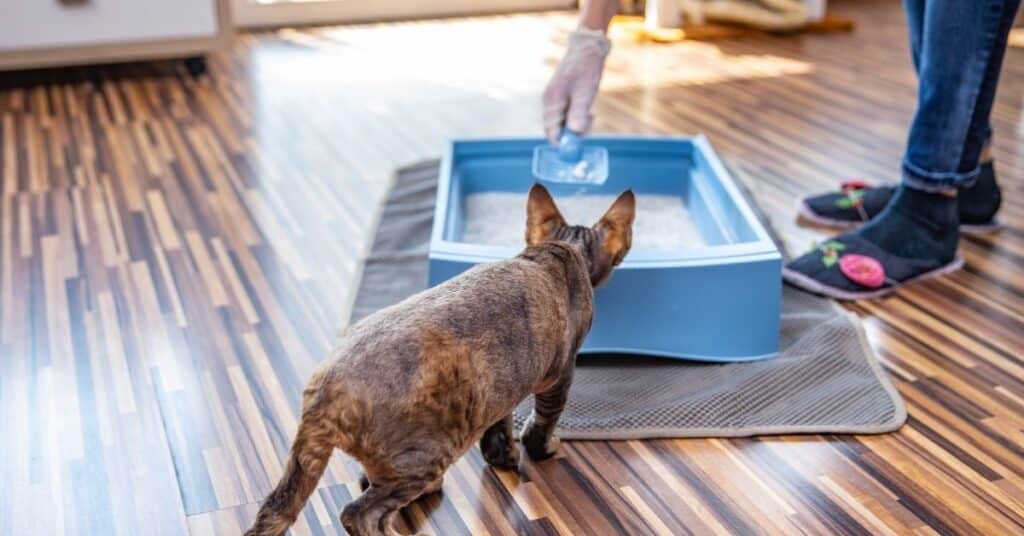 Where Do You Put Cat Litter In A Small Apartment?
Put cat litter in a well ventilated area with access to windows. Avoid putting the litter near your cats food as this is unpleasant for your cat.
If possible, use a small room that isn't used for much else. Laundry rooms are usually a great option to clear out for setting up your litter station.
How Do Cats Handle Litter In A Small Apartment?
Cats will use enjoy using their litter if their litter box is large, clean, and odor free. They also prefer areas without scents and perfumes.
Cat's may go to the toilet outside the box if they aren't satisfied with the set up of your litter box. Going outside the litter box is also a sign of pain or other illness.
Check out my guide to knowing the signs your cat is in pain to learn more.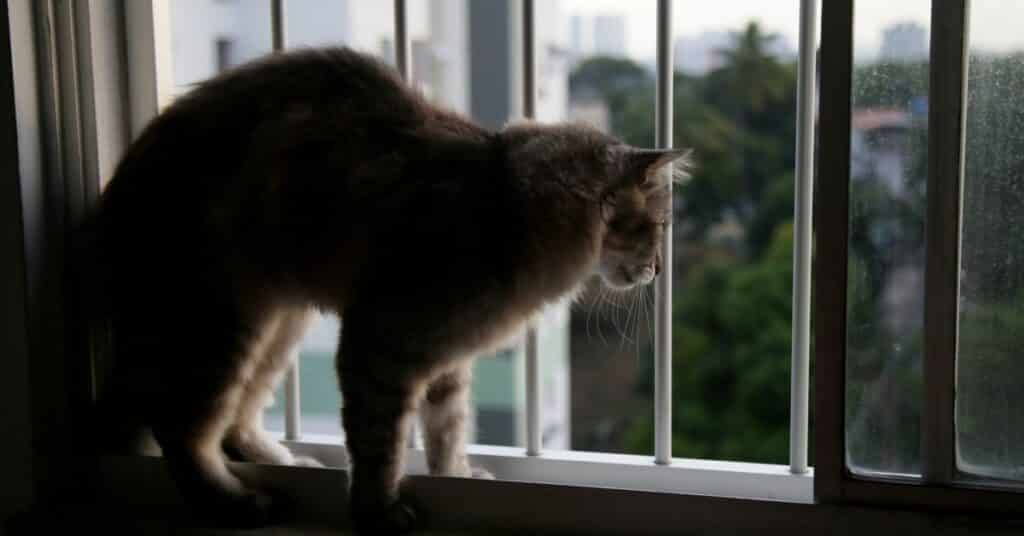 How Do You Get Rid Of Litter Box Smell In A Small Apartment?
The best way to get rid of litter smell in small apartments is to use a well ventilated area. Clean the litter box every day to keep the box fresh.
A sifting litter box is the best choice to make this process as easy and fast as possible.
What Kitty Litter Is Best For Not Tracking?
Pine pellet litter or other pellet litter tracks less than small litter like crystal. This type of litter doesn't stick to the paws as much.
Another way to stop tracking is to use higher sided litter boxes or closed litter boxes. This is helpful if your cat kicks up a storm of litter during their toileting.
Finally, using a litter mat around the litter tray collects any litter on the paws. All these strategies are helpful for cutting down on tracking.
Do Cats Prefer Open Or Closed Litter Boxes?
Cats don't have a preference according to research. Either type of litter box will work and closed litter box systems cut down on tracking.
You can make your own closed litter box system using a large cardboard box in a pinch. This will help you with litter tracking.
Can Cats Find Their Litter Box If You Move It?
If you move the litter box too far from it's original location, cat's may have a hard time finding it. Move the litter box gradually to a new location to make sure your cat won't go outside the litter tray.
Can I Put My Cat's Litter Box In The Balcony?
Yes, but you need to secure the space to prevent your cat jumping down.
Whilst cats have a miraculous ability to land on their feet due to the righting mechanism a fall from a balcony may be deadly.
Cat's in apartments may experience 'high-rise syndrome' and jump off. Young cats and cats living in warm temperatures are most vulnerable to jumping down.
Create your own apartment 'catio'. This is a cat enclosure using wireframe and is also useful for house cats.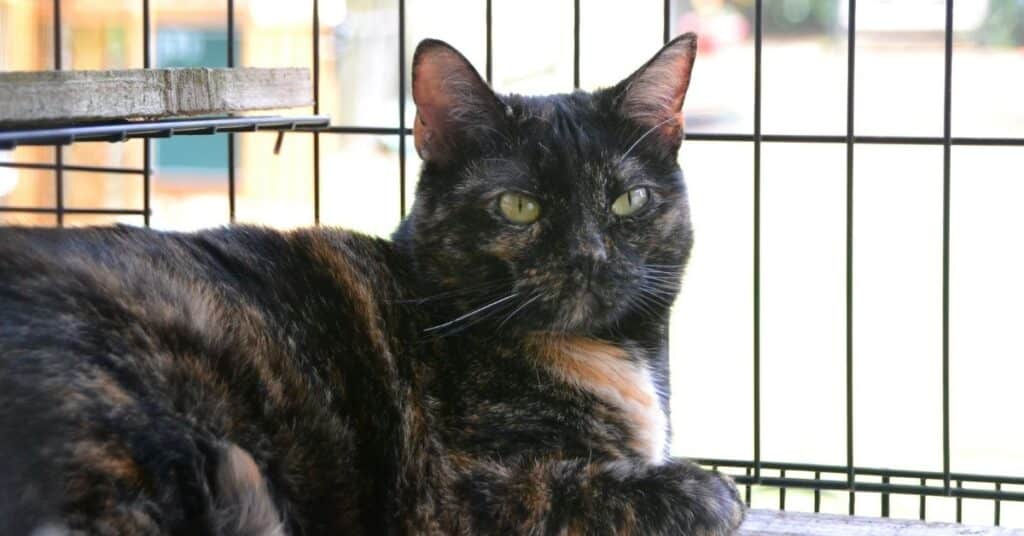 Best Cat Litter For Small Apartments: Top Picks
Conclusion
In this article, I've talked about the best cat litter for small apartments.
Cat owners in small apartments can have problems with odor, tracking, and litter use.
The best way to control odor is to use litter that breaks down. If litter breaks down with pee contact, you're able to sift out the pee waste with a sifting litter box. Pee decomposes if left in the tray for long periods, creating a strong smell if not cleaned quickly.
Larger cat litter pellets are a great choice for tracking, as it doesn't lodge in the paws as much. To encourage litter use, try a larger litter box, keep the litter clean, use unscented litter, and also try a cafeteria test to find what your cats like.