3 Best Cat Tree for Large Cats Choices in 2021
Cat trees provide space for cats, as well as a chance to stretch out and scratch. The best cat tree for large cats is durable and large enough to give big cats comfort.
Large cats need a cat tree with more width and durability than most trees have on offer. Many cat trees don't have enough room for a big feline.
The best overall cat tree reviewed in this article is the Hey-bro Extra Large Multi-Level Cat Tree Condo. This cat tree has sisal scratching posts, two condos for hiding, and a good elevation (148cm). This product also has a number of climbing post spaces for your furball to roam and enjoy themselves.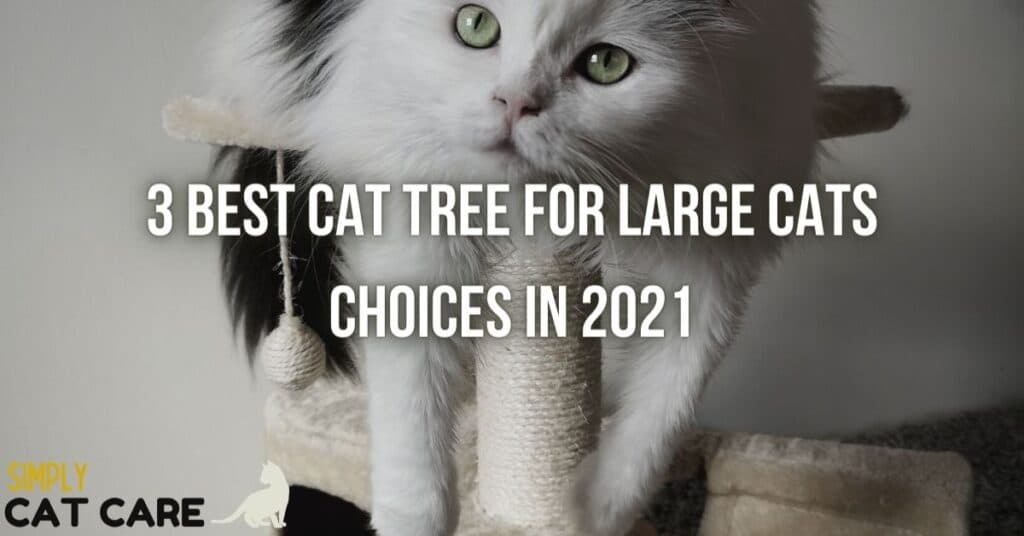 My name is Derrick and I am a writer for Simply Cat Care. This website provides easy-to-read helpful guides for your cat. I wrote this article to help you learn more about the best cat tree for large cats.
I am not a veterinarian and I recommend seeking the advice of a vet before changing your cat's environment.
Here is what you'll find in this article:
Read on to get a more in-depth review of each product selected as well as a product buying guide.
---
Product Review: Top 3 Best Cat Trees for Large Cats
Let's look at the Hey-bro Extra Large Multi-Level Cat Tree Condo.
What stood out for me with this product is it had all the features that made it the perfect tree for a large cat (or two cats). It has two elevated condos that allow two cats a hiding rest house. There are four platforms of access that elevate a towering 1.4m of the ground.
These features give a large cat enough elevation to really feel like the king of the house and access sunlight from windows.
This tree has a sturdy particleboard base that will hold multiple cats for play. This gives the most versatility to accommodate a wide array of cat households. Giving two cats a space to feel safe with two condos is a great feature that stands out from the crowd.
Unfortunately, the top two perches are a little small for some cats. A very large cat might still need even more room to move. A few issues exist with production quality, and some inconsistencies (e.g. pain smear on one carpet).
A horizontal scratching option is mandatory for some cats, and this might steer you clear of this option.
PRODUCT DETAILS
Colors: Light gray, Smoky gray, or Beige
Product weight: 37.9lbs (17.2 kg)
Product size: 21.7″L x 15.7″W x 58.3″H (55*40*148 cm)
Material: Particleboard, linenette, sisal rope
KEY FEATURES
4 platform levels sized for a larger cat
Two elevated condo's
CARB-certified natural particle boards
Sisal rope scratching posts
---
Let's look at the Le sure Cat Tree for Large Indoor Cats.
It's a bare-bones product but has the necessary features to make this a winner. It comes with two condos; one on the ground level, and one elevated.
This is still a great thing to have at this price range, where two enclosures give you the flexibility for multiple cat resting. There's a large scratching pad which will add to the posts as well, to give your cat more room to scratch out.
If your window location is high then the height of this product might not give you the coverage you need. It's only 86cm off the floor (34 inches), and that's barely enough for many people.
If the height is important for you then you might need to look for some cat trees that have more platforms. On the other hand, the benefit of less height is more stability for heavier cats.
Some of the instructions are difficult to follow and if DIY isn't your strong suit, you may need help putting this one together.
PRODUCT DETAILS
Colors: Beige or grey
Product weight: 22.95 pounds
Product size: 20 x 18.5 x 7.5 inches (84 cm elevation off the ground)
Material: Sisal (scratching) and plush bedding
KEY FEATURES
3 platform levels sized for a larger cat
Two condo's
Sisal rope scratching posts
Assembly instructions
An additional enclosure as an optional attachment
---
Let's take a look at the Hey-brother Multi-Level Cat Tree.
If you have a big cat that wants to climb, then this is the tree for you.
This almost 60-inch tower gives your large cat the highest possible vantage point without sacrificing durability. There is only one condo, but three high perches, a basket, and a hammock for multiple sleeping options.
This tree comes with a sturdy wood base and has plush to give your cat a cozy rest. Some reviews have been approving this tree even for large cats up to 30 pounds. The wall attachments give you extra peace of mind that your tower can hold up with your furball.
Unfortunately, the sisal is a little thin and might get worn down with a fiesty scratcher. That will mean more replacements and work for you.
If you're comfortable with relining sisal, then this will work for you, otherwise, you might need to get some additional scratching material near the tree.
As for resting, this tree has you covered, giving your cat maximum surveillance potential and space to move around.
PRODUCT DETAILS
Colors: Beige, light grey, or smoky grey
Product weight: 43.85 pounds
Product size: 24 x 17 x 12 inches (152cm elevation off the ground)
Material: Sisal (scratching) and plush bedding
KEY FEATURES
3 platform levels sized for a larger cat
Two condo's
Sisal rope scratching posts
Assembly instructions
An additional enclosure as an optional attachment
Wall attachment
---
Guide to Choosing The Best Cat Tree For Large Cats
Let's talk more about what a cat tree is and the uses of one.
A cat tree serves a few purposes:
Firstly, it is an ideal resting and activity for your cat. The different levels and condo areas allow for sleep, play, and indulge your cat's territorial instincts (e.g. surveillance from the high ground).
They increase your cat's available space in an indoor location and improve their quality of life.
Secondly, they serve as a scratching post. Cats love to scratch as this helps to maintain their claws, mark territory, and get a stretch.
The cat tree is a replacement for your cat occupying furniture and potentially scratching it.
Cats can very easily destroy chairs, sofas, carpets, and anything else they can dig their claws into.
A large cat needs a cat tree that is sturdy, tall, and easy to climb. Big cats are – well big – so they need the proper accommodations in the design of the tree.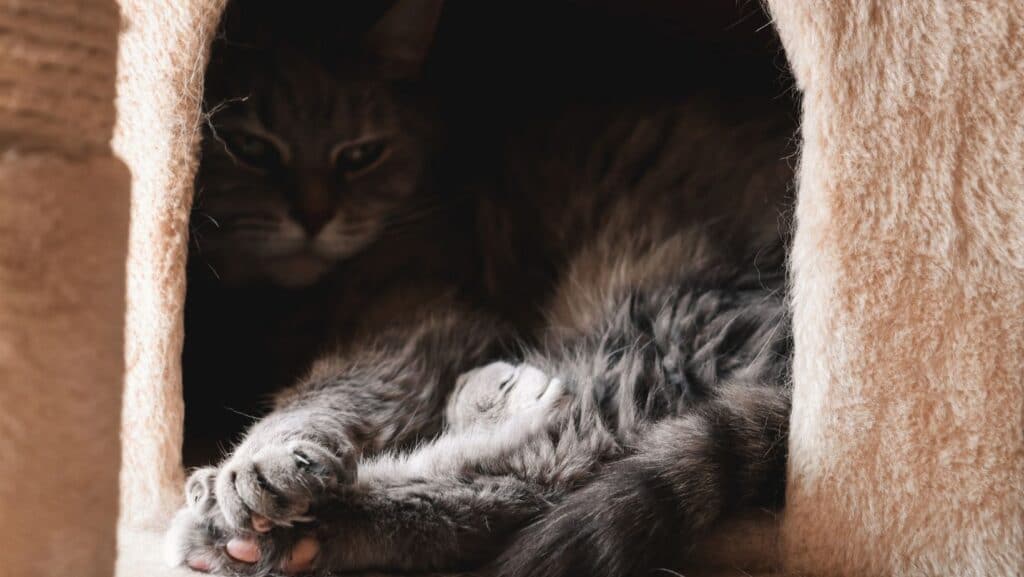 ---
Why do cats scratch their claws on things?
Cats instinctively scratch their claws.
They do this to sharpen their claws and to mark territory [1].
As such, your feline friend will become a problem if you don't take any practical measures.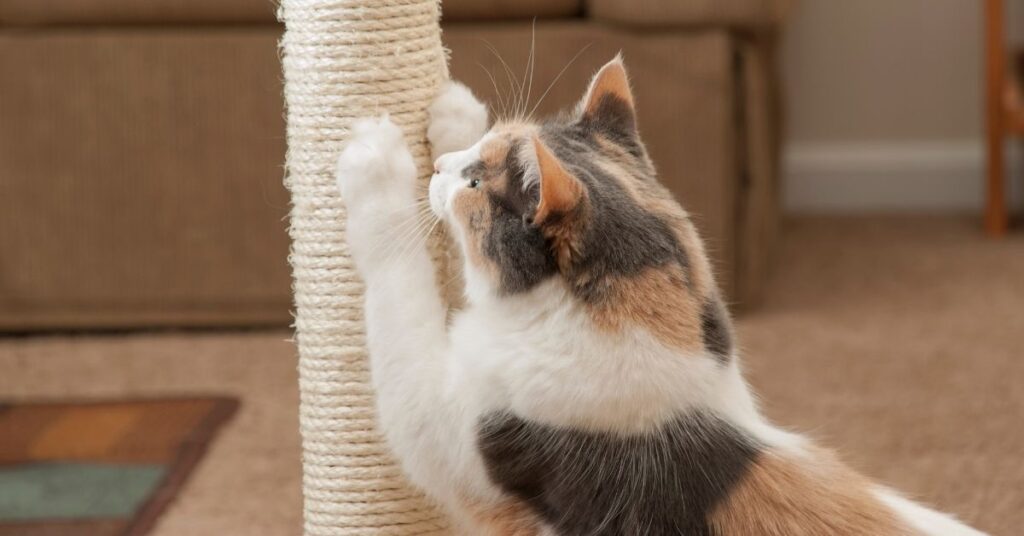 ---
What prevention measures exist for cats clawing?
There are three ways to tackle scratching: environmental, behavioral, and claw modification [1].
A cat tree is a form of environmental modification.
Cat trees give your cat a chance to scratch to its heart's content without destroying anything else.
A behavioral approach would be to punch a cat for scratching your furniture, but this doesn't tackle your cat's core instinct.
Ultimately, that approach will prove ineffective. However, you can help improve your cat's desire to use a tree instead by giving your cat treats for using it.
Claw modification is a last-ditch solution to the problem. This involves this clipping a cat's nails, but the more practical way around this is to equip your house with a large enough cat tree to give your cat something to scratch. Some people consider trimming a cat's nails inhumane.
Clipping your cat's nails can hurt your cat if done improperly. Below the nail is a flesh area called the quick, which will hurt your cat if you cut into that part of the nail. A vet will be able to help you trim your cat's nails carefully if all other options fail.
Choosing the right cat tree for your cat will help mitigate the need to do this.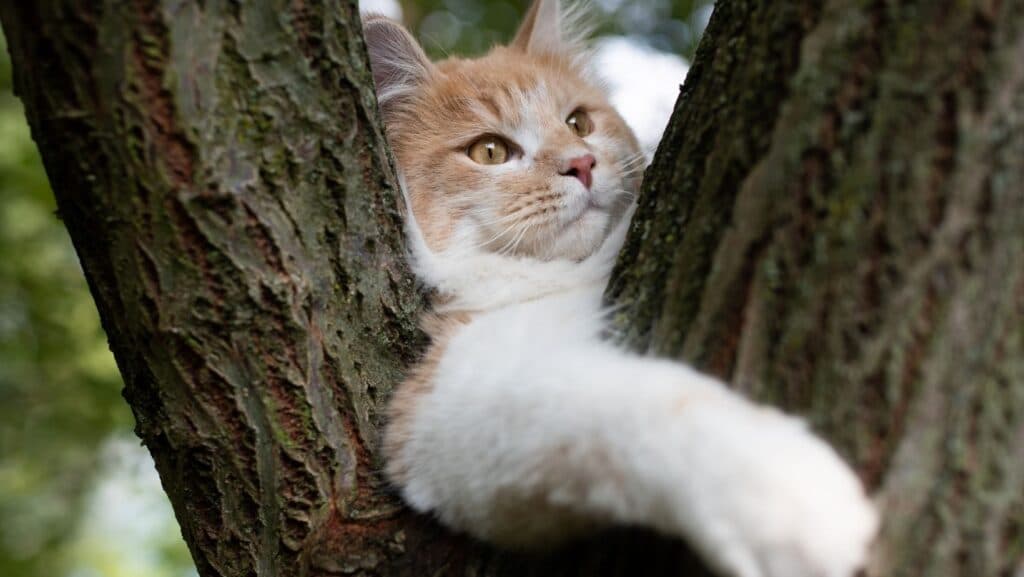 ---
Why should you have perches and different levels to the cat tree?
A cat tree is all about increasing your cat's space.
This gives kitties a chance to experience the joys of climbing and feeling like they have more room to move.
This is especially important if your cat spends most of its time indoors and has limited space (e.g. single bedroom apartment).
Moreover, the posts should reach windows to allow cats access to natural sunlight. Cat's love to find great spots with good fresh air and sunlight on their skin. Multiple levels allow your cat to jump up and access windows for resting and sunlight.
Another reason cat's like height is for surveillance. Getting the high ground means they are safe from predators (in the wild – not your home) and able to have control.
Feline instincts are very strong and having a tower with multiple levels allows them to explore these inbuilt needs.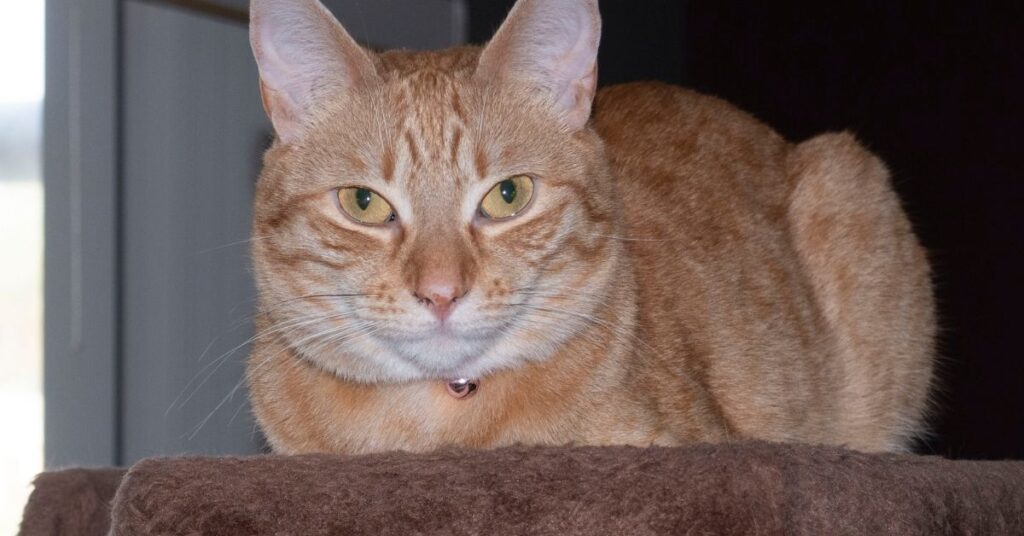 ---
Should you have condos and hiding spaces in the tree?
A lot of cat trees come with small condo enclosures that allow larger cats a place to rest.
Do these cat tree condo features benefit your cat?
Some cats need to have a hiding location. You might notice a cat enjoys finding sneaky hiding spots under your bed or around a piece of furniture.
A cat condo provides this additional feature that gives your cat multiple options for enjoyment.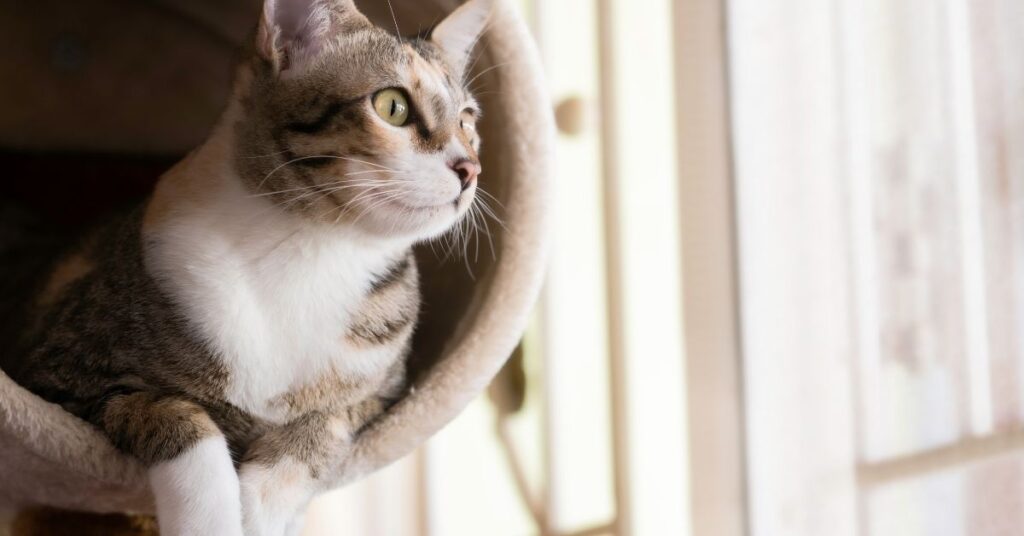 ---
What cat tree do you need if you have multiple cats?
If you have multiple cats then the tree must be tall enough to give each cat a chance to find a spot. A cat tree also needs multiple condos for resting.
Usually, the dominant cat will occupy the higher level, so the other cat or cats need another level to rest for their own needs.
They should also be able to access sunlight, scratching material, and a condo space to rest.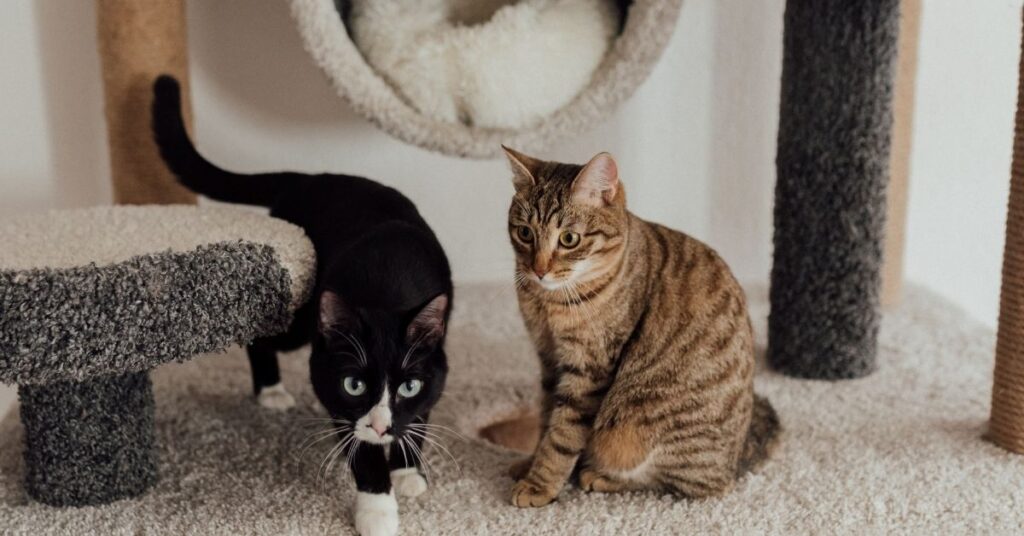 ---
What is the best cat tree for large cats?
The best cat tree for big cats is one that is sturdy enough to contain their weight and has enough width to contain them properly.
If your cat is struggling to sit on a perch or can't squeeze into a condo, it's not a good tree for them.
Cat's want a reasonable amount of space to stretch out, lay down, scratch, and enjoy themselves.
Cat trees don't to be fancy. Faux fur and plush bedding definitely help improve your cat's resting enjoyment, but there's no need for excessive bells and whistles.
By paying attention to your cat's diet, you might be able to reduce their weight which will improve their ability to use a cat tree.
My article on setting your cat's diet provides some great tips for that.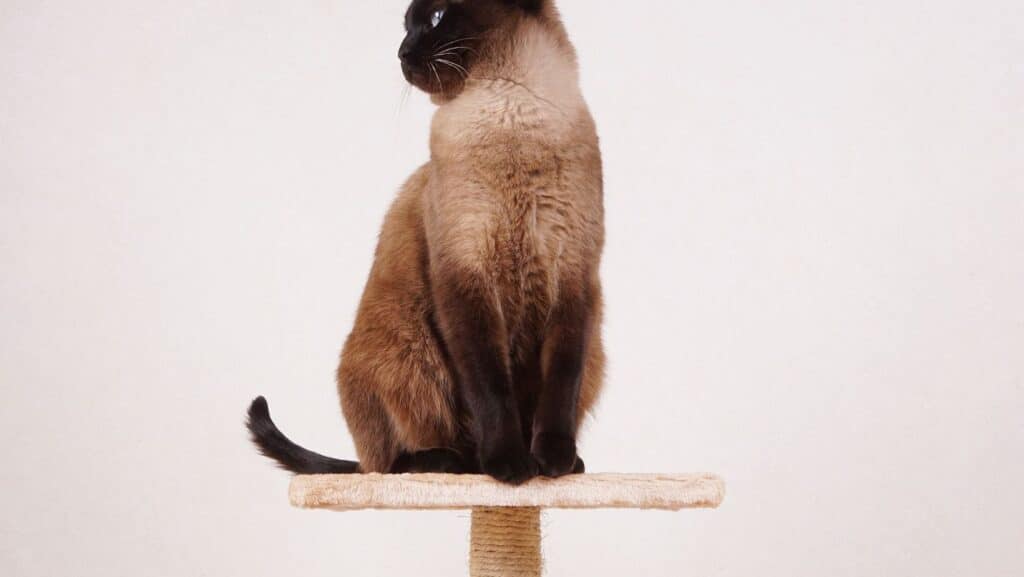 ---
Are there cat trees for large cats?
Yes, there are cat trees marketed and designed for larger cats.
Be mindful of the size dimensions listed and the reviews from customers.
Take note of pictures and videos that customers have provided which give you an impression of whether the cat tree would accommodate your cat's needs.
Every cat is different and you'll need to assess your options carefully for best results.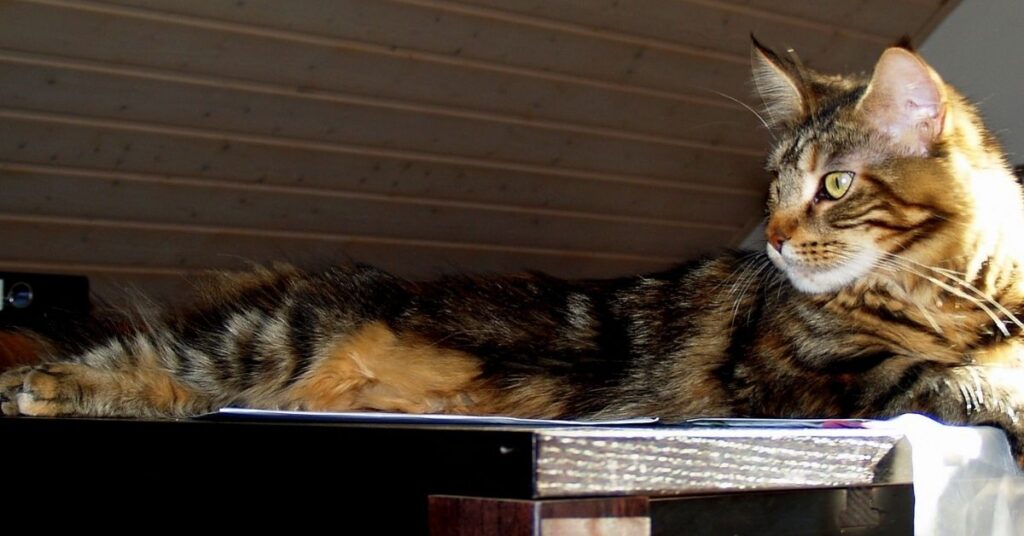 ---
How big of a cat tree should I get for a large cat?
The bigger the better!
There's not an official size that you must get, but more options for play, toys, and rest are always going to improve your cat's happiness as much as possible.
Ultimately, this will come down to how much of a price you are willing to spend here. At the bare minimum, a cat tree should have a number of levels, a condo, and be big enough to accommodate a large cat.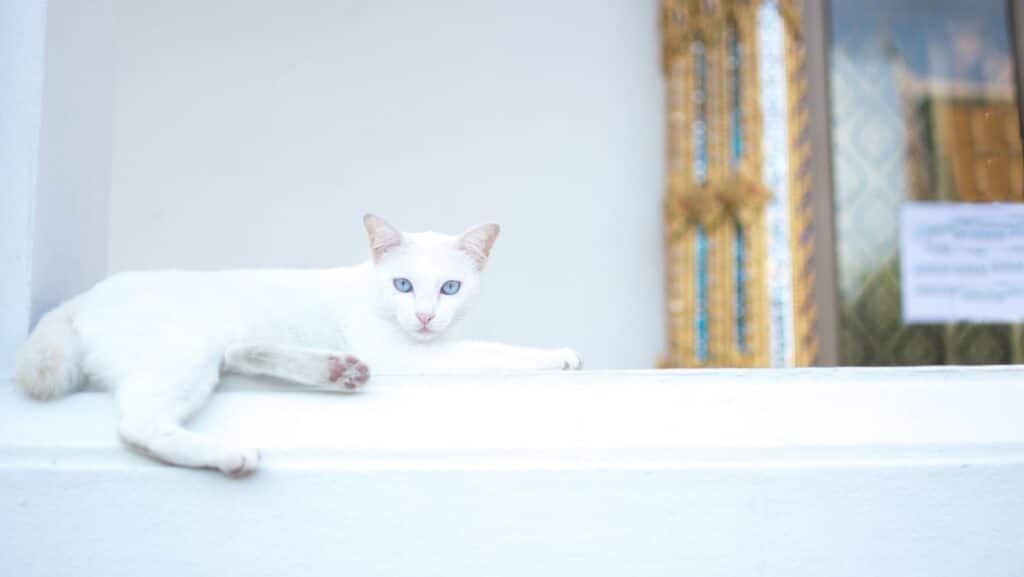 ---
What is the biggest cat tree?
The sky is the limit.
Some people have made cat tree palaces and mansions posting these to Pinterest and Instagram. If you want to create a cat fortress there is nothing stopping you from achieving your dream.
What can I do to discourage my cat from scratching other furniture?
Using a cat repellent strategy helps keep your cat away from other areas.
You will need a repellent designed for indoor cats.
Here is my guide to using a cat repellent and finding the best one for your needs.
---
What should you do before buying a cat tree?
Before investing in a cat tree you want to get an understanding of what will work best for your cat.
This involves two main things:
Is your cat a vertical or horizontal scratcher?
What fabric does your cat like to scratch?
Start by getting a variety of fabrics (e.g. sisal, wood) to see if your cat will like the texture on its claws. Also, note whether they want to stretch out vertically to scratch or want a horizontal surface.
This will influence your cat tree buying decision as the tree acts as a scratching post and general hub for your cat. It will ensure you get the maximum value out of your purchase.
What is sisal?
Sisal is a material that provides a texture similar to tree bark. Sisal is a durable material that cats generally find satisfying to sink their claws into and get a positive response.
Faux fleece is also used for cat trees, and trees can also be made of – trees. Cats really like scratching bark and posts made of bark might be right up your cat's alley.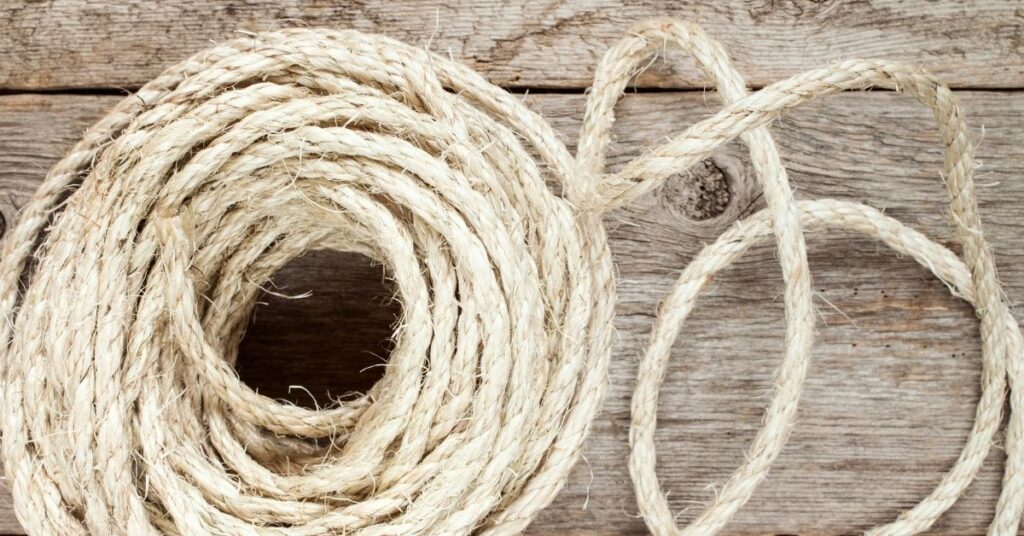 ---
Cat Tree Checklist
Here is a list of things to look for when choosing a cat tree for large cats.
Stable upright post that does not fall over
Horizontal and vertical surfaces for scratching posts
Scratching surface that is 3 feet tall above the base
Choose a loosely woven fabric to cover the tree platforms
Fabric that can be replaced
Large enough space for your cat to climb and rest on the perches
Easy assembly
Able to accommodate multiple cats if present in the house
Avoid exposed metal parts and staples
Neutral color tones for your house
Able to reach a window for sunlight (on the perch)
When choosing a cat tree for a large cat, make sure each platform has enough width to accommodate them. Most cat trees are slim and 'aesthetic', but this won't be able to properly keep large cats comfortable.
---
Conclusion: Best Cat Tree for Large Cats (Final Thoughts)
In this article, I've talked about the best cat tree for large cats.
Here are my final thoughts:
Cat trees increase your cat's indoor space
Cat trees also provide a space for scratching and exercise
Cats enjoy having space to jump and survey their territory
A large cat needs a tree with sturdy base, and room to move
Speak with your vet for more help.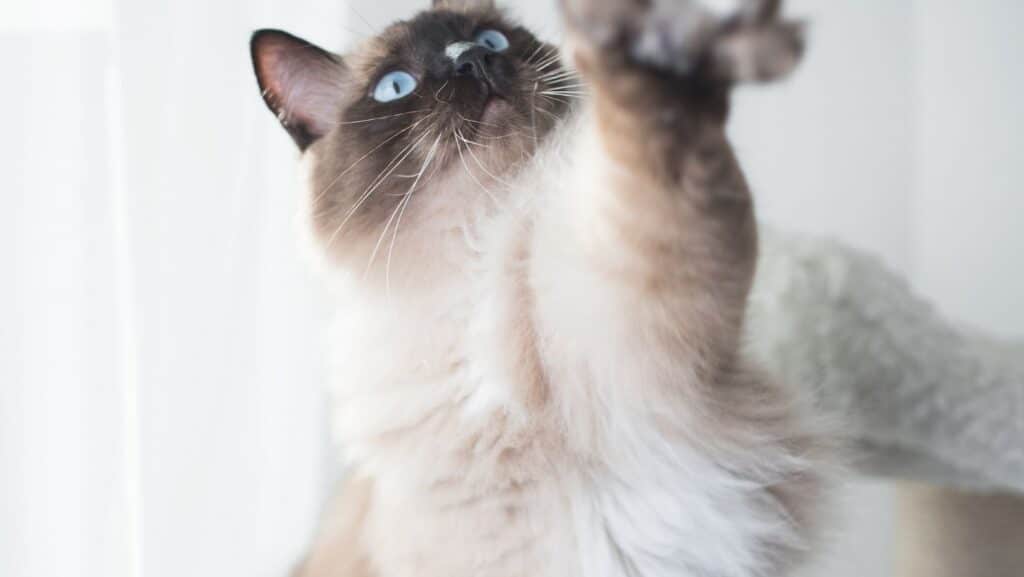 Our Verdict: Best Cat Tree for Large Cats
The best overall cat tree reviewed in this article is the Hey-bro Extra Large Multi-Level Cat Tree Condo Furniture with Sisal-Covered Scratching Posts. This cat tree has sisal scratching posts, two condos for hiding, and a good elevation (148cm).
It gives you the best amount of versatility for a reasonable price.
You might need to deploy some additional scratching pads. This (and many) options only have vertical poles. Some cats might prefer a horizontal pad to start scratching, which you'll need to install separately.
That sums up this article on the best cat tree for large cats.
After more cat related articles?
Read more below.