5 Best Sifting Litter Box Choices in 2021
In this article, I will be talking about the best sifting litter box. Sifting litter boxes are a great way for owners to avoid having to scoop waste.
I chose the SpeedySift Cat Litter Box with Disposable Sifting Liners as the best sifting litter box in 2021.
The sifting uses corrugated plastic liners which collect waste effortlessly. I like that the design comes with high sides to reduce tracking litter and is the perfect size to contain your pet.
Sifting litter boxes make cleaning cat litter easier and cleaner.
The sifting litter boxes work using a range of different systems and litter options. The most basic options use a three-pan system to separate good litter from waste for easy disposal.
Higher-priced systems increase the convenience factor or contain other features that may benefit some owners. There are even automatic sifting litter boxes that eliminate the need to scoop cat litter.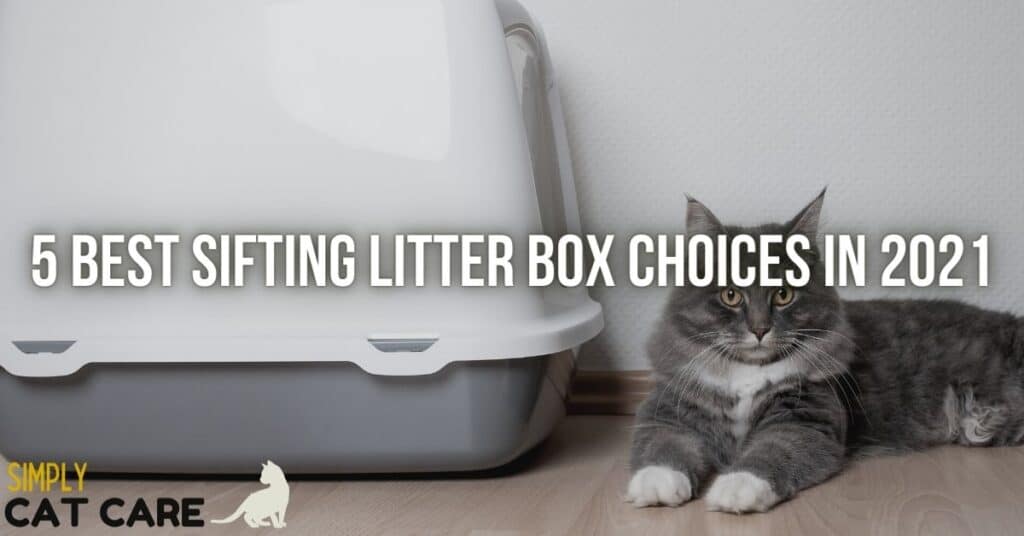 At Simply Cat Care, we recommend the best quality equipment to improve your cat's chance of living out a happy life. In this review, I've analyzed the best sifting litter box choices on the market to find which ones are suitable for your cat.
I am not a veterinarian and I recommend seeking the advice of a vet before making a purchase.
Vets diagnose and prescribe the appropriate equipment for cat litter.
Keep reading to learn more.
---
5 Best Sifting Litter Boxes in 2021: Product Reviews
The SpeedySift Cat Litter Box gets the results a sifting litter pan promises – convenience and ease of cleaning.
The product does this using a design that involves the use of tear-proof corrugated plastic liners that cover the bottom of the litter tray. The plastic liner removes the waste (each pack contains 14 liners) with good litter sifting through. This is great for easy disposal.
The box is 20 inches in length (20 x 17 x 11) with high-sided walls for great comfort. Alternatively, the litter tray has a hooded litter box option for complete odor control.
Onto the downsides. To use the litter box you need to follow the instructions provided otherwise everything will not work. Also, the design itself may be unattractive for some owners who want something aesthetic for their house. Finally, this box needs clumping heavy litter and won't work with pine litter.
---
The PetMate Arm Hammer Large Sifting Litter Pan is a good quality budget litter box.
The pack comes with two regular pans and a sifting tray. The sifting pans have a reinforced bottom to hold solid waste after sifting.
The PetMate Arm Hammer Large Sifting Litter Pan is easy to use and the sifter helps separate clean litter and wood pellets (or pine pellets).
The product is small for some large cats. This may cramp up their toilet visits and make some kitties uncomfortable. The two trays also get stuck to the sides and don't have handles. Some people may find removing the trays for sifting a little tough.
Overall, the PetMate Arm Hammer sifting cat litter pan is a great budget choice.
---
The Van Ness Sifting litter box is another great budget option to go with the PetMate Arm Hammer.
The choice between the two options comes down to personal preference. The Van Ness does come in a blue-grey color with durable high-sided plastic to contain litter. As with PetMate, this is a three-pan system that involves sifting waste into a collection tray.
The problem is this product has some of the same issues as the PetMate, mainly the small pan size. The reviews for the sifting are a little more negative than the PetMate (e.g. more sticking), so I recommend that product over this one in general.
All things considered, the Van Ness is still a solid sifting pan at the affordable end of the price range.
---
The Purina Tidy Cats Breeze is an all-in-one cat litter system containing a sifting litter box, two urine collection pads, and two pellet litter bags.
This cat litter tray is large and is great for bigger cats. Not only that, the high-sided plastic walls protect the surrounding area from tracking litter and waste.
You place the sifting tray over a urine collection pad. This collects urine waste over the course of one week for easy and clean removal. Alternatively, you can apply your own pine litter to the tray and turn the urine waste pan into a pine litter pan (the pine turns into sawdust for removal).
The downsides of this product are you do need to remove waste and the waste doesn't clump. The cost of the overall product is on the higher side and requires replacement pellet bags. You also need to purchase urine pads if not using pine pellets. On top of that, the urine collection only works when placed under the filter grates, or the urine will seep under the tray and create a mess.
For an all-in-one system, the Purina Tidy Cats Breeze is a solid overall choice for larger cats.
---
If you hate scooping cat poo then the PetSafe ScoopFree Smart Automatic Self Cleaning Cat Litter Box might be for you.
This product is for automation. It detects when your cat has eliminated waste and follows up by raking the litter clean. The system requires a high-cost proprietary crystal litter which needs monthly replacement.
For owners that are out of the house often and have the budget this sleek cleaning litter system is a great option. The device even connects to a smartphone to inform the owner of changes to the cat's toileting which indicates changes in health. This gives you peace of mind whilst you are away and want to keep up to date with your cat's health.
---
Buying Guide: How to Find Best Sifting Litter Box for Your Cat
Let's talk about what to look for when buying a sifting litter box.
The goal of this article is to help you understand your situation and guide you in the decision-making process. This article is not a replacement for the professional advice of a vet.
Who is this guide for?
This guide is for a cat owner that is thinking about buying a sifting litter box.
I will explain the purpose of a sifting litter box.
I will also give you advice on how to find the right sifting litter box for your needs and answer any other frequently asked questions.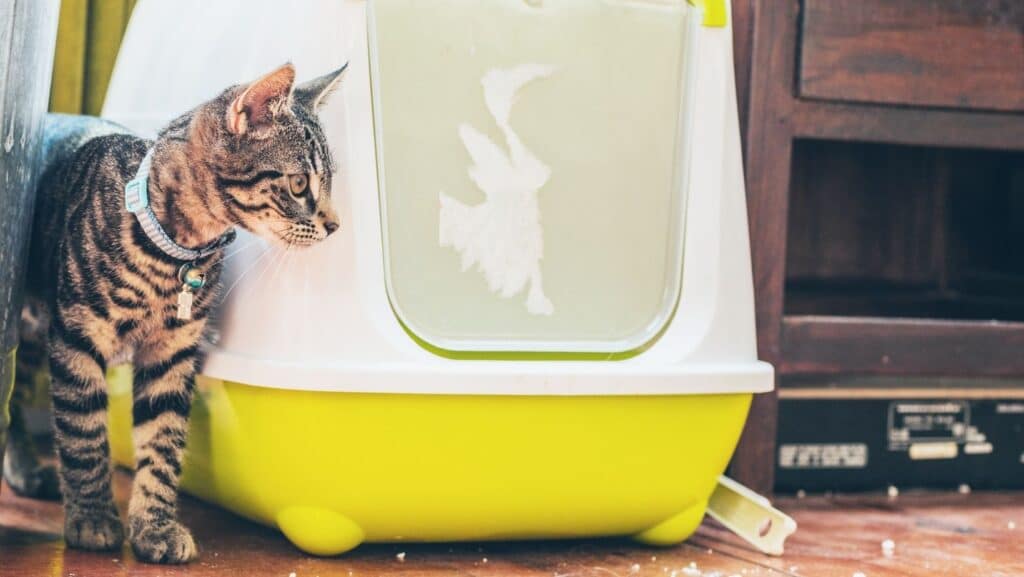 ---
What is a sifting litter box?
A sifting litter box as you may have guessed sifts the litter box.
Litter boxes contain the litter for your cat. Generally, most litter boxes are basic, well, boxes.
You put the litter in the box and scoop out the clumps.
A sifting litter box allows you to sift out the good from the bad litter. This increases convenience and reduces litter wastage.
Some types of litter (e.g. pine litter) require a sifting litter box. This is because the pine pellet disintegrates with urine contact. There is no way to remove the used litter (which becomes fine sawdust) without a filter.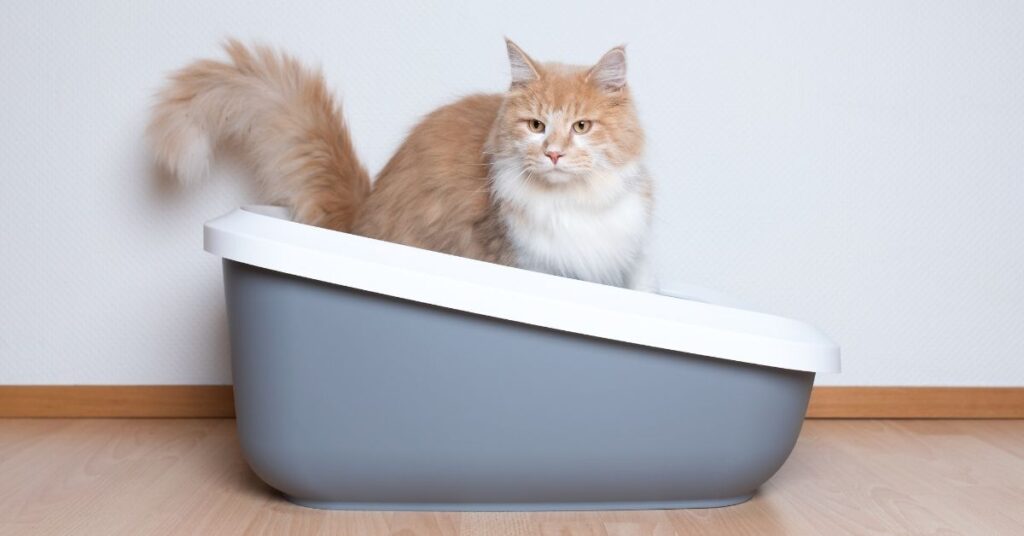 ---
Why do I need a sifting litter box?
A sifting litter box is necessary for pine litter.
The reason is the sifting litter box removes wastage. Pine litter disintegrates when urinated on and turns into a fine powder. Without a sifting litter box, this results in an unpleasant litter box consistency that won't work for your cat.
A sifting litter box is an optional choice for clumping clay cat litter. This allows you to sift out the clumps from the good litter. This method is more efficient (less wastage) than using a scoop.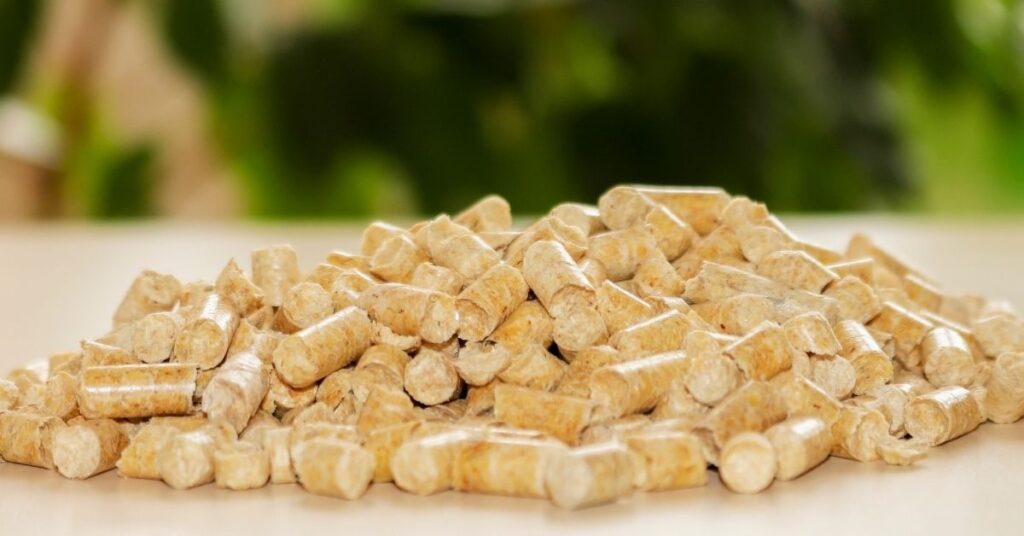 ---
What are the different methods of sifting a litter box?
There is a variety of sifting litter box products on the market.
For clumping clay cat litter, a three-pan method is usually employed. This involves two regular pans and one sifting pan which goes in between.
Your cat will do its business on the top pan (regular pan) and the waste will pour into the sifter tray below it. Lift up the sifting tray and the remaining clay litter will sift through leaving the clumps on top. The clumps get thrown out.
A two-tray system is also usable. This involves one pan sifting the litter on top and one collection tray on the bottom. This is generally deployed for pine litter which needs regular sifting.
Most cat litter scoops have sifting holes in the design. This allows the good litter to be sifting from the waste whilst scooping.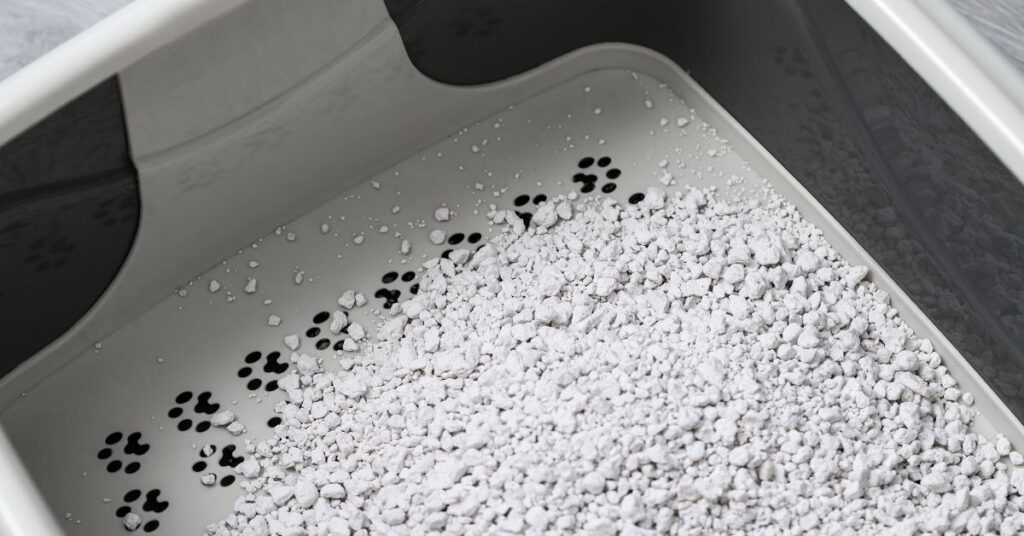 How does a sifting litter box work?
A sifting litter box contains holes that are large enough to filter the clumps from the good litter.
Many cat litter brands produce their own sifting litter box system to purchase with the litter. The boxes accommodate the size of the brand's litter for best results.
Sifting litter boxes are either done manually (i.e. by the owner) or with some level of automation.
---
What should I look for in a sifting litter box?
The goal of a sifting litter box is to simplify the process of cleaning litter.
Many people have hectic lives and want convenience. To that end, your priorities are a product that delivers on this need. If the product ends up making life worse, then that's not going to work out.
Remember, the cat litter should sift easily and with minimal effort.
You don't want to have to try to sift and grind through litter every time. Make sure you select the right sifting tray for the litter you intend to use.
Let's take a closer look at some criteria to think about when selecting a sifting cat litter pan.
Easy to clean
Cleaning the litter box is essential for antimicrobial protection.
Make sure the construction of the box has features that include antimicrobial protection (e.g. high resistance coating).
Some cat litter boxes come with more sophisticated designs for cleanliness. For example, the SpeedySift Cat Litter system uses durable plastic inserts which have built-in sifting mechanisms. Grabbing the inserts allows you to pull away from the solid waste from the clean litter. The clean litter sifts into another insert. Think of it as a 'pan saver' for cooking.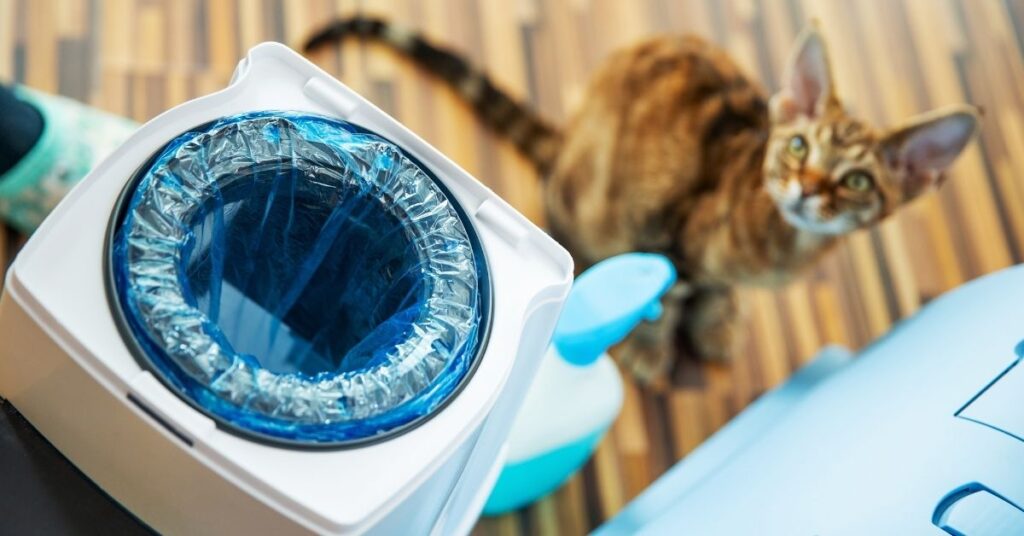 ---
Price
Most basic sifting cat litter boxes are affordable.
The 'low end' products are basic durable plastic two pan systems (one sifter and one regular tray). There is no automation in these designs.
A three-pan system costs a little more. More sophisticated designs (e.g. SpeedySift) are pricier but have more automation and quality of life benefits for owners.
If you are after something which takes away the need to manually scoop poop then prepare to invest a little more to get a product that meets your needs. However, if you want a no-frills setup and don't mind getting hands-on then there are many affordable products to choose from.
Durability
In a lot of ways, you get what you pay for.
Cheaper products may use softer plastic and flimsier designs. Check the reviews and history of the product you want to purchase. The product should be able to manage the weight of your cat standing and doing its business.
Covered vs Open sifting litter box
A covered cat litter box is somewhat like a mini-hotel for your cat to enter and go to the toilet.
Covered cat litter boxes do a better job of containing odor (some designs include filters around the opening to manage odor). Whether cats care about people seeing them take a poop is unclear (I don't think they mind, but privacy doesn't hurt). Research has shown that cats have no preference for either type of box as long as the box is clean [1].
Covered litter boxes might also help reduce tracking. If your cat kicks up a tornado of litter with each visit, then covered litter boxes might be up your alley.
Check out my article on the best non-tracking cat litter for more.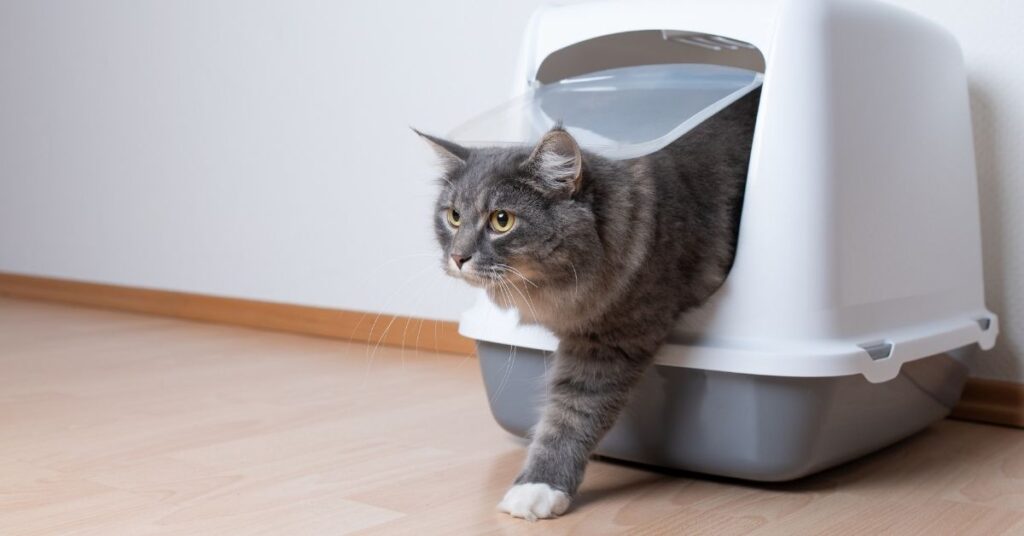 ---
Frequently Asked Questions
How do I use a sifting cat litter box?
Each cat litter sifting box has its own design and specifications.
Generally, you want to carefully check the instruction manuals and videos provided with the product for the best results. You want to make sure you are buying the right sifting litter box for your chosen cat litter (e.g. pine pellets, clay, crystal).
Most cat sifting litter box systems involve manually sifting out litter from waste with a scoop. The wastage then gets thrown in the bin or disposed of in another sanitary manner.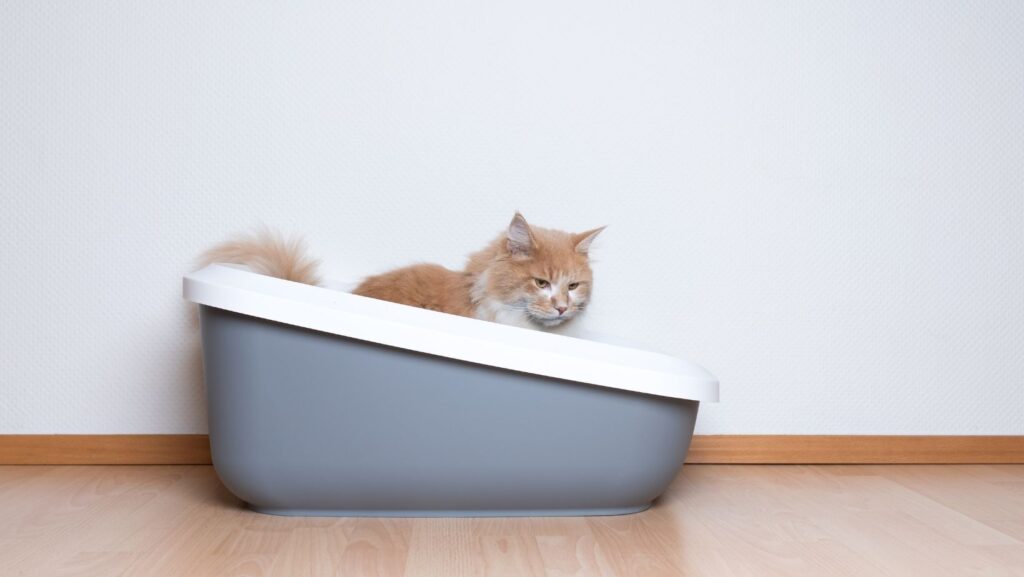 ---
How do I clean a litter box?
A cat litter box needs daily and weekly cleaning. Let's review the steps involved.
Daily cleaning schedule
The most important thing is you remove waste every day. Cat's hate to use a soiled litter box. Wouldn't you?
The process of eliminating waste changes depending on the sifting litter boxes used.
A basic cat litter box involves manually scooping the clumps or wastage. A filter system involves applying the contents of the litter into the sift and allowing the good litter to filter out from the waste. The waste is then placed in a sealed bag for immediate disposal (and not flushed down the toilet).
The litter scoop needs daily disinfecting as well. Some litter systems may be semi-automatic and not require a litter scoop (although it's a good idea to have one in case). Store the scoop away from handling.
Maintain the cat litter area by sweeping any debris that happens to fall around the area. Keep the area tidy and easy to access for your cat at all times.
Weekly cleaning schedule
On a weekly basis, you want to empty the contents of the litter box and clean the box entirely.
You want to use this with a gentle disinfectant and hot water. Don't use a strong chemical like ammonia or bleach as this will create an unpleasant smell for your cat. Cats are also sensitive to many things such as essential oils, as they have different bodies.
Check out my guide on whether essential oils are safe for cats for more.
Finally, refill clean litter into the tray. Make sure you filter out the waste first.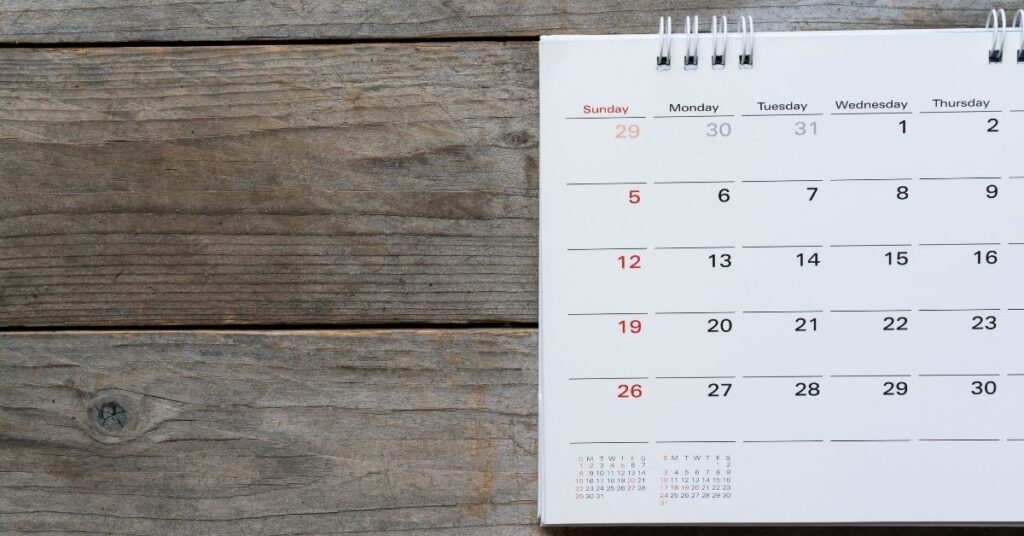 ---
Are sifting litter boxes worth it?
In the long run, a sifting litter tray saves time and hassle.
For many people, this will be worth the investment. Basic cat litter sifting boxes are affordable and make the litter process easier.
A semi-automated design increases convenience even more. If you want to avoid as much scooping as possible then these cat litter boxes are a worthwhile investment.
You must use a sifting litter box with pine litter. This is because this type of litter disintegrates into powder with urine contact.
A sifting litter box is the only way to remove these particles from the good litter.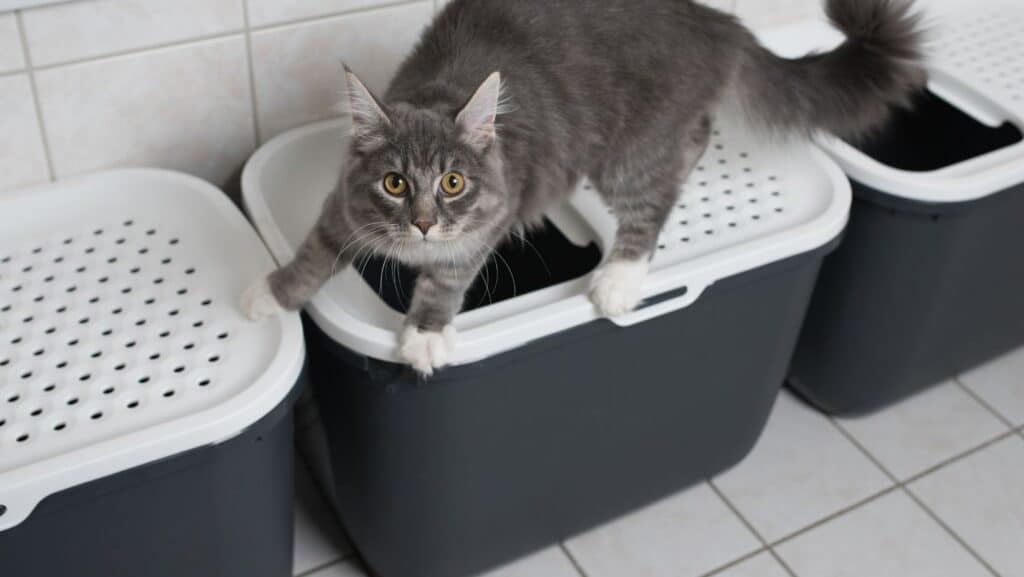 ---
What's the downside of using a sifting litter box?
If you use dusty cat litter, the sifting process might be a problem.
If you are able to sift the litter box outdoors (e.g. the litter box is near the back door) then you can walk outside to filter, however, if you are in a closed-in space (e.g. small apartment) this might be a problem.
Mitigate the problem with better quality litter (less dust) and better quality filters (easier to filter and require less shaking to sift the waste). Make sure you take the time to ensure you have the products that meet your needs.
How often do you change a litter box?
You need to litter trays every day.
With a sifter pan to pour the contents of dirty litter, this is going to be super easy. You need to remove waste to control odor and maintain a clean litter box for your cat to go to the toilet.
Your pet does not want to have to step on days-old waste in order to use the toilet. This is a very unpleasant experience for a cat.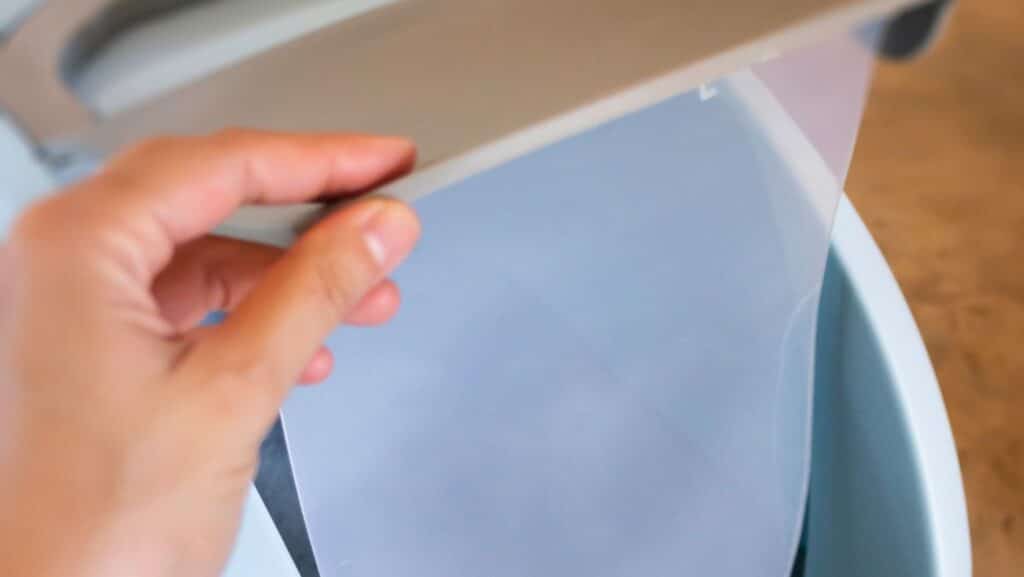 ---
How long does pine pellet cat litter last?
Pine litter lasts about two weeks depending on how often your cat uses the toilet.
Are sifting litter boxes better than regular litter boxes?
Sifting litter boxes offer many advantages for cost, time, clean-up, and automation over regular cat litter boxes.
It will depend on your lifestyle and budget.
Is pine pellet litter safe for cats?
Pine pellets are safe for use as cat litter if they do not contain pine oil [2]. If the pine is 100% natural wood, it will be safe to use.
Check the brand and manufacturer for more details on each individual litter.
Are pine pellets better than clumping litter?
Pine pellets are a lot larger than regular clay clumping litter.
This may reduce tracking as the pellets are less likely to stick to your cat's paws. The main downside to pine pellets is they need a sifting litter box. This is to separate good litter from waste (which disintegrates into powder).
Check out my article on the best non-tracking cat litter for more information.
How do I make my own DIY sifting litter box for cat litter?
You can buy plastic containers from the hardware store and drill holes to create your own filter system.
The problem with this process is the diameter of the sifting holes needs to be sufficient for the size of the litter. If the sifting holes are too large, then the good litter will sift out with the bad litter which defeats the purpose. If the holes are too small then the sifting won't be efficient and easy to perform.
Unless you are a professional handyman who loves drilling, then I would recommend purchasing your own sifting cat litter box.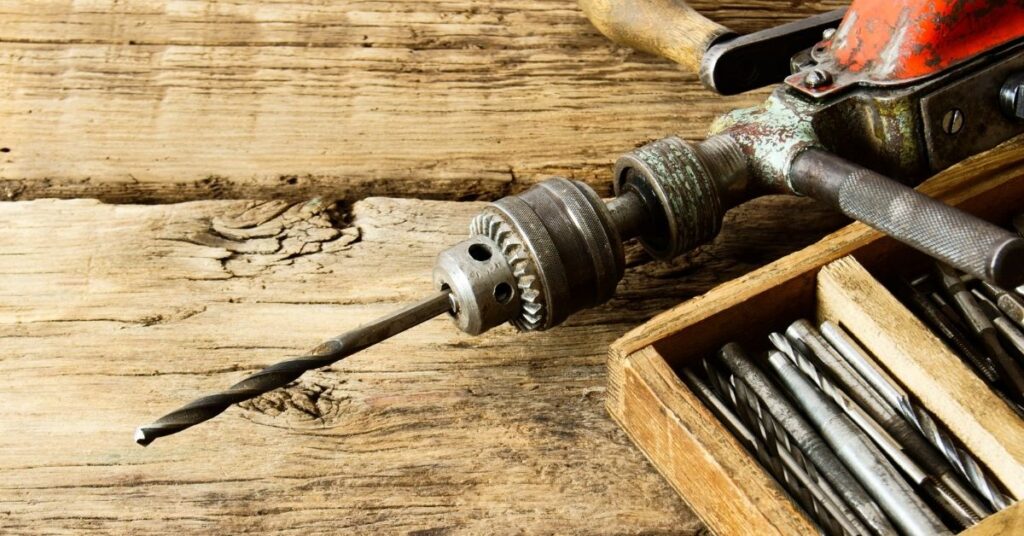 ---
Conclusion: Best Sifting Litter Box for Cats
In this article, I've reviewed the best sifting litter boxes for cats. I've also gone through a buying guide for interested cat owners and frequently asked questions.
Cat's use litter boxes to go to the toilet. A basic cat litter box uses cat litter and a scoop. Owners scoop their cat's waste and clean the box weekly.
For some owners, a sifting pan makes cleaning cat litter easier and cleaner. Instead of scooping waste, the filters allow solid waste extraction. Additional features such as replacement liners and urine pads reduce cleaning needs.
Pellet litter requires a sifting litter pan as this type of litter disintegrates into a fine powder. This type of litter tray is the only way to remove this waste.
The options for a sifting litter pan range in price depending on what owners are looking for.
Budget options use a three-pan system to separate good litter from waste for easy disposal. Most of these options are great litter tray choices that get the job done.
For an increase in price, cat owners can get other features that improve convenience. These include hooded litter tray systems and automated waste scooping.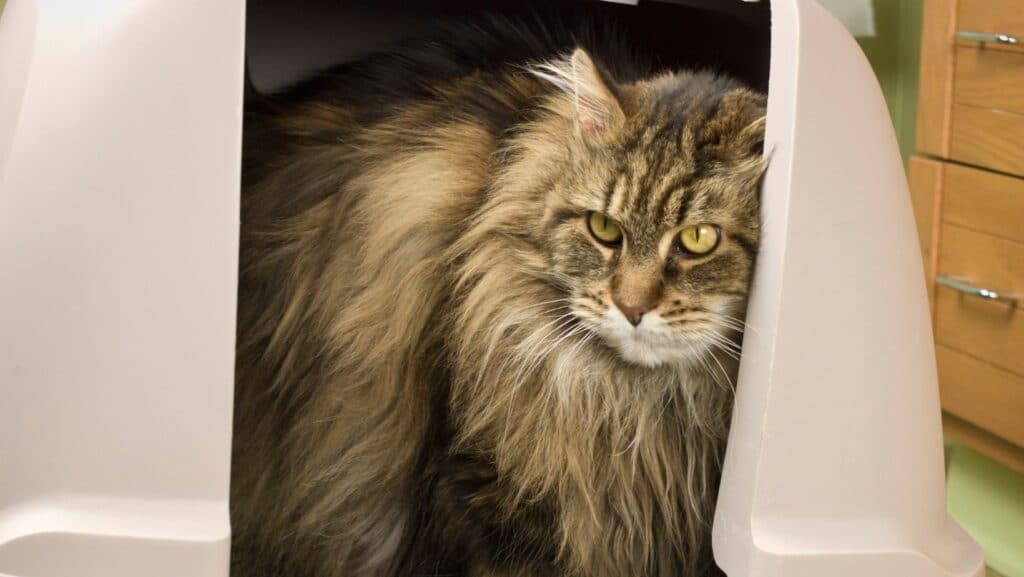 ---
Our Top Pick: Best Sifting Litter Box for Cats
Overall, the SpeedySift Cat Litter Box is the best sifting litter box in 2021 as judged by Simply Cat Care.
This product is a great choice to minimize cleaning hassles using corrugated plastic liners. These liners collect waste for easy disposal and maintenance.
After more cat-related content?
Check out more of our guides below.