100 INCREDIBLE Cat Patterns: Why Your CAT Has Stripes
Disclaimer
We may receive commissions when you click our links and make purchases. However, this does not impact our reviews and comparisons. We try our best to keep things fair and balanced, in order to help you make the best choice for yourself. As an Amazon affiliate, I earn from qualifying purchases. As a Chewy affiliate, I earn from qualifying purchases.
Why do cats have so many patterns?
It all comes down to genes. Cats have multiple genes controlling colors and patterns.
Differences in breeding allow these genes to switch on or off.
There are also patterns specific to female cats, in the case of calico and tortoiseshell cats.
In this article, I'll go into detail about why there are so many cat patterns.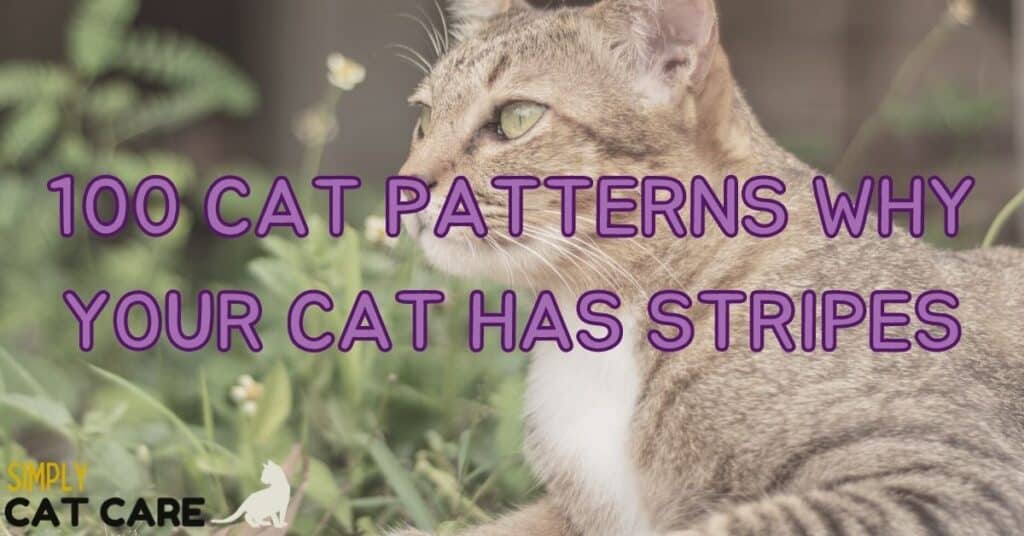 I'll talk more about the different cat patterns, tabby cats, what the most common cat patterns are, the rarest pattern, and how genes affect cat patterns.
My name is Derrick, and I write for Simply Cat Care. Our goal with this website is to help cat owners learn more about taking care of their cats.
I am not a veterinarian and I recommend seeking the advice of a vet for any further questions relating to your cat's health.
Let's get into the article
How Many Cat Patterns Are There?
There are endless combinations of cat patterns and colors that exist.
Let's start by categorizing cats into broad groups.
Solid Coat Cat Patterns
A solid coat, as the name suggests is a one-color cat.
The more common colors are black and white cats. Less common are the different shades of grey (e.g. lilac).
Solid black cats are famous for bringing bad luck.
Check out the fascinating history of black cats in this article here.
Bi-Color Cat Patterns
As the name would suggest, a bi-color cat has two colors. Another name for a bi-color cat is a piebald cat.
One common coat pattern of a piebald cat is the tuxedo cat. This is a black cat with white spots.
The genetics of bi-color cats is due to a gene called kit.
During embryonic development, the pigment cells divide from the back of the embryo to the front. In piebald cats, the cells aren't dividing fast enough to cover the entire cat with pigment. This leaves parts of the belly and face (front areas) with white spotting.
Tabby Cat Patterns
Tabbies are well-known and have a variety of cat patterns.
In fact, I've written an entire article about tabby cat patterns over here as it warranted its own article. I'll cover some tabby cat basics here.
A tabby isn't a breed:
Tabby cats are a description of a pattern that is dependent on the agouti gene. If a cat has two recessive agouti genes, it will appear as a solid or piebald cat. If the cat has either one or two dominant alleles for the agouti gene, it will appear as a tabby cat.
Think of it like lights in a room. Genes are either turned on or off depending on the breeding.
What Is The Difference Between a Breed and a Pattern?
A breed of cat has physical and behavioral features that go beyond patterns.
This includes the following:
Hair length
Eye color
Temperament (e.g. playful or quiet)
Additional markings (e.g. pointed coloring)
Facial morphology (i.e. differences in the shape of the face)
You can have tabbies in different breeds of cats for example. One of my former housemates had a long-haired calico cat for example.
How Many Tabby Cat Patterns Are There?
Tabbies are the most well-known and popular domestic cats.
The tabby pattern comes in five main varieties with a vast array of coat colors.
Classic Tabby (or Blotched Tabby)
The blotched tabby has a random series of stripes and shapes and the M markings on their forehead.
Mackerel Tabby
Mackerel tabbies have rings around their tail and legs. They also have a thick stripe along their back and distinctive M markings on their forehead.
Broken mackerel cats have broken bands of vertical stripes.
Spotted Tabby
A spotted tabby is easy to identify as the name would suggest – with spots.
TThe spots vary in shape in size. The stripes are sometimes broken up.
Patched Tabby
A patched tabby has solid patches of red, orange, black, or brown on the tabby coat.
There are special female tabby cats called the calico (a tri-color cat) and tortoiseshell.
Let's look at those.
Tortoiseshell
Tortoiseshell cats have a combination of black or brown, with red or orange.
The piebald or bi-color cat could only have white with another color, but the tortoiseshell has the ability to have darker black and orange type patterns.
A tortoiseshell can have complete pigmentation of the coat (similar to a solid cat) or smaller patches of white.
Why can tortoiseshell cats only be female?
You may have heard about tortoiseshell cats only being female.
This is because the gene coding for color (white spotting gene) is on the X chromosome.
The x chromosome pairs up in females only. Males have an XY gene – hence they can only get one color to go with or without white.
A male needs to have a rare XXY allele to appear as a tortoiseshell.
What is a torbie?
A torbie is a mixture between a tabby and a tortoiseshell.
It has a black striped pattern instead of a blotchy pattern of a standard tortoiseshell.
Check out more about torbies in this article.
Calico Cat
Calico cats are tri-color cats.
As with the tortoiseshell, it is a female cat that has gotten two colors from both X chromosomes.
Why does a calico cat get patches of white around its belly and face?
A calico cat is the same as a piebald cat, with the two colors from the X chromosomes on top.
If you recall earlier, the white patches are due to pigment cells not multiplying enough during the embryonic stage of development.
This means not enough cells go from the back (where they start) to the front of the cat.
That's why the white patches of the cat are on the front (belly side) of the calico cat, and not the back.
Ticked Tabby
A ticked tabby hasn't got any coat patterns.
It has different shades of colorings in individual hairs (where the term 'ticked' comes from) and is the least distinctive of the tabby patterns.
However, the coat is a uniquely tinged color due to the ticked nature of the hairs.
Sometimes the legs have stripes or spots.
What Are The Most Common Cat Patterns?
Tabby cat patterns are the most common pattern found in most houses.
Brown mackerel tabby cats are the most common of the tabby.
80% of all cats are a type of tabby cat.
White cats have one of the highest adoption rates in shelters, whereas black cats have one of the lowest.
This is 'black cat bias' and may be due to long standard superstitions involved in black cat mythology.
What this means is that some felines will tend to appear more because they get adopted more by homes to be domestic cats.
How Does Breeding Influence Cat Patterns?
Mixing different cat patterns gives the litter a variety of genes and possibilities.
Similar to dogs, the trends of society over time will influence the appearance of traits on a cat.
A genetic study in 2017 tried to piece together the journey of cat evolution from Southeast Asia and Africa to other parts of the world, such as Europe.
They found that cats evolved from wild cats, who have the striped mackerel tabby pattern.
Hence, all tabby cats own their stripes to their wildcat ancestor.
Only through progressively domesticating cats, and selective breeding have other types of coats emerge.
The blotched tabby evolved from domesticated cats in the middle ages.
What Are The Rarest Cat Patterns and Colors On Cats?
The rarest color on cat patterns is silver, lilac, and fawn.
Brown and cinnamon are also rare cat colors.
Why are these the rarest colors?
To find out we need a science detour.
Don't worry, I'll try to keep this simple.
The gene for coat color is encoded by the feline primary coat color gene (B/b/b1). Those letters stand for different alleles which are:
B (a dominant allele)
b (a recessive allele – lowercase means recessive)
b1 (a variation of the b recessive allele)
When creating a new embryo there will be two alleles received from the chromosomes – which will contain either a dominant or recessive gene.
In other words, your cat has the following combos.
BB (dominant homozygote)
Bb (heterozygote)
bb (recessive homozygote)
b1b1 (recessive homozygote)
Bb1
bb1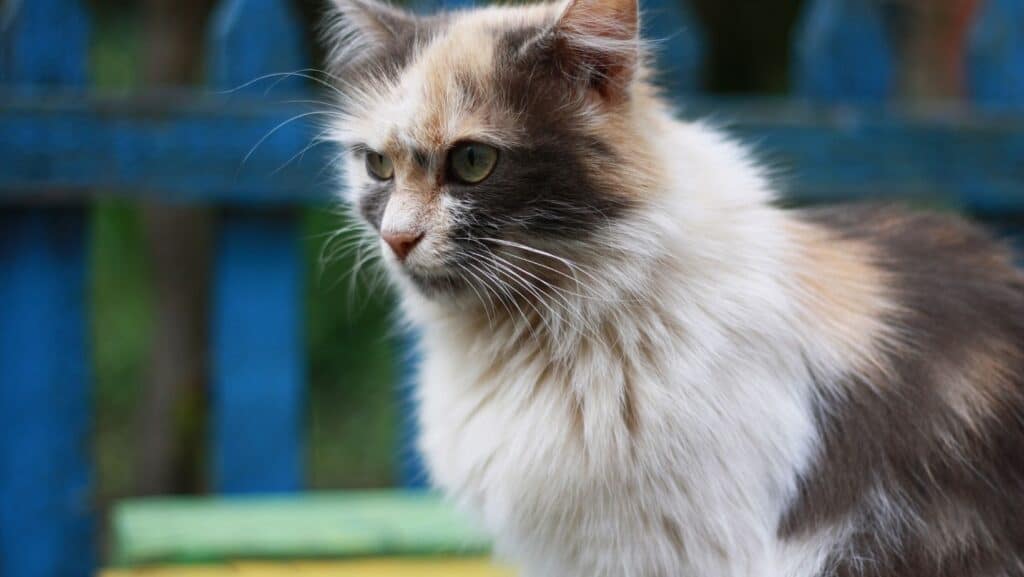 What Do Alleles Do To Affect Cat Patterns?
When you are born, you get two alleles from either parent.
As a male, you receive a Y and X chromosome.
As a female, you receive two X chromosomes.
Each chromosome contributes a copy of a gene in the allele – which is either dominant or recessive.
When a gene is recessive, isn't expressed unless it is a homozygote.
In other words, if you have one dominant allele (e.g. B the feline primary coat color gene) and one recessive allele (b) the dominant allele is expressed in the cat.
For example:
Dominant allele is brown eyes
Recessive allele is blue eyes
Cat gets one dominant (brown) and one recessive (blue)
The cat has brown eyes because the dominant 'wins' the battle
The dominant allele is just that – dominant.
Even though the gene for blue eyes is there in the genes it doesn't matter because the dominant is what shows through.
Remember:
A dominant homozygote has two dominant genes (e.g. BB).
A heterozygote has one dominant and one recessive gene
A recessive homozygote has two recessive genes
Back to cat colors.
How Do Cats Get Their Colors?
It's all about the genes.
As mentioned, the gene for coat color is the feline primary coat color gene (B/b/b1).
The dominant allele is black and the recessive alleles are brown (b) and cinnamon (b1).
What this means is that the only way to get a brown cat is two recessive genes (b/b). One recessive gene isn't going to get the job done.
The only way to get a cinnamon cat is two of the other recessive genes (b1/b1).
This is why brown and cinnamon are rare.
They must have two recessive alleles to get their colors.
However, with selective breeding, the frequency of recessive dominant alleles increases.
This introduces more brown and cinnamon cats – by limiting breeding with black cats.
If you have two brown cats breed, they will make a brown cat.
So if you want more brown cats – keep breeding brown cats with each other.
Create an army of brown cats and take over the world.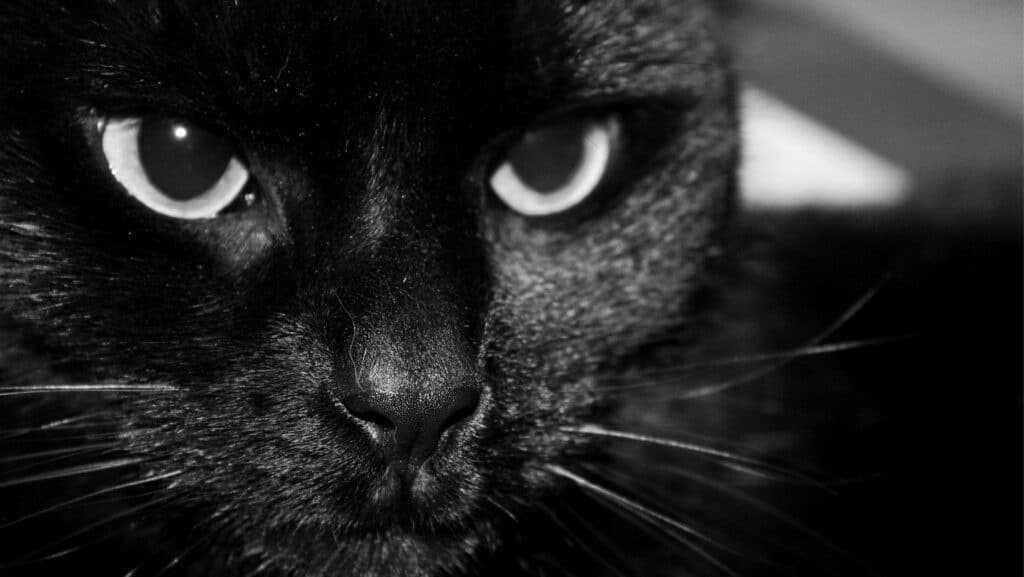 How Do Cats Become Orange?
How do you get a Garfield cat is what you want to know.
Isn't it?
There is more than one gene coding for color.
This is why you get more colors than black, cinnamon, and brown.
The X chromosome contains the gene for red color (O/o).
This gene gives a rise to the red and orange cats of the world.
Males only get one X chromosome, which means they will only have one copy of the red color gene.
Remember:
Males have one X and a Y chromosome.
A dominant allele (O) codes for black or brown, whilst the recessive codes for a mixture of red and orange.
That means a male cat can't get a mixture of the two shades.
A female cat, on the other hand, gets two X chromosomes.
Female cats can be:
Dominant homozygotes (O/O) which give a black appearance
Heterozygotes (O/o) which give the mixture of black and reddish tones (calico and tortoishell cats)
Recessive homozygotes (o/o) which produce red and orange cats
Learn more about orange cats over in this awesome article.
How Do Cats Get a Blue and Grey Color?
Glad you asked.
Do you want more cat colors?
Nature says yes to your desires.
The dilution gene (D/d) encodes for melanophilin and is responsible for creating different color tones.
For a different color to occur, the cat needs two recessive dilution genes (d/d).
This will modify the existing color from the red color gene and primary color gene.
If the recessive dominant dilution gene combines with a black cat, it will appear in a greyish tone; a lilac or silver-tone if combined with a brown color; fawn with cinnamon; and cream with red.
What About White Cats?
Does this rabbit hole end?
Nope.
KIT gene (W/w) influences the appearance of white around the body.
There are two forms of the dominant white gene, the white spotting or the dominant white gene.
A dominant homozygote for the latter will result in a default white cat, whilst the former results in a spotted white cat (e.g. calico cat).
What Are The Rarest Cat Patterns?
The rarest cat colors are:
Silver
Lilac
Fawn
Brown
Cinnamon
Of course, selection breeding in different areas and the selection of cats from shelters influence the distribution of cat colors seen around the world.
How Many Cat Patterns and Colors Are There?
There are over 10 shades of cat coat colors.
It's not quite 50 shades of cat, but it's a good effort nonetheless:
The colors include:
White
Black
Red
Cream
Blue
Smoke
Cream
Lilac
Grey
Cinnamon
Fawn
Silver
Chocolate
Now you know there is a huge potential range of colors and patterns to choose from with or without a white coat.
What Is Point Colorization?
This is where a cat has dark points on its paws, face, and tips of the tail.
The reason for this is due to a mutation causing albinism in cats.
The mutation occurs in the allele for tyrosinase, which is an enzyme needed to produce pigment.
The enzyme is temperature-sensitive.
As a cat grows into an adult the parts of the body are the coldest switch on the enzyme and block pigment, resulting in the pointed appearance.
Pointed breeds include the Siamese and Burmese.
Mixed breeding results in further variations.
The points are dark or colored (the latter called color points).
Why Do Cats Have Short Hair or No Fur?
The appearance of different fur lengths is due to evolved mutations and selective breeding.
Shorthair Cats
Shorthair cats may have descended from Roman cats brought to the British Isles.
These cats would have been further bred for domestication and shown by cat fanciers.
Longhair Cat
The long hair cats may have been descended from cats living in colder climates like Russia, Iran, and Turkey.
No Hair Cat
The appearance of the 'naked' cat with no hair originated in the 1960s thanks to a genetic mutation and attracted the popularity of breeders.
A Sphinx cat is one breed of 'naked cat' and is quite an interesting-looking cat.
Conclusion: 100 Cat Patterns (Why Your Cat Has Stripes)
This wraps up my article on cat patterns.
Cat patterns all come down to genes.
Cats have multiple genes controlling colors and cat patterns.
Differences in breeding allow these genes to switch on or off.
Cats can have basic black and/or white combinations or a variety of cat patterns. All these possibilities depend on breeding and variations of genes.
The rarest colors of cats are silver, lilac, fawn, and cream cats.
This is because they require two sets of recessive genes to occur.
Tabby cat patterns are the most common of the cat patterns and there are a variety of these cats (e.g. mackerel tabby, pointed tabby, spotted tabby, ticked tabby, blotched tabby).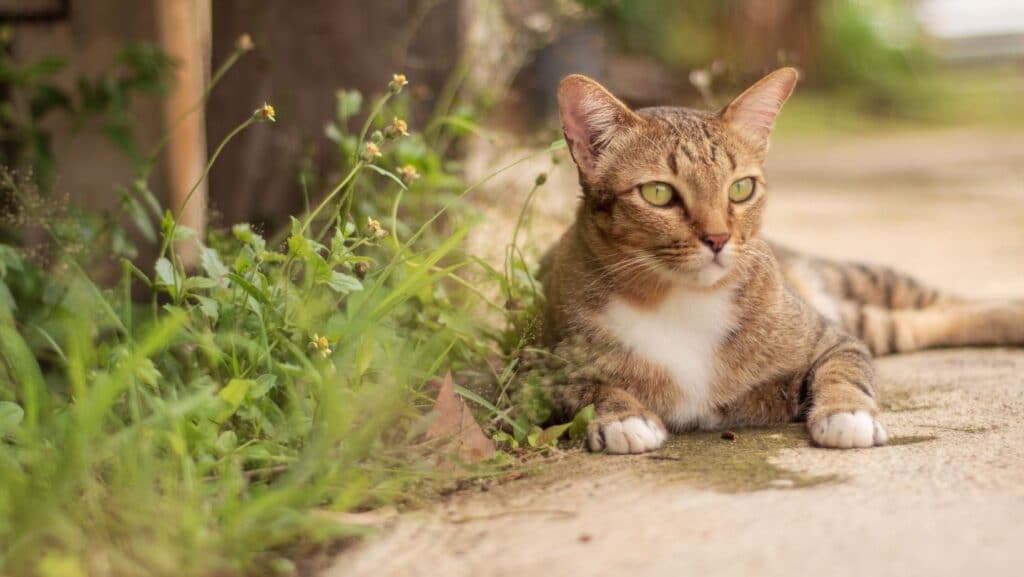 Want To Read More About Cats?
Check out the guides below.
Disclaimer
We may receive commissions when you click our links and make purchases. However, this does not impact our reviews and comparisons. We try our best to keep things fair and balanced, in order to help you make the best choice for yourself. As an Amazon affiliate, I earn from qualifying purchases. As a Chewy affiliate, I earn from qualifying purchases.