Honest Tiki Baby Cat Food Review
Disclaimer
As a Chewy and Amazon affiliate, I earn from qualifying purchases. This does not impact our reviews and comparisons.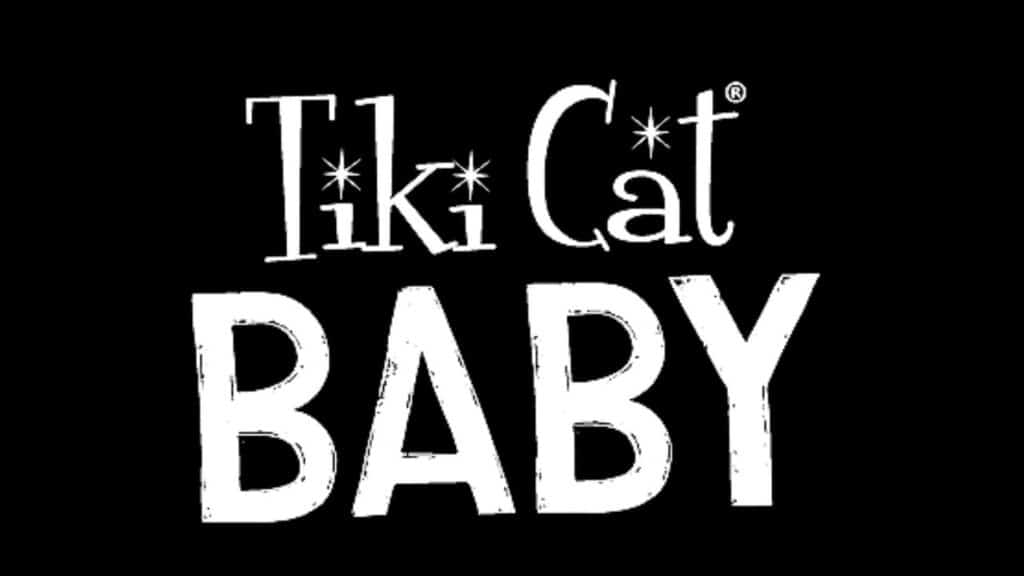 Score
Wet: 9/10 Dry: 7.5/10
Bottom Line
One of the best choices for your kittens health and great for fussy kitties. Pricey though…
Tiki Baby Cat food is a good choice for kittens…heck you could get away with feeding this to any cat. There's only a few kinks in the armor with this one.
Want to find out more?
In this short Tiki Baby cat food review I've taken a close look at this foods nutrition.
I've also tested this food with our cat Oscar to see whether he licks his plate clean.
Tiki Baby Cat Food Review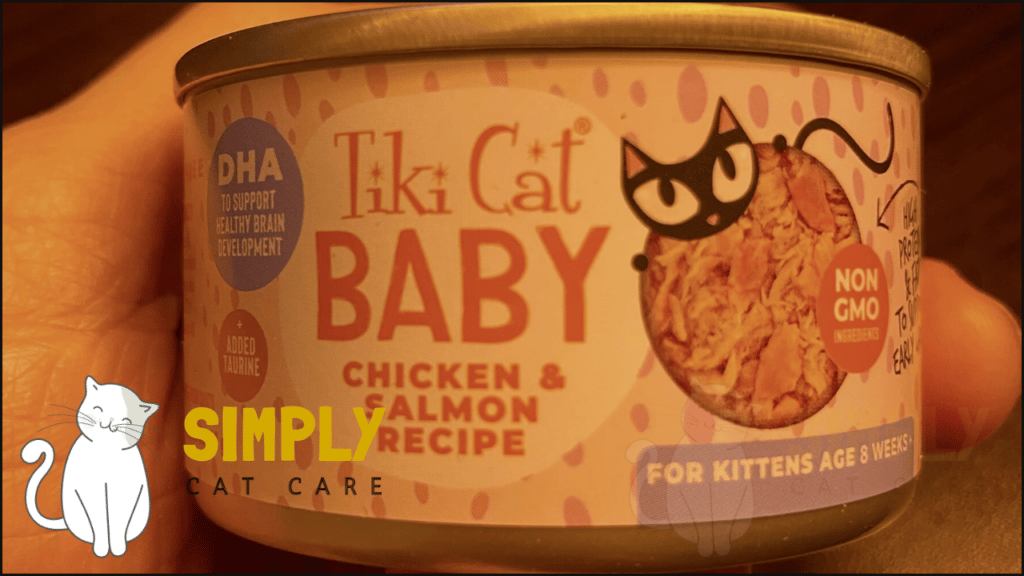 Let's kick things off…
Tiki Cat Baby is a product line from Tiki Pets. This is a kitten focused range using chicken, salmon and egg as main ingredient sources:
I've chosen the 3 most popular choices to take a look at. I tested 1 product (Tiki Baby Cat chicken & salmon wet food) with our cat to find out how he feels about it.
Here's a summary of key stats for our chosen products:
| Table 1: Tiki Baby Cat food comparison | Food | Label | Type | Texture | Lifestage | Made In | Protein* | Fat | Carb | Fiber | Ash | Taurine | Ca: ph ratio | Magnesium | Cal/kg | Cal/g | Score |
| --- | --- | --- | --- | --- | --- | --- | --- | --- | --- | --- | --- | --- | --- | --- | --- | --- | --- |
| Tiki Baby Cat | Deboned chicken & egg | Recipe | Dry | Dry | All | USA | 47.7% | 25.0% | 13.6% | 4.0% | 9.7% | 0.1% | N/A | N/A | 3922 | 4.5 | 7.5/10 |
| Tiki Baby Cat | Chicken & egg | Recipe | Wet | Shreds | All | Thailand | 62.5% | 25.0% | 0.0% | 8.3% | 4.2% | 0.2% | 1.2:1 | N/A | 1175 | 4.9 | 9/10 |
| Tiki Baby Cat | Chicken & salmon | Recipe | Wet | Shreds | All | Thailand | 62.5% | 22.9% | 2.1% | 8.3% | 4.2% | 0.2% | 1.2:1 | N/A | 1175 | 4.9 | 9/10 |
*dry matter basis
Not sure if this product is right for you?
In the rest of this article, I'll help you learn more about Tiki Baby Cat, looking at the following:
Ingredient quality
Nutrition
How my cat enjoyed this product
Price
Trust and recalls
Tiki Baby Cat Food Ingredients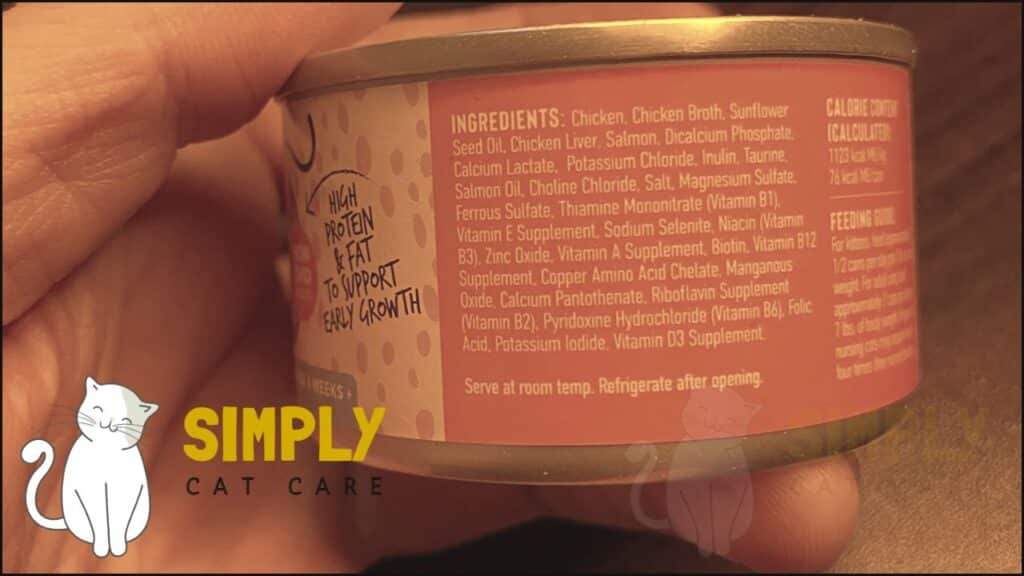 Most of the ingredients in Tiki Baby Cat are good. The one gripe is the use of sunflower oil, a plant oil that doesn't offer much benefit.
Here's a rundown of each of the 3 products ingredient list (I'll limit it to the first 10 to keep things on point):
Tiki Baby Cat Kitten Born Carnivore Deboned Egg & Chicken (Dry Cat Food)
Ingredients: Deboned chicken, chicken meal, dried egg product, natural chicken flavor, chicken fat (preserved with mixed tocopherols and citric acid), dehydrated chicken liver, peas, chickpeas, tapioca, ground whole flaxseed, brewers dried yeast
The sole dry food kicks things off with a list of meaty ingredients. Tiki Baby Cat uses chicken meal which is lower in protein quality but it's generally good here.
Filling up the bag are a range legume ingredients and tapioca (starch food source). These ingredients tend to bump up the carbs and offer lower quality protein.
The label type of this food is a recipe. That means around 40% of the unnamed ingredients are in the bag (i.e. everything after chicken liver).
That's a little too high in plant based ingredients for our liking, given cats are carnivores. Hence the scoring below.
Ingredient Score: 5/10
Tiki Baby Cat Chicken & Egg (Wet Cat Food)
Ingredients: Chicken, Chicken Broth, Sunflower Seed Oil, Chicken Liver, Egg, Dicalcium Phosphate, Calcium Lactate, Potassium Chloride, Inulin, Taurine, Salmon Oil
Everything looks all hunky dory here.
Chicken, chicken liver and egg are the main ingredients. These offer protein and a range of micronutrients needed for growing kittens.
What I don't like is the sunflower oil. It's high on the list and doesn't offer any nutrition benefit.
Cat's are not able to use plant based oils as a source of essential fats. They need meat sources only.
Ingredient Score: 9/10
Tiki Baby Cat Food Nutrition
Tiki Baby Cat offers great nutrition quality, thankfully. The wet food is hard to fault although the dry food could be better.
The Tiki Baby Cat products we looked at meet the AAFCO guidelines for cats of all life stages.
The wet Tiki Baby Cat products are low in carbohydrate (close to 0%). On the other hand, the dry product contains ~13% on a dry matter basis.
Given most dry food is much higher, this isn't a bad result. It's a touch higher than what I'd recommend based on research, but one of the better choices on the market.
All dry cat food lacks moisture, so I recommend Tiki Baby Cat Born Carnivore as an occasional choice, at best.
Nutrition Score: 10/10 (wet) 5/10 (dry)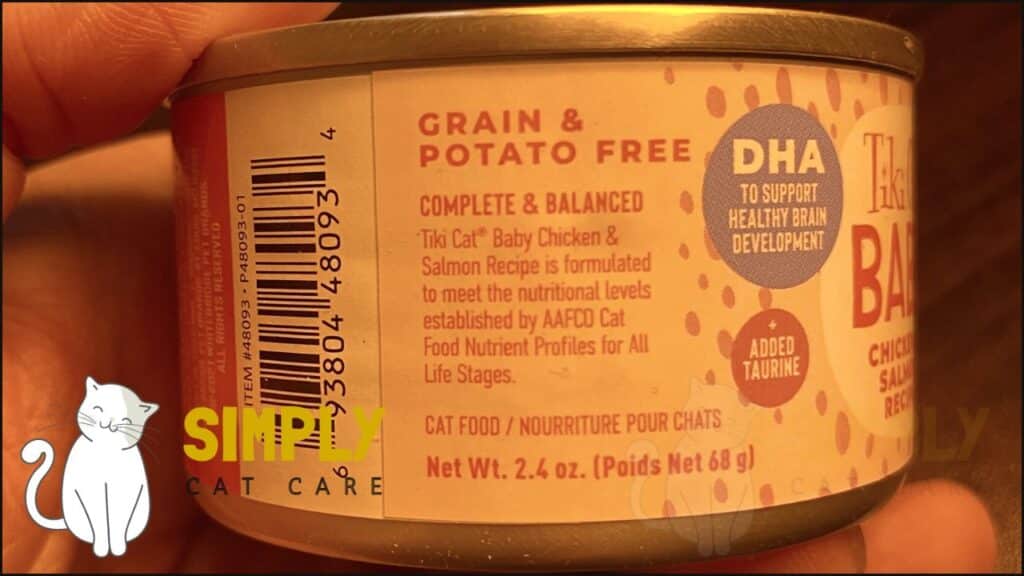 What Did Our Cat Think Of Tiki Baby Cat?
I served Tiki Baby Cat chicken & salmon shreds and our cat Oscar devoured it quickly. It's fair to say he enjoyed this one!
Here are the results of our taste testing:
Food Test 1: Tiki Baby Cat Chicken & Salmon Shreds
Amount eaten: 100%
Time to finish eating: 5 minutes
Food appearance: A little watery. Shredded texture, looks near human grade and fresh.
Smell: Smells pleasant
Here is a short video of Oscar trying this cat food:
Here is a presentation of this cat food:
Taste Score: 10/10
Tiki Baby Cat Price
Tiki Baby Cat is on the high end of the price scale for wet cat foods. I've compared prices on a per ounce comparison. Similar products include:
On the other hand, the dry food is mid priced (albeit pricey compared to many dry brands). Similar dry cat food products include:
This can change due to inflation and product availability.
Price: 7/10 (wet) 8/10 (dry)
Tiki Baby Cat Trust
I have covered this topic in my other article on Tiki Cat After Dark products (another product in the Tiki Pets line).
Long story short, Tiki is a trustworthy brand. They are not owned by one of the 'big pet food' companies. There's also no recalls as of date.
Learn More:
Trust Score: 10/10
Conclusion
Tiki Baby Cat as a good kitten food. Our cat loved the wet shreds cat food product when offered a taste test.
The nutrition quality meets the needs for kittens or cats of any life stage, per AAFCO guidelines. Ingredients are great, although Tiki Baby uses a little too much plant based oil for my liking.
The main downside of this cat food is the price. It's a bit steep and there are some great options to think about that are great (e.g. Feline Natural).
I recommend Tiki Baby Cat for picky kittens.
Check out Tiki Baby Cat: