6 Best Cat Carriers For Comfort in 2021
Choosing the best cat carrier for comfort is not easy. There are so many options and you want to make sure that your kitty will be comfortable in her new carrier.
It's hard to know which features are most important when choosing an airline-approved pet carrier. I will help you understand all of your options so that you can make an informed decision about what works best for you and your pet.
This article will help you find information to help narrow down the choices by looking at different factors like size, durability, safety features, design type, ease of use, and price.
---
A cat carrier is an essential item for transporting your pet. When you need to travel with your pet, a pet carrier provides a safe and secure space to load your cat into the car or for air travel.
To analyze the products in this article, I created a set of criteria that focused on the important features a cat carrier should have. This allowed me to compare each product to make a decision on which one did the best job meeting most of the criteria.
My name is Derrick and I am a writer for Simply Cat Care. This website provides easy-to-read helpful guides for your cat. I am not a veterinarian and I recommend seeking the advice of a vet before making a buying decision for your cat.
Keep reading for a round-up of our top cat carrier picks:
---
Product Review: The Best Cat Carriers
SUMMARY
For a no-nonsense affordable product, the WDM Airline Approved Cat Carrier ticks a lot of boxes.
I liked the versatile range of features with this cat carrier. There are two sizes that suit a range of cat sizes. The cat carrier is airline compatible and has two convenient modes of entry (check with the individual airliner before use).
The product opens to make a spacious and cozy house bed acclimating the cat to the carrier. The shape of the carrier can keep your cat secure for car rides whilst fastened to your car seat.
Let's take about the limitations of this product. Nervous cats may break down the soft mesh windows, although this is an infrequent problem. The carrier may collapse with repeated use and wear. The guidelines do allow a generous weight with the medium allowing 8kg and the large at 12kg, although some cats may push this limit.
PRODUCT DETAILS
Color: Black / Grey / Green
Dimensions: Medium: 12.24 x 11.26 x 3.31 inches; 2 Pounds (max load 18lbs/8kg) Large: 12.81 x 12.21 x 3.35 inches; 2 Pounds (max load 26lbs/12kg)
---
SUMMARY
The Rocket & Rex Premium Soft-Sided Pet Carrier is a sturdily built cat carrier.
Whilst the product only comes in one size and color, the bag is stylish and the size will accommodate a large range of cats (please ensure to measure your cat before purchasing a product).
The price point is steeper, but for those burned for cheap products in the past, the bag has heavy-duty features that stand out and will stand the test of time. This is a great option for a nervous scratcher. I like the addition of a padded shoulder strap which allows for easy and comfortable pet carrying.
Overall, this product has a sound range of features that might suit someone willing to invest a little more into quality and durability.
PRODUCT DETAILS
Color: Default (grey)
Dimensions: 17.5 (L) x 11 (W) x 10.5 (H) inches; 3.25 Pounds
---
SUMMARY
In the budget range of products comes the SERCOVE Travel Cat Carrier.
What I like about this cat carrier is it has most of the features a good cat carrier should have at an affordable budget. The carrier is airline-approved and has three sizes to suit a range of cats. The small size may only be useful for kittens, but it is good to have options. The carrier also has a front and side entry for versatility.
Let's look at the negatives of this product. Some reviews have highlighted issues with the strength of the metal frame. You want to have peace of mind that your product is able to last long term. Around the house, this bed suits your cat's resting needs. If you are traveling with your cat often, you may need a more durable option.
PRODUCT DETAILS
Colors: Black/Grey/Purple
Dimensions: Small: 15(L) x 10(W) x 10(H) inches(38×25.4×25.4cm) 8lbs weight limit, bag weight 2.11lbs Medium: 17x11x11 inches(43×27.9×27.9cm) 15lbs weight limit, bag weight 2.34lbs Large: 19x12x12 inches(48.2×30.4×30.4cm) 20lbs weight limit, bag weight 2.6lbs
---
SUMMARY
Let's take a look at Mr. Peanut's Airline Approved Soft-Sided Pet Carrier.
I like the range of features that make for a comfortable cat carrier for airplane travel. This product has a top and side entry, ventilation for breathing, and expandable sides. To keep your cat safe, this carrier also has a leash tether with luggage straps. This cat carrier also has padded shoulder straps to help you get around the airport with your cat.
The under seating compatibility complies with a range of major airlines including United, American, Virgin, and Delta. The bags have passengers' use in mind.
The shoulder strap has withstood duress from swinging based on testing. It has the durability for long stretches of carrying your pet, although the weight limit of 15lbs might test the bigger cats. The main cat-friendly features of mesh windows and lightweight design provide a comfortable rest.
Let's look at the limitations of the cat carrier. This product is tight on the height department. This is the downside of carriers suited for travel purposes and something to keep in mind. A large cat may struggle, although the carrier has expandable sides to give more room. The carrier also lacks proven car crash safety, like many cat carriers.
PRODUCT DETAILS
Colors: Charcoal
Dimensions: 18″ (L) x 10.5″ (W) x 11″ (H) (Suited for cats 15″ (L) X 9″ (H) and up to 15lb in weight)
Bag weight: 3.5lbs
---
SUMMARY
As a budget-best hard carrier, the Midwest Spree Travel Pet Carrier is a basic option that might be up your alley.
The hard cat carrier is becoming a thing of the past, and it's difficult to find something that isn't outright dangerous. The Midwest Spree is easy to assemble, affordable, and has good customer support. As far as basic hard carriers go, they offer one of the better options in this range.
The product should get the job done for the infrequent vet trip, and is not designed for much more than that. It's easy to disassemble and clean, which is a bonus. Like a lot of products, you need to ensure enough headroom for your cat by allowing extra space – often the smaller products don't cut it.
If you are after the best hard cat carrier, the Midwest Spree is worth a go if you do not want soft-sided carriers.
PRODUCT DETAILS
Colors: Red/Green/Blue
Dimensions
Large: 24 inch: 22.5 (L) x 15.2 (W) x 14.9 (H) inches, carrier weight 3.75lbs Medium: 22 inch: 20.7 x 13.22 x 14.09 inches, carrier weight 3.1lbs Small: 19 inch: 17.91 x 11.5 x 12 inches, carrier weight 2.14lbs
---
SUMMARY
Let's take a look at the Sleepypod Mobile Pet Bed.
The high price tag may deter some. However, the rigorous crash testing efficacy is a massive benefit and gives you peace of mind for travel. It comes equipped with seat belt straps that secure your pet to the seat. The bed comes in a range of colors to suit all your stylish needs.
The pet is luxuriously lined for general sleeping purposes. The benefit of this is the bed will be comfortable for your cat when going on a hesitant vet trip. The size and weight limit might test the bigger range of cats and is something to keep in mind.
If the price is no barrier to the safety of your cat, the Sleepypod is worth considering.
PRODUCT DETAILS
Colors: Multiple options
Carrier weight: 4.5 pounds
Dimensions: 17 (L) x 6.5 (H) inches
Weight: 3 pounds
Pet weight limit: 15 pounds or less
---
Review Process: How did I choose the products in this article?
I based my product reviews for the best cat carrier using the following criteria.
Size: A carrier should be at least 50% larger than your cat to allow enough space to move
Strength: The carrier's max weight limit should be sufficient to carry your pet. Strap and shoulder handles should be secure.
Easy to Clean: A preference for waterproof bedding with removable washing inserts. Mashing washable (on cold) material is beneficial.
Safety: The carrier should not have any sharp edges that could harm your cat
Ventilation: The carrier needs enough airflow for your cat to breathe
Crash tested: Many carriers are not tested for car collisions. It is worth considering whether the product has secure car seat strap handles or additional features that improve the safety profile of the carrier. Hard plastic carriers may be more dangerous in a collision as they could disintegrate.
The following are additional criteria that are not as important for all situations but are worth consideration.
Front/Top loading: Does the carrier have two options for entry (note this can often compromise the structural integrity of the product)
Airline Approved: If your cat will be traveling with you by air (especially if this is frequent) you will want to consider the carrier best suited to this need
Color/Style: Most carriers are not colored, but might be worth considering for long-term investment purposes. Sportpet designs might suit some individuals looking to make a fashion statement. They will also need to consider whether the carrier comes with the safety and structural profile to care for your pet.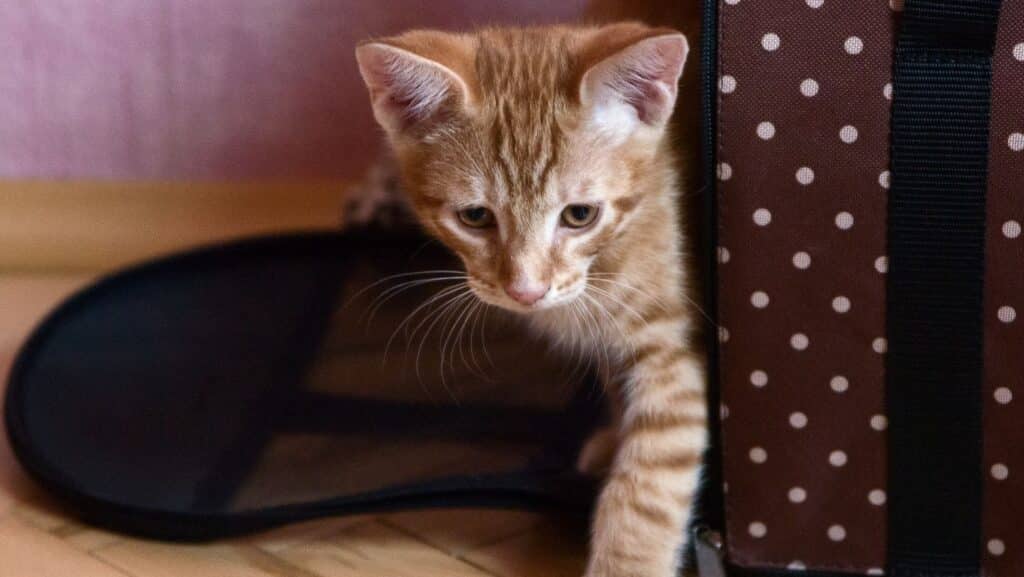 ---
Buying Guide: Choosing the Best Cat Carrier
If you're looking for the best cat carrier for your feline friend, this guide is for you.
I'll tell you what to look out for when buying a cat carrier and help you find the best one that will keep your kitty happy and comfortable.
You don't want to buy something that doesn't work or isn't safe, so I've included my top picks in this article which you can check above as well as some of the most important features to consider before making your purchase.
By the end of this article, you'll be able to make an informed decision about which product is right for your needs.
---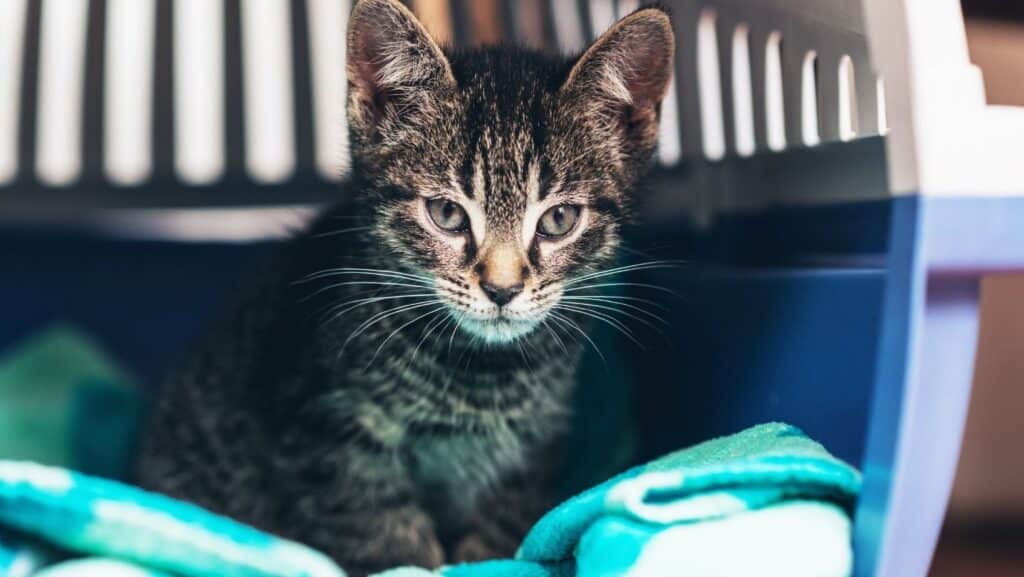 Why buy a cat carrier?
There are a lot of reasons for needing a cat carrier.
Traveling
Routine vet appointments
Emergencies
Sleeping
For these purposes, hauling your cat into a car is dangerous for you and the cat. You need the security and safety of a cat carrier.
There are a lot of choices and it can be difficult to know what you need to get.
What is best for your cat?
I'll help you with that.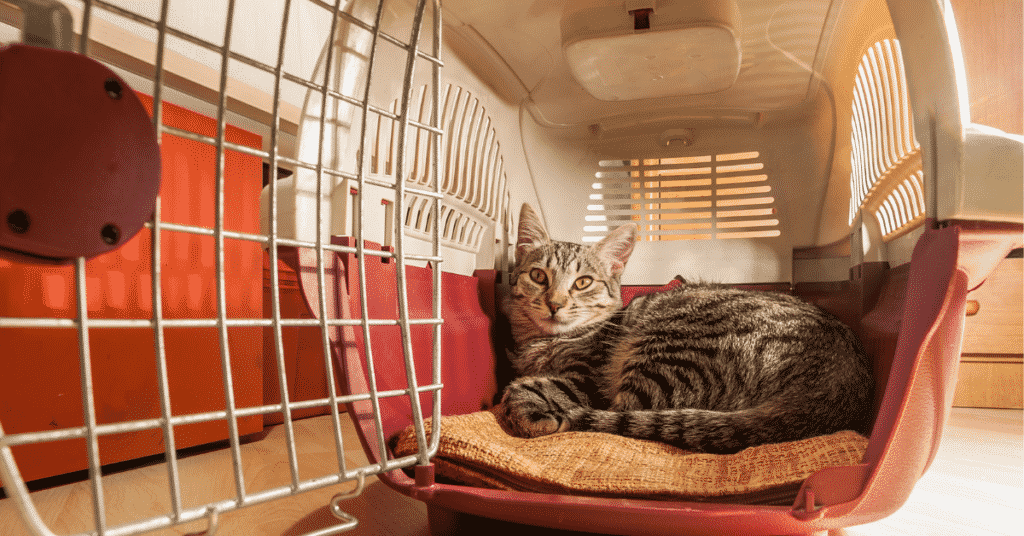 What type of carrier is best for cats?
There are a few criteria that will help you decide what you need for your cat. At the end of the day, you are looking for something that will be comfortable for your cat and secure.
To that end, the following criteria are important considerations.
Size
Although cats are very flexible, it should be no surprise that they don't enjoy getting crammed into tight spaces [1].
A cat should be able to stand upright without having its whiskers brushing up against the sides of the opening [1]. A cat should have room to relax, stretch, and rest without feeling like they are – well caged.
See our sizing guide below for more details on how to measure your cat.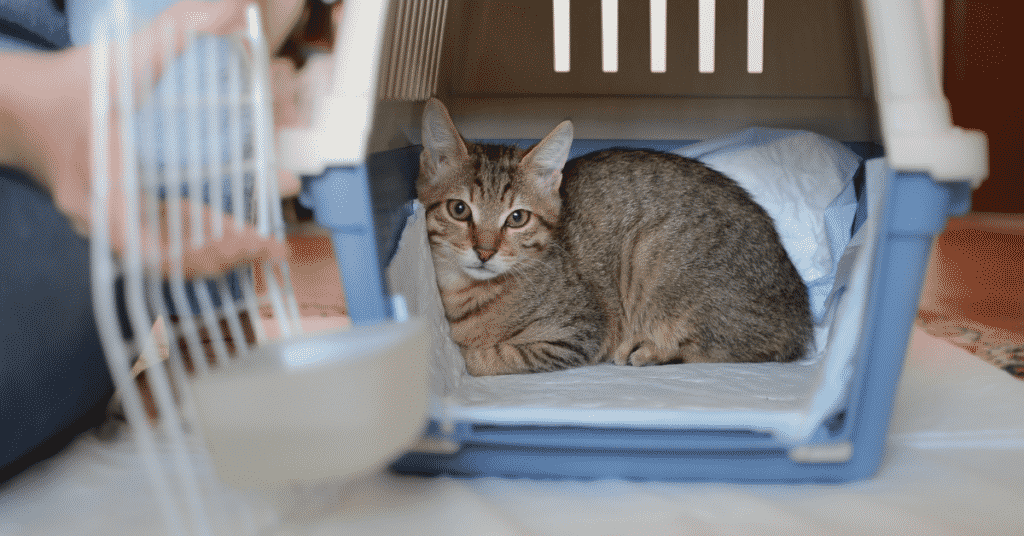 Strength
When adopted for the first time makeshift cardboard enclosures give the cat very little safety.
It goes without saying that this sort of method of transport is not a long-term option. You will need a more sturdy alternative. A cat carrier should be well-made with strong latches that secure your cat.
You should not be able to break or bend it. I have vetted the reviews of each product to check for poor-lasting materials. A cat carrier needs to stand the test of time and not one visit to the vet.
Moreover, some cat carriers are not suitable for shoulder carry. For long distances and plane travel in particular a durable padded shoulder strap is a big advantage as you can carry your cat without strain.
Always refer to the weight limit when choosing the right product for you.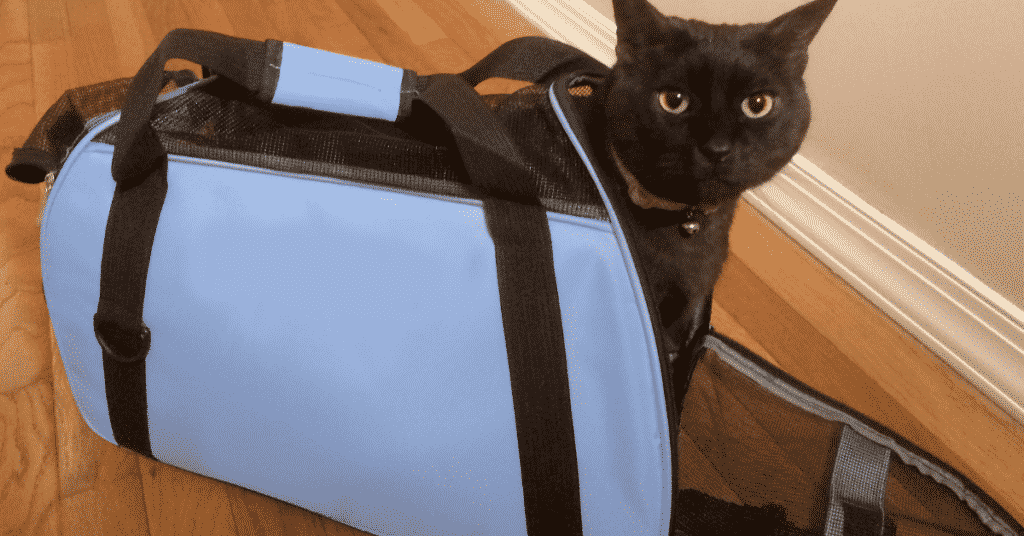 Easy to Clean
Around the house, the cat carrier provides a calm resting spot to help familiarise your cat with it. This repeated use necessitates cleaning.
Check if a soft cat carrier is machine washable before purchase, as that can be a useful feature. Hard-sided cat carriers should have removable sides to access for cleaning.
The best cat soft carriers usually come with removable waterproof pads for washing, in case of urine soaking.
Safety
Car trips form the bulk of cat carriers' use.
Chewing hazards are best avoided. The sides of the enclosed space should not hurt your cat by rubbing against it (e.g. sharp-edged ventilation covers).
Ventilation
A cat carrier needs enough airflow for your cat to breathe. A soft cat carrier should contain mesh window exteriors. A wireframe provides ventilation on hard cat carriers.
Ventilation is especially important for airline travel, whilst contained in a cabin for long periods.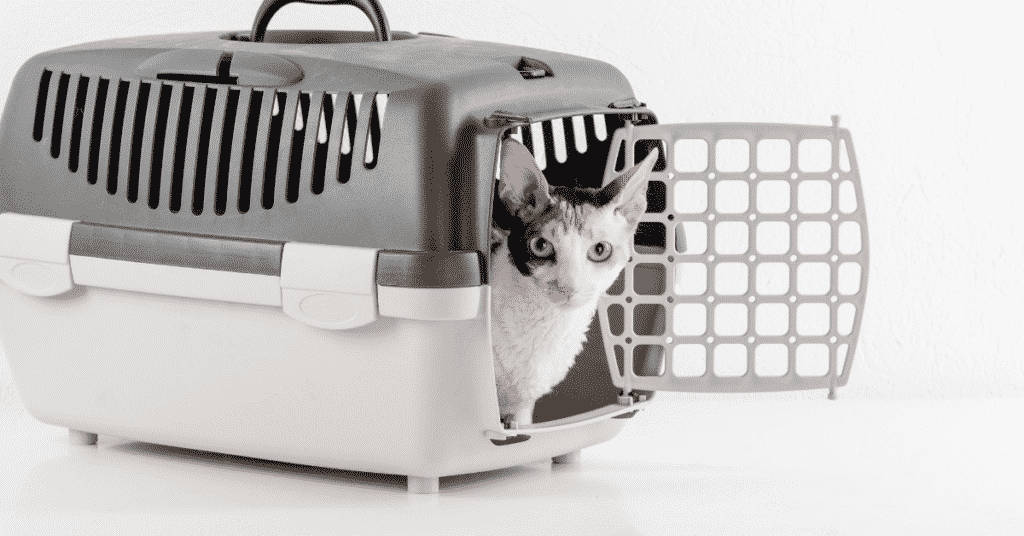 Front or Top Loaded Carrier
Some cats do better with two separate openings. A top door helps if the cat is stubborn. This allows the cat to be 'airlifted' into the carrier for travel [2].
A front door means your cat can use the carrier as a general-purpose bed around the house. The advantage of that is that your cat can accustom itself to the carrier with the front entry before travel.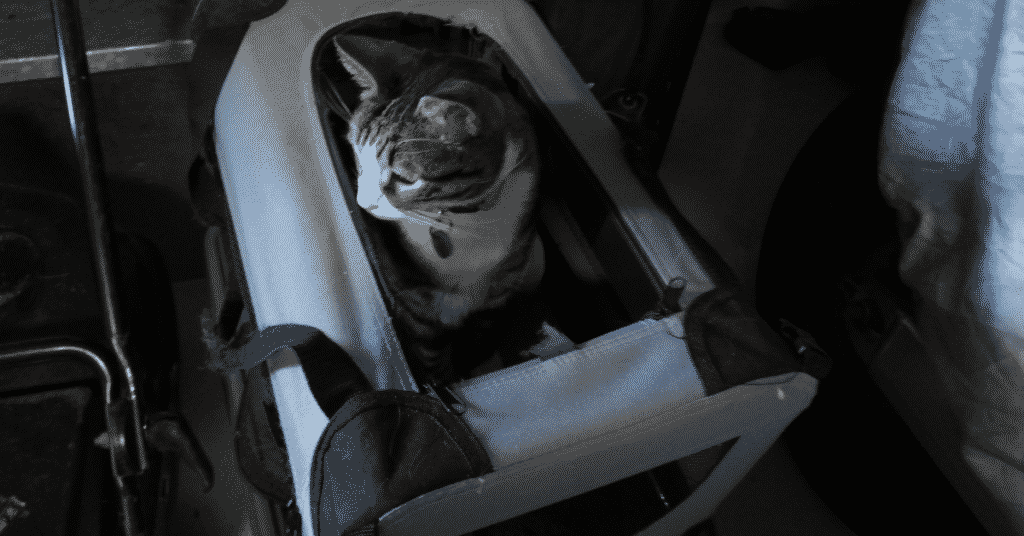 Airline Approved
There are cat carriers that allow for cabin stowing or placement under passenger seats. This depends on the individual airline and the carrier used.
Some products say 'airline approved' but are not suitable under the passenger seat. Cat carriers designed for this purpose (e.g. the Mr. Peanut's range of cat carriers) are your best option if you need this feature.
Always check with your airliner before purchasing a carrier you intend to travel with.
Crash Tested
Crash-tested pet carriers need attachment via seatbelt to the car [3]. If the carrier is not crash tested, then it needs to go on the floor in the backseat area, where it can be secure for your cat.
Nobody wants to think of the worst-case scenario, but it a definite consideration into whether your carrier is crash-tested or not. Whilst the possibility of a crash is rare, it's still a possibility all the same.
In 2015, the Center for Pet Safety released a report evaluating the performance of a range of pet carriers for crash test safety [4]. Some of the results were disturbing with many carriers completely ejecting the crash test pet dummy from the carrier [4]. Even more disturbing was the claim of products being crash-tested completely failing [4].
The hard plastic carriers performed worst, disintegrating and providing additional hazards [4].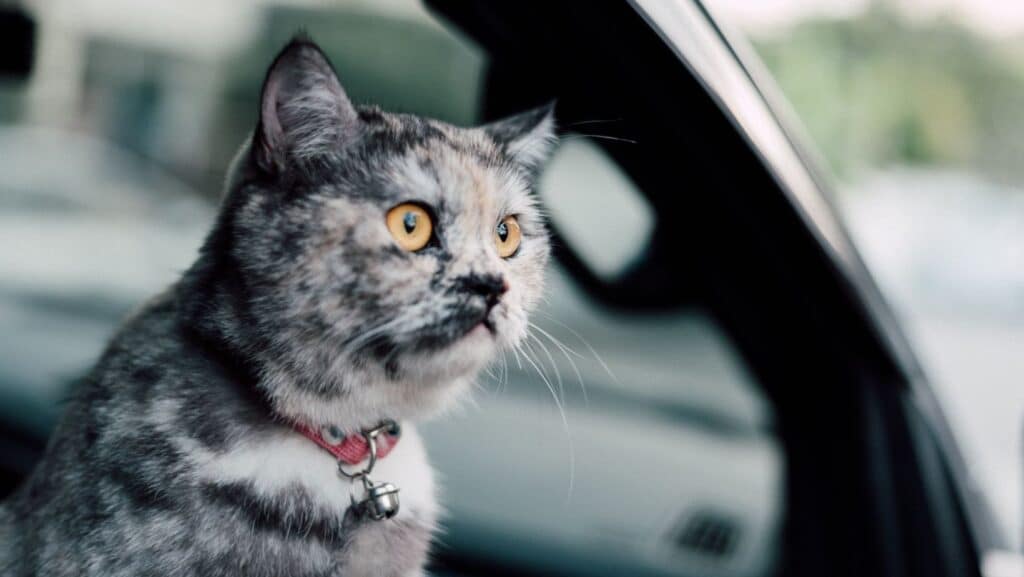 What is the best size carrier for a cat?
A carrier should be 50% larger than your cat [5]. If you have a kitten, you might want to buy a carrier suited for an adult-sized cat. You can use an extra towel to secure the additional space.
The storage space of the carrier should allow your cat to stand upright [6]. Another feature to look for is whether the carrier comes with the ability to place food and drink bowls inside [6]. This helps bring comfort to your cat.
How to measure your pet to select the right carrier
Stand your pet upright and get out a measuring tape. Do the following measurements.
Length: Measure from chest to rear
Height: Measure from the ground to the top of your cats back
Weight: Weigh yourself on a scale with your cat and then by yourself – deduct your weight from the cat + person weight to get your cats weight
Use these measurements when deciding on a purchase, keeping in mind you should allow at least 50% more room on either side (e.g. if your cat is 12 inches in length, then have a carrier that is at least 18 inches long). Make sure your cat weighs under the specified limit for the carrier.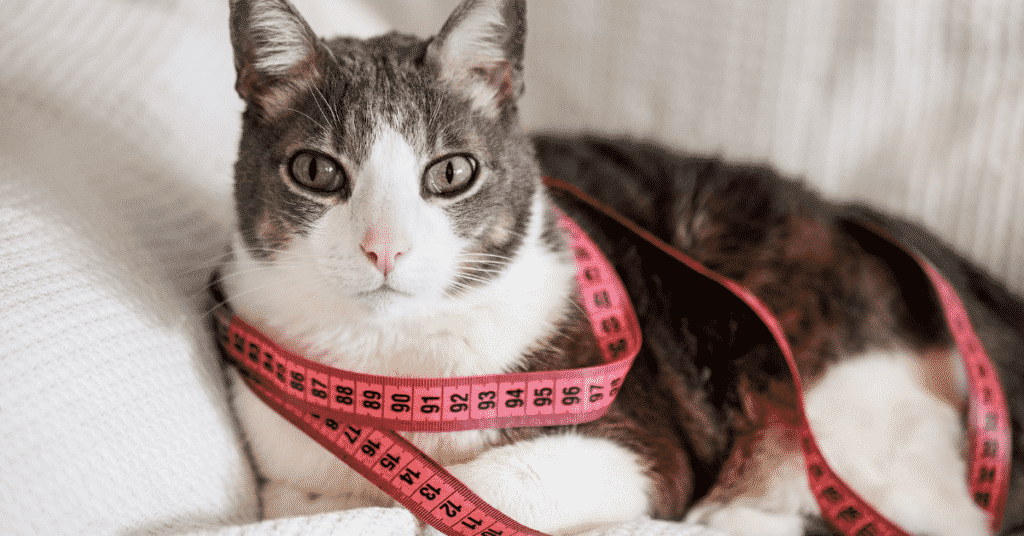 Do cats prefer hard or soft carriers?
A hard or soft carrier can get the job done by carrying your pet and keeping your cat safe. Let's go over each type and see which one is best for your cat.
Soft Cat Carrier
A soft carrier is lighter, with a shoulder strap and mesh windows for ventilation and sight. The soft-sided cat carriers may also be machine washable for easy maintenance. Soft cat carriers need to be sturdy enough to maintain their shape whilst carrying your cat (i.e. no sagging). Moreover, it needs to be resistant to scratches and wear.
Hard Cat Carrier
A hard carrier is usually made with hard plastic with a wireframe. It might give you peace of mind during airline travel, as it protects your pet from any object that would fall on it.
Hard cat carriers do have disadvantages. They break in car collisions and sometimes have sharp edges that hurt cats.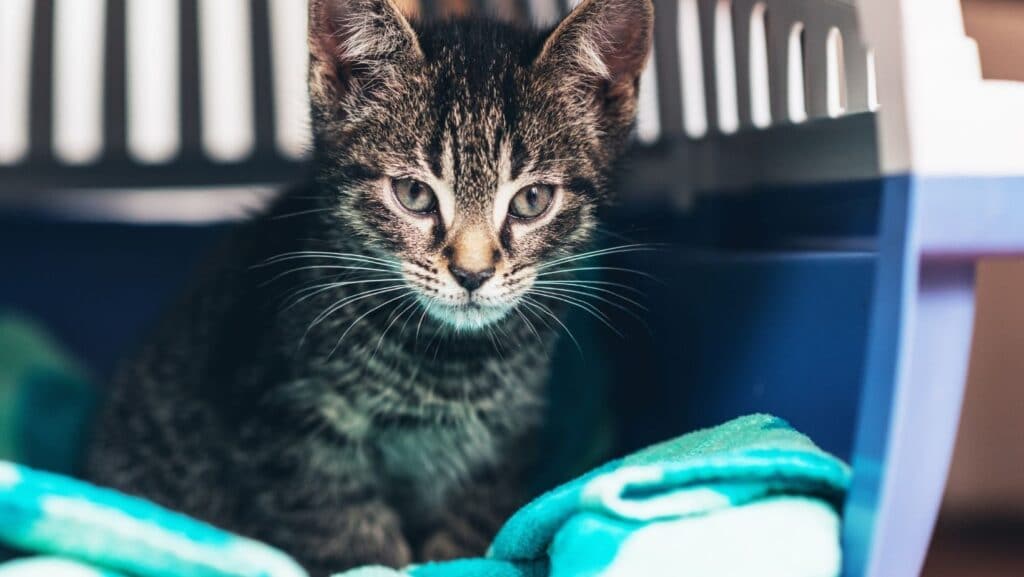 Which does your cat prefer?
It depends on the situation, but soft cat carriers are usually best.
Of course, this will come down to what type you use – and whether your cat is happy with the carrier. If your cat is spending time laying down in the carrier in your house, it is a sign that the cat is enjoying that carrier.
Poorly built hard cat carriers can often be a hazard to nervous cats if they rub against the harsh openings. Generally, soft cat carriers are becoming more popular as plastic containers are prone to becoming hazardous. Soft carriers are lighter and generally easier to use.
Either way, a quality product should be the right size for your cat and able to allow your cat to rest.
Are cat carriers cruel?
Cat carriers are an essential item for any cat or pet owner.
Essential for traveling purposes and vet appointments, the cat cannot go without it. It is not safe to take your cat via car without restraint.
Poor quality cat carriers can hurt your cat, or be uncomfortable. The pet carrier should be at a standard your cat can stand and stretch. They should be happy to wander in and rest when left around the house.
Selecting the right cat carrier for your cat with care to minimize the chance of picking up a lemon. The detrimental effects of poor-quality builds are not worth the savings.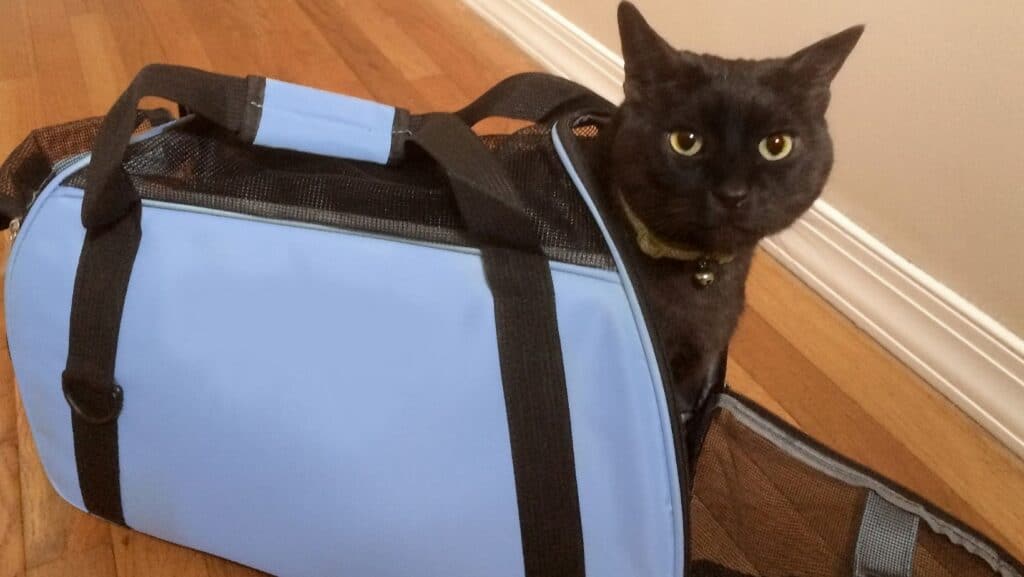 How to improve your cat's aversion to a cat carrier?
A cat carrier should be a place of comfort for your cat. This isn't supposed to be a prison, but a bed for them.
Use the cat carrier in the home as a sleeping quarter for your cat. Leave some small treats and make the carrier as comfortable as possible [1].
Dry cat food is a great option for cat carriers. Check out our top dry cat food picks for help.
Familiarising your cat in advance, with the cat carrier is a great way of making sure your cat is happy to go inside and relax during transport.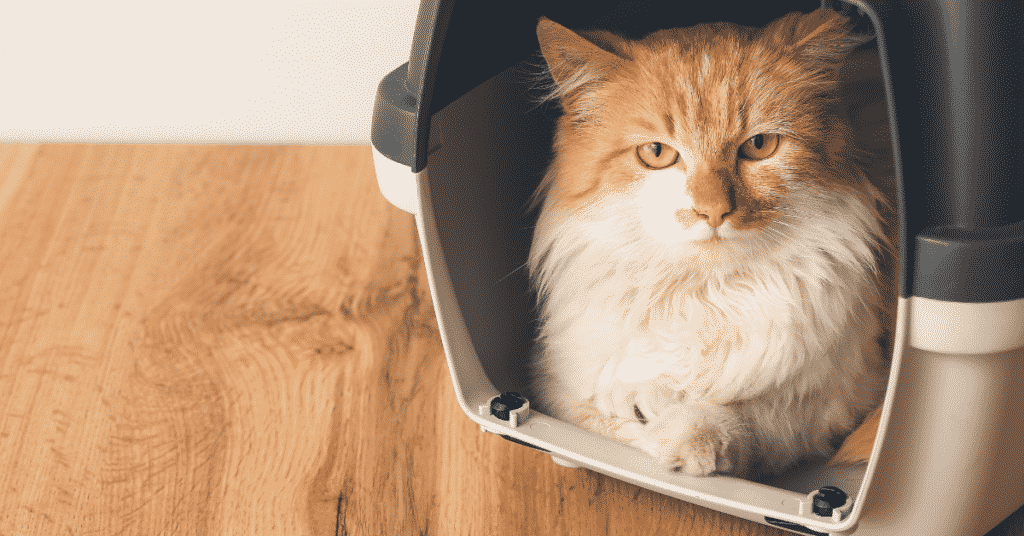 Can I fit two cats in one carrier?
Do not put two cats in one carrier.
Every cat should have its own carrier sized for the individual cat. Most cat carriers have a weight limit that struggles with heavier cats, let alone two cats.
When taking your cat home from a vet, cats might start getting aggressive and stressed out. Or, they could have stitches or exposed wounds. You do not want another cat licking and probing around.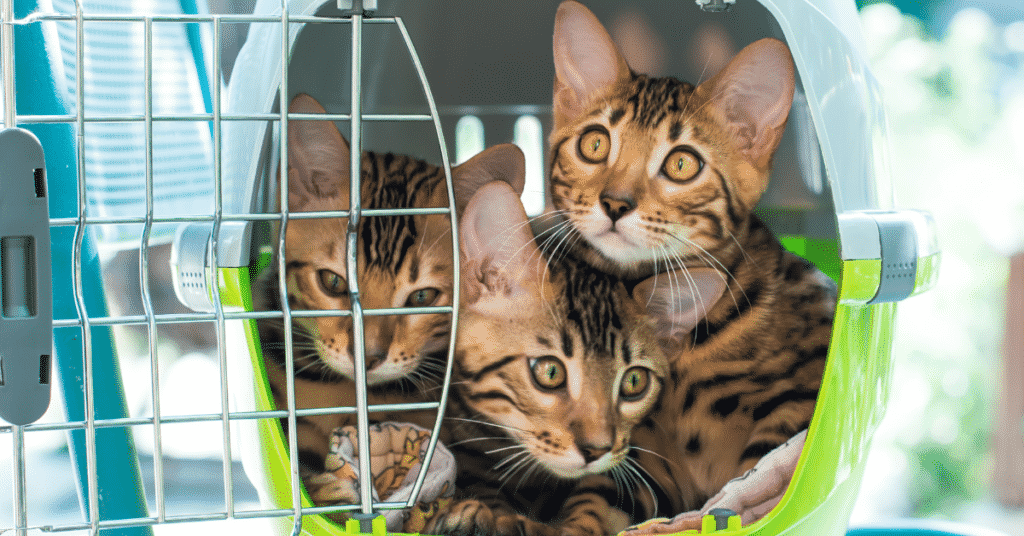 How do I place my cat in a cat carrier?
The first step is to make sure your cat is already comfortable with the cat carrier. Do this in advance (as best as practicable) by leaving the cat carrier for your pet to sleep and rest in.
Created a positive reinforcement with the carrier by feeding your cat a small number of treats whenever it enters. Leave toys and plenty of blankets to ensure your cat is happy.
This video shows another method of using a towel, which might be helpful for emergency situations.
If you are still having trouble, contact your vet for support and advice.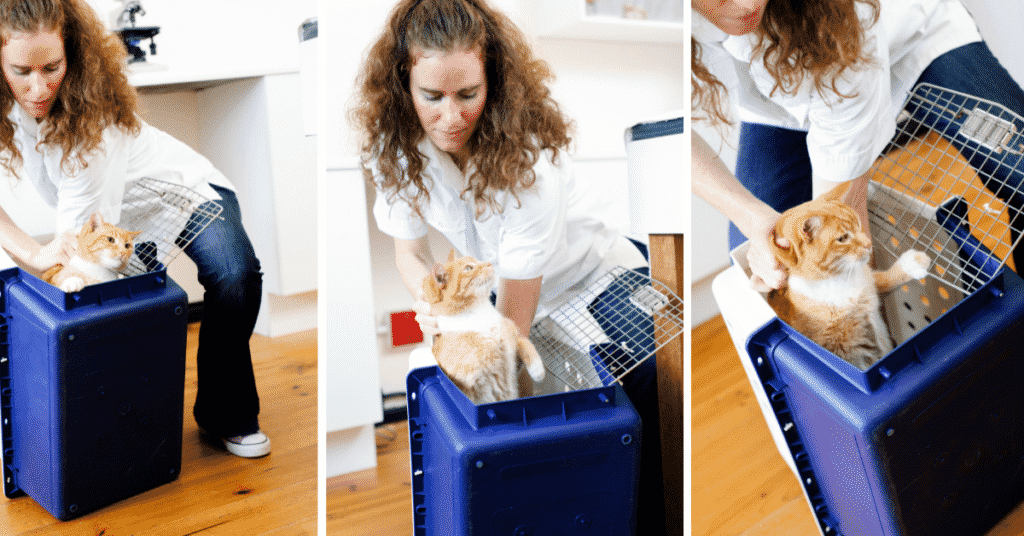 Always check with your vet
This article took care and thorough analysis. That said, your vet is the best resource for making purchasing decisions in regard to your cat.
They can provide their input on what they recommend for a range of situations and tailor that advice to your cat. Your cat may need a specific product for a specific need.
They are a trained professional that had the experience to provide the best advice for the care of your pet. Take your time when purchasing a product that you intend to use to care for your cat.
---
Conclusion: Best Cat Carrier
A cat carrier is an essential requirement for your cat. You need one for emergency vet visits, as well as general travel purposes.
Choosing the right cat carrier is a decision that requires care and diligence. In this article, I've covered the criteria you should be looking out for when deciding on the right product. These include durability, size, ventilation, safety, ease-of-cleaning, and airline compatibility (if using for travel).
This guide should help you understand the needs of your cat and help you with your purchasing decision. The range of products will change from time to time, so always do your research.
I provided some recommendations for the best cat carriers for different purposes at the start of the article.
I recommend speaking with a vet before purchase to ensure the carrier is suitable for your pet.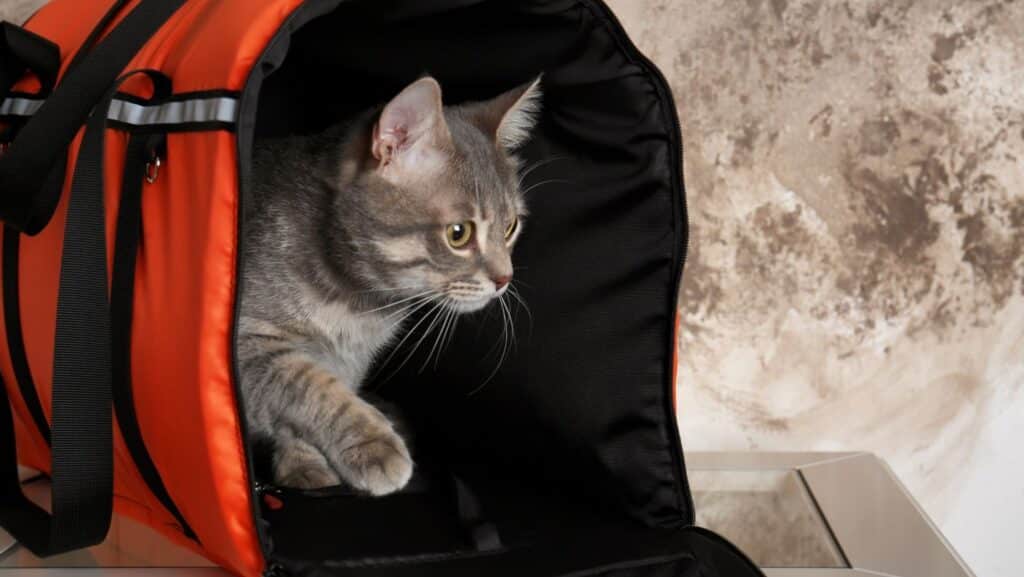 Our Verdict: Best Cat Carrier Overall
I like this cat carrier due to the range of features it has. This includes mesh window ventilation, two sizing options, two-door entry points, durable design, a high weight limit, and shoulder straps. These features make the cat carrier an easy-to-use option for car and plane travel.
For car safety, I recommend the Sleepypod Mobile Pet Bed. This is a premium option that has proven car crash safety and is perfect for frequent car trips.
Here's a summary of the WDM Airline Approved Cat Carrier.