Honest Royal Canin Kitten Food Review
Disclaimer: As a Chewy and Amazon affiliate, I earn from qualifying purchases. This does not impact our reviews and comparisons.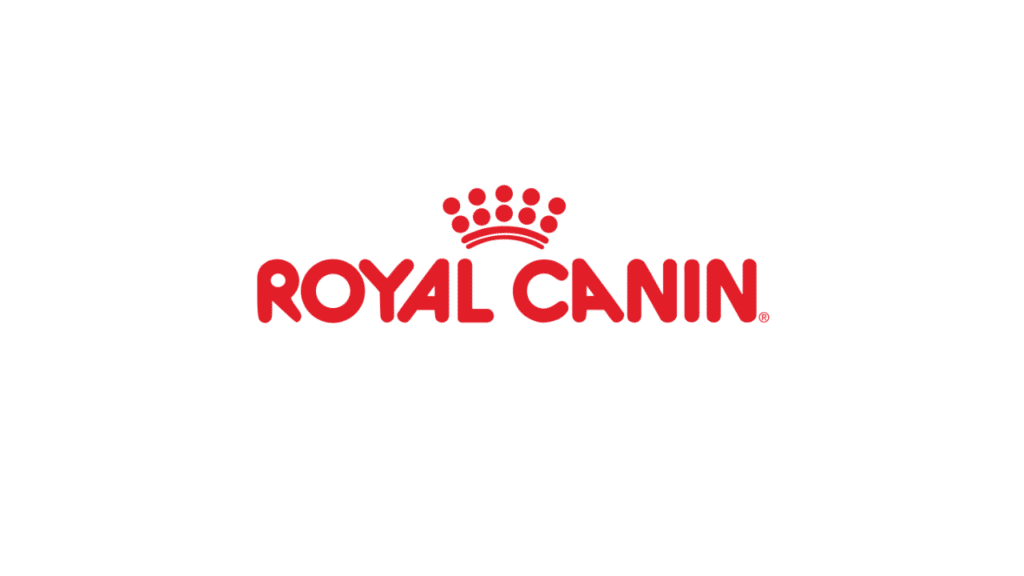 Score: 7.5/10
Bottom Line
A popular brand that falls short with nutrition and ingredient quality.
We did this Royal Canin kitten food review with the help of our cats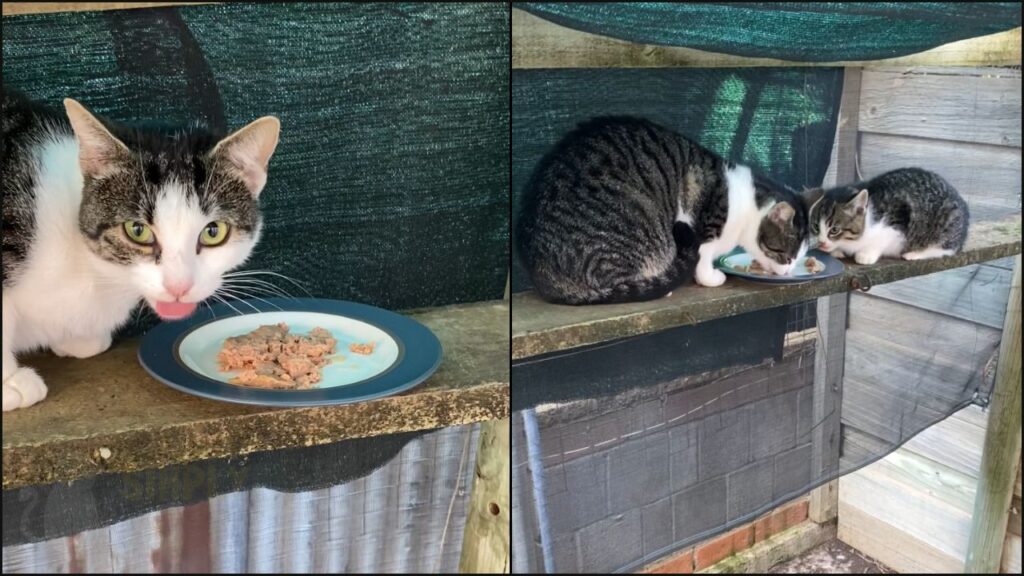 Royal Canin's are a widely popular cat food brand. They offer a range of foods for kittens.
Review summary:
The good?
Great taste.
You know what you're getting with Royal Canin, a product cats will enjoy. Reliable.
The bad?
Mixed quality.
The dry cat food is a bit high in carbs and has lower quality protein.
The ugly?
Pricey.
You'll have to fork out a little bit to get this one.
In short:
Not too bad.
As one of the big players of the cat food world, customers trust Royal Canin. Our cats gave their foods the meow of approval.
If you can look past the price tag, they offer solid nutrition to growing kittens. Ingredient quality could be a tad better though.
Best for:
Fussy eaters
Reliability
Lactating cats*
>>Check out Royal Canin here
*When using Royal Canin Mother & Babycat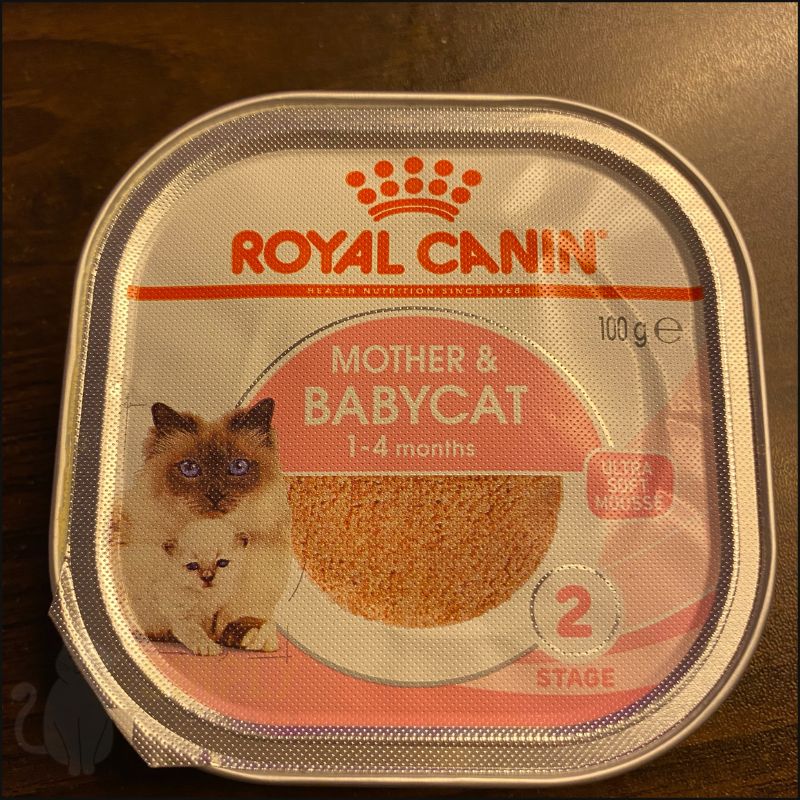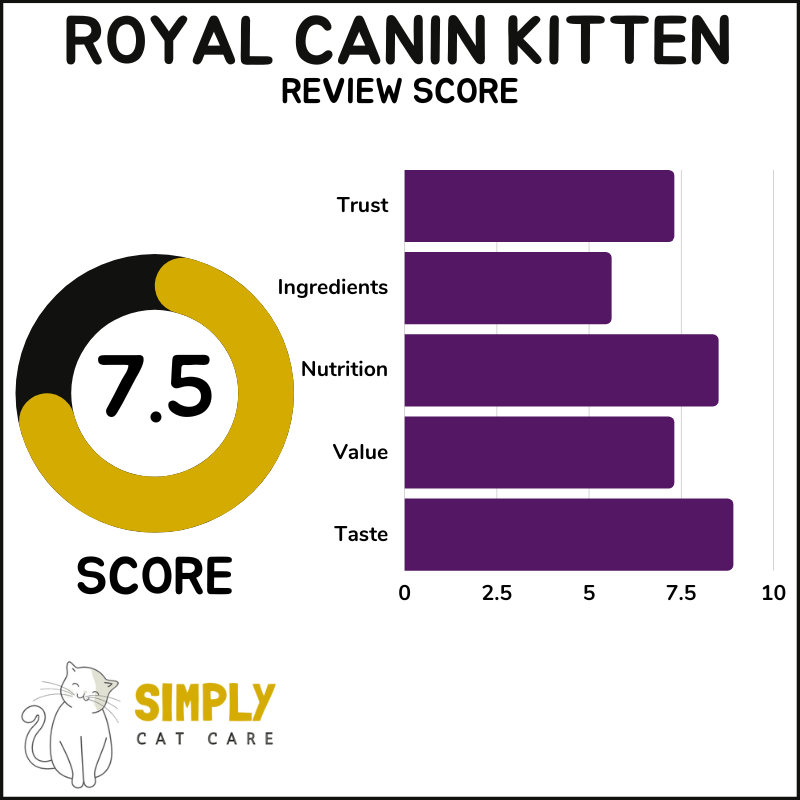 Looking to learn more?
In this short Royal Canin kitten cat food review I'll take a closer look at the nutrition and ingredient quality.
I've tested Royal Canin with our cats to see what they think.
Finally, I'll provide background on this brand and whether they are trustworthy.
I am not a veterinarian and I recommend seeking the advice of a vet for any further questions. The advice in this article is not intended as medical advice.
Let's get into the article.
About Royal Canin Kitten
Royal Canin was registered as a company in 1968 by veterinarian Jean Cathary.
The brand started as a dog food company, but moved into the cat food market in 1994.
In 2002, Mars Inc. took ownership of Royal Canin. Mars Inc owns a variety of cat food brands such as:
Royal Canin continues to be a leading pet food brand in the dog and cat food markets.
Recalls?
Royal Canin was recalled in 2007 with many other cat food brands due to melamine (plastic) contamination scare. This recall affected other brands such as:
Blue Buffalo
American Nutrition
Purina Petcare
Hill's Pet Nutrition
The melamine affected all cat food products using rice protein concentrate (the source of the contamination).
This is the last recall of Royal Canin cat food for safety reasons.
Quick notes:
Mars Petcare owned
Dog & cat food
Last recall 2007
Royal Canin Kitten Food Review
Nutrition
Reasonable.
Kittens need a hefty 30% protein (dry matter) for growth. Royal Canin comfortably meets this at 55% protein.
As far as the wet cat food goes, it comes in at 9% carbohydrate. Meets expert recommendations.
What about the dry cat food?
Ignore it.
It offers 37% protein, but I adjusted it for quality down to 23%. No good.
All Royal Canin Kittens declare they meet AAFCO's nutrition guidelines for growth. A complete meal up to one year of age.
Nutrition Summary:
| Nutrient | Dry matter (%) | Target (%)* | Note |
| --- | --- | --- | --- |
| Protein | 55 | 30 | Meets growth requirement & suits cats taste preference |
| Carbs | 9 | N/A | Slightly high, but below expert recommendations |
| Fat | 15 | 9 | Meets fat recommendation |
| Fiber | 11 | N/A | |
| Calcium | 1.3 | 0.6 | High calcium: phosphate ratio for healthy growth |
| Phosphorus | 1.1 | 0.5 | |
| Ash | 11 | N/A | |
| Water | 80 | N/A | Wet cat food is best for urinary health |
| Kcal/kg | 894 | N/A | |
| ME/kg | 4,500 | 4,000 | Calorie dense to help with growth of kittens |
A table looking at the nutrition of Royal Canin Kitten food
*target guidelines AAFCO growth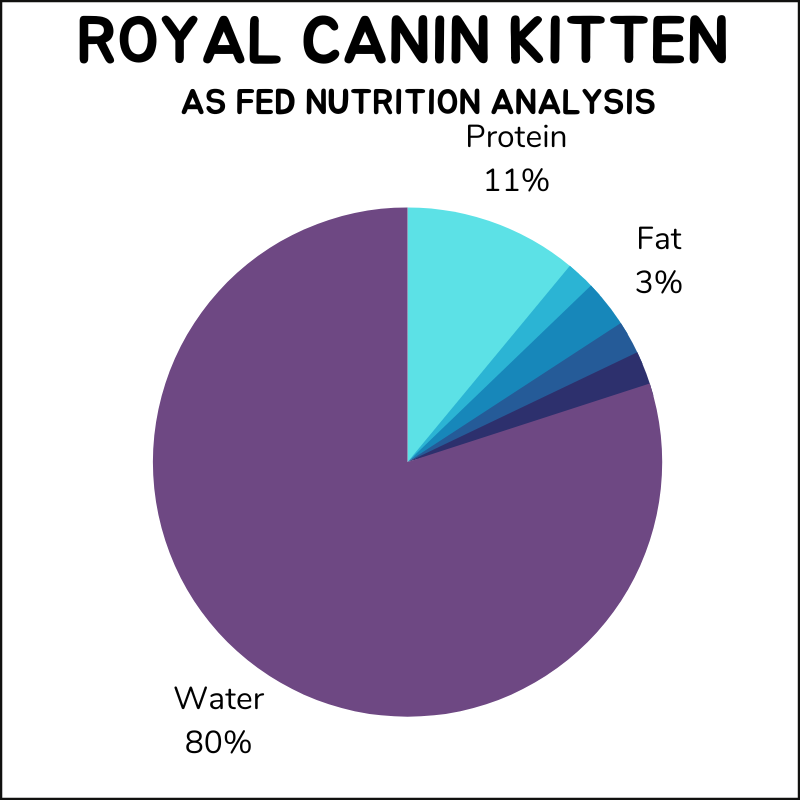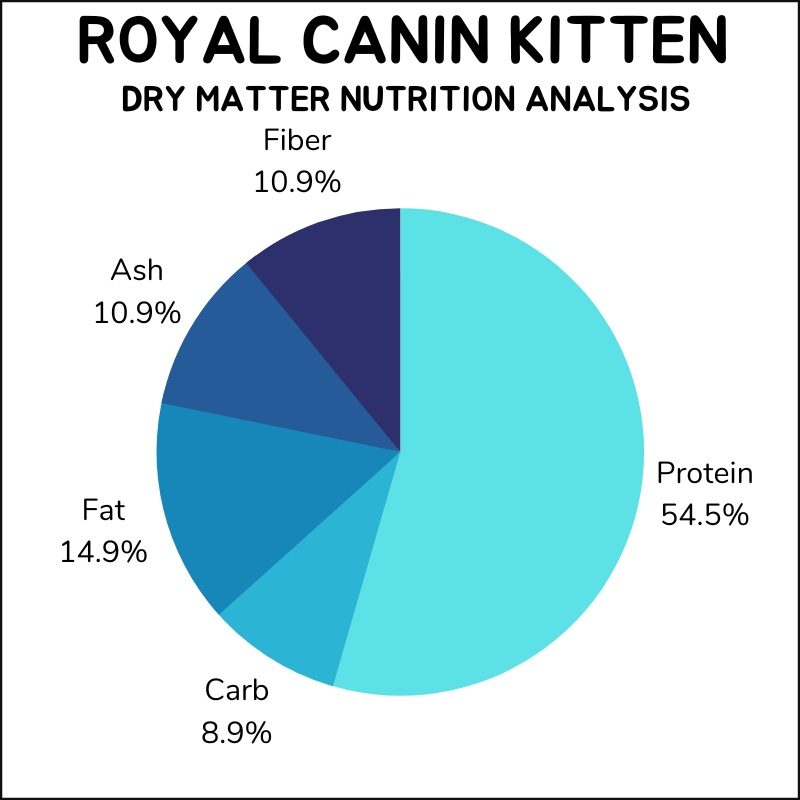 Nutrition: 8.5/10
Ingredients
Average.
Four of the first five ingredients are meat based (not including water).
No label descriptor, which gives no clues to relative ingredient weighting.
Includes a few fillers like wheat gluten and carrageenan, which might trouble digestion.
Ingredient Summary (first 10):
Ingredients in Royal Canin kitten food with notes about benefits or drawbacks
Ingredients: 5.5/10
Taste
Good.
I first served Royal Canin kitten chunks in gravy to our cat Oscar, who hesitated but slowly got into it.
Despite making a mess, he ate most of it. It wasn't a big hit though.
Here are the results of our taste testing:
Food Test 1: Royal Canin Kitten Chunks in Gravy
Amount eaten: 90%
Time to finish eating: 8 minutes
Food appearance: Small discs. A little bit of thick gravy, but not watery.
Smell: Rich beefy smell.
Here is a short video of Oscar trying this cat food:
Here is a presentation of this cat food:
I also tested Royal Canin mother and babycat.
This is a pate product, with a nicer appearance and seemingly easier to swallow. Both mother and kitten enjoyed it.
Food Test 2: Royal Canin Mother & Babycat
Amount eaten: 100%
Time to finish eating: 4 minutes
Food appearance: Light pate
Smell: Pleasant meaty smell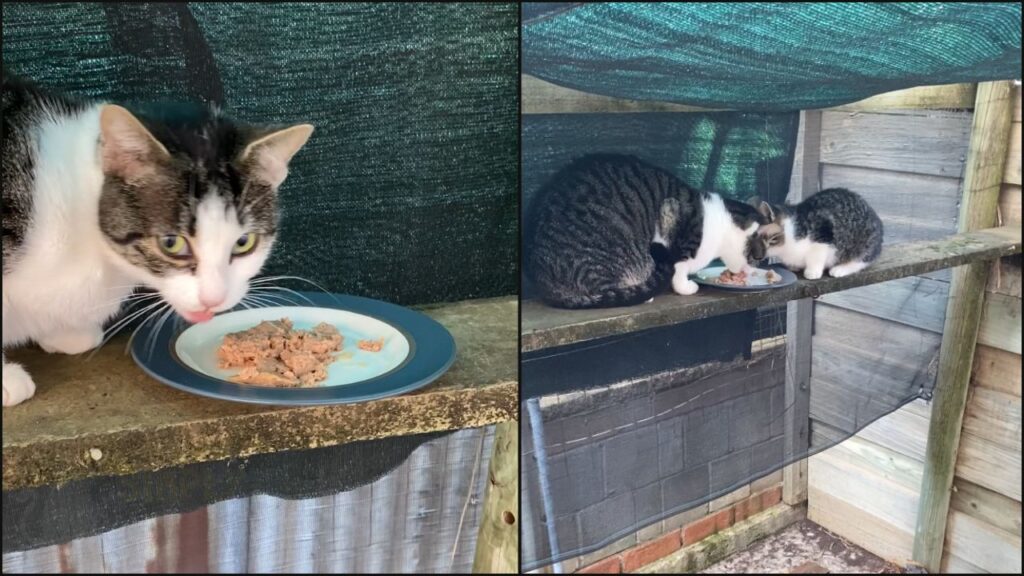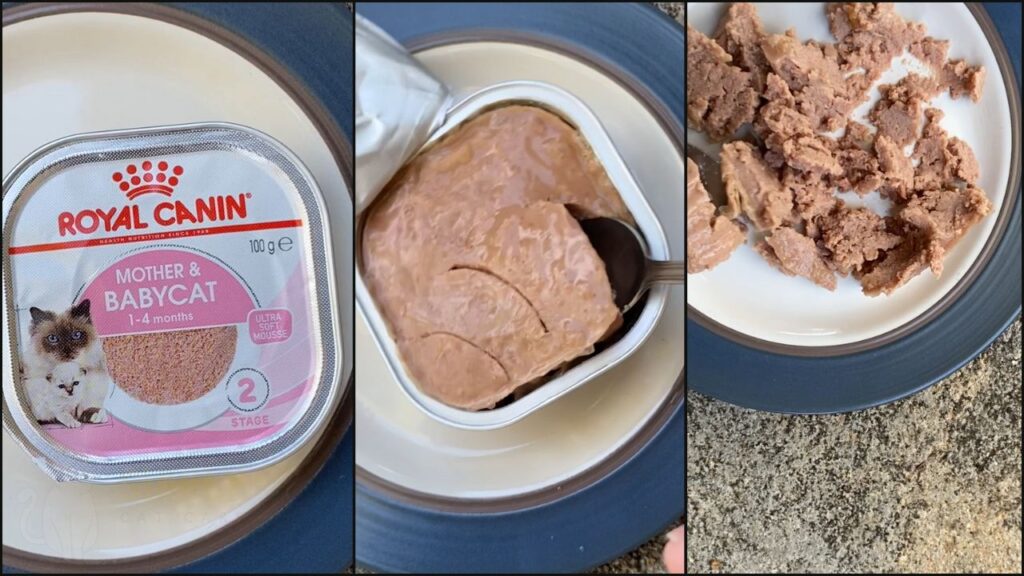 Taste: 8/10
Value for Money
Average.
Compared to most cat foods, Royal Canin is average.
Worth?
Their wet kittens foods seem a good choice. There's other options though (like Fancy Feast) which are a tad more affordable.
Similar Options:
Hills Science Diet Kitten (see review)
Purina Pro Plan Kitten (see review)
Fancy Feast Kitten (see review)
Value for Money: 7.5/10
Trust
Ok.
I found it hard to use Royal Canin's website. Felt sterile.
Missing information about nutrients as well, including taurine.
Where is Royal Canin kitten made?
Royal Canin kitten food is made in factories situated in 16 countries around the world. Countries include:
France
South Korea
Austria
The Royal Canin website doesn't say whether any facilities are in China. A Wikipedia entry suggests one facility exists in Shanghai, China. The link for the source is broken.
According to Royal Canin:
All efforts are made to source our raw materials from accredited suppliers close to our production centers, this supports the local economy, ensures freshness and reduces our carbon footprint.

Royal Canin – Quality & Food Safety
In brief, your Royal Canin cat food may come from any one of the factories around the world, with ingredients mostly from local sources.
In a response on question online 'Are any of these ingredients sourced from China?'
All of Royal Canin ingredients are sourced based on whether they meet their quality and food safety demands rather than with a sole focus on country of origin. Each ingredient is tested for melamine and its related derivatives, mycotoxins, heavy metals, antibiotics, hormones, pesticides, etc. prior to being allowed into the factory and each finished product is once again tested against these parameters.

Due to Royal Canins heavy attention to the safety of their products, They do not release specific sourcing information as it could change from batch to batch based on whether a supplier is meeting their quality and safety standards. Royal Canin also regularly audit all of their suppliers to ensure that they are upholding Royal Canins strict demands.

Source
This doesn't seem to clarify the origin of the food product.
It is worth noting that all Royal Canin factories are subject to the same specifications for product consistency.
Trust: 7.5/10
Frequently Asked Questions
Is Royal Canin Kitten Food Good for Kittens?
Yes.
Royal Canin kitten wet canned food is a good choice for kittens. I found it's nutrition quality holds up as solid to help a kitten grow.
All Royal Canin kitten foods meet AAFCO requirements for growth.
Is Royal Canin High Quality Food?
Mediocre.
Their wet kitten food uses a range of animal based ingredients.
On the other hand, their dry food uses a lot more grain based protein. These are low quality protein sources, that increase carbs.
Royal Canin also use a lot of rice which can inhibit taurine absorption.
Learn more:
What Age is Royal Canin Kitten for?
4-12 months.
Royal Canin kitten food is for kittens between 4-12 months of age. At 12 months, a kitten can transition to adult cat food.
The mother and baby cat ultra soft mousse is formulated for lactation and kittens aged 1-4 months.
The products meet the AAFCO nutrition requirements for growth.
Conclusion
Royal Canin is a popular brand with a lot of positive customer reviews. I found their wet kitten food a good choice, but their dry food worth giving a miss.
Their wet kitten foods contain a range of meat products. On the other hand the dry food uses more grain based ingredients and has low quality protein.
Best for:
Fussy eaters
Reliability
Lactating cats*
Where to find Royal Canin?
*When using Royal Canin Mother & Babycat