Disclaimer: As a Chewy and Amazon affiliate, I earn from qualifying purchases.
Tofu cat litter is made from soy. It's low dust, low tracking, and offers decent odor control.
This type of cat litter is also biodegradable which makes it better for the environment.
I've tested three tofu cat litter products.
They are all very similar it quality, but Pidan tofu cat litter stood as the best. It's got excellent odor control and is low tracking.
Read on for more in depth reviews on tofu cat litter we've tested and what to look for.
3 Best Tofu Cat Litter Choices
I've tested the following products.
Star rating and final score are based on our testing methodology, which incorporates hands-on testing results.
Read more if you want to find out how we've arrived at the ratings for these products.
Buying Guide
Find out what to get.
What Should I Look For in a Tofu Litter?
Tofu cat litter is new to the market.
There's not many products and reviews.
General things to look for:
Low dust
Soft texture
Affordable
Clumps
Unscented
Low tracking
Check it out.
Dust Control
Tofu cat litter produces less dust than clay litter. Awesome.
Crystal cat litter is one of the dustiest litter choices.
Clay releases silica dust which may be harmful to health.
Look for customer review pictures or videos to check for a product's dust production.
Bottom Line: Most tofu cat litter options produce less dust than standard clay cat litter
Scent
Stick with unscented.
Research shows that cats prefer unscented cat litter.
Cats prefer litter is cleaned daily to cut down on odor.
You wouldn't want to use a toilet that isn't clean?
Tofu cat litter has a natural 'barnyard' type smell. You may find this offputting.
However:
It's your cat's decision that matters most and whether they are happy to use the litter.
One way to test this is to trial two different cat litters side by side. The cat litter cafeteria test.
Find out which cat litter your cat is gravitating towards and using more often.
Bottom Line: Most cats prefer unscented cat litter and this should be your first choice option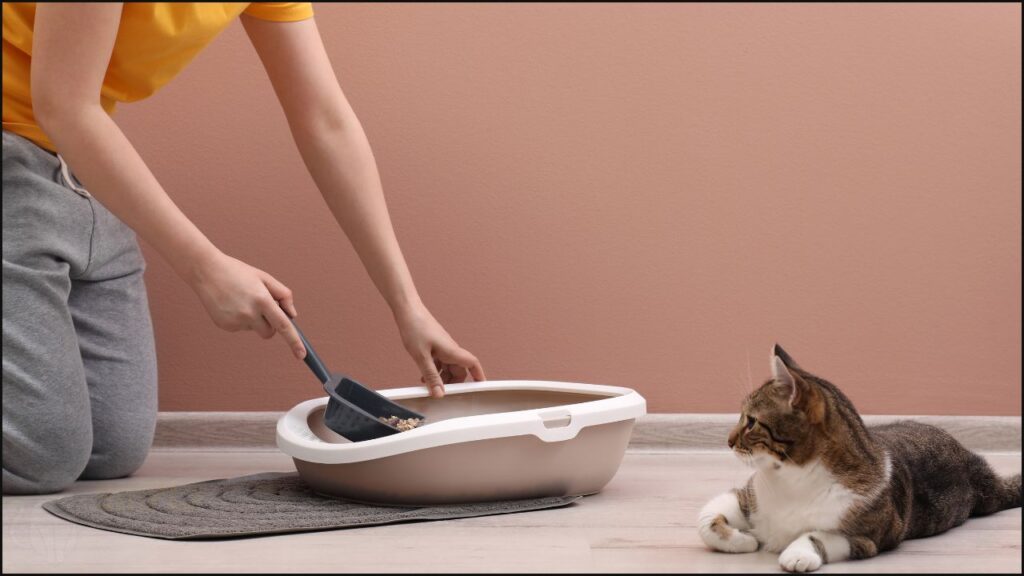 Texture
Most cats prefer a soft texture on the paws such as clay or crystal cat litter.
However, this depends on your cat.
Some cats may enjoy using tofu cat litter.
Bottom Line: Tofu cat litter is a litter harder on the paws, so try to find something that is as soft as possible to use
Clumping
Tofu cat litter does form easy-to-scoop chunks similar to clay litter.
Some plant products don't make the best clumping litter (e.g. pine).
Check the individual brand to learn more about whether their litter is clumping.
Bottom Line: Most tofu cat litter clumps well, similar to clay litter
Low tracking
The larger pellets of tofu cat litter resist tracking more than smaller clay granules.
Small granules tend to stick to paws after litter box usage.
Bottom Line: The larger size of tofu cat litter resists tracking more than clay or crystal cat litter
Frequently Asked Questions
What Is Tofu Cat Litter?
Tofu cat litter uses the pulp of soybeans (tofu uses soybeans).
It also uses natural ingredients such as corn starch and peas. The materials are biodegradable.
That means they get broken down by nature if thrown out in the backyard.
Like all forms of cat litter, the product has natural odor control and absorption properties that make it suitable for your cat to use as litter.
Bottom Line: Tofu cat litter is made from natural ingredients such as soy, corn, and peas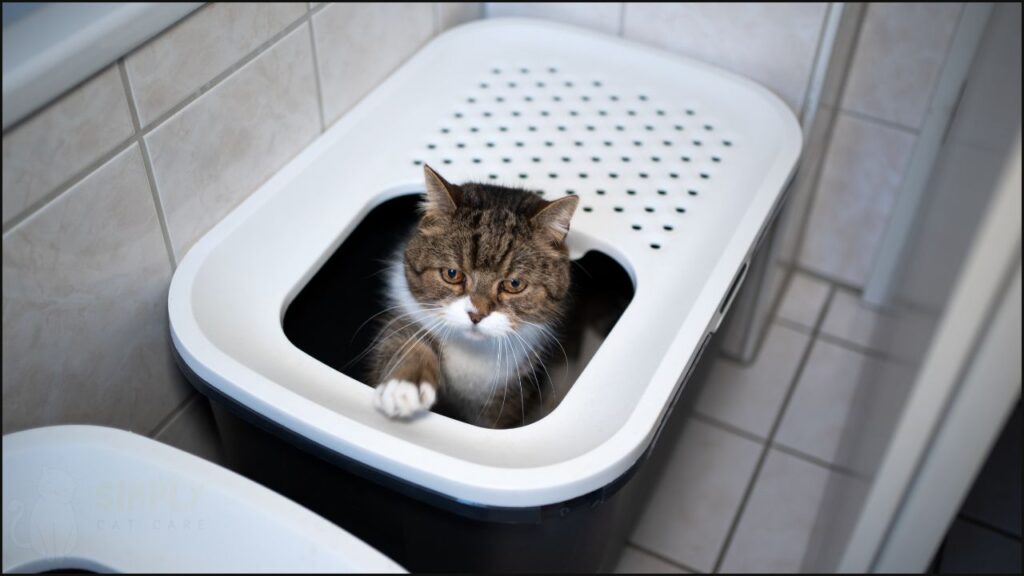 Is Tofu Cat Litter Eco-Friendly?
Yes, most cat litter made with tofu is non-toxic to the environment.
This means you can flush the litter down the toilet or throw it in the garden (i.e. mulch).
This is because the product is biodegradable.
You may still wish to throw the waste in the bin at your own discretion.
Bottom Line: Tofu cat litter is biodegradable and non-toxic
How Often Should I Change Tofu Cat Litter?
Cat litter needs daily replacement.
Cat's find it unpleasant to use the soiled litter and have to step on clumps to get to their toilet.
There is no way around doing this unless you have an automatic cat litter system (which is a higher-cost purchase).
Bottom Line: Change litter daily for your cat's wellbeing
Why Is My Cat Eating Tofu Cat Litter?
Sometimes cats try to eat things off the ground due to a poor diet or health problems.
If you notice this behavior, contact a vet for help.
Make sure your cat is eating enough quality foods over the day and being fed at regular meal times.
Reducing boredom may also help reduce behavioral issues.
Check out my top tips to improve your cat's diet for more.
Bottom Line: If your cat is trying to eat tofu cat litter, call a vet for help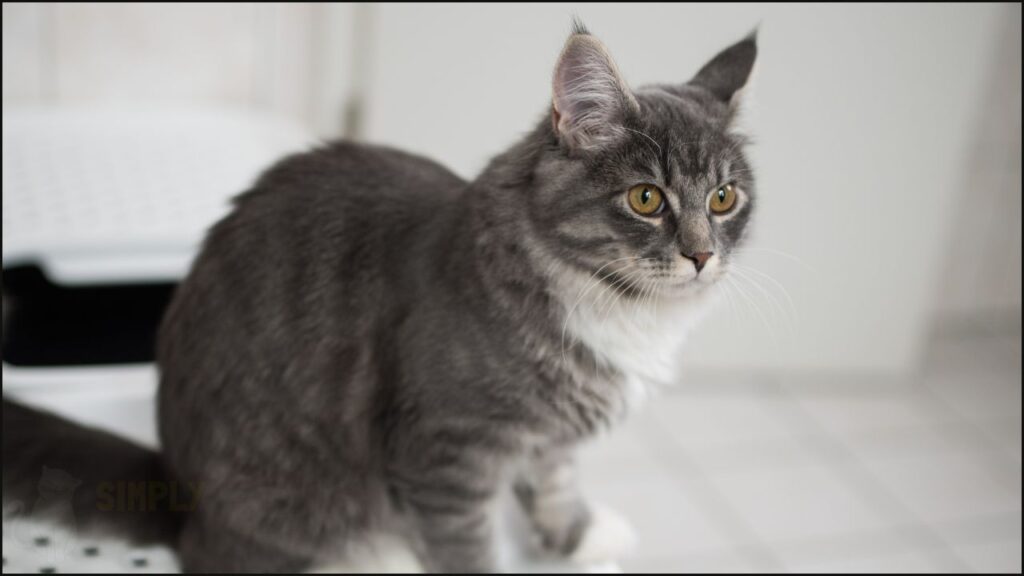 How Long Does Tofu Cat Litter Last?
One 6 pound bag of cat litter lasts approximately 3-4 weeks.
This will depend on the cat and their toilet usage.
Fill a litter box to 3-5 inches and regularly top up.
Your cat should be able to 'dig' into their litter and cover their waste as they would in nature.
Bottom Line: A 6-pound bag of tofu cat litter should last around one month
Conclusion
Tofu cat litter is an environmental friendly alternative to clay or crystal.
It tends to produce less dust and be low tracking. Although it tends to fall a little short in odor control, in our experience.
With good litter maintenance though, this type of litter works great. Or you could try another natural litter like corn, or wheat.