Disclaimer: As a Chewy & Amazon affiliate, I earn from qualifying purchases. This does not impact our reviews and comparisons.
Pea protein in sneaky ingredient loaded into many cat foods. It helps cats meet protein needs, but can cause digestive upset.
Wet cat food is the best choice to avoid peas, but check the ingredients.
Here are our 3 best cat foods without pea protein:
Friskies Pate | Best Overall
Dr. Elsey's Clean Protein | Best Dry
Fancy Feast Kitten | Best for Kittens
Many cat foods use pea protein to save on costs.
Peas have phytate, fiber, and carbs. Avoid pea protein if your cat has a sensitive stomach.
In this article, I'll go through buying guide to avoid pea protein. You'll find out how to choose the best cat food for easy digestion.
Then I'll go through my recommendations and compare options. Finally, I'll go through frequently asked questions on the topic.
Shall we get to it?
I am not a veterinarian and I recommend seeking the advice of a vet for any further questions. This article is not intended as medical advice.
Buying Guide
Finding a cat food without pea protein is easy enough.
Check the back of the label for pea protein.
Also look for other plant protein sources. This includes:
Wheat gluten meal
Corn gluten meal
Soy protein
Lentils
Pinto beans
Black beans
The higher the ingredient, the more of it.
Consider total protein, and quality of sources. Animal based foods sources are best.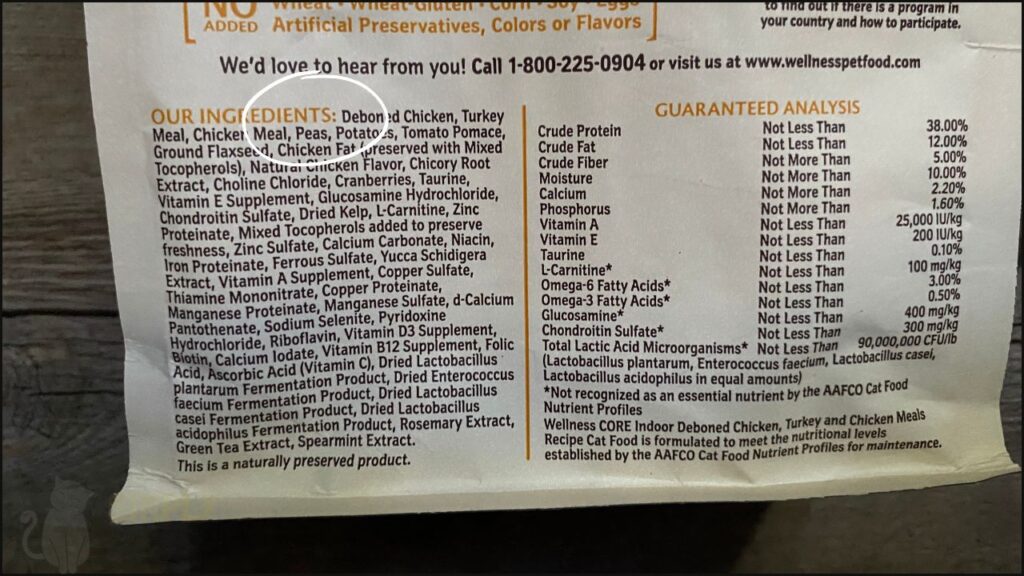 How Much Protein Should I Look For?
Aim for 30% protein on a dry matter basis.
AAFCO recommend this for growth and reproduction.
The main source of protein should be animal based. It's higher quality.
Animal protein is easy to digest and contains more essential amino acids.
Use a dry matter basis calculator to check protein.
Learn More:
Should I Get a Dry Cat Food or Wet Food?
Wet is best to avoid pea protein.
Most dry cat food tends to load up on peas, in our experience. This includes popular choices like:
Taste of the Wild
Orijen
Crave
Tiki Cat Born Carnivore
You'll have an easier time finding something in the wet cat food range.
Wet cat food may also be best for health, as it helps keep cats hydrated. Great for kidney function.
3 Best Cat Foods Without Pea Protein
1. Friskies Pate
Best Cat Food Without Pea Protein Overall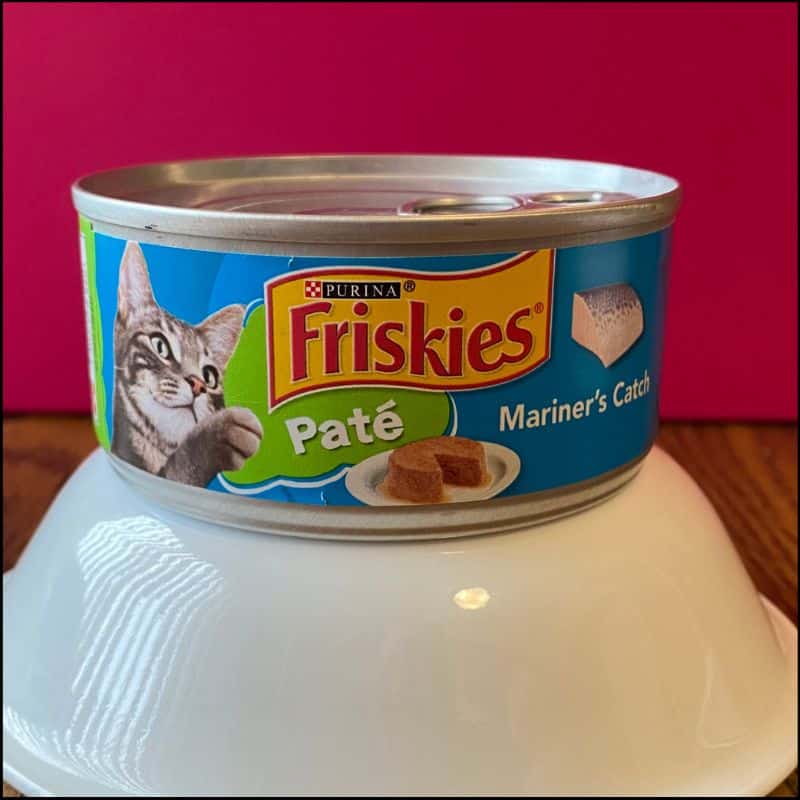 Summary
Friskies is a great pea-free choice for fussy cats.
It's high in animal protein, and a complete meal for adult cats.
The carb content is a tad high (~16% dry matter), but still better than most dry cat food.
Best for:
Fussy eaters
Affordability
Variety
Where to find Friskies pate?
Read More: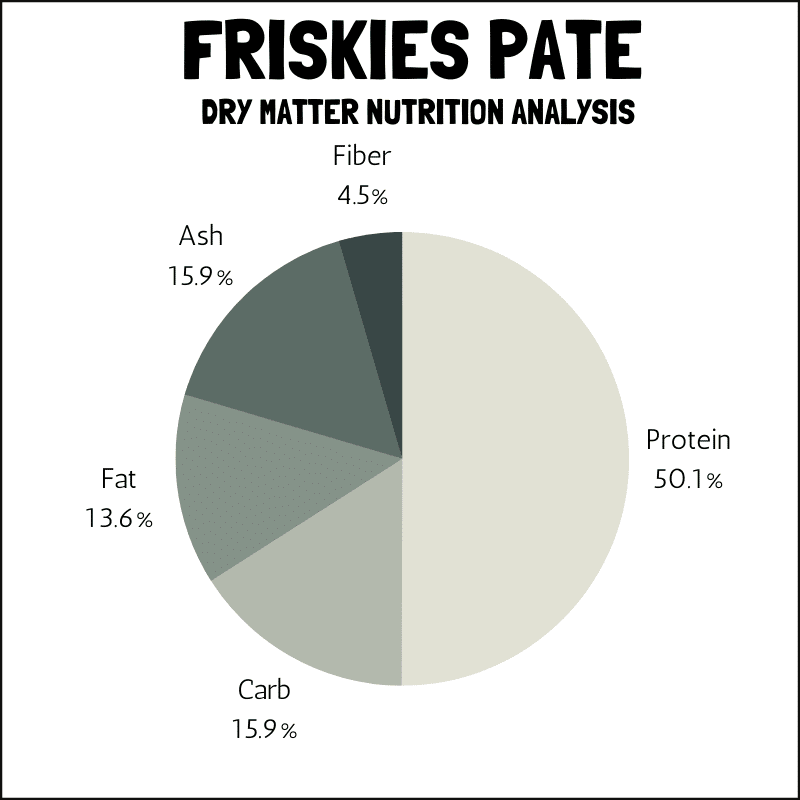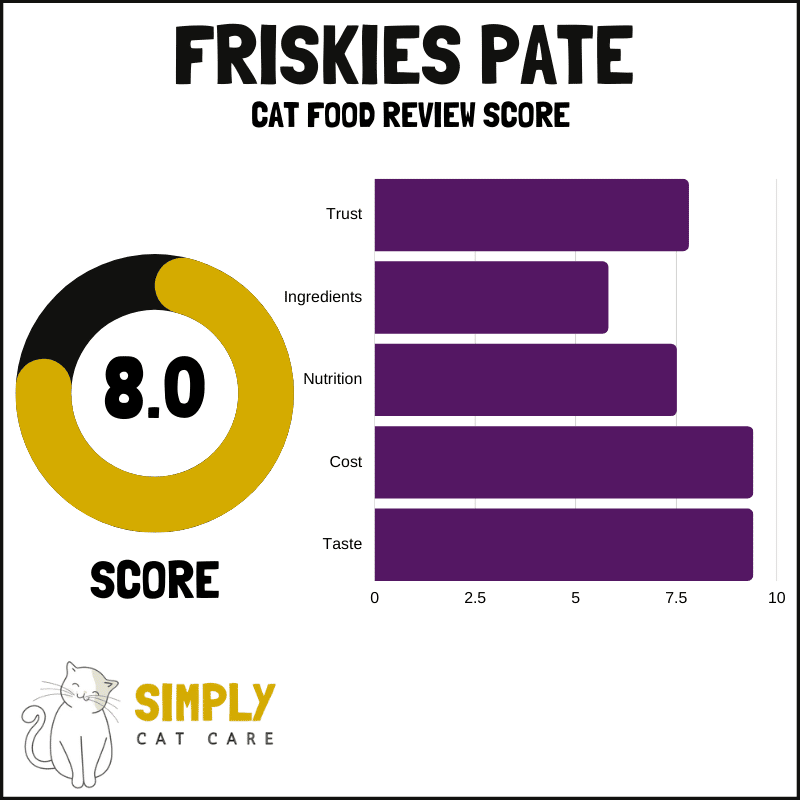 2. Dr. Elsey's Cleanprotein
Best Dry Cat Food Without Pea Protein
Review
Dr. Elsey's clean protein uses gelatin as a binder. It means they don't need to add in carbs or peas to bind up kibble.
That's great because you'll get a tasty low carb choice, suitable for all life stages.
We haven't tried this one yet, so can't comment on the taste. Yet, with the limited range of dry foods without pea, it's hard to go past.
Best for:
Easy digestion
All life stages
Urinary health
Where to find Dr. Elsey's clean protein?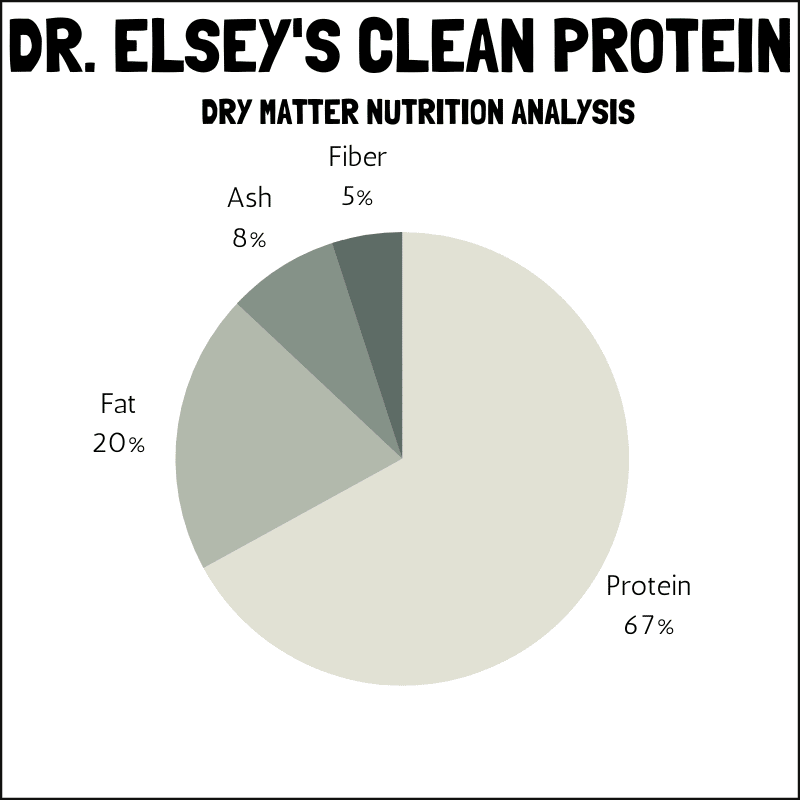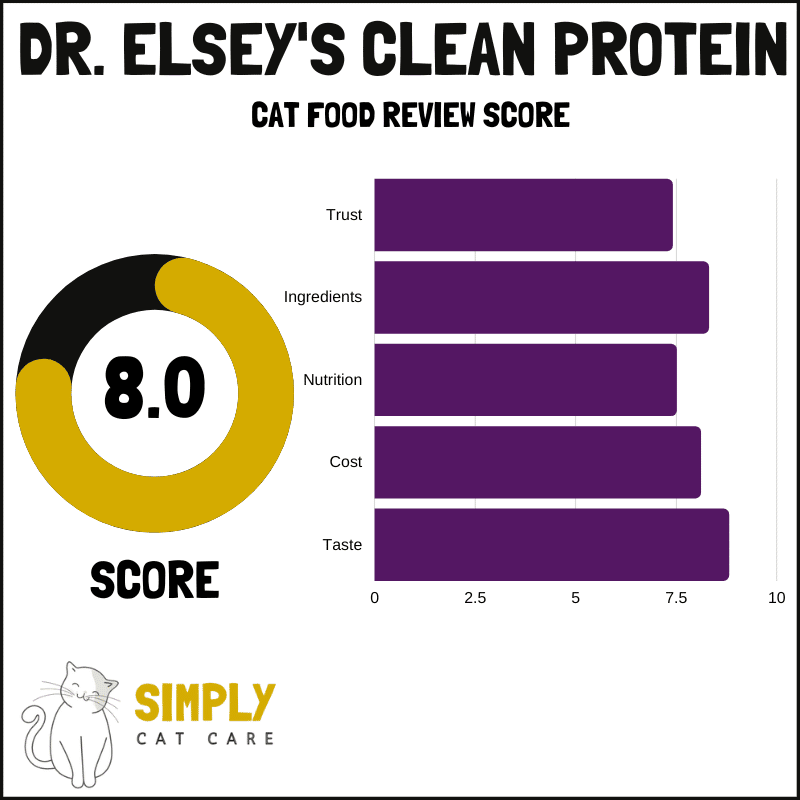 3. Fancy Feast Kitten
Best Kitten Food Without Pea Protein
Review
Fancy Feast kitten is a popular pea protein free wet cat food.
It's a no-nonsense cat food with no added grains. It's a complete meal for growing kittens.
Our cat enjoyed Fancy Feast kitten when given a taste.
Most cats will enjoy Fancy Feast, but added meat by-products will put off some. Has inconsistent quality.
Best for:
Picky kittens
Picky eaters
Variety
Where to find Fancy Feast Kitten?
Learn More: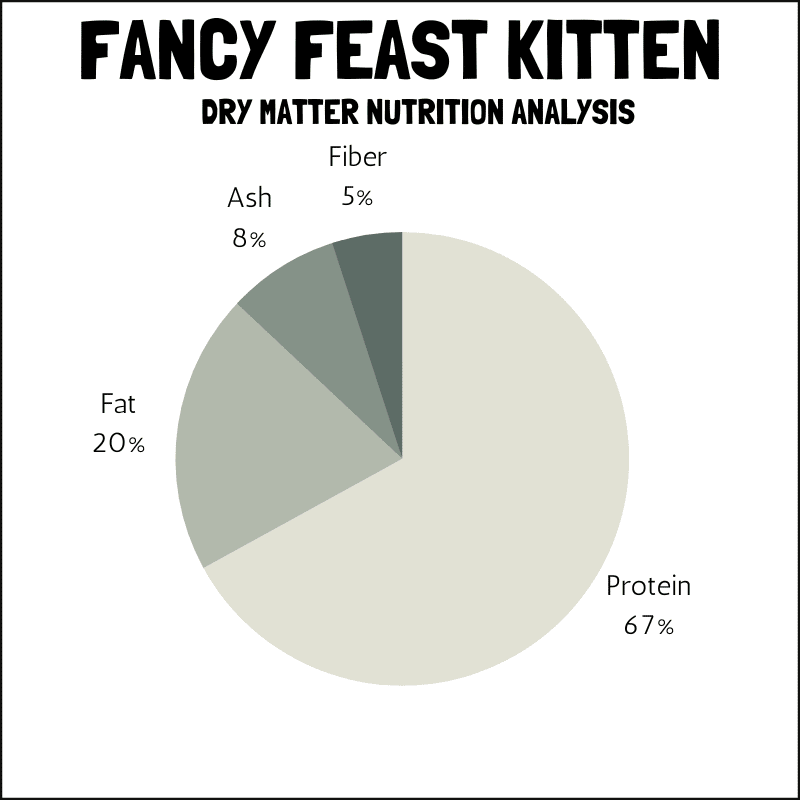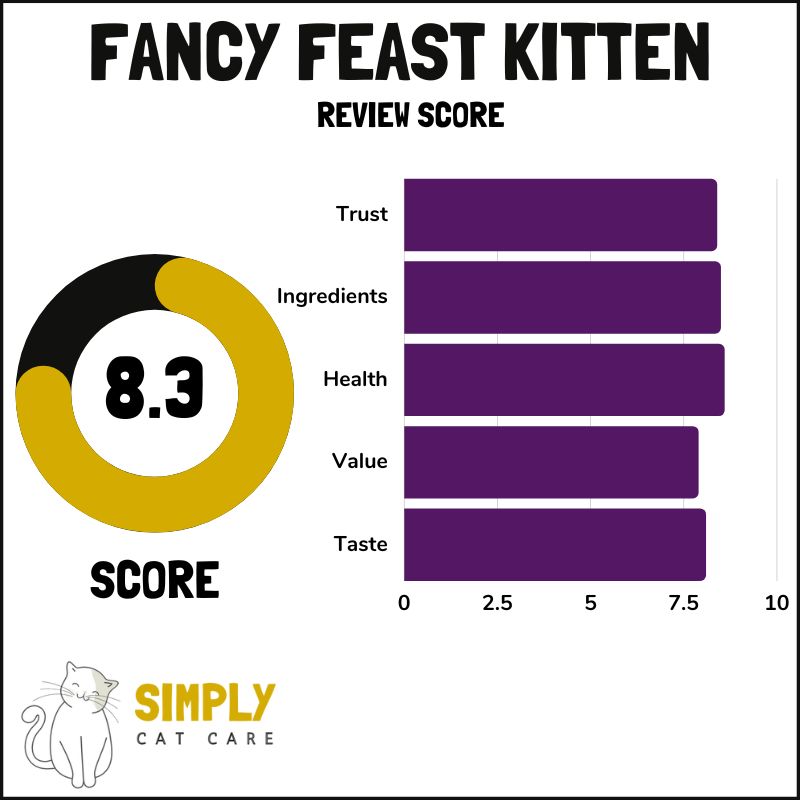 How We Chose These Products?
At Simply Cat Care we try to test every cat food.
I sorted out popular cat food for any added peas or other legumes (e.g. lentils).
From the best picks I sorted them using our scoring system.
This score is based on
Trust
Ingredients
Nutrition
Cost
Taste
Here's a comparison of the 10 best cat foods without pea protein from our analysis:
A comparison of the best cat foods without pea protein
Frequently Asked Questions
Is There a Difference Between Animal and Plant Protein?
Yes.
Animal protein is a higher quality source of protein than plant protein. This is due to having a higher amount of essential amino acids.
Protein quality refers to two things:
How well the protein is absorbed?
How well does the protein relate to the needs of the animal?
Researchers use the Protein Digestibility Corrected Amino Acid Score (PDCAAS) to compare protein quality.
A score of 100% means all protein needs are met through absorption and digestion. The lower the score, the lower the quality.
Here are a few protein sources compared:
| | |
| --- | --- |
| Protein Source | PDCAAS |
| Casein (dairy protein) | 100% |
| Whey (dairy protein) | 100% |
| Egg | 100% |
| Soy flour | 93% |
| Red Meat | 92% |
| Pea protein (concentrate) | 89% |
| Black bean | 75% |
| Chickpea | 74% |
| Yellow split pea | 64% |
| Green lentil | 63% |
| Wheat gluten | 25% |
Comparison of protein digestibility of various protein sources
Plant protein sources are less bioavailable for a few reasons.
The protein structure of plant protein resists digestion from enzymes.
Other inhibiting factors include phytic acid.
On the bright side, blending pea protein with animal protein improves absorption.
Note that pea protein is better absorbed than chickpea (74%) and wheat gluten (25%).
Cat's need 10 essential amino acids for health. This includes taurine which is not essential in humans.
Taurine is high in animal foods, but low in plant based protein sources.
Do Cats Need Pea Protein?
No.
A cat doesn't need any pea protein in their diet.
Cats are obligate carnivores in the wild, and get all their nutrition from eating small prey such as mice and birds.
Plant protein sources are lower cost food sources which save money for manufacturers. Cheaper dry cat foods tend to use more pea protein.
Not all cats need to avoid plant protein. In small amounts, cats can tolerate plant foods.
Is Pea Protein Bad for Cats?
Debatable.
There is no evidence that pea protein is bad for cats in small amounts. The quality of protein is lower than whole animal food sources like chicken and beef.
A cats diet should contain animal protein as a main ingredient.
AAFCO recommends 30% protein for growth. If protein intake exceeds these values, quality is of less concern.
Most quality wet foods far exceed this amount. Dry cat food, less so.
Remember that sources of protein like wheat gluten (25%) are poor sources of protein. Dry food tends to rely on these source more than wet food.
When choosing cat food consider the following things:
How much total protein is in the product?
How much of the total protein is from animal protein sources?
What quality of protein is in the product (e.g. rendered animal protein, wheat gluten meal are low quality protein sources)?
If the product is low in total protein and high in plant proteins, it's worth avoiding.
Kittens and senior cats have a higher need for protein for different reasons.
Senior cats have poorer protein digestion. They need more total protein in their diet (and better quality). Kittens need a high protein diet for growth.
Learn More:
What Are the Healthiest Cat Foods?
Complete cat foods.
The healthiest cat foods are wet canned foods that meet AAFCO's nutrition guidelines as complete foods.
These types of foods have the range of nutrients cats need to thrive.
Learn More:
Conclusion
Pea protein is a plant based protein. It's added to cat foods as a low cost alternative to animal protein.
Pea protein is less digestible than animal foods. It has phytates, fiber and a harder-to-digest protein structure. Combining with animal protein improves digestion.
Your cat needs at least 30% protein (dry matter basis). Low total protein and protein quality compromises your cats health.
Wet cat food is a better choice to avoid pea protein and other plant proteins.
Our 3 best cat foods without pea protein:
Friskies Pate | Best Overall
Dr. Elsey's Clean Protein | Best Dry
Fancy Feast Kitten | Best for Kittens