Honest Feline Natural Cat Food Review
Disclaimer: As a Chewy and Amazon affiliate, I earn from qualifying purchases. This does not impact our reviews and comparisons.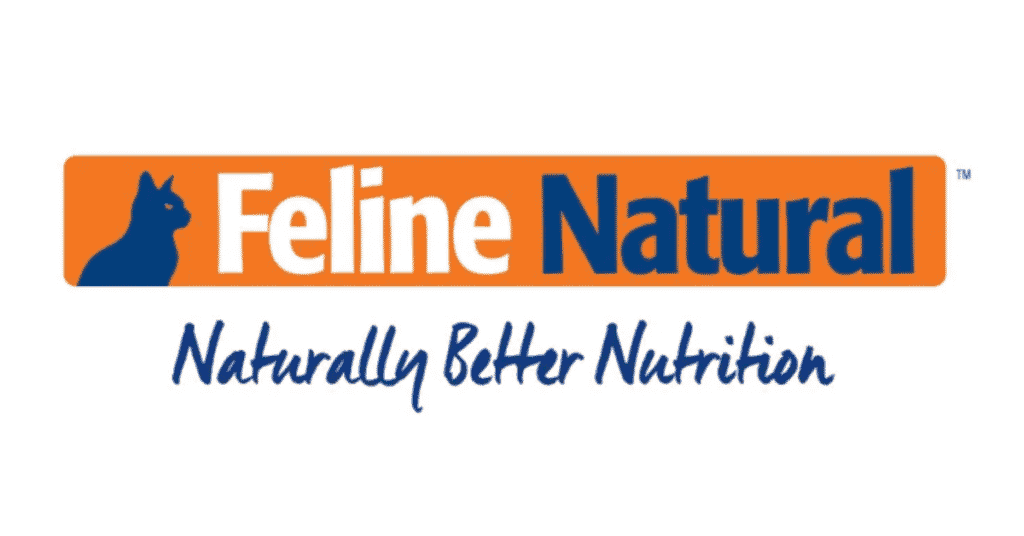 Score: 8/10
Bottom Line
A healthy choice, but we got mixed taste results.
We've done this Feline Natural cat food review with the help of cat taste testers.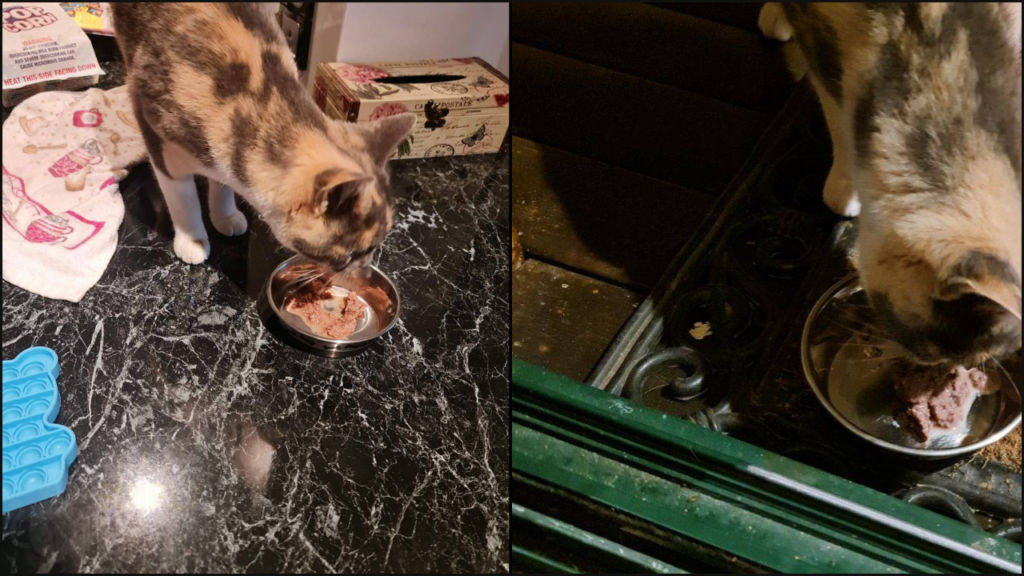 Feline Natural is a New Zealand company that offer premium wet cat food. Their products are filler free, grain free, and high in grass-fed meat.
The foods are suitable for all life stages.
Review summary:
The good?
Filler free.
There's no gums, carrageenan, or grains in the pouch here. Great for easy digestion and metabolic health.
The bad?
This is a pricey cat food.
We got mixed taste results and some cat foods had a strong smell.
In short:
Feline Natural is a solid no-nonsense cat food for top health.
It's a great choice for senior cats needing nutrient dense cat food.
Best for:
Joint health
Senior cats
Diabetes
>> Check out Feline Natural cat food here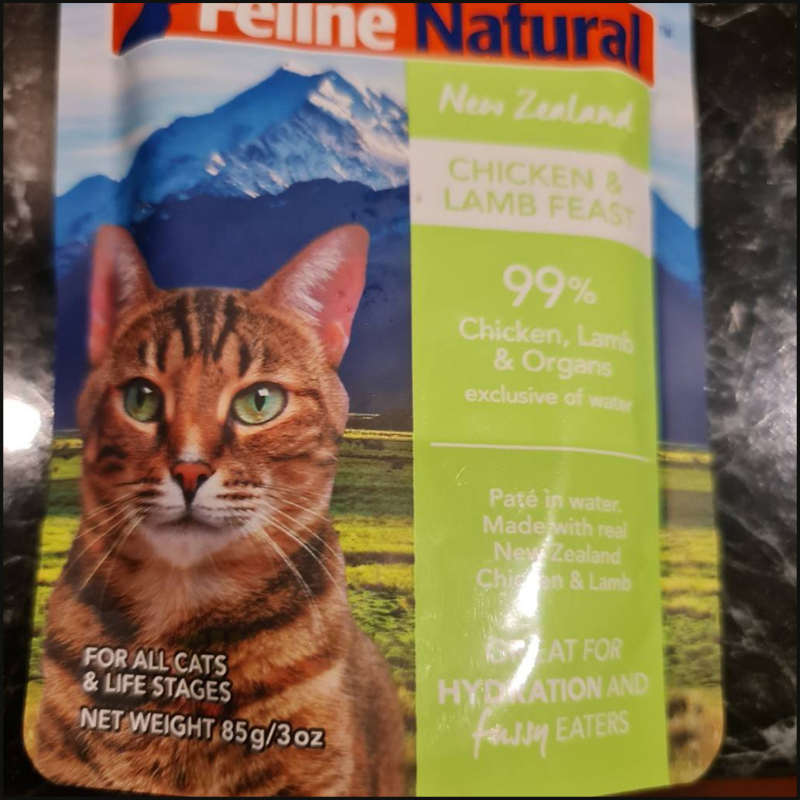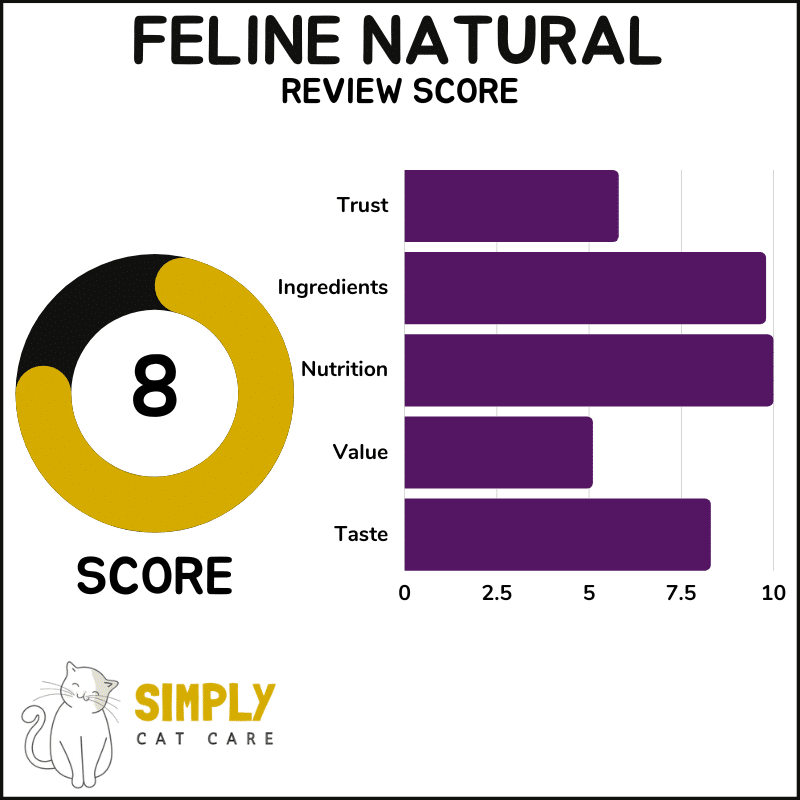 Want more info on Feline Natural cat food?
In this Feline Natural cat food review, I'll share results from testing and detail about:
Nutrition
Ingredients
Taste
Value for money
Trust
I'll take a look at the background of this company. Finally, I'll answer frequently asked questions.
More below!
I am not a veterinarian and I recommend seeking the advice of a vet for any further questions. This article is not intended as a replacement for medical advice.
Feline Natural Cat Food Review
Who are Feline Natural?
Feline Natural is a New Zealand pet food brand.
All ingredients are locally sourced and manufactured. All produce is from free-range farms.
There are no recalls as of the writing of this article.
Feline Natural heats products before packaging. They do not use high pressure processing or pasteurization in their food.
Quick notes:
New Zealand sourced & made
No recalls
Free-range
Nutrition
Excellent.
The protein (52%) exceeds AAFCO's protein guideline of 30% for all ages.
It also meets expert recommendations of 40% for senior cat strength.
Not only that, the protein is from meat based sources, high in essential amino acids and easy to digest.
The carbs are low (2%), which meets the recommended amount (<15%) for diabetic cat support.
You get a high calcium to phosphate ratio (1.3:1), recommended for kidney disease prevention and treatment.
Feline Natural meets the AAFCO nutrition requirements for cats of all life stages.
In short:
High protein
Low carb
Suits all ages
Nutrition (Dry Matter Basis)
Protein: 52%
Carbs: 2%
Fat: 36%
Ash: 10%
Fiber: 1%
Moisture: 80%
Calcium to Phosphate Ratio: 1.3:1
Energy: 895 kcal/kg
Nutrition: 10/10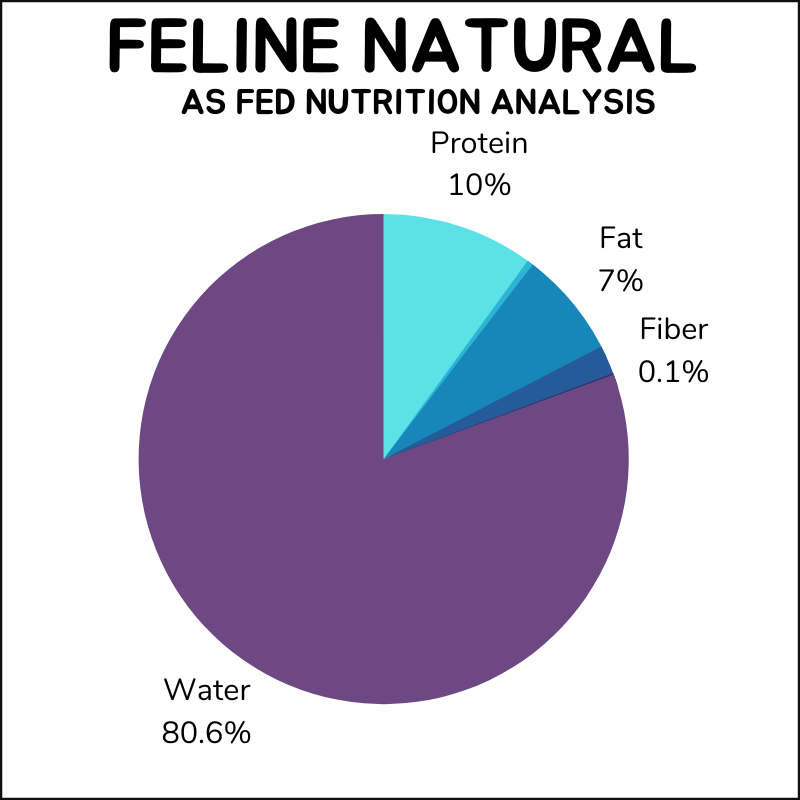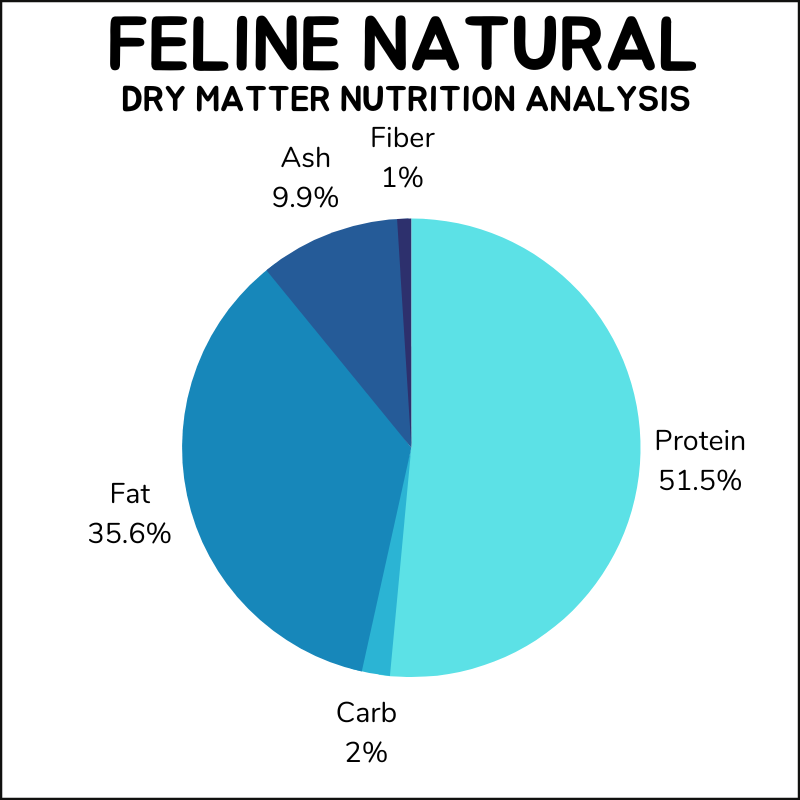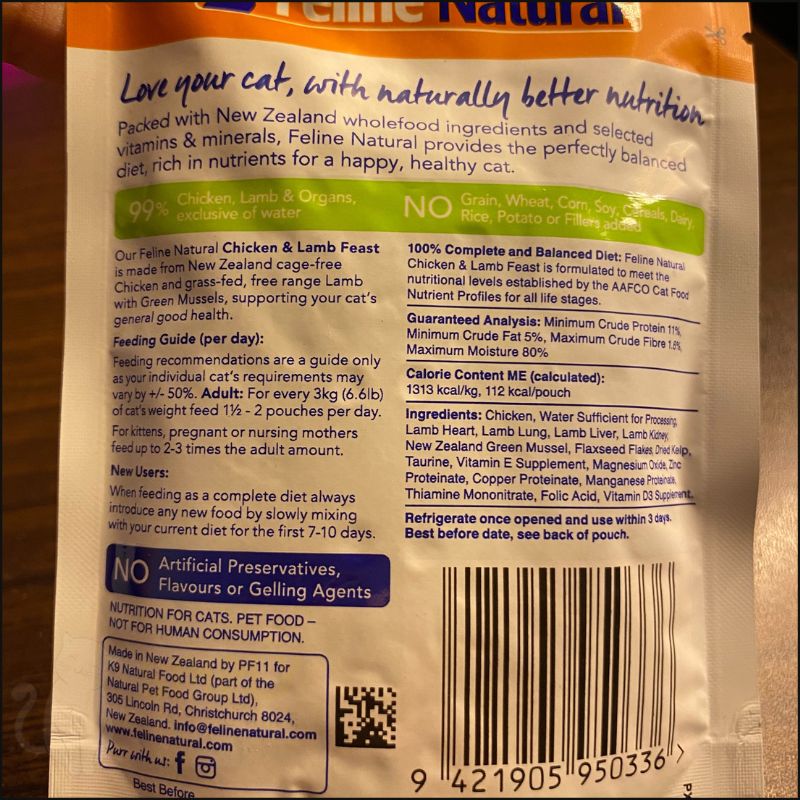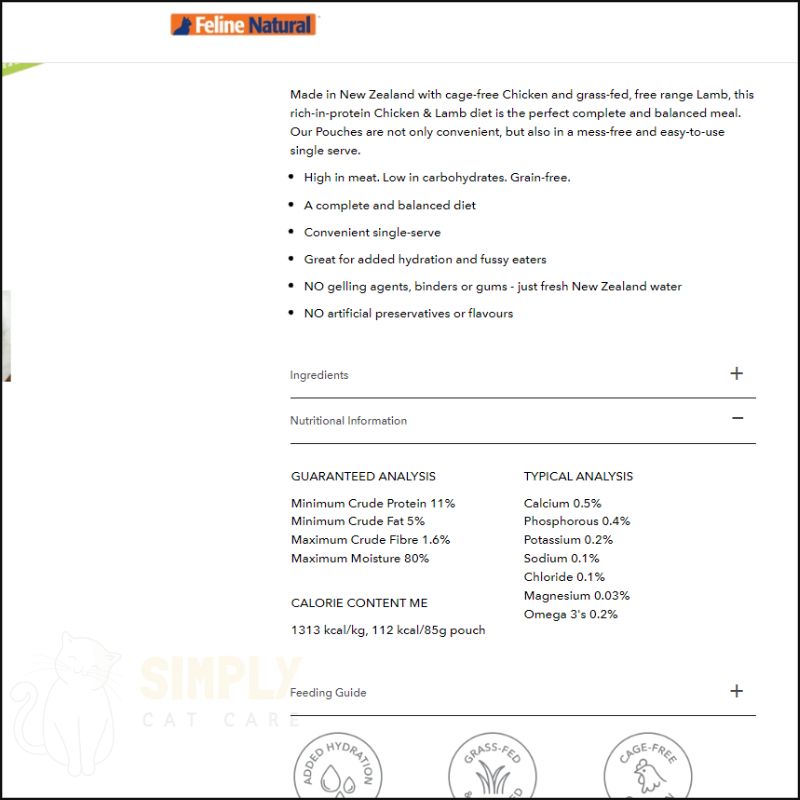 Ingredients
Great.
All five of the first five ingredients are meat based.
The label follows the amount rule, declaring 99% meat content. Perfect for carnivorous cats.
Criticisms?
No.
They do add flaxseed and kelp. Flaxseed is an insoluble fiber, adding bulk to feces and can help with toileting.
Short run down (first 10 ingredients):
Check out more about the ingredients in Feline Natural cat food on their website.
Ingredients: 10/10
Taste
Good.
Most of our cats enjoyed Feline Natural, but we got mixed results with Hoki & Beef flavor.
Reasons?
Cats are neophobic.
The Hoki & Beef flavor might be off-putting with it's stronger fishier smell out the pouch.
If you're feeding a cat a new flavor, it's worth keeping in mind that it takes time to 'warm up' to the new taste.
Notes:
Chunky
Pleasant meaty appearance
Strong smell
Here are the results of testing Feline Natural cat food with our cat Felicia:
Product Test: Feline Natural Chicken & Lamb
Amount Eaten: 100%
Time to Finish Eating: 2 minutes
Food Appearance: Firm chunky pate
Smell: Meaty 'cat food' smell
Here's some photos of testing: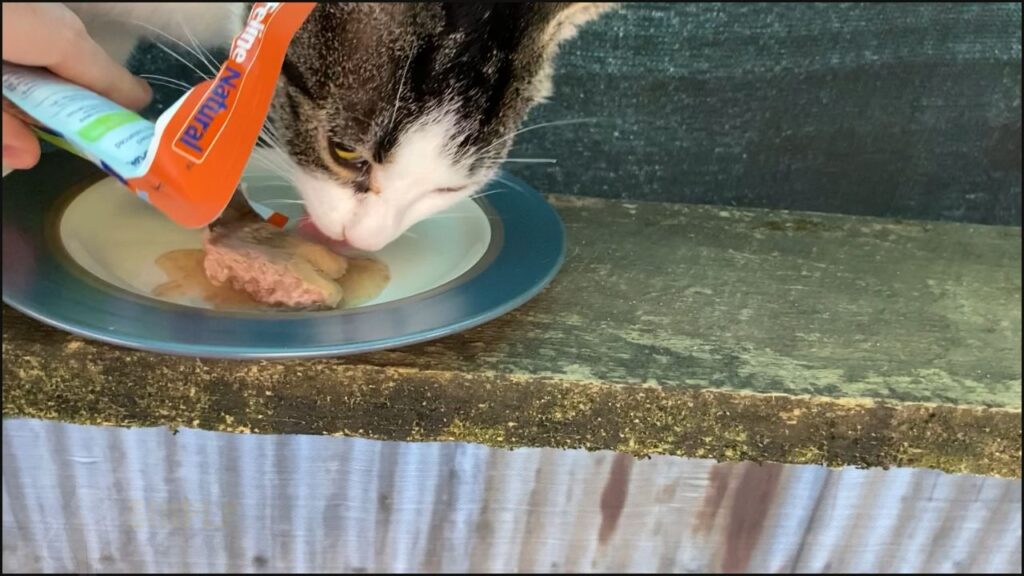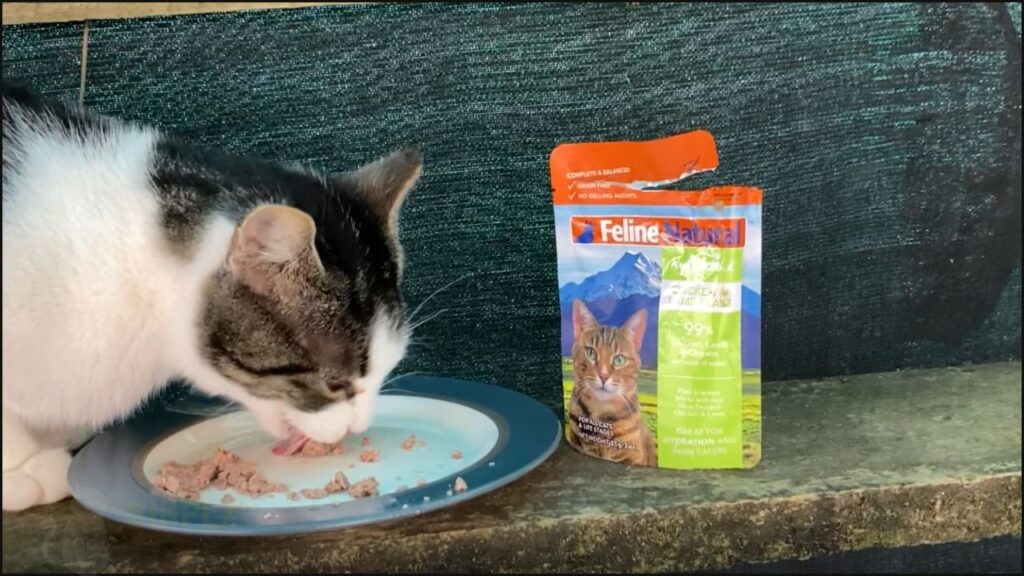 We tested Feline Natural previously with another group of cats with results below:
All of cat taste testers eat Aldi canned cat food. It's possible the exotic tasting New Zealand meats in Feline Natural put off our cats.
Here is a snapshot of results with our 5 cats:
2/5 cats ate Feline Natural Hoki & Beef feast.
Product details: Very strong smell, slightly watery. Our cats Jojo, Mimi and Misty all refused it. Mimi wouldn't even go near it, Jojo and Misty smelt it and refused. The other two cats ate it.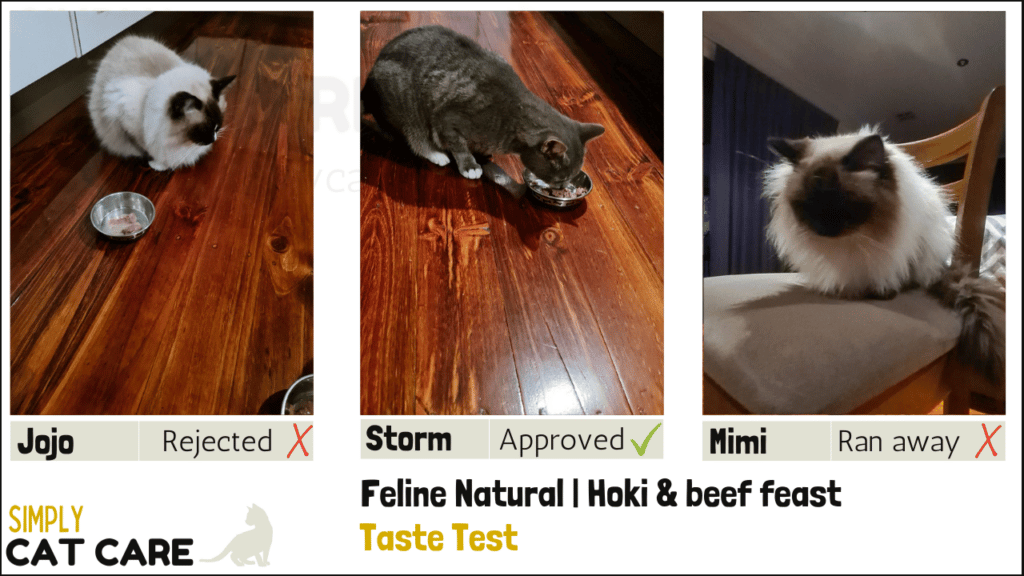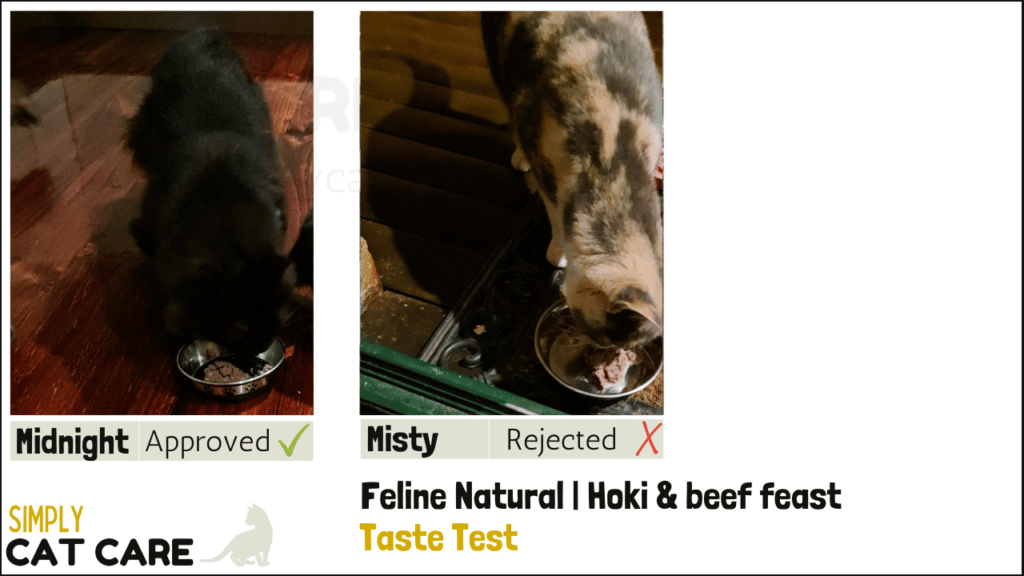 4/5 cats ate Feline Natural lamb & King salmon feast.
Product details: This food has a strong fish smell and is slightly watery. Jojo refused, whilst the others were fine.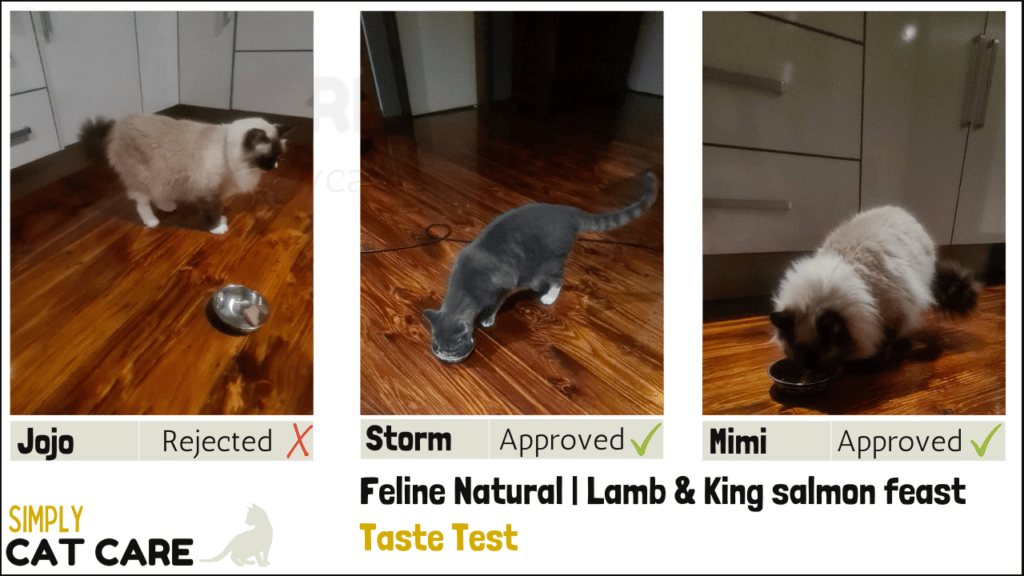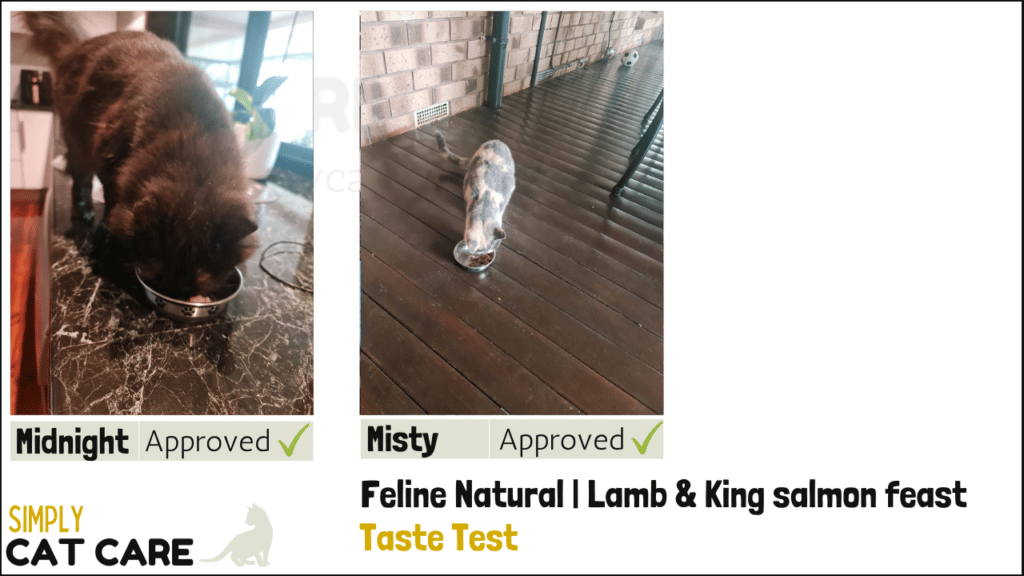 4/5 cats ate Feline Natural chicken & lamb feast.
Product details: This food did not have a strong smell. Storm refused this food choice.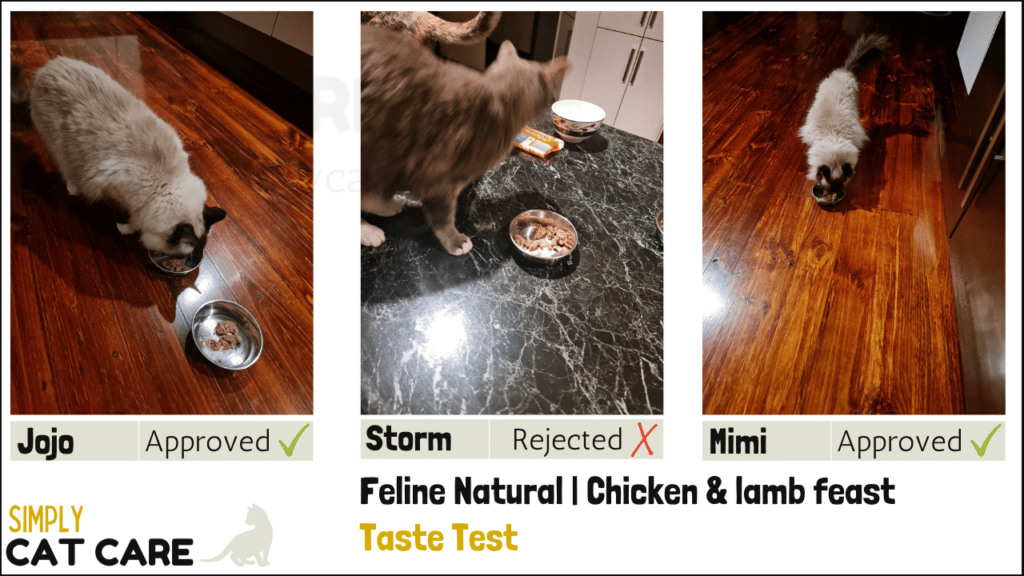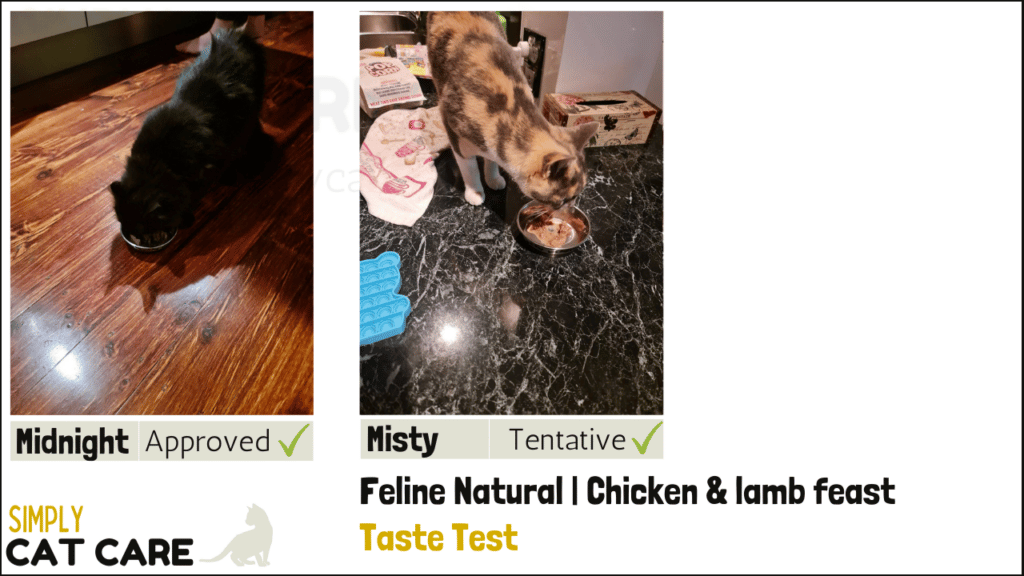 Below is my grading for taste with Feline Natural. This factors in customer satisfaction from online retailers with our own results.
Taste: 8/10
Value for Money
Pricey.
Feline Natural comes in at one of the highest price wet cat food options on the market. We compared options on a cost per ounce basis.
Worth it?
For the quality, this cat food is as good as it gets. Grass-fed meats and filler free.
Depends on your budget.
Similar options for price and quality include:
Value for Money: 5/10
Frequently Asked Questions
Is Feline Natural Pate?
Yes.
All Feline Natural wet cat food is a pate. They also offer cat food treats in small bite sized pieces.
Conclusion
Feline Natural is great for all life stages.
It's chock full of grass-fed animal produce. It's easy on digestion.
Customer reviews are mixed. We saw mixed taste results with our testing. Be weary with fussy cats.
It's also pricey.
Best for:
Joint health
Senior cats
Diabetes
>> Check out Feline Natural cat food her