Honest Fancy Feast Cat Food Review
Disclaimer: As a Chewy and Amazon affiliate, I earn from qualifying purchases. This does not impact our reviews and comparisons.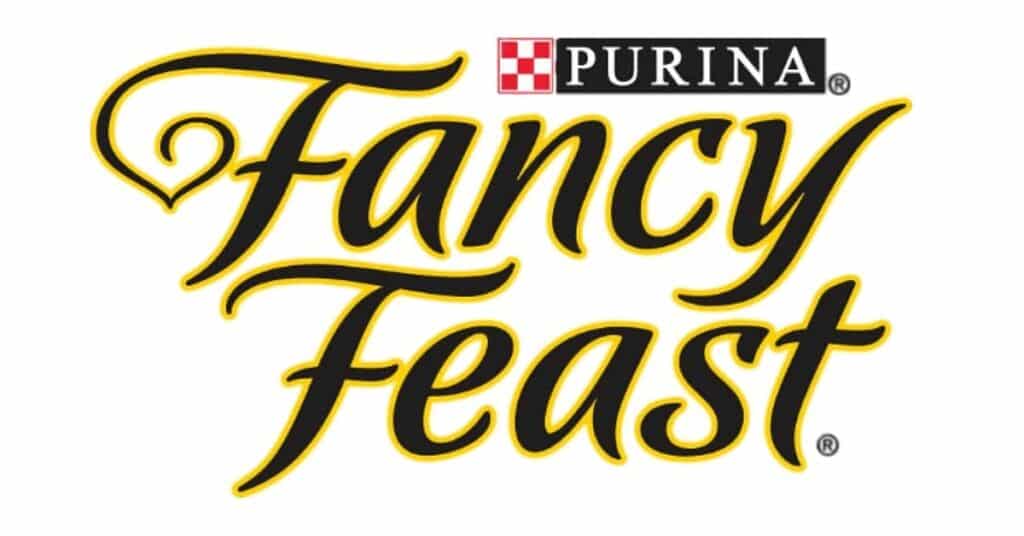 Score: 8/10
Bottom Line
Fancy Feast is a popular brand with a huge range. They offer great value for money.
We've done this Fancy Feast cat food review with the help of our cat taste testers.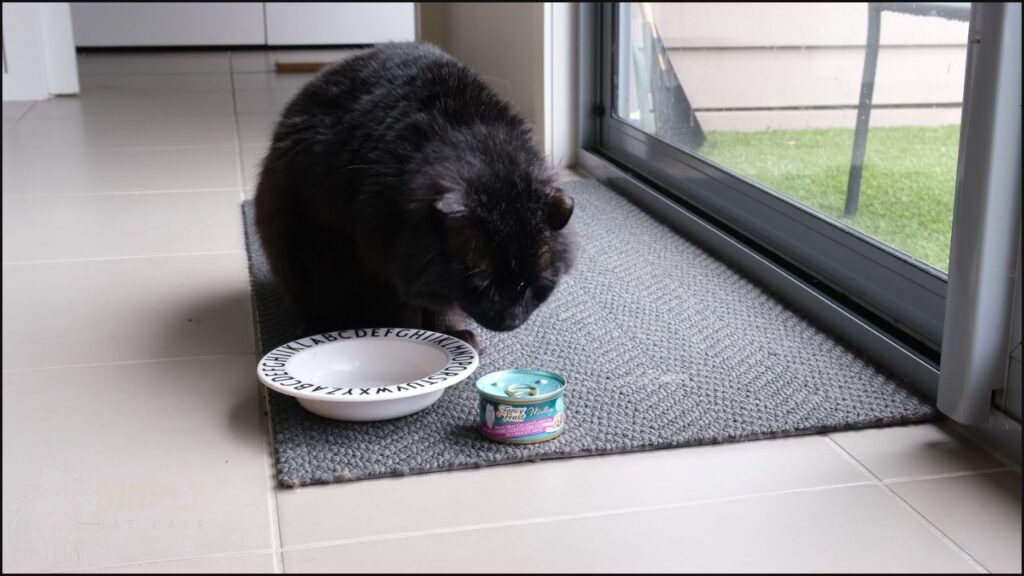 Fancy Feast is a major cat food brand sold in many places.
I've tested a range of different products from their range (there's a lot):
Review summary:
The good?
Great taste.
Our cats loved the high protein and low carb range from Fancy Feast. At an affordable price, you can't go wrong.
The bad?
Meat by-products.
Whilst not a 'bad' thing, this isn't ideal for many. It won't suit cats needing a single protein source for allergies.
The ugly?
Dry cat food.
Whilst the wet cat foods are are low carb, the dry is not. So whilst I'm happy to recommend any of the wet products, I'm hesitant with their dry cat food offering.
In short:
Great.
Fancy Feast are one of my 'go to' cat food products. Their wet foods are low carb and tasty choices for adult cats.
Best for:
Picky eaters
Affordability
Flavor variety
>> Check out Fancy Feast here.
Want to find out more about whether Fancy Feast is best for your cat?
In this Fancy Feast cat food review I'll share results from our cat testers.
I'll also take a deep dive into the nutrition and ingredients of this cat food. Finally I'll answer some frequently asked questions.
Fancy Feast Cat Food Review
Who are Fancy Feast?
Fancy Feast are a pet food brand that specializes in gourmet cat food. They are owned by Purina and were founded in the early 1980's.
Here's a commercial about Fancy Feast in 1996, with the slogan 'Good taste is easy to recognize'. The cat is featured on a yacht cruise ship.
Fancy Feast offer a huge range of wet cat food, dry food and treats.
Fancy Feast Ingredients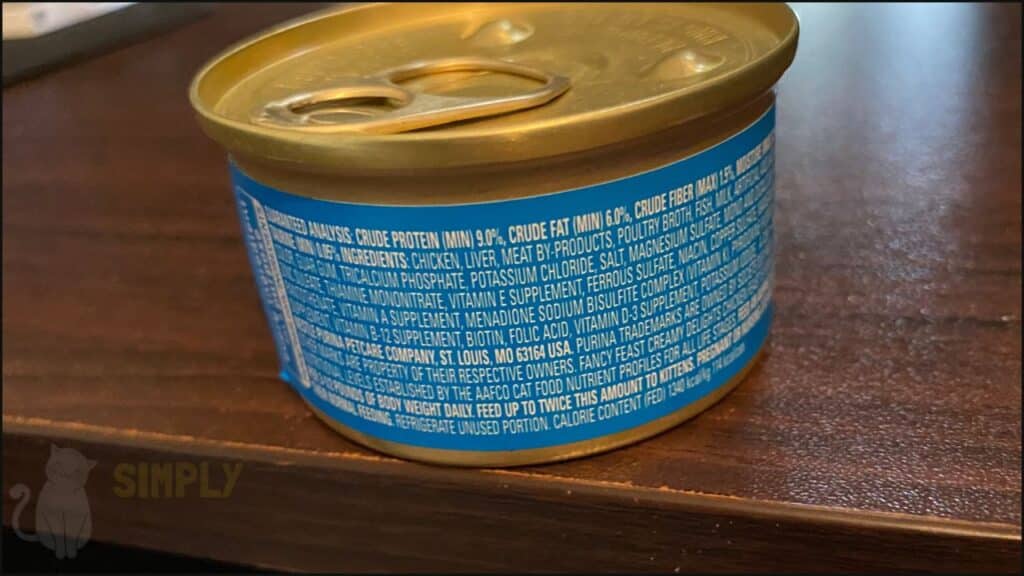 Score: 7/10
Whilst Fancy Feast uses a lot of animal based foods, it does contain a lot of meat by-products.
Here's a look at the ingredient list for Fancy Feast Tuna florentine with garden greens in a delicate sauce product (meat ingredient highlighted):
Ingredient List: Fish Broth, Tuna, Wheat Gluten, Liver, Chicken, Meat By-Products, Spinach, Corn Starch Modified Artificial and Natural Flavors, Added Color, Salt, Tricalcium Phosphate, Soy Protein Concentrate, Potassium Chloride, Choline Chloride, Taurine, Magnesium Sulfate, Thiamine Mononitrate, Vitamin E Supplement, Red 3, Zinc Sulfate, Ferrous Sulfate, Niacin, Calcium Pantothenate, Vitamin A Supplement, Menadione Sodium Bisulfite Complex (Source of Vitamin K Activity), Copper Sulfate, Pyridoxine Hydrochloride, Manganese Sulfate, Riboflavin Supplement, Vitamin B-12 Supplement, Biotin, Folic Acid, Vitamin D-3 Supplement, Potassium Iodide
This cat food uses the 'feast' descriptor, as you may have guessed. This means the named ingredients are between 25 – 94.9% in amount.
In other words, you'd get at least 25 -94.9% tuna in this product. Likely on the lower end as fish broth is the first ingredient.
Fancy Feast include other animal ingredients. These ingredients dominate the ingredient list for most foods.
This is great as cats are obligate carnivores.
On the other hand, their wet foods tend to use ingredients like soy protein and wheat gluten. These offer incomplete protein, which aren't as beneficial for cats.
You can also check each ingredient and its purpose on Purina's Fancy Feast website.
Fancy Feast Nutrition
Score: 8/10
Fancy Feast range is a complete food for adult cats, whilst they have options for kittens as well. They do not have cat foods for senior cats.
This includes the 'Senior 7+' option which is only listed as suitable for adult cats. Only the Fancy Feast classic pate and flaked wet foods are suited for all life stages.
Fancy Feast products line up well with what a cat would need as an obligate carnivore for the most part.
Here's a snapshot of the nutrition of Fancy Feast in terms of metabolizable energy (ME). We looked at Fancy Feast Creamy Delights.
High protein (45% ME)
Moderate fat (32% ME)
Low carbohydrate (1% ME)
Low fiber (7% ME)
High calorie at 1,340 kcal/kg average
If you'd like to learn more about healthy diet, check out our handy guides below:
What Do Our Cats Think Of Fancy Feast Cat Food?
Flavor Score: 9/10
We tested 3 wet cat food products from Fancy Feast with our cats.
Here's results from our testing:
Food Test 1: Fancy Feast White Meat Chicken Florentine
Amount eaten: 100%
Time to finish eating: 4 minutes and 45 seconds
Food appearance: Creamy, mushy
Smell: Light chicken smell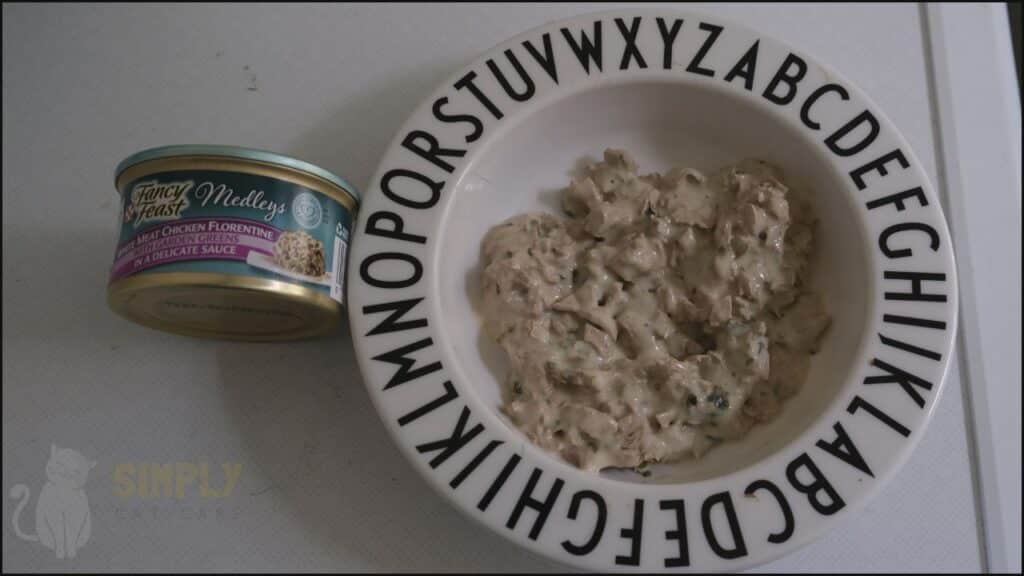 Food Test 2: Fancy Feast Royale Tuna with Shrimp
Amount eaten: 100%
Time to finish eating: 4 minutes and 45 seconds
Food appearance: Chewy and solid
Smell: Fishy and smells like sea salt
Food Test 3: Fancy Feast Kitten Ocean Whitefish
Amount eaten: 85%
Time to finish eating: 4 minutes and 25 seconds
Food appearance: Firm mousse in a loaf texture
Smell: Smells bland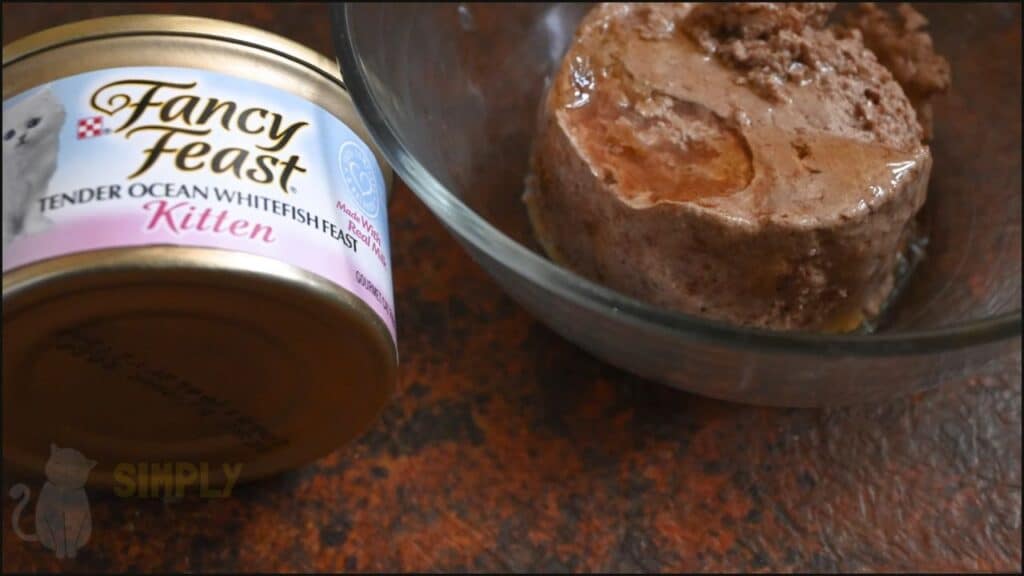 Fancy Feast Cat Food Pricing
Value for Money: 8.5/10
Compared to most wet cat foods, Fancy Feast is affordable.
You can find a wide variety of buying options in store and online. Most options come in large variety packs.
Similar alternatives to Fancy Feast include:
Learn More:
Frequently Asked Questions
Does Fancy Feast have Carrageenan?
One Fancy Feast product contains carrageenan (Fancy Feast Flaked Chicken & Tuna Feast).
There is no carrageenan in the other Fancy Feast products. This can change in the future with ingredient changes.
Carrageenan is a seaweed based thickener. In it's degraded from, it can cause inflammation in the digestive system.
It's even used in research to test models of inflammation. The amount of degraded carrageenan in added carrageenan is hard to know.
If your cat has a sensitive stomach, it may be best to steer clear of added carrageenan.
Learn More:
Is Fancy Feast Cat Food Made in China?
Fancy Feast sources and manufactures their foods in the United States.
Find the location of every ingredient used in their products on their website.
To find the location of every ingredient, click on the food you want to check. Then go to the nutrition tab.
Below that is a link saying 'Every ingredient has a purpose'. This pulls up a map showing you where all the ingredients are from.
See the pictures below to show you how to find the ingredients.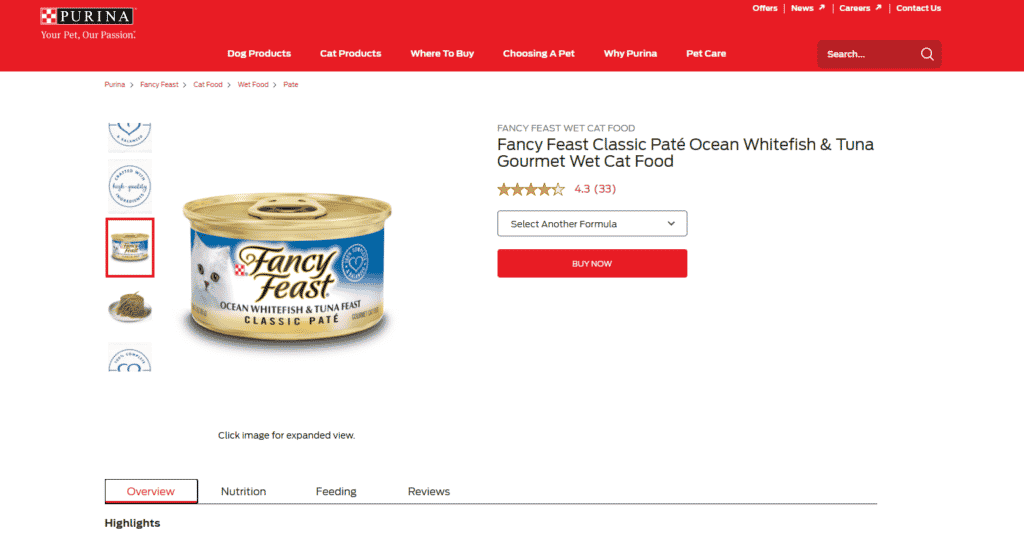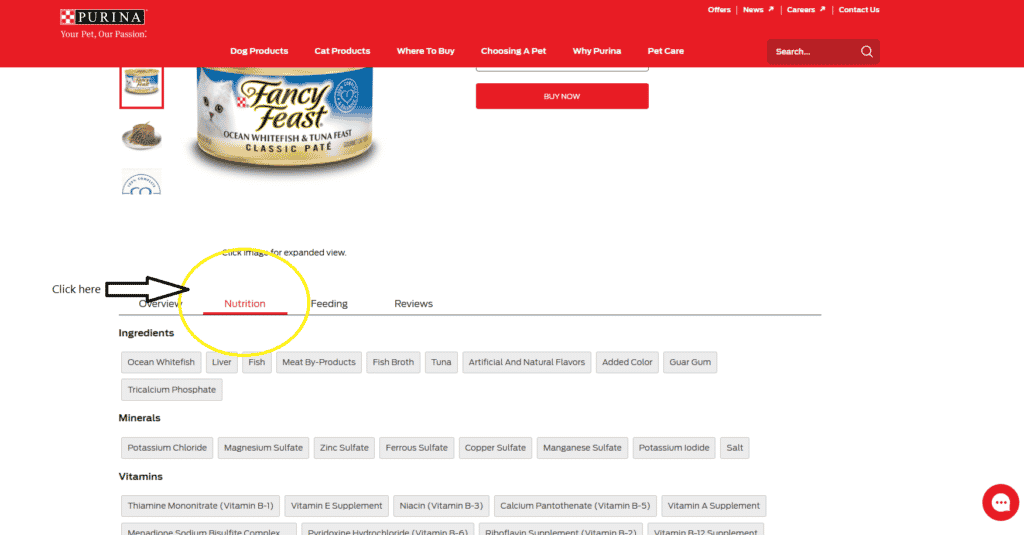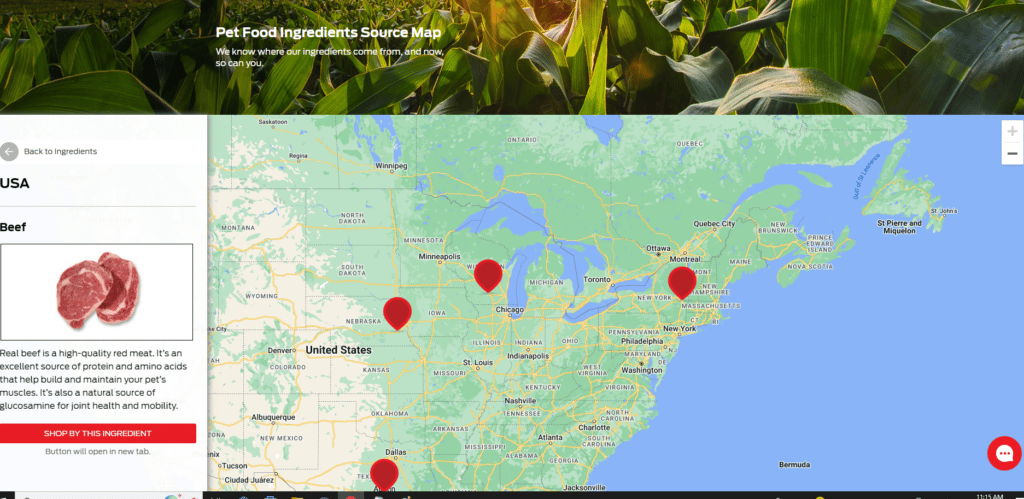 Conclusion
For a budget cat food, Fancy Feast is good. Their wet food range will meet the needs for adult cats and is cat approved for taste.
It would be great to see a few more options for senior cats. Some of the products contain a few less optimal ingredients like wheat gluten.
Aside from the dry food, which is high in carbohydrate and not worth it, most options are solid choices for your cats health.
>> Check out the current offers for Fancy Feast.