Honest Applaws Cat Food Review
Disclaimer: As a Chewy & Amazon affiliate, I earn from qualifying purchases. This does not impact our reviews and comparisons.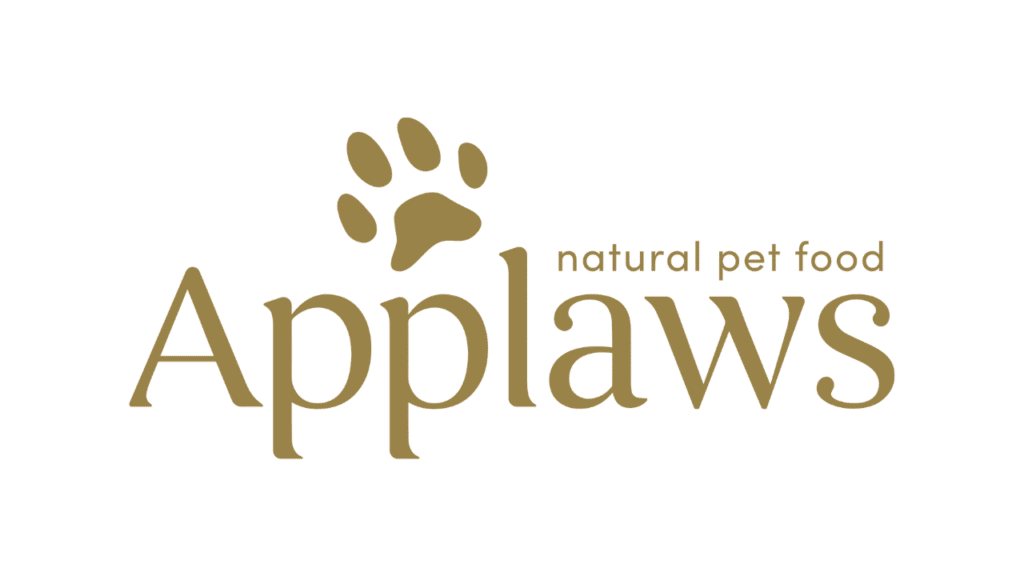 Score: 7.5/10
Bottom Line
Simple meaty ingredients, but lacks the nutrition cats need for sole feeding.
We did this Applaws cat food review with the help of our cat taste testers.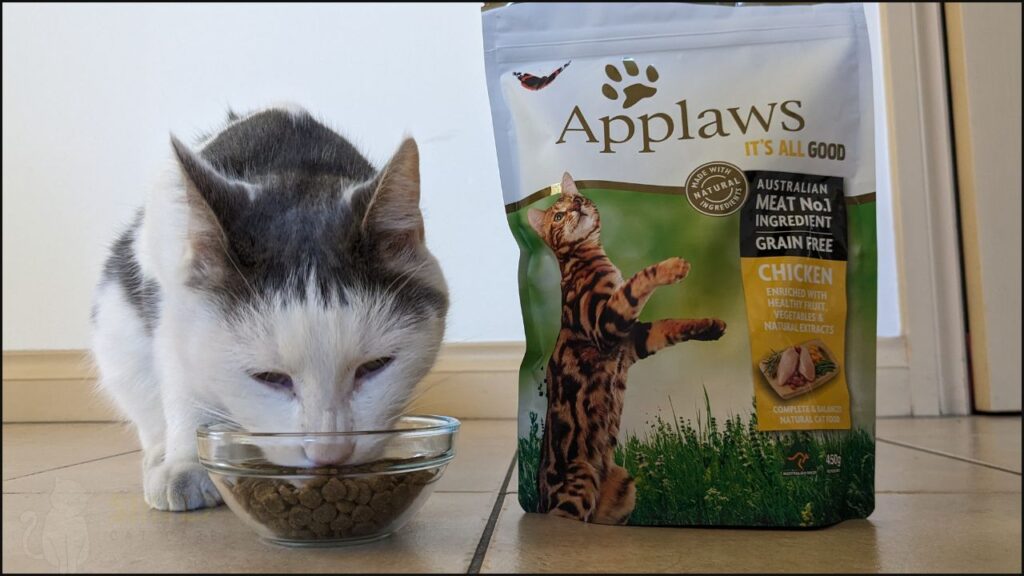 Applaws are a brand that focuses on simple grain-free cat food.
I tested 2 products (one wet and one dry) with our cats, which I've reviewed in this article.
Review summary:
The good?
Simple.
If you're after a filler free supplement, this cat food is up your alley. With minimal ingredients, it's easy on digestion.
The bad?
Lack of variety.
Minimal ingredients is great, but the lack of variety means the nutrition is lacking. You'll need to provide complete cat food on top.
The ugly?
Pricey.
Aside from convenience, the price is questionable for what you get. Could you cook your own chicken and serve it?
In short:
Ok.
Applaws canned cat food is a simple supplemental food. In a pinch, it's a tasty occasional snack.
Best for:
Supplemental feeding
Easy digestion
Fussy eaters
>> Check out Applaws cat food here.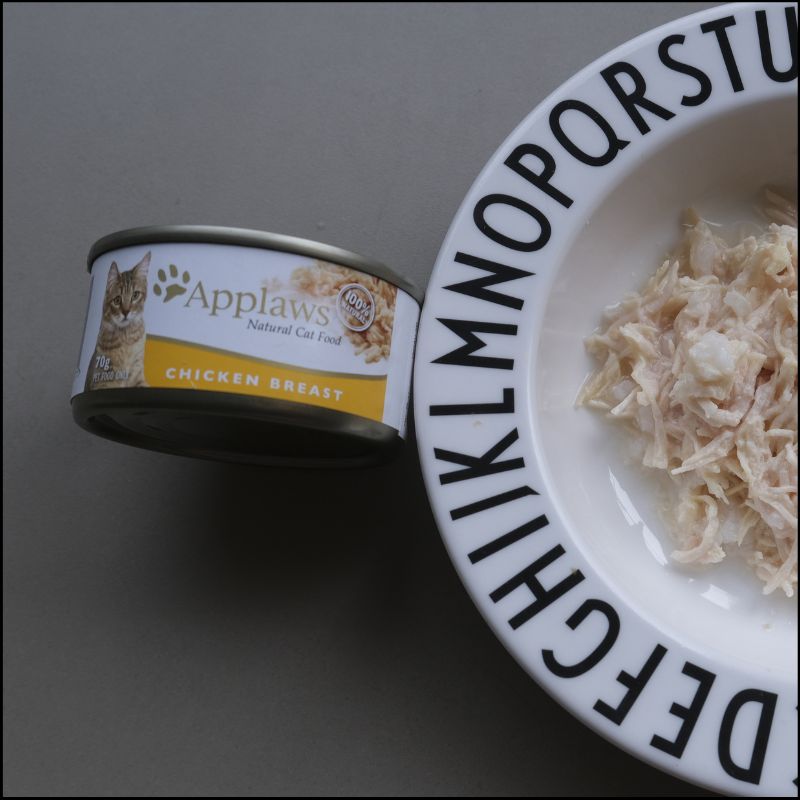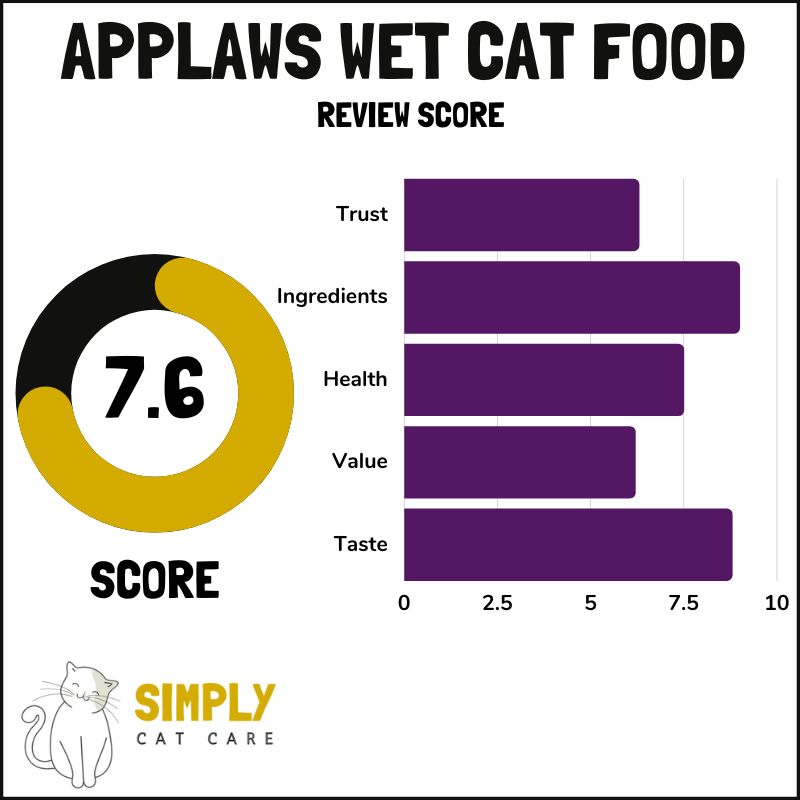 After more on Applaws cat food?
In this short Applaws cat food review I'll go into more detail about:
Nutrition
Ingredients
Value for Money
Taste
I'll take a close look at these selected products:
Applaws chicken broths
Applaws chicken dry cat food
Whilst this doesn't perfectly encapsulate all products, I hope it gives a close idea of what to expect.
This review include taste testing results with our cats.
I'll also cover frequently asked questions on Applaws.
I am not a veterinarian and I recommend seeking the advice of a vet for any further questions. This article is not intended as a replacement for medical advice.
About Applaws Cat Food
Applaws is a pet food brand that makes natural cat foods for supplemental feeding. They founded in 2006.
They operate in various locations but manufacture their wet food in Thailand. They make wet and dry cat food as well as treats.
Fast notes:
Thailand manufactured
Founded in 2006
Mainly supplemental foods
Applaws Chicken Cat Food Review: Top Foods
We've looked at Applaws wet and dry cat food.
Here's our current Applaws cat food reviews:
1. Applaws Wet Cat Food Review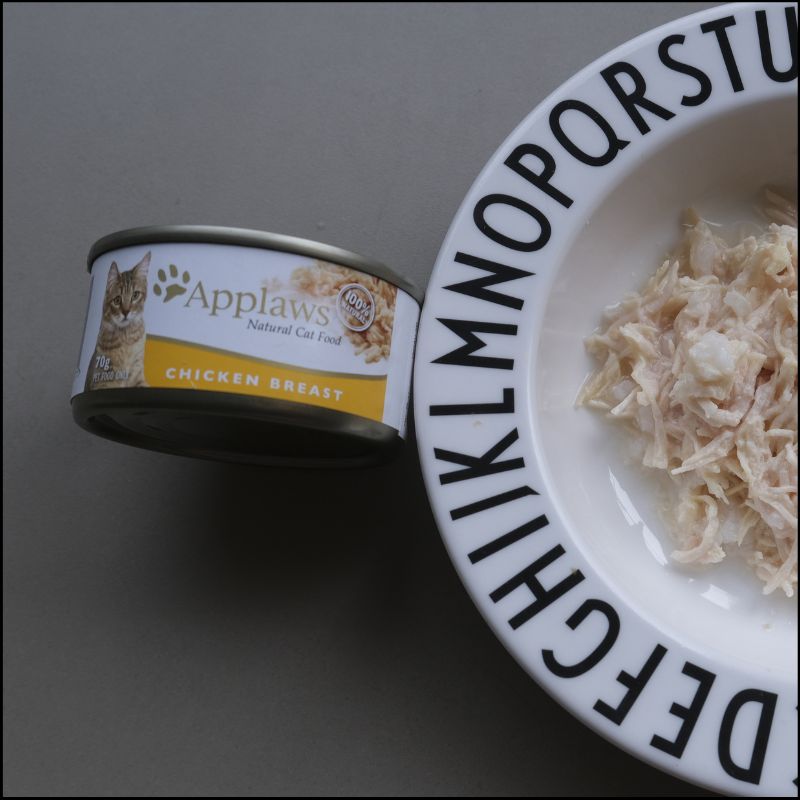 Nutrition
Ok.
Applaws is a simple product, using 75% chicken breast, and 1% rice.
Precise nutrition isn't clear due to their numbers being crude values (and they don't add to 100%). I used estimates for this review.
In any case, Applaws is high protein and low fat. Helpful for weight control.
Carbs (estimated) are a tad high from the rice, but under expert advice for blood sugar control.
Applaws is a supplementary cat food. Their foods are occasional feeding options based on AAFCO's nutrition guidelines.
That means Applaws doesn't have all the micronutrients for cats. A diet of only meat results in calcium deficiency, for example.
You must give your cat complete cat food to complement Applaws and make sure your cat gets all they need.
Notes:
High protein
Low carb
Supplemental feeding only
Nutrition (dry matter basis):*
Protein: 78%
Fat: 1%
Carbs: 10%
Fiber: 11%
Energy: 530 kcal/kg
*estimated
Nutrition: 7.5/10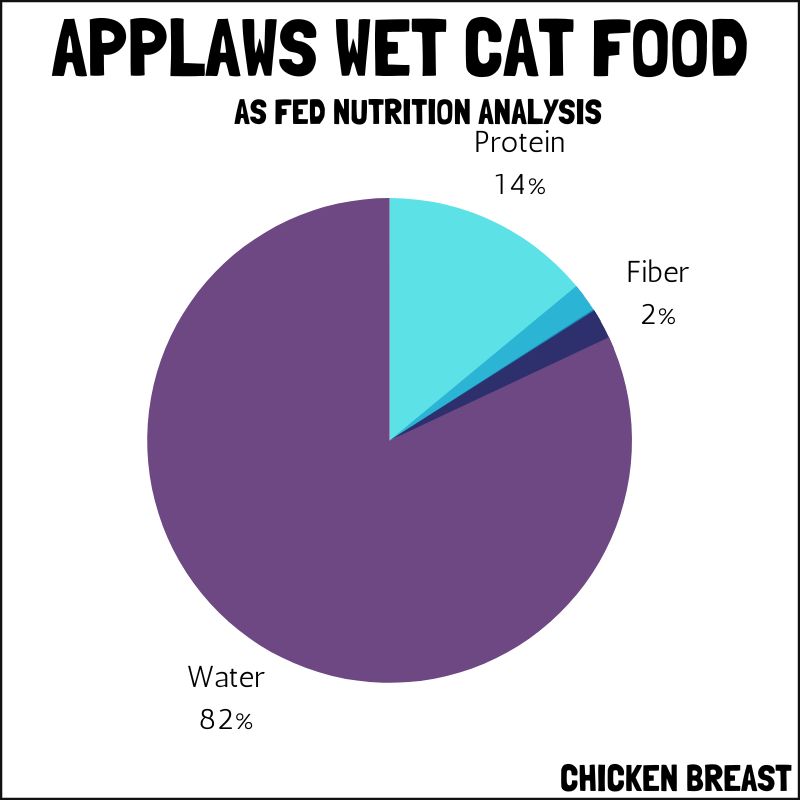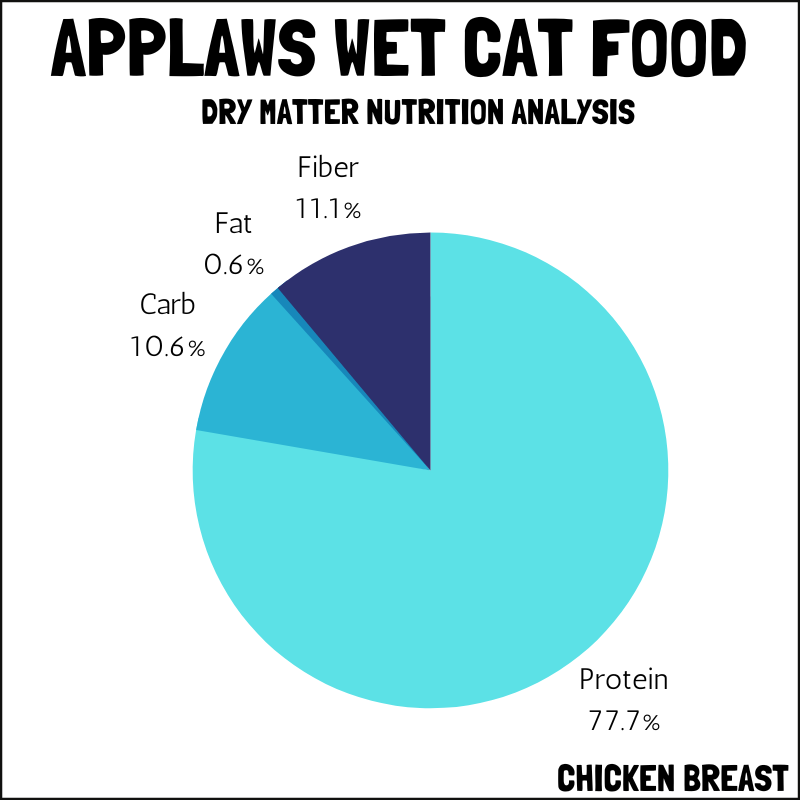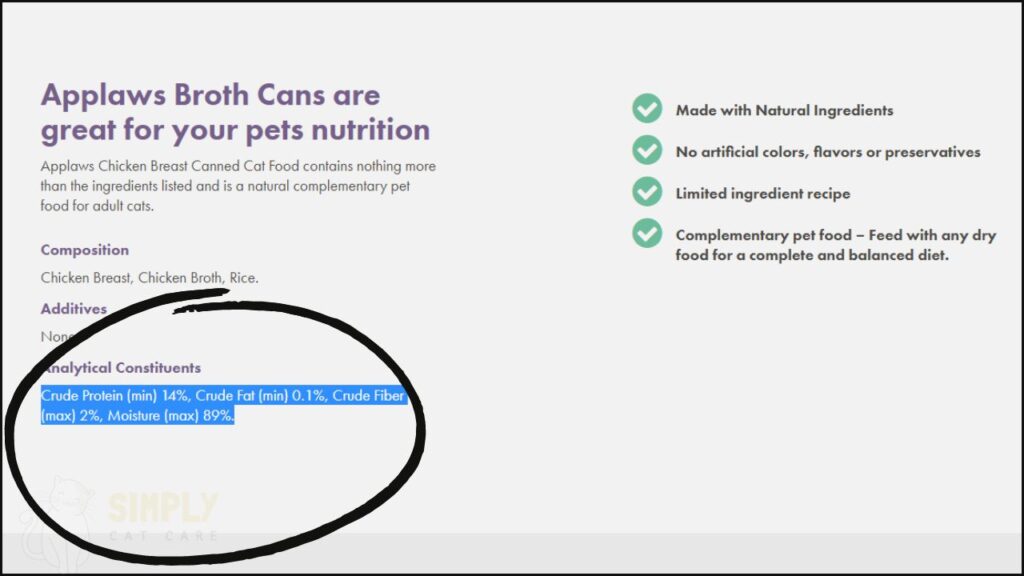 Ingredients
Simple.
The product only contains the following:
Chicken breast 75%, chicken broth 24%, rice 1%
As you can see, not a lot going on here.
The main ingredient is chicken breast which is 75% of the product. It's a high protein, low fat ingredient.
As mentioned earlier a diet of only meat causes calcium deficiency, with symptoms including depression and movement issues.
The other ingredients are chicken broth and rice.
Rice is a high carb ingredient, but it's only in small amounts.
Overall, the main issue is the lack of variety in this cat food.
In short:
Simple
Mainly chicken breast
Lacks variety
Ingredients: 6/10
Taste
Good.
I offered Applaws to our cats Karl and Ollie, with both approving. Ollie did leave a small amount though.
Online reviews are mostly positive about the taste of Applaws wet cat food.
Here are the results of our taste testing:
Food Test 1: Applaws Chicken Breast in Broth Canned Cat Food
Amount eaten: 90% Ollie; 100% Karl
Food appearance: Chicken shreds in a broth. Clean and fresh looking.
Smell: Fresh smell
Here's some photos of our testing:
Taste: 9/10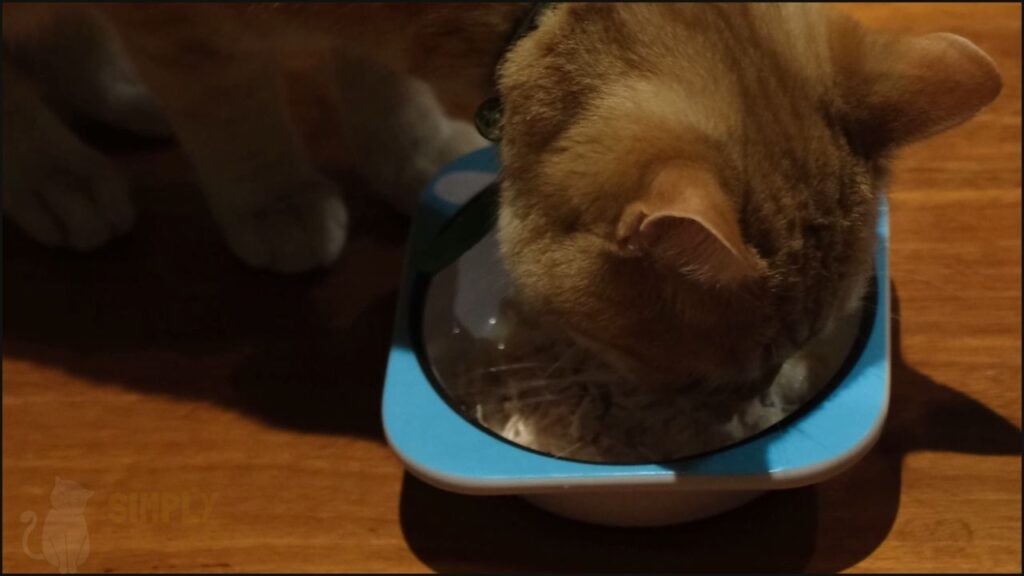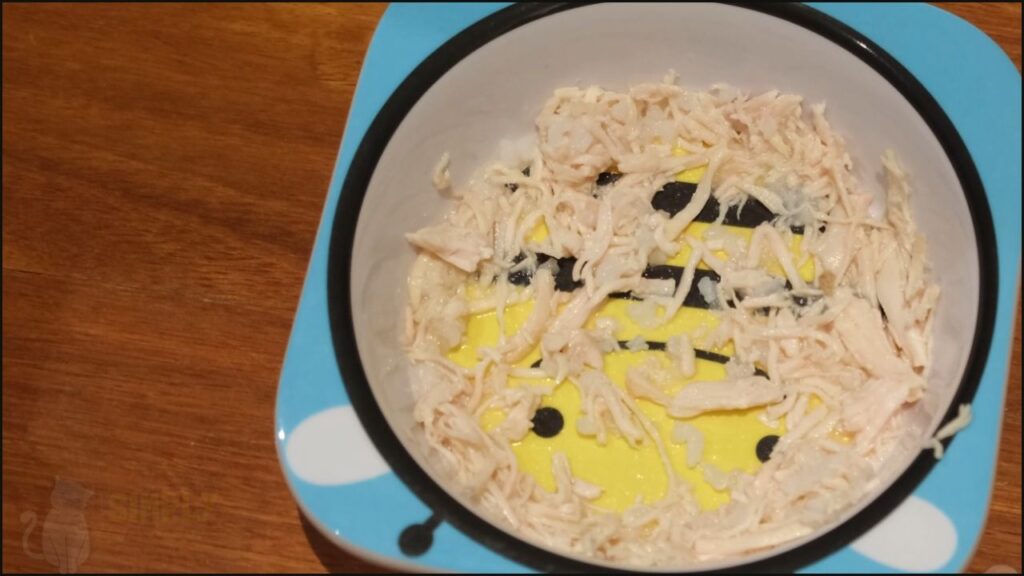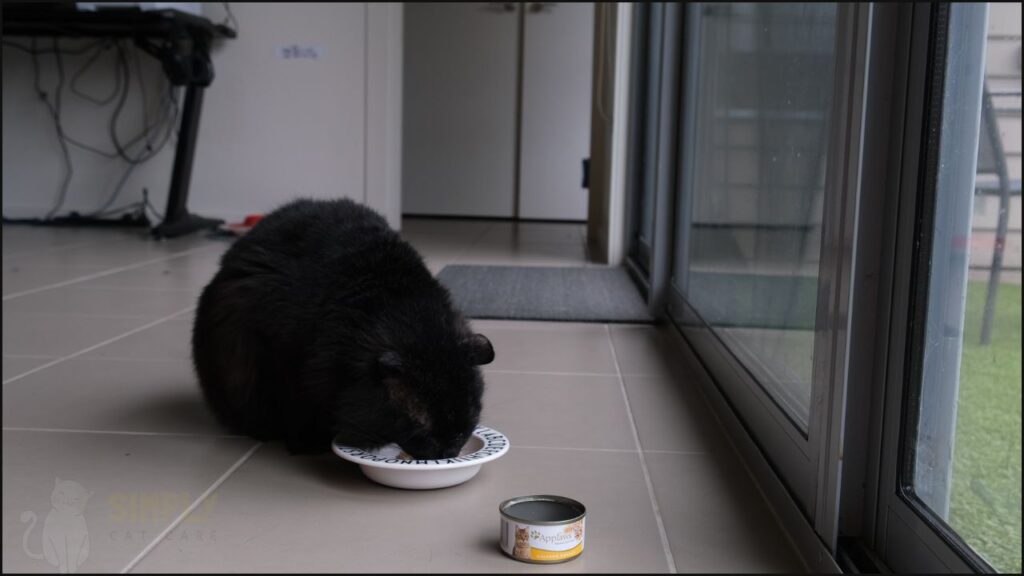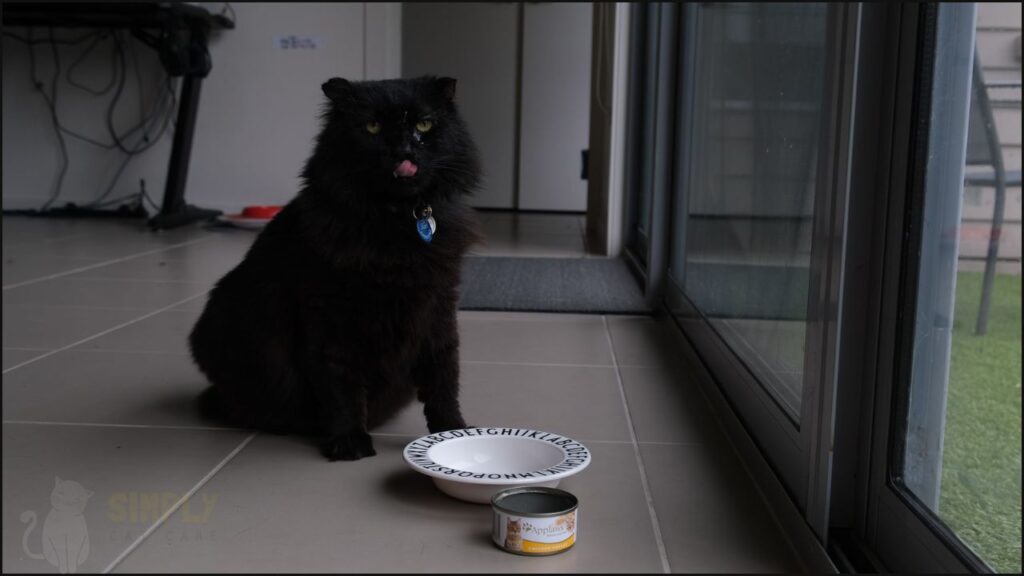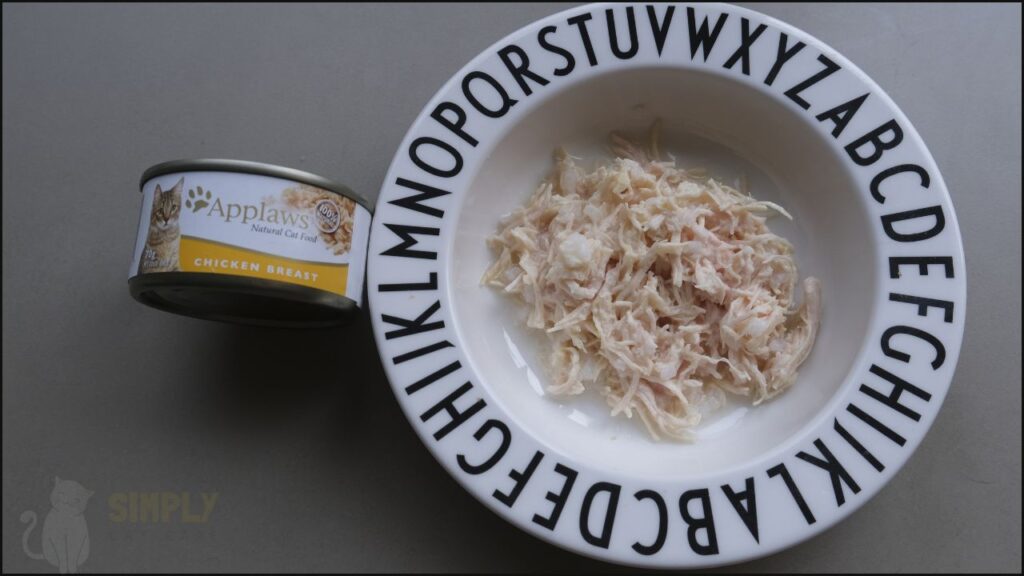 Value for Money
Pricey!
Even their 24 x 3 ounce pack is steep compared to many options.
Given it's a supplemental, it's ok for an occasional snack.
Value: 6/10
Final Thoughts
Not bad.
As an occasional snack, Applaws is a handy low calorie choice. Cats love the authentic chicken shreds.
On the other hand it's not a complete meal, so you'll need to make sure your cat gets complete cat food. Plus it's expensive.
Best for:
Supplemental feeding
Easy digestion
Fussy eaters
Where to buy Applaws canned cat food?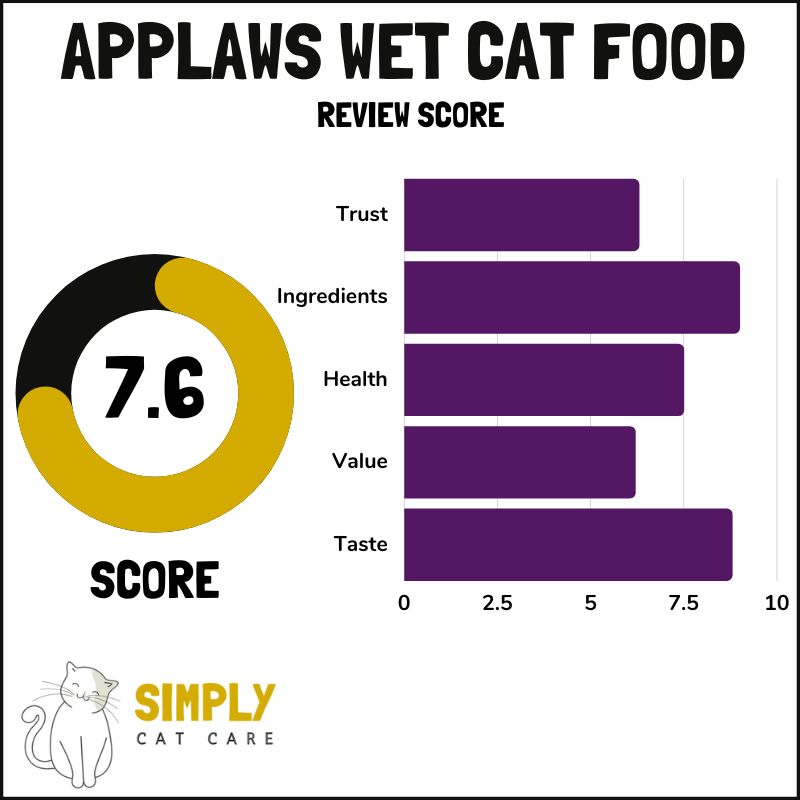 Scoring Explained: We use our own calculations to fairly compare brands. For nutrition, we look at ingredient weighting. We taste test products with our cats and compare to customer results. We also check if it's a well-known brand customers approve of and can trust.
2. Applaws Dry Cat Food Review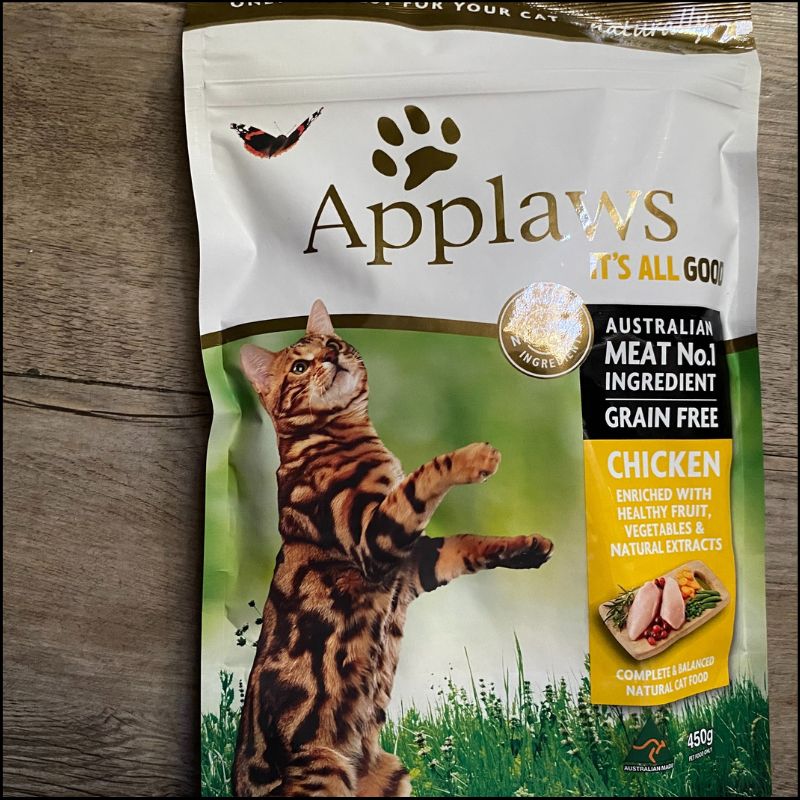 This product is from Australia. Other countries sell similar products which may not reflect this product.
Nutrition
Not the best.
This cat food is a complete meal for adults.
The protein amount here is only 34% on a dry matter basis. Adjusting for quality, I estimate around 28%.
Based on a cats dietary need (26% for maintenance), this is a borderline.
Carbs are high at 33%. We recommend sticking to cat food at no more than 10% dry matter and limiting foods over this.
Excess carbs:
Not the best.
Notes:
Suited to adult cats
High carb
Lackluster protein content
Nutrition (dry matter basis):*
Protein: 35%
Fat: 14%
Carbs: 34%
Fiber: 7%
Ash: 10%
Energy: 1,430 kcal/kg
Nutrition: 3.5/10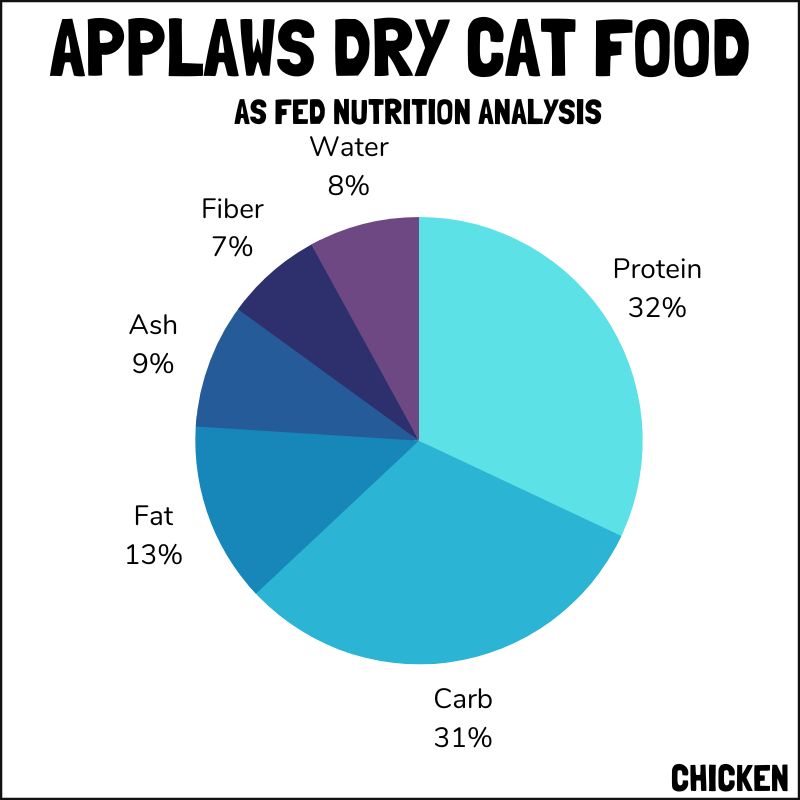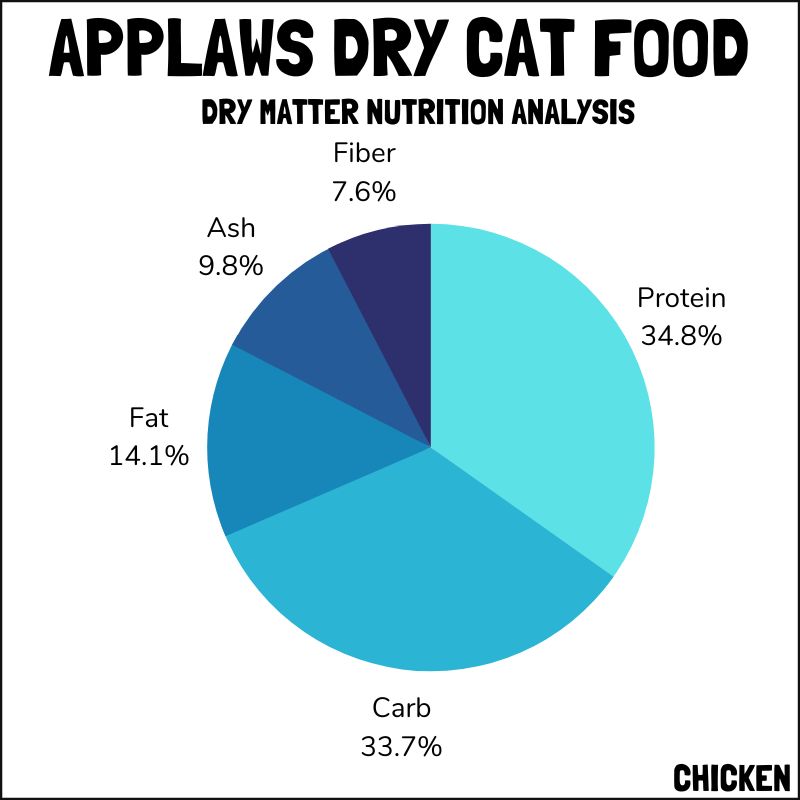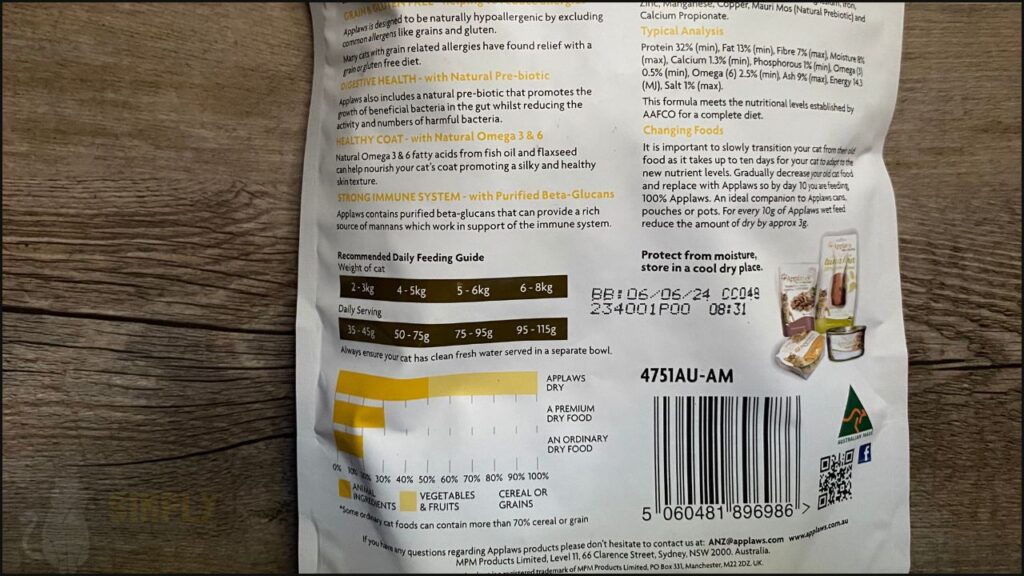 Ingredients
Average.
Here's the ingredient list for Applaws dry cat food:
Chicken Meal, Turkey Meal, Pea Starch, Tapioca Starch, Dried Chicken, Potato, Chicken Fat (preserved with mixed Tocopherols and citric acid), Flaxseed (source of natural pre-biotic, Omega 3&6), Natural chicken flavour, Taurine, Salt, Rosemary extract, Carrots, Sweet potato, Cranberries, Alfalfa, Dried Kelp, Yucca, Beet Pulp, Lysine, Vitamins (A, B1, B2, B5, B6, B12, D3, E), Biotin, Folic Acid, Niacin, Magnesium, Iron, Zinc, Manganese, Copper, Mauri Mos and Calcium Propionate
There's no amount on the label or descriptor used.
The main ingredients are chicken and turkey meal. Good high protein ingredients, although a tad lower in quality than fresh meat (about 80%).
Down the list are high carb ingredients including pea starch, tapioca starch, and potato. Not needed for cats.
Some other issues:
Cranberries. High in vitamin C, which can increase the risk of urinary tract infection.
There's added veggies including carrots, alfalfa, dried kelp, and yucca. Not ingredients cats enjoy.
In short:
Meat first
Too many high carb ingredients
Too many veggies
Ingredients: 5.5/10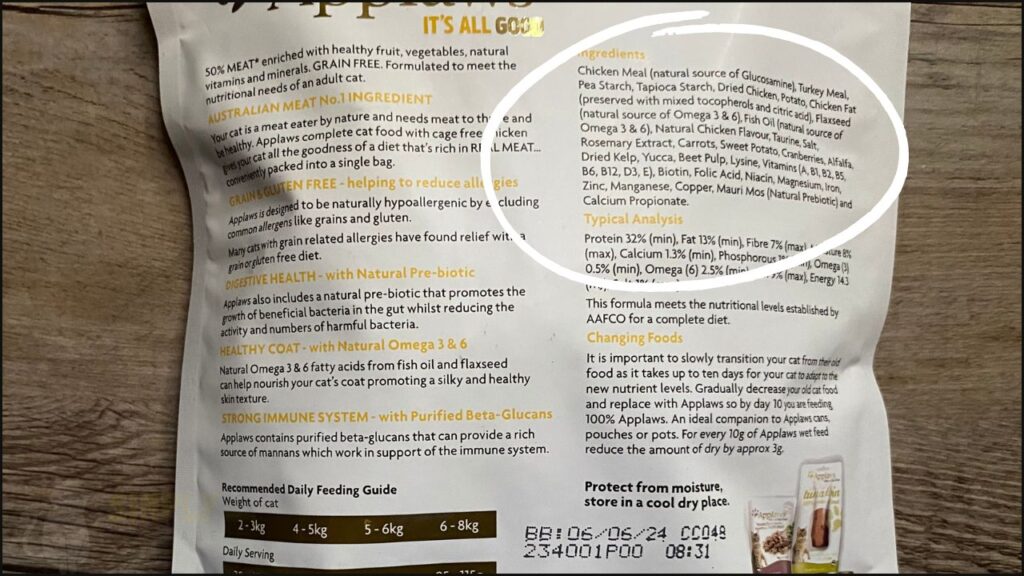 Taste
Average.
Our cat Toby enjoyed Applaws dry cat food.
Reviews online are less enthusiastic. This might be due to the high carb and veggie content, which can put off cats.
Food comes in small pellets with a mild meaty smell.
Notes:
Our cat enjoyed it
Online reviews mixed
Low smell
Taste: 8/10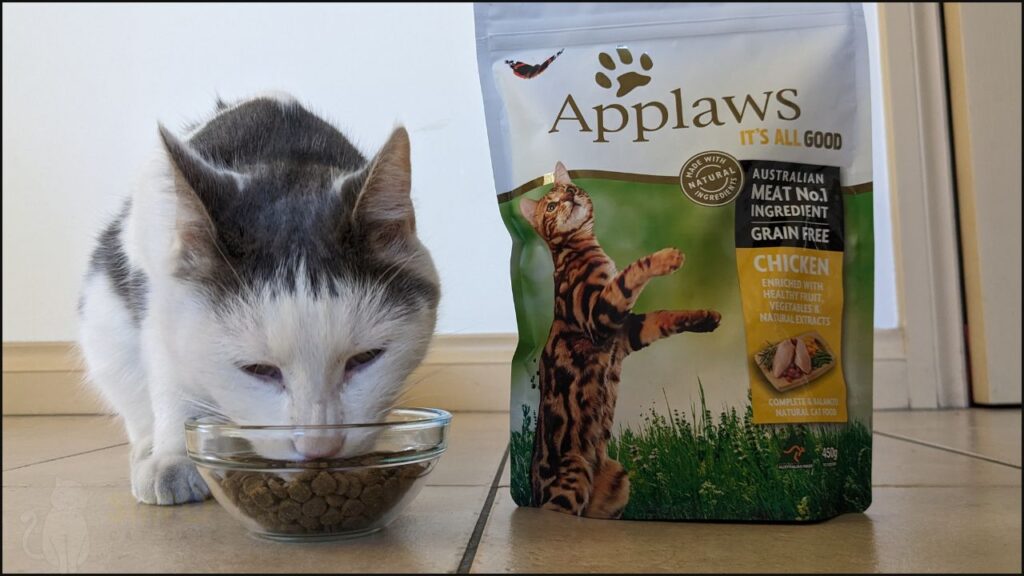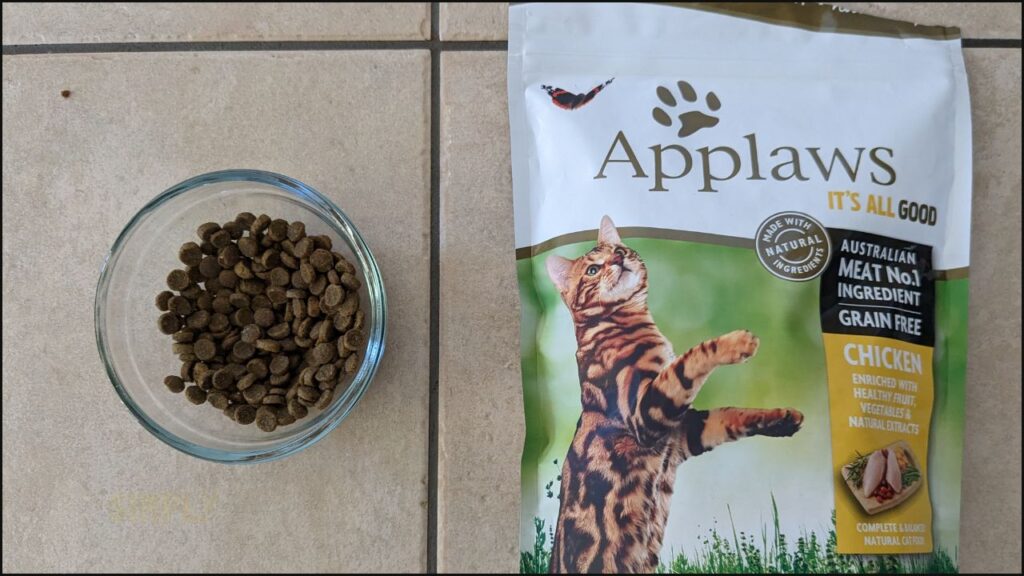 Value for Money
Affordable.
There seems to be two sizes (800g and 3kg) available. Not ultra cheap, but decent.
Similar products:
Value: 8.5/10
Final Thoughts
Average.
Applaws is another mid-quality dry cat food to add to the pile. It's an occasional food for adult cats, and affordable eating.
Main downsides include the mixed taste, and sky high carb content.
Best for:
Adult cats
Occasional snack
Budget buy
Where to buy Applaws dry cat food?
Note: Availability is limited online as of the writing of this article.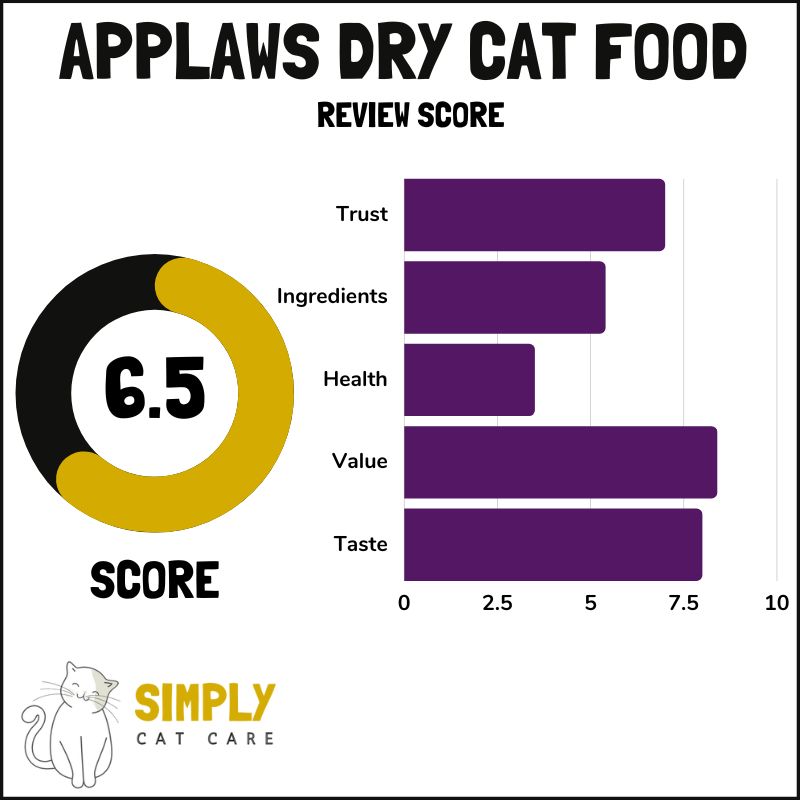 Frequently Asked Questions
Has Applaws Cat Food Been Recalled?
Yes.
Applaws dry cat food was recalled in the UK recently.
The recall was a precautionary measure against a suspected mycotoxin contamination.
Does Applaws Cat Food Have Taurine?
Depends.
Applaws canned cat food doesn't contain added taurine, as it's a supplemental food.
They do use taurine rich ingredients including tuna. This can help meet a cats needs for this amino acid.
That said, ingredients like chicken breast are a little low in tuna compared to chicken thigh.
Their dry cat food has added taurine.
Is Applaws Wet Cat Food Good?
Yes.
Applaws is a good wet cat food, but only for supplemental feeding.
It lacks the range of ingredients needed for complete nutrition for cats.
Is Applaws Wet Cat Food Safe?
Yes.
However, Applaws is a supplemental feeding option only.
You must give your cat a complete and balanced cat food or they'll have deficiencies.
One option is to boost the nutrition of Applaws using nutrient rich toppers.
The tuna rich cat foods are of some concern. This can raise the mercury in a cats diet, which is harmful to health.
Learn More:
Is Applaws a Complete Cat Food?
No.
Applaws is a supplementary cat food.
What Cat Food Is Similar to Applaws?
Both wet foods are Thai manufactured and have a shredded texture.
In contrast to Applaws, Tiki Cat is a complete and balanced cat food.
If your cat loves the high protein shredded texture of Applaws, give Tiki Cat a try for a complete meal. They also offer food for kittens (Tiki Baby Cat).
Learn More:
Does Applaws Have Carrageenan?
No.
Applaws cat food does not contain carrageenan.
Most of their range is free from fillers. Check each product carefully as ingredients change over time and new products hit the shelves.
Learn More:
Conclusion
Applaws is a simple natural cat food.
Their wet cat food is our preferred choice for cats as a supplemental meal.
It's great for picky eaters and easy digestion.
However it's main drawbacks are the high price and limited nutrition quality.
Best for:
Supplemental feeding
Easy digestion
Fussy eaters
Where to find Applaws canned cat food?