Honest Whiskas Dry Cat Food Review
Disclaimer: As a Pet Circle and Amazon affiliate, I earn from qualifying purchases. This does not impact our reviews and comparisons.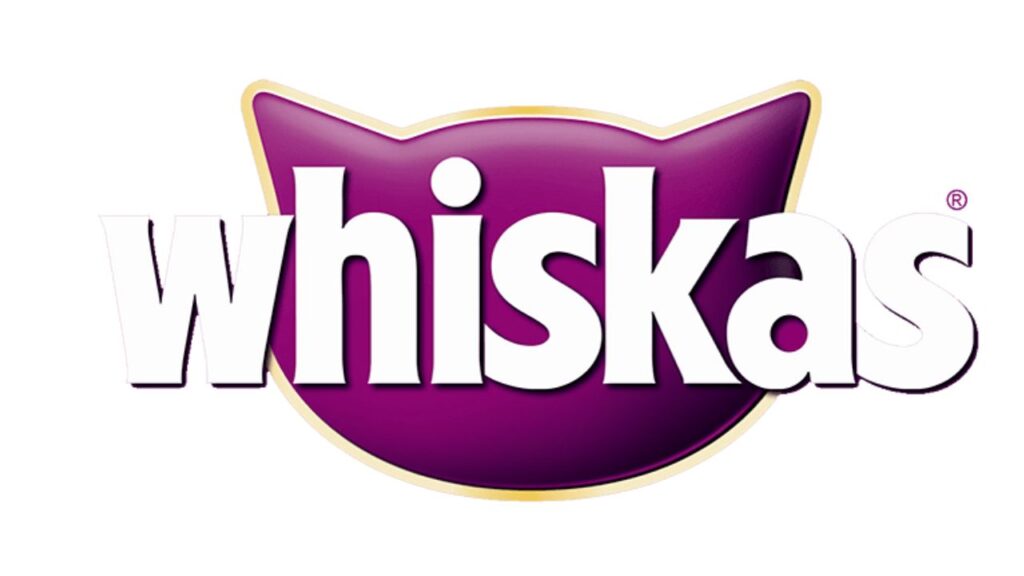 Score: 4.5/10
Bottom Line
Doesn't deliver the quality cats need.

We've done this Whiskas dry cat food review with the help of our cat taste tester Toby.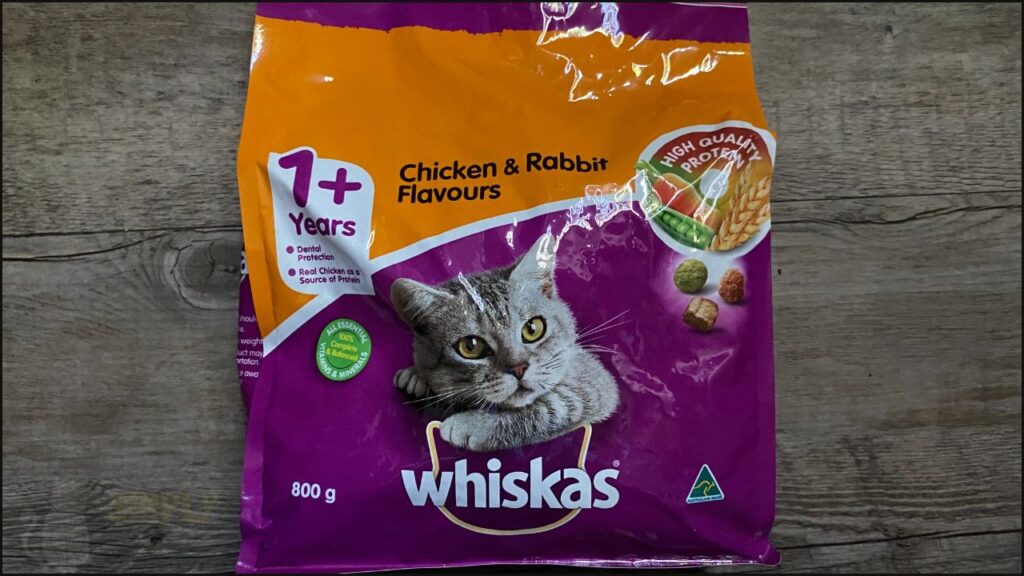 Whiskas are a well-known cat food brand in Australia. I tested their dry cat food.
Here's a short review summary:
The good?
Budget friendly.
Whiskas is affordable. It's easy to find in stores around Australia.
There's a good range of sizes for versatility. It has clear and attractive packaging.
The bad?
Mixed taste results.
Our cat Toby didn't enjoy his serve of Whiskas.
Customers reviews are more positive, but overall mixed. The kibble size is a little large and can put off fussy cats.
The ugly?
Lackluster nutrition.
Whiskas has a high carb and low protein content. Not ideal for long term health.
Fussy cats will also sniff out the lack of quality meat ingredients and turn away (like our cat Toby did).
In short:
Whiskas are a mediocre quality dry cat food on the market. Whilst they are affordable, the nutrition in the bag doesn't add up.
Only useful in a pinch, if that.
Best for:
Budget buy
Occasional meal
Convenience
>> Check out Whiskas dry cat food here.
After more?
In the rest of this Whiskas dry cat food review I'll share results from our cat tester Toby.
I'll dive into:
Nutrition
Ingredients
Value for money
Taste
Finally, I'll go through frequently asked questions on Whiskas dry cat food.
Let's go!
Whiskas Dry Cat Food Review
Who Are Whiskas?
Whiskas founded in 1958.
They're owned by Waltham Petcare Institute, a subsidiary of Mars Petcare. Whiskas replaced the Kal Kan brand in the 80's (name sounds more 'catty').
Products vary from region to region.
I'm from Australia, so I'll have products unique to Australia. The UK and US among other places have different products.
I've noticed Whiskas is not popular in the US, whilst is more popular in the UK.
Whiskas First Impressions
Looks nice.
The packing of Whiskas dry cat food is attractive and easy on the eyes.
It shows the flavor in the bag (Chicken & Rabbit Flavours).
Since it says 'Flavours' based on labelling this means a low amount of chicken and rabbit. Keep that in mind.
It clearly states which age group this cat food is for (1+ years).
The sides include info on where the product is made (Australia) and storage instructions. They also provide contact info.
Quick notes:
Easy to read
Flavor label rule (less than 3%)
Suited to adults (1+ years)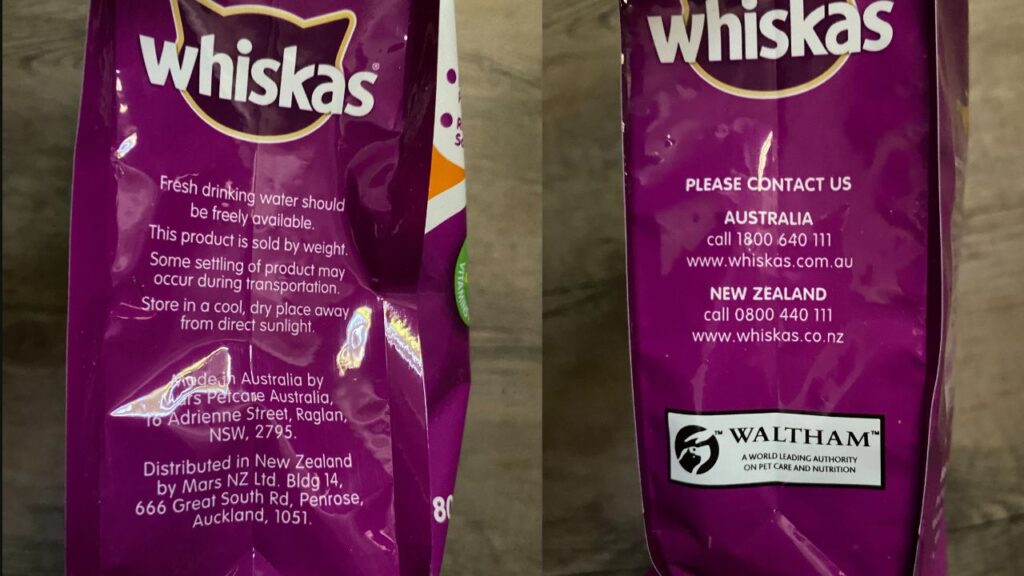 Ingredients
Whiskas ingredients rarely excite.
Based on the front label using the word 'flavor', the meat content isn't higher than 3%. The main ingredient is wholegrain cereals.
Is that any good? No.
Aside from providing low quality protein, cereals are high in carbs. For health low carb and high protein is best.
Ingredients: 1/10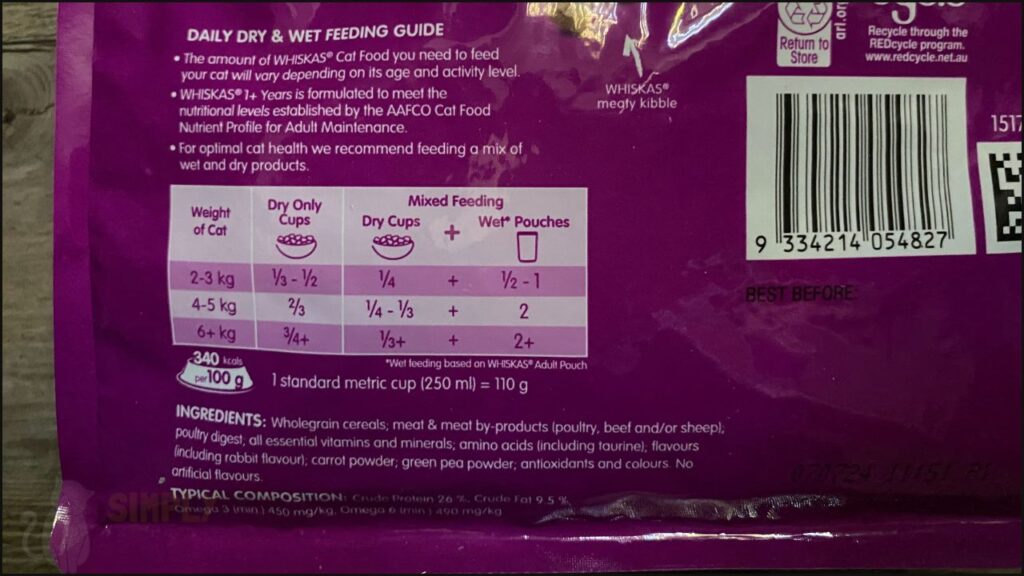 Nutrition
Whiskas has a statement of nutritional adequacy, meeting the needs for adult cats.
The guaranteed analysis has no info on moisture, ash, fiber, and carbs. Instead I used the market average based on dry cat foods I've looked at:
I used:
Moisture: 10.6%
Ash: 7.6%
Fiber: 3.0%
Plugging in these numbers, I arrive at the following on a dry matter basis:
Protein: 29.1%
Fat: 10.6%
Carb: 48.4%
Fiber: 3.4%
Ash: 8.5%
The protein barely scrapes through AAFCO's recommendation for adult cats. Grains contribute most which lowers protein quality.
Carb content is very high. Cats prefer low carb foods, and start rejecting foods higher in carbs.
Not a good panel.
Nutrition: 1/10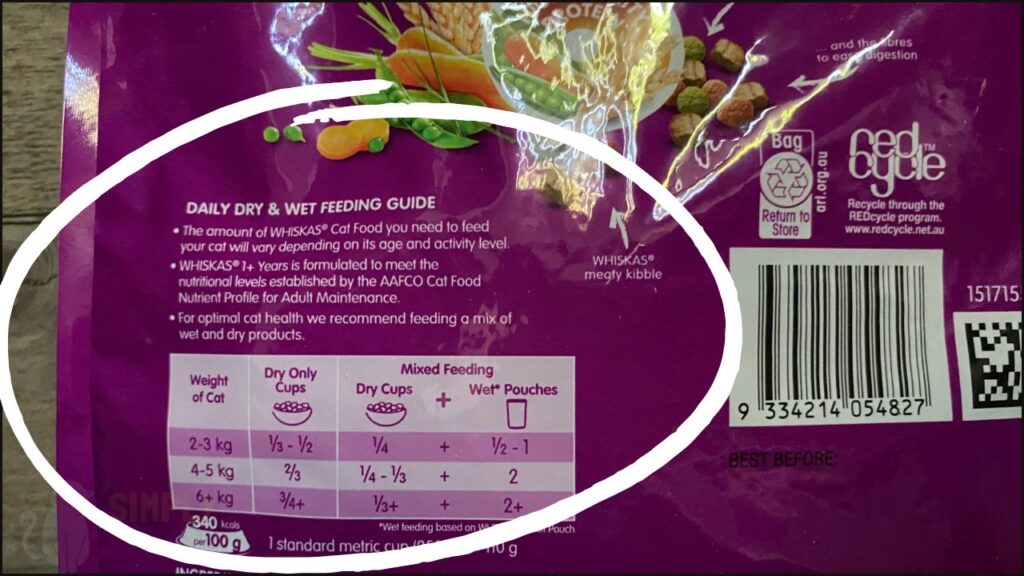 Taste
I offered Whiskas dry cat food to our cat tester Toby.
He did not enjoy the product, running away soon after. Didn't impress him.
Reviews online seem more favorable.
This cat food had a sharp and savory smell. The pellets are quite large compared to other kibble on the market.
Quick notes:
Cat rejected
Reviews online favorable
Sharp & savory smell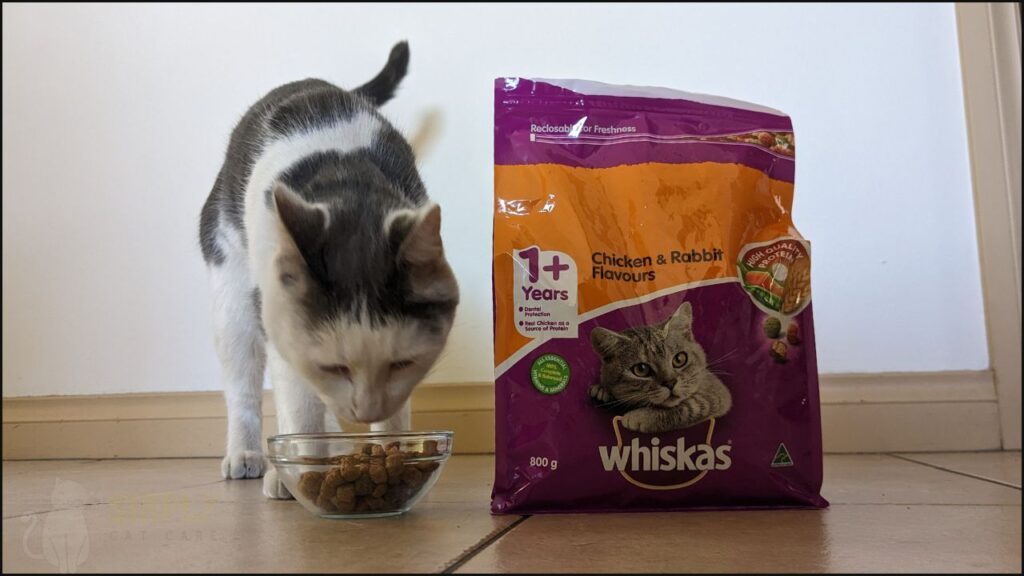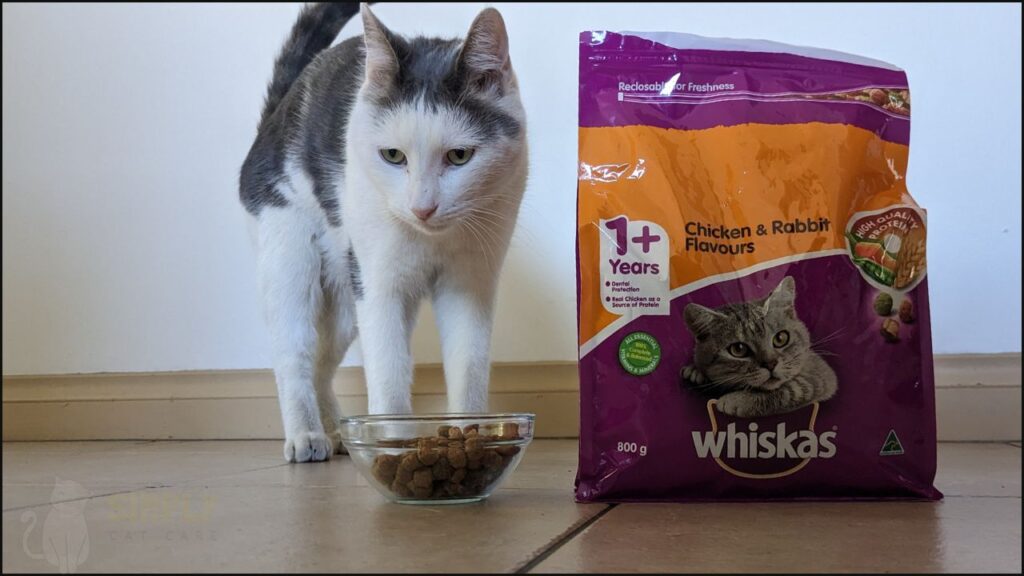 Taste: 5/10
Value for Money
Budget friendly.
Whiskas are very affordable.
They also offer a range of packaging (800g to 6.5kg). You'll save buying in bulk.
Similar choices:
Value: 8.5/10
Frequently Asked Questions
What Is the Best Dried Food for Cats?
Ziwi Peak.
This is the best dry cat food for cats in Australia.
Whilst it's expensive, it is jam packed with dried meats and organs.
Learn More:
Does Whiskas Give Cat Diarrhea?
Not sure.
Our cat didn't approve of Whiskas and ran off.
Whiskas is high in carbs (~48% dry matter). A high carb diet may cause digestive upset.
Related:
What Is Whiskas Dry Cat Food Made Of?
Mainly cereals.
This is the first ingredient and main ingredient. It has a small amount of meat ingredients in the bag.
Is There a Problem With Dry Cat Food?
It's low moisture.
Cats tend to drink little water. Without wet cat food, they can become dehydrated.
This is a risk of urinary tract infections.
Dry cat food is also higher in carbs, on average.
Who Makes Whiskas Dry Cat Food?
Mars Petcare.
They own Whiskas.
Is Whiskas Good for Cats Everyday?
No.
I found this cat food too high in carbs. It's a sometimes food at best.
Can I Feed My Cat Dry Cat Food Everyday?
Yes.
Give you cat a complete and balanced cat food with enough water.
I recommend using dry cat food as a sometimes option.
How to Use Whiskas Cat Food
Whiskas offer feeding instructions on the bag.
You can also use an online calculator to find out how much to feed your cat.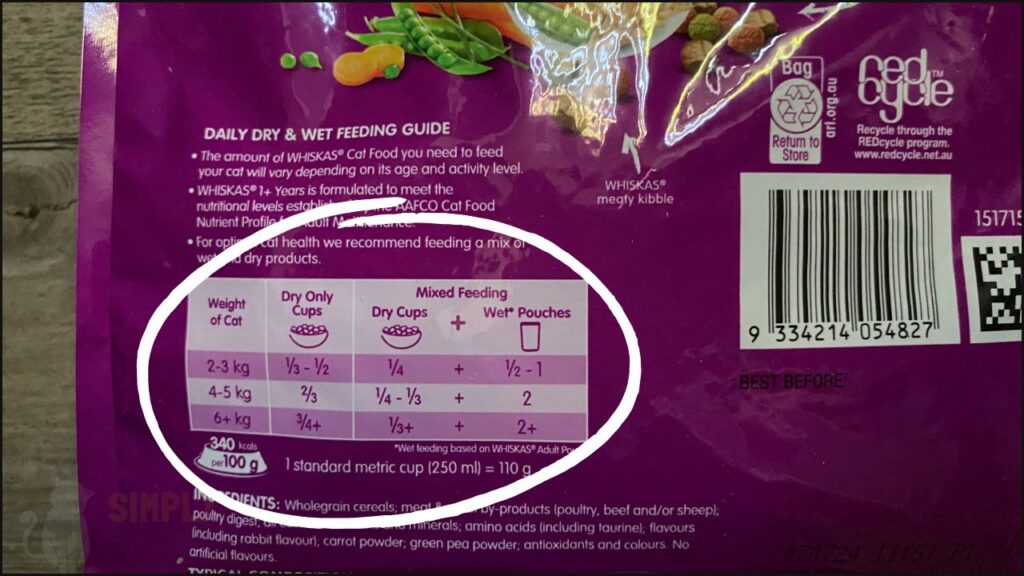 Related:
How to Prepare Whiskas Dry Cat Food
Measure out with a cup.
Don't free-feed your cat or 'top up' the bowl ad libitum. This can lead to overeating.
At least 39% of cats are overweight or obese today due to excess calories.
Consider adding water to moisten dry cat food.
Conclusion
Whiskas are an average dry cat food and best as a sometimes choice for adult cats.
Positives are the affordability, variety, and packaging clarity. Customers report great results, but our cat wasn't so sure.
Negatives are the mixed taste, high carb content, and low protein.
Best for:
Budget buy
Occasional meal
Convenience
Where to find Whiskas dry cat food?