Best Cat Food for Cats with Diarrhea 2021
Cat owners are often faced with the problem of what to feed their pets when they have diarrhea. The good news is that there are many foods available for cats with diarrhea, but it is hard to figure out which one will work best.
An elimination diet involving novel protein sources and limited food ingredients can help reduce the chance of recurring diarrhea. Diarrhea may be caused by serious problems such as infections (e.g. bacteria), parasites, or toxic substances. A veterinary physical and medical check-up is recommended.
---
Diarrhea is a problem involving watery feces (poo). Vomiting, pain, and loss of appetite are usually signs of a serious problem that needs medical prompt attention.
There are several factors you should consider before choosing a food for your cat suffering from diarrhea. These include age, weight, and medical conditions like diabetes or kidney disease as well as allergies and intolerances to certain ingredients in some brands of pet food.
In serious cases, cats may need emergency treatment with fluids, and surgery.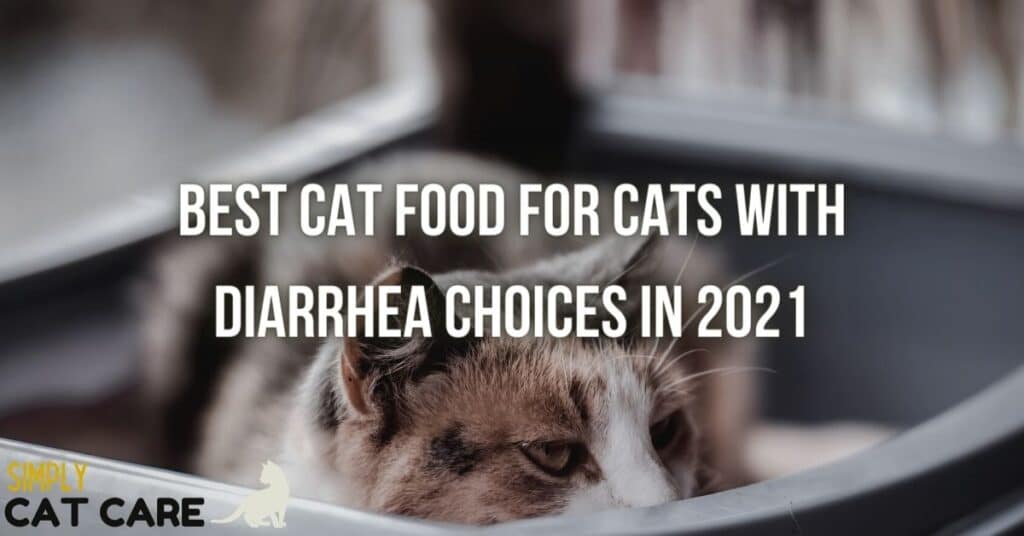 My name is Derrick and I write for Simply Cat Care. The goal of this site is to provide advice to improve your cat's health. I have taken the time to review the products on the market to help with diarrhea.
I am not a veterinarian and I recommend seeking the advice of a vet before continuing. In serious cases, your cat may need medical attention.
Let's get into the article:
---
Product Review: The Best Cat Food for Cats with Diarrhea
SUMMARY
Let's take a look at Feline Natural Lamb.  
I like this food because it is a premium food that has a high-quality range of meats, organs, and bones. These foods give your cat a range of nutrients for long-term health. Let's talk about diarrhea. I like that this food contains lamb and green mussels which are a novel protein source. This makes the food suitable for an elimination diet to reduce the chance of allergies.
Further that, the product contains no wheat, rice, soy, gluten, carrageenan, gums, additives, or preservatives. This reduces the chance of your cat experiencing diarrhea due to food intolerance.
The main disadvantages of this product are price and mixed taste reviews. Warming up the food may increase your cat's chance of liking the food.
INGREDIENTS
Lamb, Water sufficient for processing, LambTripe, Lamb Heart, Lamb Kidney, Lamb Spleen, Lamb Liver, Lamb Blood, Ground Lamb Bone, New Zealand Green Mussel, Fish Oil, Flaxseed Flakes, Potassium Sulphate, Dried Kelp, Salt, Taurine, Vitamin E Supplement, Magnesium Oxide, Zinc Proteinate, Copper Proteinate, Manganese Proteinate, Thiamine Mononitrate, Vitamin D3 Supplement, Folic Acid
CALORIC CONTENT: 1211 kcal/kg, 103 kcal/3-oz can, 206 kcal/6-oz can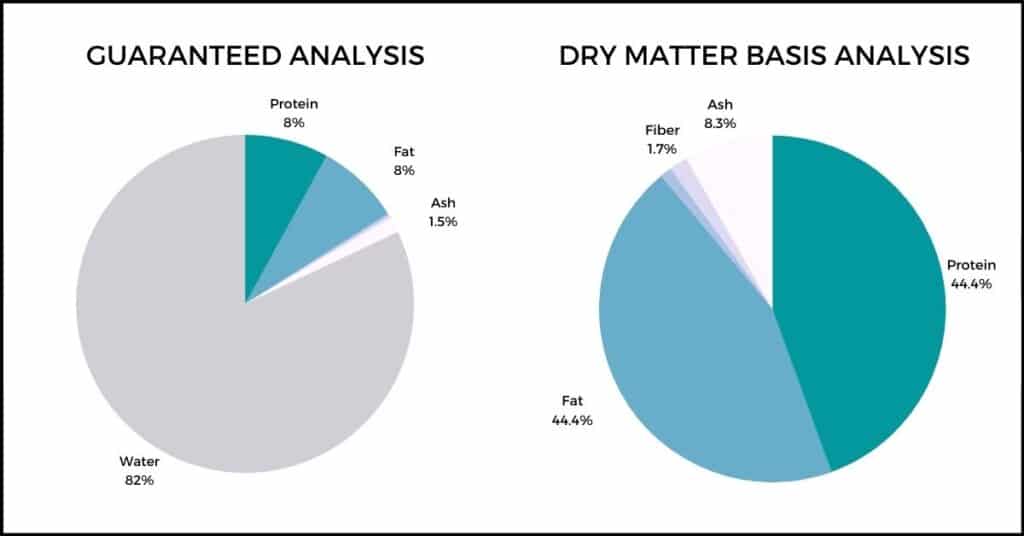 ---
SUMMARY
Let's take a look at Instinct Limited Ingredient Diet Turkey.
The main thing I like about this product is the use of only one animal source (turkey). This is a great novel protein choice to reduce the risk of allergy-related diarrhea. The product also avoids excessive ingredients, omitting grain, potato, corn, wheat, and soy. Instinct also offers rabbit for variety, which is a little higher in price than turkey.
The main gripe I have with this product is the use of peas and carrots. Whilst the amount of these ingredients is low, there may be a minority of cats that struggle to digest these plant foods.
Overall, this choice is better than many competitors and why I recommend it here.
INGREDIENTS
Rabbit, Water, Pea Protein, Peas, Rabbit Liver, Montmorillonite Clay, Potassium Chloride, Salt, Minerals (Iron Proteinate, Zinc Proteinate, Copper Proteinate, Manganese Proteinate, Sodium Selenite, Potassium Iodide), Choline Chloride, Vitamins (Vitamin E Supplement, Thiamine Mononitrate, Niacin Supplement, D-Calcium Pantothenate, Pyridoxine Hydrochloride, Riboflavin Supplement, Vitamin A Supplement, Biotin, Vitamin D3 Supplement, Vitamin B12 Supplement, Folic Acid), Taurine, L-Ascorbyl-2-Polyphosphate
CALORIC CONTENT: 1,266 kcal/kg, 197 kcal/5.5 oz can, 108 kcal/3 oz can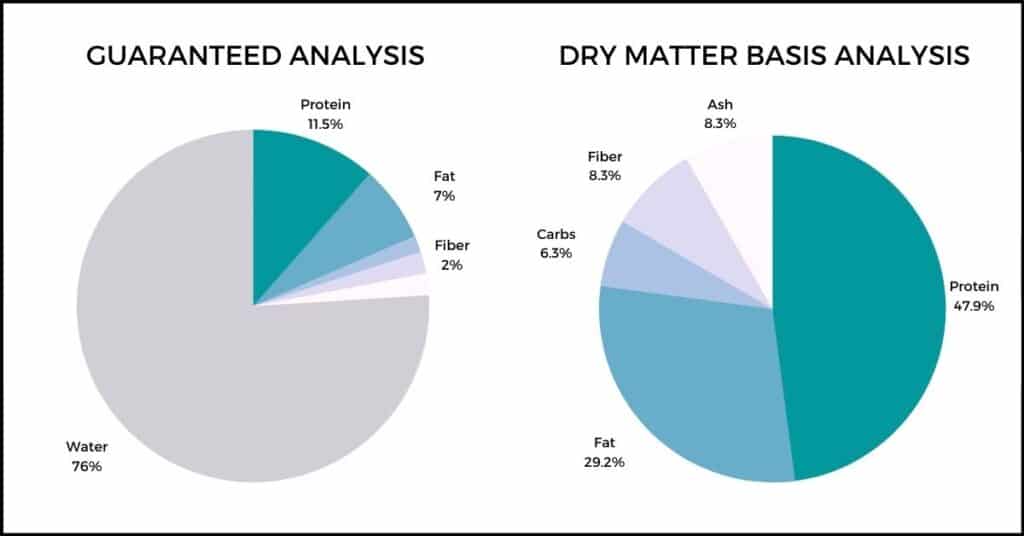 ---
SUMMARY
Let's take a look at Ziwi Peak Air-Dried Lamb.
I like the use of one novel animal protein source (lamb). As you may have guessed by now, this helps with elimination diets and reducing the risk of diarrhea. The food sources are premium named ingredients such as organs and bones, to give a range of parts for complete nutrition. Unlike most dry food, this air-dried formula doesn't use any fillers or grains to cut down the risk of food intolerance.
Now onto the downsides, and the main one is price. It's going to test the wallet but may save costs in the long run with fewer vet appointments. The strong smell also puts off many owners and may not be pleasant for small apartments.
INGREDIENTS
Lamb, Lamb Heart, Lamb Tripe, Lamb Liver, Lamb Kidney, Lamb Lung, New Zealand Green Mussel, Lamb Bone, Lecithin, Inulin from Chicory, Dried Kelp, Minerals (Dipotassium Phosphate, Magnesium Sulfate, Zinc Amino Acid Complex, Copper Amino Acid Complex, Iron Amino Acid Complex, Manganese Amino Acid Complex, Sodium Selenite), Salt, Preservative (Citric Acid, Mixed Tocopherols), Vitamins (Choline Chloride, Thiamine Mononitrate, Pyridoxine Hydrochloride, Folic Acid, Vitamin D3 Supplement), DL-Methionine, Taurine
CALORIC CONTENT: 5,600 kcal/kg, 318 kcal/scoop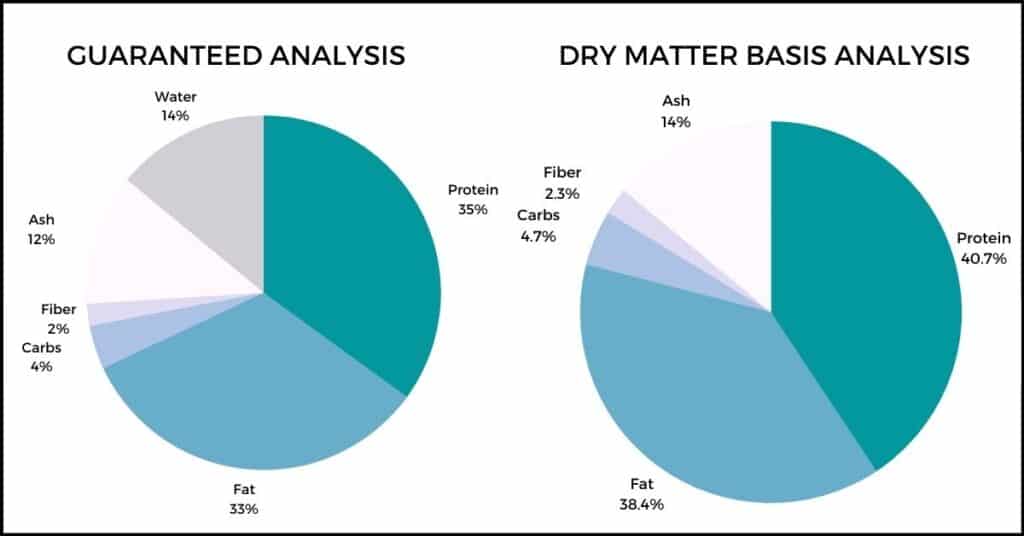 ---
Buying Guide: How to Find the Best Cat Food for Cats with Diarrhea
Let's talk about how to find the best cat food for diarrhea.
This guide is to educate you on the problem of cat diarrhea and give food solutions.
First, I'll go into what the problem is and why it occurs. Then I'll talk about what cat foods help reduce the risk of diarrhea.
What is diarrhea?
Diarrhea is a condition where more water is in the feces.  This results in either a liquid or partial liquid consistency in the litter tray.
Other additional signs of diarrhea include lack of straining, weight loss, vomiting, and increased use of the toilet.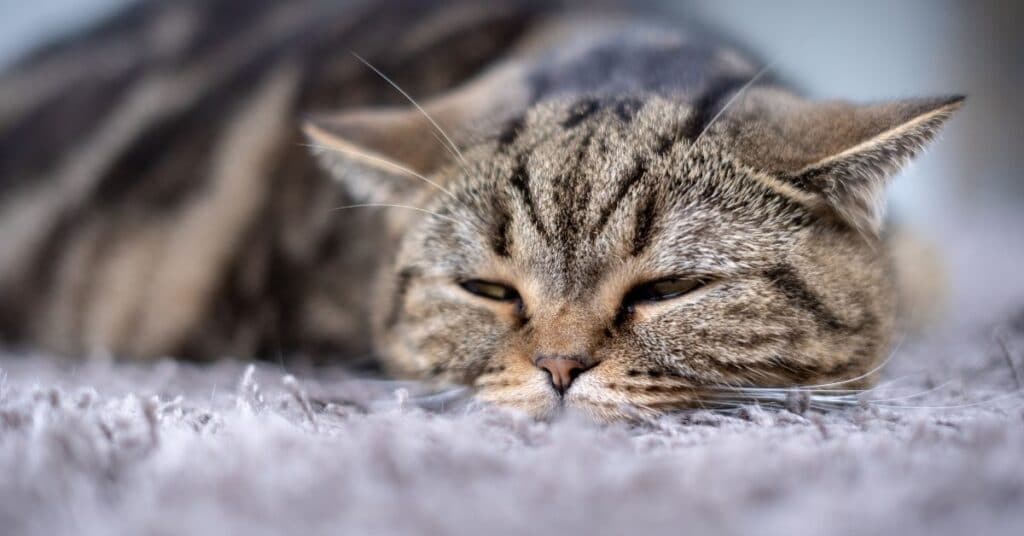 How prevalent is cat diarrhea?
Research data on 1,727 cats admitted to shelters find the prevalence of diarrhea is 11.9%.  
Kittens and multiple cats living in an enclosure have a higher risk of diarrhea based on this research. 
Cats living together may pass on infections for a variety of reasons (e.g. diet, infections).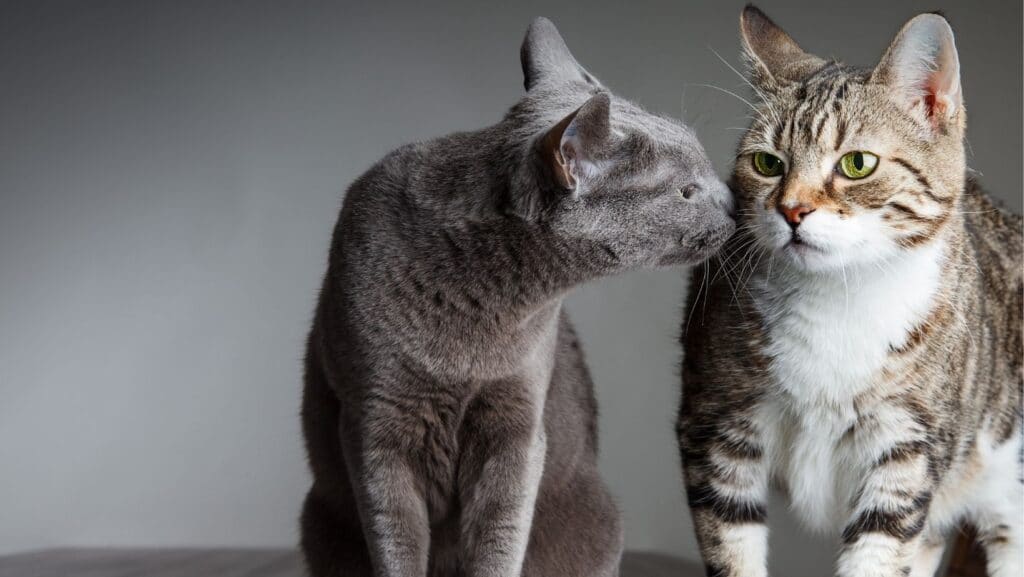 Why do cats get diarrhea?
Diarrhea is associated with the following problems:
A physical problem with the digestive system itself (e.g. short bowel syndrome)
Metabolic problems (e.g. hyperthyroidism)
Infections
Food allergy
Food intolerance
These problems affect the digestion of food and how much water is in the feces. They affect the following areas of digestion:
Transit time (i.e. how fast food moves through digestion)
Water absorption
Gut bacteria (affects transit time)
Since there is a wide range of possible causes, a physical workup from a vet helps to diagnose the problem.
A serious bout of diarrhea which includes weight loss, loss of appetite, vomiting needs fluid therapy and further diagnostic tests (e.g. ultrasound).
In other words, if your cat is experiencing these symptoms don't delay in seeking medical help.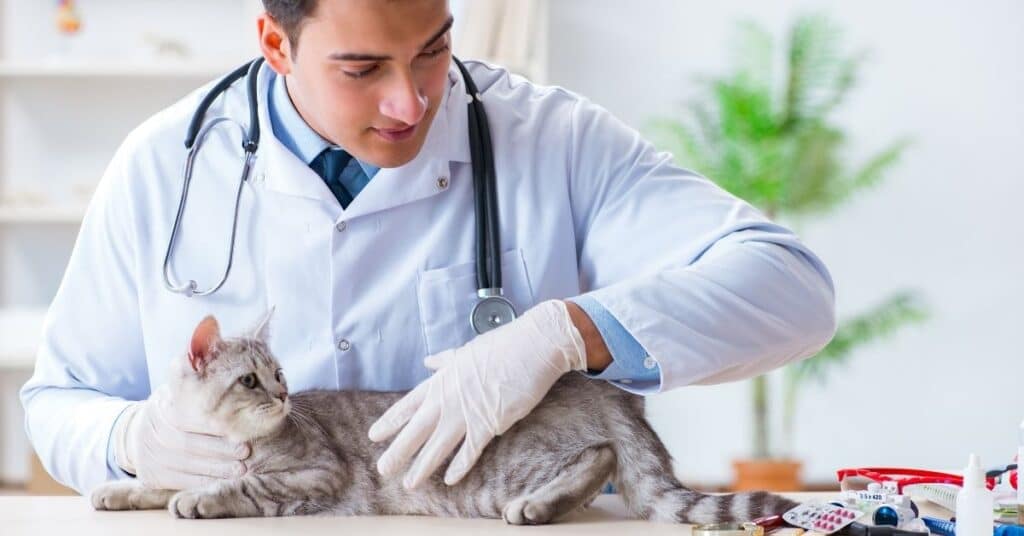 Infections
Cats living together in shelters or catteries are at a higher risk of diarrhea.
Pathogens (e.g. Tritrichomonas foetus) may be the cause of the problem.  Over 30% of cats living in catteries are carriers of Tritrichomonas foetus. 
The signs of infection include foul smell, weight loss, and fecal incontinence.
Vets use a polymerase chain reaction (PCR) technique to diagnose this infection.   If you suspect your cat has an infection, consult with your vet for help.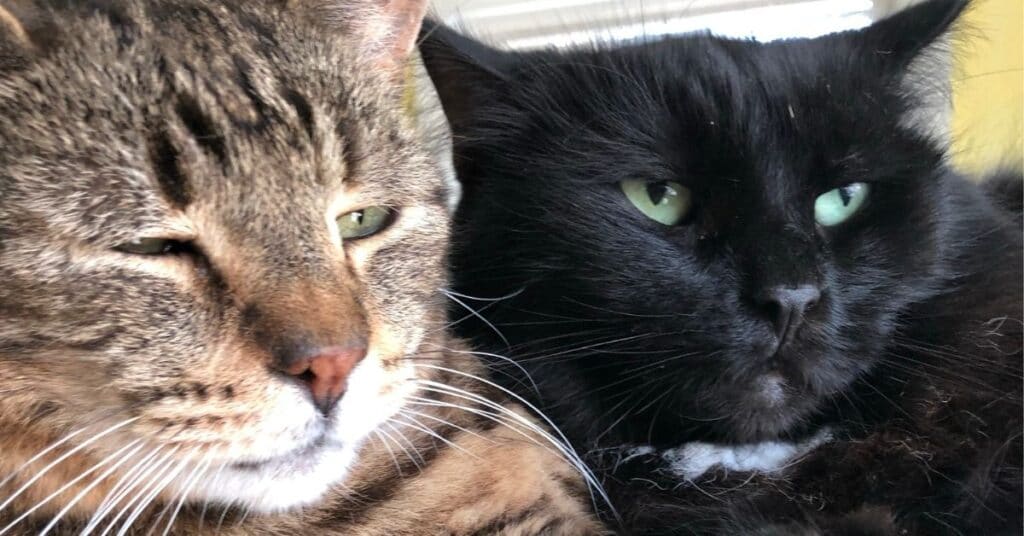 Diet
Food allergies or intolerances may lead to diarrhea in cats.  Cats may also have symptoms such as loss of appetite and skin irritation.   
Let's take a closer look at how diet can help with food allergies and intolerances.
Food allergy
A food allergy leads to an abnormal immune response.
This immune response leads to a variety of symptoms depending on the site of contact.
Since food interacts with the digestive system, the symptoms of food allergy are gut-related (e.g. vomiting, diarrhea).
Food allergies need diagnosis with a food elimination diet. Your vet will help you discuss the use of a food elimination after ruling out other serious problems.
A food elimination diet involves the following:
A single novel protein source (e.g. turkey, venison, or duck). A novel protein is food your cat hasn't eaten before.
(Optional) A single novel carbohydrate source (e.g. cooked potato) This is optional since cats are obligate carnivores and don't need carbohydrates in their diet
(Optional) Use of hydrolyzed protein (these protein sources are less allergenic)
Your cat consumes a diet using these foods for up to 6-8 weeks.
If your cat's symptoms resolve then it's a sign the old diet was the cause of the problem.
Introduction of new foods during the elimination diet helps to find your cat's tolerance (e.g. chicken). This is a food challenge.
The new food can stay in the diet if your cat tolerates it during the food challenge. Removal of that food occurs if your cat doesn't tolerate it during the test.
The new diet needs as much variety as possible whilst avoiding trouble foods. This reduces the risk of allergies in the future.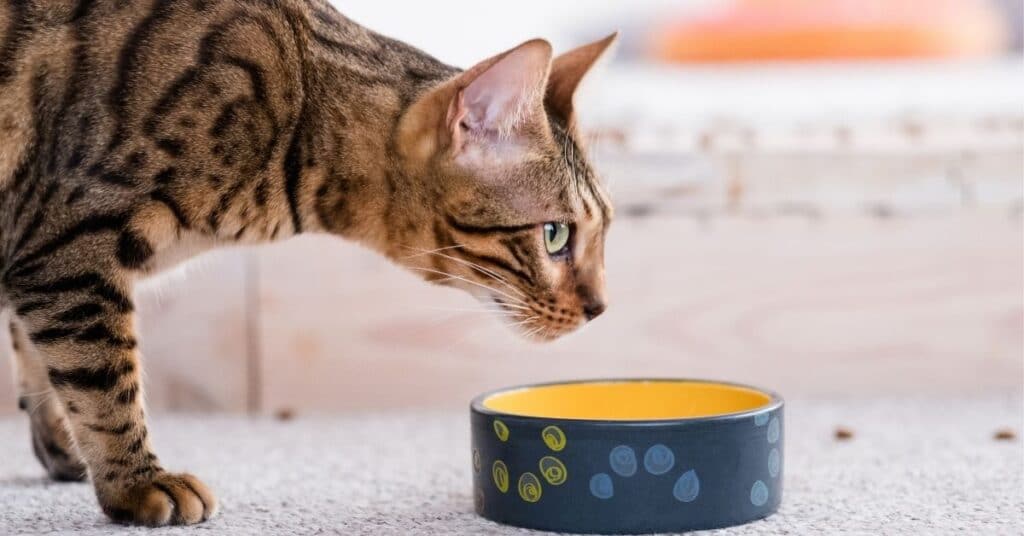 Food intolerance
Food intolerance is a negative reaction to food that doesn't involve allergies.
There are many possible foods that lead to intolerance for a variety of reasons. Food intolerance is a catch-all term for a variety of food-related sensitivities.
Foods that contain histamines, gluten, lactose, colorings, preservatives, flavorings, lectins may lead to intolerance.  
Either the food is poorly digested (e.g. lactose) or the food itself causes changes to the digestive system function (e.g. transit time, water absorption).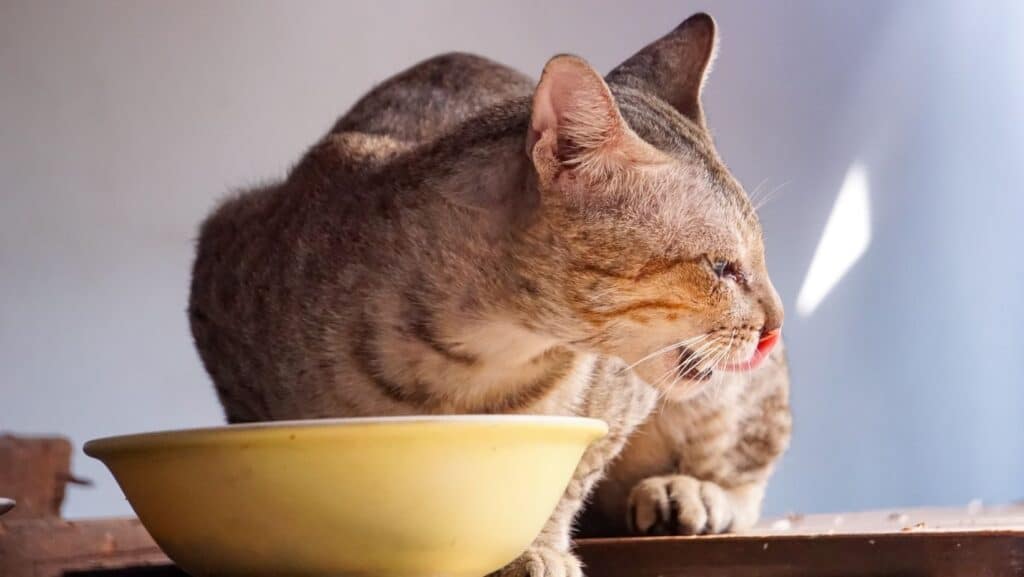 Is their any research on food intolerance in cats?
Yes. Let's look at what research has to say about food intolerance in cats.
In one study, 128 cats presented to a clinic with diarrhea, vomiting, and skin conditions. Researchers examined the cause of the problems.
If fleas weren't diagnosed, the cats started an elimination diet challenge which involved the following steps:
Cats ate a commercial canned diet with venison and rice or chicken and rice (the latter is chicken not in the diet for 6 months).
Cats trialed the elimination diet for four weeks
Cats transitioned to their original diet if symptoms resolved
If the cat's symptoms came back on the original diet, the cats went on an elimination diet again for 2-4 weeks
If the diet resolved symptoms the cat's symptoms again, the cat has a food intolerance
If the cat didn't improve on their original diet the cat got an oral challenge test to identify the single cause/s of the problem
17% of cats (about 10% with digestive symptoms) had a diagnosis of food sensitivity after this study.
The majority of food sensitivities occurred with dry food (24%) followed by beef protein (20%). Beef is a common protein, so this may have led to an allergic response.
Other sources of food sensitivity included canned foods (16%), lamb (12%), organ meats (8%).
Chicken, gluten, lamb, fish, milk, and additives all had a 4% chance of food sensitivity response.
Most of the protein sources leading to food sensitivity were 'common' sources. The elimination diet used venison which is a novel protein.
Although the study didn't try other novel proteins (e.g. duck, turkey) the results support the concept of using novel proteins.
Let's take a look at other common causes of diarrhea.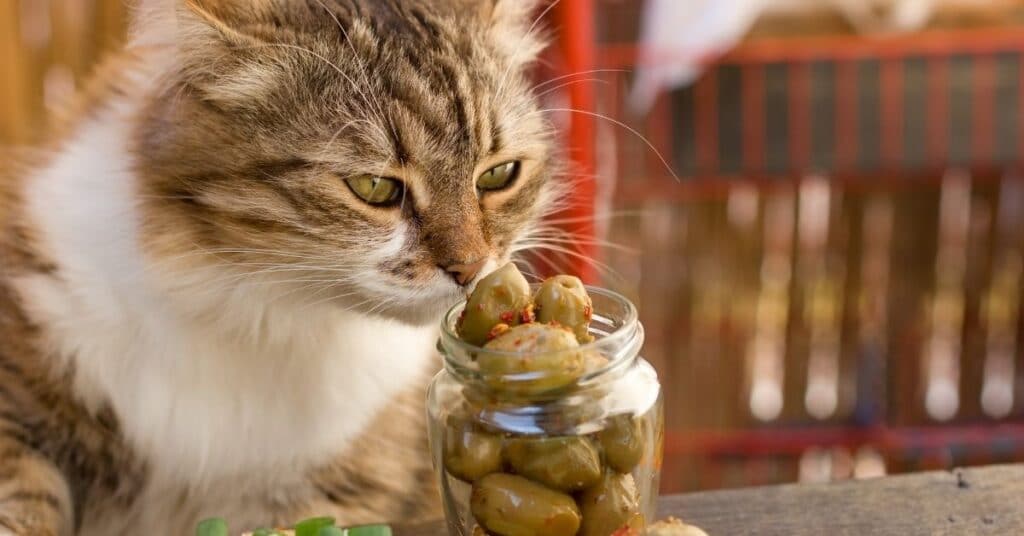 Dairy
Cats can only tolerate a small amount of milk and too much can cause diarrhea.
Too much milk (over 85ml) leads to diarrhea due to a lack of lactase. Lactase is an enzyme that breaks down the lactose sugar in milk. Undigested lactose increases the risk of digestive upsets.
Check my article on whether milk is bad for cats to learn more.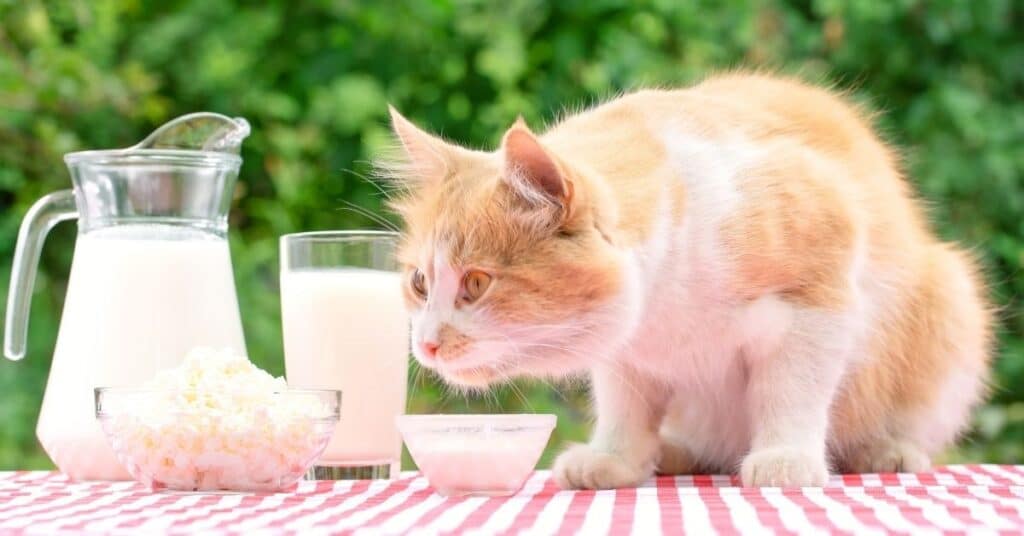 Plant-based foods
Many plant-based foods are toxic to cats and may cause diarrhea.
This is because of problems with the liver in detoxifying plant compounds.
Here is a list of plant-based problem foods that give cats a hard time:
Avocado
Chocolate
Coffee
Apples
Pears
Apricots
Grapes
Sultanas
Green tomato
Green potato
Garlic
Yeast
Green vegetables
Citrus fruits
Nuts
The best way to avoid these foods is to not give your cat leftovers (as these contain a wide variety of foods not suitable for cats).
Check out my article on the top 17 dangerous foods for more.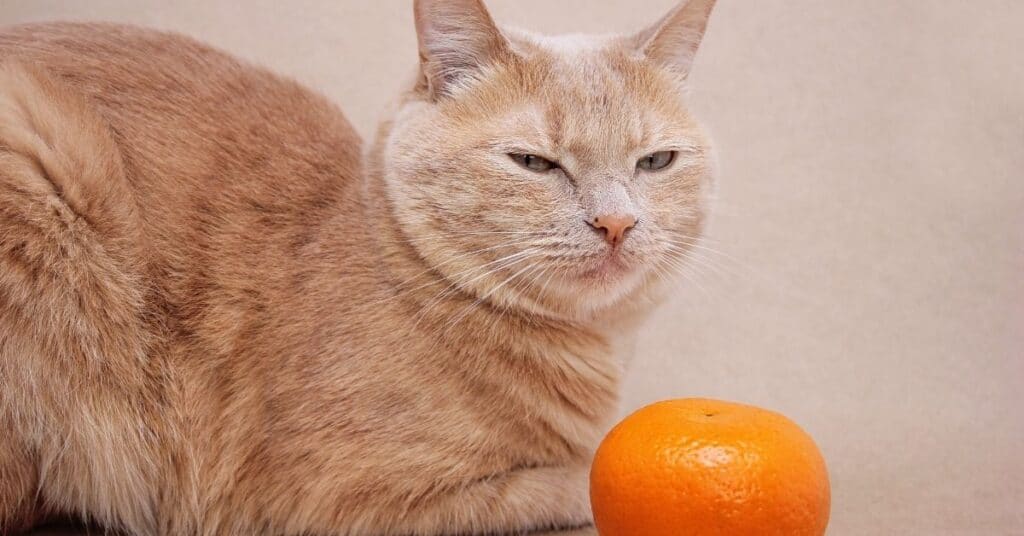 What is the best cat food for cats with diarrhea?
A high-quality limited ingredient cat food with novel protein sources is best for diarrhea. An elimination diet with these foods will help you tackle food allergies and intolerances.
In general, a wet canned cat food diet with fewer fillers is better for your cat's digestion.
I have recommended commercial cat foods that are suitable for cats with diarrhea in this article.
Speak with your vet for more help.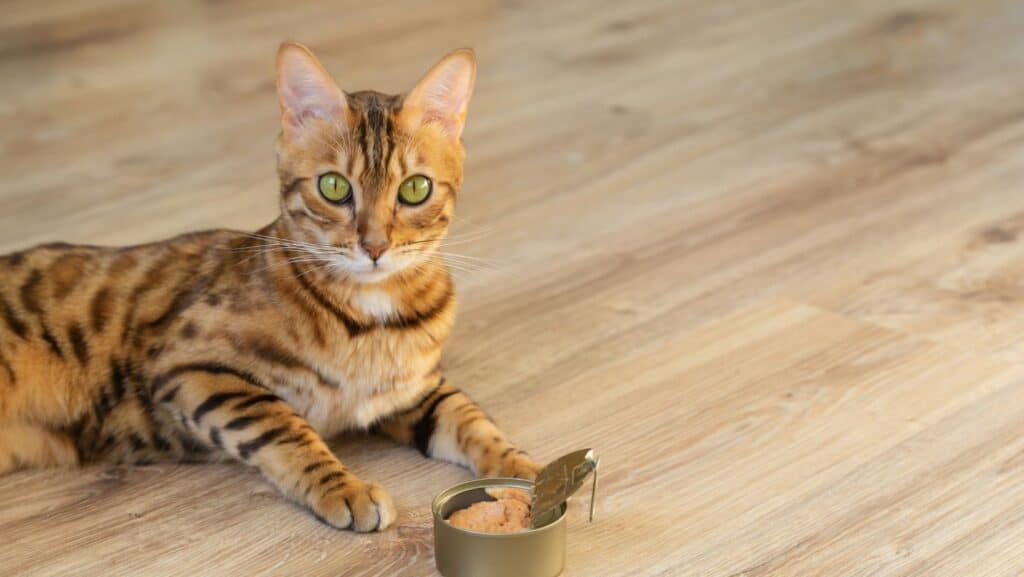 Can too much dry cat food cause diarrhea?
Cats have no requirement for carbohydrate and dry cat food as they are obligate carnivores.
Most dry cat food is high in plant-based and carbohydrate foods. The foods are also high in fiber. They also usually use common protein sources such as chicken.
The risk of food intolerance is a little higher in commercial dry cat food than wet canned cat food. This may be due to additional ingredients such as legumes and grains.
A high-quality animal protein dry food may not lead to diarrhea.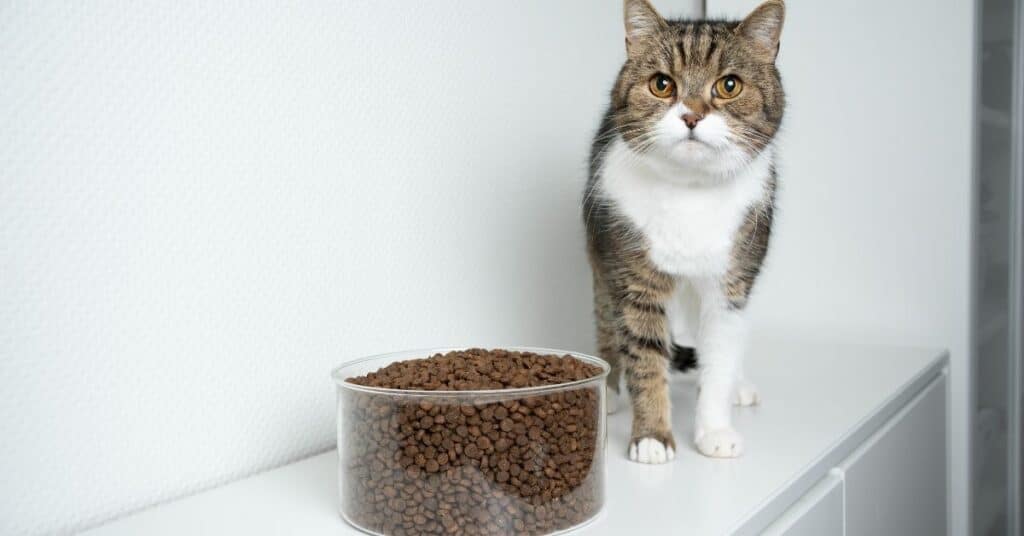 ---
Frequently Asked Questions
When should I take my cat to the vet?
If diarrhea lasts more than two days, call a vet.
According to VCA Hospitals, cats displaying more symptoms (e.g. vomiting, loss of appetite) need immediate medical attention.
Do older cats experience diarrhea more often?
Older cats are less likely to experience diarrhea. 
Older cats are more likely to experience constipation.  They do experience severe diarrhea more often than young cats, although the overall prevalence is low.
If you have a constipated cat check out my article on the best foods for constipation.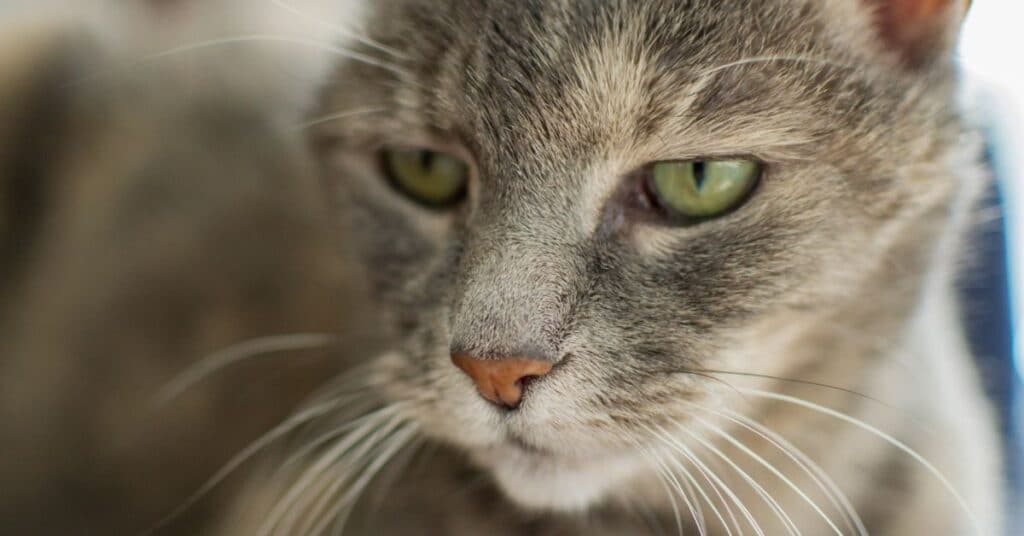 How should I introduce a new cat food for a cat with diarrhea?
Unfortunately, if you are using an elimination diet, you can't use any old food.
Your cat needs to go straight onto the new food to get started. Usually, your cat would need time to adjust to a new food by adding small amounts.
In this case, you don't have a choice but to use the new food.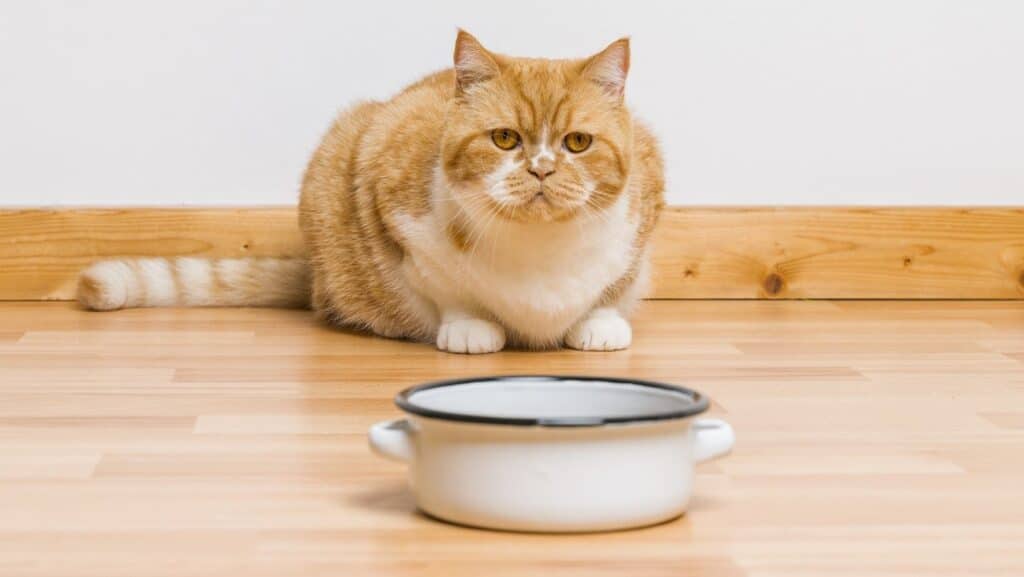 How can I help my cat eat more food?
There are things that help to increase your cat's intake of new food. Let's go through those.
Warming food
When giving your cat new food make sure to warm it (without making the food too hot) before serving.
Cats have strong smell receptors. Allow your cat to learn and accept the new smell.
Remember that older cats may need more time to adjust to new foods. Aging results in a loss of olfactory receptors which reduces the sense of smell. 
This means a senior cat has a harder time detecting the quality of food given to it and will be more stubborn.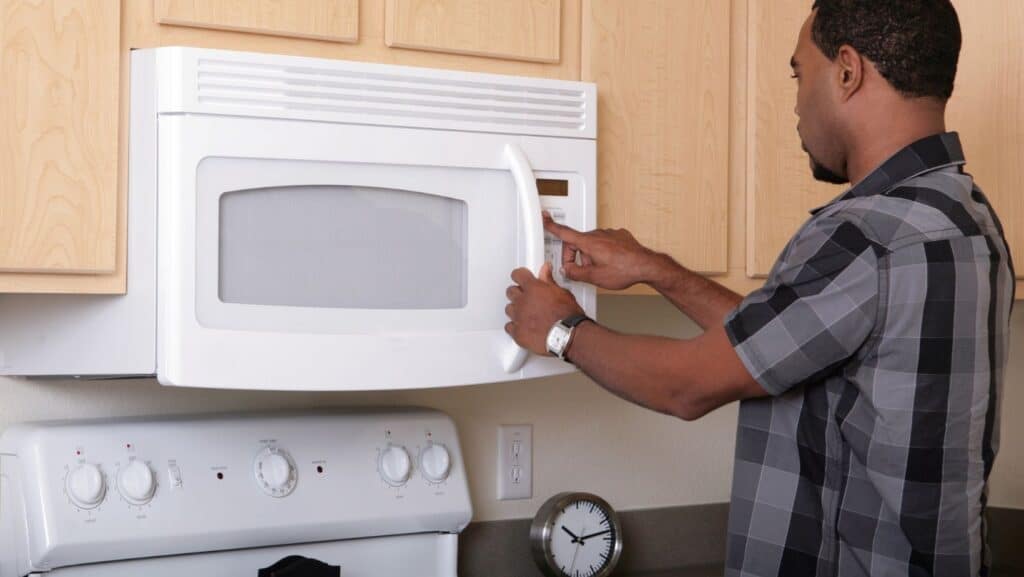 Use a tasty topper
Adding a topper adds flavor and appeal to cat food.
Make sure the food fits in with your cat's dietary needs for diarrhea. A simple limited ingredient food with a novel protein source works well.
A delicious meaty broth also works well to get cats excited about their food.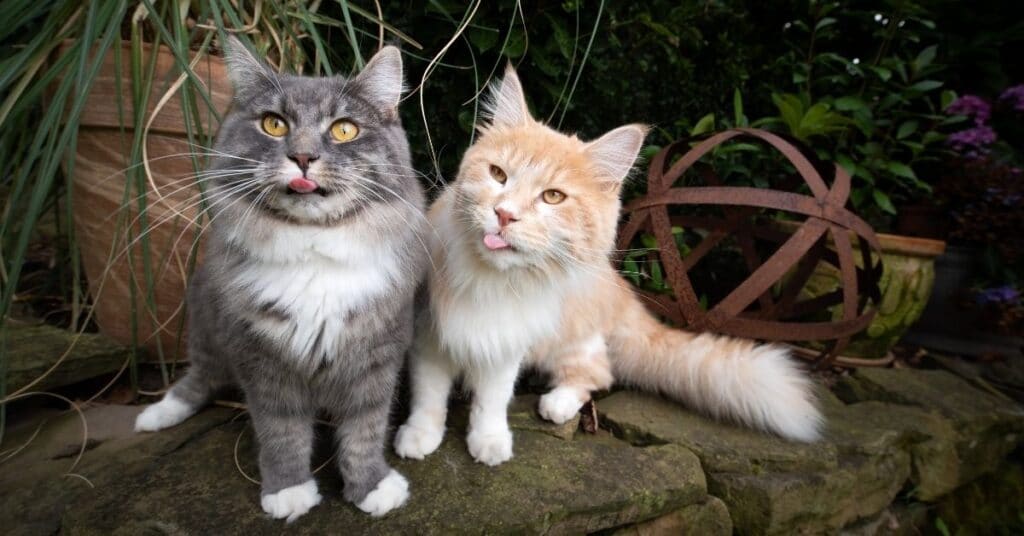 Use a shallow bowl
Some cats have having to use a deep bowl because it irritates their whiskers.
Whiskers are sensitive to touch and contain many nerve endings. They help your cat navigate throughout the world and pick up on vibrations in the air.
Check out my article on cat whiskers to learn more awesome whisker facts.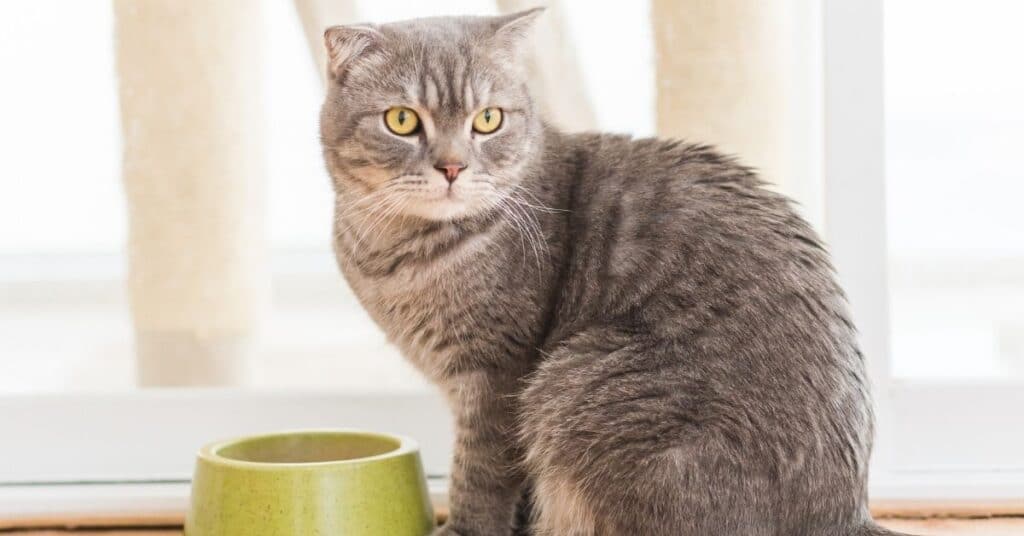 ---
Conclusion: Best Cat Food for Cats with Diarrhea
In this article, I talked about the best cat food for diarrhea.
Diarrhea is a problem involving watery feces (poo).
Diarrhea can be a serious problem caused by infections (e.g. bacteria), parasites, tumors, or eating substances that are toxic for cats. Sometimes cats experience frequent diarrhea that may be due to food allergies and intolerances.
An elimination diet involving novel protein sources and limited food ingredients can help reduce the chance of recurring diarrhea. These diets address underlying food allergies or intolerances.
This article provided a product review of three commercial cat food options suitable for use in an elimination diet. Following this, I provided a comprehensive buying guide to help you understand cat diarrhea and how to treat the problem.
Finally, I covered frequently asked questions to help give additional tips for cat diarrhea.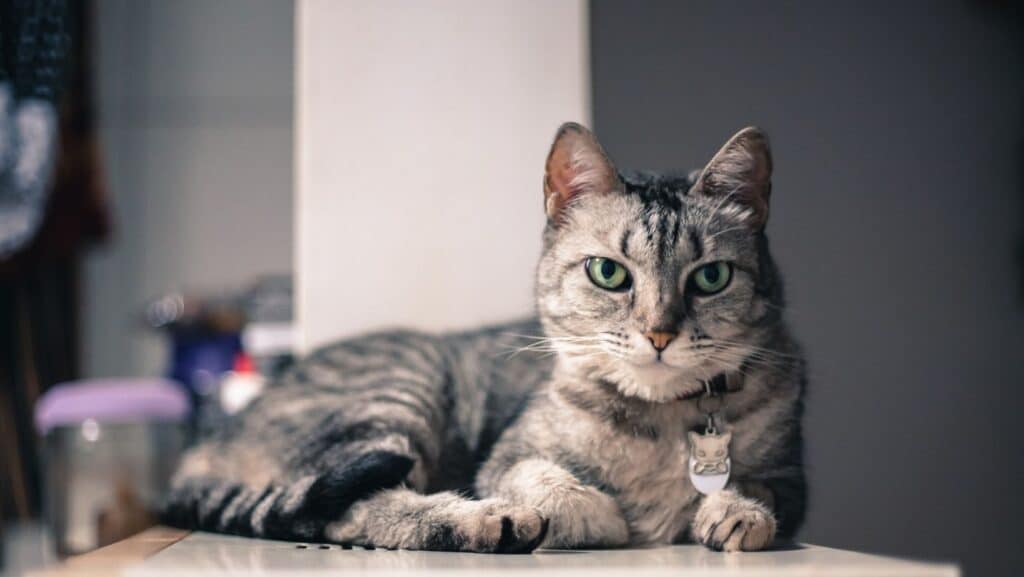 Our top pick: Best Cat Food for Cats with Diarrhea