Disclaimer: As a Chewy and Amazon affiliate, I earn from qualifying purchases. This does not impact our reviews and comparisons.
Try an elimination diet with a single protein source, ideally novel protein.
This can help clear up diarrhea.
Our 3 best cat food for cats with diarrhea:
Tiki Cat After Dark Chicken | Best Overall
Purina Pro Plan Chicken | Best for Kittens
Ziwi Peak Air-Dried Lamb | Best Dry
Diarrhea isn't fun.
Whilst some cases are related to medical issues, often the cause is mysterious and undiagnosed.
Don't give up because there's a few options to try which can help clear things up.
In this article I'll go through a buying guide on what to look for and my top picks.
Then I'll answer frequently asked questions on the topic.
I am not a veterinarian and I recommend seeking the advice of a vet for any further questions. The advice in this article is not intended as medical advice.
Buying Guide
So what do you do when your cat leaves sloppy wet stinky poos in the litter tray?
Run away!
Ok…no, let's be practical.
First, rule out any medical problems.
Kittens are at risk of parasites. Older cats can get diarrhea from issues like hyperthyroidism.
For kittens and senior cats, see a vet. Also see a vet if you notice weight loss, loss of appetite, or bloody poos.
If there's no other issues, it's time to try switching up diet.
Here's our research backed tips:
Try an Elimination Diet
Is your cat sensitive to common ingredients?
Up to 11% of cats have food intolerances and/or allergies.
Some ingredients that cause food intolerance include:
Histamines
Gluten
Lactose
Colorings
Preservatives
Flavorings
Lectins
How would a food intolerance cause diarrhea?
Lack of digestive enzymes
Changes to digestive system function (e.g. faster transit time)
Itchiness (pruritis) is a sign the diarrhea is food related.
So how does an elimination diet help?
It cuts down the variables. Less ingredients = less chance of problems.
49% of cats with gastrointestinal diseases including diarrhea respond to a change in diet.
Simply switching to wet food (less ingredients than dry) helps many cats to enter remission.
Vets also recommend single novel protein diets. This can help some cats find relief in less than 2 weeks.
Novel protein sources are anything your cat not exposed to.
Includes:
Kangaroo
Lamb
Turkey
Duck
Venison
Rabbit
Choose a cat food with one of these ingredients as a single protein source and try it.
In hard to treat cases, a hydrolyzed protein diet can help. In one study, 42% of cats went into remission with approach.
Quick notes:
11% of cats food sensitive
Elimination diet helps identify problem
Novel protein wet food can help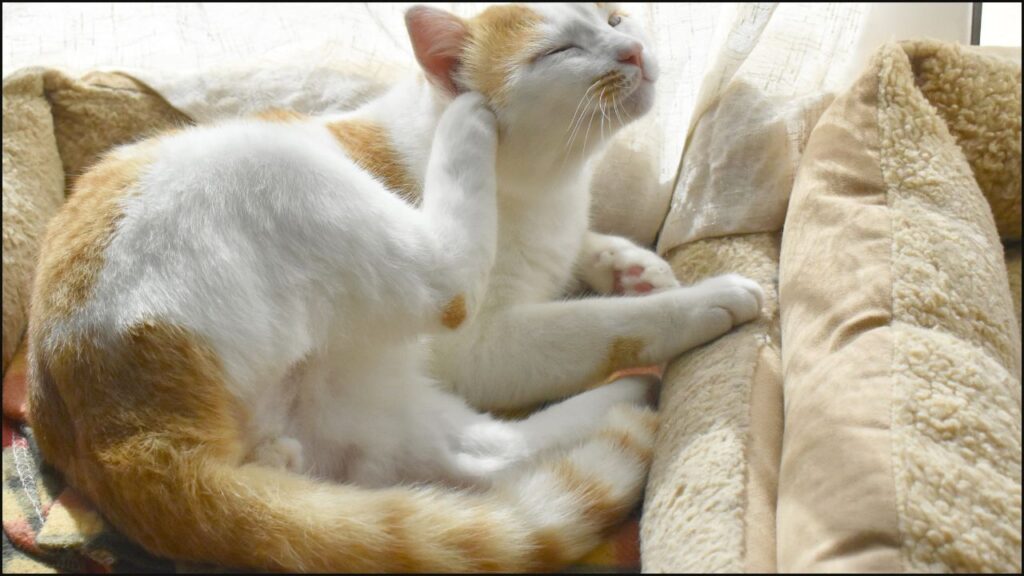 Choose Low Carb Cat Food
Cats are carnivores.
They have zero need for carbs. With fewer digestive enzymes, experts suggest limiting to less that 12% (dry basis).
Why?
Like someone with lactose intolerance drinking too much milk, cats can't tolerate much carbs (unlike humans). Things like rice, wheat, barley, and oats.
One study saw 46% diarrhea improvement with a low carb cat food, compared to only 13% with a high carb food. Although it was using prescription cat food, it's quite a difference.
Quick notes:
Cats are carnivores
Can't tolerate high carb diets
More diarrhea improvement with low carb
Read more: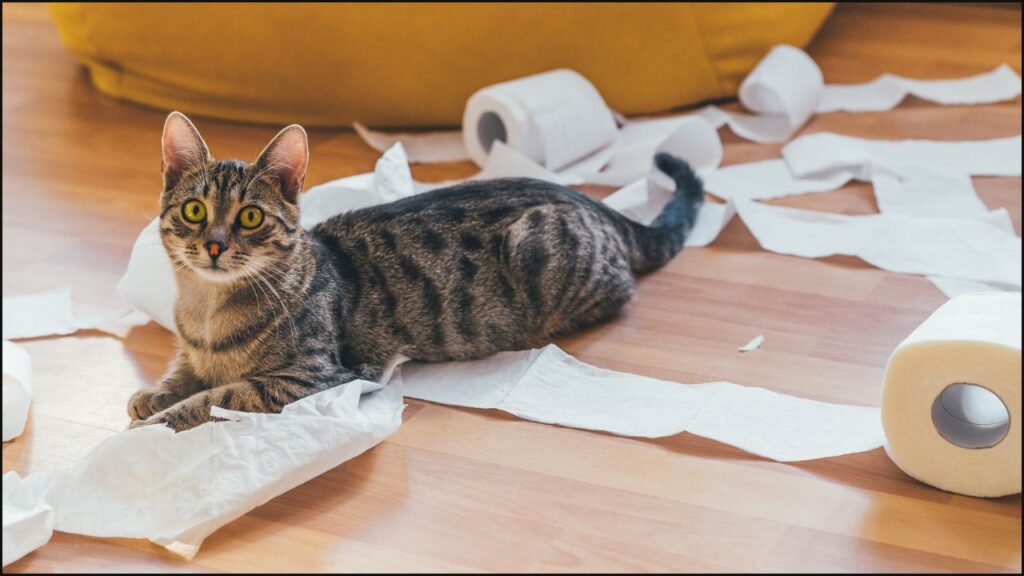 Try a Low Fiber Diet
Fiber can be a problem.
Some types of fiber (mainly soluble) are fermented in the gut. This includes gums, pectin, and legumes.
The soluble fiber can draw in water, potentially causing runny poos. Insoluble fiber speeds transit of poo.
This might be why high fiber diets seem to perform worse when treating diarrhea. Try lowering fiber to see if it helps and avoiding legumes.
Quick nots:
Fiber fermented in gut
Could make runnier poos
Try low fiber
Choose Complete Cat Food
Make sure your cat gets enough.
Nutrient deficiencies may cause diarrhea, including a zinc deficiency.
Look for cat food that meets AAFCO's nutrition guidelines as a complete meal. Usually on the back label.
Quick notes:
Nutrient deficiencies may cause diarrhea
Choose complete cat food
Check the back label
Learn More: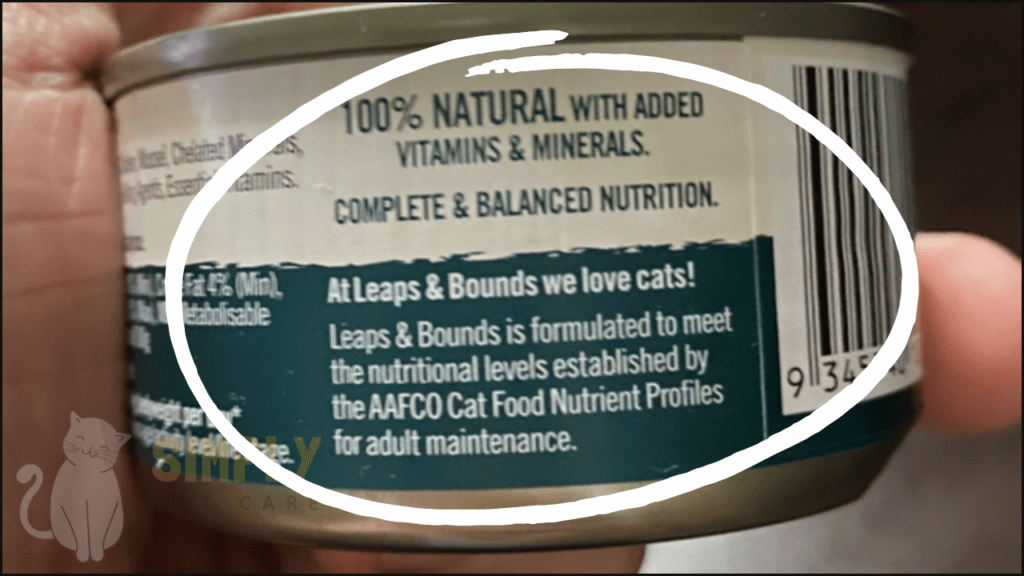 3 Best Cat Food for Cats With Diarrhea
1. Tiki Cat After Dark Chicken
Best Wet Cat Food for Cats with Diarrhea
Summary
Why try Tiki Cat After Dark for diarrhea?
It's a single protein source (chicken) and free of any other ingredients. It's low fiber too – all things we've seen can help diarrhea.
Finally, it meets AAFCO's guidelines as a complete meal for all life stages.
It is pricey though, and it wasn't our cats tastiest choice. Also doesn't have novel protein – and this flavor is Tiki Cat's only single protein option.
Best for:
Healthy weight
All life stages
Chicken lovers
Where to find Tiki Cat After Dark?
Read more: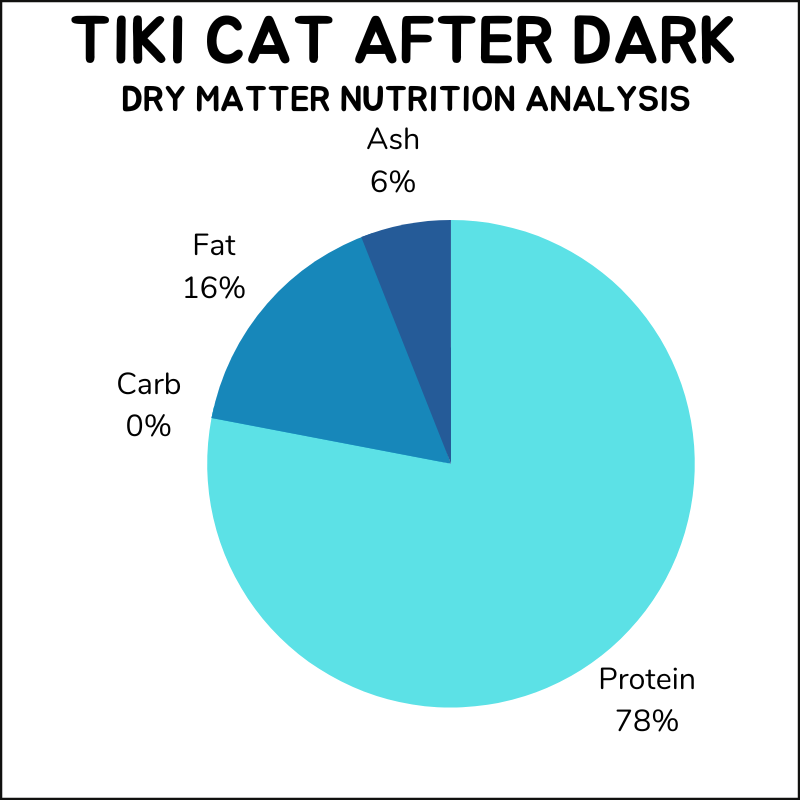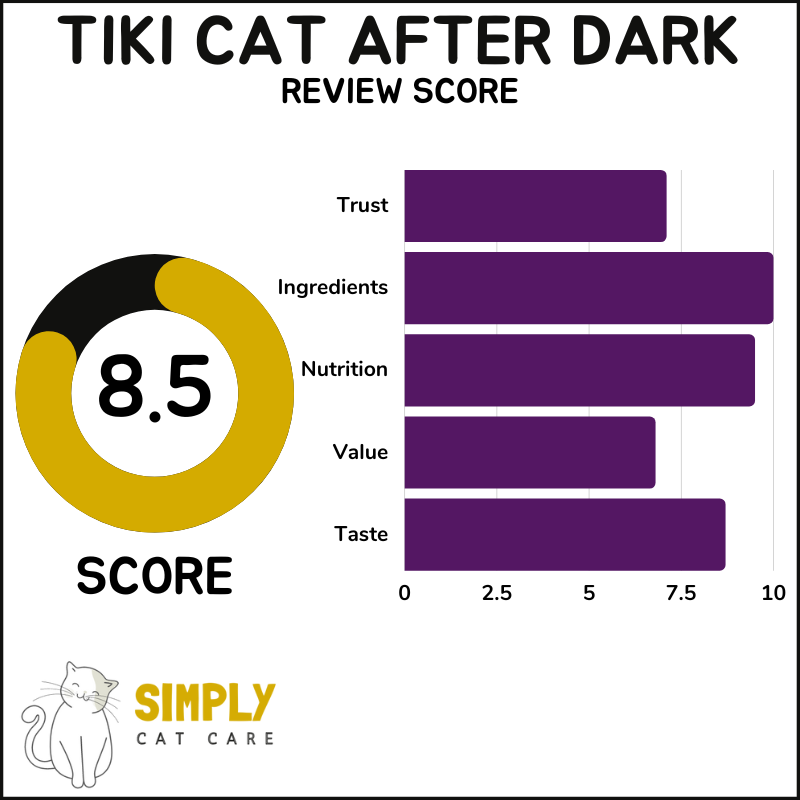 2. Purina Pro Plan Chicken
Best Kitten Food for Diarrhea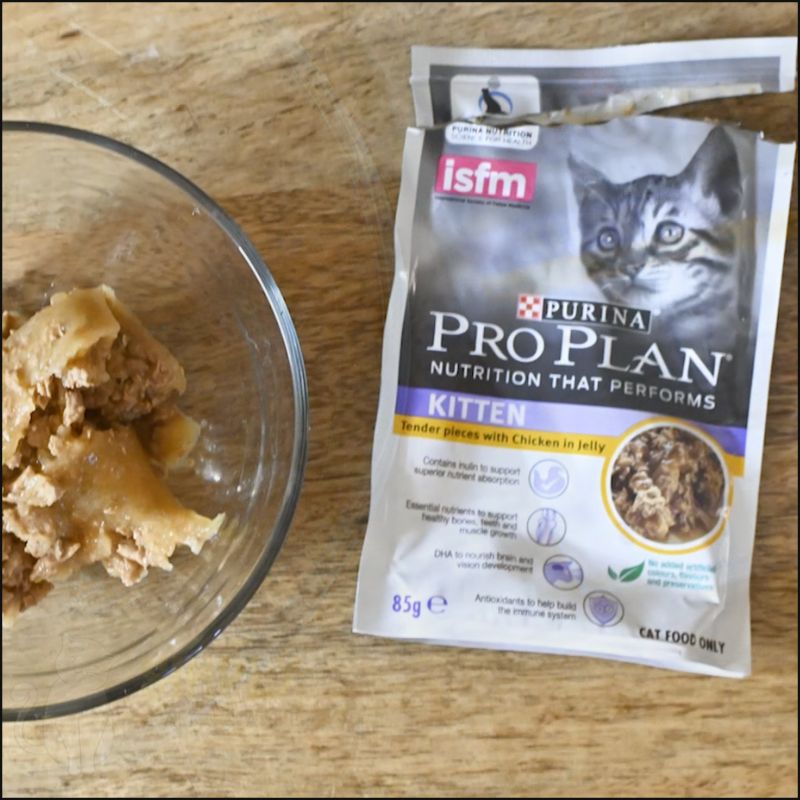 Summary
Why do I recommend Purina Pro Plan for diarrhea?
Like Tiki Cat, Purina Pro Plan is a low fiber cat food with no added grains. This makes it an easy recommendation for kittens with loose stools.
Whilst we couldn't get our hands on the canned product, we did test the Purina Pro Plan pouches. It's fair to say our big 1 year old cat loved it, and customers agree.
This product does use meat by-products which might put off some. The fiber is a touch higher than we'd like (still low), but better than others.
Best for:
Affordability
Kitten health
Picky kittens
Where to find Purina Pro Plan?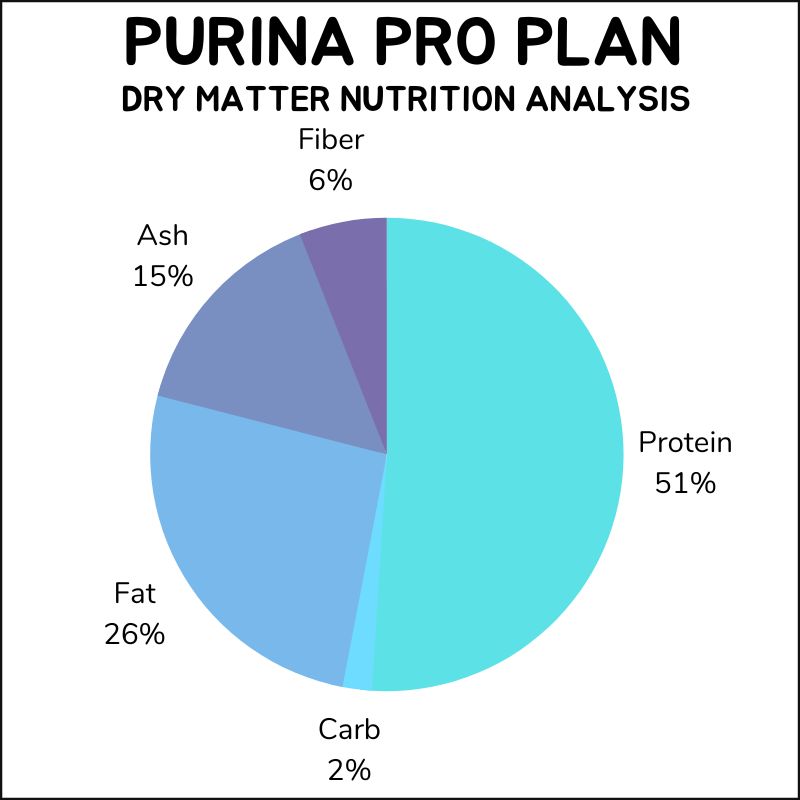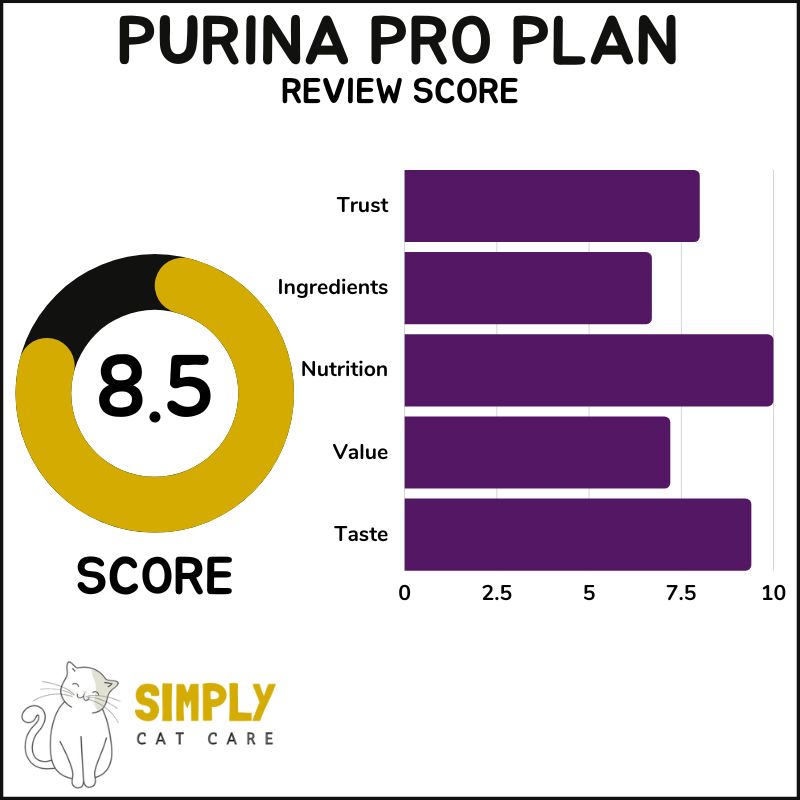 3. Ziwi Peak Air-Dried Lamb
Best Dry Cat Food for Diarrhea
Summary
Why do I like Ziwi Peak Air-Dried lamb cat food?
It's one of the only dry cat foods without added carbohydrate (ultra rare). Not only that, it's got a novel protein source for elimination diet.
This food is a complete meal for all life stages.
It's pricey and hard to justify in high amounts. Taste is ok, but could be better.
Best for:
Senior cat health
Kidney health
Allergies
Where to find Ziwi Peak?
Read more: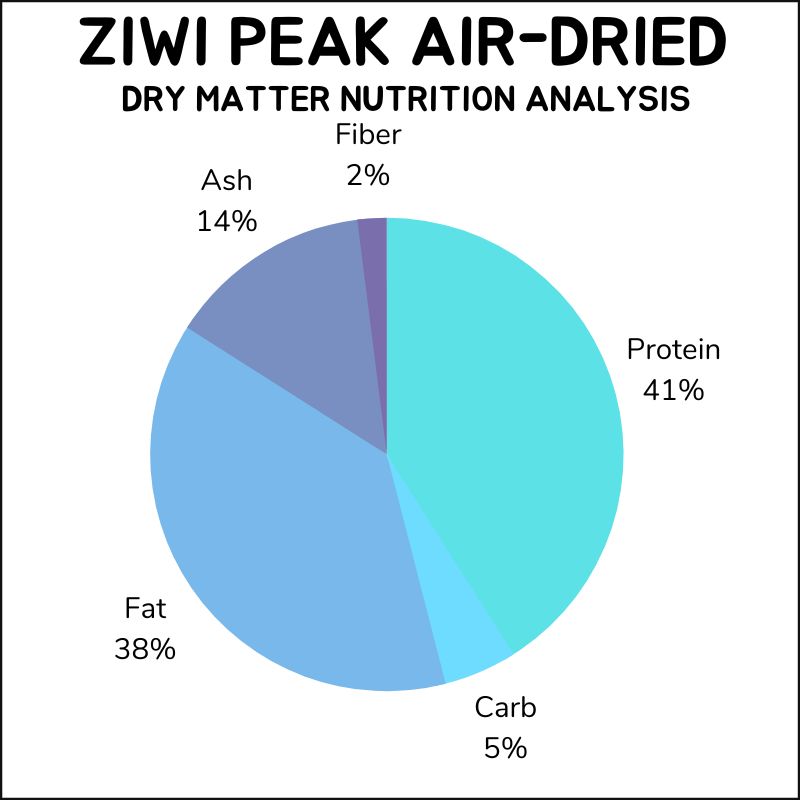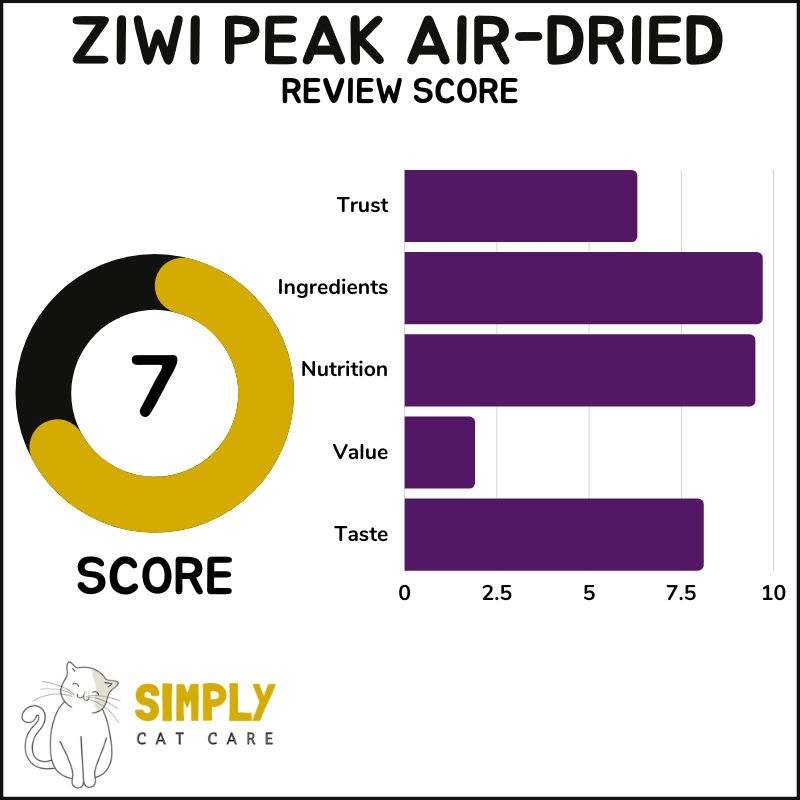 How We Chose These Cat Foods?
Using a database.
I sorted cat foods based on total fiber, and filtered out options with over 12% carbohydrate (dry basis).
I've also indicated if the option is single protein and/or novel protein for an elimination diet.
Finally, I compared options based on nutrition, ingredients, and taste – with a score out of 10.
Full list of the best cat food for cats with diarrhea:
A comparison table of the best cat foods for diarrhea
*dry basis
Frequently Asked Questions
Is Wet Food or Dry Food Better for Cats With Diarrhea?
Maybe.
Wet food tends to have less ingredients and is lower in carbs. These factors may help clear up diarrhea.
Can Certain Cat Foods Cause Diarrhea in Cats?
Yes.
A high carbohydrate diet may cause diarrhea in cats. I recommend limiting to less than 12% carbs (dry basis).
Diet isn't the only cause of diarrhea.
Other causes of diarrhea in cats include:
Infectious and non-infectious diseases
Dehydration
Stress
If switching up diet doesn't help with diarrhea, take a trip to the vet for a workup.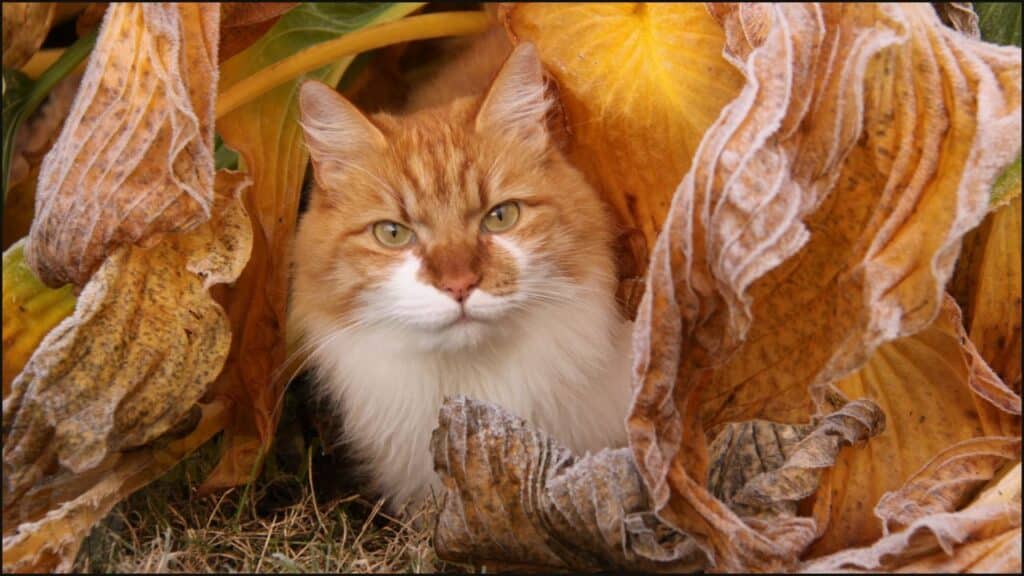 What Ingredients Should I Avoid to Help My Cat With Diarrhea?
Here's a list of things to be weary of:
Histamines
Gluten
Lactose
Colorings
Preservatives
Flavorings
Lectins
It's hard to avoid all of these ingredients, unless you look for high quality cat food.
Do you best to avoid as much as possible that could irritate your cats digestion.
Is Milk Bad for Cats With Diarrhea?
Maybe.
Cats can tolerate about 1/4 cup of milk per day. Milk contains lactose, a sugar cats have a hard time digesting.
This is due to low amounts of lactase, an enzyme used to break down milk sugar.
Learn more:
What is Cat Diarrhea?
Diarrhea is a condition that causes more water is in the feces. This results in either a liquid or partial liquid consistency poo.
Other signs of diarrhea include:
Lack of straining
Weight loss
Vomiting
Increased litter box usage
How Common Is Diarrhea in Cats?
Research data on 1,727 cats admitted to shelters find the prevalence of diarrhea is 11.9%.
Kittens and multiple cats living in an enclosure have a higher risk of diarrhea. Cats living together pass infections more readily.
Why Do Cats Get Diarrhea?
Diarrhea is caused by any one of following problems:
A physical problem with the digestive system (e.g. short bowel syndrome)
Metabolic problems (e.g. hyperthyroidism)
Infections
Food allergy
Food intolerance
These problems affect the digestion of food and how much water is in the feces.
They affect the following areas of digestion:
Transit time (i.e. how fast food moves through digestion)
Water absorption
Gut bacteria (affects transit time)
Get a workup from the vet to find the cause of the problem.
Seek medical help for bouts of diarrhea that last more than two days and/or results in a loss of appetite.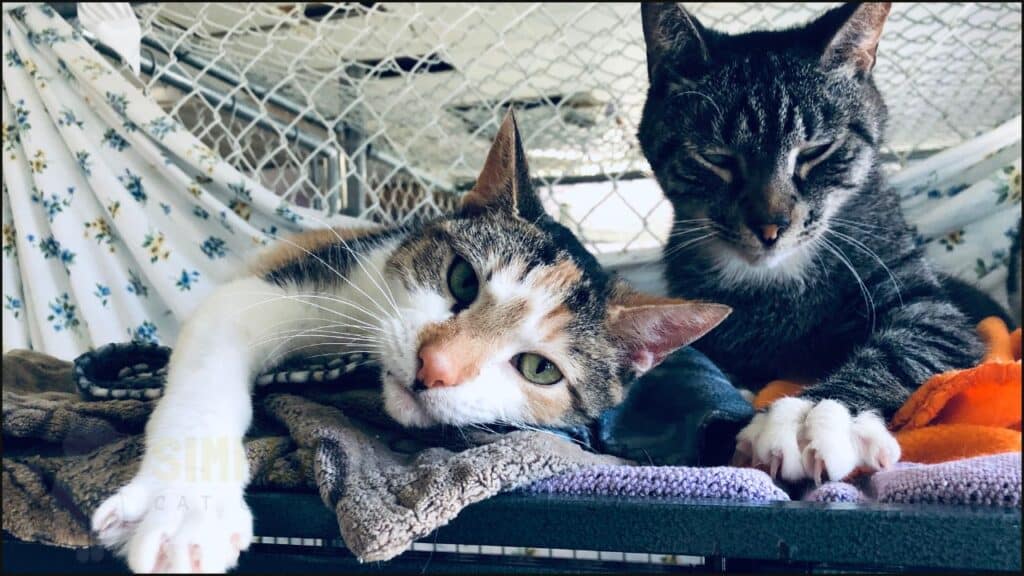 When Should I Call a Vet if My Cat Has Diarrhea?
If diarrhea lasts more than two days, call a vet.
According to VCA Hospitals, vomiting and loss of appetite are signs your cat needs immediate medical attention.
How Do Vets Treat Diarrhea in Cats?
A vet will go through a variety of diagnostic tests to find out the cause of the problem, before providing a treatment plan.
This includes the following:
Physical workup
Ultrasound
Bloodwork
The treatment can involve dietary suggestions and/or medication.
If diarrhea lasts more than two days, call a vet.
Do Older Cats Have Diarrhea More Often?
No.
Older cats are less likely to experience diarrhea. Senior cats are more likely to experience constipation.
Older cats do have severe diarrhea more often than young cats, although the overall prevalence is low.
Learn more:
Does Dry Cat Food Help With Diarrhea?
No.
Dry cat food is higher in carbohydrate, which cats find harder to digest in high amounts.
High carb diets can result in diarrhea.
Dry food also lacks moisture, which is important to maintain hydration.
How Can I Prevent Cat Diarrhea?
Try a wet canned cat food that is low in fiber. This type of cat food is easier on the gut.
How Can I Firm up My Cat's Stool?
Adding fiber can help improve your cats stool. There are two types of fiber:
These types of fiber have different effects. Insoluble fiber bulks up stool, whilst soluble increases moisture.
1-2 teaspoons of psyllium (soluble fiber) added to wet cat food can help cats find relief.
Another popular remedy is pumpkin, but research suggests cooked pumpkin doesn't help with diarrhea. Your mileage may vary.
Should You Withhold Food From Cats With Diarrhea?
No.
Wet cat food is a source of water and electrolytes which help replace losses from diarrhea.
I recommend cutting out dry food from the diet and sticking to wet foods. These options are easier to digest and less likely to result in further diarrhea episodes.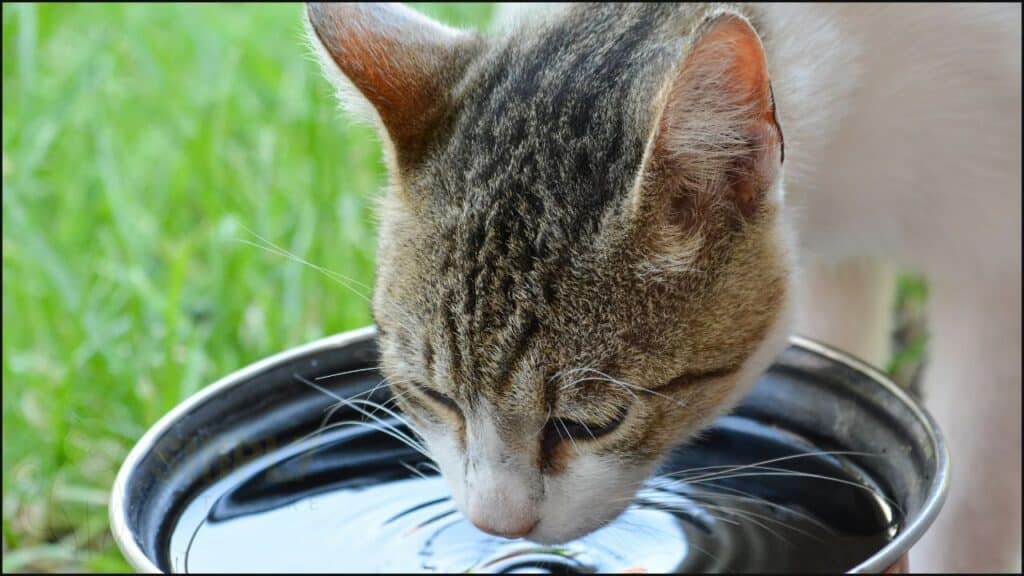 Conclusion
Diarrhea in cats is a problem involving watery feces. This can be a serious problem caused by parasites, tumors, or toxic substances.
Eating high carb foods may cause diarrhea in cats. Switching to wet canned cat food can help some cats find relief. Avoiding sources of food intolerances (e.g. peas) can also help.
See a vet if the problem persists for over two days.
Our 3 best picks:
Tiki Cat After Dark Chicken | Best Overall
Purina Pro Plan Chicken | Best for Kittens
Ziwi Peak Air-Dried Lamb | Best Dry