3 Best Wet Kitten Foods For Health
Disclaimer
As a Chewy and Amazon affiliate, I earn from qualifying purchases. This does not impact our reviews and comparisons.
Not sure what the best wet kitten food is?
Choosing the best kitten wet food is a daunting task.
There are many options on the market with different ingredients, nutritional values, and prices.
It only takes one year for your kitten to mature and they need a high-calorie, nutrient-dense food to support this important phase of growth.
Check out our top choices below.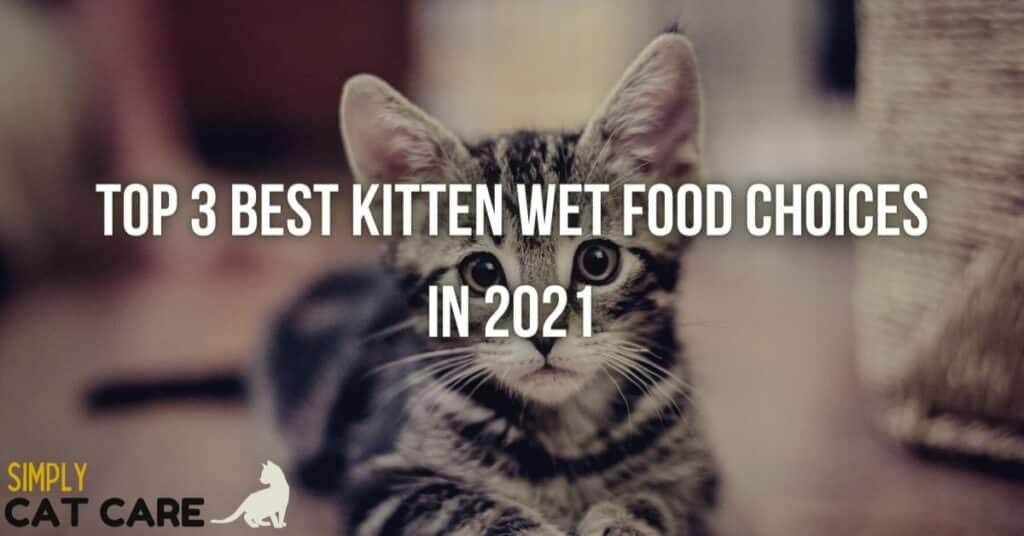 In this article, I'll discuss what is the best wet kitten food choices for a variety of needs.
I'll also give you a buying guide to help you learn more about the best wet kitten foods and what is the best choice for you.
My name is Derrick, and I write for Simply Cat Care. Our goal with this website is to help cat owners find the best products for their cat's health.
I am not a veterinarian and I recommend seeking the advice of a vet before continuing.
Let's get into the article:
---
Product Review: The Best Wet Kitten Foods for Health
Best Wet Kitten Food Overall
SUMMARY
Purina ONE Healthy Kitten is a great all-around choice for kittens.
I like that this product contains plenty of protein-rich ingredients for growth. The first five ingredients are chicken, liver, chicken broth, pork lungs, and salmon which are great high-quality protein sources for growing kittens. Poultry and fish also provide vitamins and minerals for your kitten. The product is also grain-free and doesn't contain any carrageenan which is great for sensitive stomachs.
Purina ONE is also affordable which is surprising given the good quality. A downside is the mixed taste reviews via customer feedback. This may be due to product inconsistencies and formula changes over time.
INGREDIENTS
Chicken, liver, chicken broth, pork lungs, salmon, natural flavors, ESSENTIAL NUTRIENTS, AND OTHER INGREDIENTS: Minerals (potassium chloride, salt, mono, and dicalcium phosphate, magnesium sulfate, zinc sulfate, ferrous sulfate, copper sulfate, manganese sulfate, potassium iodide), guar gum, Vitamins (Vitamin E, choline, Vitamin B-1, Vitamin B-3, Vitamin B-5, Vitamin A, Vitamin K, Vitamin B-6, Vitamin B-2, Vitamin B-12, Vitamin B-7, folic acid, Vitamin D-3), taurine
CALORIC CONTENT: 1,238 kcal/kg, 105 kcal/can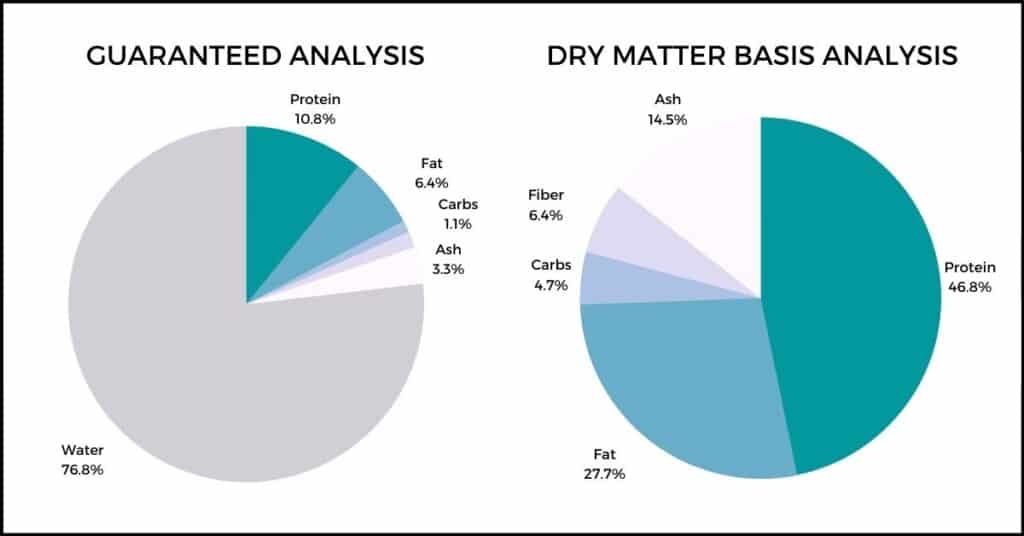 ---
Best Wet Kitten Food Runner Up
SUMMARY
Nulo Freestyle Duck & Tuna Recipe is another solid choice on the kitten food range.
Out of the can, there is a robust offering of high protein foods duck, chicken, chicken liver, and tuna with duck broth for moisture. These are great no-nonsense sources of essential amino acids for growth.
The product then uses a range of vegetable foods such as pumpkin and cranberries. Nulo claims these help your cat's immune system. I am not convinced there is any evidence that these ingredients are beneficial for kittens.
Let's talk about the budget side of things. This product comes in affordable larger tins. As another side note, the product has mixed reviews. This may be due to the addition of duck, which isn't a typical dietary ingredient in many kitten foods.
INGREDIENTS
Duck, Chicken, Turkey Liver, Duck Broth, Tuna, Natural Flavor, Guar Gum, Potassium Chloride, Agar-Agar, Choline Chloride, Taurine, Cranberries, Pumpkin, Menhaden Fish Oil (Preserved With Mixed Tocopherols), Tomato, Dried Kelp, Yucca Schidigera Extract, Salt, Iron Proteinate, Sodium Carbonate, Zinc Proteinate, Thiamine Mononitrate, Vitamin E Supplement, Copper Proteinate, Magnesium Sulfate, Manganese Proteinate, Sodium Selenite, Niacin Supplement, d-Calcium Pantothenate, Pyridoxine Hydrochloride, Riboflavin Supplement, Vitamin A Supplement, Biotin, Potassium Iodide, Vitamin D3 Supplement, Vitamin B12 Supplement, Folic Acid, Rosemary Extract
CALORIC CONTENT: 1,225 kcal/kg, 191 kcal/can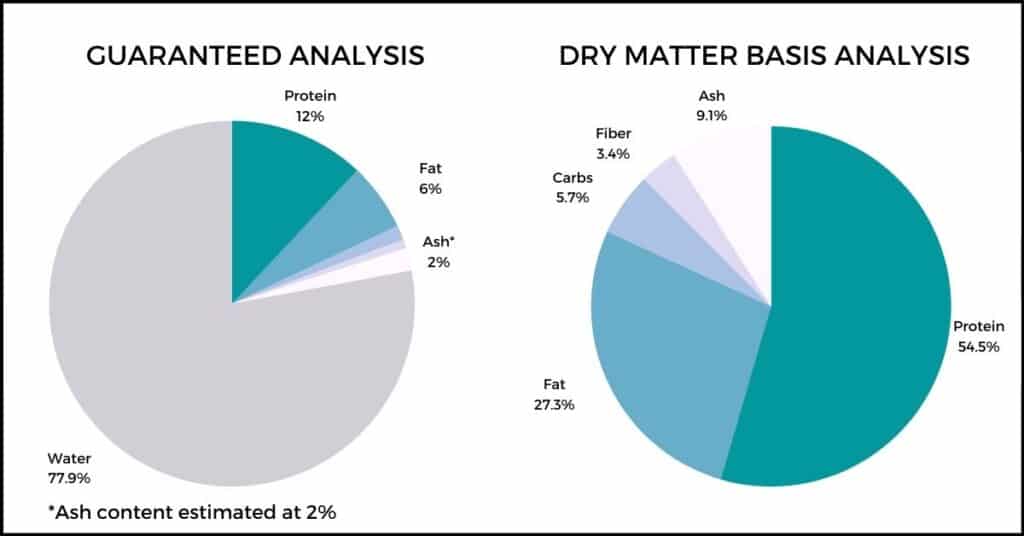 ---
Best Wet Kitten Food Premium
SUMMARY
Ziwi Peak Hauraki Plains Canned Cat Food is a premium food for those looking for the best choice regardless of price.
It meets the AAFCO approved ingredients for all life stages. This product contains chicken, duck, organs, bones, eggs, and mussels. It is a complete powerhouse of high-quality animal-based foods.
There are no fillers such as wheat, cellulose, potato, corn, gums, carrageenan, or tapioca starch. If you want a premium product, this is as good as it gets for carnivore nutrition.
This food is also suitable as adult cat food. If you have a kitten and adult cat, this is a good benefit as you don't have to buy separate tins.
The cost of this product is much higher than the other options on this list. Whilst there is a clear upgrade in quality, the cost will test many. Also, the strong meaty smell might put off owners and cats alike and be a little hit or miss.
INGREDIENTS
Chicken, Chicken Broth, Duck, Whole Kahawai, Chicken Heart, Chicken Liver, Whole Egg, New Zealand Green Mussel, Dried Egg White, Turkey, Chicken Neck, Chicken Bone, Duck Bone, Minerals (Dipotassium Phosphate, Magnesium Sulfate, Zinc Amino Acid Complex, Iron Amino Acid Complex, Manganese Amino Acid Complex, Copper Amino Acid Complex), Turkey Bone, Turkey Gizzard, Turkey Liver, DL-Methionine, Vitamins (Choline Chloride, Vitamin E Supplement, Thiamine Mononitrate, Niacin, Pyridoxine Hydrochloride, Riboflavin, Vitamin D3 Supplement, Folic Acid), Dried Kelp, Turkey Heart, Taurine
CALORIC CONTENT: 1350 kcal ME/kg; 230 kcal ME/can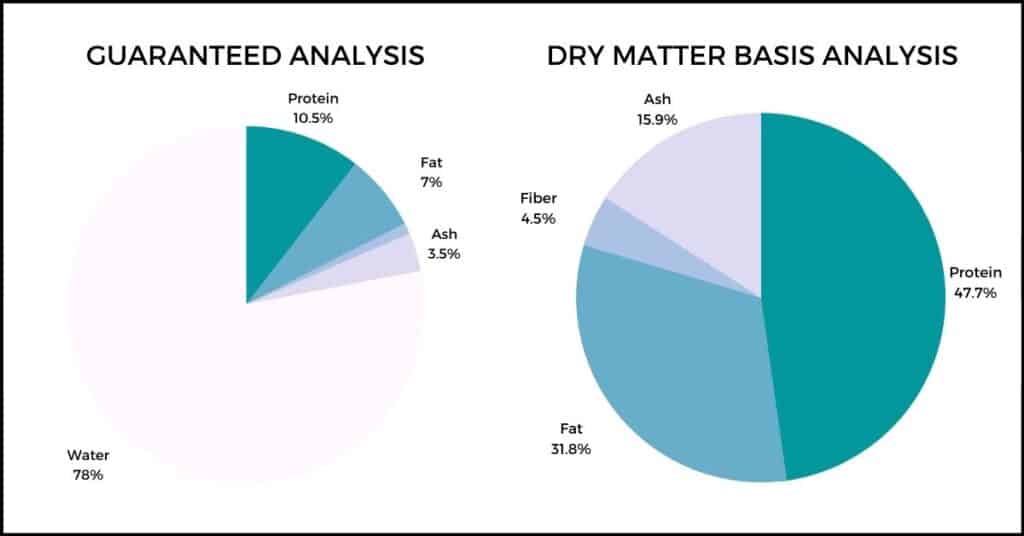 Buying Guide: How to Choose the Best Wet Food for Your Kitten
Are you looking for the best wet kitten food for top health?
Kittens are adorable, but they have a ravenous appetite and need a lot of good food for growth.
With the range of options out there, it's hard to know what to get.
This buying guide will help you with what to look for and what to avoid.
Click the link below to check out our best options or continue reading to learn more.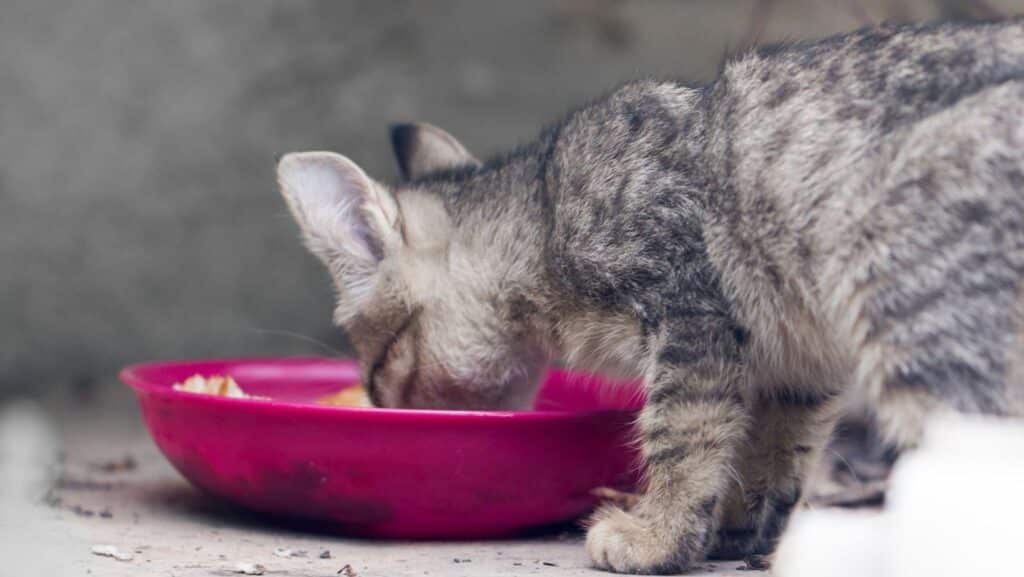 What Ingredients Should I Look For In The Best Wet Kitten Food?
Kittens need a high-calorie and protein diet because of rapid growth during the first few months of life.
A kitten reaches adulthood between the ages of 6-12 months.
When born, kittens feed on their mother's milk up until 4-8 weeks of age.
If this isn't available, kittens need a specialized nutrition formula. At this point, kittens can eat a soft wet kitten food that is high in protein and moisture.
Here's what ingredients to look for in kitten food.
Bottom Line: A kitten needs a wet food high in protein, calories, and micronutrients for growth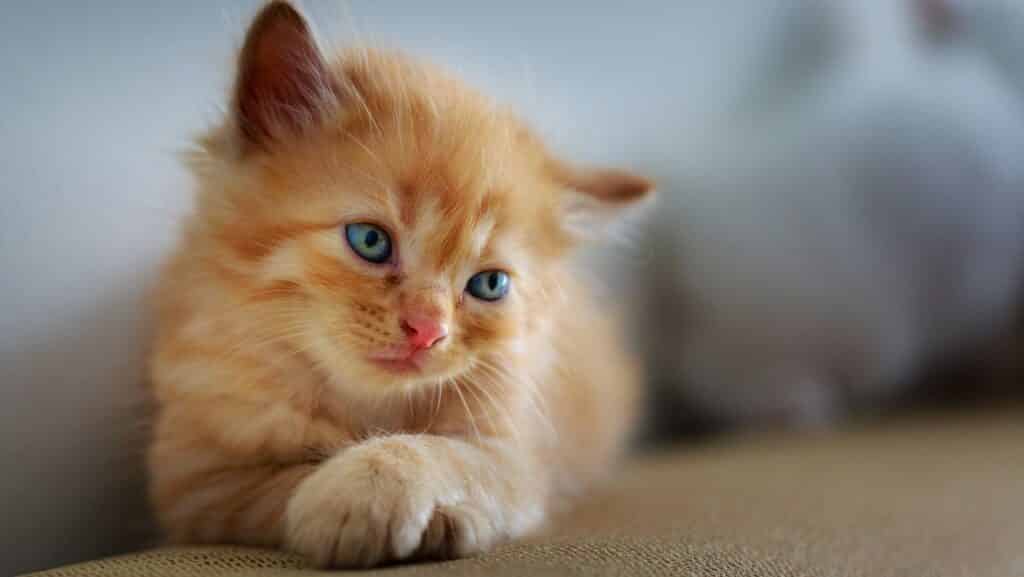 Protein
Kittens need a high protein diet.
A protein intake (from a dry matter basis) of 35-50% of total calories is required for growth and energy production in kittens.
The majority of this protein should come from animal-based foods from sources such as chicken, turkey, beef, venison, fish, and lamb.
Animal-based foods provide high amounts of essential amino acids.
Many plant-based protein food sources are lower in essential amino acids and aren't optimal for growth.
I recommend avoiding kitten food with plant protein ingredients such as soy and peas as these ingredients aren't optimal for growth.
Bottom Line: Kittens need wet food with 35-50% total calories from protein sources for optimal growth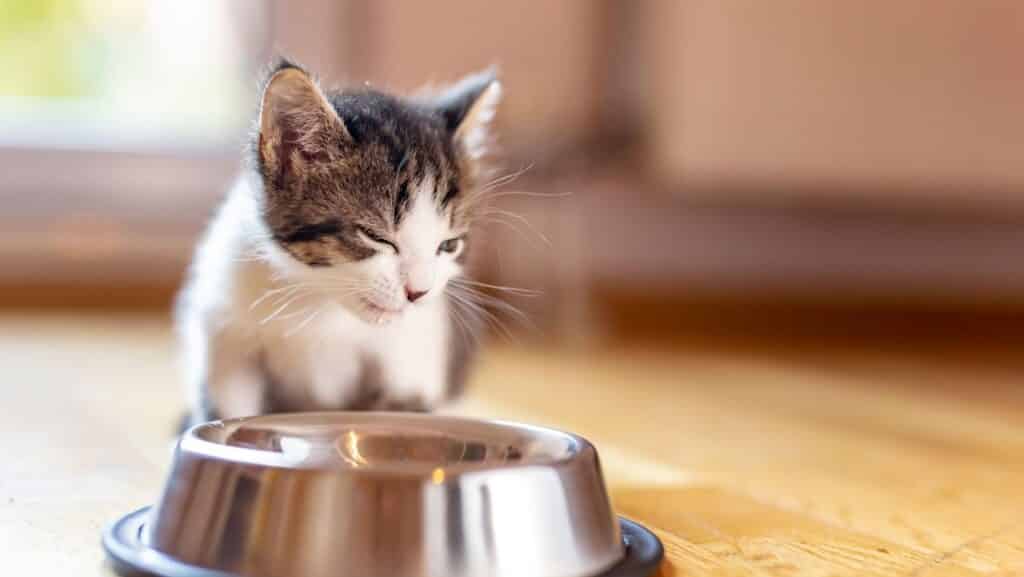 Calcium
Calcium is an important micronutrient (a mineral) needed for strong bones and teeth.
Kitten food has calcium is in the form of supplemental calcium carbonate (or similar) or soft bones.
A calcium level of 0.8-1.6% (from a dry matter basis) is a good target for kitten growth.
Some cat food brands list the calcium in the guaranteed analysis.
A kitten with a calcium-deficient diet may develop health complications.
A calcium deficiency leads to mobility issues, depression, confusion, and at worse may result in euthanasia.
These issues are often due to homemade cat diets with no added calcium (e.g. all fresh meat without bones or milk).
This is one reason it is best to select a commercial kitten food to make sure your kitten is getting enough calcium, among other nutrients, for growth and development.
Bottom Line: A kitten needs at least 0.8-1.6% calcium in the diet for optimal growth and health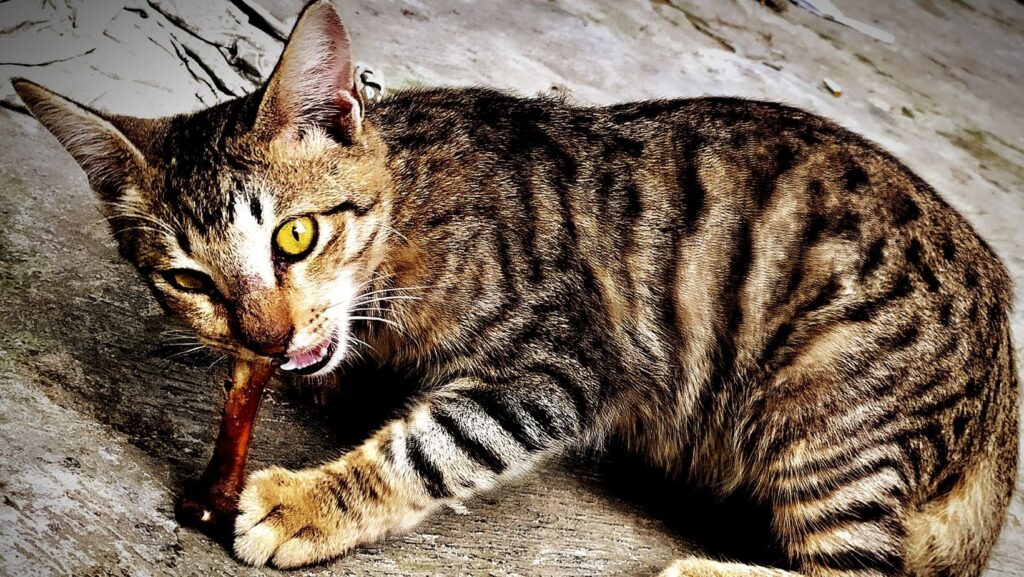 What Ingredients Should I Avoid When Choosing Wet Kitten Food?
Most commercial wet kitten foods are safe to eat but some ingredients may impair the absorption of nutrients or give digestive issues.
Let's take a look at some ingredients to avoid.
Rice
Rice is a high carbohydrate grain-based food often used in kitten foods.
However, rice inhibits the absorption of taurine.
Taurine is an essential amino acid needed for many functions including eyesight and heart function.
Moreover, kittens don't need carbohydrates in the diet for growth.
Rather, a high protein and fat diet are better suited to their bodies.
Check out my top nutrition tips to learn more about what a cat needs for health.
Bottom Line: Rice is a high carbohydrate food that decreases the absorption of taurine. I recommend avoiding rice-based kitten foods.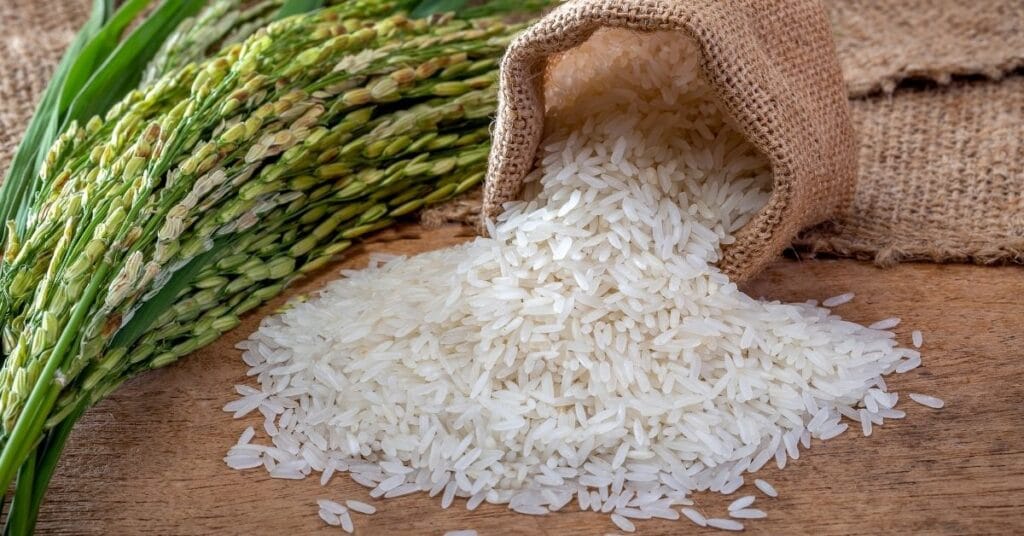 Carrageenan
I recommend avoiding wet kitten food with added carrageenan as this ingredient may lead to digestive upsets.
Carrageenan is a controversial food item made from seaweed. It is a thickener in cat and human foods alike.
Carrageenan provides no nutrition to cats. Degraded carrageenan is a possible carcinogen and may lead to digestive issues. Food-grade carrageenan (used in cat food) contains between 5-25% degraded carrageenan.
Degraded carrageenan induces local inflammation for research purposes (e.g. injected into the paw of rats to induce edema). Degraded carrageenan added to the water of guinea pigs resulted in ulcerative colitis, weight loss, loose stools, and blood in the faces.
Researchers deem food-grade carrageenan as safe. Food-grade carrageenan does not contain enough degraded carrageenan to induce harmful effects.
Since there is no benefit to carrageenan and possible downside, it is best to steer clear of it anyway. I avoided products with carrageenan for this review.
Bottom Line: Carrageenan may result in digestive upsets and is best avoided.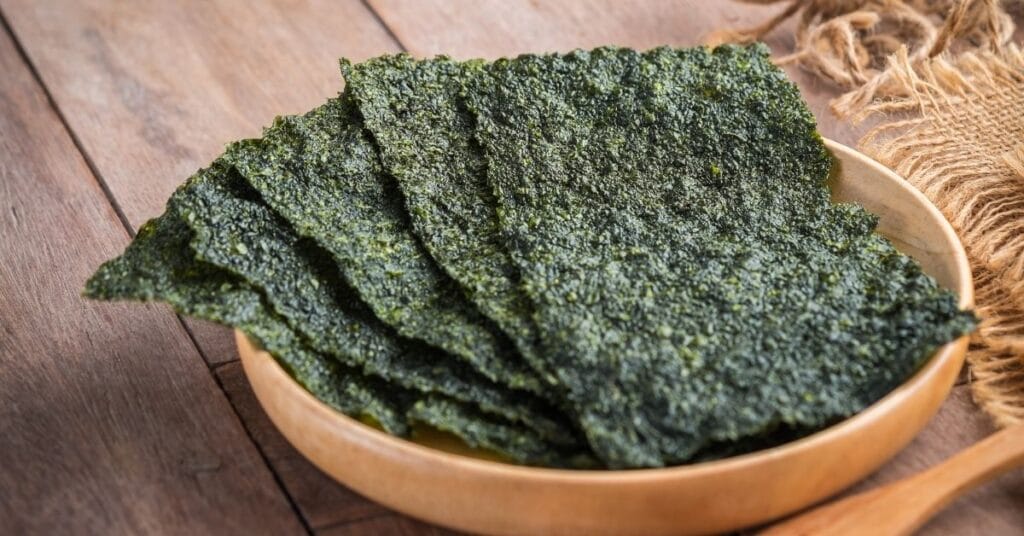 Corn Gluten Meal
Corn gluten meal is a low-quality protein source added in some wet kitten foods.
Plant protein sources such as corn gluten meal may increase the risk of urinary tract disorders.
Whilst plant and grain-based foods such as rice, wheat, peas, corn, and oats aren't toxic to cats, they aren't the best sources of nutrition.
I recommend choosing a kitten food with fewer plant-based ingredients.
Bottom Line: Corn gluten meal may increase the risk of urinary tract disorders and isn't the best source of nutrition for kittens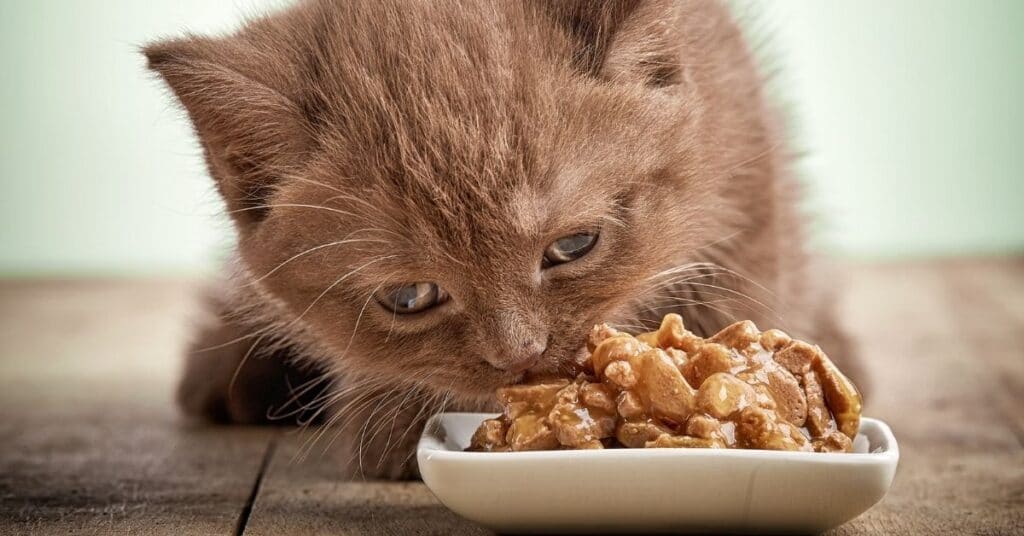 Gums
Gums are considered safe, although they may result in marginal loss of protein during digestion.
Gums are thickeners used to create a firm texture.
They include:
Xanthan gum
Guar gum
Cassia gum
Agar-agar
Carob gum.
These gums are from plant-based foods.
Researchers have found guar gum causes greater fecal losses of protein.
Some of those protein losses are from less ammonia (protein digestion waste product) entering the bloodstream from the colon. The total loss of protein is negligible.
Most cat foods provide more than enough protein for good health.
Gums are more difficult to avoid than carrageenan and reduce your options.
Bottom Line: Gums may decrease the absorption of protein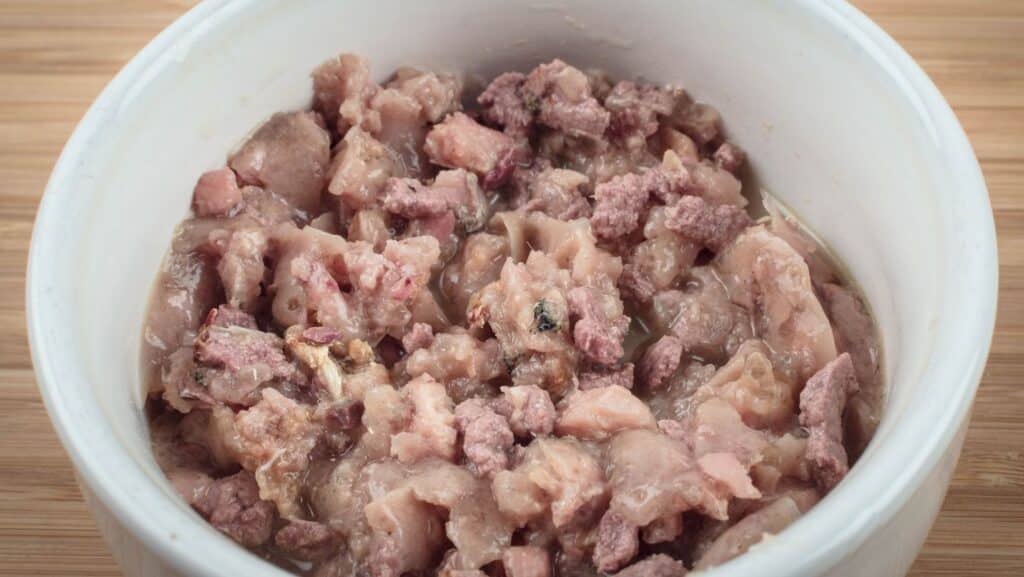 Meat By-Products
Meat by-products are ingredients that aren't named parts of meats.
Although by-products may be healthy, the word 'meat' means that the source of the food is vague and may include all kinds of animals, including (potentially) dead cats and dogs.
Contrary to popular belief, cat's do not like dead food as this produces a smell that is offputting – hence why cat food manufacturers try to disguise the taste with flavorings.
In general, meat by-products are used in cheap cat food choices.
I recommend spending a little more to get named meat sources to give you the confidence you know what's on your kitten's plate.
Bottom Line: Meat by-products are parts of meat that are less desirable and may contain unpleasant animal sources
Should I Look For The AAFCO Nutritional Adequacy Statement?
AAFCO provides guidelines for cat food manufacturers.
These guidelines are not laws in all states, but they inform buyers of quality.
Many cat food brands have a nutritional adequacy statement as outlined via AAFCO.
The statement is as follows:
'(name of the food) formulated to meet the nutritional levels established by the AAFCO Cat Food Nutrient Profiles for (all life stages/growth)."
If a cat food has the above statement followed by 'all life stages' it is suitable for kittens. That means it contains the nutrition needed to support a kitten's growth and development.
If you find a cat food you want to use, look for this statement as a sign of nutritional quality.
Check out my article on label reading for more helpful tips.
Bottom Line: A cat food label that says 'formulated to meet the nutrition levels established by the AAFCO Cat Food Nutrient Profiles for all life stages' contains the nutrients needed for kittens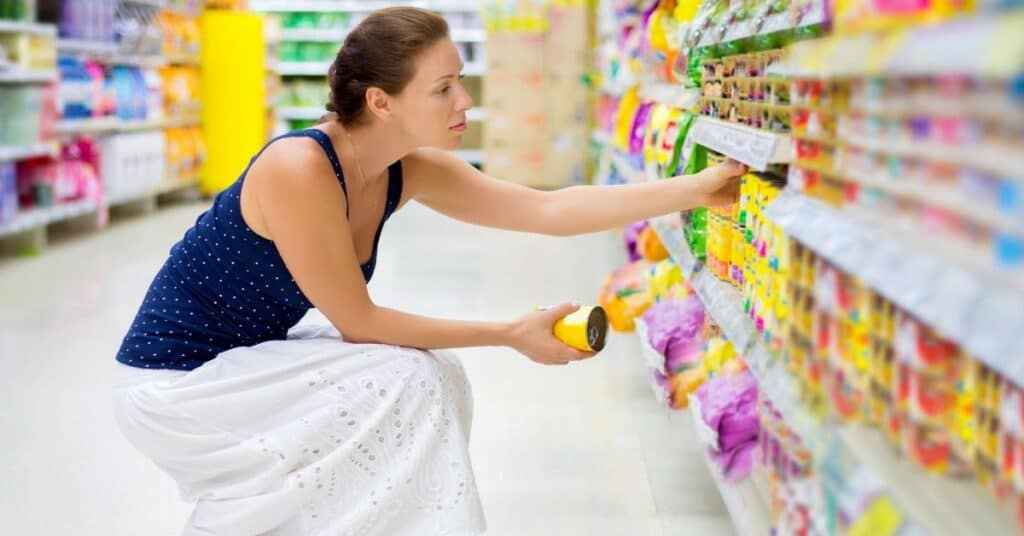 Frequently Asked Questions
Why is A Healthy Diet Important For Kittens?
A kitten needs a diet high in protein and calories for proper growth and development.
Kittens grow baby milk teeth which grow and the teeth fall out at around 4 months of age.
Adult teeth appear around seven months and there are 30 adult teeth.
Food should be soft enough to eat at this stage of life (or softened with moisture).
What Foods are Toxic to Kittens?
There are a lot of foods that are toxic to cats in small amounts.
These include many plant-based foods such as onions, garlic, and avocados.
Most commercial wet kitten food doesn't contain any of these ingredients.
It is far more likely to encounter problems feeding your kitten home-based foods.
Feeding your kitten baby food or leftovers is a problem as they may contain those ingredients.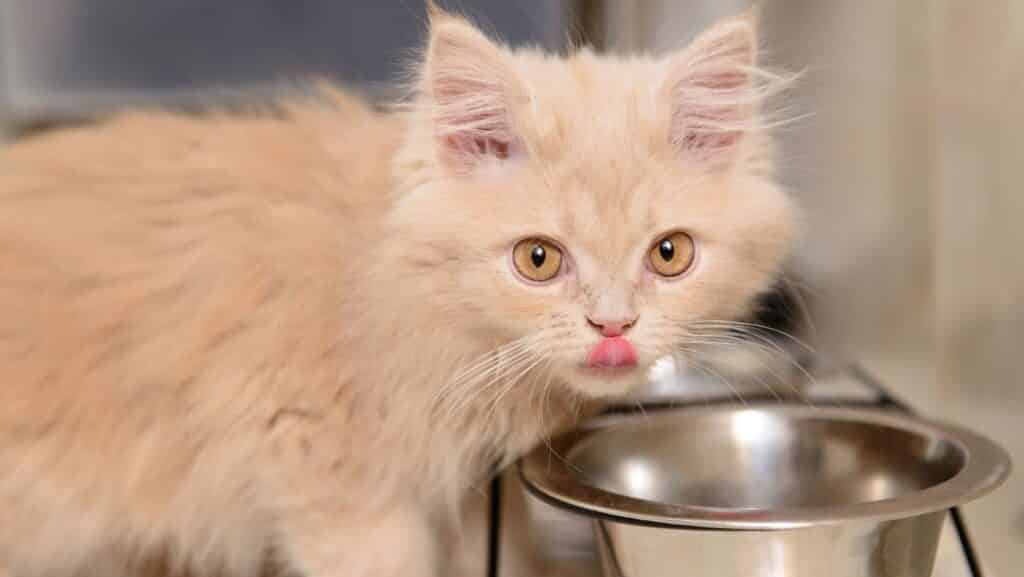 Is Wet or Dry Food Better for Kittens?
Wet food is the best choice for kittens.
Wet kitten food contains a high amount of moisture for kidney and urinary tract health.
Cats need to drink enough water for their kidneys and proper urination.
When cats eat all dry food, they tend not to consume enough water.
Wet canned cat food provides kittens moisture.
Bottom Line: Wet kitten food is better for kittens due to containing more moisture for kidney and urinary health as well as animal protein-based foods
At what age do you need to start feeding a kitten?
I recommend providing your cat at least 50% wet foods if you want to use dry food.
If you want to use dry food, I recommend ACANA First Feast High-Protein Kitten Dry Cat Food.
A cat weans off its mother's milk between 4-8 weeks of age.
At this point, introduce solid food.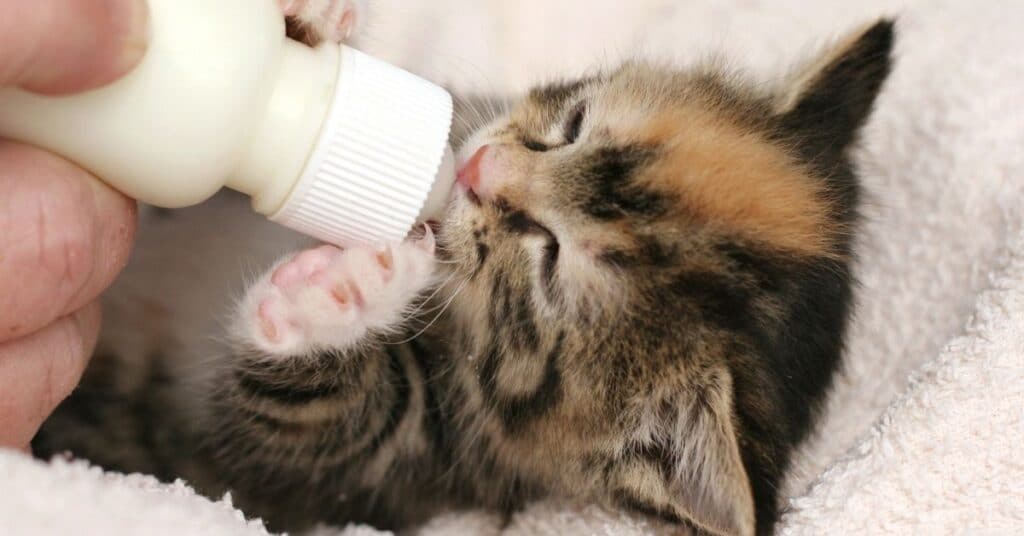 How do I feed my kitten?
The American Society for the Prevention of Cruelty to Animals suggests the following protocol:
Use a kitten milk replacer (KMR)* in a small saucer and encourage the kitten to taste it
Begin to add small amounts of kitten wet or dry food with the KMR and form a 'slurry/porridge' out of it.
Transition to 100% kitten wet and/or dry food (at least some wet canned food) up until the age of 8 weeks
*KMR is appropriate for kittens. Do not use cow's milk or any other kind of milk (e.g. almond or soy milk).
Always consult a veterinarian before planning a weaning regimen for your kitten. It is often recommended to continue feeding a kitten with KMR out of a bottle during the transition to solid foods.
Offer the bottle of KMR after bowl feeding.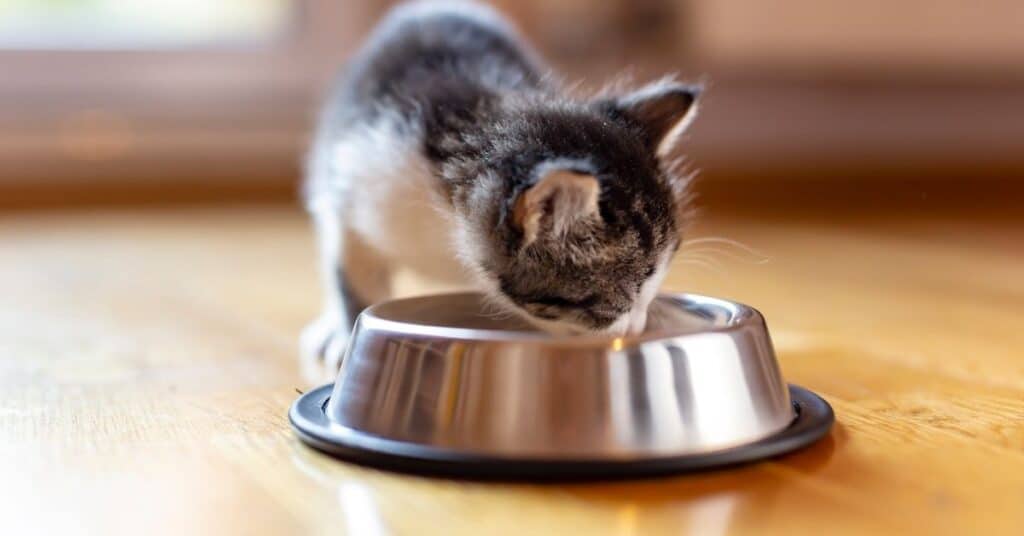 How much should a kitten eat?
Kittens need more calories per pound of body weight than adult cats.
This is to provide energy for growth. Check out my article on how much to feed your cat for more.
How often should kittens eat?
Kittens need up to four meals per day (or at least offered). This is to ensure healthy growth, brain, and eye development.
Once a kitten reaches adult they can subsist on 2-4 meals. This varies from situation to situation.
In the wild, a feline will consume as many as 7-20 small meals per day (through small prey such as rodents). You may want to use small frequent meals if your kitten prefers this eating style.
Check out my article on how often to feed a cat for more information.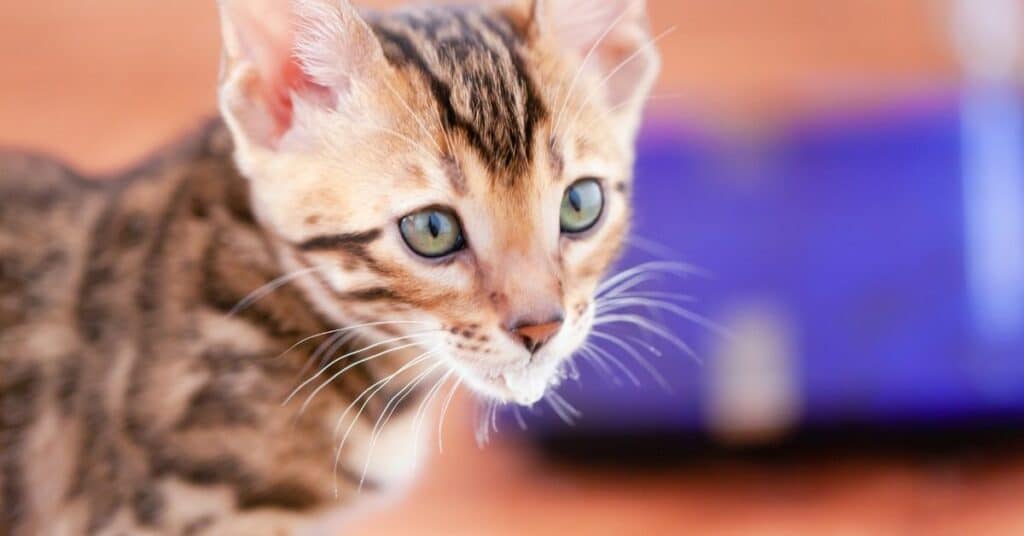 Conclusion: Best Kitten Wet Food
In this article, I reviewed the best wet cat food for kittens.
The best wet kitten food for health is one that contains all the nutrients your cat needs, without any unnecessary additives.
Animal-based protein sources are the easiest foods to digest and get nutrition from.
A good canned wet kitten food should contain a good variety of animal-based foods. These include sources such as turkey, chicken, and fish.
Speak with a vet for more assistance in finding the best-canned kitten food for your needs.