3 Best Wet Kitten Foods For Growing Kittens
Disclaimer: As a Chewy and Amazon affiliate, I earn from qualifying purchases. This does not impact our reviews and comparisons.
A high protein and calorie food is best for kittens.
Choose cat food that meets the needs for growth.
Here's our 3 best wet kitten foods for growing kittens from our testing.
Fancy Feast Kitten | Best Overall
Tiki Cat Baby | Healthiest
Royal Canin Kitten | Best Vet Recommended
Giving your kitten the best start is what everyone wants.
This phase of life only lasts a year, so it's crucial to get it right.
Thankfully, there's a lot of great choices. But some shine above the rest.
I'll run through a buying guide and go through top picks.
Finally, I'll go through frequently asked questions.
Let's go.
Buying Guide
What should you look for when buying kitten food?
Kittens reach adulthood at 12 months.
They are reared on their mother's milk until 4-8 weeks.
It's a short window for development.
Here's what you need to do:
Choose High Protein Kitten Food
Aim for 35-50% protein.
Check the guaranteed analysis. Then use a calculator.
Kittens need a high protein diet for growth and energy.
Animal foods are best as they contain more essential amino acids.
Grain protein is less optimal. Avoid.
Look for Added Calcium
Kittens need calcium for strong bones and teeth. Aim for 0.8-1.6% dry matter basis.
Calcium can come from food or supplement. Calcium carbonate is the best supplement (check the label).
A calcium deficiency leads to:
Impaired mobility
Depression
Confusion
(worse case) euthanasia
Ideally, the brand reports the calcium on the label or online.
Choose a Complete Meal for Kittens
Look for the statement:
(name of the food) formulated to meet the nutritional levels established by the AAFCO Cat Food Nutrient Profiles for (all life stages/growth) (or words to this effect)
This statement means the kitten food has the nutrition to support a kitten's growth and development.
This is on the back or side of the label.
AAFCO provides nutrition guidelines.
They aren't laws, but help manufactures make balanced kitten food.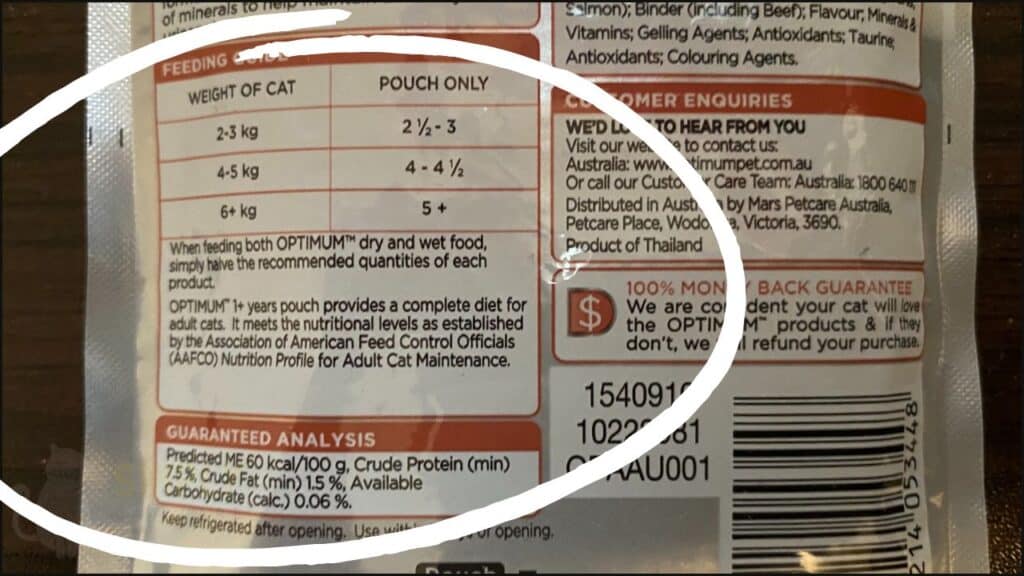 3 Best Kitten Foods for Growing Kittens
1. Fancy Feast Kitten
Best Wet Kitten Food Overall
Review
Fancy Feast Kitten is hard to go past.
It's good value for money and has the nutrients growing kittens need. This includes milk for calcium.
Our cat agreed and enjoyed Fancy Feast kitten, but it wasn't his favorite.
Whilst it does use meat by-products, there's no grains or carrageenan.
Learn More: Fancy Feast Review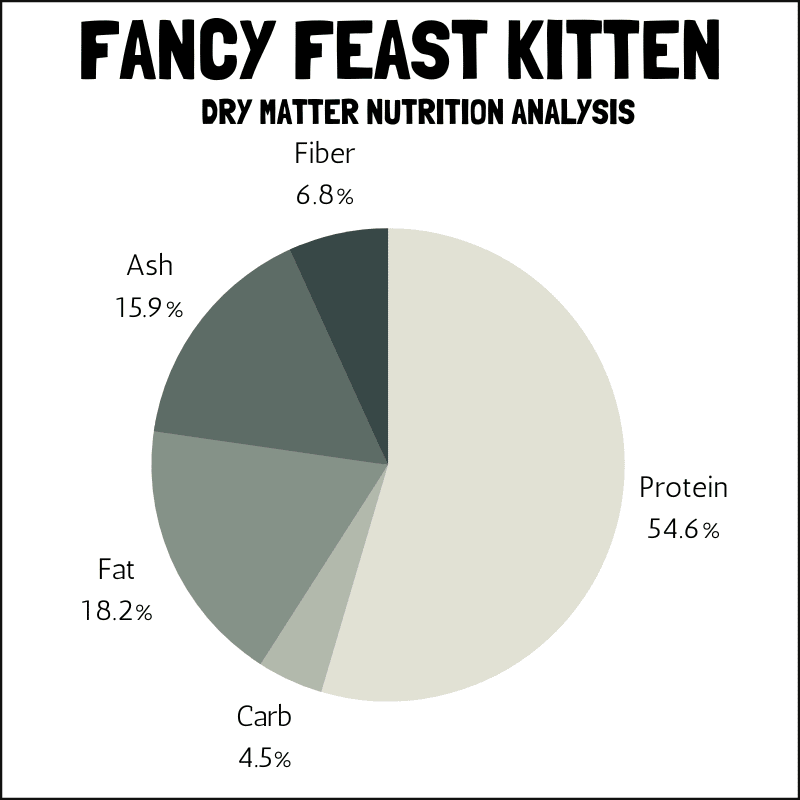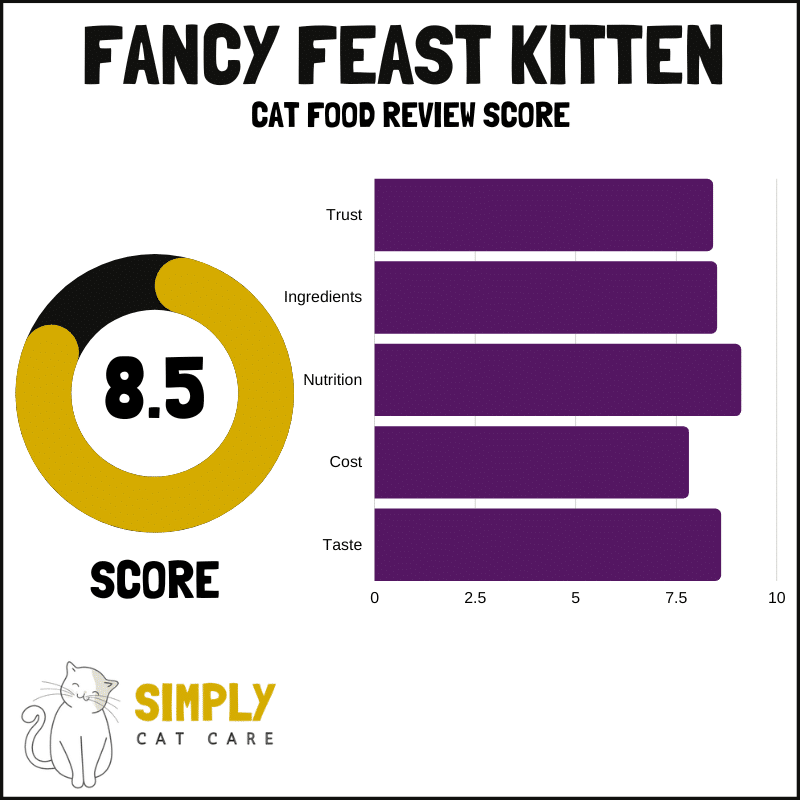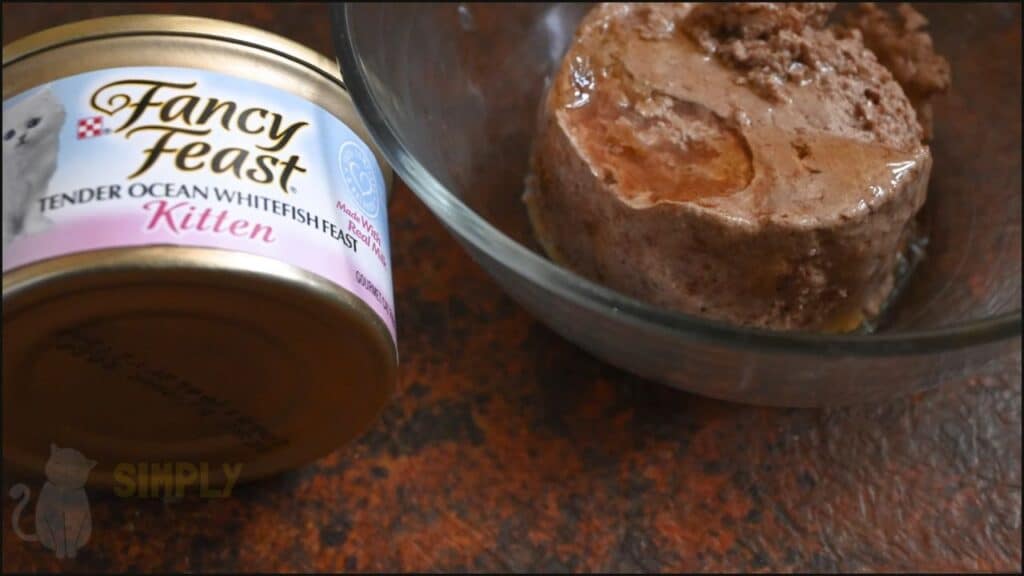 2. Tiki Cat Baby
Best Quality Wet Kitten Food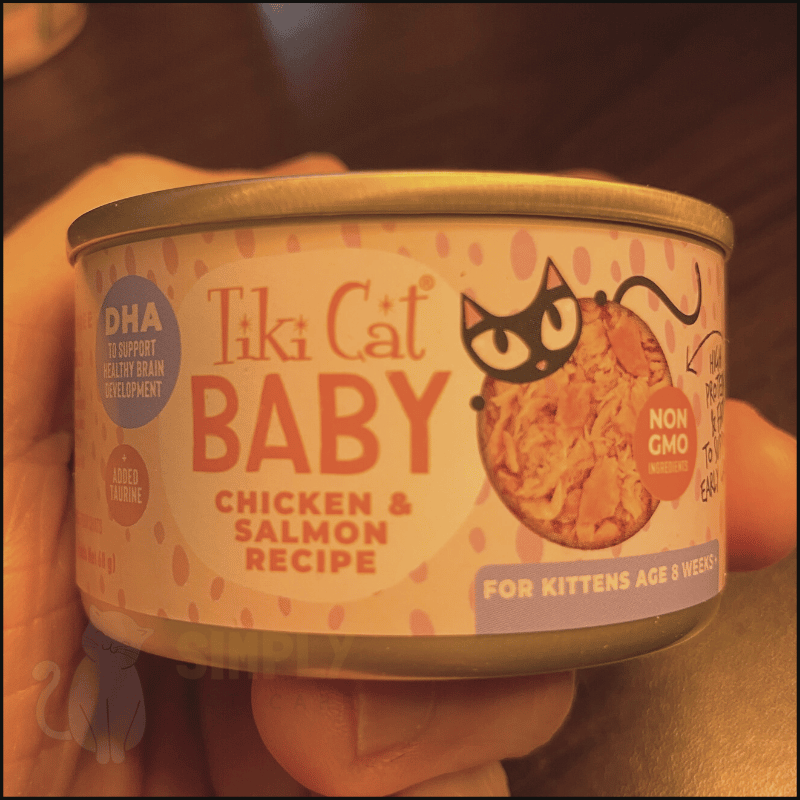 Review
Tiki Cat Baby is the best quality choice for kittens.
We enjoyed the fresh authentic shreds and so did our big kitten.
The other cool thing is you can get mousse and shreds (helping transition to solid food).
It's low carb. It's filler free.
You get what you paid for. Which is good, because this one is pricey.
Learn More: Tiki Cat Baby Review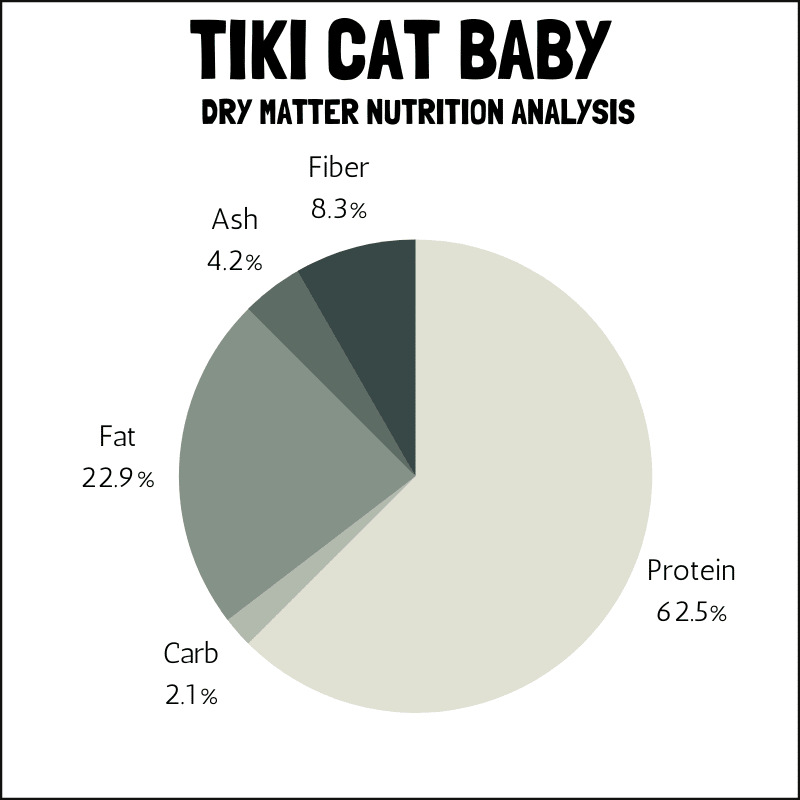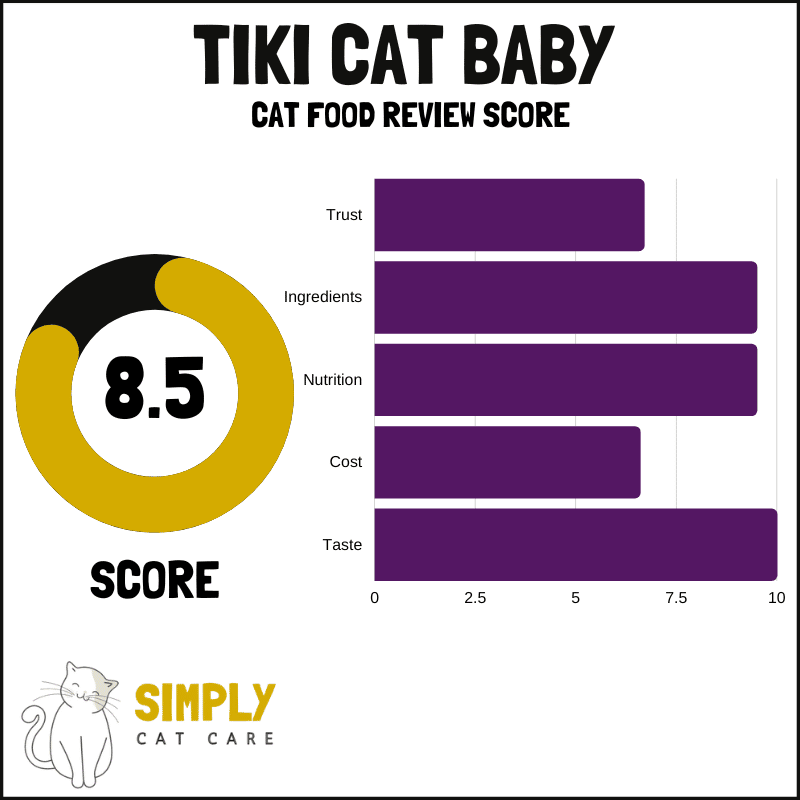 3. Royal Canin Kitten
Best Vet Recommended Kitten Food
Review
Royal Canin is our best vet recommended option.
It stands above other vet choices (e.g. Hill's Science Diet) as lower in carbs and higher in animal protein.
And tastier, based on our testing with a big fussy kitty.
But there's some things I'm not wild about.
It has added carrageenan and wheat gluten. This one also uses meat by-products.
That said, there's still mostly animal based protein in the tin. It's balanced for growing kittens.
Learn More: Royal Canin Kitten Food Review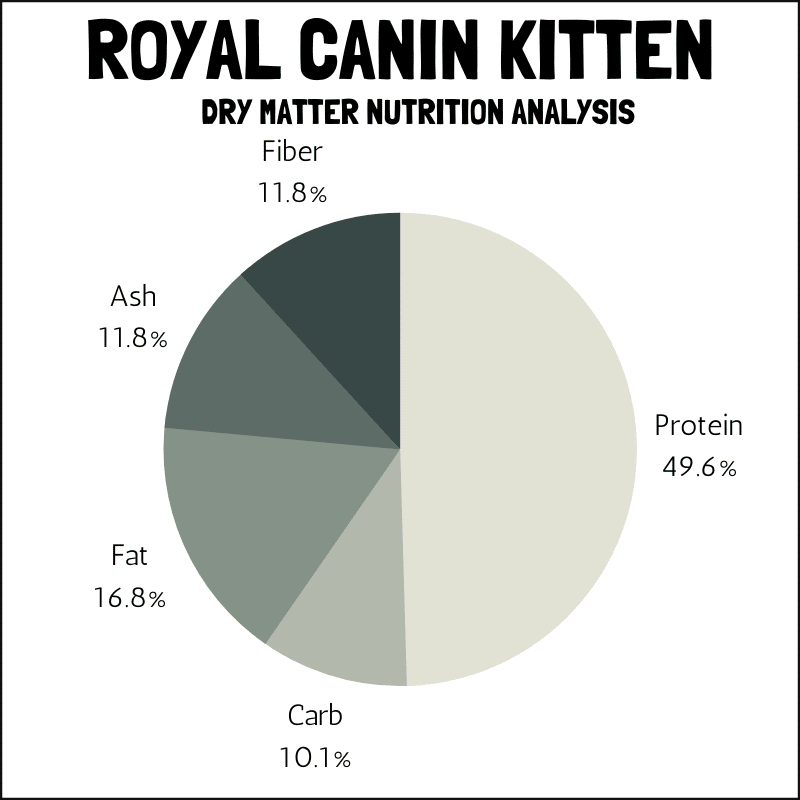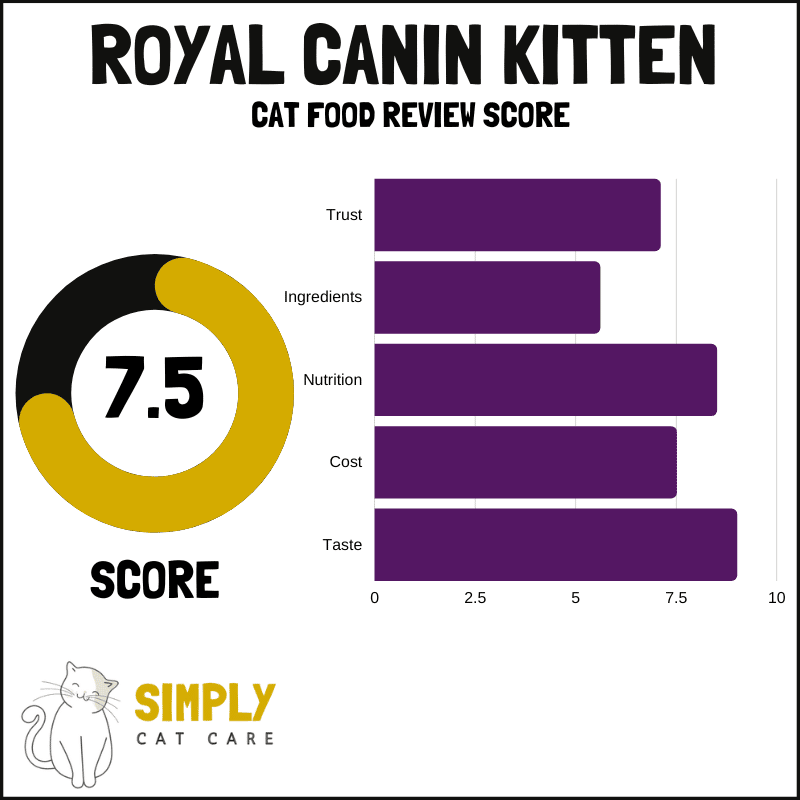 How Did I Choose These Cat Foods?
I've looked at over 50 popular cat and kitten foods.
I sorted kitten foods on:
Nutrition
Ingredients
Taste
Cost
Trust
We use a qualitative and quantitative scoring system.
I picked the best kitten foods that I've tested for each category.
Here's a comparison of the 10 best wet kitten foods:
| Best Wet Kitten Foods | Type | Lifestage | Protein* | Carb | Calcium: Phosphate | Kcal/kg | Taste | Nutrition | Cost | Score | Notes |
| --- | --- | --- | --- | --- | --- | --- | --- | --- | --- | --- | --- |
| Tiki Cat Baby | Shreds | All | 62.5% | 2.1% | 1.2 | 1175 | 10 | 9.5 | $$$ | 85 | Best quality for kittens, but pricey |
| Fancy Feast Kitten | Pate | Growth | 54.5% | 4.5% | N/A | 1,064 | 8.5 | 9 | $$ | 85 | Good all round choice |
| Purina Pro Plan Kitten | Pate | Growth | 51.1% | 2.1% | 1.5 | 1,321 | 9.5 | 10 | $$ | 83 | Good alternative to Fancy Feast |
| Instinct Original | Pate | All | 59.1% | 3.2% | N/A | 944 | 9 | 8.5 | $ | 82 | US owned, but a little low in calories |
| Nulo Freestyle | Pate | All | 51.4% | 5.8% | 1.5 | 1,225 | 8.5 | 9.5 | $ | 81 | Unique flavors, for all life stages, value for money |
| Feline Natural | Pate | All | 51.5% | 2.1% | 1.3 | 895 | 7.5 | 10 | $$$ | 79 | High quality grass-fed cat food, but mixed taste |
| Ziwi Peak | Pate | All | 54.2% | 10.4% | 1.5 | 1,200 | 9 | 9 | $$$ | 78 | Another NZ based grass-fed food, but pricey |
| Royal Canin Kitten | Pate | Growth | 44.2% | 9.0% | 1.2 | 894 | 9 | 8.5 | $$ | 75 | Best vet recommended choice |
| Wellness Core Tiny Tasters Kitten | Pate | Growth | 47.5% | 2.5% | N/A | 1,400 | 9.5 | 9 | $$$ | 72 | A promising choice, but no added calcium |
| Hill's Science Diet Kitten | Gravy | Growth | 52.6% | 24.1% | 1.3 | 962 | 7.5 | 6 | $$$ | 65 | A little high in carbs for our liking |
A comparison of the 10 best wet kitten foods
*dry matter basis
Frequently Asked Questions
Can Kittens Eat Wet Food Everyday?
Yes.
You can give your kitten a diet of wet kitten food.
Make sure the kitten food meets the needs for growth, established by AAFCO. This means it's a complete meal.
All wet is better than all dry.
When cats eat all dry food, they tend not to consume enough water.
What Is Best Quality Cat Wet Food?
Tiki Cat Baby.
It's high in protein and low carb. It meets the needs for growing kittens established by AAFCO.
No fillers. No grains. No gums.
Our cat enjoyed it. Tiki Cat Baby offers fresh shreds or an easy to swallow mousse.
>> Check out Tiki Cat Baby.
Is Fancy Feast Good for Kittens?
Yes.
Fancy Feast kitten is a balanced meal for growing kittens. It's a great choice.
What Should You Not Feed Kittens?
Don't feed kittens homemade cat food.
It's very hard to create a balanced diet. Getting it wrong results in deficiency and health problems.
There's many foods toxic to cats and kittens as well. Things like onions, garlic, and avocados.
Check out the guides below for more.
Learn More:
How Long Do Kittens Need Kitten Food?
Up to 12 months.
Kittens grow baby milk teeth which grow and the teeth fall out at around 4 months of age.
Adult teeth appear around seven months and there are 30 adult teeth.
Kitten food helps with growth and development.
Do Kittens Need Special Kitten Food?
If you get your kitten before 8 weeks you may need kitten milk replacement (KMR).
The American Society for the Prevention of Cruelty to Animals suggests the following protocol:
KMR in a small saucer with encouragement
Add small amounts of kitten wet food to form porridge
Transition to 100% wet kitten food at 8 weeks
How Much Should a Kitten Eat?
Check the label for feeding guidelines.
Kittens have higher calorie needs (per pound of body weight) compared to adults.
This helps with rapid growth demands.
Learn More:
How Often Should Kittens Eat?
Offer your kitten four meals per day.
In the wild, cats eat 7-20 small meals a day.
Combine that with a kittens high energy demands and it's easy to see that more meals is a good strategy.
Learn More:
Conclusion
Kittens need a high calorie and protein diet for growth. They reach adulthood at 12 months.
Look for the statement of nutritional adequacy meeting the needs for growth or all life stages. This ensures you get a complete meal.
Good wet kitten food is high in animal protein and calcium. Fewer fillers like grains, gums, and carrageenan is preferable.
>> Our best wet kitten food recommendation is Fancy Feast Kitten.