3 Best Dry Cat Foods for Top Health
Disclaimer: As a Chewy and Amazon affiliate, I earn from qualifying purchases. This does not impact our reviews and comparisons..
99% of dry cat foods suck.
They're loaded with flavors to mimic a meat taste.
This disguises low quality ingredients.
Here's my 3 best dry cat foods that are better for health:
Dr. Elsey's Clean Protein | Best Overall
Tiki Cat Born Carnivore | Affordable Choice
Ziwi Peak Air-Dried | Best Quality
As carnivores, cats eat a prey-based diet. Cats don't need carbs.
Most dry cat foods are carb rich.
High carb diets can irritate digestion and increase diabetes risk long term.
I'll run through my top picks in this article, then go through a buying guide.
Finally, I'll go through frequently asked questions.
Let's go.
3 Best Dry Cat Foods for Health
1. Dr. Elsey's Clean Protein
Best Dry Cat Food Overall
Review
For most people, Dr. Elsey's are best.
They use protein based gelatin as a binder instead of grains. No carbs in the bag.
It's suitable for all life stages. Reasonable price.
We haven't tried this one yet, so can't comment on the taste. There's also some recent product changes we're not thrilled about.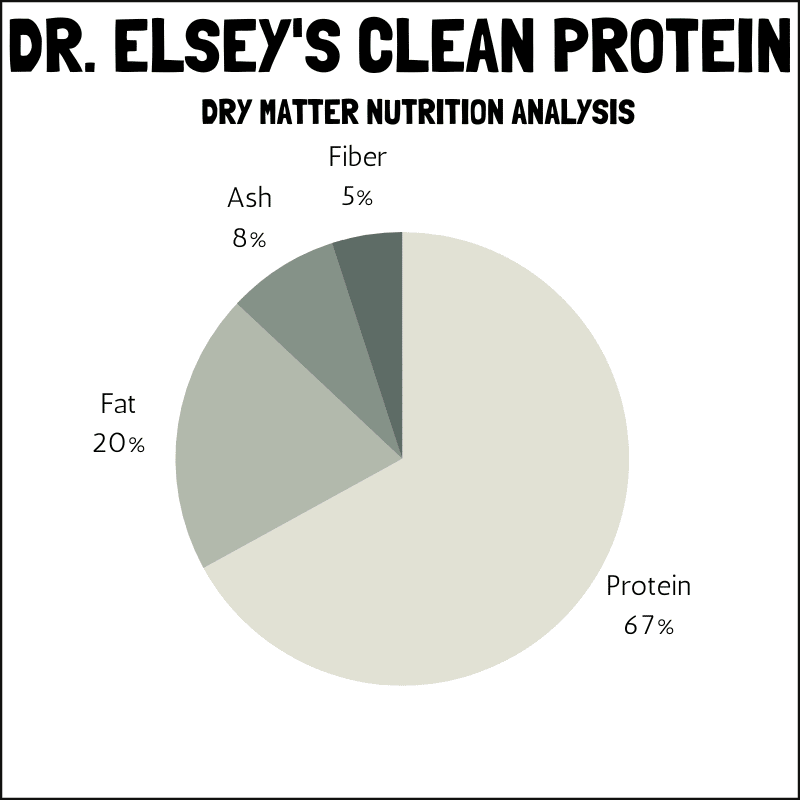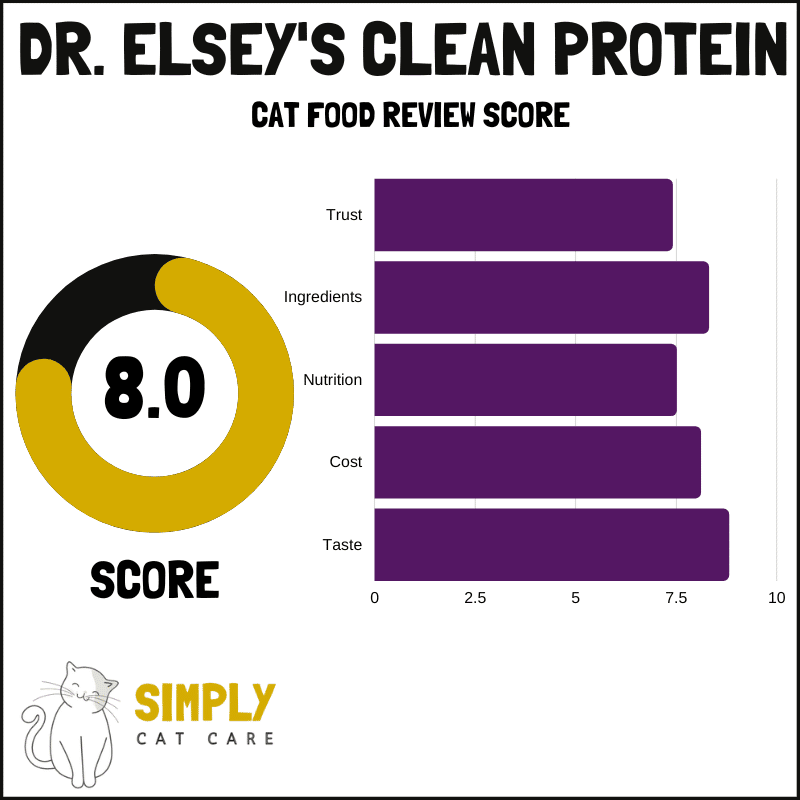 2. Tiki Cat Born Carnivore
Best Dry Cat Food For The Money
Review
Tiki Cat Born Carnivore is a rare dry cat food that falls under 15% carbs (dry matter).
That's much better than the rest at this price point.
It does contain peas, chickpeas, and tapioca (high carb). But those ingredients do not dominate the ingredients.
Sadly, I haven't gotten my hands on this one yet in Australia. So no taste results yet.
But with the sparse range of choices on offer, it's hard to recommend anything else.
Read More: Tiki Cat Food Review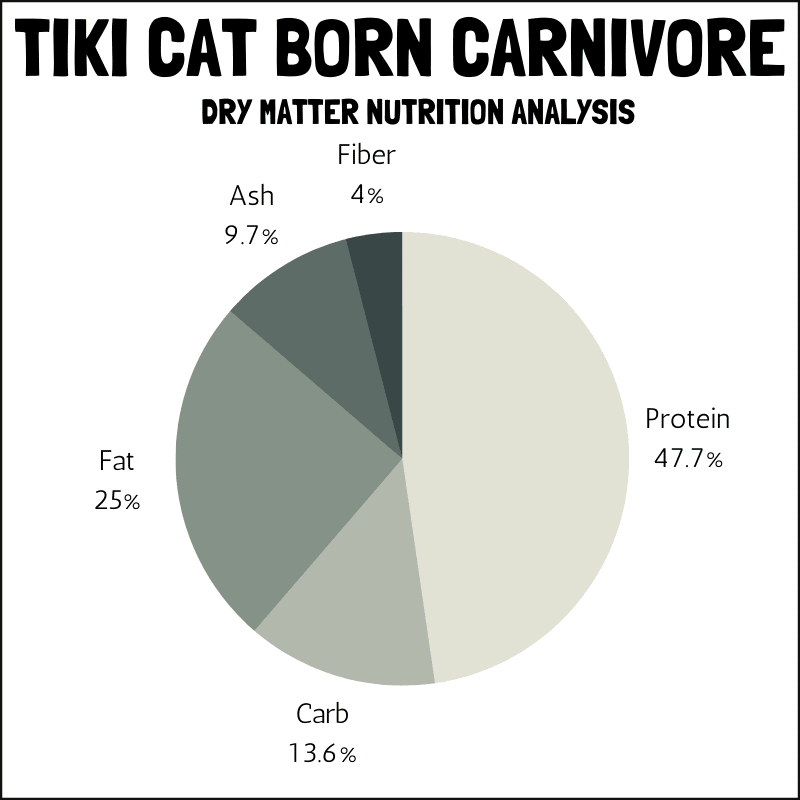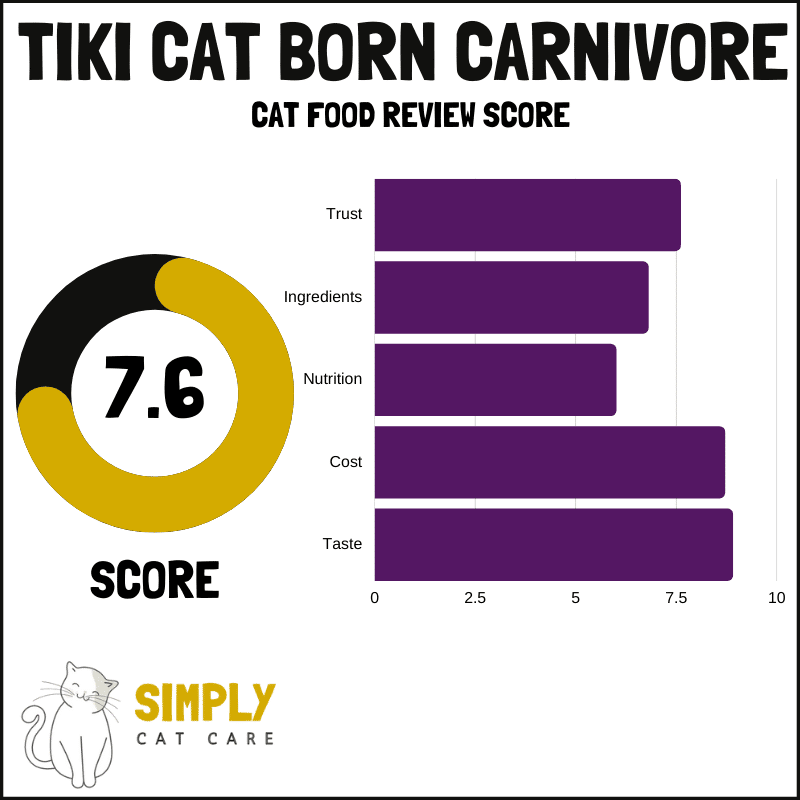 3. Ziwi Peak Air-Dried
Best Quality Dry Cat Food
Review
This product contains grass-fed animal produce from New Zealand.
No fillers, grains, or legumes in the bag. A complete meal for all life stages.
Also, there's no meat meals. You know what you're getting in the bag.
Our cats enjoyed this one, which comes in dried square shapes.
The main problem here is the harsh price.
Learn More: Ziwi Peak Cat Food Review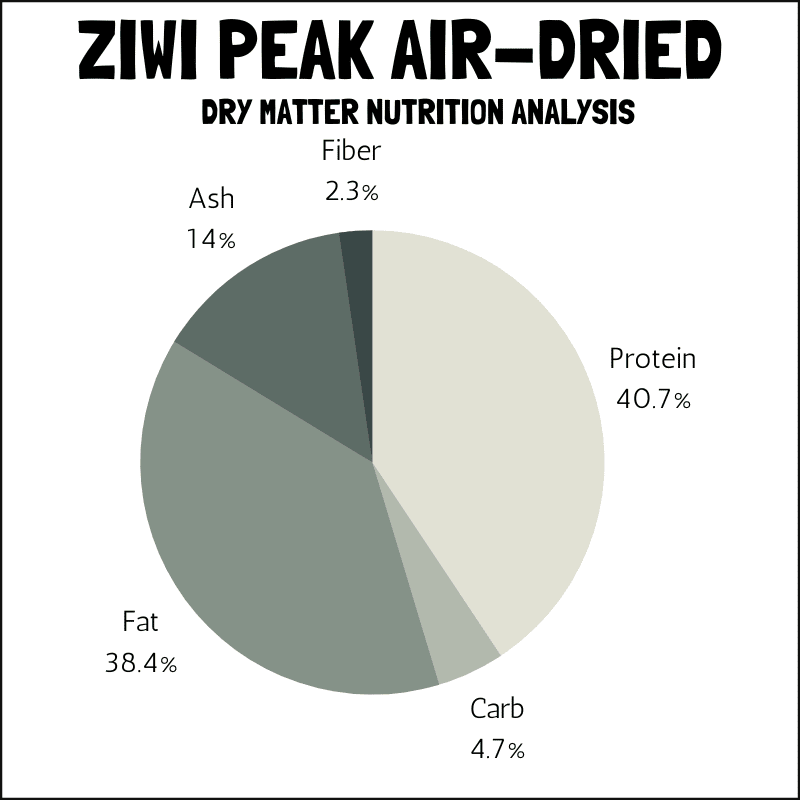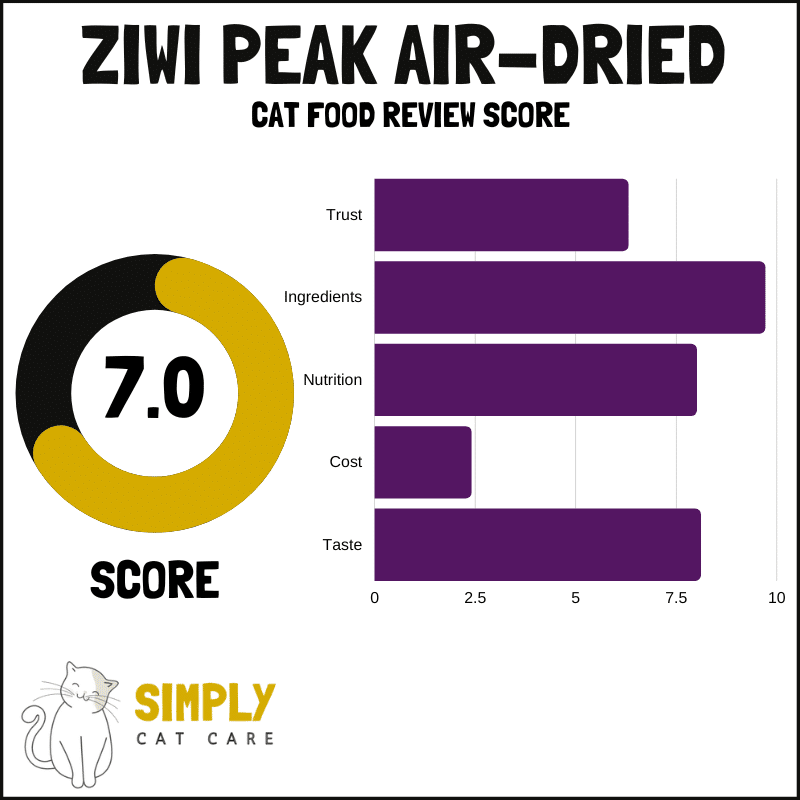 How Did I Choose These Cat Foods?
I've looked at over 50 popular cat foods. Many tested with my cats.
I sorted cat foods based on:
Nutrition
Ingredients
Taste
Cost
Trust
We use a qualitative and quantitative scoring system.
Here is a comparison of the 5 best dry cat foods I've looked at:
A comparison of the best dry cat foods *dry matter basis
Buying Guide
How do you pick the best dry cat food?
It's hard.
A lot of dry cat foods are popular. And they're loaded with flavors.
Cats are strict carnivores.
So here's what to do?
First, check the macros. Get the guaranteed analysis and use a dry matter calculator.
Aim for:
Protein: >40%
Carb: <15%
Fat: 25-40%
Then check the cat food meets the nutrition needs per AAFCO's guidelines.
There's:
Growth: For kittens up to 1 year
Maintenance: For adults 1-7 years
All life stages: Kittens and adults
AAFCO don't have guidelines for senior cats.
Older cats need more protein and fat to combat sarcopenia. Choose cat food for all life stages or growth.
More in my guide for fattening up old bony cats.
Finally, check the ingredients.
Named meat based ingredients are best.
Meals are rendered meat sources, that are lower quality. They include a range of animal food sources, excluding horns, hooves, stomachs, hair and blood.
Choose at your discretion.
Pea protein is often used. The bright side is it's not that much lower in quality compared to meat.
Be weary of wheat gluten meal. The quality of this protein is poor compared to other protein sources.
More info on protein quality in cat food in my article on cat food without pea protein.
Here's more info:
Aim for a High Protein Diet
Aim for 50% protein (dry matter).
A cat's liver converts protein into glucose using gluconeogenesis. This process occurs more in cats, compared to humans.
As mentioned, named meat ingredients are best.
This includes:
Chicken
Fish
Beef
Lamb
Turkey
Salmon
Mussels
Egg
These are the best quality for cats.
Grain based protein (e.g. corn gluten meal) increases risk of constipation and painful urinary stones. And they are low quality sources of essential amino acids.
Moderate Fat
Aim for 25% (dry matter).
At least 25% fat is the sweet spot for taste. Cats self-select a diet with ~36% fat.
Fat is a high calorie macronutrient. Helpful for underweight cats.
Senior cats are most at risk of weight loss due to impaired fat and protein digestion.
Omega 3 fatty acids from sources like salmon are important for joint health.
Cut Back on Carbs
Cats don't need any carbs.
Aim for as little as possible.
Cats self-select food with ~12% carbs (dry matter) which supports the idea of a low-carb diet.
Anything around 12% carbs or less is best.
Carbs can cause digestive distress and vomiting.
What About Fiber?
Not necessary.
An excess of fiber reduces protein digestion.
Really bad in senior cats who have worsened protein digestion.
Consider some added fiber for hairballs or constipation (the former is rare).
Cat food with sugarcane and beet pulp can help clear hairballs and help with vomiting.
Frequently Asked Questions
Which Dry Cat Food Brand Is the Healthiest?
Ziwi Peak Air-Dried cat food.
It's made with grass-fed protein. A complete meal for all life stages.
No added fillers.
It's pricey though, so go with Dr. Elsey's if you can't budget it.
Does The Shape Of Dry Cat Food Matter?
Yes.
Cats prefer round kibble without sharp edges.
Cats tend to gulp down food quickly without chewing. This means hard kibble can hurt some cats.
You can soften dry food with water.
Is Grain Free Better or Worse for Cats?
Neither.
Grains are high in carbs. Often, brands will say 'grain-free' for marketing.
Then they'll use other high carb foods in lieu of grains.
Examples include:
Potato
Sweet potato
Cranberries
Chickpea
Pea
Always use a dry matter calculator and check carb content.
That's what matters.
What Dry Food Should Cats Avoid?
I recommend avoiding dry cat food that's high in grain protein and total carb content.
Cats need at least 26% protein for maintenance. Some dry cat foods are barely over this, using low quality grain protein.
You want to be confident your cat is getting well nourished and not barely scraping by.
How Do I Store Dry Cat Food?
Keep food dry in a pantry or cabinet.
Consider a zip lock and check the expiration date. Avoid moist and humid areas.
Conclusion
Ideally, choose dry cat food with 40% protein and less than 15% carbs dry matter. This is best for good health and easy digestion.
Most don't meet this, and are worth giving a miss or using less often in a mixed diet.
Consider the quality of protein (choose animal based over grain), lifestage, and budget. At the end of the day, it's your decision on what to feed your cat.
>> Our best dry cat food recommendation is Dr. Elsey's Clean Protein.
If you'd like to get in touch with us, here's a contact form. We're happy to hear about personal experience with cat products and friendly suggestions.