Disclaimer: As a Chewy and Amazon affiliate, I earn from qualifying purchases. This does not impact our reviews and comparisons.
Choose high calorie and protein wet cat food.
Check your cats calorie needs using an online calculator.
Select cat food that meets AAFCO's guidelines for all life stages. See a vet twice annually for health checks.
Need more info?
We got you.
At some point your cat will get old. Even you…
When that happens, things change. Your cat will slow down.
Older cats tend to lose weight over time from muscle loss (sarcopenia). Medical complications like hyperthyroidism also contribute.
So what type of diet works best for old skinny cats?
I'll go through my step-by-step guide on how to fatten up an old cat.
You'll know exactly what to do to help your old cat have a spring in their step.
Let's go.
I am not a veterinarian and I recommend seeking the advice of a vet for any further questions. This article is not intended as a replacement for medical advice.
How to Fatten up an Old Cat in 9 Easy Steps
1. How Old Is Your Cat?
The first step is to find out how old your cat is. That's not too hard right?
Pull up your records if you've forgotten somehow.
Knowing your cats age helps find out what type of diet is best.
The research into elderly cats is a little confusing.
Cats are adults from 1-7 years.
After that, researchers categorize old cats the following way:
Mature (8-11 years)
Senior (12-14 years)
Geriatric (15+ years)
During the mature phase, some cats (particularly males) tend to gain weight. A lowered metabolic rate can cause this.
Less calories burned per day = more weight gained.
During the senior and elderly years cats can lose weight. This is often due to sarcopenia and digestive issues.
AAFCO, an organization that provides nutrition recommendations, don't have guidelines for senior cats.
They provide recommendations for two life stages (or both).
Growth: Kittens up to 1 year of age
Adults: Cats from 1-7 years of age
All life stages: Kittens and adult cats
You'll often find cat food with the label senior 7+. The problem is this type of cat food is best suited to the mature phase, being lower in calories.
This is great for weight loss, but not so much for weight gain.
There are no laws around the term 'senior' on cat food. Skinny older cats don't benefit from this food.
2. Check the Body Condition Score
Humans use tools like the body mass index (BMI) to find out if they're over or underweight.
In cats, things are a little different…
Since a cats length and optimal weight vary from breed to breed, it's hard to find an ideal weight.
Instead, in the cat world, we use the body condition score (BCS).
This tool helps us find out whether our cats are under or overweight. The goal is to keep your cat at the ideal weight of 5 on the BCS.
Take a look at your cat and see where they sit on the BCS. Write down their score.
You can also check the muscle condition score (MCS) chart for older cats. This helps give us an idea of how much muscle your cat is carrying.
If your cat is losing too much muscle it's best to check in with a vet for extra support.
Here's an example of how to check a cats BCS below: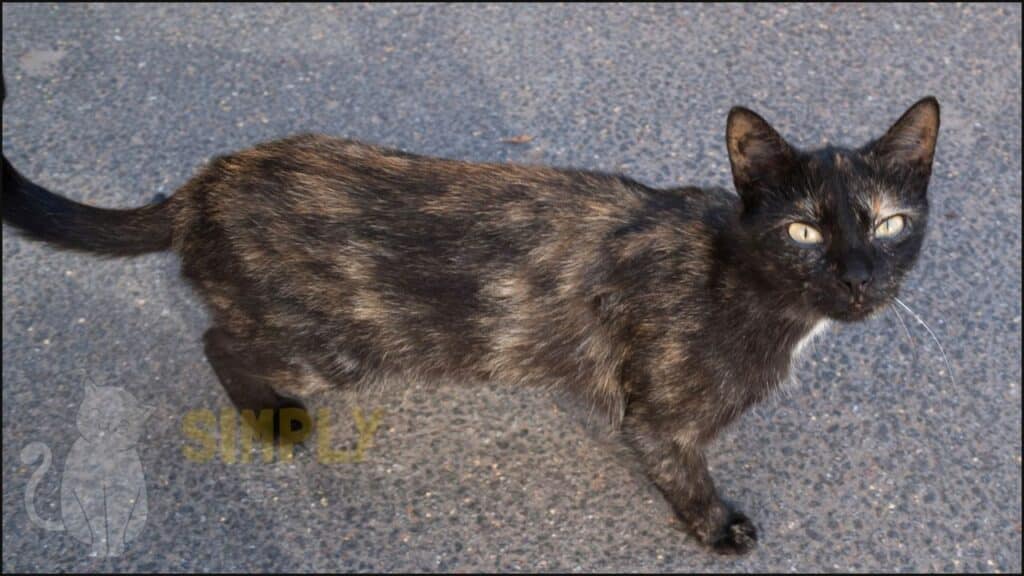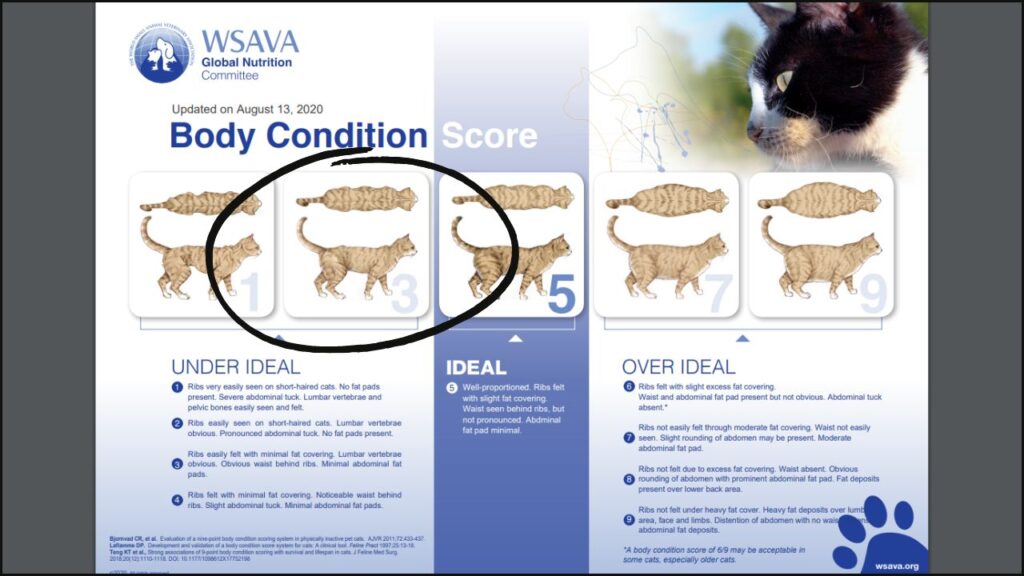 Once you have your BCS it's time to set a diet…
3. Weigh Your Older Cat
Once you have the BCS it's time to weigh your older cat.
It might be hard to get your cat to stand on a scale.
A great technique is the Human + Cat Method.
Here's how to do that:
Stand on a scale and weigh yourself (Human Weight).
Pick up your cat.
Stand on a scale and weigh yourself with your cat (Human + Cat Weight).
Deduct Human Weight from Human + Cat Weight to find Cat Weight.
Write down the Cat Weight and move to step 4.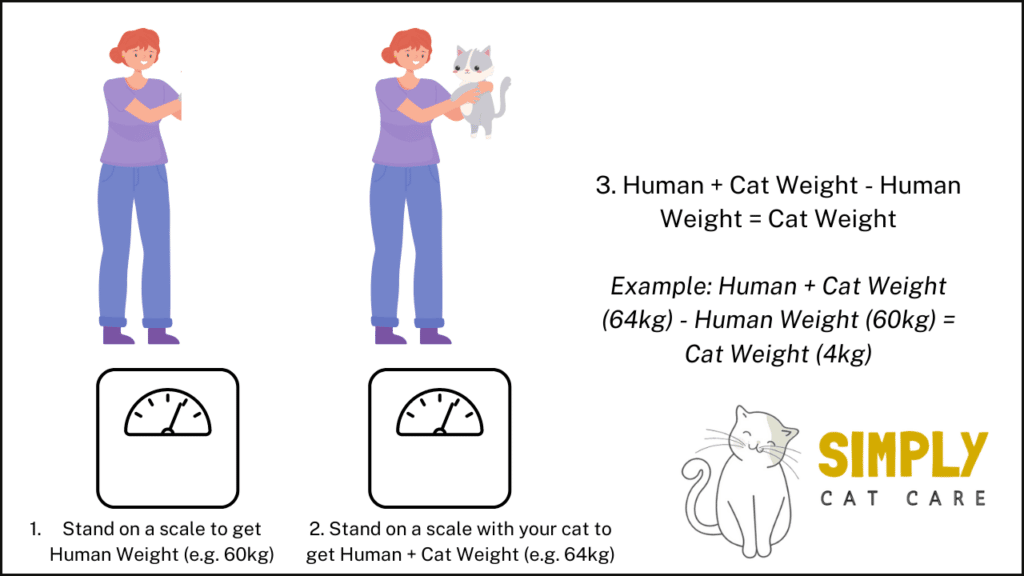 4. Find Out How Many Calories Your Older Cat Needs
Use an online cat calorie calculator.
Enter your Cat Weight and BCS with other info into the calculator.
You'll now have a calorie target for your senior cat. Great!
Now it's as simple as feeding your cat this amount of calories to help them gain weight.
But what type of food works best…?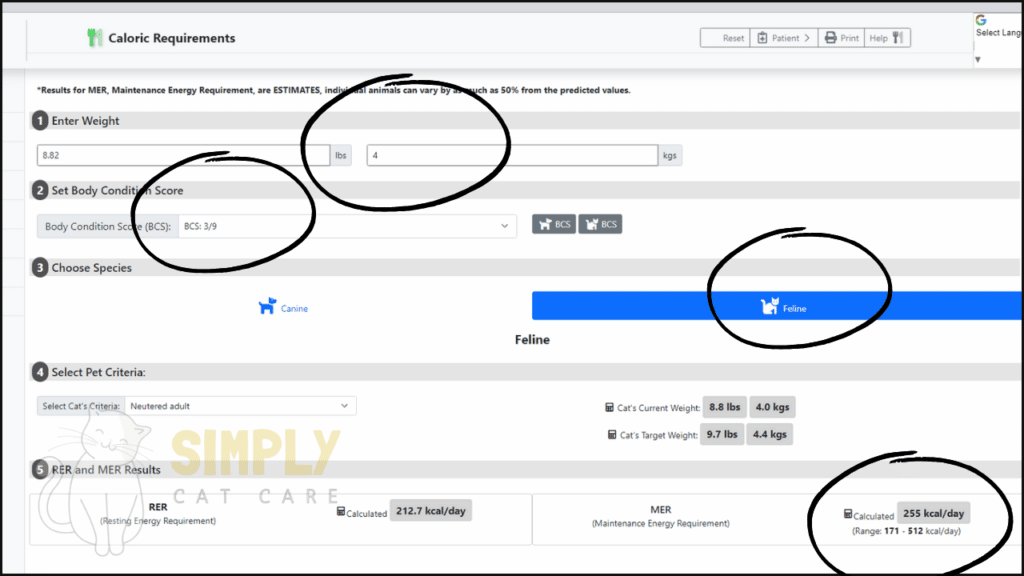 5. Find the Best Cat Food for Your Older Cat
Feeding older cats is not as easy as younger cats. Older cats tend to lose their sense of smell and taste.
This can make them more picky as they age.
Not only that, but senior cats have a harder time digesting fat and protein.
20% of senior cats over 12 years have impaired fat digestion and 30% have impaired protein digestion. This is one reason for age related muscle loss.
Senior cats are at higher risk of health problems including constipation and renal disease. With all things considered, here's some things to look for:
Find the dry matter by using an online calculator.
Cats prefer a high protein and fat wet cat food.
Given senior cats are at higher risk of urinary tract infection, constipation, and kidney disease, wet food is best to provide moisture.
Look for food that meets AAFCO's nutrient guidelines for all life stages. Whilst AAFCO don't set senior cat guidelines, this helps your senior get what they need.
Choose flavors and textures your senior cat enjoys best. Don't get too fancy as older cats are set in their ways.
Here's a list of my top senior cat choices that meet our needs:
*dry matter basis #calcium to phosphate ratio !despite the name, Tiki Baby Cat is suitable for older cats too.
6. Find Out How Much to Feed Your Older Cat
Once you've picked out your chosen cat food it's time to find out how much you need to feed them per day.
This online cat nutrition calculator has a handy tool that helps you find out how much to feed your cat. Click on the food tab to check it out.
Simply enter the calories of the food and it will tell you how much to feed your cat.
For this example, I'll use Tiny Tiger chicken cat food.
It has 95 kcal/3 ounce can.
Based on the calculator I need 3.3 cans (3 and 1/3rd of another can).
It goes without saying that divvying this portion over the day helps your cat eat that amount of food.
Learn More: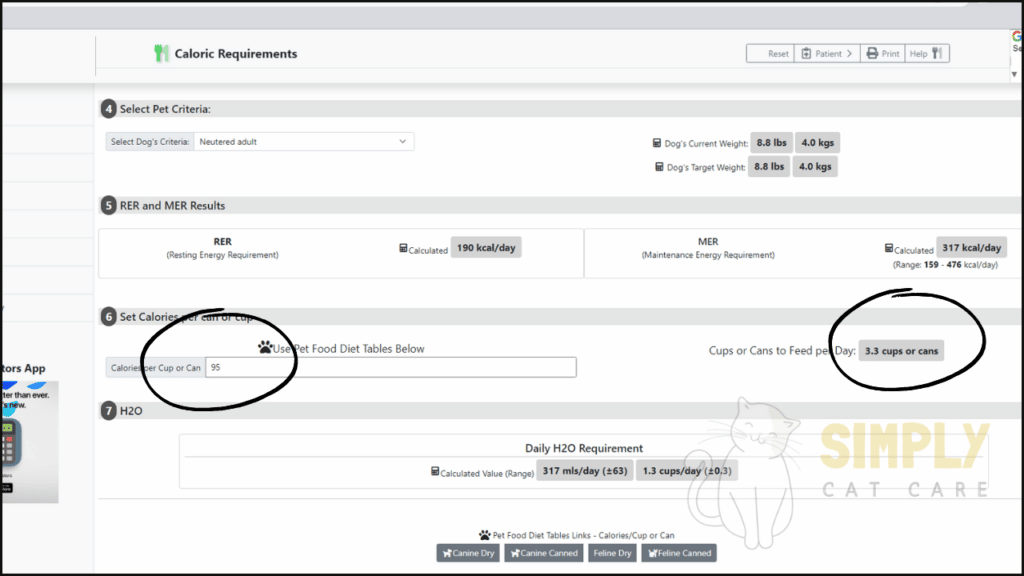 7. Try a Topper if Your Cat Is Struggling to Gain Weight
If your senior cat is having trouble, consider boosting flavor with a topper.
Don't worry about overfeeding your senior cat. It's more important to focus on getting them eating.
A mousse, broth or topper can help older cats get the boost they need. Cats also seem to enjoy the taste of salmon oil.
8. Monitor Your Cat
You want to make sure you keep track of your cats progress.
Are they gaining weight?
Is their appetite improving?
How's their general health?
If your cat starts gaining weight, great! Keep the diet up.
If your cat gains too much weight, you can adjust their diet. If they lose more weight, get a little more food in to help them out.
Which brings me to…
9. Get a Vet Check Up Twice a Year
Once your cat is a senior aged citizen it's time to bump up the vet visits to twice per year.
This helps identify health issues that can arise in older age.
It helps make sure your elderly cat is happy and healthy.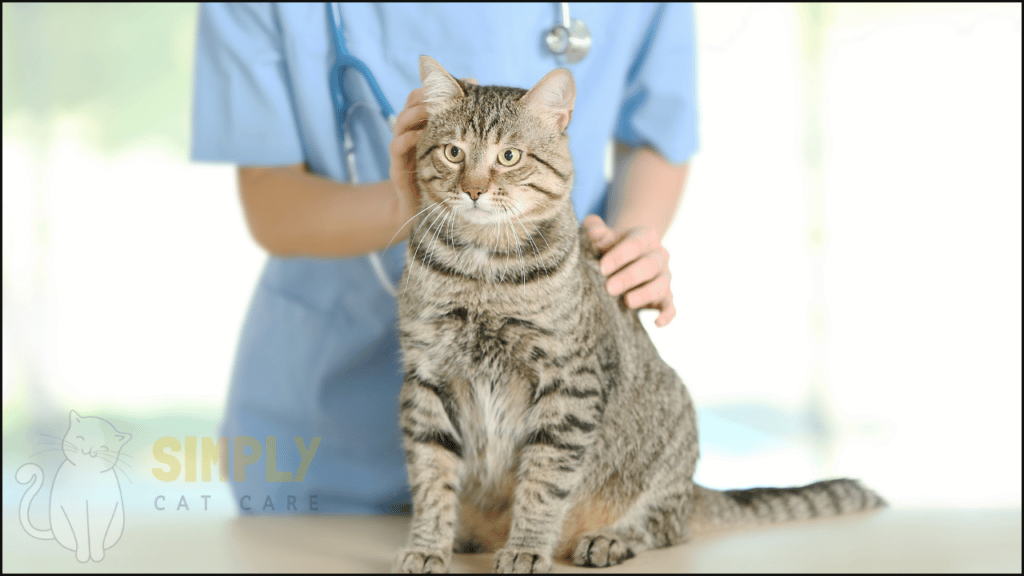 Conclusion
Older cats tend to lose weight after 12 years from sarcopenia. The best diet for bony older cats is high calorie and protein wet food.
To find out how much to feed your senior cat, use a BCS. Weigh your cat and use an online calculator to find out how much to feed them.
Choose a cat food that meets AAFCO's guidelines for all life stages. Check in with the vet twice a year to keep track of your older cats health.