5 Best Wet Cat Food for Weight Loss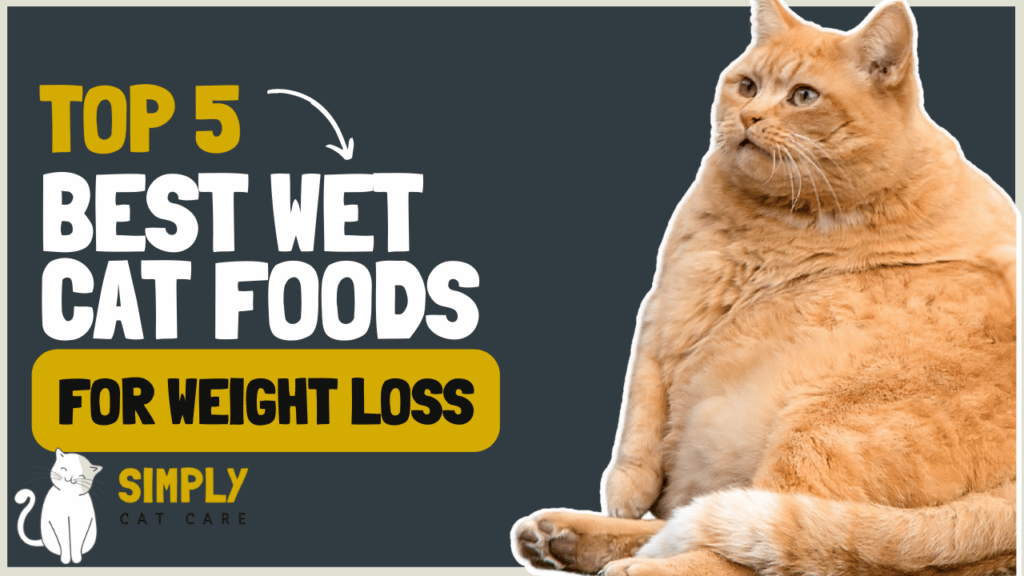 Disclaimer
As a Chewy and Amazon affiliate, I earn from qualifying purchases. This does not impact our reviews and comparisons.
The best way to help your cat lose weight is to feed them fewer calories. Wet cat food is 4x less calorie dense than dry food. It is the ideal choice for weight loss.
Here are our top 5 best wet cat food for weight loss picks:
Overweight cats are at a greater risk of disease and early death. These cats also struggle with reduced mobility.
In this article, I'll help you find the best wet cat foods for weight loss and help you with buying tips. I'll answer frequently asked questions and share taste testing results with our cat.
I am not a veterinarian and I recommend seeking the advice of a vet for any further questions. This article is not intended as a replacement for medical advice.
5 Best Wet Cat Foods for Weight Loss
1. Best Overall
2. Best Affordable Choice
3. Best High Protein, Low Fat
4. Best US Based
5. Best for Fussy Eaters
How Did I Choose These Products?
I have a database of over 50 popular cat foods (US based). For this article I sorted wet cat food from lowest to highest in kcal/g (measure of caloric density).
I filtered out cat foods that are over 12% carbs on a dry matter basis. When given a choice, cats prefer food around this amount. Low carb diets are the best choice for cats, as carnivores.
Here's a full list of suitable wet cat foods for weight loss:
Buying Guide
The best way to help your cat lose weight is to feed them fewer calories.
Wet cat food is less calorie dense than dry food (about 4x less calorie dense). It is the best choice for weight loss.
How do you know if your cat needs to lose weight?
Use the body condition score chart. A score over 5 means your cat is carrying extra body fat.
Once you know where you cat is at, find out how much to feed them. An online calculator is a fast way to find out what your cat needs.
Cat's at most risk of weight gain include:
Middle aged cats (8-10 years)
Males
Neutered cats
Indoor bound cats
Free-fed cats
An 'all dry cat food' diet
Mixed breed cats
Here's some top buying tips for cats needing to lose weight.
Choose a Low Calorie Wet Cat Food
Wet foods are the best choice for overweight cats. They are less calorie dense than dry foods, meaning they contain fewer calories per gram.
Any wet cat food is better than dry food.
The average cat needs ~300 kcal per day to maintain a healthy weight. Eating too much of any food will cause weight gain, but it's easier to overeat dry.
Many cat owners free-feed their cat dry food (i.e. leave bowls of dry) which is a key contributor to weight gain.
What to look for?
Check the calorie content on the back of the label.
Look at how many calories are in each can of cat food (or cup of dry food). This tells you how calorically dense the food is (i.e. the more kcal per kg, the more calorie dense).
Use this number to compare different cat food products.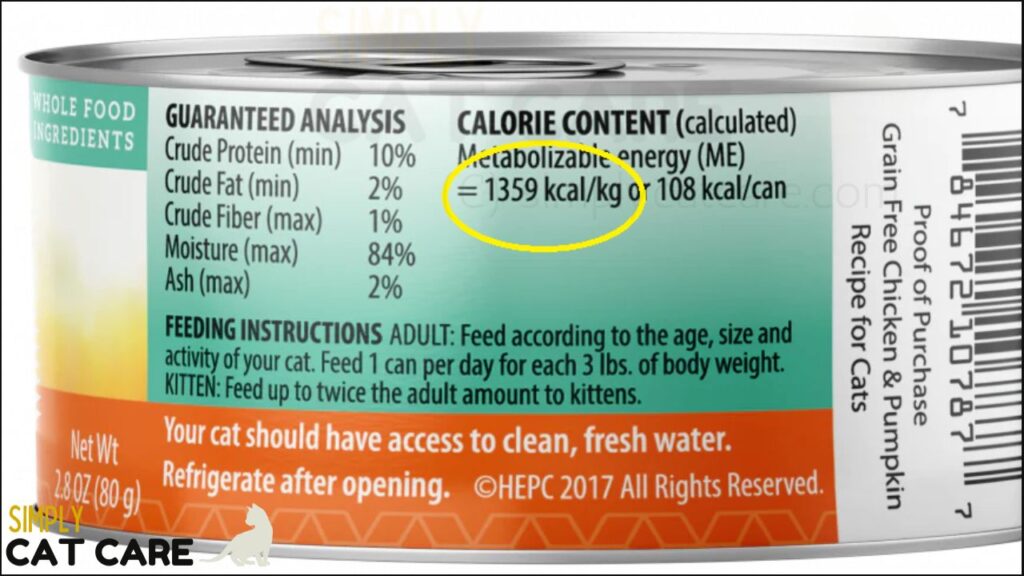 Choose a High Protein Cat Food
Feeding cats a high protein diet is the best option when cutting back calories. It helps cats maintain lean muscle and a high metabolic rate.
High protein diets also decrease insulin requirements in diabetic cats. Overweight and obese cats are at higher risk of diabetes.
When given a low protein diet, cats do not have the ability to downregulate the loss of protein. A cat's diet needs to be at least 16% protein by energy to prevent muscle loss.
Cats also prefer a high protein diet. A low protein diet can result in food rejection.
What to look for?
My recommendation for protein is to look for cat food with at least 40% on a dry matter basis. This amount of protein improves the acceptance of low calorie food and makes sure all cats meet their needs.
To find the dry matter protein content of cat food use an online calculator. Use the guaranteed analysis on the back of the label and pop that into the calculator.
Here's an example below using the guaranteed analysis for Meat Mates lamb wet cat food on their website:
Protein: 7.5%
Fat: 7.5%
Carbohydrate: 0.3%
Fiber: 0.7%
Ash: 2.0%
Moisture: 82.0%
The calculator doesn't have ash and carbohydrate. This means you need to combine the two and put it into others (or subtract the other numbers from 100%).
Based on the dry matter calculation, Meat Mates has a 41.67% protein on a dry matter basis.
This cat food meets our protein target.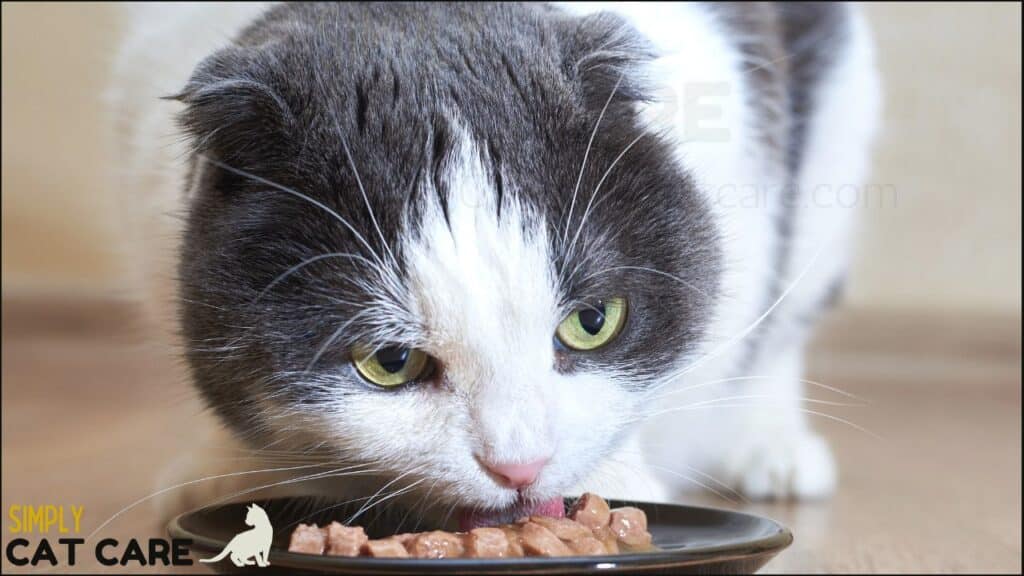 Choose a Low Carb Cat Food
Whilst it won't affect calorie density, lowering carbs has other benefits when helping your cat lose weight. A low carb diet improves the health of diabetic cats.
Cat's have no dietary requirement for carbohydrates.
When lowering calories, you'll naturally reduce calories from each or all macronutrients:
Both fat and carbohydrate provide energy (calories) in the diet. Fat is more calorically dense than carbohydrates.
So why not cut out the fat instead?
When given a choice, cats prefer a moderate-fat diet (25%) over a low-fat diet (10% energy intake). Animal fats like tallow are the tastiest fat sources for cats. A high carb diet results in more rejection.
Interestingly, there's some evidence (from the late 1990's granted) that economy dry food is associated with leanness in cats. Budget dry food is usually higher in carbs (not always).
Cat's can often reject high carb foods due to the 'carbohydrate ceiling' effect. This is a concept that refers to cats rejecting high carb foods when given higher amounts. The problem is this lower total food intake comes at the expense of protein, leading to a deficiency.
What to look for?
As a rule of thumb, aim to give your cat a wet cat food with fewer than 10% carbohydrate on a dry matter basis.
Use this online calculator to find the dry matter basis carbohydrate content of your cat food. Enter the guaranteed analysis into the calculator.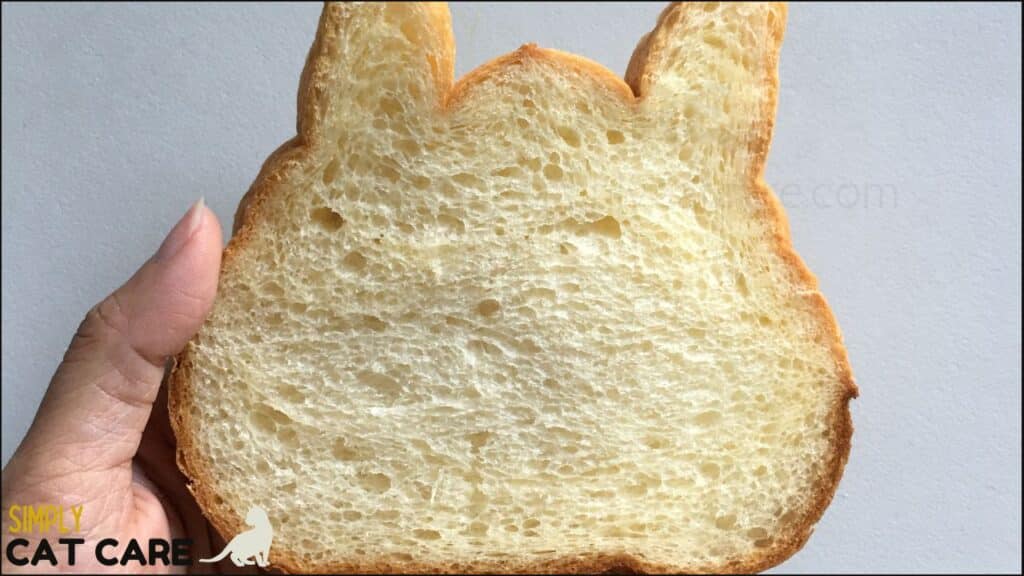 Look for a Sole Feeding Option
Micronutrients are needed for health and metabolism. Whilst there are no vitamins for weight loss you want to make sure your cat gets enough.
Micronutrients include:
There are at least 25 recognized micronutrients needed in the diet for health. These nutrients provide a wide array of functions ranging from metabolism to structure.
An unbalanced diet leads to deficiency of micronutrients.
The Association of American Feed Control Officials (AAFCO) defines nutrient recommendations for pets.
Cat food manufacturers will often have a line that goes
[insert food] is formulated to meet the nutritional levels established by the AAFCO Cat Food Nutrient Profile for [insert lifestage]:
There's sole feeding and supplemental feeding options. This includes:
All life stages: Sole feeding option for cats of all life stages
Growth: Sole feeding option for kittens and lactating cats
Maintenance: Sole feeding option for adult cats
Supplemental feeding: Not a complete meal. Only suitable as a treat or topper.
You'll want to make sure you're feeding your cat a sole feeding option that suits their life stage.
AAFCO don't have nutrient guidelines for senior cats though, because older cats have varying needs. Some need to lose weight…some need to gain weight (particularly elderly geriatric cats).
What to look for?
The AAFCO label is often found on the back of a cat food label. Check for it when choosing a cat food product.
Remember, you'll need a sole feeding option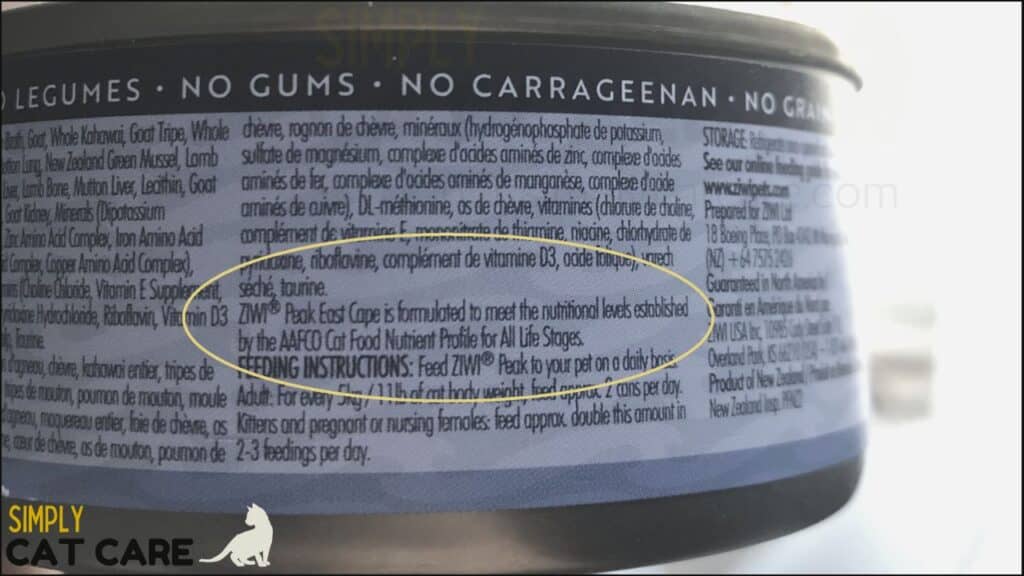 Frequently Asked Questions
How Do I Know if my Cat is Obese?
Use the Body and Muscle Condition Score chart. This chart shows you what your cat should look and feel like.
Signs a cat is carrying too much weight include:
Ribs not felt under heavy fat cover
Distended abdomen
Visible fat on the face and neck
If you aren't sure, get a vet to perform a physical and medication exam. They will help you find out if your cat needs to lose weight.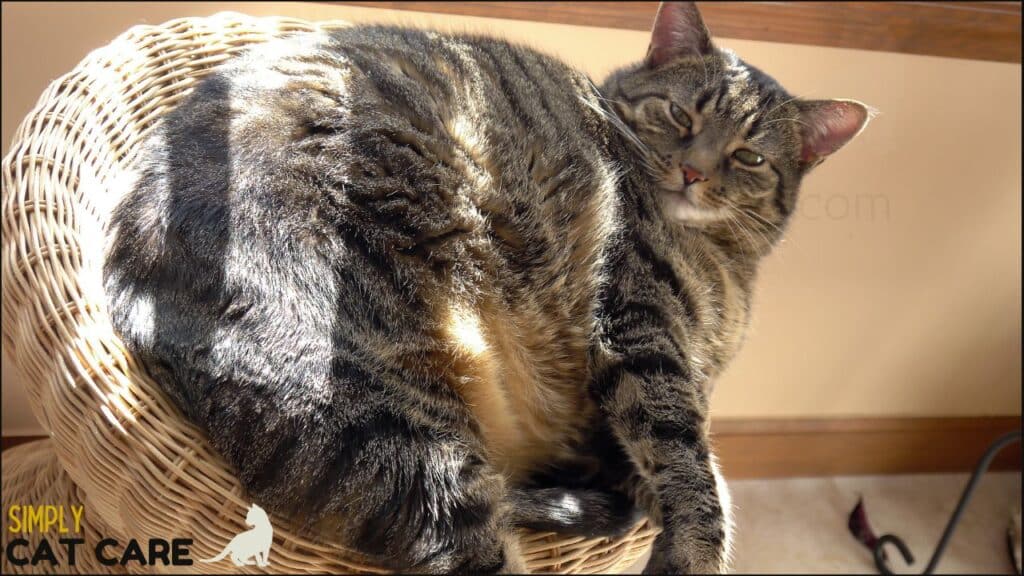 Why is Cat Obesity a Health Problem?
Obesity increases the risk of many diseases and may lead to an earlier death.
Problems include:
More than half of US pets are overweight or obese.
Obesity decreases your cat's quality of life and increases health-related expenses.
What Causes my Cat to Gain Weight?
Things that increase the risk of weight gain include:
Neutering
Lack of outdoor exposure
Visual normalization of weight gain
Age
Calorically dense diet
Free feeding
Eating more calories than used causes weight gain.
Some factors decrease calories burned.
Neutering affects hormones (e.g. lower testosterone) and increases food intake. Middle-aged cats (8-12 years) tend to burn fewer calories through play. Indoor cats don't get a chance to forage and play.
Other factors increase calories eaten.
A cat's natural source of nutrition is prey. This is a lower caloric density than many food choices marketed for cats.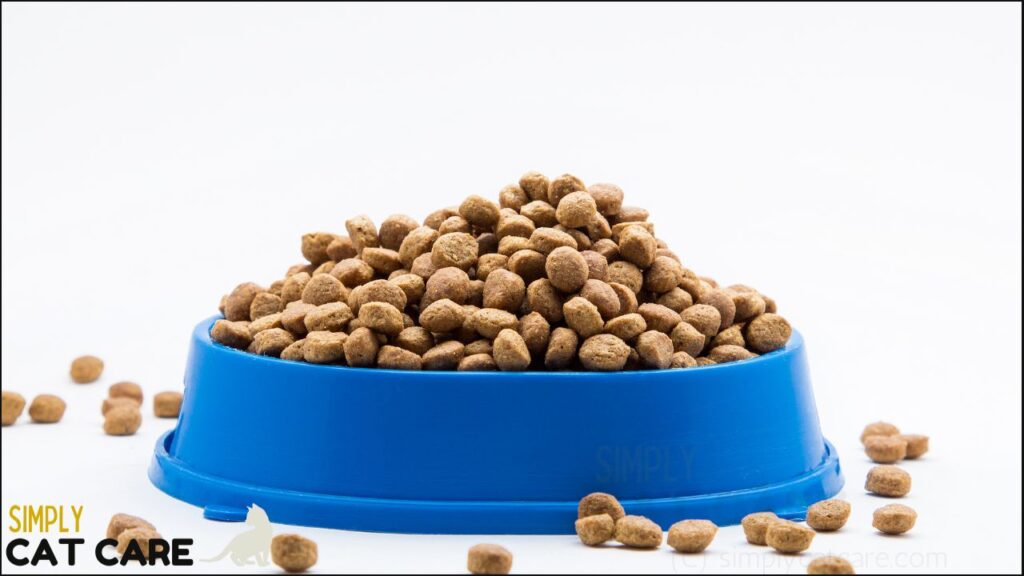 How Do I Help My Cat Lose Weight?
The most important factor in weight loss is calorie intake.
The fastest way to find out how much to feed your cat is by using an online calculator.
Enter the food you want to feed your cat and use the calculator to find out the portions you need.
Check out this article to learn more about how much I should feed my cat.
In addition:
Environmental enrichment increases your cat's play opportunities which help to burn off excess calories.
Cat trees
Perches
Scratching boards
Cat toys
Learn More:
Is Wet Cat Food the Best Choice for Weight Loss?
Canned wet food and raw food diets are the best choices for your cat.
Research finds an all-canned diet is significantly associated with a decreased risk of obesity (overall risk is 63% compared to dry food diet). Feeding human-grade raw meat, organ, and bones are also protective.
Wet canned food is lower in calories compared to the same weight as dry food. In other words, wet foods are less calorically dense.
This is beneficial for controlling calorie intake in line with your cat's needs.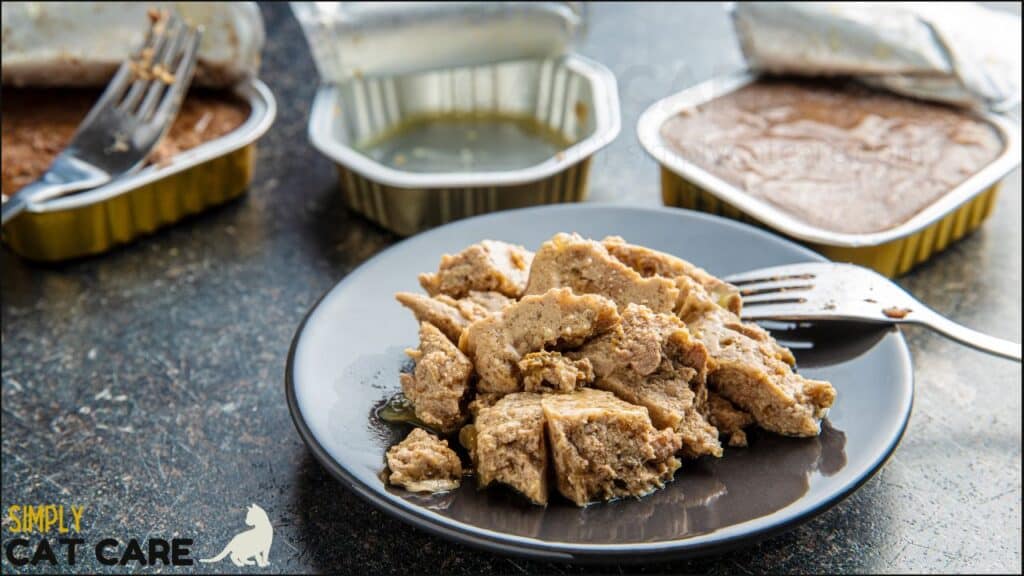 How Much Food Should My Overweight Cat Eat Daily?
Use an online calculator to find out how much to feed your cat.
Before using this calculator you need to weigh your cat.
Let's go through how you do this:
Stand on a scale and weigh yourself. This is your person weight.
Hold your cat and stand on the scale. This is your person + cat weight.
Substract the person weight from the person + cat weight to find out your cat's weight.
Here is an example:
Example

Joe weighs 70kg

Joe holds his cat and stands on the scale – it reads 75kg

Joe's cat weighs 5kg ( 75-70 = 5)
You also need a body condition score. Using this will help the calculator adjust the calories for weight loss.
Use the body condition score chart to find out where your cat sits and enter this into the calculator.
This will give you a calorie intake number for your cat. Use this to find out how much wet canned food to feed your cat.
Learn More: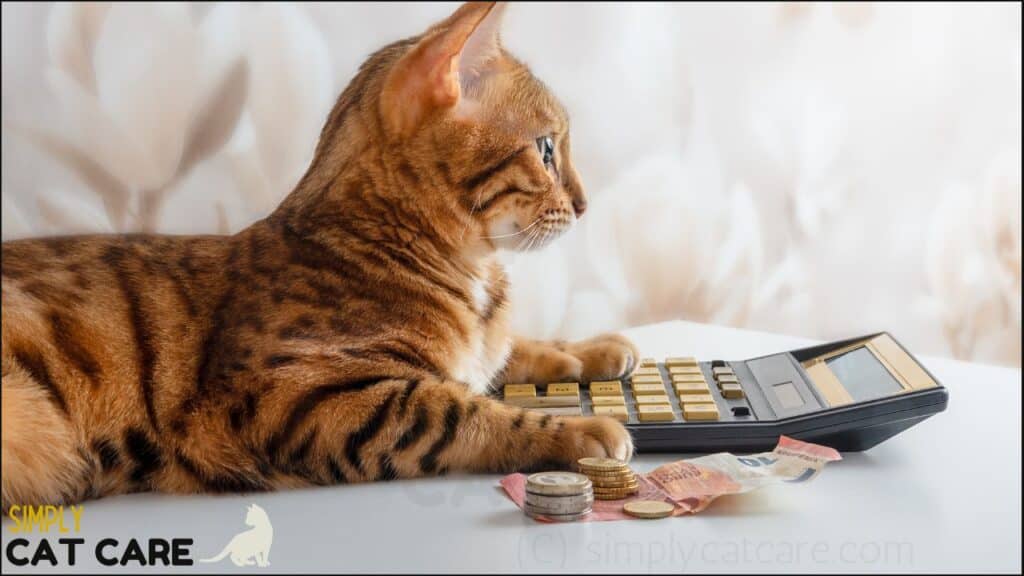 Does Wet Cat Food Make my Cat Gain Weight?
No.
The only thing that leads to weight gain is giving excess calories over your cat's needs.
Make sure you calculate your cat's needs and give the proper amount of canned wet food every day.
What Foods Should I Not Feed My Obese Cat?
Avoid feeding your cat leftovers or other human foods. Many human foods are poisonous to cats when eaten. They also add extra unaccounted calories.
There are no proven functional foods that help with weight loss in cats.
Some ingredients such as rice bran and apple pomace decrease taurine digestibility. This is problematic since cats must get taurine from their diet.
Taurine maintains the heart and eye health. There's no evidence a high fiber diet helps a cat lose weight or affects satiety.
How Much Exercise Does my Cat Need?
There's no quota that cats need for exercise.
However, cats are predators and maintain their skills through play. This also helps to maintain a healthy weight.
Indoor cats are at a higher risk of weight gain.
Environmental enrichment increases an indoor cat's play to help burn off excess calories.
Cat trees
Perches
Scratching boards
Cat toys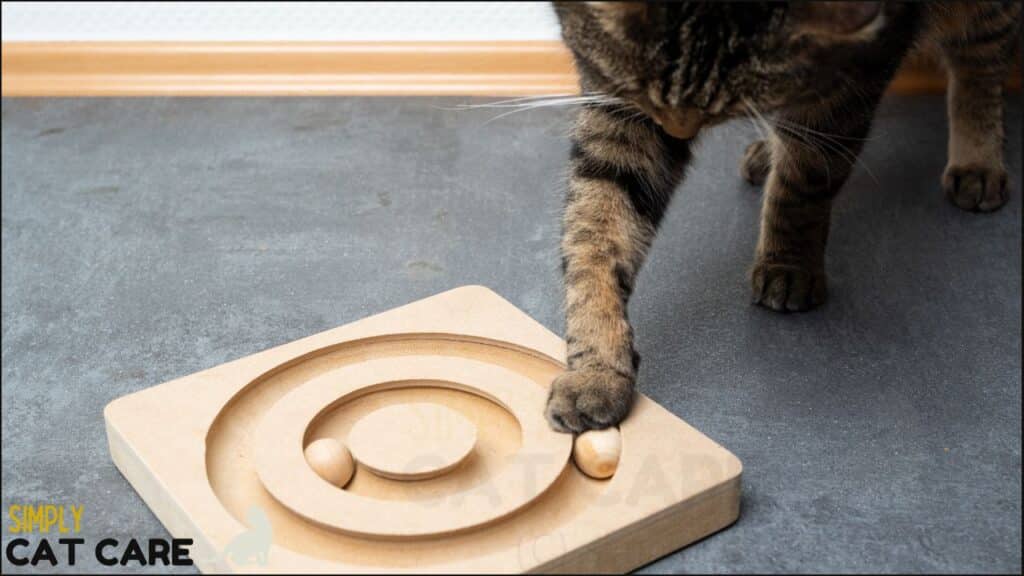 Conclusion
To lose weight, cats need a calorie-reduced diet. A high protein wet cat food is the best choice for weight loss.
Weigh your cat, and find out how much they need to eat with a calculator. Find out what to feed your cat and portion the right amount at scheduled meal times.
Give your cat a chance to exercise with trees and toys. Let your cat play…and not stare at a wall all day.
Here's our top pick for weight loss: Instinct Original Real Rabbit