8 Best Wet Cat Food Choices in 2021
In this article, I will be reviewing the best wet cat food on the market. Wet cat foods are a great choice for protein, water, and micronutrients.
Wet cat foods are one of the main food options given to cats. Wet food is usually comprised of animal protein and moisture (e.g. chicken broth).
Wet cat foods are generally higher in protein and fat, whilst being lower in carbohydrates.
Cats are obligate carnivores, which means they thrive off animal products. The vitamins and minerals of animal foods provide your cat a complete and balanced food source.
Animal protein is more digestible than plant or grain-based protein, which helps maintain a cat's strength.
The best-wet cat food should contain more animal products and moisture. In addition, the product should contain minimal ingredients and/or less hard-to-digest foods (e.g. grains).
In this article, I'll review the options on the market to help you find which product is best for your needs.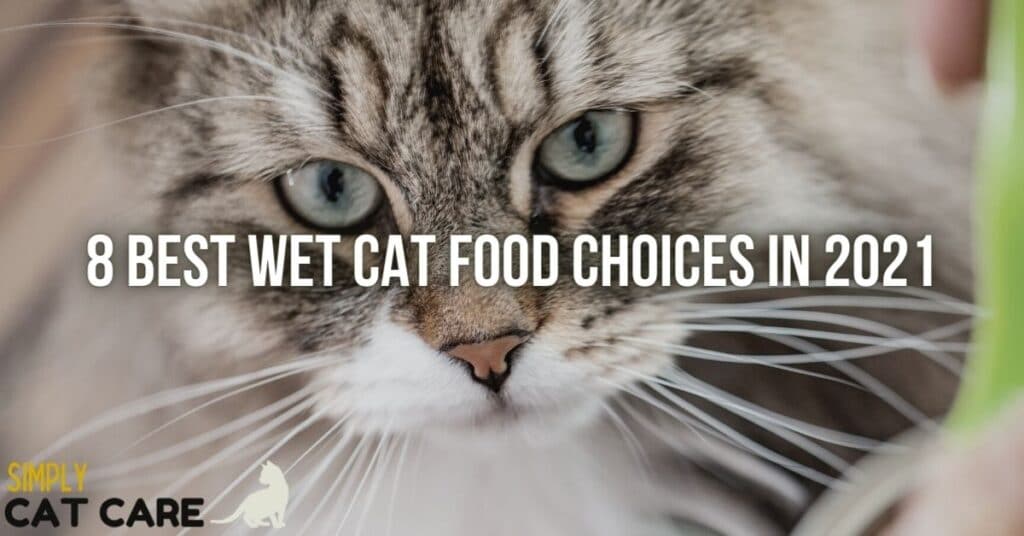 My name is Derrick, and I write for Simply Cat Care. The goal of this website is to help cat owners solve common cat problems and queries with easy-to-read articles.
I am not a veterinarian and I recommend seeking the advice of a vet before making a purchase.
Let's look at what you will find in this article:
Let's get into the article.
---
Product Review: The Best Wet Cat Food
---
---
---
---
---
Best Wet Cat Food Limited Ingredients: Almo Nature HQS
---
---
---
Buying Guide: How to Choose the Best Wet Cat Food
Let's talk about what to look for when buying wet cat food.
The goal of this article is to help you understand your situation and guide you in the decision-making process. This article is not a replacement for the professional advice of a vet.
Who is this guide for?
This guide is for a cat owner that wants to find the best food to feed their cat.
I'll cover some main points to consider before buying a product and answer some frequently asked questions.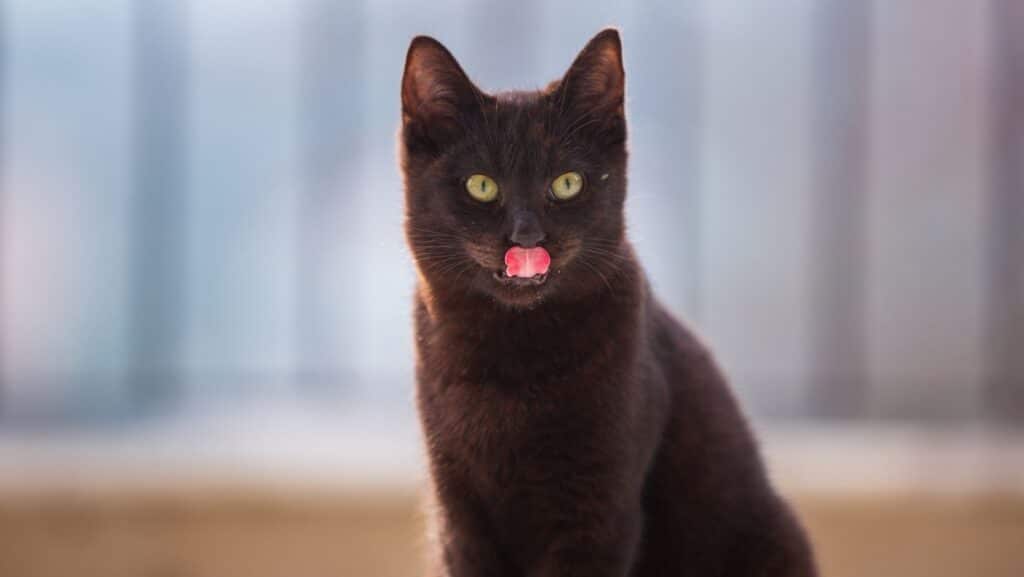 ---
What wet cat food do vets recommend?
Vets typically recommend popular brands of cat food that are well known (and usually sold and promoted at the vet).
The advice varies from vet to vet depending on the nutrition education they received during training.
Some of these foods are suitable foods, but many cat food brands are sub-optimal for nutrition. Most of the products recommended by vets are usually above average.
At Simply Cat Care, we use our own criteria for recommending cat food based on providing for long-term health.
I recommend always consulting with your vet before purchasing a product for use.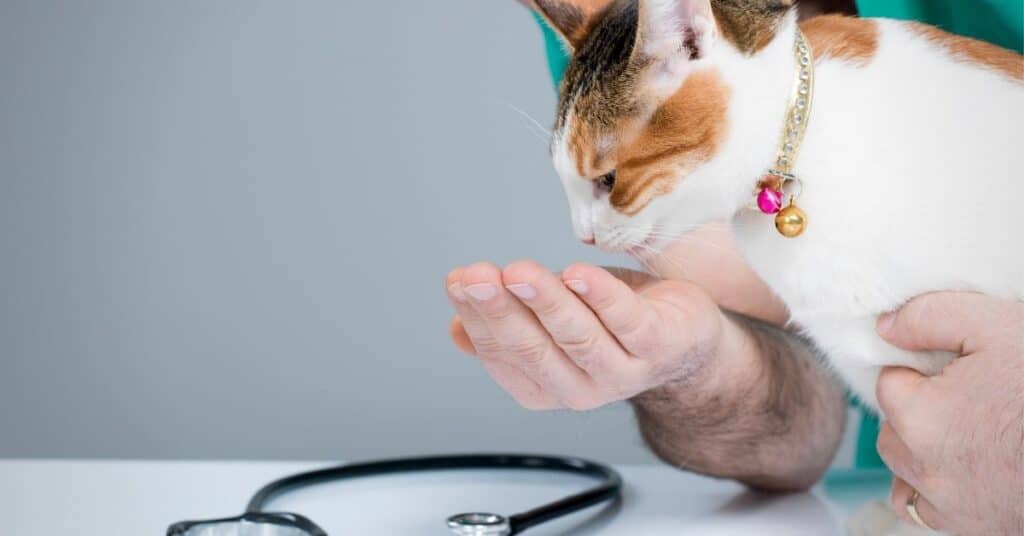 ---
Do vets recommend wet or dry food for cats?
Again, this will vary from vet to vet depending on their nutrition education.
Most vets will recommend using a combination of both depending on your situation.
Dry cat food offers more convenience, whilst wet cat food is usually higher (on a dry matter basis) in protein and moisture.
The latter two factors help with a cat's hydration and requirements for muscle maintenance.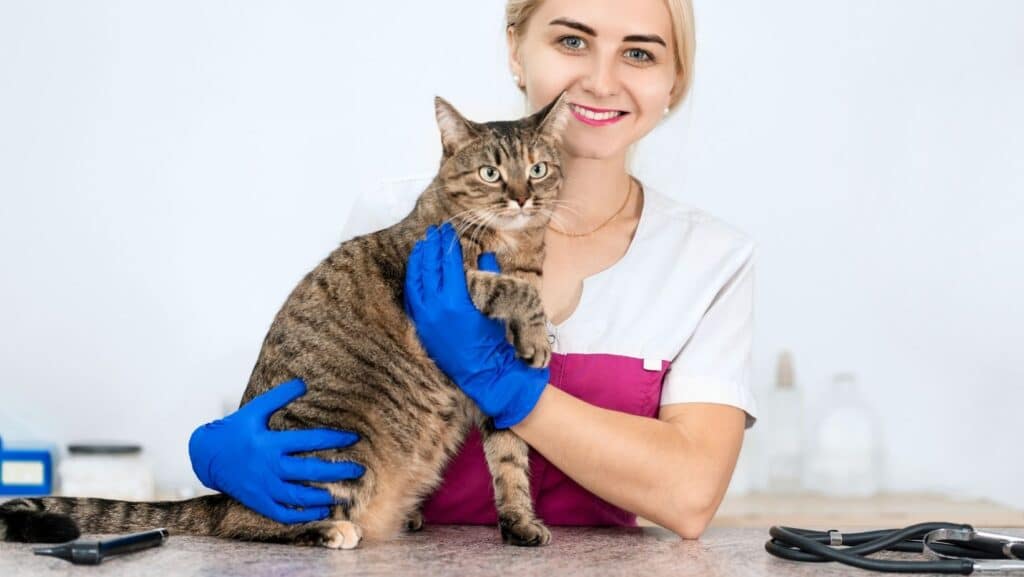 ---
What should you look for in wet cat food?
The role of cat food is to provide your cat the nutrients it needs for health and happiness.
The food should contain animal protein sources and moisture to keep your kitty hydrated.
Canned cat food should also be high in vitamins, minerals, and have quality ingredients (i.e. whole animal products) for the best health outcomes.
That's a general idea, but let's take a closer look at what makes a good wet canned cat food.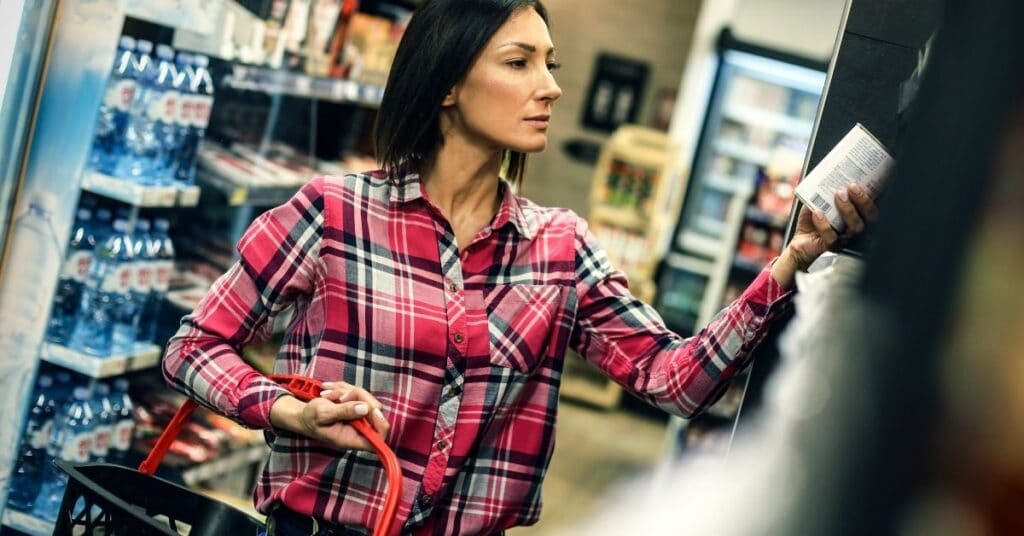 ---
What macronutrient breakdown should I look for in wet cat food?
A good macronutrient ratio for your cat is as follows:
Protein: 52%
Fat: 36%
Carbs: 12%
An experiment conducted by Waltham Center for Pet Nutrition tested a combination of dry and wet food with cats to find out their natural preference [1].
The cats consumed a mixture of each food to arrive at the ratio of macronutrients listed above in an ad libitum fashion. This is also similar to the ratio achieved by feral cats [1].
What this means is cats will gravitate towards a high protein, moderate fat, and low carb dietary macronutrient ratio.
This makes sense given their evolution and high intake of small prey.
Most wet cat foods provide a ratio of nutrients which provide your cat this ratio of foods.
If anything, you want wet cat food with a lower carb content than 12% if you combine dry food – since the dry food will bump up the daily carbohydrate content (especially if not fed ad libitum).
Let's take a closer look at each macronutrient.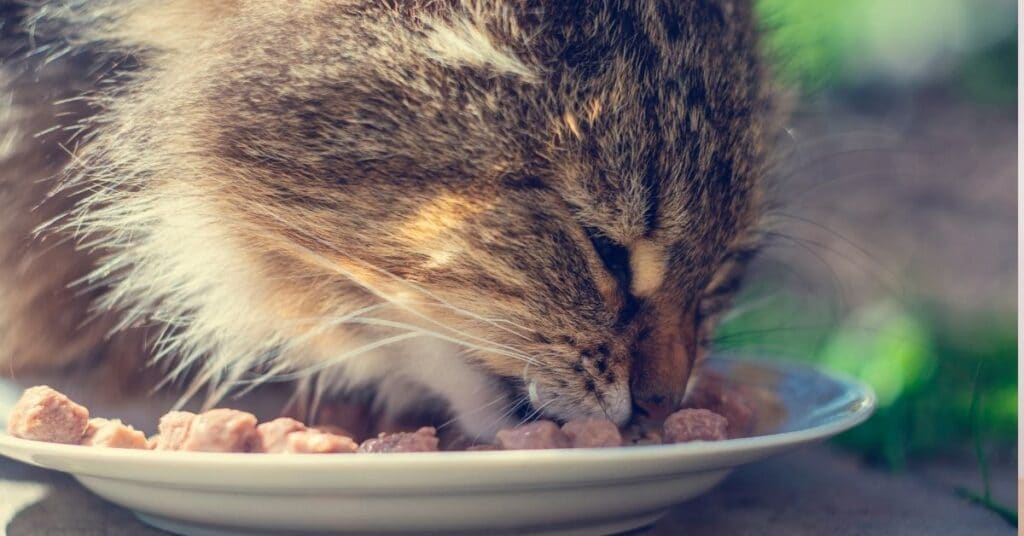 ---
Why do cats need a high protein diet?
Protein is the major dietary requirement for cats. Cat's need a constant supply of protein.
Most wet cat foods are an excellent source of protein.
Products containing animal-based food sources such as chicken, turkey, lamb, salmon, rabbit, and beef contain a lot of protein and are good for cats.
Cats require animal foods to provide nutrition and do not have the physiological characteristics for plant digestion [2].
A cat's body features a low intestine-to-body ratio, sharper carnassial teeth designed for tearing meat, night vision, and a wider detection of sound frequencies than humans [3].
This means cats are adapted to and thrive off animal-based foods.
The constituent of protein is amino acids. 
Amino acids form bone, hair, skin, teeth, muscles, and other organs. If your cat does not get enough protein, these structures would waste away.  Used for energy in times of food shortage, the protein in a cat's body becomes emergency fuel via gluconeogenesis. 
Gluconeogenesis breaks down consumed protein for glucose. The brain needs glucose, among other bodily tissues that are dependant on glucose [4].
When given a low protein diet, cats do not have the ability to downregulate the loss of protein in order to conserve bodily protein stores [5].
In other words, you must give your cat a sufficient amount of protein daily to prevent muscle loss.  A cat's diet needs to be at least 16% protein by energy otherwise they will lose muscle mass and strength [5].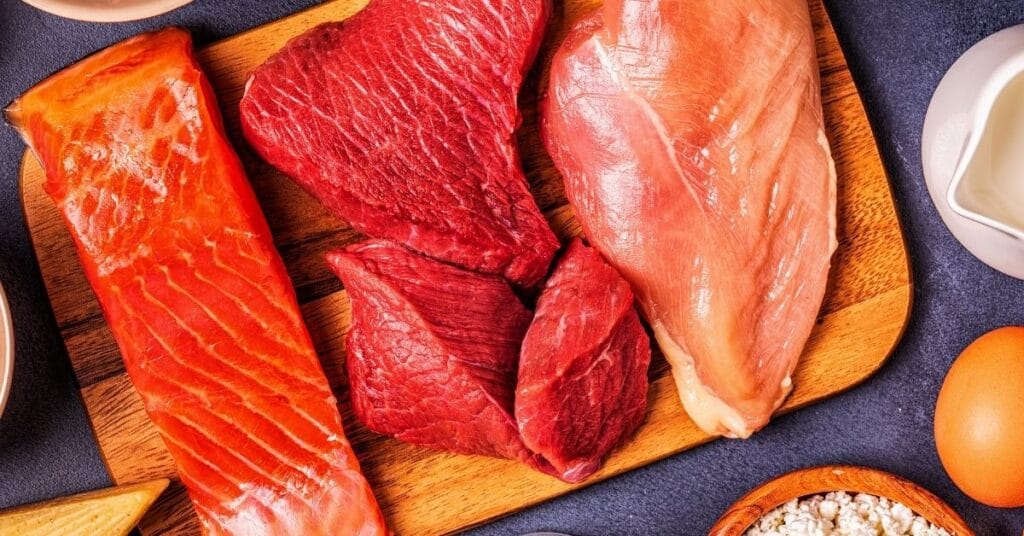 What are the essential amino acids?
Protein contains a mixture of 20 amino acids. The ratio of these amino acids varies from food to food.
Ten of these amino acids are essential amino acids. If not provided by the diet, the body will develop a deficiency. 
The body cannot produce these amino acids itself.
In a human, taurine is a non-essential amino acid, however, this is essential for cats.
Not surprisingly, taurine is only found in animal products and if not supplemented otherwise, will lead to a cat having a taurine deficiency [6].
Taurine produces bile salts, which help digest fats and fat-soluble vitamins. A range of taurine deficiency conditions exists which include liver fat accumulation and degeneration of the retina [6].
Blindness, for example, can be a sign of taurine deficiency. Feline taurine retinopathy or feline central retinal degeneration (FCRD) are the clinical signs of taurine deficiency[7].
Many cat food products have added taurine to prevent deficiency.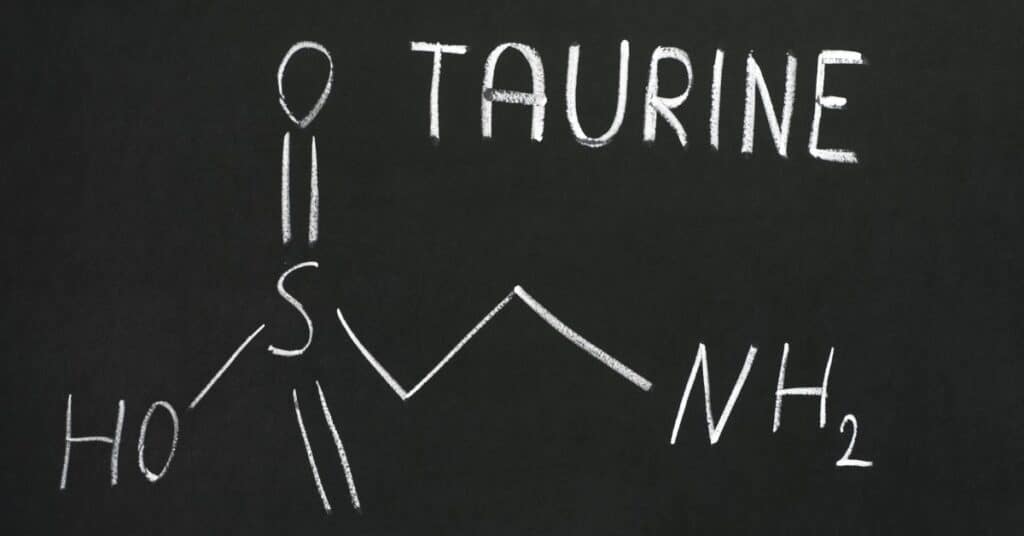 ---
Why do cats need fat in their wet cat food?
Fat is another important source of energy for cats found in animal and plant foods.
Fat improves the absorption of fat-soluble vitamins – which are important in cats since they must obtain vitamin A and D from animal foods. Read my article on what to feed your cat to find out more.
Cats also cannot convert linoleic acid into arachidonic acid [AA] [6].
Inflammatory processes require AA.  Inflammation sounds bad but this is a necessary process for general healing in the body. 
Plant-based products such as linseed and canola oil contain a high amount of linoleic acid, however, this is of no benefit to cats due to the inability to convert these fats into AA [6]. 
Cats may also require a small amount of omega 3 fatty acids from eicosapentaenoic acid (EPA) and docosahexaenoic acid (DHA).
Omega 3 helps regulate inflammatory processes and improve validation and immune system function. Cats have a limited ability to convert plant-based omega 3 fatty acids (α-linolenic acid) into essential fatty acids [6].
Fish oil is sometimes added to canned wet cat food products to provide omega 3 fatty acids.
---
Do cats need carbohydrate in their cat food?
Cats are obligate carnivores and generally consume fewer carbohydrates.
Cats have a very limited amount of salivary amylase which is an enzyme that helps digest carbohydrates.
Cats also have low amounts of disaccharidases (needed to digest sugar molecules) and these levels don't increase in response to dietary carbohydrate intake [6].  
In other words, giving a cat more carbohydrates won't help them produce more enzymes needed to break down carbohydrates in the diet.
On top of this, cats don't have taste receptors for sweetness [6]. When provided water with or without sugar, cats had no preference for sweet water.
Whilst cats can digest some carbohydrates, an excess may lead to diarrhea and flatulence [6].
In general, I recommend keeping the carbohydrate level of a cat's diet low (around 10%).
So – just keep the carb content low. Easy right?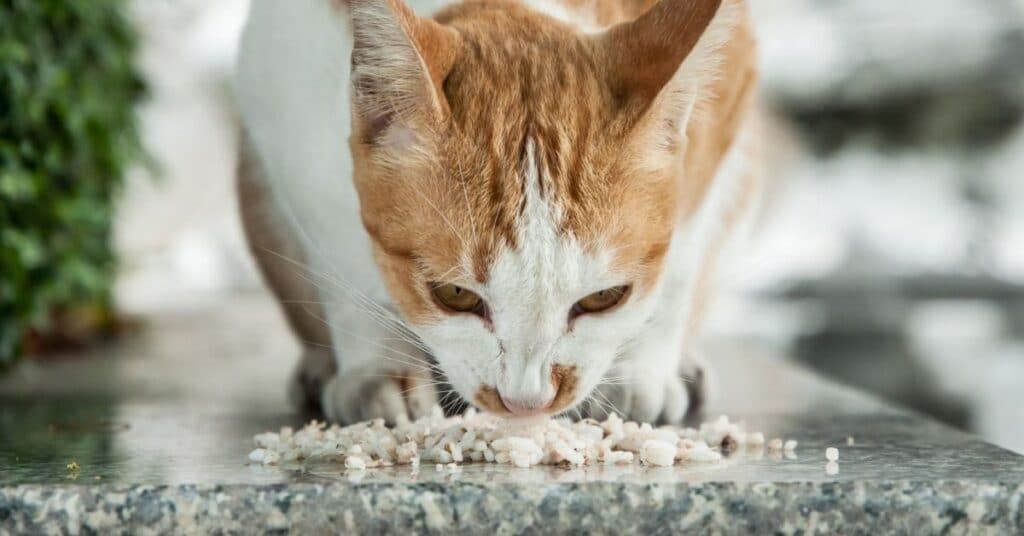 ---
What wet cat food should I feed my cat for each life stage?
Senior Cats
Senior cats need a high protein diet with enough calories to maintain weight.
As cats age, they have a reduced ability to digest protein and a reduction in lean muscle [7].
This means they require a higher protein diet than a younger cat.
Animal-based protein is of higher quality than grain-based protein [7]. This is due to improved digestion of the protein and higher amounts of essential amino acids (e.g. taurine).
Cats over the age of 11 years need 6-8g/kg of protein per day [7].
One-third of cats over the age of 12 have a reduced ability to digest fat [8]. Cats at this age benefit from higher caloric density foods to maintain weight.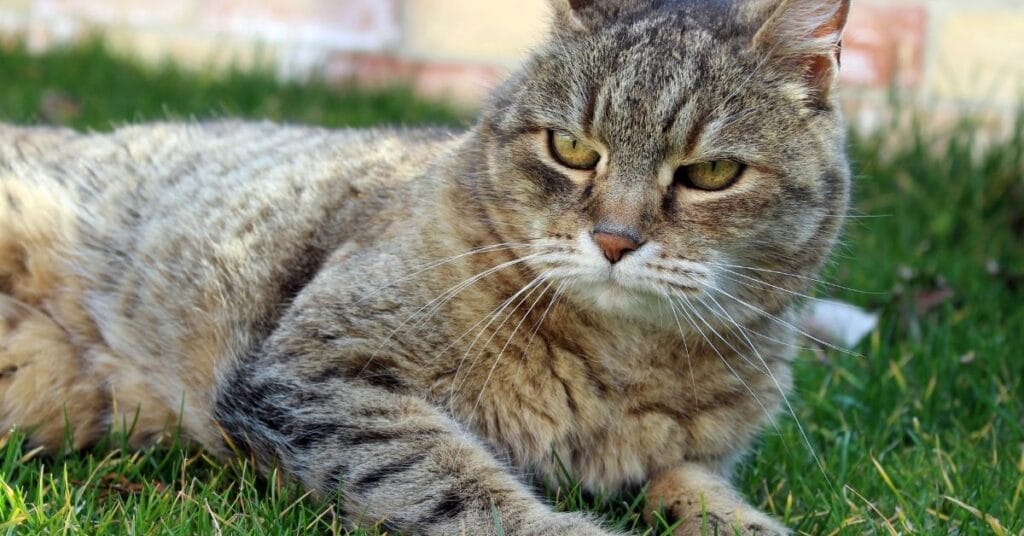 ---
Kittens
Kittens require higher calories per pound of weight than an adult cat. This is due to the rapid growth in the initial weeks and months of life [9].
Some foods have the label 'kitten food'. The main benefit of food marketed for kittens is the additional calcium added to them.
That's about it.
Many cat foods are suitable for all life stages (and will say if they are on the can).
Check out my article on how much to feed a cat for more.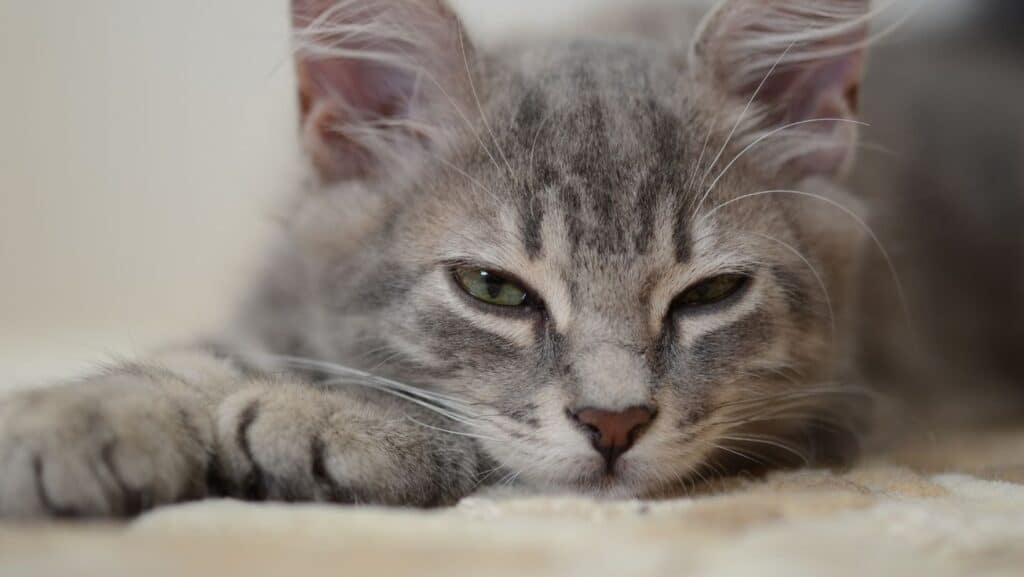 Sensitive Stomachs
If your cat has a sensitive stomach then you may need to try a different cat food. Avoid wheat and other grain-based products. Try easier to digest carbohydrates such as rice and potato, in smaller amounts.
Some cats may experience a sensitive stomach when consuming fillers such as carrageenan and xanthan gum. Also, cats are intolerant to many vegetables in the diet (e.g. onion and garlic).
Check out my article on foods cats can't eat for more.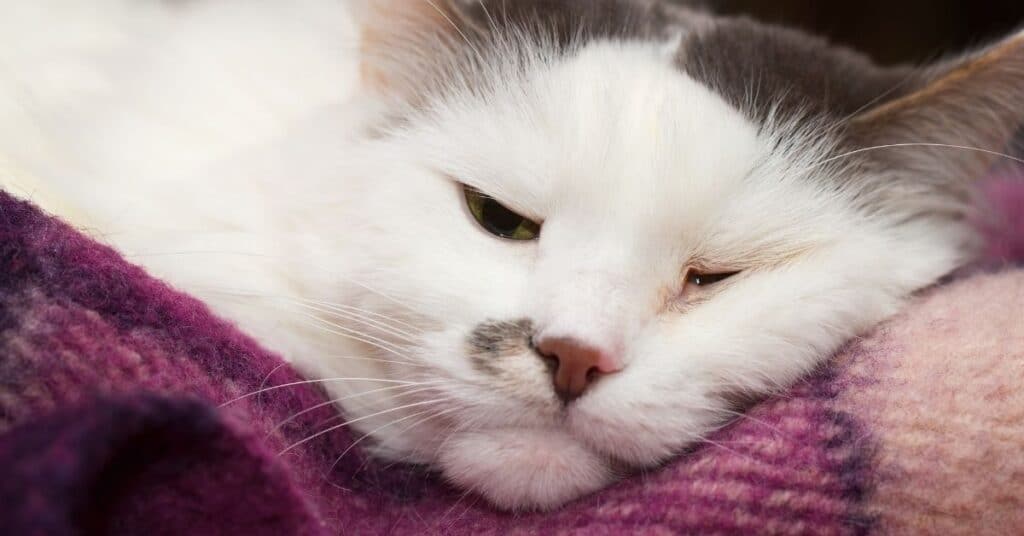 Weight Loss
In general, feeding your cat high-quality animal-based wet cat food will help maintain a healthy weight.
Food made with high protein and low carbohydrate formulations works best for controlling your cat's weight. The food formulas and nutrition panel on the back of the cat food work out how much to feed your cat.
As with humans, 'junk food' (e.g. takeaway, snack crisps, packet foods) given to cats will help contribute to undesirable weight gain.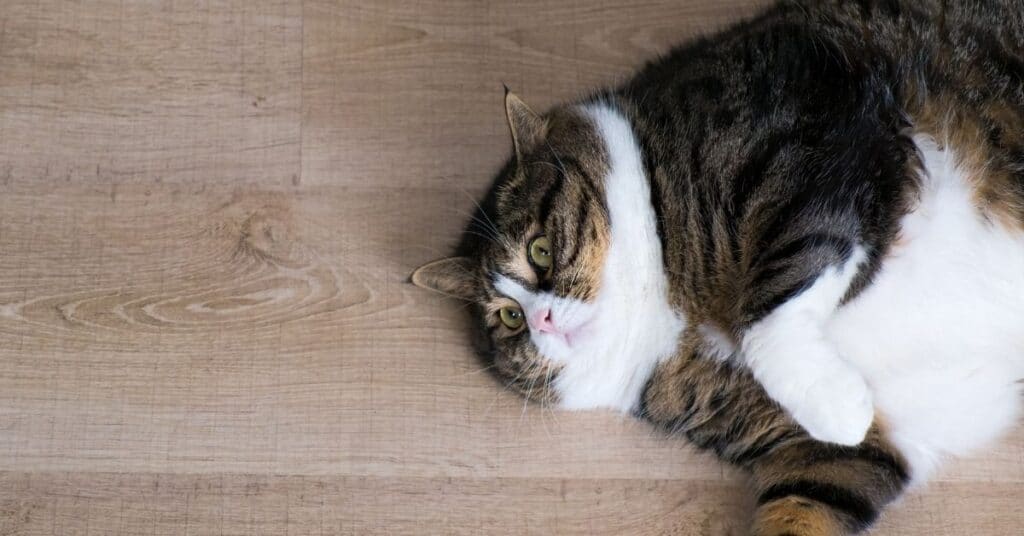 Food Allergies
Cats less tend to experience allergies to a range of foods. The main sources of allergies include common protein sources such as chicken and eggs.
The symptoms of an allergy include sneezing, coughing, vomiting, diarrhea, and swollen eyes. If you suspect your cat has a food allergy then it's best to book an appointment with the vet for more assistance.
A vet will determine the cause of the problem using a series of diagnostic tests including blood and skin prick tests.
If the vet cannot determine the cause of the problem, they may employ an elimination diet with limited ingredient foods.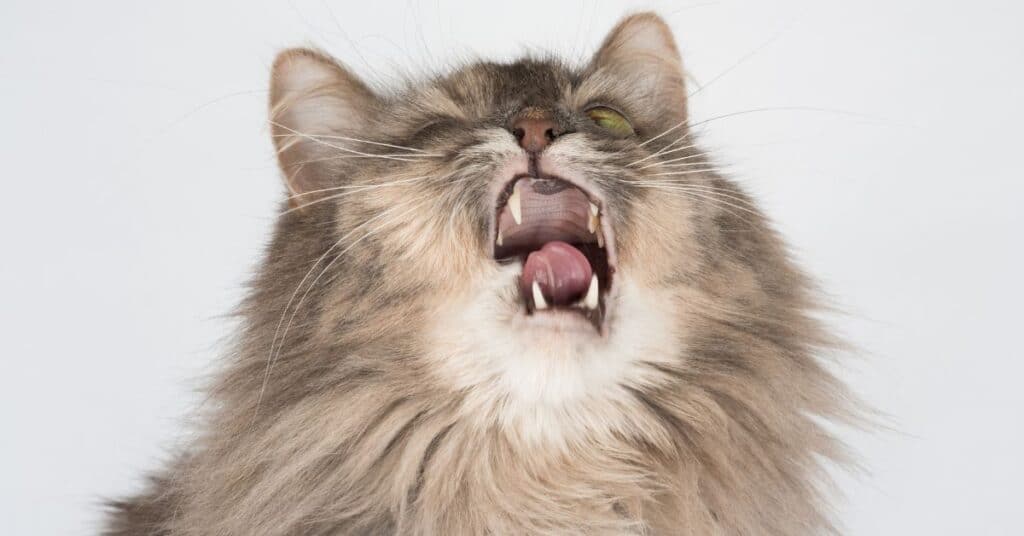 ---
What is the best inexpensive wet cat food?
There are plenty of great inexpensive wet cat food choices on the market.
Generally, it's easier to find affordable quality wet cat food than dry cat food.
Check out my article on the best cheap cat food for more.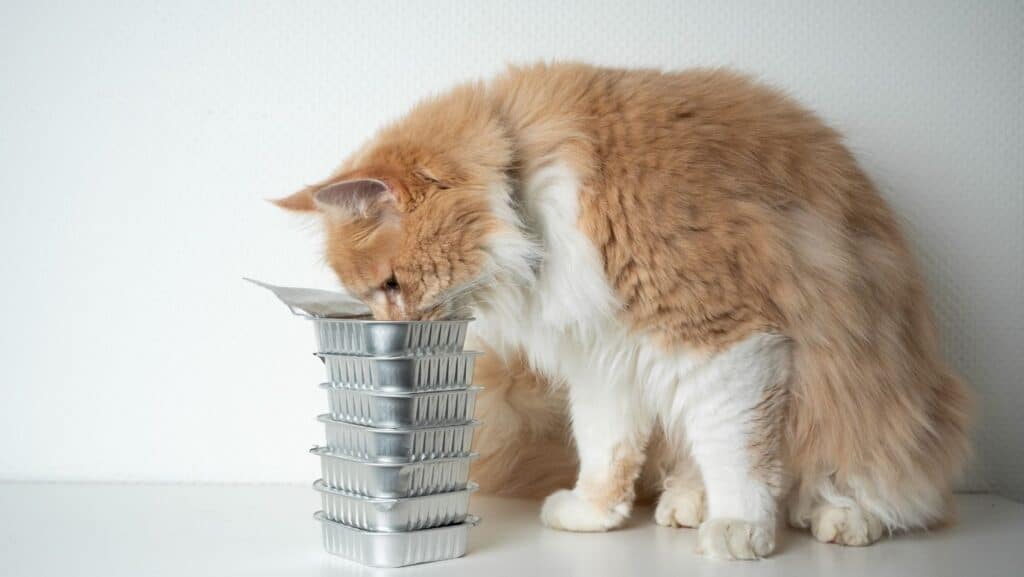 ---
What ingredients should you avoid in wet cat food?
It is best to avoid too many carbohydrate-based foods.
Look for ingredients such as wheat, corn, soy, rice, potato, chickpea, or lentils. All of these foods contribute carbohydrates to your cat's diet.
Pay careful attention to the order of ingredients on the label.
If the main ingredients in the food are carbohydrate foods (i.e. top 5 ingredients) then the food is likely a high carbohydrate food.
Ideally, the first few ingredients should be animal-based foods (e.g. chicken, beef, lamb).
It also helps to perform a 'dry matter basis' calculation. This is where you determine the ratio of protein, fat, and carbohydrate in the food minus the moisture content (which gives misleading values).
As I've mentioned earlier, the proper ratio of macronutrients for cats should be as follows:
Protein: 52%
Fat: 36%
Carbs: 12%
If the dry matter basis calculation reveals a macronutrient ratio that matches this range it is a good sign.
Of course, the ratio of individual micronutrients and the addition of other nasties (e.g. carrageenan) influence the purchasing decision as well.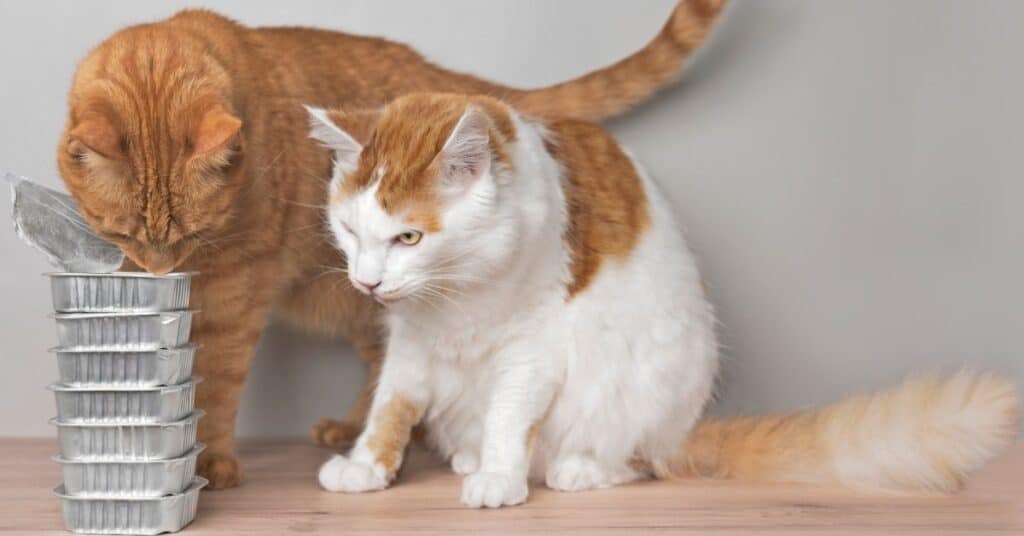 ---
What texture should you look for in wet cat food?
There are a variety of textures that include shredded chicken (or other meats), minces, gravies, stews, and pate. Many cats develop preferences throughout development [10].
There are no right or wrong answers. Some cats prefer a pate wet food, and others don't.
What matters most is your cat's approval and whether the canned food meets your cat's nutritional needs.
For what it's worth, I found the pate texture to generally be a better quality option. The gravy mixes often use thickeners such as carrageenan, xanthan gum, or wheat gluten to get a creamy texture.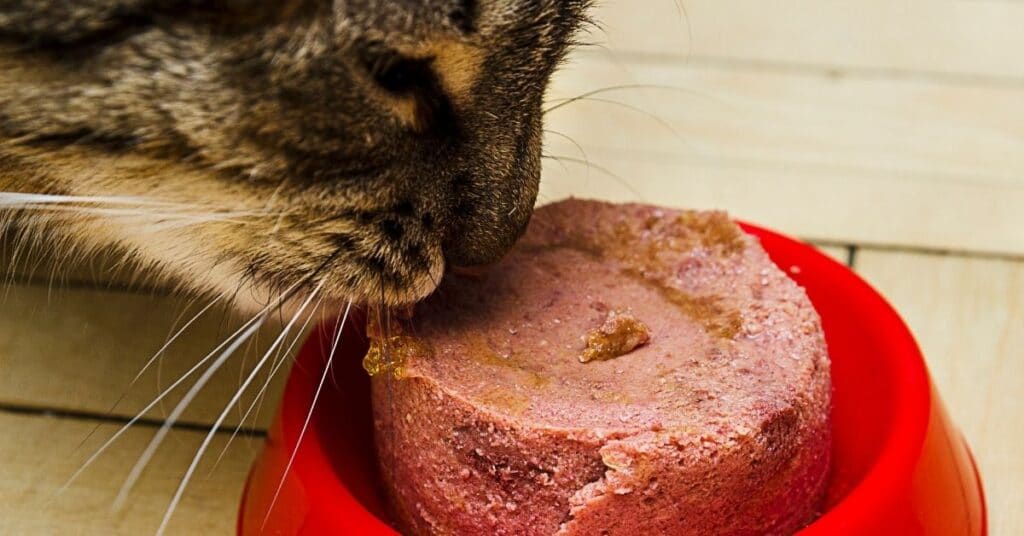 ---
Are meat by-products a good source of animal protein?
There are three types of meats found in cat food:
Meat
Meat by-products
Meat meal
The ranking of quality goes from meat (being the best quality) to a meal (being the lowest quality).
Wet foods tend to use more meat and meat by-products. Dry cat food tends to contain more meat meals (rendered heat-treated meat).
Meat by-products include many different parts of the animal not including hair, horns, teeth, hooves, or manure.
Cats rely on their sense of smell to select food. Meat by-products may contain a less fresh source of meat that smells less enticing – thus reducing the taste of the food.
Read more about label reading and meat by-products here.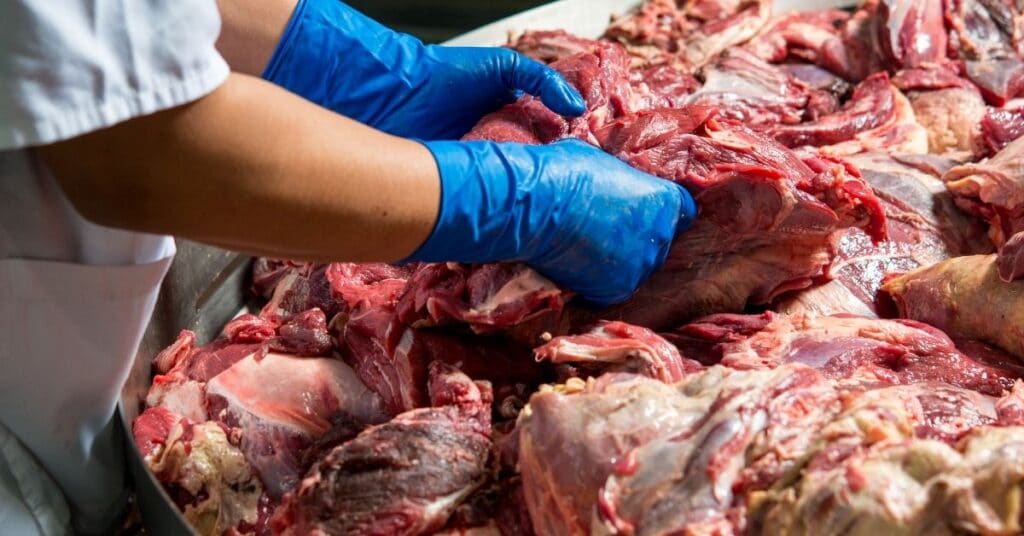 ---
Frequently Asked Questions
How should I introduce new wet cat food?
Do not mix new wet cat food with old foods.
Offer a small amount of the new food alongside the old food. Let them have a 'taste test' of the new food at first.
Over time, you can place more of the new food and less of the old food until a full transition occurs.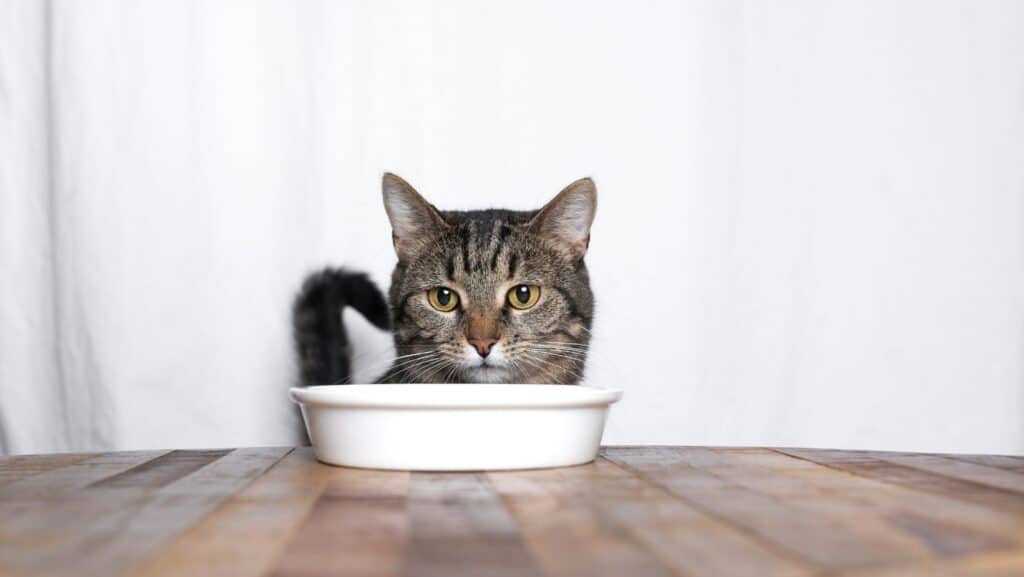 ---
Is wet or dry food better for cats?
Wet cat food is usually better for cats.
This is because wet cat food provides a ratio of dietary nutrients in line with your cat's evolutionary requirements. Canned cat food is also high in moisture to keep your cat adequately hydrated.
A mixture of wet food and (good quality) dry cat foods is another reasonable option. This allows your cat to fine-tune their diet to find the sweet spot that works for them.
That said, there is no need for dry cat food at all. Dry cat food is optional.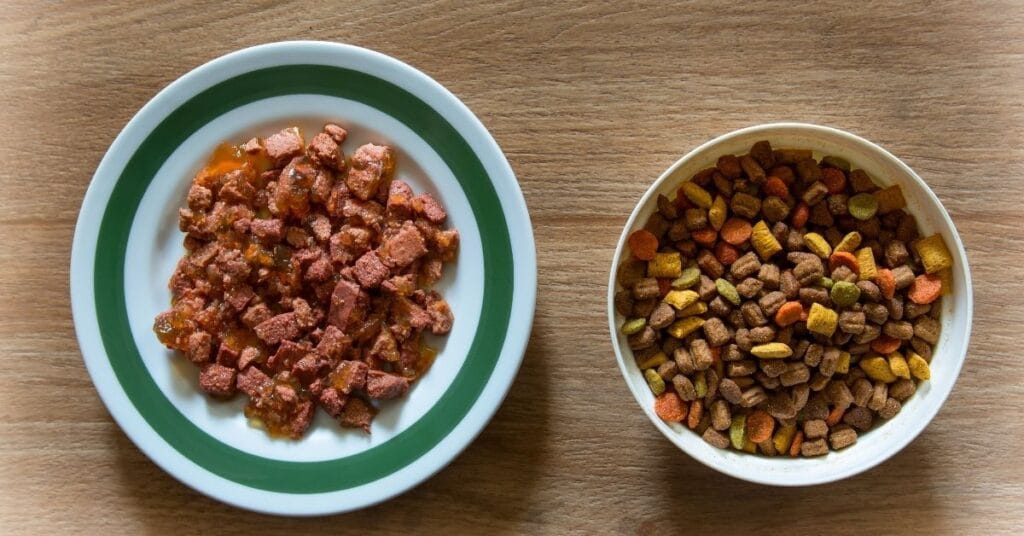 ---
What are the pros and cons of wet cat food?
Pros
Higher in protein
Higher moisture content
Easier to find affordable quality wet cat food
Cons
Lack of convenience
More smell
Less shelf life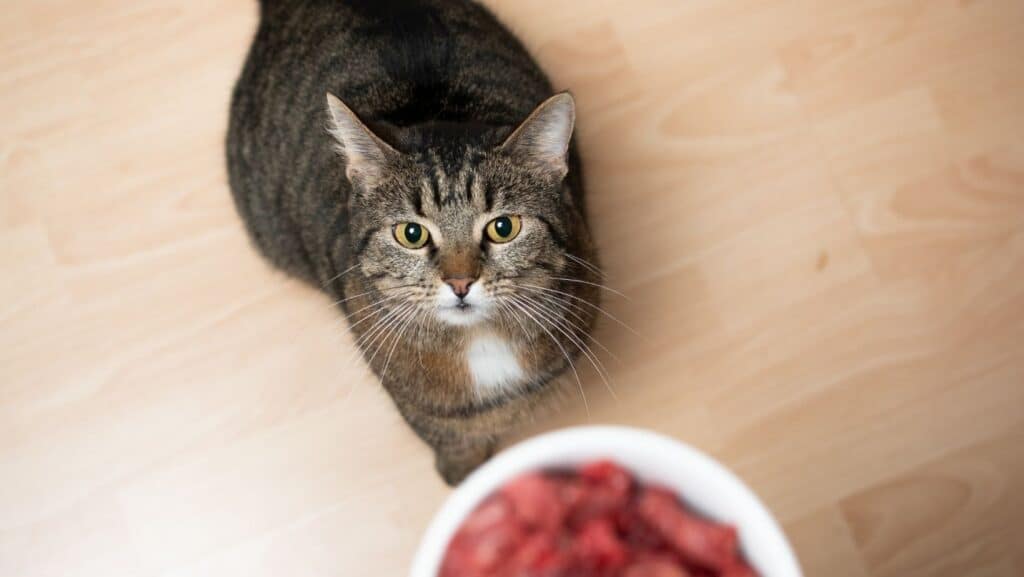 ---
Should I look at the reviews on Amazon to make a purchasing decision?
Some reviews on Amazon or other sites are misleading.
Whilst you generally want to look for high-rating products, various factors influence customer reviews.
Introducing new foods may get some pushback at first which may warrant a negative review.
Premium products may use fresh meats which may have a strong smell. This also puts off owners who promptly hammer off a one-star review.
Some foods have shipment issues (e.g. dented cans). This leads to frustrated low-star reviews.
Try to look at the constructive reviews in the 2-4 star range which usually are more balanced.
You can also review the recalls for individual products to get a final analysis for purchasing.
---
Conclusion: Best Wet Cat Food (Final Thoughts)
In this article, I've reviewed the best-canned cat food options on the market.
Here are some final thoughts on the best-wet cat food:
Cats are obligate carnivores. They thrive off a high protein, moderate fat, and low carb diet
The best wet cat food should have a high protein, moderate fat content to match their evolved dietary intake
Cats need enough essential amino acids (from protein) to maintain muscle mass and immune function. Animal protein foods are the best sources of essential amino acids for cats
Cats need essential fatty acids for healthy immune function and inflammation (needed for healing and repair). Animal food sources are the best sources of essential fatty acids
Cats don't need any carbohydrate in their diet. Too many carbohydrate foods may cause digestive problems (e.g. flatulence and diarrhea)
In general, cats don't need many plant based foods for health (e.g. vegetables). They aren't beneficial food sources for nutrition
Kittens need more energy (per pound) for growth. Senior cats need more protein and fat to combat muscle loss and poor digestion
Most premium wet cat foods are suitable for cats of all life stages and great for senior cats
Budget wet cat foods are ok if they don't have cheap fillers (e.g. corn, wheat, potato)
Carrageenan is a thickening ingredient that may give your cat digestive issues. It's best to avoid wet cat food with carrageenan
Cats benefit from high moisture wet cat food for urinary tract and kidney health
Speak with a vet for more assistance in finding the best-canned cat food for your needs.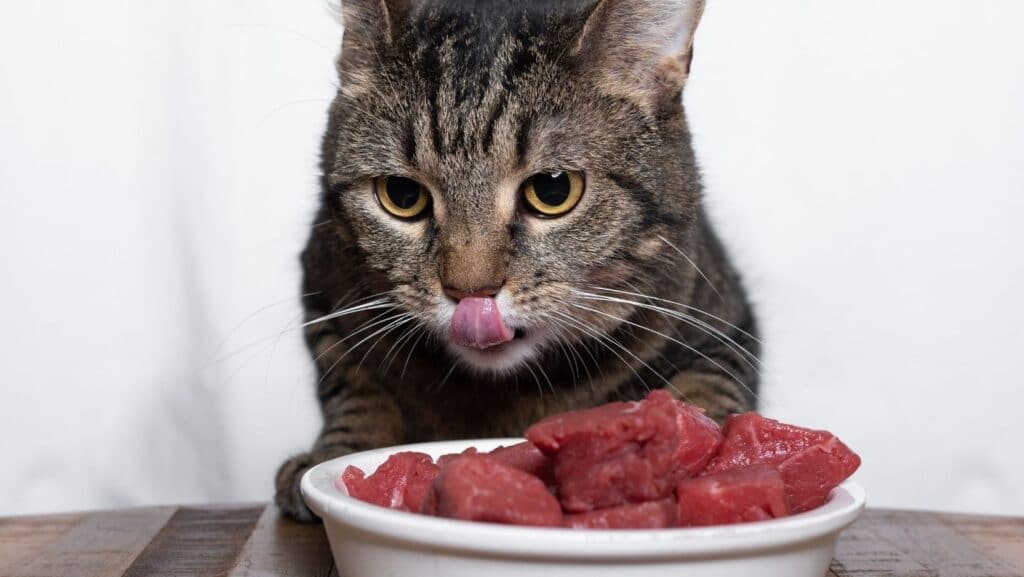 ---
Our top pick
Tiki Cat After Dark is one of the best overall wet cat food options on the market.
I chose this wet cat food for the following reasons:
Premium animal foods for top health
Real visible meat chunks with better smell
High moisture content for kidney health
Free from grains and carrageenan for top digestion
4 varieties of flavors to reduce boredom
After more things cat-related?
Check out more articles below.