Easy Guide on How to Read a Cat Food Label
Disclaimer: As a Chewy and Amazon affiliate, I earn from qualifying purchases. This does not impact our reviews and comparisons.
Cat food labels are misleading.
As carnivores, cats need a high protein diet. They also need a balance of micronutrients for health.
Many foods don't cut it.
Learn how to read a cat food label to keep your cat healthy and the vet bills down.
In this article, I'll show you how.
I've got real cat food examples to work through to help you. We'll learn the laws around ingredient lists, product naming, and nutrition statements.
I researched this topic to help you understand cat food labels. If you need more information on anything discussed in this article, seek the assistance of a veterinarian.
Let's get into the article.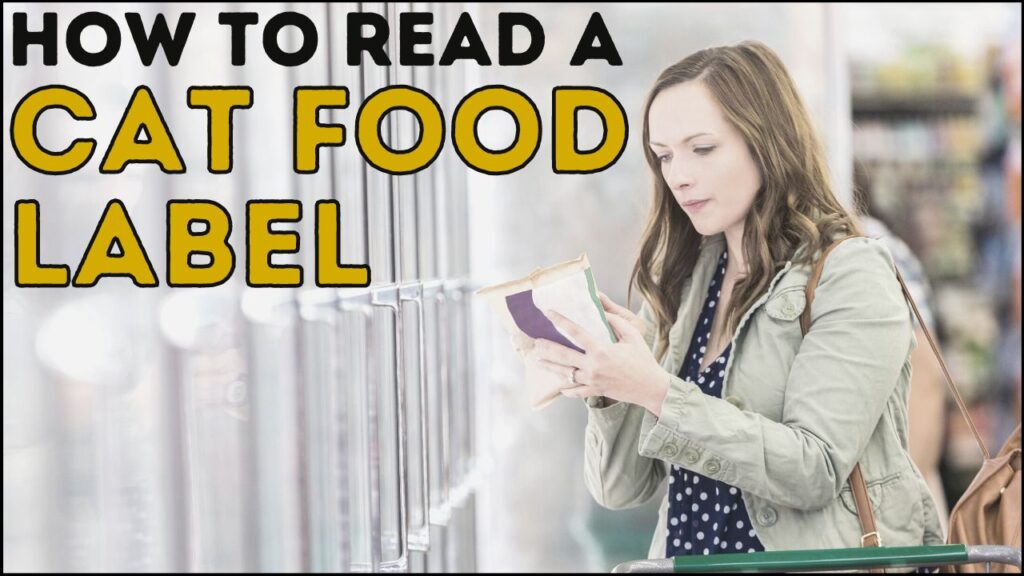 The Truth About How Cat Food Labeling Laws
The United States Food and Drug Administration (FDA) sets laws for pet food labelling.
Laws vary at the state and federal level.
The goal of cat food labelling is to:
Give cat owners an informed choice
Protect them from harm
The FDA does not require pet food to have pre-market approval.
You may have heard about AAFCO too.
What do they do?
AAFCO stands for the Association of American Feed Control Officials. They are a non-profit organization that set nutrition guidelines.
AAFCO aren't the law makers, the FDA are.
Ok…so what are some of the laws about labelling?
Let's find out…
Product Name
Read cat food labels with care.
Slight changes in wording affect laws for ingredient amounts.
Two cat foods with chicken in the label can have varying amounts of chicken based on the wording.
Here's how it works:
An ingredient used in the product name must by 95% of the food (70% adjusting for water).
Example – Chicken cat food is at least 95% chicken.
What about two ingredients in the name?
Between the two, they must add to 95%. However, the first ingredient must be in a greater amount.
Example – Chicken and lamb cat food is 95% chicken and lamb. There's more chicken than lamb.
Moving onto descriptors.
A descriptor includes words such as:
Dinner
Nuggets
Platter
Entree
Formula
Descriptors mean the named ingredient is less than 95% of the food, but more than 25% (10% if including water). This is often called the 25% rule.
As with the previous naming rule, if two ingredients have a descriptor the first ingredient is heavier.
Example – Chicken and lamb dinner. Contains at least 25% chicken and lamb. There's more chicken than lamb.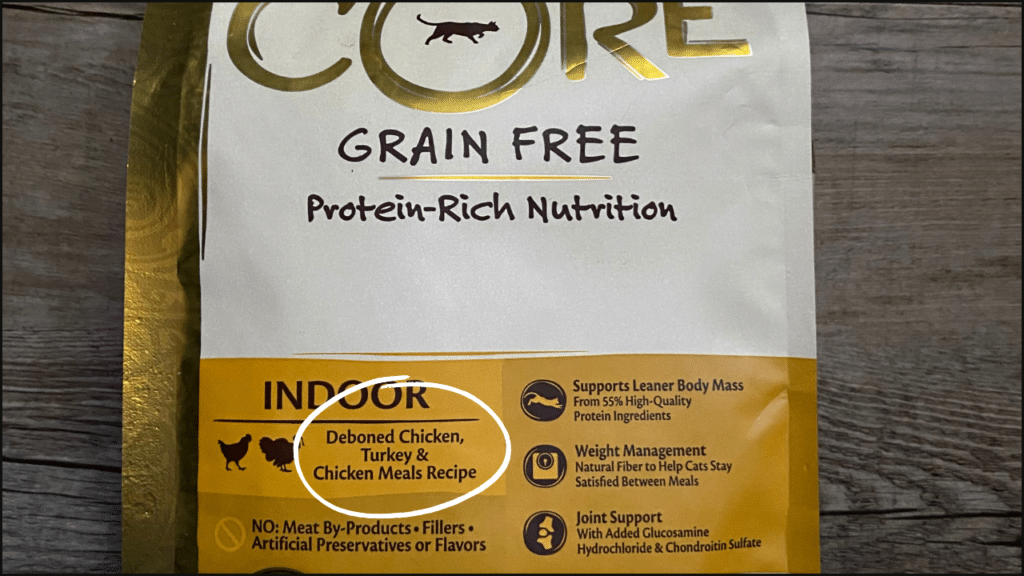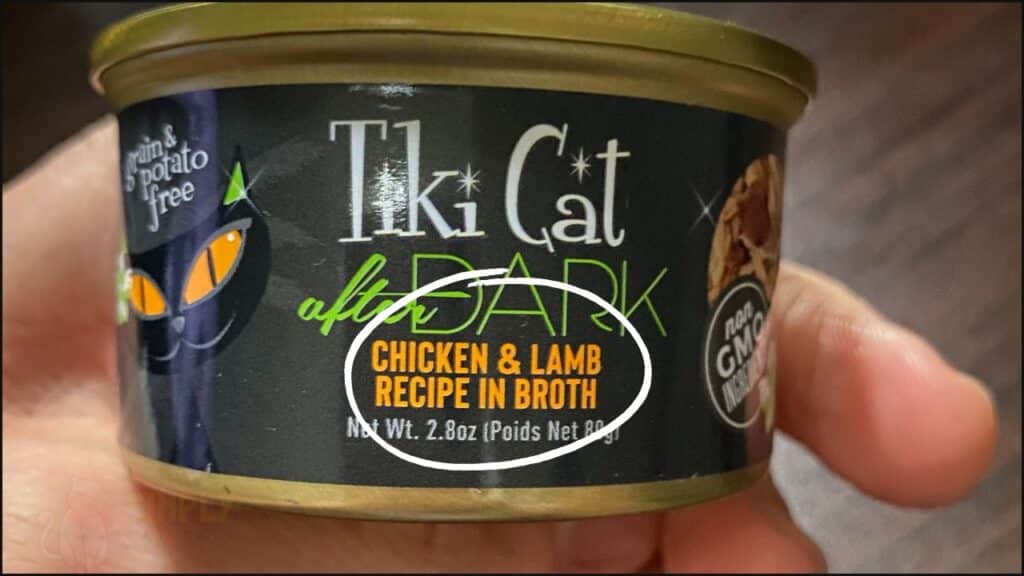 Let's move onto the WITH rule (also called the 3% rule).
Cat food using WITH, contains only 3% of that ingredient.
Example – Cat food WITH beef. Contains a minimum of 3% beef.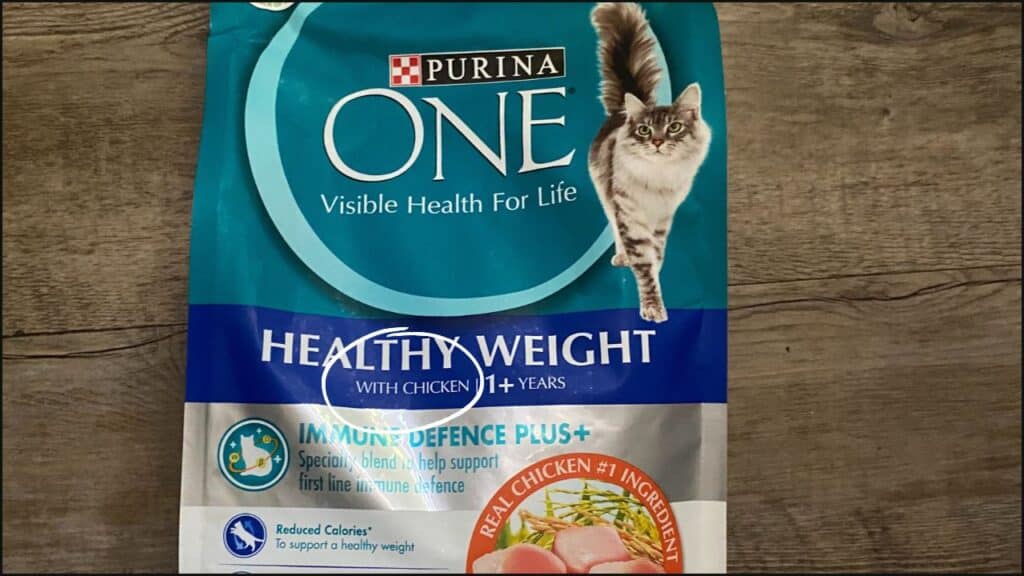 The final rule is the FLAVOR rule.
This means only trace amounts of the ingredient are in the food.
Example – Chicken FLAVOR cat food. Has trace amounts of chicken.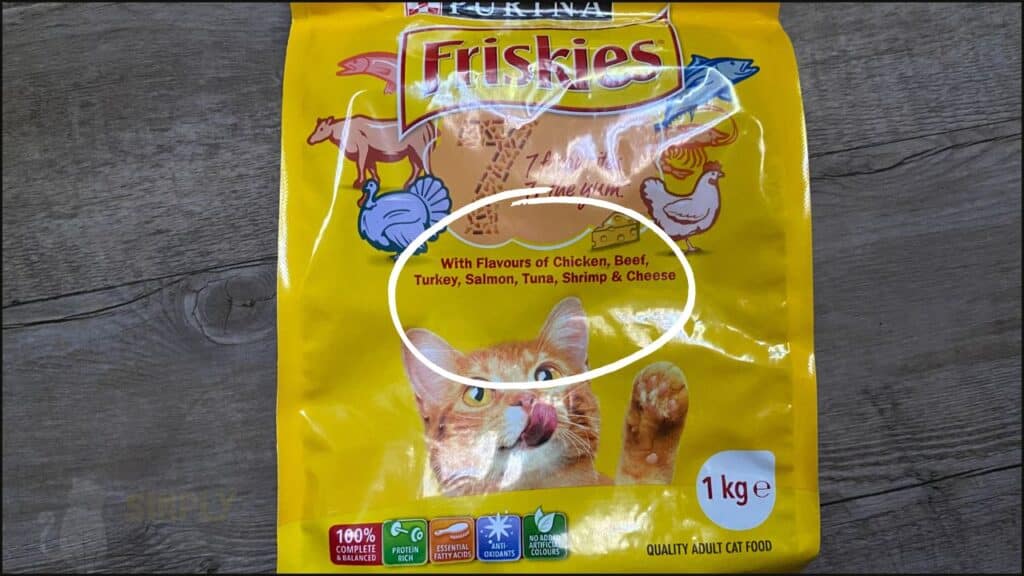 Labels have big ramifications for choosing cat food.
There's a big difference in quality between:
Chicken cat food (95%+ chicken)
Chicken dinner cat food (25-95% chicken)
Cat food with chicken (3-25% chicken)
Chicken flavor cat food (trace amounts of chicken)
So in short:
Tread lightly.
Read every cat food label with care.
Ingredients
Ingredients list by weight.
Many cat food brands use work arounds to divvy up ingredients. This can make cat foods appear 'meatier' than what they are.
Ok, and laws?
The ingredients are generally recognized to be safe (GRAS).
What does that mean?
Based on the scientific evidence, the ingredient doesn't lead to disorders or illness.
An ingredient list is on the side or back of cat food.
Cat food with unlisted meat sources (e.g. poultry, meat meal) can contain hidden meat sources.
This can increase the risk of allergies from different protein sources.
In general, it's best to get named meat sources (e.g. chicken) vs unnamed (e.g. animal meat by-products).
Compare the quality of the following chicken based cat food labels: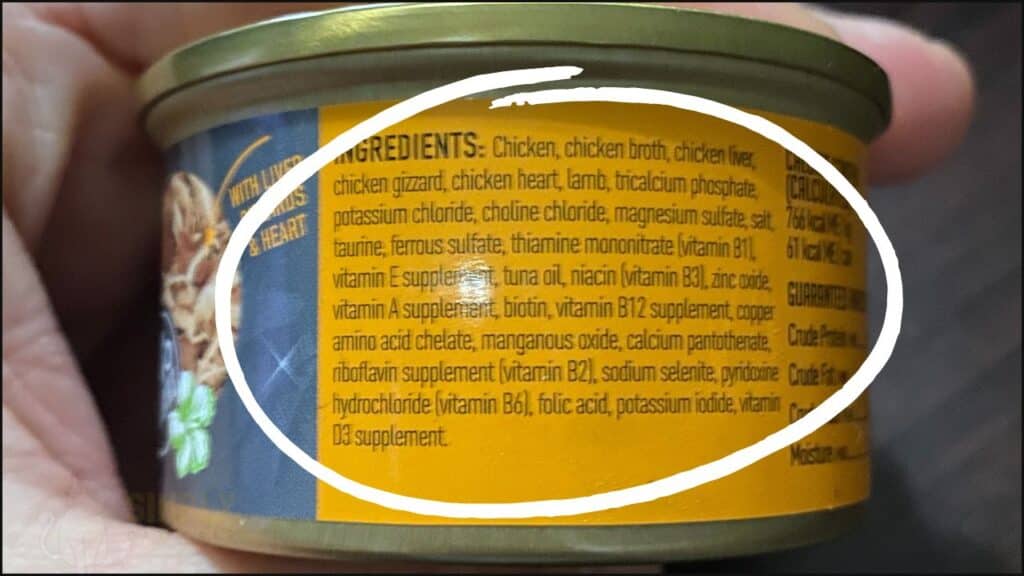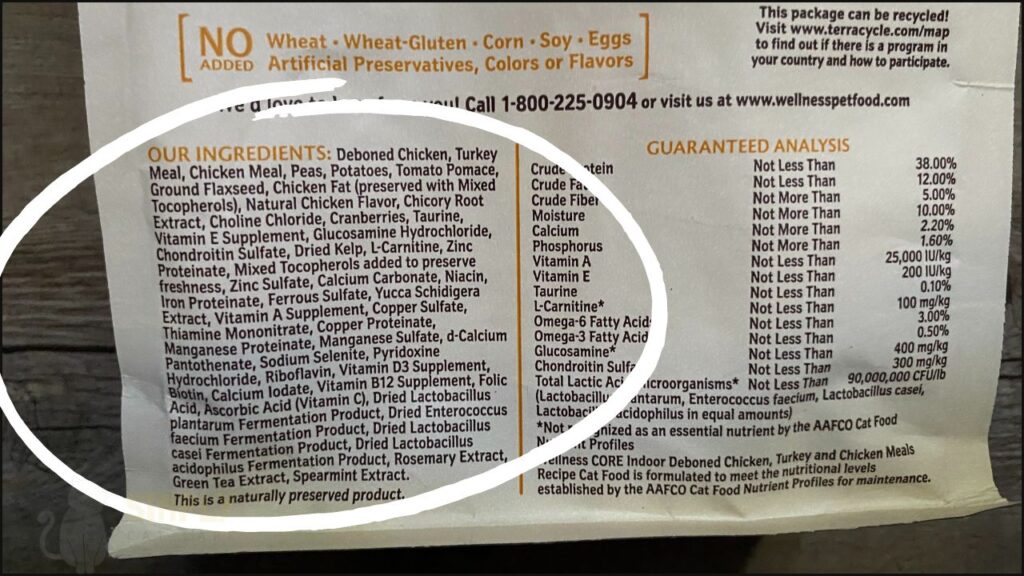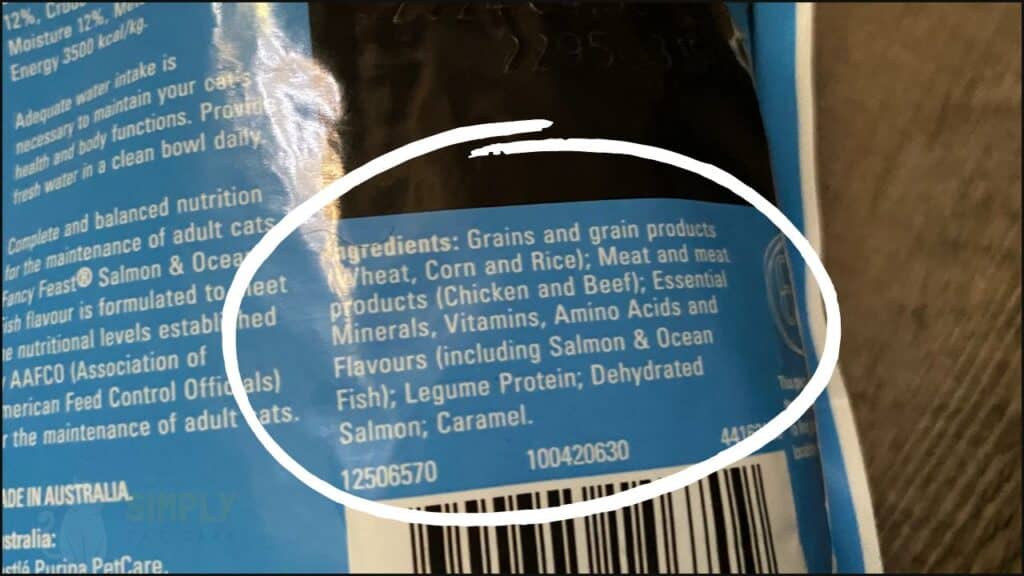 Nutrition
Labels have two nutrition statements:
Guaranteed analysis
Calorie content
What's a guaranteed analysis?
It's a measurement of the minimum crude protein, fat, fiber, and maximum moisture. Amounts are usually tested in third party labs with triplicates.
It's sometimes called nutritional analysis or similar.
Some examples: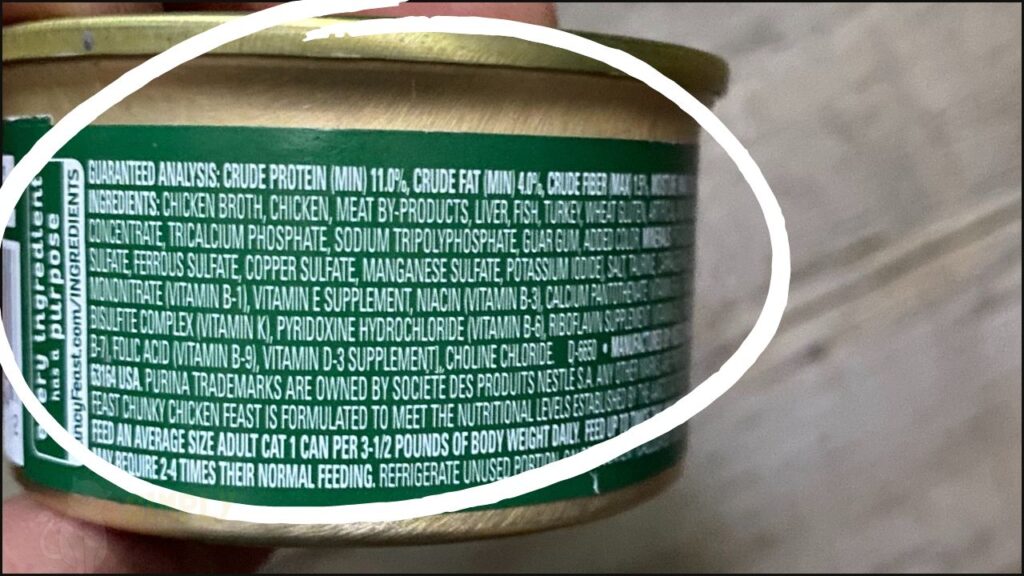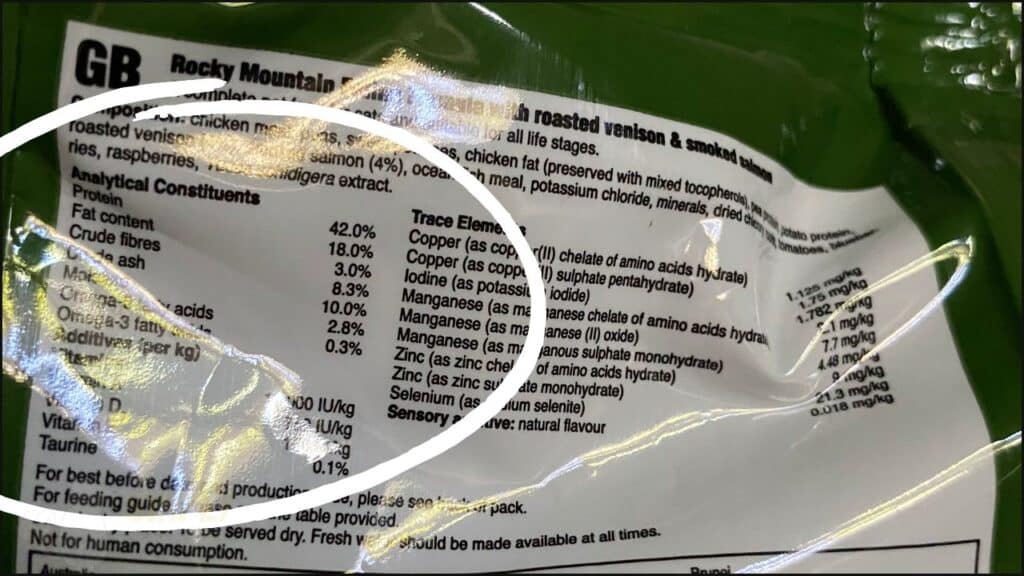 Why no exact number?
Many cat foods use a mix of parts and meats, which vary depending on the batch.
Guaranteed analysis' vary depending on weight. Protein is higher on dry cat food because moisture is lower (and vice versa).
Adjust for moisture to get a fair comparison (called a dry matter analysis).
There are many online calculators to find the dry matter basis nutrition of cat food.
What about calorie content?
This gives you information about how many calories are in a cup of the cat food. Some include per serve information as well.
Some include the calories as part of the guaranteed analysis. It's usually in metabolizable energy (ME).
Examples: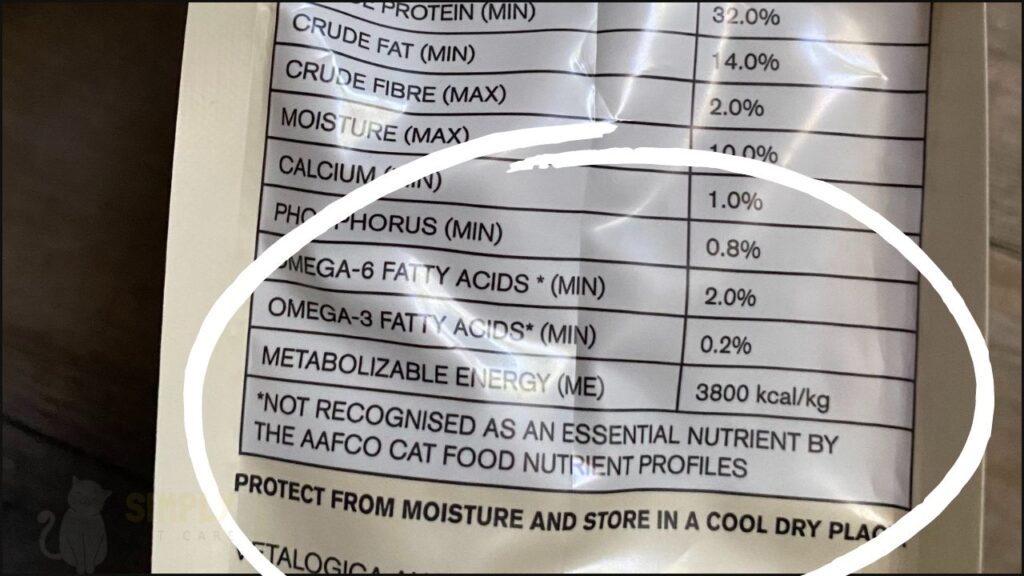 Nutritional Adequacy Statements
AAFCO offer guidelines for nutrients.
This gives manufacturers a framework for making balanced cat food.
Cat food is either a:
Complete food
Supplemental food
Look for the statement of nutritional adequacy. This tells you if the cat food is complete or supplemental.
Feed your cat complete food.
Supplemental food isn't nutritionally balanced. It's best for….supplemental feeding.
Complete cat food is suitable for either:
Growth (up to 1 years or pregnant cats)
Adults (1-7 years)
All life stages
There's no guidelines for cats over 7+ years.
Cat food for growth contains more protein and other nutrients for developmental needs.
Examples below: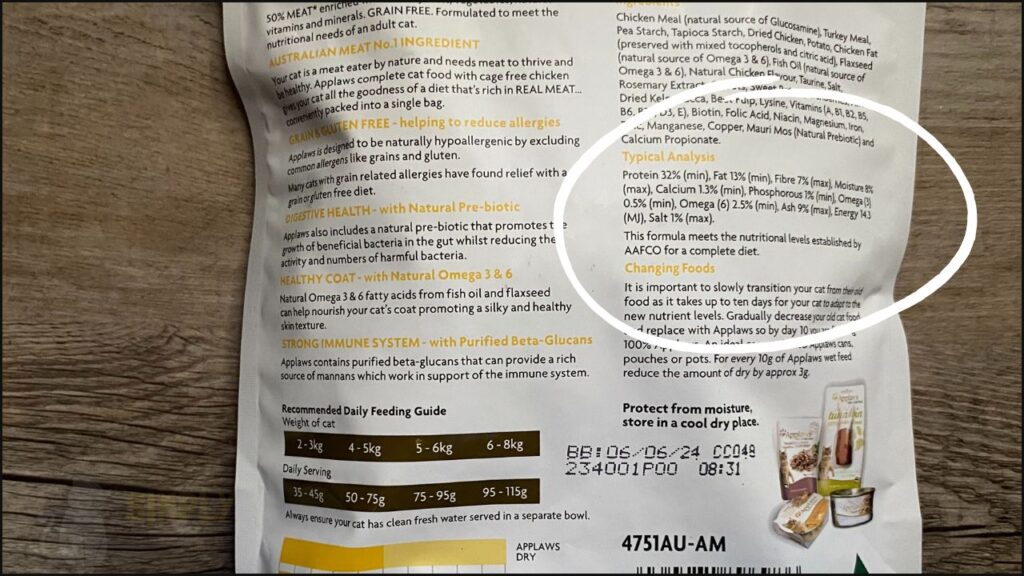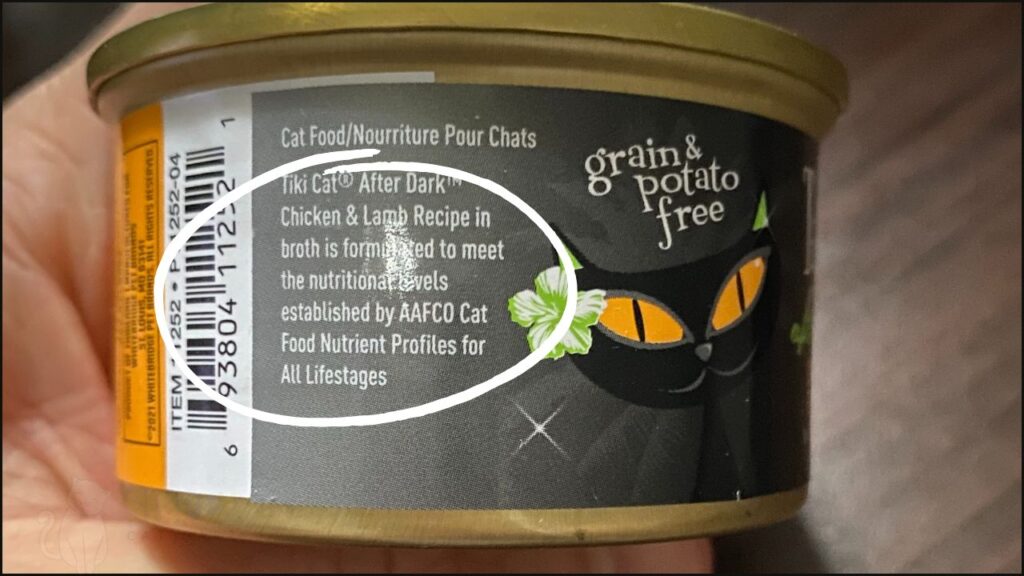 Misleading Terms on Cat Food Labels
Words are misleading,
There are many terms marketers use on cat food labels.
Here's what a couple mean:
Premium
Can mean anything.
There is no law about what this word has to mean.
Premium is a word to make products sound fancier.
Natural
Contains no:
Artificial flavors
Colors
Artificial preservatives
AAFCO defines the term for state legislation.
The thing:
Most cat foods don't use many of these except for artificial preservatives.
So natural is cool, but doesn't mean much.
Tell Me the Best Cat Food
Let's not beat around the bush.
Reading a cat food label is a qualitative and quantitative process.
After a while, you get a feel for it.
I have a calculator for scoring cat food weighing up overall quality. From this I sorted the best from worst.
Check it out here in my 10 Best Cat Foods post.
Frequently Asked Questions
How to Read A Cat Food Labels Calories?
Check the calorie content.
This is on the side or back of a cat food label.
See above for examples.
3 Quick Tips for Reading a Cat Food Label?
Here's three things to check:
Product name
Ingredient list
Statement of nutritional adequacy
These three things help you find good products quickly.
Remember the name descriptors and what they mean. The words WITH and FLAVOR are signs of lower quality in many cases.
Scan the ingredients list.
Look for named meat based ingredients stacked on top. Grains and plant ingredients should not dominate.
Things like wheat gluten or corn on the top of the list is worth giving a miss.
Finally, check the statement of nutritional adequacy for complete and balanced cat food. That gives your cat what they need.
What Is the Easiest Way to Read a Food Label?
Check the statement of nutritional adequacy.
Look for a complete and balanced cat food.
Then check the ingredients quickly. Look for plenty of meat ingredients up top.
If both check out, it's usually a sign of quality if you're in a rush.
Is Kcal the Same as Calories for Cats?
Yes.
Kcal is kilocalories. It's shorthand for Calories.
Technically, Calories refers to kilocalories and calories (no capitalization).
What Is the 3% Rule for Pet Food?
This is the WITH rule.
If the label uses WITH, the named ingredient has no less than 3% and no more than 25%.
An example is 'Cat food WITH chicken'. This contains 3-25% chicken.
What Is Crude Fat in Cat Food?
A description of the measurement used.
It doesn't mean the fat is 'low quality' or crude.
Same thing applies to crude protein and fiber.
Cat Food Ingredients to Avoid
Grains.
A grain offers low quality protein (e.g. wheat gluten meal).
Grains are also high in carbs. Cats don't need carbs.
It's best to keep the carb intake low for your cats health.
Learn More:
Why Is Some Cat Food 7+?
Marketing.
AAFCO offer no guidelines for cats over 7 years.
This is due to varying needs of seniors.
Cats tend to gain weight during 'middle age' (around 7-10 years) and then lose weight in their elder years (over 10).
So what's the point of 7+ cat food?
Marketing.
It's not a better quality product.
Learn More:
Conclusion
Cat food labels are often misleading.
State and federal laws inform what goes on the bag. Always check each word and question what each statement means.
The main thing is to check the statement of nutritional adequacy. Give cats a complete and balanced cat food as a main priority.