4 Best Cat Food for Older Cats with Bad Teeth
In this article, I am going to review the best cat food for older cats with bad teeth. Older cats with bad teeth benefit from a high protein soft wet food that is easy to digest and nourishing.
One of the best choices for older cats with bad teeth is the Feline Natural Grain-Free Canned Cat Food.
Feline Natural is a high-protein wet cat food from grass-fed animal-based foods. Older cats with bad teeth benefit from the soft texture and easy-to-digest food source. The higher protein and fat helps maintain your older cat's muscle mass.
Cat's are obligate carnivores in the wild. This means they tend to hunt and consume small prey like mice, birds, and fish.
Small prey provides cats with all their nutritional needs. Cat's have an easier time digesting these types of foods compared to grains and vegetables.
As cats age, they lose lean muscle mass and have difficulty digesting fats. This means they benefit from a higher quality animal-based food source which is protein and nutrient-dense.
Cats with bad teeth may struggle to consume dry cat food. With teeth problems such as periodontitis, gingivitis, and missing teeth cats experience pain and discomfort having to try to chew larger objects.
Wet cat foods are easy to swallow and require minimal effort. This helps cats have an easier time with their food. These foods also tend to have higher protein and fat levels to help an aging cat stay strong and healthy.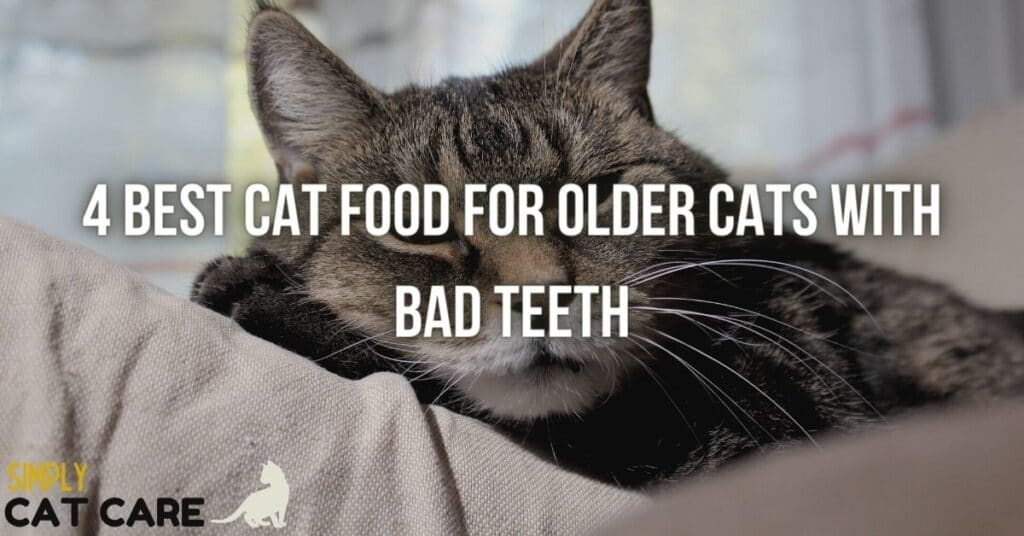 Let's take a closer look at the 3 best cat foods for older cats with bad teeth.
---
Product Review: 4 Best Cat Foods for Older Cats with Bad Teeth
---
The ZIWI Peak Provenance Canned Wet Cat Food – All Natural, High Protein, Grain-Free products are a great option for senior cats with bad teeth.
Let's talk about the basics. Firstly, the high-quality protein from whole animal-based foods. ZIWI doesn't rely on cheap rendered meats and by-products. There is a variety of high-quality sources to give your cat balanced nutrition, such as goat liver, lungs, heart, and kidney.
Green mussels are a great source of nutrition for senior cats. They are high in glucosamine which is perfect to keep your older cat's joints feeling smooth and flexible. Mussels are also high in omega 3 essential fatty acids which help maintain the immune system to keep your cat healthy.
Senior cats need a higher protein diet and have issues with digestion. ZIWI is grain-free and very low in carbohydrates. This is the perfect canned wet cat food nutritional profile to keep senior cats strong.
Cats with teeth problems benefit from a soft moist diet. The high moisture content from broth gives older cats with teeth issues an easy time with swallowing their food without pain or difficulty.
Due to the range of meats and fish used in the product, it does produce a smell that is unpleasant for owners. The price range is also steeper than typical food for cats.
With the downsides in mind, the product stands up as a solid choice for senior cats with dental issues.
INGREDIENTS
Mutton, Lamb Broth, Goat, Whole Kahawai, Goat Tripe, Whole White Trevally, Mutton Tripe, Mutton Lung, New Zealand Green Mussel, Lamb Plasma, Whole Mackerel, Goat Liver, Lamb Bone, Mutton Liver, Lecithin, Goat Heart, Mutton Bone, Goat Lung, Goat Kidney, Minerals (Dipotassium Phosphate, Magnesium Sulfate, Zinc Amino Acid Complex, Iron Amino Acid Complex, Manganese Amino Acid Complex, Copper Amino Acid Complex), DL-Methionine, Goat Bone, Vitamins (Choline Chloride, Vitamin E Supplement, Thiamine Mononitrate, Niacin, Pyridoxine Hydrochloride, Riboflavin, Vitamin D3 Supplement, Folic Acid), Dried Kelp, Taurine
---
Purina ONE High Protein, Natural Wet Cat Food is a great budget option.
Whilst the product is affordable, it is not low-quality. Containing a high amount of animal protein it is the perfect carnivore-friendly choice that senior cats thrive on.
Cats with no teeth benefit from moist canned foods. They are easy to swallow and digest without much chewing. The cans come in small-sized 3 oz portions to give your senior cat an easier time with getting in their food without fatigue.
Sometimes the formula has changed in this product. This is an inevitable problem with many cat foods on the market. If the quality of the product changes over time, then it might be less appropriate for your senior cat's needs.
Overall, Purina is a solid budget-friendly choice for old cats.
INGREDIENTS
Turkey, liver, turkey broth, chicken, pork lungs, fish, natural flavors, guar gum, minerals (potassium chloride, salt, mono, and dicalcium phosphate, magnesium sulfate, zinc sulfate, ferrous sulfate, copper sulfate, manganese sulfate, potassium iodide), vitamins (Vitamins E, choline, Vitamin B-1, Vitamin B-3, Vitamin B-5, Vitamin A, Vitamin K, Vitamin B-6, Vitamin B-2, Vitamin B-12, Vitamin B-7, folic acid, Vitamin D-3), taurine
---
Let's take a look at Weruva Paw Lickin' Chicken in Gravy.
I like the high moisture content and visible chicken pieces in this product. Many older cats struggle to get enough water and this product offers a hefty 85% moisture content out of the can.
It's also good to see the product helps digestion by not using grains, gluten, and carrageenan. This product is also lower in fat which has pros and cons. The benefit of lower fat cat foods is they help cats maintain a healthier weight.
Onto the negatives. Whilst the low-fat content is great for weight control, it might not be the best option for picky eaters. Picky eaters may need a more palatable high-fat option on the menu to satisfy their cravings. Active cats (e.g. Bengals) may need more calories as well. The food also contains a small amount of potato starch which isn't the best ingredient due to the carbohydrate content of potatoes.
INGREDIENTS
Chicken (Boneless, Skinless Breast), Chicken Broth, Potato Starch, Sunflower Seed Oil, Calcium Lactate, Xanthan Gum, Tricalcium Phosphate, Choline Chloride, Taurine, Zinc Sulfate, Vitamin E Supplement, Ferrous Sulfate, Nicotinic Acid (Vitamin B3), Thiamine Mononitrate (Vitamin B1), Calcium Pantothenate, Copper Sulfate, Riboflavin Supplement (Vitamin B2), Pyridoxine Hydrochloride (Vitamin B6), Vitamin A Supplement, Manganese Sulfate, Vitamin D3 Supplement, Folic Acid, Potassium Iodide, Sodium Selenite, Biotin, Vitamin B12 Supplement
---
Guide to Choosing the Best Cat Food for Older Cats with Bad Teeth
Let's talk about older cats and dental health.
Most people are aware that cats age faster than humans. The average life expectancy of a cat is 16 years.
Cats are elderly at 11 years of age. This corresponds to an age of 60 in human years.
Check out my awesome guide to converting cat years to humans years for more information.
When cats get older they start to experience health difficulties. As with humans, they require additional care and attention to detail with nutrition.
Dental problems are common in elderly cats, which I will be focusing on in this guide.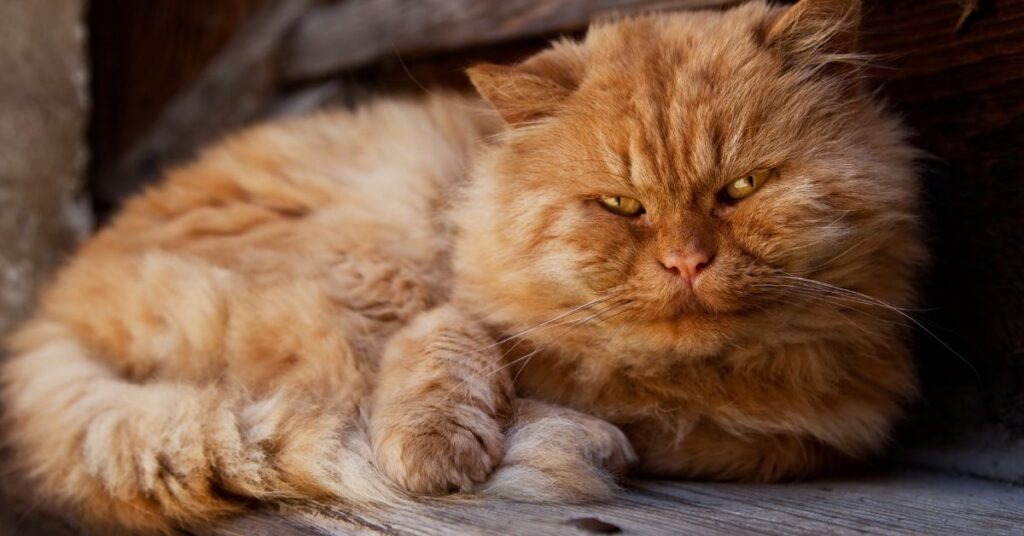 ---
What are common dental problems in older cats?
As cats get older, their teeth start to accumulate unwanted plaque [1]. This is due to general aging and a lack of maintenance.
Cats often clean their teeth and maintain them by chewing bones and grass [1]. A lifetime of poor quality foods is going to exacerbate the dental problems of aging.
The build-up of plaque over time can lead to tartar and gingivitis. Tartar is hard calcified deposits that build up around the teeth and gums, harboring bacteria.
Ingested bacteria can lead to damage to internal organs [1]. It can also cause pain when chewing into food.
When you visit the dentist, you'll note they will work at getting rid of any tartar buildup you have.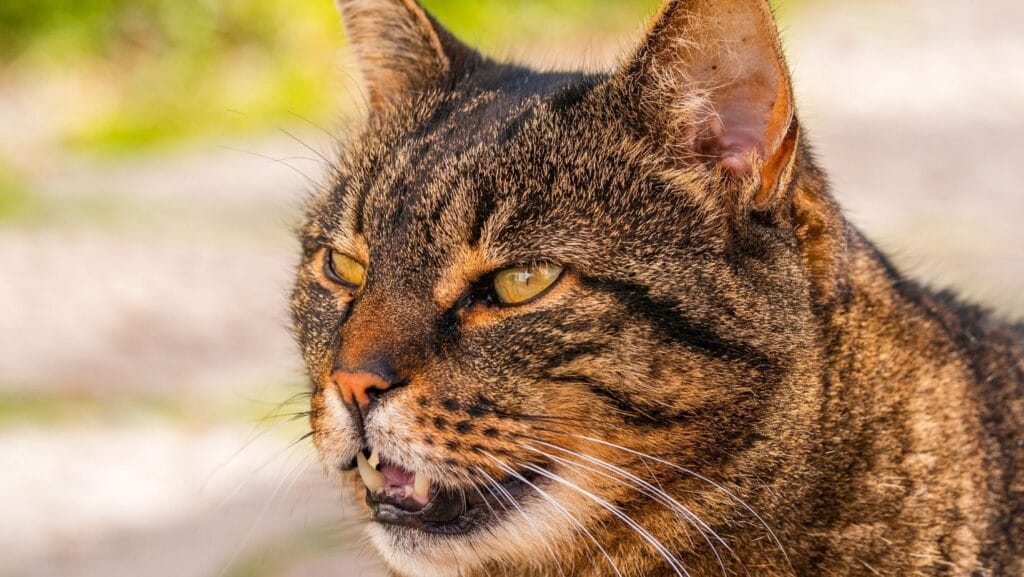 ---
How can I check if my senior cat has dental problems?
Try to get a look at your older cat's mouth regularly.
The teeth should be clean and white without any bleeding around the gums [1]. Your cat shouldn't have an excessively foul stench to its breath.
If your cats' breath has a foul odor, it is a sign of bacteria buildup, which is a problem.
If you are having trouble checking your senior cat's teeth, then ask for assistance from a vet if you think your cat has a problem (e.g. change in eating habits).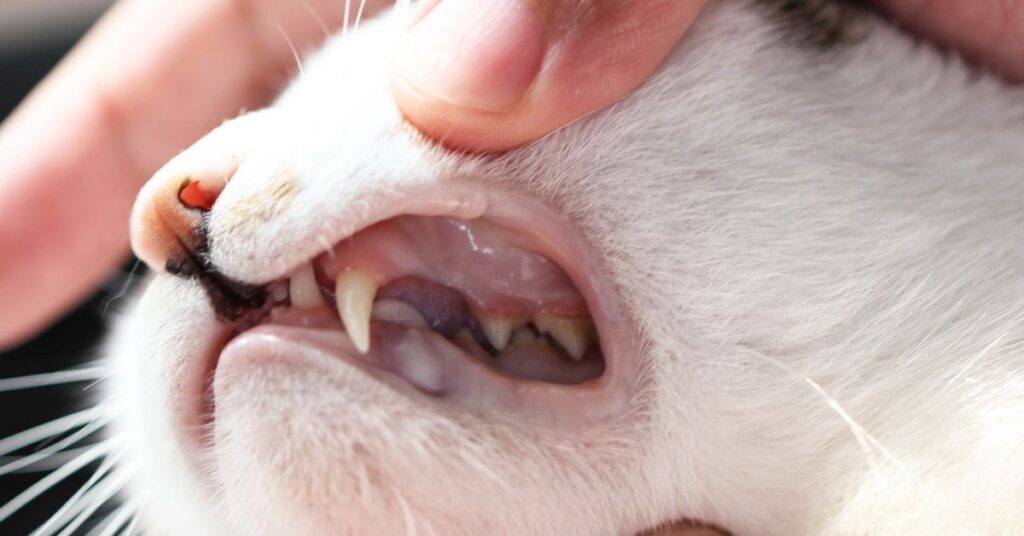 ---
How can I keep my older cat's teeth clean?
There are two ways you can work at improving your cat's dental health: diet and brushing.
Let's talk about both.
Diet
Cat's are obligate carnivores and thrive off animal-based foods.
Foods that contain a lot of resistant starch (e.g. many dry foods) can lead to a build-up of bacteria and plaque over time.
A cat's diet needs to contain vitamin D, as this is crucial to dental health, as well as calcium. Cats can get this from whole animal-based foods (e.g. crushed bones) included in some products.
Check out my top 9 tips for feeding your cat for more.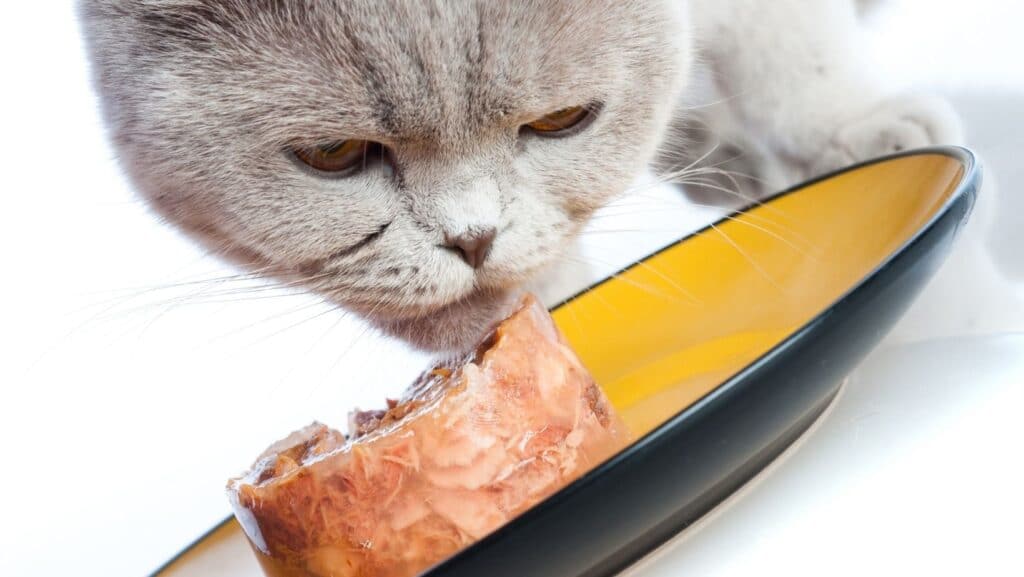 Brushing
Older cats with tooth problems benefit from regular daily brushing.
You will need to use a specialized cat toothbrush and toothpaste on your cat. There are instructional videos on YouTube which detail the process step by step.
This won't work for all cats but is a great option if you are able to do it.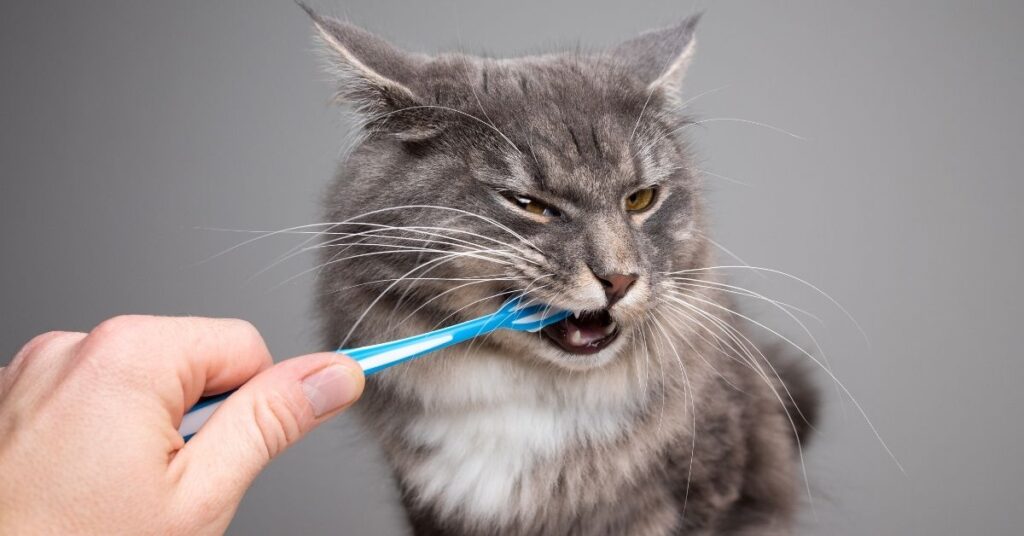 ---
What can I feed my cat with bad teeth?
We've talked about what you can look at to identify and prevent dental problems.
If your cat is already at this point already and needs some help with food choices there are some things you can do.
There are two aspects to the selection of food for senior cats with bad teeth:
The first is the nutritional needs of senior cats.
The second aspect is the specific adjustments that need to accommodate for dental problems or missing teeth.
Let's talk about the diet side of things first.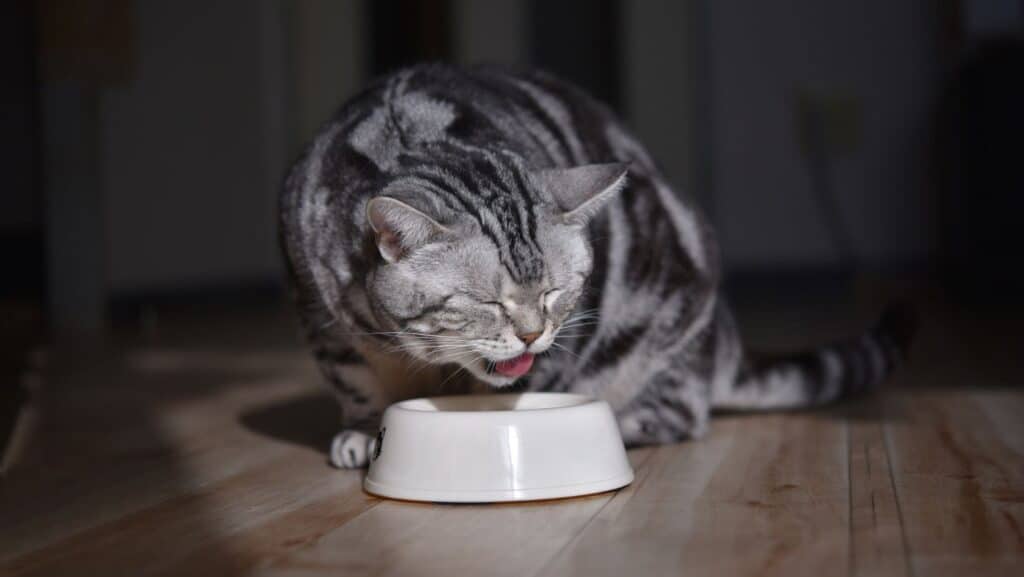 ---
What is the best cat food for older cat's health?
As cats age, they have a reduced ability to digest protein and a reduction in lean muscle [3].
This means they require a higher protein diet than a younger cat.
Animal-based protein is of higher quality than grain-based protein [3]. This is due to improved digestion of the protein and higher amounts of essential amino acids (e.g. taurine).
Cats over the age of 11 years need 6-8g/kg of protein per day [3].
One-third of cats over the age of 12 have a reduced ability to digest fat [4]. Cats at this age benefit from higher caloric density foods to maintain weight.
Consumers are often misled into thinking dry cat food is more calorie and protein-dense (hence the best choice). However, this is due to not factoring in the moisture content of the food. Cat food needs to be converted to a dry matter basis for proper analysis of the nutrition.
Check out my guide to reading cat food labels for more information.
Older cats need high moisture foods
Remember that cats struggle to obtain their water needs from a dry food diet (even when supplied with adequate water). Moisture is an important part of a cat's diet, and wet cat food provides this to them. Check out my top 9 tips for cat nutrition for more awesome information.
The bottom line is the best cat food for elderly cats is a higher protein wet cat food that is easy to digest.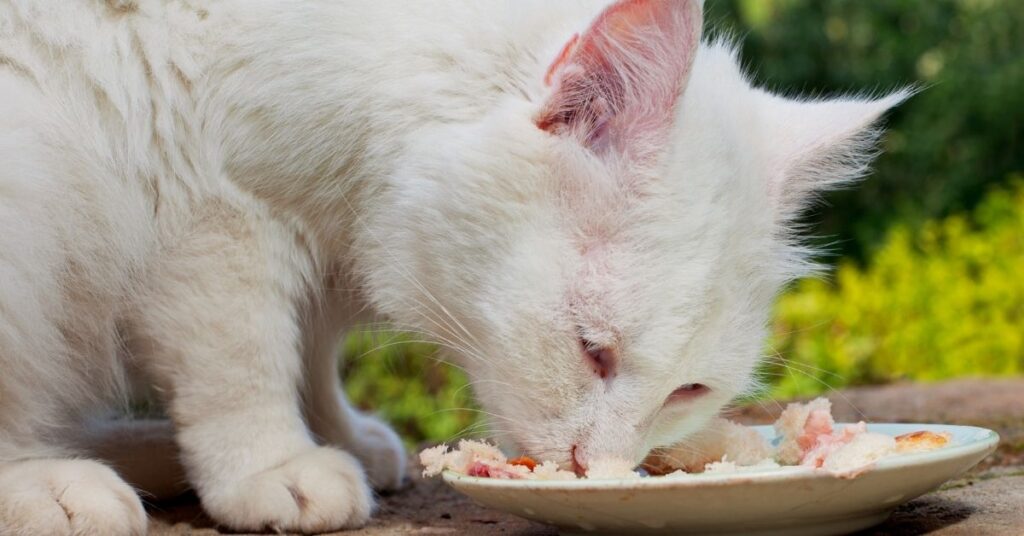 ---
What is the best cat food for older cats with bad teeth?
A cat's dentition is different from a human's.
Cat's have sharply pointed incisors designed to grab onto prey for consumption [2]. They are a carnivore by nature and that's the main purpose of their teeth.
Instead of chewing, older cats use their tongue to help navigate food to the back of the mouth for ingestion [2].
Humans, by comparison, grind and chew foods. This is due to being omnivores, which means we consume plant-based foods as part of the diet.
Some dry cat foods claim they are good for dental health.
However, the best foods for older cats are raw and soft foods. Anything swallowed without the need to chew is best for older cats with bad teeth.
---
Can I use dry cat food for an older cat with bad teeth?
I don't recommend dry cat food for older cats with bad teeth.
Some older cats may have pain from dental disease when biting down into foods. Dry food, as you can imagine, isn't pleasant when it is painful to chew.
You may notice your older cat eating less if fed dry cat food due to discomfort.
Some cats with bad teeth or no teeth at all may still enjoy dry food.
Softening dry cat food with warm water and soaking it allows for an easier chew. Some dry food formulations are small enough for your cat to swallow whole.
Another option is freeze-dried cat food. When reheated, many of these foods are soft enough to swallow without difficulty.
I recommend speaking with your veterinarian for help. The ability to feed your older cat dry food will depend on the situation.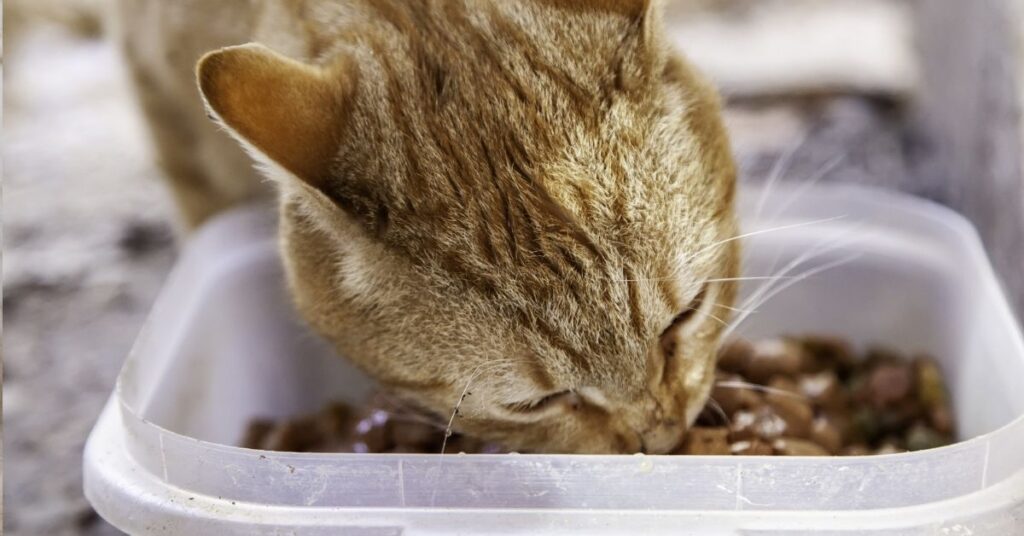 ---
Conclusion: Best Cat Food for Older Cats with Bad Teeth (Final Thoughts)
In this article, I've looked at the best cat food for older cats with bad teeth.
Here are my final thoughts:
Older cats loss muscle and have less ability to digest protein and fat
Older cats with bad teeth benefit from a higher protein and fat diet to maintain strength
Older cats benefit from less grains and legumes, since these foods don't provide much protein and are harder to digest
Older cats may experience a higher rate of dental problems
Brushing your older cat's teeth help to maintain dental health
Inspect your older cat's mouth for teeth problems and talk with your vet to get support
Older cats with bad teeth benefit from wet canned cat food with a soft pate texture
Dry cat food may be hard to chew but may be softened with water for easier chewing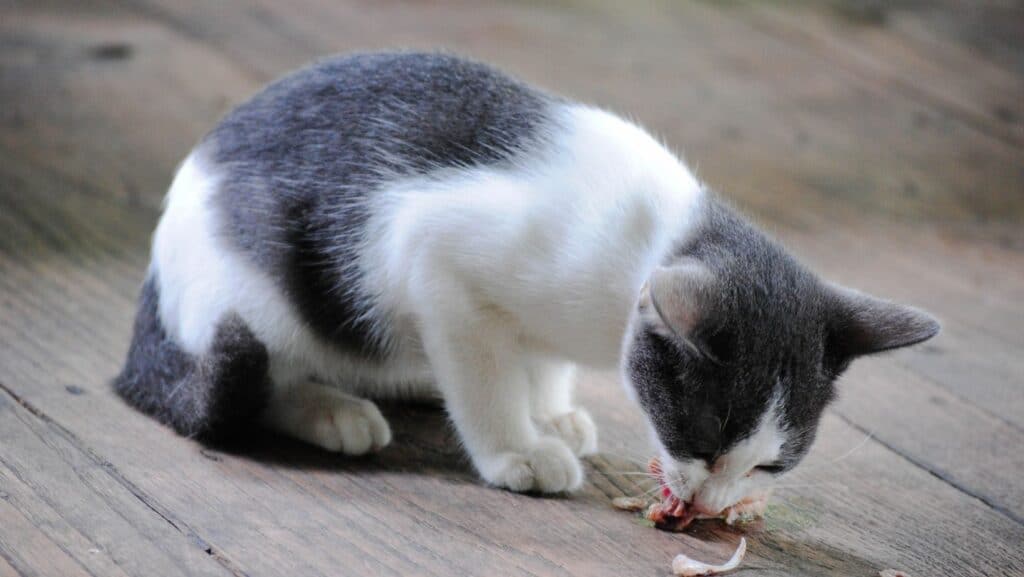 ---
Our Verdict: Best Cat Food for Older Cats with Bad Teeth
I chose the Feline Natural Grain-Free Canned Cat Food as the stand-out choice for older cats with bad teeth.
Here are some of the benefits of this cat food:
Premium grass-fed meat for muscle maintenance
Soft pate texture that is easy to chew and swallow
Omega 3 and glucosamine from green mussels for joint health
No grains and legumes for easy digestion
After more cat-related articles?
Check out our guides below.