Honest Tiki Baby Cat Food Review
Disclaimer: As a Chewy & Amazon affiliate, I earn from qualifying purchases. This does not impact our reviews and comparisons.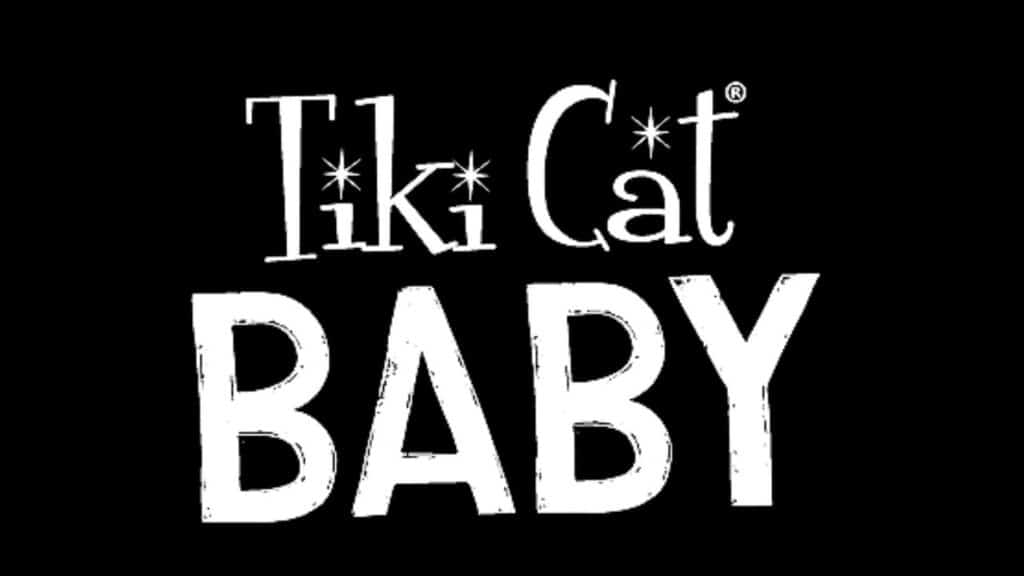 Score: 8.5/10
Bottom Line
Great choice for fussy kitten health, but pricey.
We did this Tiki Baby Cat food review with the help of our cat taste testers.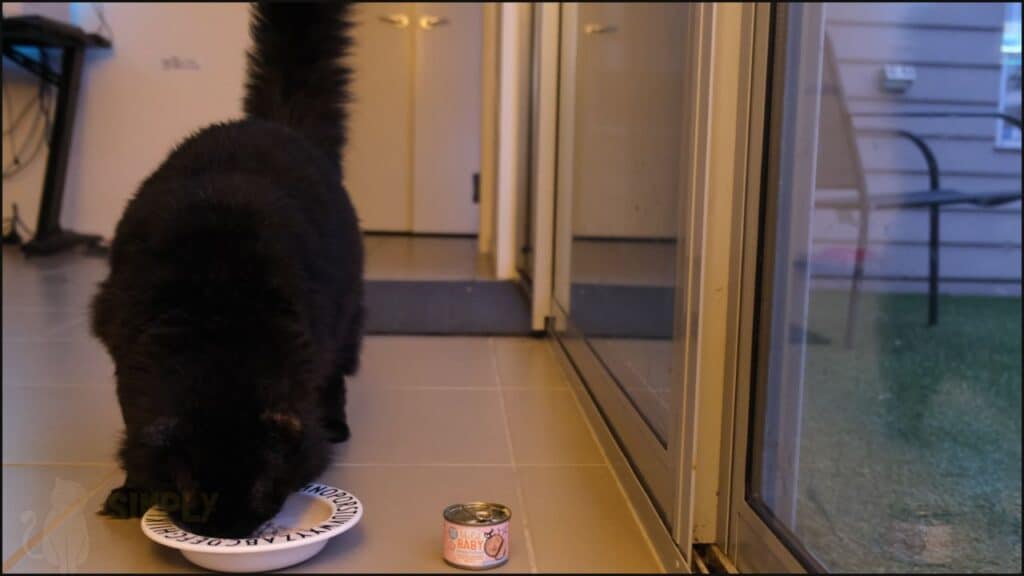 Tiki Cat Baby is a product line from Tiki Pets.
I've tested their wet kitten foods with our cats.
Review summary:
The good?
Top nutrition.
A high protein complete meal that's great for growing kittens. Filler free and easy to digest.
The bad?
Limited flavors.
Tiki Cat Baby is a chicken based cat food. So if your kitten doesn't enjoy chicken, this one won't suit your needs.
The ugly?
Pricey.
Quality comes at a price, and Tiki Cat Baby is no exception.
In short:
Great.
Tiki Baby Cat food is a good choice for kittens…heck you could get away with feeding this to any cat. There's only a few kinks in the armor with this one.
Best for:
Growing kittens
Easy digestion
Chicken lovers
>> Check out Tiki Cat Baby here.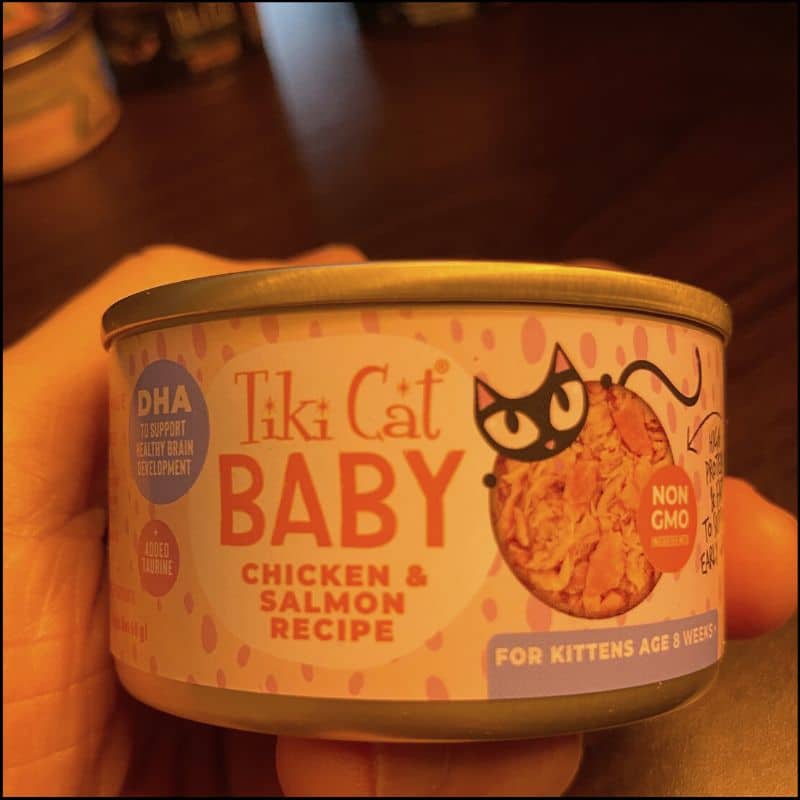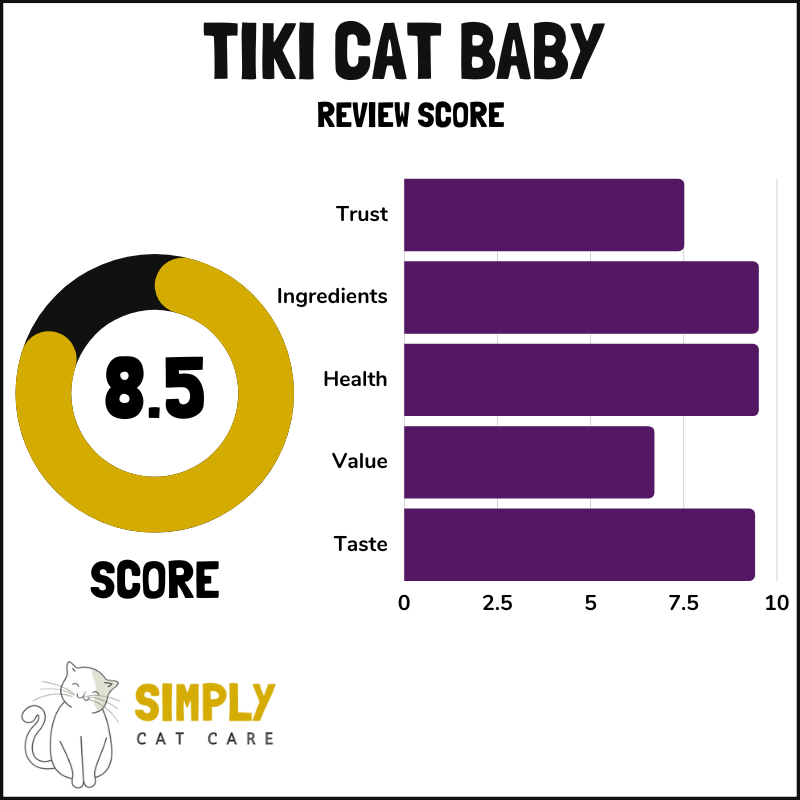 After more info on Tiki Cat Baby?
In this short Tiki Baby cat food review I'll go into more detail about nutrition, ingredients, and taste.
This includes testing footage with our cats Oscar and Karl.
More below!
I am not a veterinarian and I recommend seeking the advice of a vet for any further questions. This article is not intended as a replacement for medical advice.
About Tiki Cat Baby
Tiki Pets own Tiki Cat and are a US brand based in Missouri.
Unlike many brands, they're a 'cat first' brand. They recognize that cats are carnivores.
Tiki Cat Baby is a product line from Tiki Pets. This is a kitten focused range using chicken, salmon and egg as main ingredient sources.
Tiki Cat wet food is Thailand manufactured (dry food made in the US).
Quick notes:
US owned
Cat first brand
Recognize cats are carnivores
Tiki Baby Cat Food Review
I've taken a look at the following areas:
Nutrition
Ingredients
Value for Money
Taste
Trust
Here's the results:
Nutrition
Excellent.
This product is high in protein and low in carbs. Exactly what cats need, so it's hard to fault.
Could have a tiny bit more fat to increase taste, if being pedantic.
Kittens need a high calcium to phosphate diet or experience nasty health problems. Tiki Cat Baby is thankfully higher in calcium to phosphate (1.2:1).
Tiki Baby Cat meets AAFCO's nutrition guidelines for all life stages (despite the name).
In short:
High protein
Low carb
Suited for all ages
Nutrition (Dry Matter Basis)
Protein: 63%
Carbs: 2%
Fat: 23%
Ash: 4%
Fiber: 8%
Calcium to Phosphate Ratio: 1.2:1
Energy: 1,175 kcal/kg
Nutrition: 9.5/10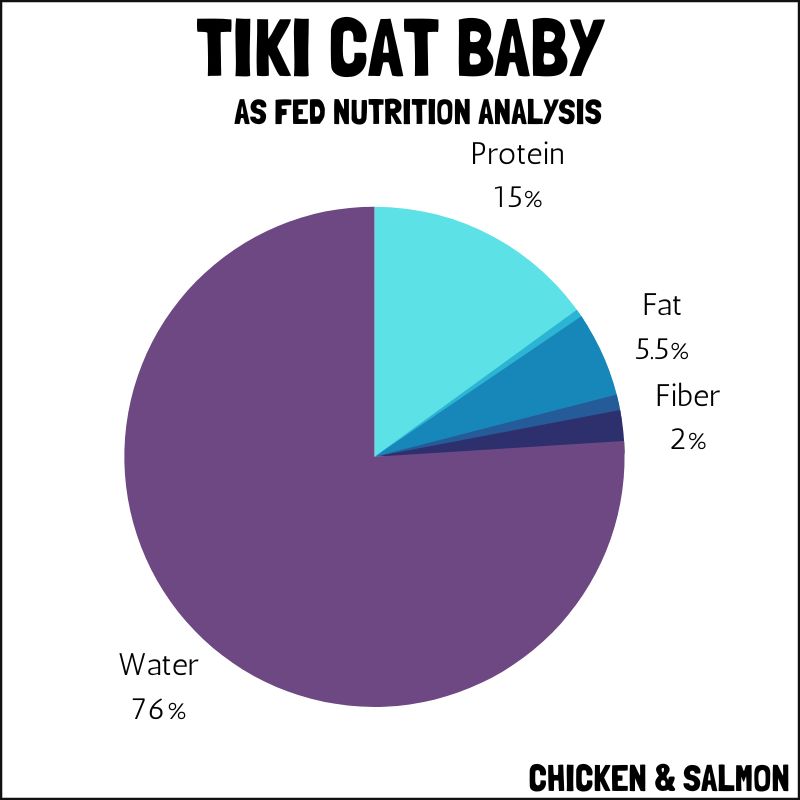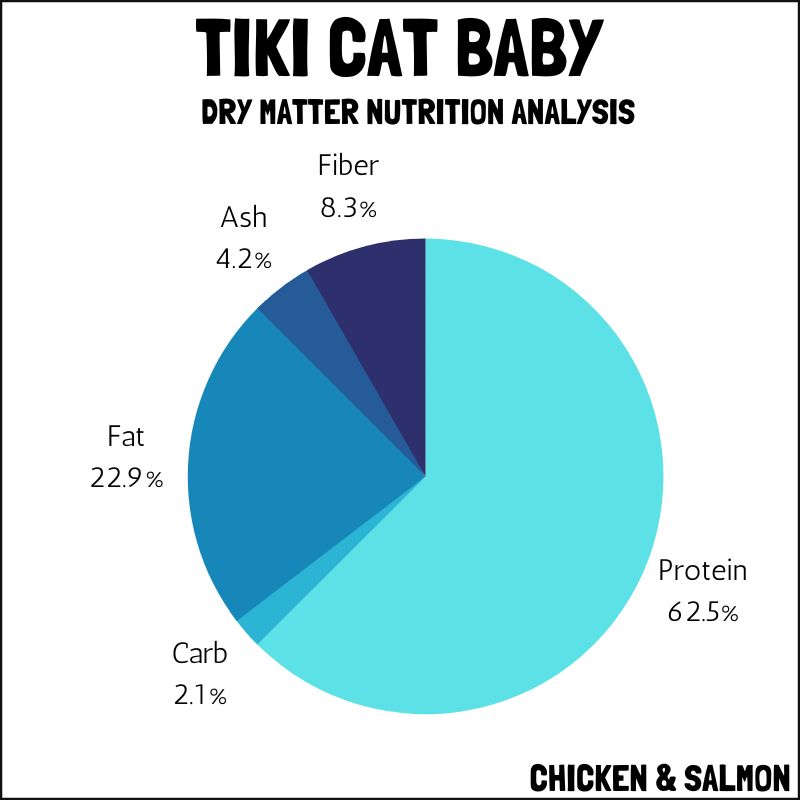 Ingredients
Good.
Three of the first five ingredients are meat based. This includes chicken, chicken liver, and salmon.
All high protein meaty foods that benefit cats.
The one gripe is sunflower oil before salmon. Cats don't need this fat source, as the omega 6 doesn't convert to active form (arachidonic acid).
On the bright side, it does include salmon oil, a great source of omega 3. Research suggests this improves learning.
The rest of the list contains added vitamins and minerals. No fillers (e.g. gums, carrageenan) in the tin.
In short:
Meat rich
Filler-free
Grain-free
Ingredients: 9.5/10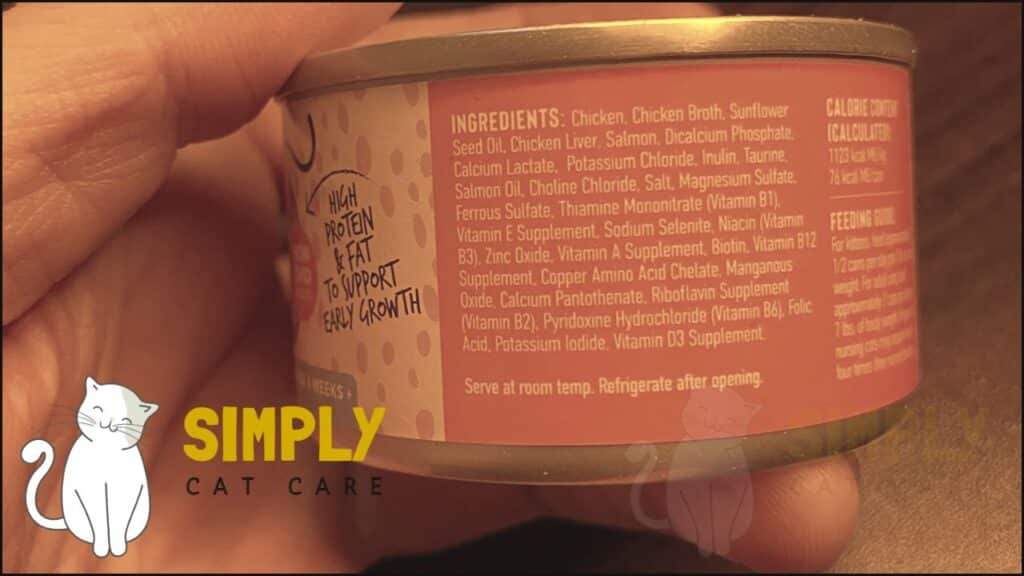 Taste
Great.
I served Tiki Baby Cat chicken & salmon shreds and our cat Oscar devoured it quickly. It's fair to say he enjoyed this one!
Customer reviews are mostly positive, although this product is new.
Here are the results of our taste testing:
Food Test 1: Tiki Baby Cat Chicken & Salmon Shreds
Amount eaten: 100%
Time to finish eating: 5 minutes
Food appearance: A little watery. Shredded texture, looks near human grade and fresh.
Smell: Smells pleasant
Here is a short video of Oscar trying this cat food:
Taste: 9.5/10
Here is a presentation of this cat food:
Food Test 2: Tiki Cat Baby Mousse & Shreds
Amount eaten: 100%
Time to finish eating: 4 minutes
Food appearance: Mushy and softer on top (designed that way for kittens and weaning). More crumbly and sticky in the middle and bottom layers.
Smell: Light fishy smell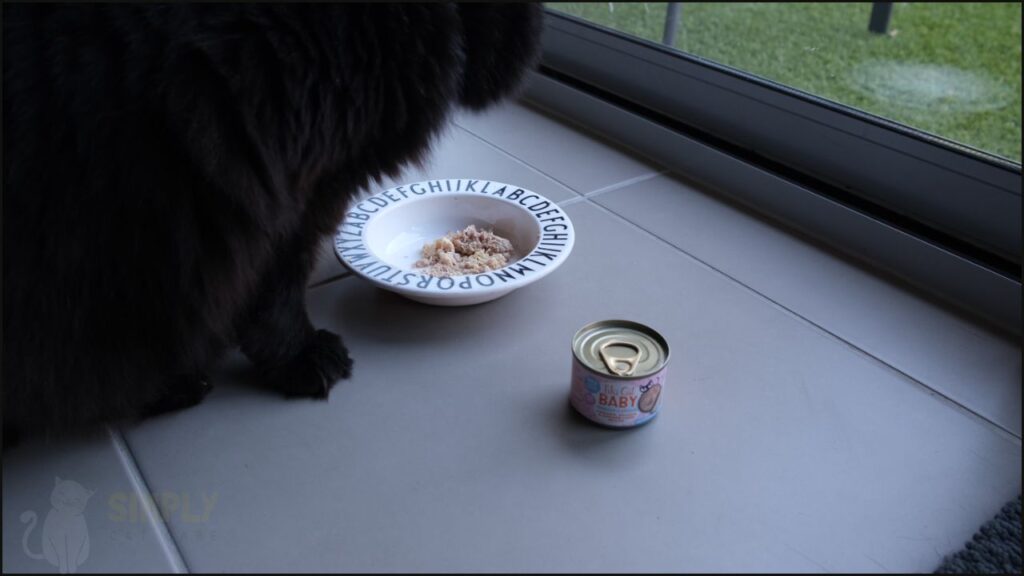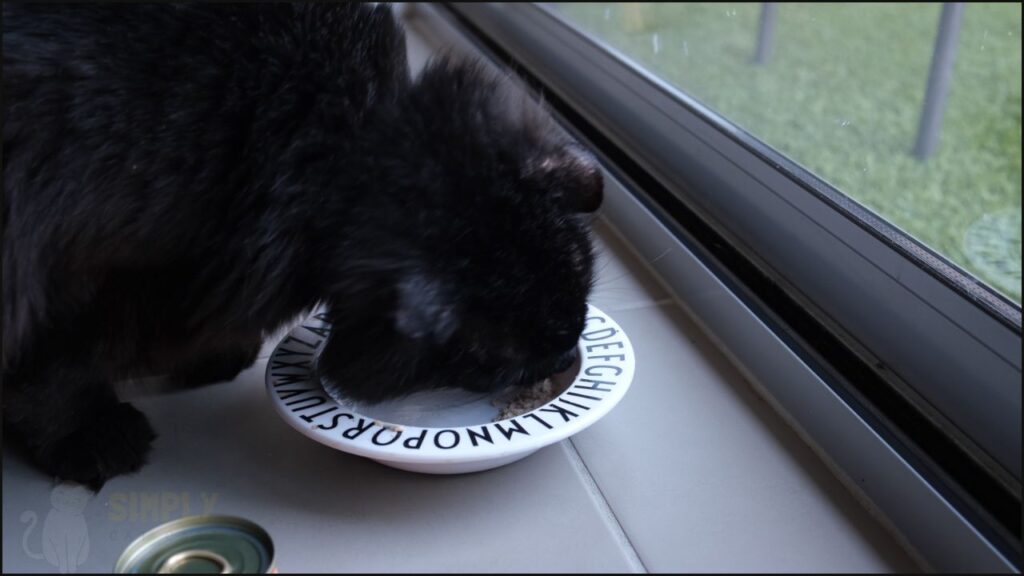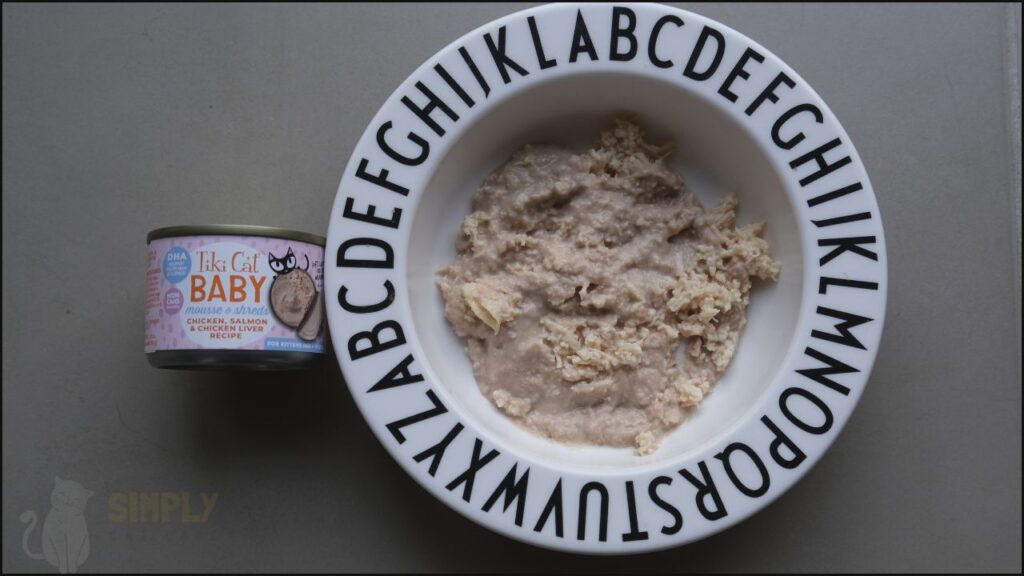 Value for Money
Expensive.
The price of Tiki Cat Baby is on the high end of the price scale for wet cat foods. The quality is worth it though.
I've compared prices on a per ounce comparison.
Similar products include:
Value: 6.5/10
Trust
Good.
I have covered this topic in my other article on Tiki Cat After Dark (another product in the Tiki Pets line).
Long story short, Tiki is a trustworthy brand.
They are not owned by one of the 'big pet food' companies. There's also no recalls as of date.
However, this product needs more time in the market to better see results.
Is it something your cat will like?
I think yes (our cats love it)…but there's limited evidence.
Learn More:
Trust: 7.5/10
Conclusion
Great.
Tiki Cat Baby is a top choice for growing kittens, easy digestion, and picky eaters.
It is pricey and limited in flavors though. If your cat doesn't like chicken, they won't enjoy this one.
Best for:
Growing kittens
Easy digestion
Chicken lovers
Where to find Tiki Cat Baby?