3 Best Dry Cat Food for Sensitive Stomachs
Disclaimer: As a Chewy and Amazon affiliate, I earn from qualifying purchases. This does not impact our reviews and comparisons.
What is the best dry cat food for sensitive stomachs?
Low carb dry cat food is best.
As carnivores, cats have a hard time digesting carb rich foods.
Here's our 3 best dry cat food sensitive stomach picks:
Dr. Elsey's Clean Protein | Best Overall
Tiki Cat Born Carnivore | Best Value
Ziwi Peak Air-Dried | Best Quality
A high carb diet can cause vomiting, diarrhea, and food rejection.
Many dry cat foods are high in grains to save cost. Not good for digestion.
What to do?
We'll go through an epic buying guide to break things, then run through the top picks.
Finally, I'll go through frequently asked questions on the topic.
Let's go.
Buying Guide
Choose low carb dry cat food.
Most dry foods are packed with carbs.
Some cats are sensitive to grains, including wheat and barely.
Why are carbs a problem for digestion?
Cats have fewer enzymes in their body for digesting carbs.
Although they can digest small amounts, the high amount of carbs in many dry cat foods result in diarrhea.
Anything more than 25% (dry matter) is problematic. Check with a calculator.
For this reason, wet cat food is best. Wet cat food is lower in carbs.
Feeding cats wet food helps with remission from diarrhea.
But with this article, I'm assuming you're after a dry cat food.
Good luck, because there's not many low carb dry foods.
On the bright side, some fibers may help digestion if hairballs are an issue.
Fiber including cellulose, beetroot pulp, and sugarcane fiber can bind hair, helping with elimination. Usually common ingredients in many dry cat foods.
What Ingredients Should You Avoid?
Other things to avoid:
Histamines
Gluten
Lactose
Colorings
Preservatives
Flavorings
Lectins
Some cats are sensitive to these ingredients.
How can they cause digestive issues?
Either by poor digestion (e.g. lactose) or the food affecting digestive function (e.g. faster transit time).
The only real way to systematically go about finding out if these ingredients are an issue is an elimination diet.
We recommend Ziwi Peak Air-Dried cat food for that purpose, but speak with a vet if a low carb cat food doesn't help.
3 Best Dry Cat Food for Sensitive Stomachs
I've recommended the same 3 cat foods in my best dry cat food article!
It's really a case of these three being the most reliable options.
1. Dr. Elsey's Clean Protein
Best Dry Cat Food for Sensitive Stomachs
Review
Dr. Elsey's are the best choice for easy digestion.
They use protein gelatin instead of grains, giving you a carb free meal.
It's an affordable meal for all life stages.
We are yet to give this one a try, so can't comment about the taste or changes.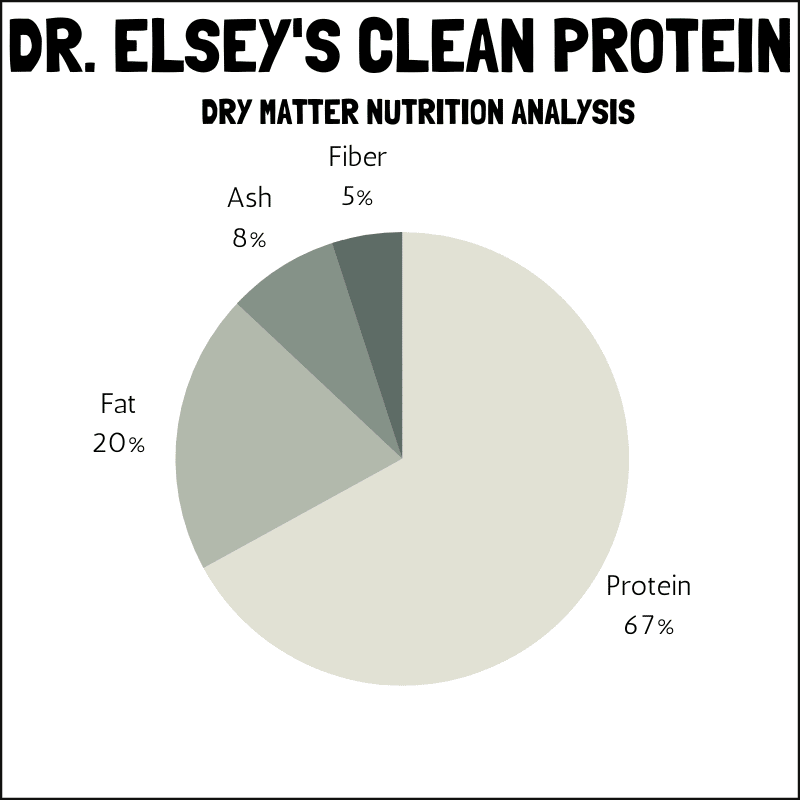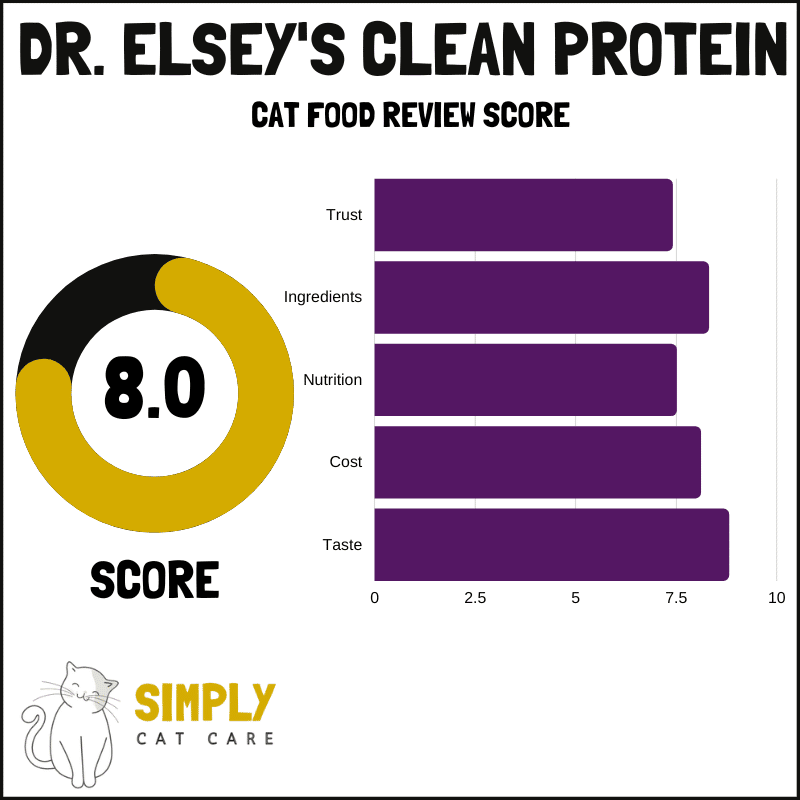 2. Tiki Cat Born Carnivore
Best Value Dry Cat Food for Sensitive Stomachs
Review
Tiki Cat Born Carnivore is one of the few dry cat foods that are under 15% carbohydrate on a dry matter basis.
Whilst it does contain some peas and chickpeas, it's still less 'fillery' (is that the word?) than many other options.
As this product isn't available where I live, I haven't tested it.
But I find it hard to recommend much else.
Tiki Cat Born Carnivore alternatives include Orijen Original and Crave.
Read More: Tiki Cat Food Review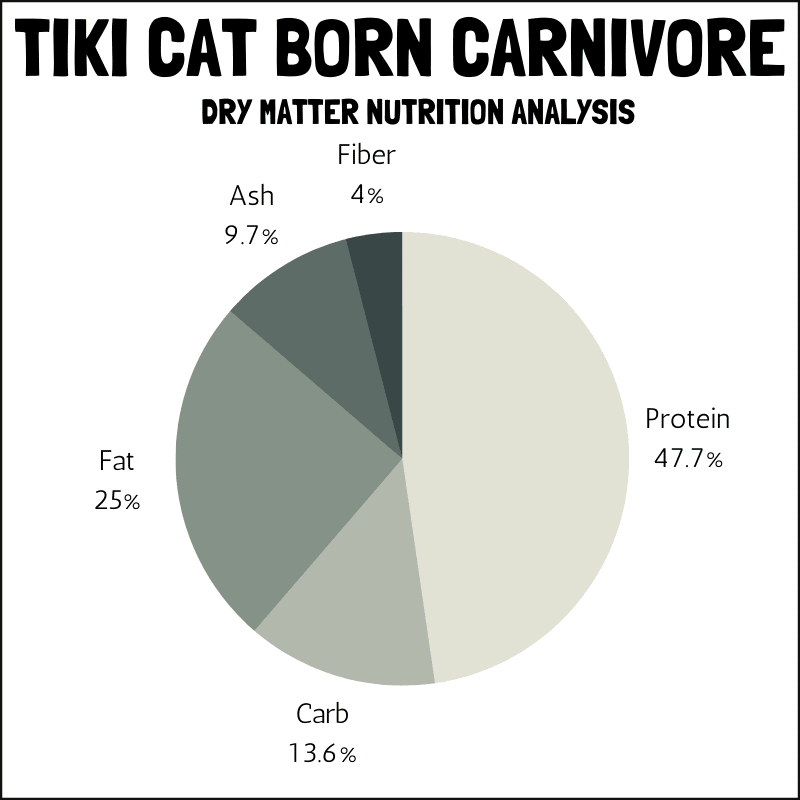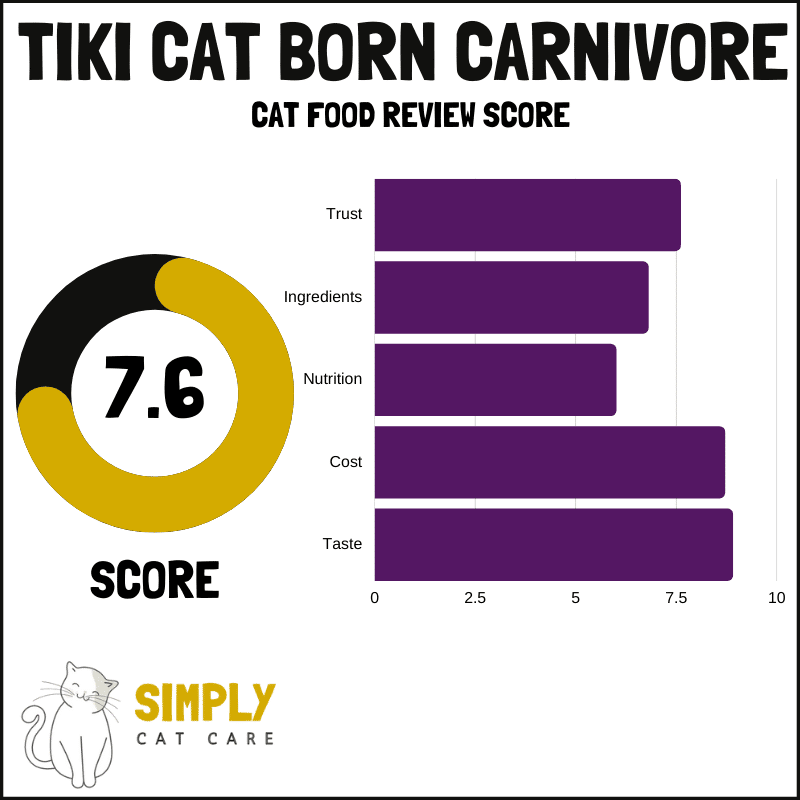 3. Ziwi Peak Air-Dried
Best Quality Dry Cat Food
Review
If food intolerance is an issue, Ziwi Peak is your best choice.
It's a grass-fed product from New Zealand.
No grains. No peas. Nada.
It's meat, organs, and little else to trouble your cats digestion. A complete meal for all life stages.
For quality, it's a standout choice on the market. And our cats enjoyed it, thankfully.
But it's ultra expensive! I think it's worth it, but I can't say it's up everyone's alley.
Learn More: Ziwi Peak Cat Food Review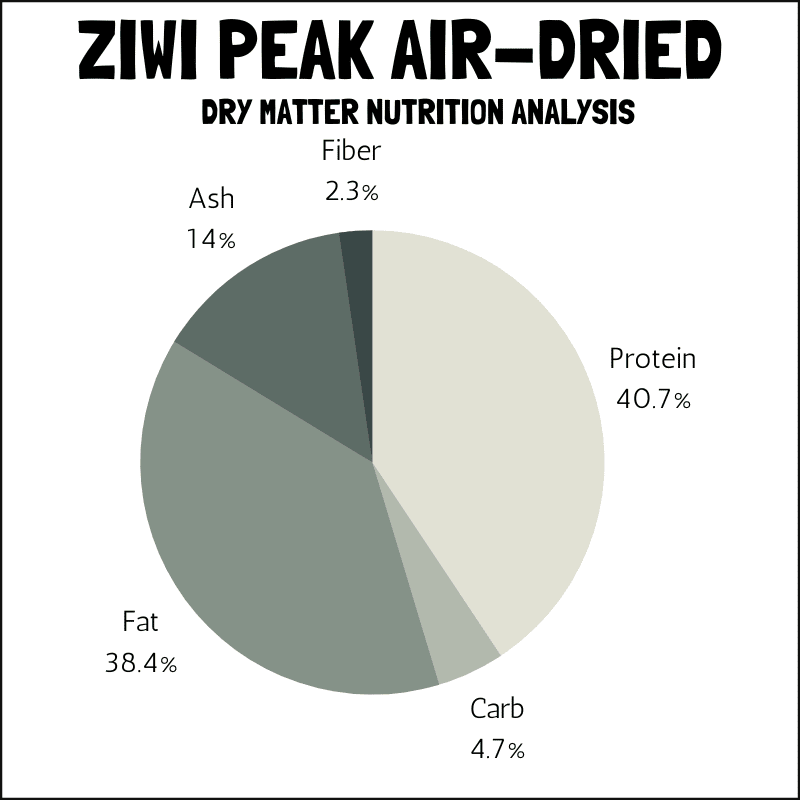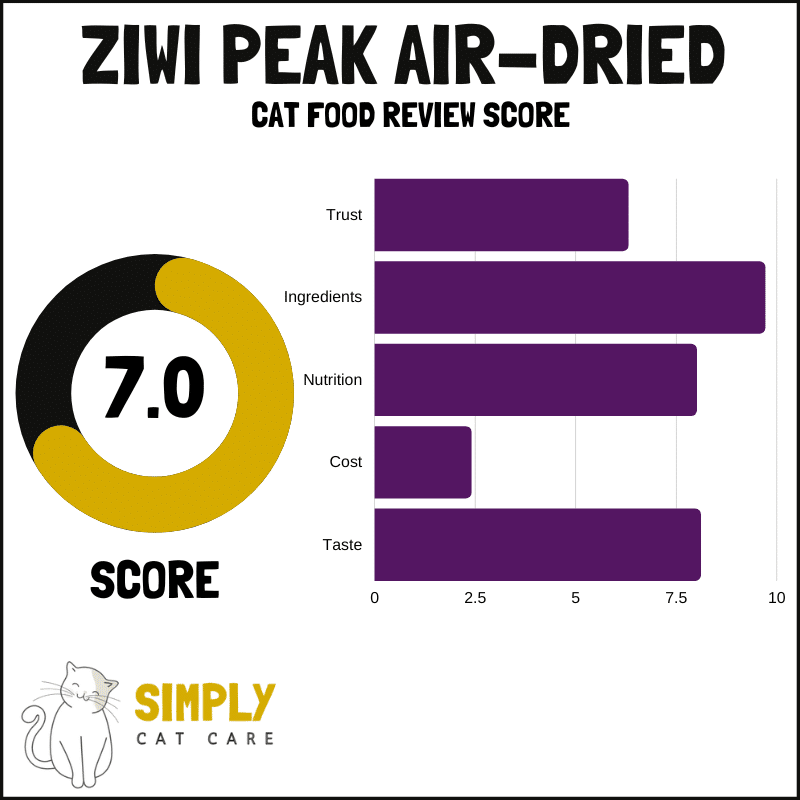 Frequently Asked Questions
Why Does Dry Food Upset My Cats Stomach?
Overeating, high carb amount, or food intolerance.
Cats have a ping pong ball sized stomach. It can't handle huge amounts of food.
This leads to so called 'scarf and barf'.
Solution? Use small portions.
Spread food intake over 3-6 meals. In the wild, cat's eat small frequent meals.
Food intolerance can also cause vomiting and pruritis (itchy skin).
Learn more:
What Is the Best Dry Food for Cats With Sensitive Stomachs?
Choose low carb dry cat food.
Best options include:
Ziwi Peak Air-Dried
Dr. Elsey's Clean Protein
Tiki Cat Born Carnivore
Orijen Original
Crave
Canned food increases the chance of remission from diarrhea. Consider switching part of the diet to wet cat food.
What Are Signs of Digestive Problems?
Signs include:
Vomiting
Dry heaving
Hairballs
Diarrhea
Coughing
Learn more:
When Should I Call a Vet?
If you notice the following:
Blood in vomit
Blood in stool
Vomiting more than once a month
Diarrhea lasting more than 2 days
The pattern of vomiting is a sign of different things.
Problems with motility may cause your cat to vomit up to 8 hours post-meal. Digestive system damage leads to blood in the stool or vomit.
Keep a record of your cats history to help your vet with diagnosis.
Conclusion
High carb dry cat foods cause digestive issues. This includes vomiting and diarrhea.
Your choices are limited for dry cat foods that are low carb. Use a dry matter basis calculator and aim for fewer than 25% carbohydrate.
Contact a vet if the problem persists.