4 Best Dry Cat Food for Sensitive Stomach Cats
Cat's have a hard time digesting some foods. The best dry cat food for sensitive stomach cats are products that improve digestion. Let's find out the best options on the market.
As obligate carnivores, many plant-based ingredients are hard on a cat's stomach and lead to frequent vomiting and diarrhea.
Dry food contains a lot of cheap ingredients that adult cats may have trouble with.
Typically, they contain a range of ingredients that include animal-based foods (good) and plant-based foods (not good). Dry cat food has the advantage of convenience over wet cat food.
Feeding your cat a dry cat food with more animal-based protein may reduce vomiting and diarrhea risk.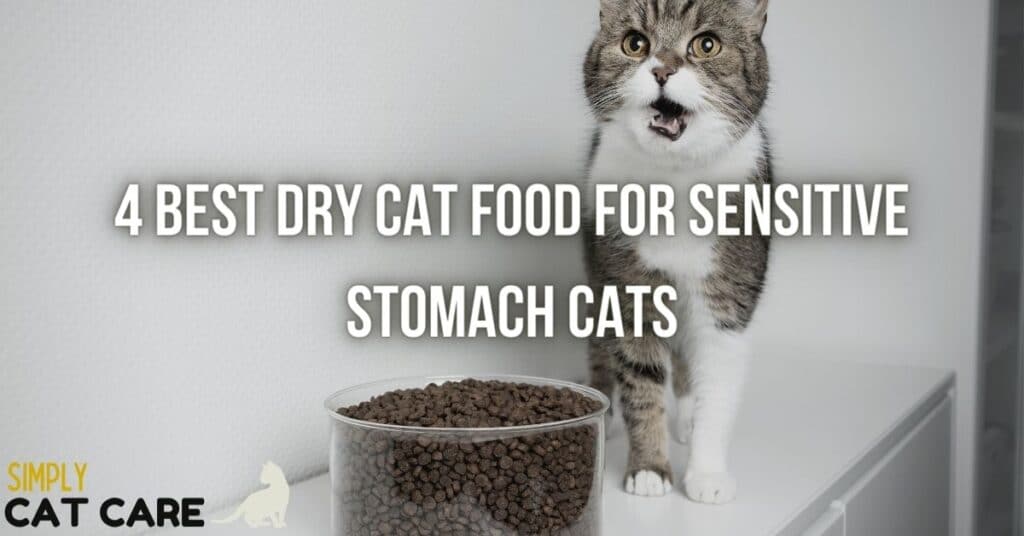 My name is Derrick and I am a writer for Simply Cat Care. This website provides easy-to-read helpful guides for your cat. In this article, I will review the best dry food you can give to a cat with a sensitive stomach to solve this problem.
I am not a veterinarian and I recommend seeking the advice of a vet before changing your cat's diet.
Here's what you'll find in this article:
Let's get into it.
---
Product Review: Best Dry Cat Food for Sensitive Stomach Cats
Let's take a look at Ziwi Peak Air-Dried Cat Food.
I like that this product is made from air-dried grass-fed animal products. This means the total protein is higher than other dry cat food choices, and the carbohydrate content is far lower.
The majority of dry cat food brands use high amounts of grains and legumes. Too many carbohydrate ingredients may lead to diarrhea and vomiting.
What else does ZIWI peak dry cat food have to offer?
There are two flavors in the range (lamb and venison) that are suitable for a limited ingredient diet. Some cats may have a sensitive stomach because of food intolerance and/or food allergies.
Using a limited ingredient cat food with novel protein sources is one way to solve the problem. Vets may prescribe a limited ingredient elimination diet if a cat is experiencing allergy or food intolerance symptoms. This cat food is a great option for that purpose.
The main downsides of this dry cat food brand are the cost and mixed-taste reviews. The bag is also stronger smelling than many other cat food choices.
INGREDIENTS (LAMB):
Lamb, Lamb Heart, Lamb Tripe, Lamb Liver, Lamb Kidney, Lamb Lung, New Zealand Green Mussel, Lamb Bone, Lecithin, Inulin from Chicory, Dried Kelp, Minerals (Dipotassium Phosphate, Magnesium Sulfate, Zinc Amino Acid Complex, Copper Amino Acid Complex, Iron Amino Acid Complex, Manganese Amino Acid Complex, Sodium Selenite), Salt, Preservative (Citric Acid, Mixed Tocopherols), Vitamins (Choline Chloride, Thiamine Mononitrate, Pyridoxine Hydrochloride, Folic Acid, Vitamin D3 Supplement), DL-Methionine, Taurine
---
Dr. Elsey's Clean Protein Dry Cat Food contains the proper nutrition missing from many commercial cat dry foods. This product is high in protein and fat, and low in carbs.
I like that this product uses gelatin instead of gluten or corn as a binder. This is an easy-to-digest animal protein source for cats. Another benefit of this product is the low levels of oxalate which help to prevent kidney stones.
This dry food is as good as it gets with no obvious flaws. Some of the other flavors produced by this brand have a little more carbohydrate than the chicken flavor.
The only other downside is the circular shape of the food which may be a little different than the saucer shapes of many dry foods. Also, the product is a little more pricey.
INGREDIENTS
Chicken, Dried Egg Product, Pork Protein Isolate, Gelatin, Chicken Fat (Preserved With Mixed Tocopherols), Flaxseed, Natural Flavor, Salmon Oil, Potassium Citrate, Calcium Carbonate, Fructooligosaccharide, Calcium Carbonate, Choline Chloride, Vitamins (Vitamin E Supplement, Niacin Supplement, D-Calcium Pantothenate, Vitamin A Acetate, Thiamine Mononitrate, Pyridoxine Hydrochloride, Riboflavin Supplement, Vitamin D3 Supplement, Biotin, Vitamin B12 Supplement, Folic Acid), Minerals (Ferrous Sulfate, Zinc Oxide, Calcium Carbonate, Manganous Oxide, Copper Sulfate, Iron Amino Acid Chelate, Manganese Amino Acid Chelate, Zinc Amino Acid Chelate, Copper Amino Acid Chelate, Sodium Selenite, Cobalt Carbonate, Ethylenediamine Dihydroiodide), Potassium Chloride, Mixed Tocopherols (Preservative), Taurine, Salt, Rosemary Extract
---
Nulo freestyle indoor cat duck recipe is a good alternative to most dry cat foods on the market. It's a high protein choice (44.4% dry matter basis) with less reliance on carbohydrates (sparingly low 21.7% on a dry matter basis). Nulo doesn't use grains (e.g. wheat, corn) which is part of the reason for this.
As with most dry cat foods, there are inherent disadvantages. The low moisture content (10%) makes this (and other dry foods) less appropriate as a sole source of nutrition.
INGREDIENTS
Deboned Duck, Chicken Meal, Turkey Meal, Deboned Cod, Whole Peas, Lentils, Chicken Fat (Preserved with Mixed Tocopherols & Citric Acid), Pea Fiber, Natural Flavor, Ground Flaxseed, Dried Chicory Root, Dried Kelp, Dried Sweet Potato, Dried Cranberries, Calcium Carbonate, Dl-Methionine, Taurine, Zinc Proteinate, Choline Chloride, Vitamin E Supplement, L-Ascorbyl-2-Polyphosphate (Source of Vitamin C), Iron Proteinate, Niacin Supplement, Copper Proteinate, Thiamine Mononitrate, Calcium Pantothenate, Vitamin A Supplement, Manganese Proteinate, Pyridoxine Hydrochloride, Sodium Selenite, Riboflavin Supplement, Dried Bacillus Coagulans Fermentation Product, Yucca Schidigera Extract, Vitamin B12 Supplement, Calcium Iodate, Folic Acid, Rosemary Extract
---
Let's look at the Origen Original Cat.
I like that this food contains a wide variety of animal protein sources and eggs. This is great for easy digestion and top nutrition. The product is also grain-free for better tolerability. The customer approval for this product is also high at 94%.
What are the main downsides of this product? One issue is the size of the kibble bites, which some customers find too large.
After that, there are fewer amounts of legume ingredients including peas and lentils. I'm less enthusiastic about the benefits of these ingredients and how nutritional they are for cats.
INGREDIENTS
Deboned Chicken, Deboned Turkey, Eggs, flounder, Whole Atlantic Mackerel, Chicken Liver, Turkey Liver, Whole Atlantic Herring, Chicken Heart, Turkey Heart, Dehydrated Chicken, Dehydrated Turkey, Dehydrated Mackerel, Dehydrated Chicken Liver, Dehydrated Egg, Whole Red Lentils, Whole Pinto Beans, Chicken Fat, Chicken Necks, Chicken Kidney, Whole Green Peas, Whole Green Lentils, Whole Navy Beans, Whole Chickpeas, Natural Chicken flavor, Alaskan Pollock Oil, Ground Chicken Bone, Lentil fiber, Choline Chloride, Whole Pumpkin, Whole Butternut Squash, Mixed Tocopherols (Preservative), Dried Kelp, Zinc Proteinate, Freeze-Dried Chicken Liver, Kale, Spinach, Mustard Greens, Collard Greens, Turnip Greens, Whole Carrots, Apples, Pears, Pumpkin Seeds, Sunflower Seeds, Thiamine Mononitrate, Copper Proteinate, Chicory Root, Turmeric, Sarsaparilla Root, Althea Root, Rosehips, Juniper Berries, Dried Lactobacillus Acidophilus Fermentation Product, Dried Bifidobacterium Animalis Fermentation Product, Dried Lactobacillus Casei Fermentation Product
---
Guide to Choosing the Best Dry Cat Food for Sensitive Stomachs
Let's talk about which dry cat food works best for a sensitive stomach.
What you want to do is stick to a simple formula that contains mostly whole animal foods. Many dry food formulas include cheap fillers such as grains, legumes, and fillers. This can be tough for a cat's stomach and lead to recurring vomiting and diarrhea.
Before selecting a food for your cat, check with your vet to rule out a serious health issue.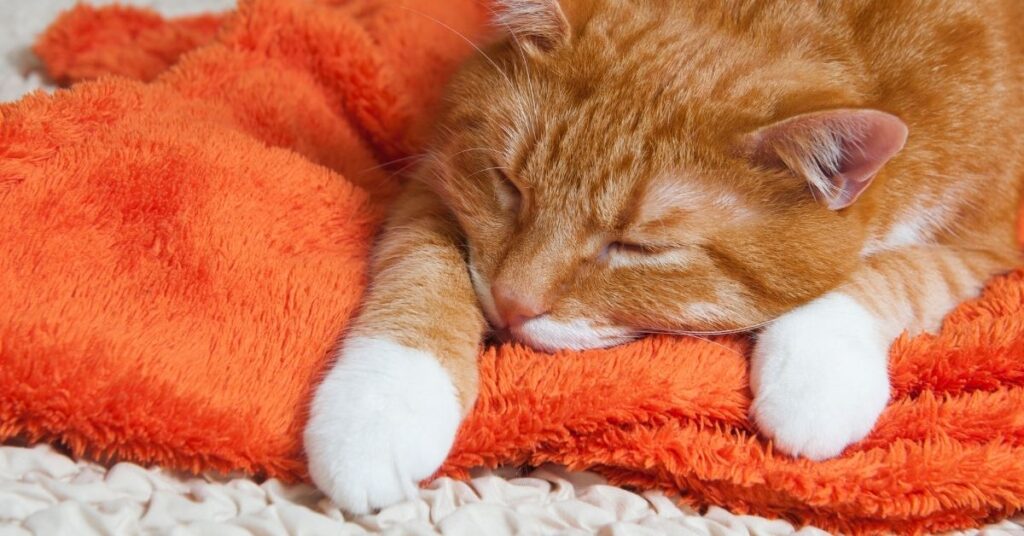 ---
How do I know if my cat has a sensitive stomach?
If your cat vomits then it may have a sensitive stomach.  Dry heaving occasionally and ejecting a small hairball is normal, but shouldn't happen every day or week. 
See my article over here for more information about dry heaving.
However, if your cat is vomiting especially after eating, then your cat's digestive system may have some issues.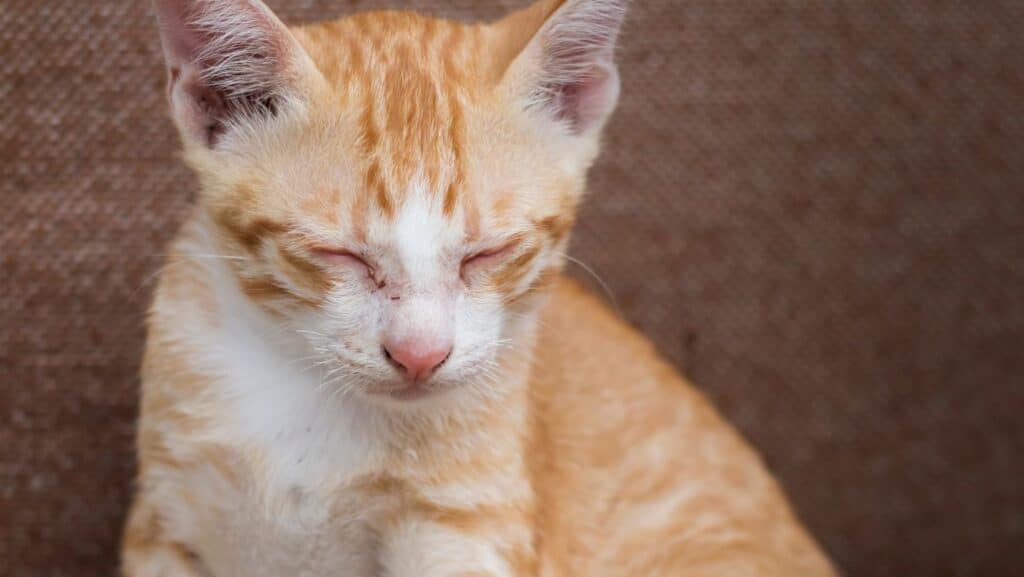 ---
Why does my cat have a sensitive stomach?
Cats can dry heave and/or vomit regularly due to a lot of reasons.
In my article on dry heaving, I went through a few possibilities.  I'll touch on those here.
Hairballs
Cats groom themselves to maintain cleanliness.
Their tongue contains a rough sandpaper texture called papillae extracts dirt from the fur. However, this can also lead to ingesting fur.
A lot of the fur a cat ingests will pass through the digestive system. Excessive fur can lodge in the esophagus and stomach, causing the cat to retch. This will usually eliminate the hair.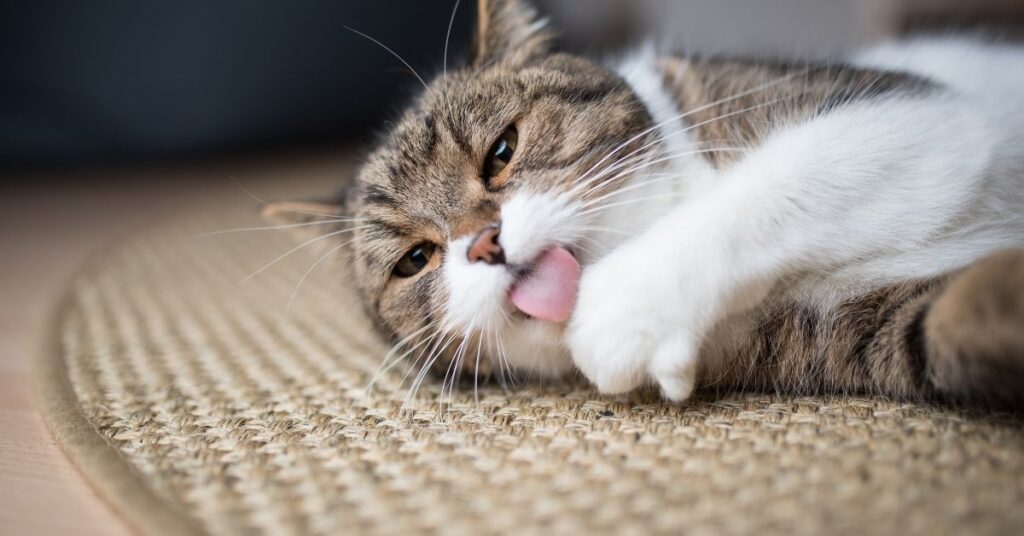 Nausea
If a cat consumes spoiled food, it can get sick (like a human).
Wet food or leftover scraps are prone to accumulating bacteria. If you have left out wet food for too long, it has the potential to spoil.
Cats are also intolerant to a wide range of foods. Check out my helpful guide on foods that are dangerous for cats over here.
Parasites
Fleas are a source of many feline parasites. If your cat scratches itself often and appears to retch, it might be a sign of parasites.
There are many symptoms of a parasitic infection, including diarrhea, coughing, pale gums, a distended abdomen, and vomiting [4].
Check out my article on tips to control fleas to tackle a flea problem.
Stress
Stress is not good for a person and cats are no different.
If cats are not able to acclimate to their environment they may experience stress-related illness. Research has found that providing a cat a predictable routine that includes time for play can reduce the risk of feline interstitial cystitis [1]. This illness can lead to an increase in vomiting episodes.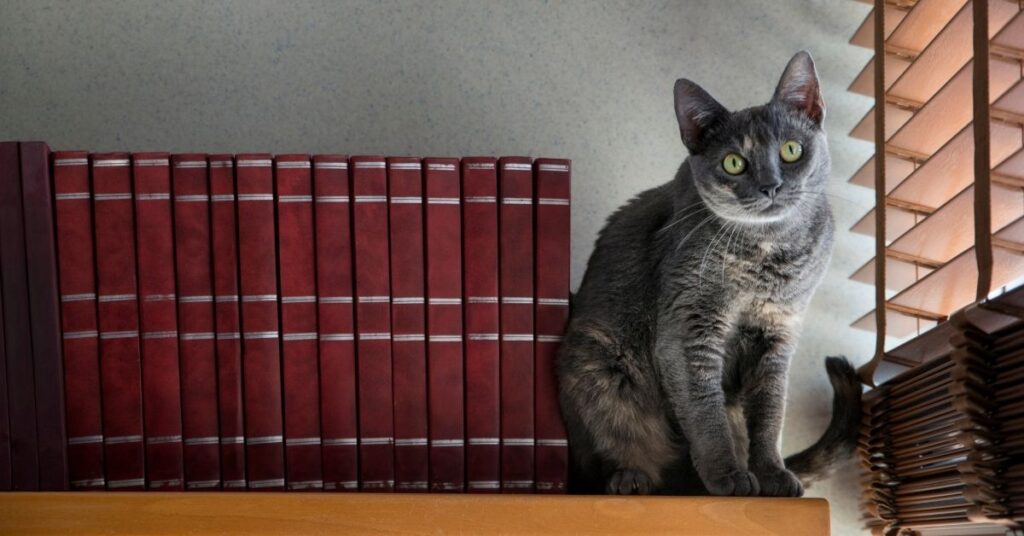 Gastroenteritis
Gastroenteritis is an inflammation of the gastrointestinal tract (i.e. stomach, throat, colon) [6].
Cats with gastroenteritis have symptoms that include abdominal pain, dry heaving (with or without vomit), diarrhea, coughing, and lethargy [6].
Many things can cause gastroenteritis. Vets are best equipped to diagnose this condition.
Irritable Bowel Syndrome (IBS)
Some things are not designed for optimal feline digestion.
Cats are obligate carnivores and thrive off an animal-based diet. I discussed this in my helpful guide on cat nutrition over here.
Grains, legumes, fruit, junk food, and other 'human' foods are not digestible for a cat. Although these constituents make for cheap cat food, they don't make for optimal cat nutrition.
There's no easy answer for this. Cats need quality nutrition for health.
Provide your cat foods that don't have any (or very little) ingredients including grains, binders (e.g. guar gum, acacia gum, xanthan gum, carrageenan), potato, vegetables, and/or refined oils.
If improving your cat's dietary quality improves their digestion, then it's a sign their previous feeding was leading to the sensitivity.
A simple elimination diet (i.e. basing your cat's diet on simple meat products) can help with digestion.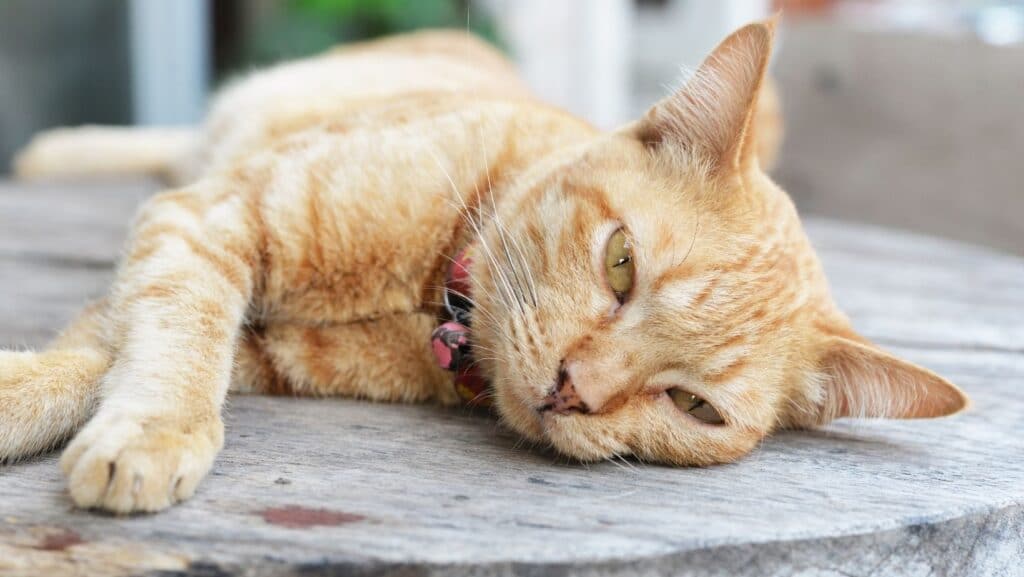 Seek a vet for advice
As I mentioned, check in with a vet to get an idea of the best cat food for sensitive stomachs. A vet is equipped with the knowledge and experience to provide tips for you.
Make sure you keep a record of your cat's history to report. Present this information to the vet so that they can diagnose the cause of the problem.
The pattern of vomiting is important to consider as this can be a sign of different things. If your cat is vomiting up to 8 hours post-meal, then it might be a sign of motility problems [3]. Blood can indicate ulceration of the digestive lining [3].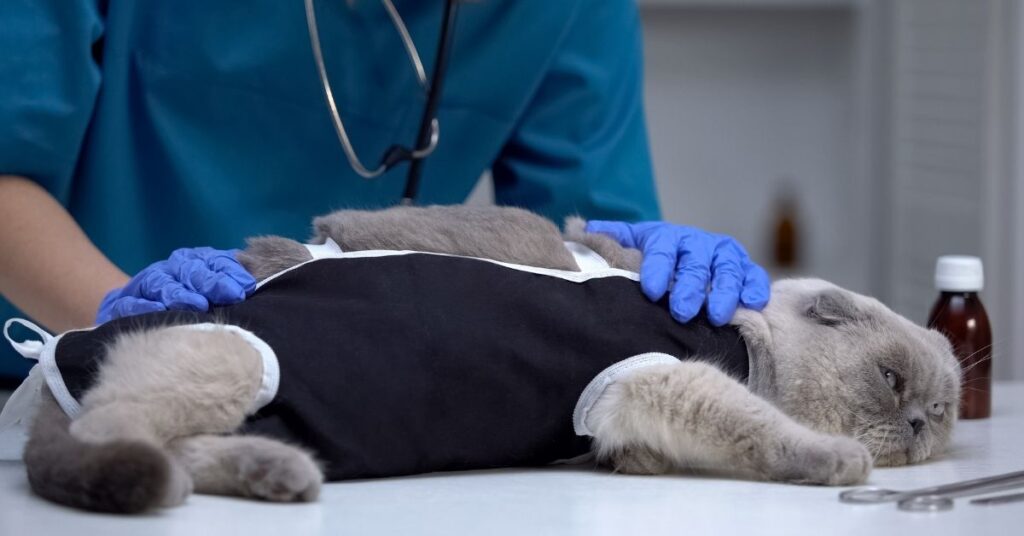 ---
What food is best for cats with sensitive stomachs?
A diet based on animal products may resolve digestive issues.
Cats are obligate carnivores and thrive off animal-based products.  Seek out the advice of a vet, but changing your cat's diet might resolve some issues.
Your vet might prescribe a diet elimination trial which can involve identifying individual foods that trigger sensitive stomachs [9].
Protein allergies might be the cause of food sensitivities [9].
Chicken and fish can sometimes be a problem for your cat's tummy. Your vet might suggest a hypoallergenic diet. This involves foods with limited ingredients and hydrolyzed protein (pre-digested protein) [9].
Formulated cat foods are available to help cats manage hairballs.
Feeding routines are also important.  Try to feed your cat regular meals to avoid having your cat overeat to compensate. 
Check out this article here for help with cats feeding schedules.
Dry food is generally higher in grains and other carbohydrate-based foods. Although the labels can sound great, this means more possible ways of interfering with your cat's digestion.
For this reason, we have to be a little more diligent when selecting good dry food. Most choices aren't suitable right off the bat due to the added food items that aren't appropriate for cat nutrition.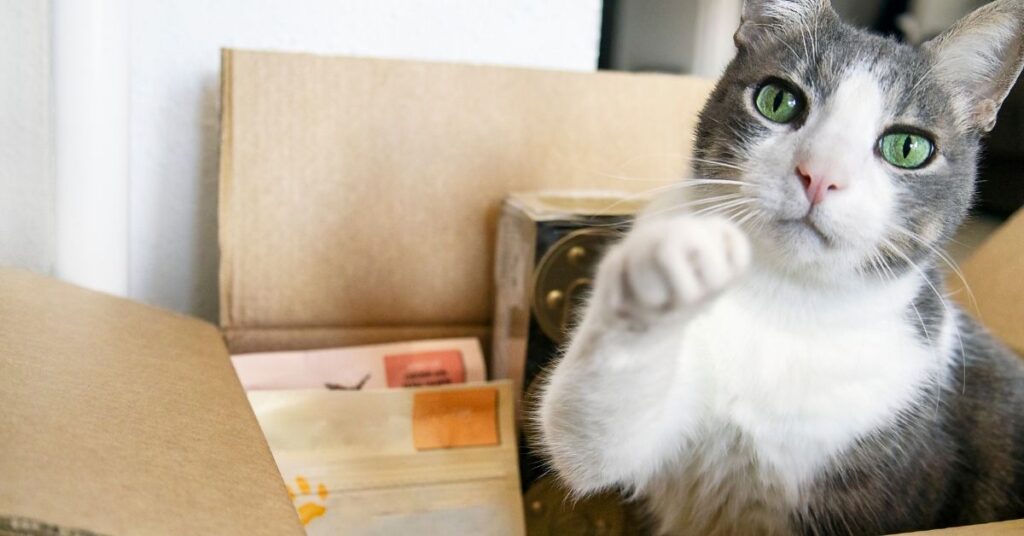 ---
What dry cat food is best for cats with sensitive stomachs?
The best dry food has a limited ingredient profile that is high in animal protein.
This means you will pay extra to get a quality product.
There is no way around that.
However:
Since the quality of the food is better, you may feed your cat less (i.e. more bang for the buck) due to the better nutrition provided.
In this article, I've recommended a select few options that are appropriate.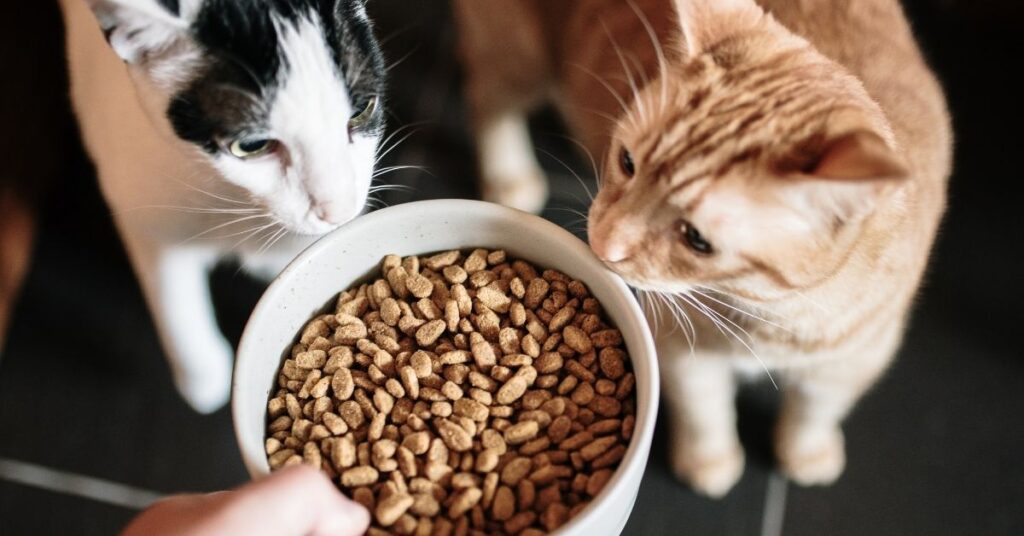 ---
Conclusion: Best Dry Cat Food for Sensitive Stomach Cats (Final Thoughts)
In this article, I have looked at the best dry cat food for sensitive stomach cats.
Here are my final thoughts:
There are a lot of reasons a cat will have a sensitive stomach (e.g. vomiting and/or diarrhea).
Reasons range from environmental or dietary factors.
Examples include stress, parasites, hairballs, gastroenteritis, and irritable bowel syndrome. Some cat's may have food allergies or intolerances that cause digestive syptoms
Cats are obligate carnivores and thrive off a high protein meat based diet
Meat is easier to digest for cats. Animal foods contain high amounts of protein, minerals, and vitamins for good health
Many dry cat foods contain a lot of grain and carbohydrate ingredients (e.g. rice, corn, wheat, potato). Too many of these ingredients may result in a sensitive stomach
Switching to a dry cat food with more animal based protein ingredients and less (or no) grain ingredients may help improve digestion
In some cases your cat may have food allergies or intolerances. A limited ingredient diet with novel protein sources may help with these problems. Speak with your vet for help
Talk with your local pet store and vet to find the best choices for your cat
---
Our Verdict: Best Dry Cat Food for Sensitive Stomach Cats Overall
ZIWI Peak Air-Dried Cat Food – All Natural, High Protein
Here is why I chose this dry cat food as the best overall:
Grain free and low carb for easy digestion
Premium grass-fed animal food sources for optimal health
Air-dried to retain nutrition vs high heat treated methods
Novel protein choices (e.g. lamb, venison) for food allergy and intolerance relief
After more guides for cats?
Check out our articles below.