Best Cat Water Fountains in 2021
Cats are fussy when it comes to drinking water. In this article, I will review two of the best cat water fountains to solve this problem.
Your cat will get most of its water from wet canned and raw foods. They are obligate carnivores and thrive off animal-based products.
Unlike dry cat food, these products are high in moisture.
When given a diet higher in dry cat food, cats don't tend to drink enough water to keep their kidneys healthy.
Some cats don't like drinking out of their water bowl for many reasons (e.g. cleanliness, location, bowl type).
A cat fountain is a way around this issue.
A drinking fountain gives your cat a continuously filtered clean water source to drink.
The running water attracts some cats who perceive this as pure, especially when treated with a filtration system.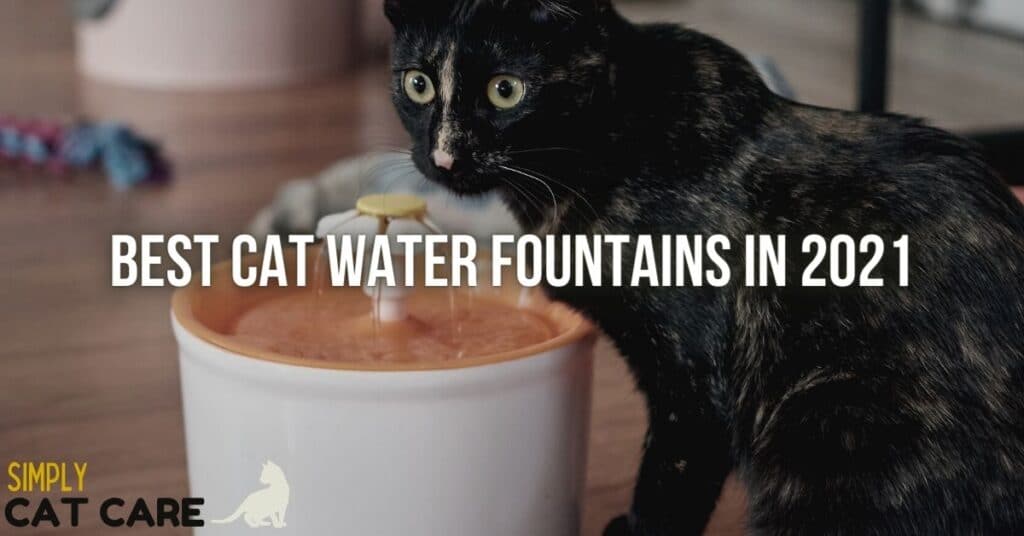 My name is Derrick and I am a writer for Simply Cat Care. This website provides easy-to-read helpful guides for your cat. This article is designed to help you find out more about the best cat water fountains.
I am not a veterinarian and I recommend seeking the advice of a vet before making changes to your cat's diet or environment.
Here is what you'll find in this article:
Let's get into it.
---
Product Review: The Best Cat Water Fountains in 2021
VERDICT
Let's look at the Kastty Cat Water Fountain.
I like that this cat water fountain is easy to put together and intuitive. The top comes off which houses the water pump and gets filled with a generous 3L capacity of water (equates to over 100 ounces of water). This is more than enough to keep your cat happy for multiple drinking sessions over more than a week and may suit multiple pets in the house.
The carbon filters remove dust and hair keeping the circulating water flow clean and pleasant to drink. This freshens the water that comes out of multiple stream options. Another main benefit of this product is the quiet pump design which won't disturb you.
The main downside of this cat water fountain is the maintenance. The carbon filters need replacement every month and the pump sponge filter needs replacing every two months.
You have to buy replacement filter packs, which are affordable (you can purchase an 8 pack of each type of sponge over here).
However, for some, this represents a bit more constant effort to keep your cats hydrated versus leaving a fresh bowl of water. On top of that is the cleaning required for hairy cats that love to leave clumps on fur everywhere. This leads to filtration issues and requires maintenance.
Unfortunately, the device is not dishwasher safe although you do get some cleaning equipment for help with polishing it up.
PRODUCT DETAILS
Colors: Black, Blue, Gray, Green; Product weight: 2.29 lbs; Product size: 8.66 x 8.15 x 6.65 inches
Manufacturer: Kastty
KEY FEATURES
Activated carbon filter
BPA free
3L water capacity
Two adjustable flow methods
Controllable on/off switch
The pump switches off when water is low
An activated carbon filtration system
---
VERDICT
Let's look at the OYES cat water fountain.
Out of the box, it has many great features needed for a good water fountain. I like that this is a stainless steel bowl cover, which is easy to clean, sturdy, and keeps bacteria at bay. It is the perfect surface for your cat's drinking needs.
The OYES cat water fountain has a 2.5L large capacity water storage to keep your cat hydrated over long periods of leaving the house. The four adjustable flow options give pets enough variety for their personal preferences.
Finally, the water gets filtered through activated carbon and ion exchange filters. This keeps your cat's water clean and fresh tasting.
Unfortunately, there is still a need to clean and maintain the device. The device is easy to remove and needs a thorough brushing every two weeks to maintain its longevity. Filters need replacing after a month. The pack comes with 3 replacements which are handy.
PRODUCT DETAILS
Colors: White; Product weight: 1.8 lbs; Product size: 8 x 6.8 x 7 inches
Manufacturer: OYES
KEY FEATURES
Stainless steel bowl cover
BPA free container
LED indicator for low water level
2.5L water capacity
Ultra-quiet pump
4 flow options
Activated carbon and ion exchange resin filter
---
Guide to Choosing a Cat Water Fountain
Cat's are obligate carnivores in the wild. This means they rely on animal-based foods for nutrition.
Animal meats contain a high amount of fluid as well as calories. This provides cats their hydration needs.
When given a water bowl to drink, many cats don't tend to drink enough of it. If their diet contains a lot of dry foods, then this can lead to dehydration.
Cat's don't tend to compensate for a low dietary fluid intake with the proper amount of water [2].
Animal meat contains approximately 70-75% water per weight which supplies water needs for a cat [2].
Cat's prefer running water out of a basin, waterfall, stream, or anything where the water is trickling down.
This might be due to running water being a sign of the water being fresh and not polluted [1].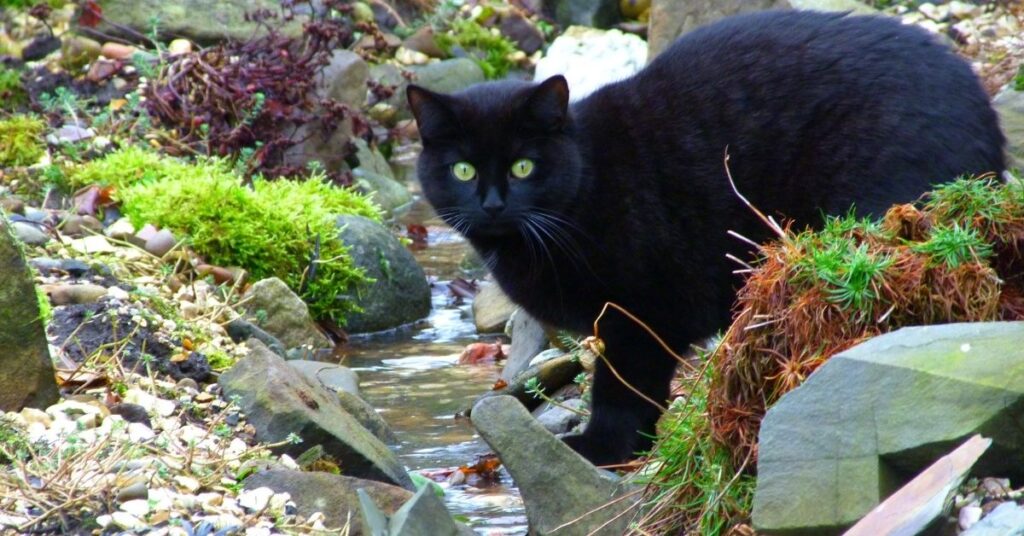 ---
What is the science behind cat hydration?
In 2011, a study from the British Journal of Nutrition tested hydration in six healthy cats [2].
When put on varying diets, cats consuming a dry cat food diet (only 6.3% moisture) consumed 30% less total water than cats fed a 73% moisture diet [2]. This is despite cats having access to fresh water for drinking.
In other words, cats do not compensate for a lower water diet by drinking enough water.
This is why I recommend avoiding a 'dry food only' diet and making sure to provide a mixture of wet canned and dry cat foods.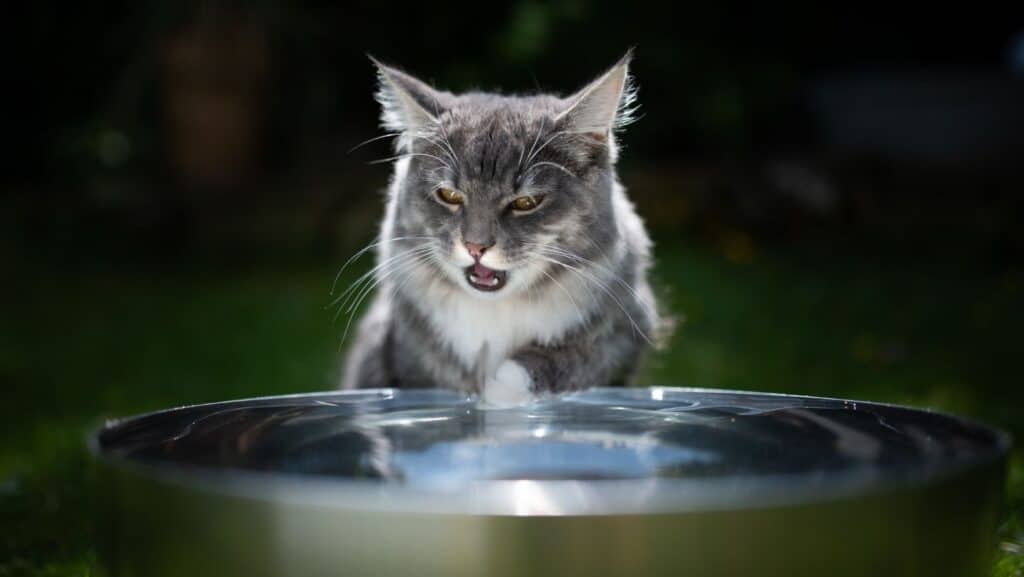 ---
Do cats on a dry food diet need more water?
Yes.
Cats only able to eat dry food obtain far less water than a wet canned food diet.
If you are providing your cat a mixture of dry and wet canned food, it will help improve hydration.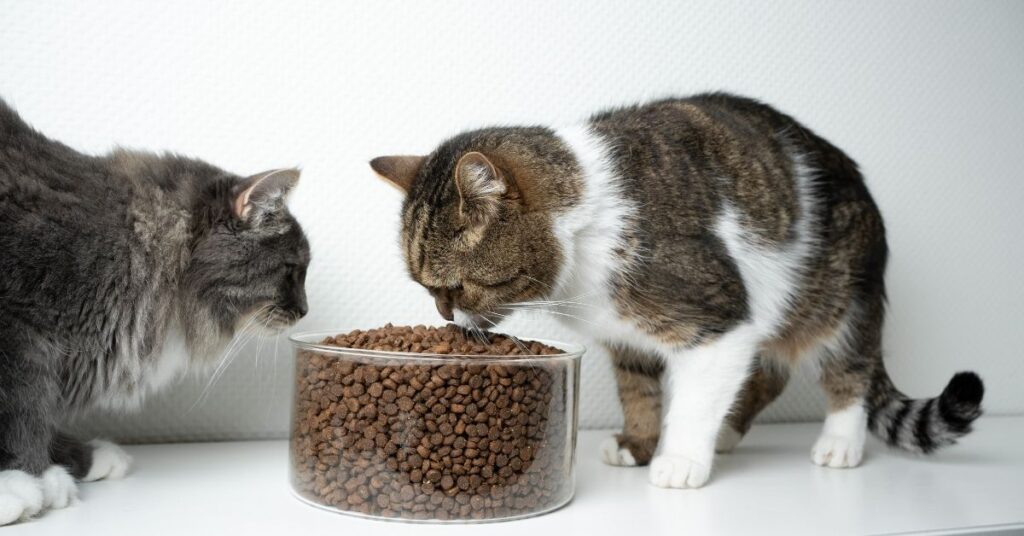 ---
How much water does a cat need to drink?
A cat needs up to 1 ounce (30ml) of water per pound of body weight.
For many cats, this works out to roughly one cup of water over the course of a day.
Generally, your cat will get this from a variety of food and drink sources.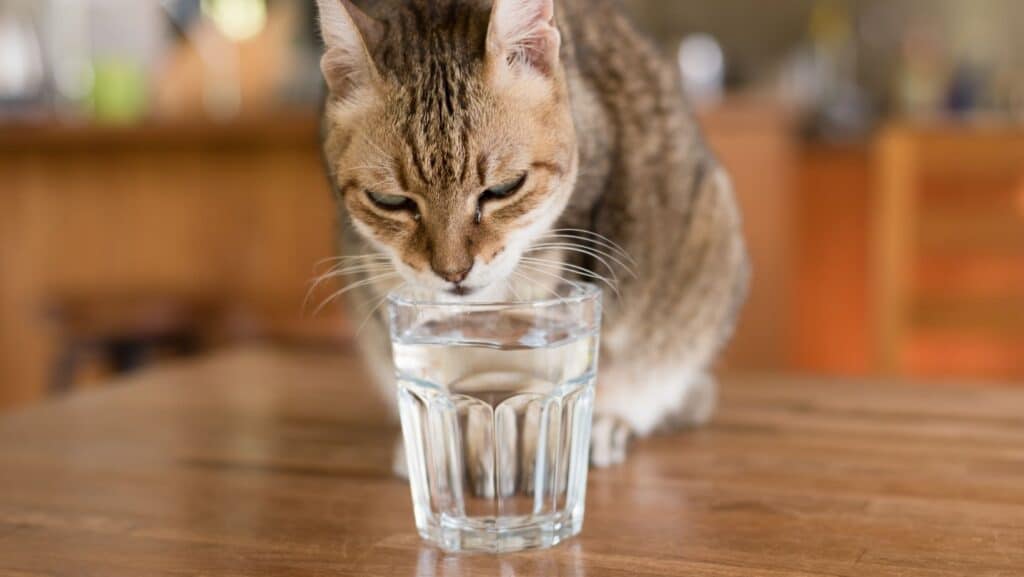 ---
What is the best water fountain for cats?
It will depend on the cat.
Some cats may not require a water fountain if they are fine to consume water from a standard bowl.
Generally, fountains that have multiple flow options are a better choice for a cat.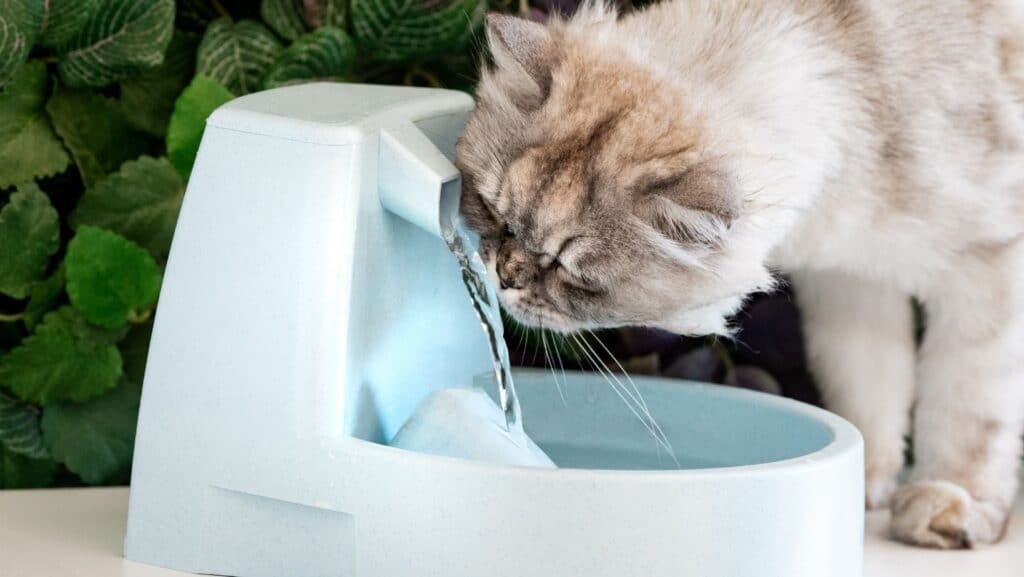 ---
Do cats prefer water fountains?
It depends on the cat.
Some cats don't mind where they get water from, whilst others will prefer a trickling source.
A couple of randomized controlled trials demonstrated this. In a 2018 study, 16 cats were randomized to get water from either a standard bowl, circulating, or free-falling water source.
There was no difference in water bowl preference overall over a two-week period, however, some individual cats preferred a particular source [3].
In a 2010 study, 13 cats were assigned a fountain or still water bowl for 24 hours. One cat fell ill and the remaining 12 cats had a preference for the water fountain.
However, there was no significant change to urine osmolality – which is a measure of how hydrated the cat was [4].
This suggests no preference either way for a bowl or a fountain, as similar cats consumed similar amounts of water.
The jury is out on whether a water fountain is an essential purchase, but over a longer period of time, some cats will benefit from a water fountain. Others won't.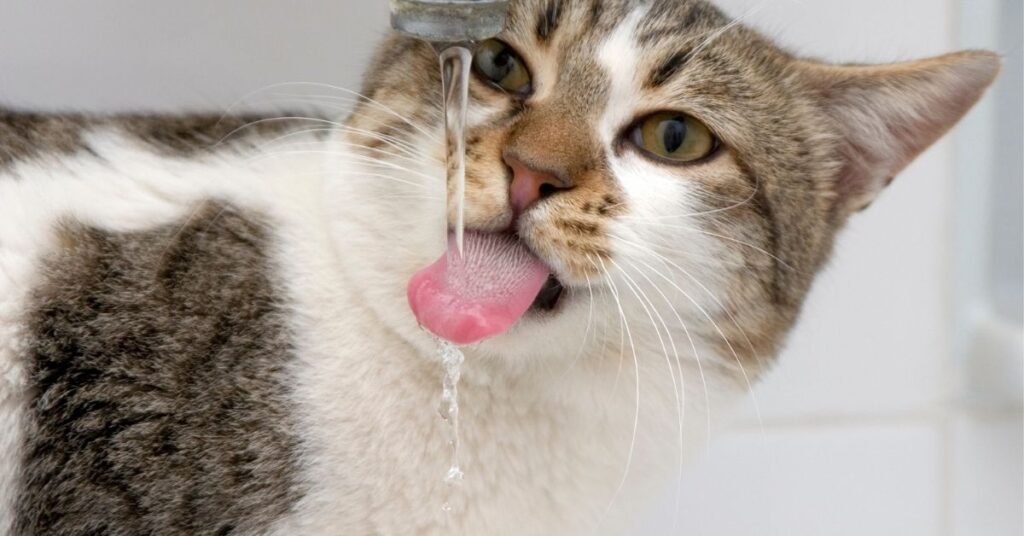 ---
Why do cats prefer water fountains?
There are a few theories about why cats prefer a running water source.
A running water source might be a cooler and cleaner source. Water bowls left out for too long accumulate dirt and debris.
Also, cats have very sensitive whiskers. If their whiskers are rubbing into the bowl because it is too small, they may experience discomfort. This can lead to a reduced fluid intake.
Check out my awesome guide to cat whiskers for more tips.
---
How do I know if my cat prefers a running water source?
Does your cat want to run up and put its head near a running tap?
It's tricky finding out whether your cat is a fan of a running water source and in some ways, pet water fountains are a bit of a gamble.
Ideally, you want to find a drinking fountain that has the best chance of success, and have some evidence from your cat to demonstrate it might prefer it.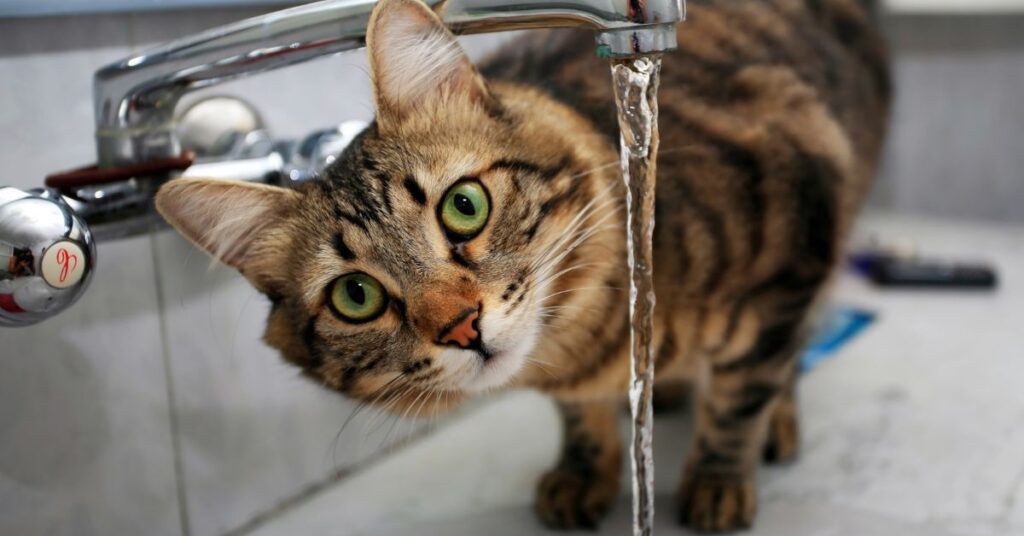 ---
Why do cats avoid a water bowl that is near their food?
For aesthetic reasons, most cat owners place the food and water bowls next to each other.
However, some cats might not like this. The possible reason is due to wanting a clean source of water and seeing water near food as contaminated [5].
Bowls left on the ground near food for too long tend to accumulate dirt and debris. The water becomes lukewarm and unpleasant.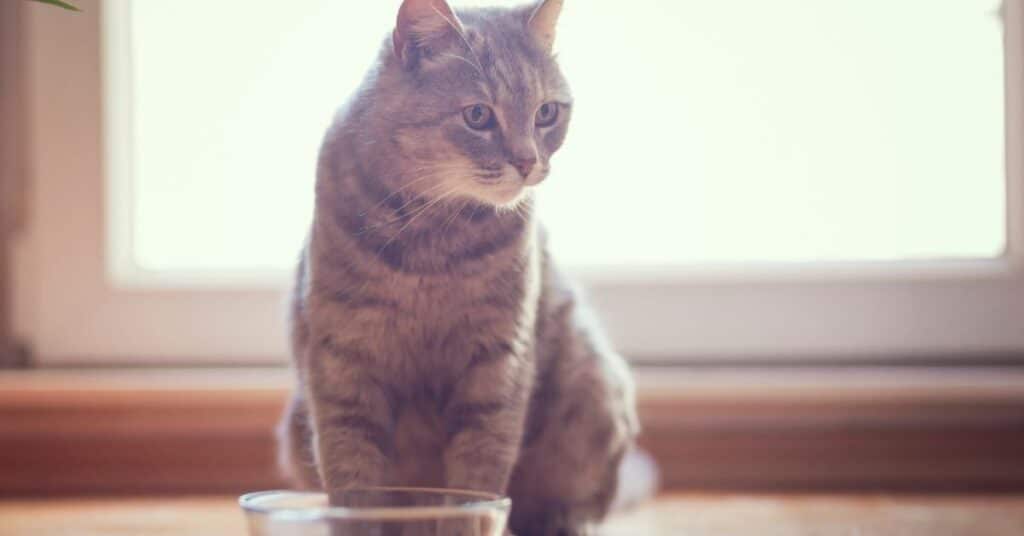 ---
Is stainless steel better for a pet fountain?
Some cats prefer stainless steel or ceramic bowl.
Stainless steel has the advantage of being strong and washable. Plastic bowls can get damaged and begin to harbor bacteria. If you do choose a plastic bowl, go for a BPA-free plastic bowl.
BPA stands for bisphenol A and is linked to developmental disorders [6]. BPA-free plastic does not contain this plastic.
Ceramic bowls with a lead-free glaze are another good choice for cats [7].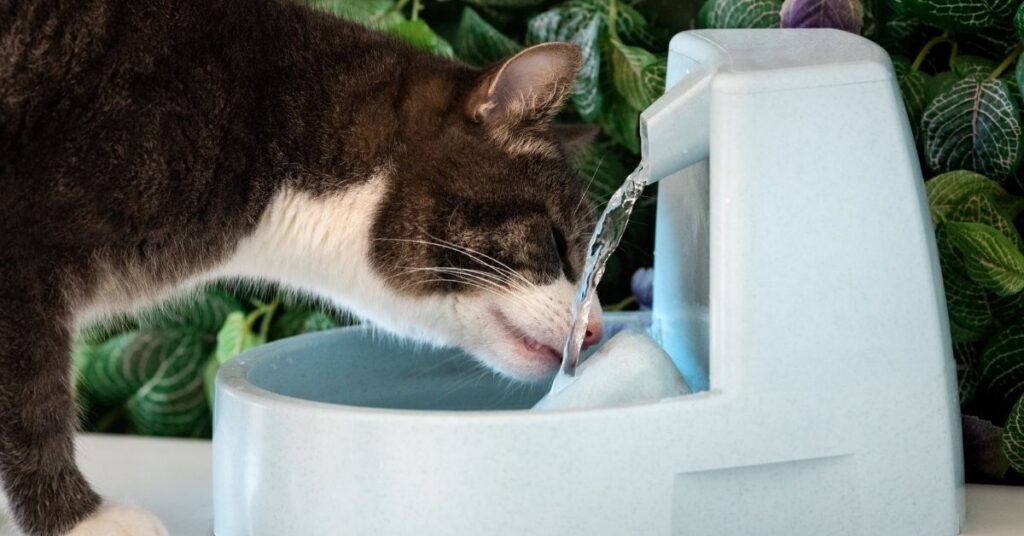 ---
What should I look for in a cat water fountain?
Here is a list of things to look for in a pet fountain.
Stainless Steel: Best choice for cleaning and general durability. A ceramic design is also a good choice, as is BPA-free plastic.
Filtration system: Is the filtration able to filter out dirt and debris to keep the running water clear (e.g. carbon filter)
Sound: Should be as quiet as practical to not disturb your daily activities
Easy to assemble: Assembly is easy to achieve by most owners in a minimal amount of time
Easy to clean: Cleaning the device should be simple with a minimum of fuss. Dishwasher suitability is a bonus.
Adjustable flow: Can you adjust the flow of water to your pet's needs?
---
Conclusion: The Best Cat Water Fountain (Final Thoughts)
In this article, I've discussed the best cat water fountains for your pet's hydration.
A water fountain is an alternative to a basic drinking bowl given to cats. Cat's have difficulty meeting their daily water needs through dietary means, especially if restricted to dry food.
Cats are obligate carnivores and tend to get their moisture from consuming animal-based foods.
When given a basic drinking bowl, some cats might not drink a lot from it. This can be due to a lot of different variables such as the location of the bowl (is it too close to food or litter?), whether the bowl rubs against its whiskers, cleanliness of the water, and temperature. Some research speculates that cats prefer water fresh from a running fountain as this is more pleasant to drink leading to more fluid intake.
A water flow fountain filters out water with continuous circulation. It then trickles out clean drinking water out of one or multiple exits like a mini-waterfall. Some cats may find cat fountains a more pleasant way of drinking water.
If purchasing a water fountain, you should look for a variety of criteria before making a decision on the product.
Speaking with a vet is also recommended to understand your cat's individual needs.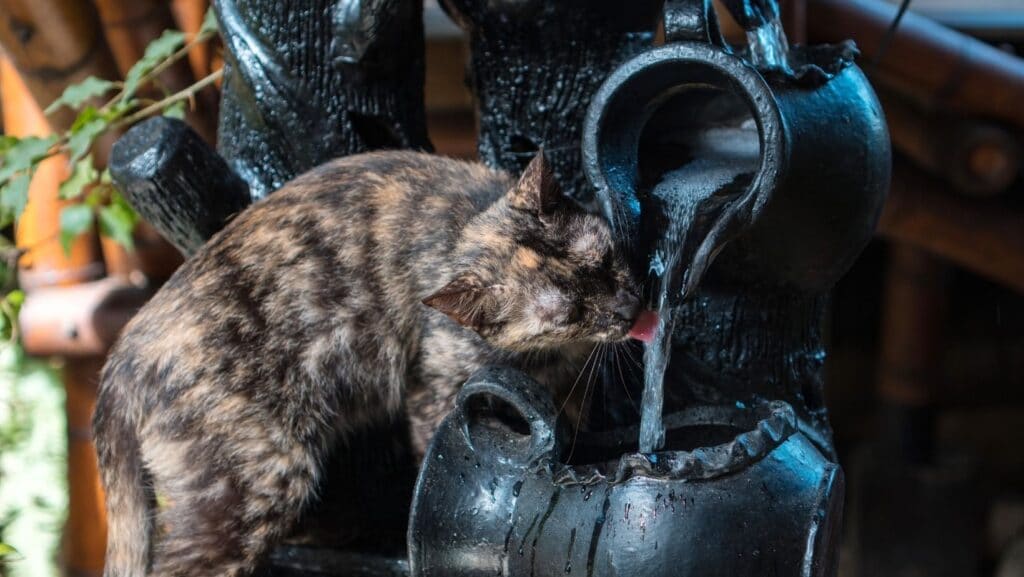 Our Verdict: Best Cat Water Fountain Overall
We've gone with the Kastty Cat Water Fountain as our top pick for a cat fountain.
The device ticks off most of the criteria we've set out. It's super quiet, easy to assemble, fitted with a filtration system, and comes with a generous 3L capacity to stand long periods of use. There are two choices for adjustable flow to suit your cat's drinking fountain preference.
The device requires hand cleaning and isn't dishwasher safe. Filters need regular replacement over a couple of months or the device may start to malfunction.
The constant upkeep of a water fountain may deter some from looking for a simple option. You may find that putting your cat's bowl in a different location, replacing the water, and using a different bowl type may improve your cat's daily water intake.
However, cat water fountains are an inexpensive option for fussy drinkers that love to mingle up to a running water source. If you can keep up with the cleaning then it's a great option.
After more guides for cats?
Check out our articles below.