5 Best Cat Foods Without Carrageenan for Easy Digestion
Disclaimer: As a Chewy and Amazon affiliate, I earn from qualifying purchases. This does not impact our reviews and comparisons.
Carrageenan is a seaweed thickener used in many wet cat foods. It has no nutrition value, and can irritate digestion.
Here's our 5 best cat foods without carrageenan:
So how can you find great quality cat foods without carrageenan?
Feeding your cat isn't too hard, but there's still a few mines to dodge if you want to avoid iffy ingredients.
Whilst the jury is still out on how harmful carrageenan is, sometimes it's best to err on the side of caution.
At worst, the seaweed based ingredient may increase the risk of disease and cancer.
In this article, I'll help you find a carrageenan free cat food your feline will love. I'll also look at some frequently asked questions on the topic.
I test and analyze the popular cat foods in the markets to find the best of the best.
So is carrageenan that that bad? Do you need to run for the hills?
Read on to find out…
I am not a veterinarian and I recommend seeking the advice of a vet for any further questions. This article is not intended as a replacement for medical advice.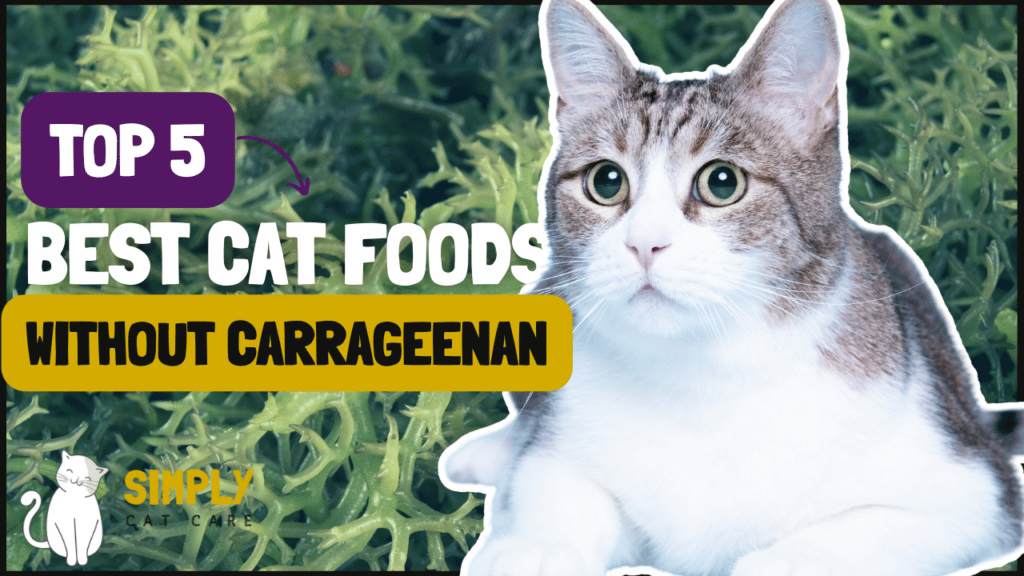 5 Best Cat Foods Without Carrageenan
Here's my top cat food picks without carrageenan to give you some quick options to look at.
1. Fancy Feast Creamy Delights
Best Cat Food Without Carrageenan
Best Carrageenan-Free Cat Food for Older Cats
Best Kitten Food Without Carrageenan
Best Affordable Cat Food Without Carrageenan
Best Indoor Cat Food Without Carrageenan
How Did I Choose These Cat Foods?
I used a database of foods I've looked at and filtered for carrageenan. Since you'll find carrageenan in wet foods, I've left out dry cat food.
I've sorted options from low to high carb and highlighted key features in this table. You can also see whether the food uses gums, another thickener you might want to avoid.
Here's the full list of carrageenan-free cat food for peace of mind:
Buying Guide: How to Find the Best Cat Foods Without Carrageenan
Carrageenan is a thickener. As you'd expect, it's used in wet cat food products.
So if you're using dry cat food don't worry about it.
To find whether your cat food uses carrageenan, check the ingredient list on the back or side of the cat food label. Some foods use very small print, so be careful.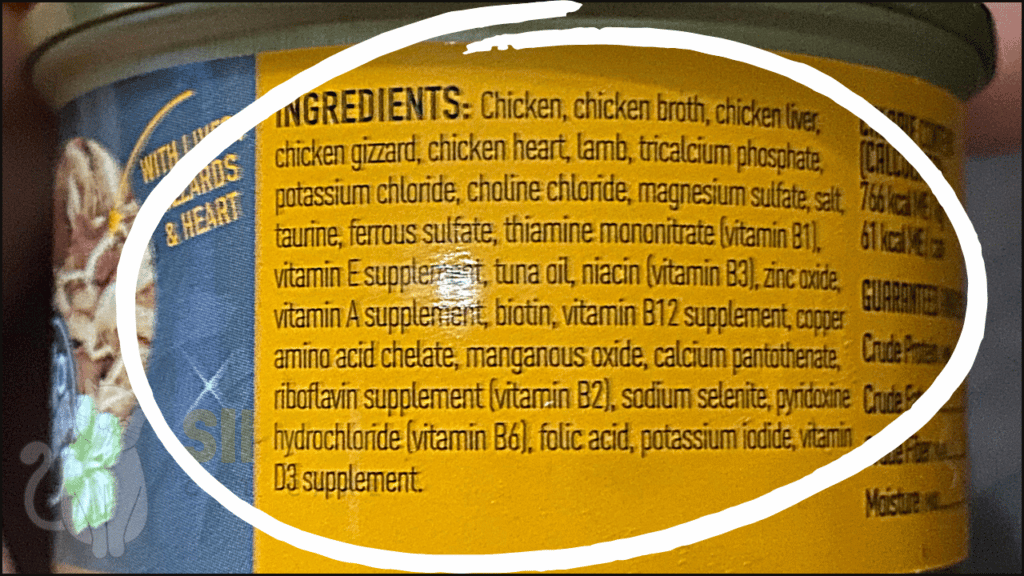 You can also find information online.
Some retailers are better than others at showing ingredient information on cat foods. Hit control + F on the nutritional information panel to look for carrageenan.
Here's an example on Chewy: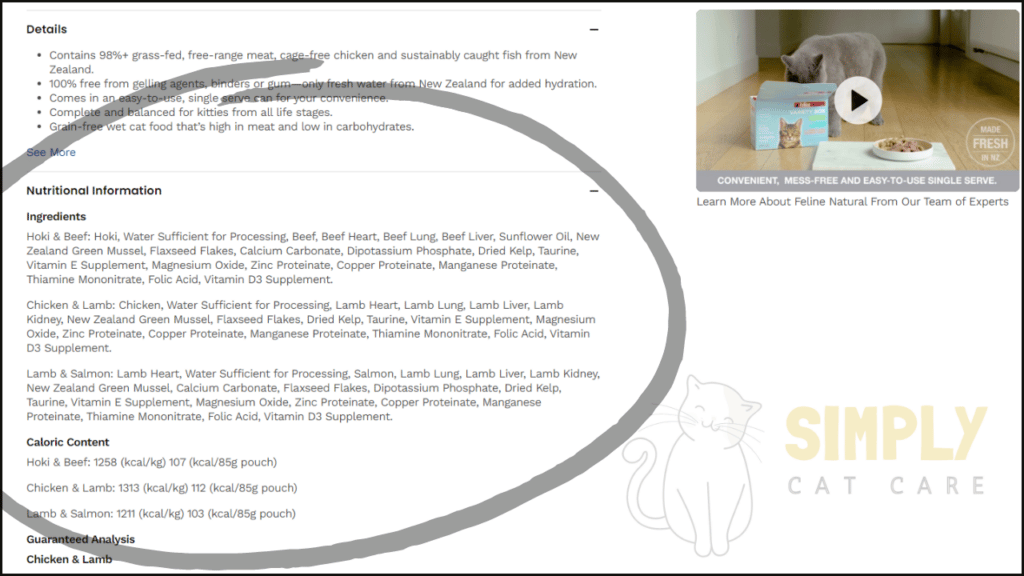 Another thing is to keep in mind is some countries use numbers for additives.
In Australia, for instance, carrageenan is E407.
Also look for vague terms like 'gelling agents' as this can include gums and carrageenan. If you see this term, it's best to stay on the safe side.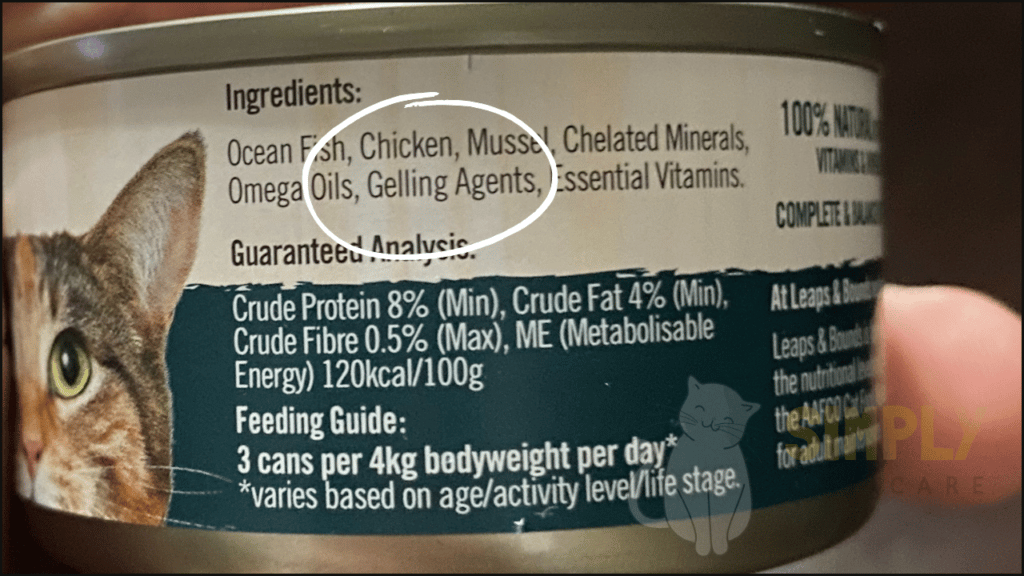 Finally, you of course want a cat food suitable for your cat dietary needs.
For that, I recommend making sure to select food that meets AAFCO's nutrition guidelines for:
Growth: Kittens (up to 1 years)
Maintenance: Adult cats (1-7 years)
All life stages: Kittens or adults
AAFCO don't set nutrition guidelines for senior cats. You can find senior care guidelines at American Association of Feline Practitioners (AAFP) website.
Most cat foods suitable for all life stages are good choices for older cats, but you'll want to opt for a high protein diet for age related muscle loss.
That's about it! Easy yeah?
Learn More:
Frequently Asked Questions
Is Carrageenan Harmful to Cats?
Degraded carrageenan may cause inflammatory conditions including:
Colitis
Arthritis
Irritable bowel disease
Colon cancer
Some degradation of carrageenan can occur through digestion. It's not well known how much carrageenan is enough to cause harm in cats.
It's this form of carrageenan that's used in test models of inflammation.
The amount of carrageenan used to cause digestive disorders is much higher than found in cat food (less than 1%).
Carrageenan is generally regarded as safe (GRAS) by the FDA.
The jury is still out on how much carrageenan is harmful.
Does Purina Cat Food Contain Carrageenan?
The following brands from Purina don't use carrageenan:
Friskies
Fancy Feast
Purina ONE
Purina PRO PLAN
Purina BEYOND
Be mindful that these offshoots have their own range of cat food. There's a huge range of cat food products from Purina that can change ingredients.
Different countries have different types of Purina cat foods.
Most Purina cat foods are carrageenan free but always double check.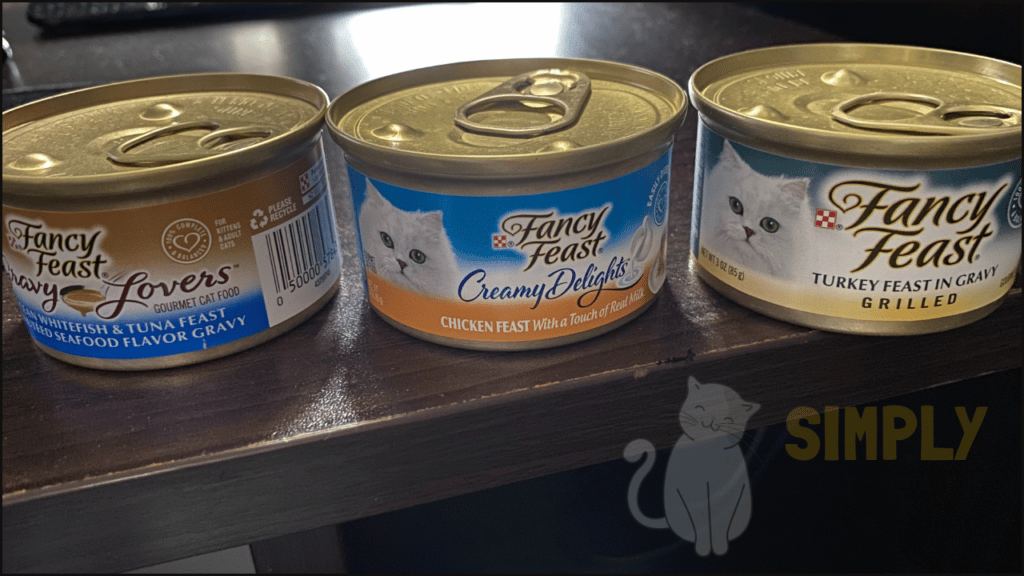 Why Do They Put Carrageenan in Cat Food?
Carrageenan is a thickener that helps stop cat food from being runny and watery.
This thickener gets used in a lot of human products including milkshake and ice-cream.
It's even used for other purposes including toothpaste and shampoo.
Does Royal Canin Cat Food Contain Carrageenan?
Like Purina, Royal Canin have a wide range of cat food choices and regional differences.
The Royal Canin cat foods we've looked at contain no carrageenan. Always double check to make sure.
Conclusion
Carrageenan is a thickener used in wet cat food. It helps prevent an unpleasant watery texture.
Whilst it helps with texture, carrageenan may cause health problems in cats. Degraded carrageenan can increase the risk of colon cancer and irritable bowel disease.
The jury is out whether the small amount used in cat food is harmful. However, for most pet owners it's best to stay on the safe side for your cats wellbeing.
Our best cat food without carrageenan pick: Feline Natural