Disclaimer: As a Chewy, Pet Circle and Amazon affiliate, I earn from qualifying purchases. This does not impact our reviews and comparisons.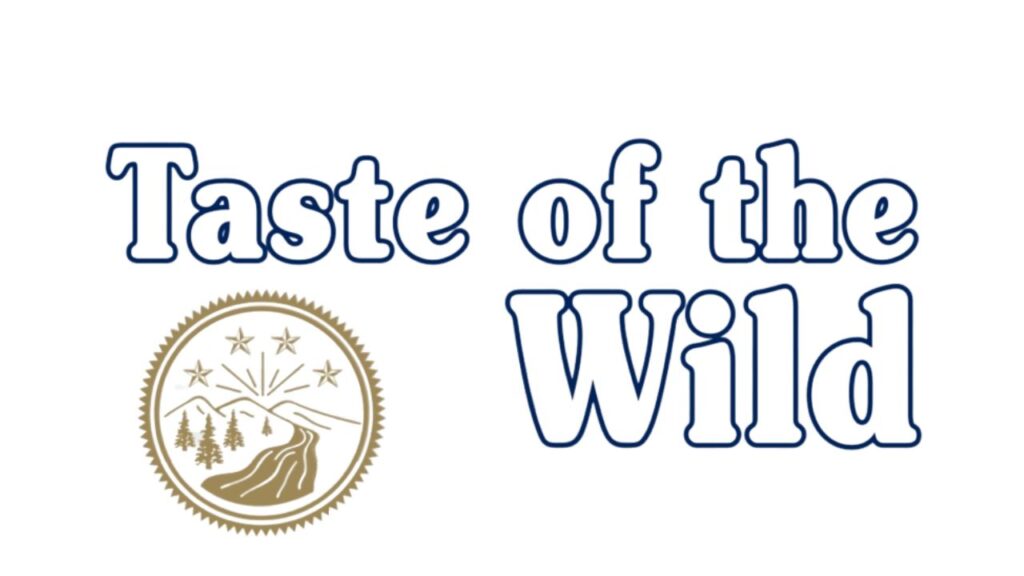 Score: 7/10
Bottom Line
Our cat didn't approve, but the lower carb content is nice.

We've done this Taste of the Wild cat food review with the help of our cat taste tester Toby.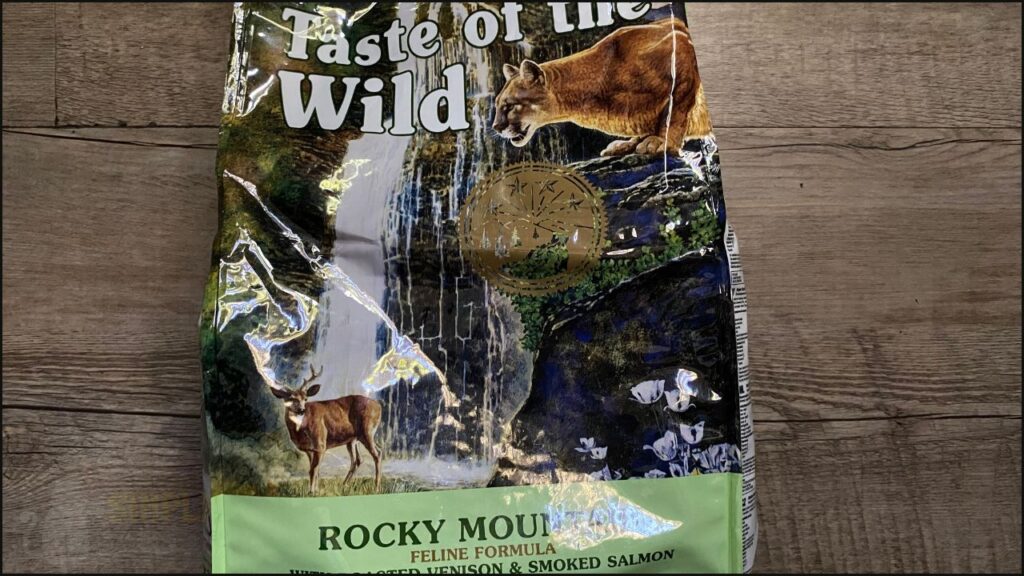 Taste of the Wild are a grain-free US based cat food brand. I reviewed it with the help of our cat Toby.
Their cat foods have names like Rocky Mountain and Canyon River, inspiring a feel of being natural.
Here's a short review summary:
The good?
Value for money.
Taste of the Wild is affordable and widely available. Their customer approval is high.
Their products are grain-free, which is helpful for food intolerance. The carb content is ~20% (dry matter) which is lower than most.
The bad?
Mixed taste results.
Our cat Toby didn't enjoy Taste of the Wild.
Their package is a little hard to read. They could offer more small size options.
The ugly?
Added peas.
Taste of the Wild is high in pea and pea protein.
This is a lower quality protein that may cause digestive upset and put off fussy cats.
In short:
Taste of the Wild is a 'sometimes' choice for cats of any life stage.
It's high in protein (albeit including pea protein), and lower in carbs than most. It could use more meat though.
Steer clear if your cat is picky. They'll sniff out those sneaky peas and run away.
Best for:
Bulk buy
All life stages
Grain-free diet
>> Check out Taste of the Wild cat food here.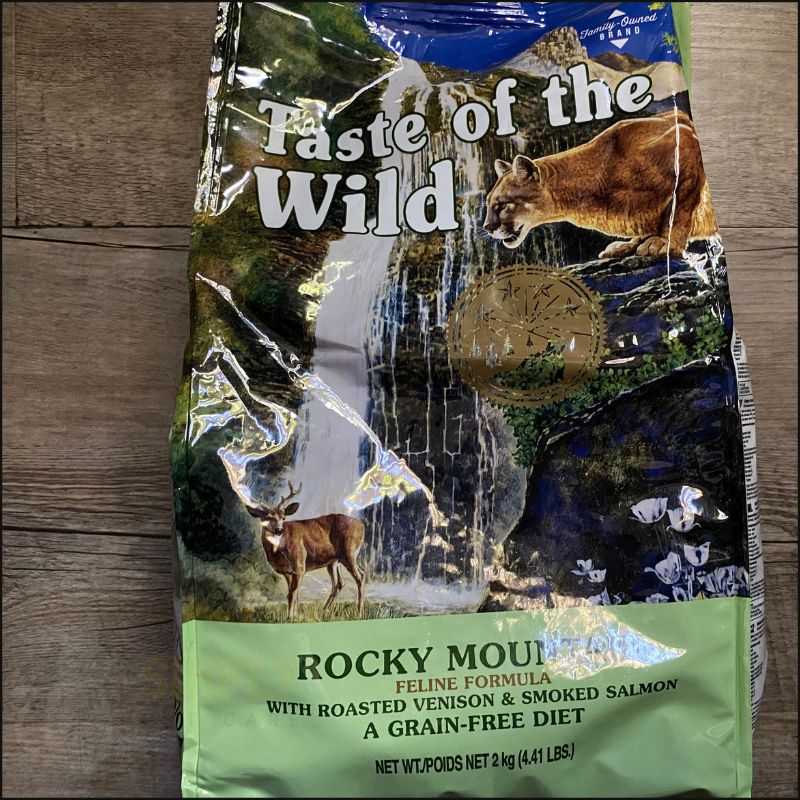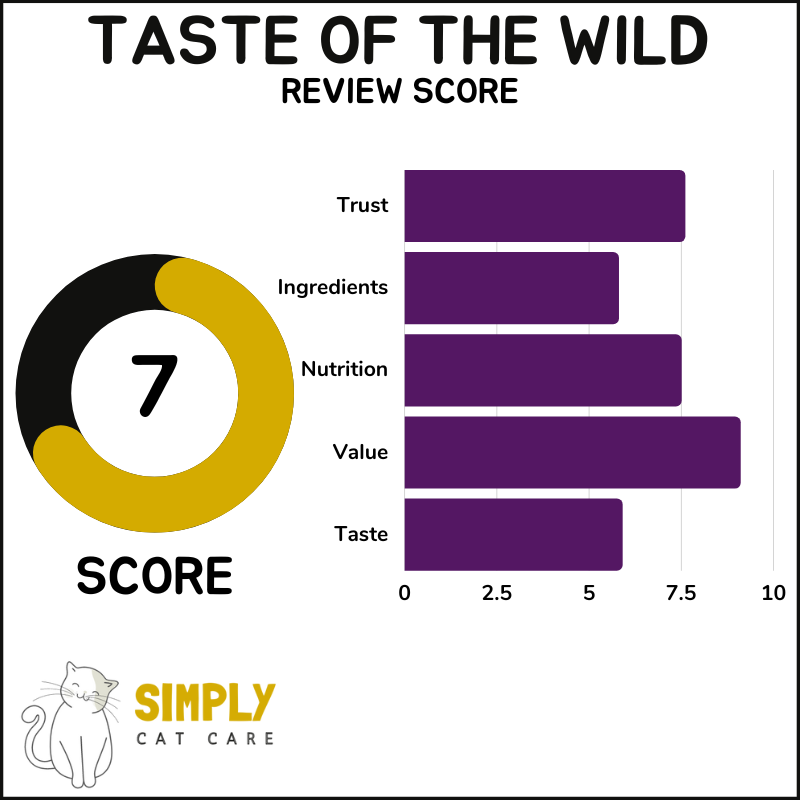 After more?
In the rest of this Taste of the Wild cat food review I'll go through:
Nutrition
Ingredients
Taste
Value for Money
I'll share results from taste testing with our cat Toby.
Finally, I'll go through frequently asked questions on Taste of the Wild.
Let's go.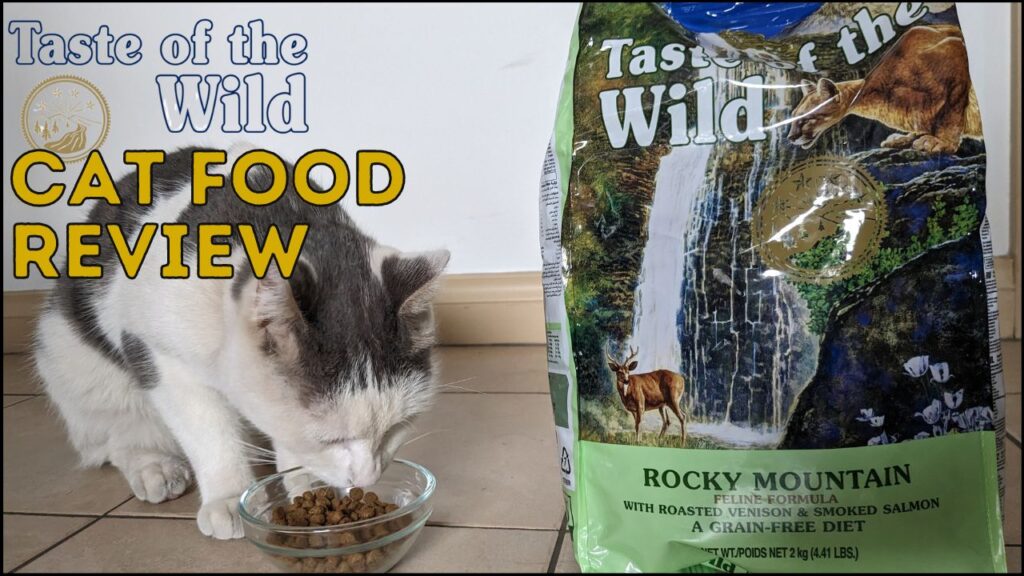 I am not a veterinarian and I recommend seeking the advice of a vet for any further questions. This article is not intended as a replacement for medical advice.
Taste of the Wild Cat Food Review
About Taste of the Wild
Taste of the Wild are a US based company, owned by Diamond Pet Foods.
They make dog and cat food.
Taste of the Wild is USA made according to their FAQ. The package states that ingredients are globally sourced.
Any Taste of the Wild Recalls?
Yes.
A major recall of this brand occurred in 2012 due to salmonella contamination.
A 2019 FDA probe found Taste of the Wild (among other brands) linked to dilated cardiomyopathy (enlarged heart).
Possible causes:
Anti-nutrients (e.g. phytate)
B-Vitamin deficiency
Poor manufacturing processes
Taste of the Wild use a lot of peas, which contain anti-nutrients. A possible problem?
They also use heat treated meat. This offers lower quality protein and fewer micronutrients.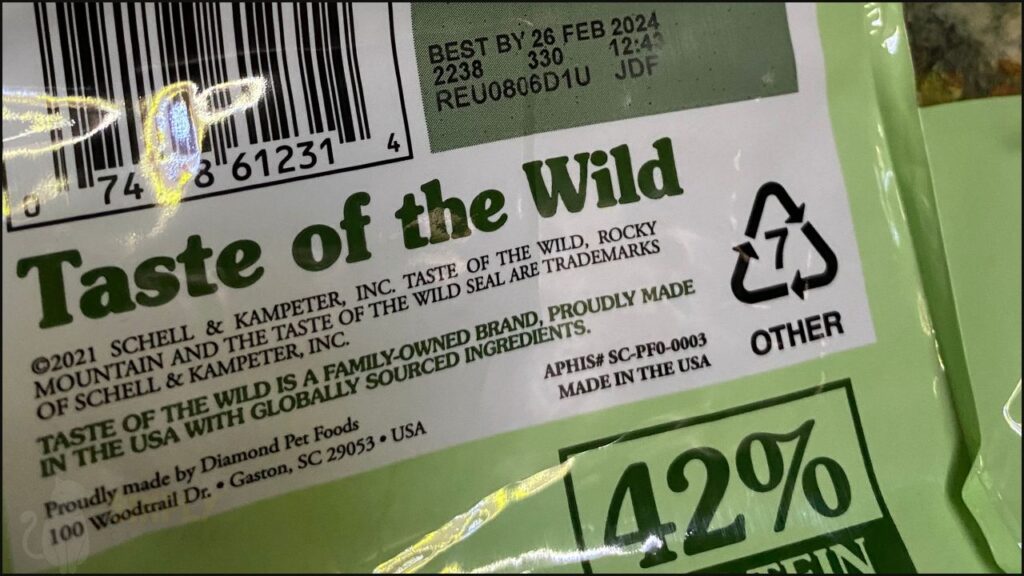 Taste of the Wild First Impressions
The packaging stands out.
It's got bright colorful natural imagery. A wild cat hunts an antelope suggesting a prey based natural food.
The font on the bottom doesn't contrast, so it's a little hard to read.
The label:
Rocky Mountain Feline Formula With Roasted Venison & Smoked Salmon
Keep in mind the use of the 'with' descriptor, an important labelling word (more later).
In short:
Colorful wild imagery
Lacks font contrast
Looks intriguing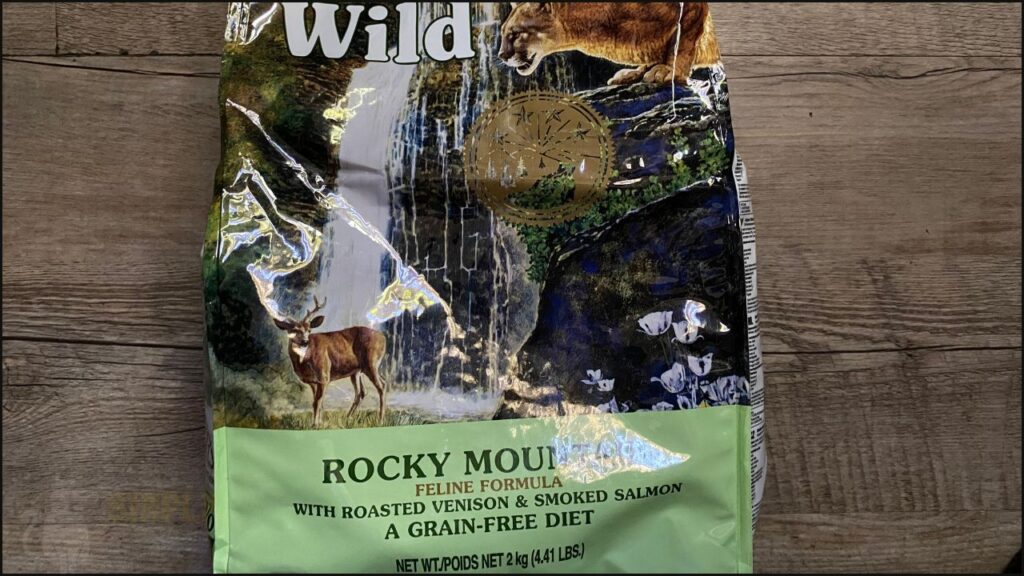 nutrition
Average.
Protein exceeds the 30% protein recommended target for cats of all life stages. Cats also prefer high protein diets, so this is good.
Bad?
Carb content is moderately high.
This is lower than other popular dry cat food brands, but still. For top health, researchers suggest less than 12% carbs (dry matter).
No information on calcium and phosphate. Useful to know for cats with kidney disease.
Taste of the Wild includes a statement of nutritional adequacy. Suited to all life stages.
| Nutrient | Dry matter (%) | Target (%)* | Note |
| --- | --- | --- | --- |
| Protein | 47 | 30 | Meets needs for muscle maintenance and energy |
| Carbs | 20 | N/A | Experts suggest limiting to less than 12% for blood sugar |
| Fat | 20 | 9 | Meets fat recommendation |
| Fiber | 3 | N/A | |
| Calcium | N/A | 0.6 | |
| Phosphorus | N/A | 0.5 | |
| Ash | 10 | N/A | |
| Water | 10 | N/A | |
| Kcal/kg | 3,745 | N/A | |
| ME/kg | 4,200 | 4,000 | Calorie dense to help with growth of kittens |
A table looking at the nutrition of Taste of the Wild Rocky Mountain cat food *target guidelines AAFCO all life stages
Nutrition: 7.5/10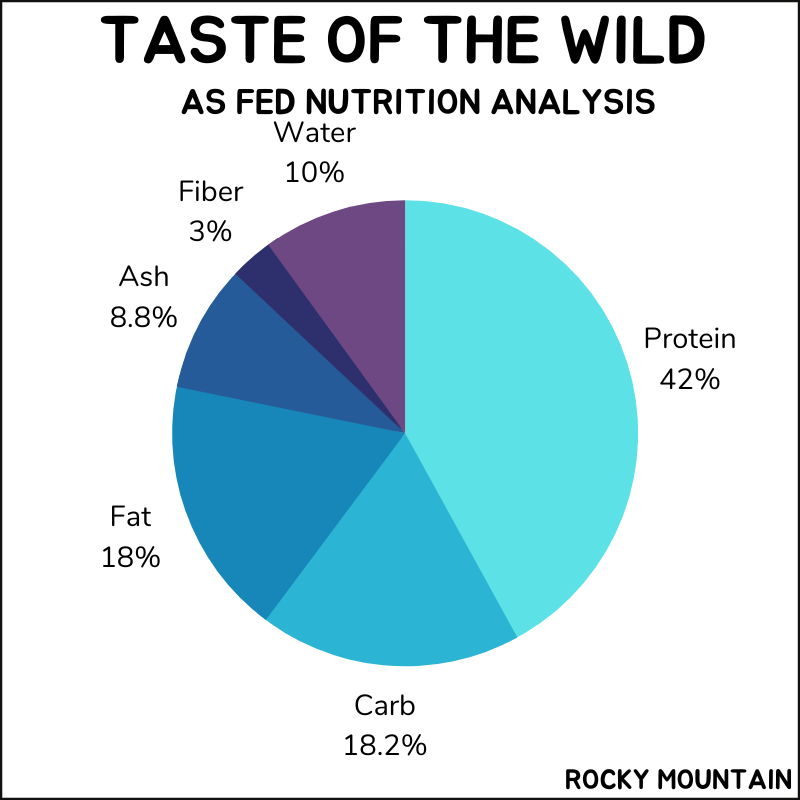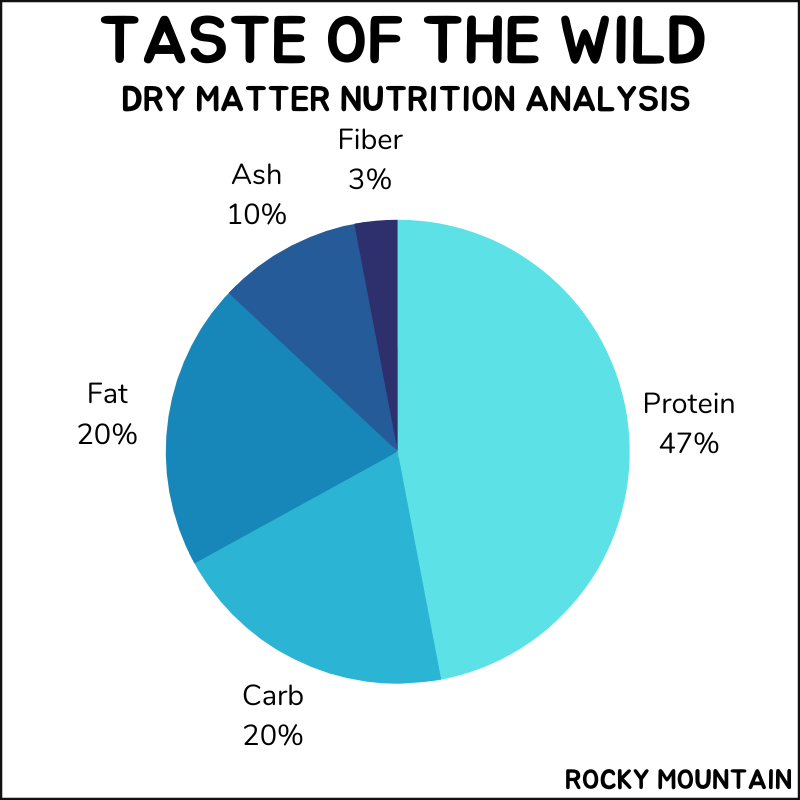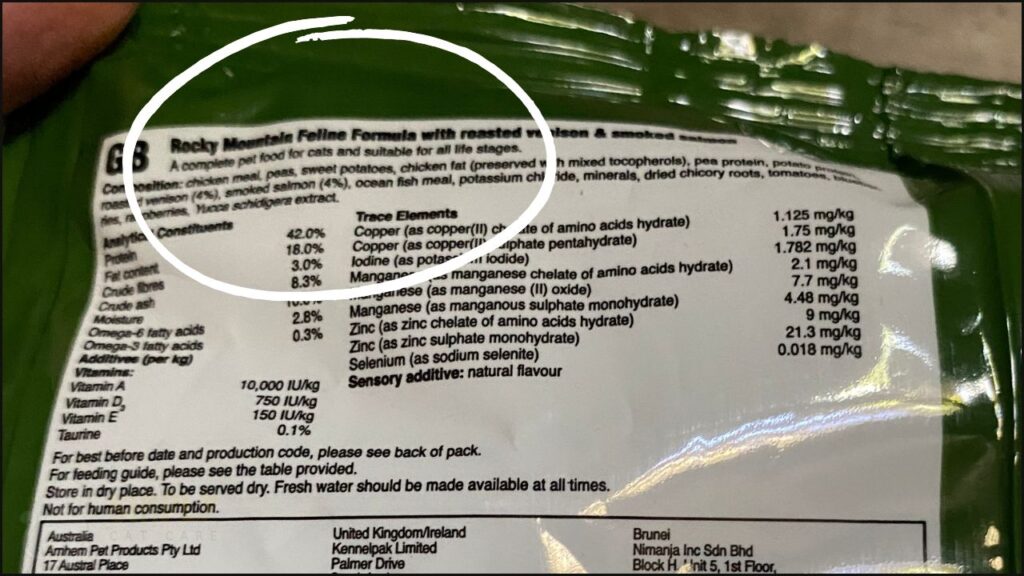 Ingredients
Disappointing.
Only two of the first five ingredients are meat based (and that includes chicken fat). Not a great list.
There's meat based ingredients down the list sandwiched between peas and sweet potatoes. High carb ingredients cats don't need or want.
Also includes things like blueberries & raspberries. Cats have no taste for sweetness and high vitamin C ingredients (like fruit) may increase urinary stone risk.
Uses a recipe descriptor, meaning the named ingredients are between 25-94.9% weight.
Learn More:
Ingredient breakdown (top 10):
Ingredient breakdown of Taste of the Wild Rocky Mountain dry cat food with any benefits or drawbacks
Ingredients: 6/10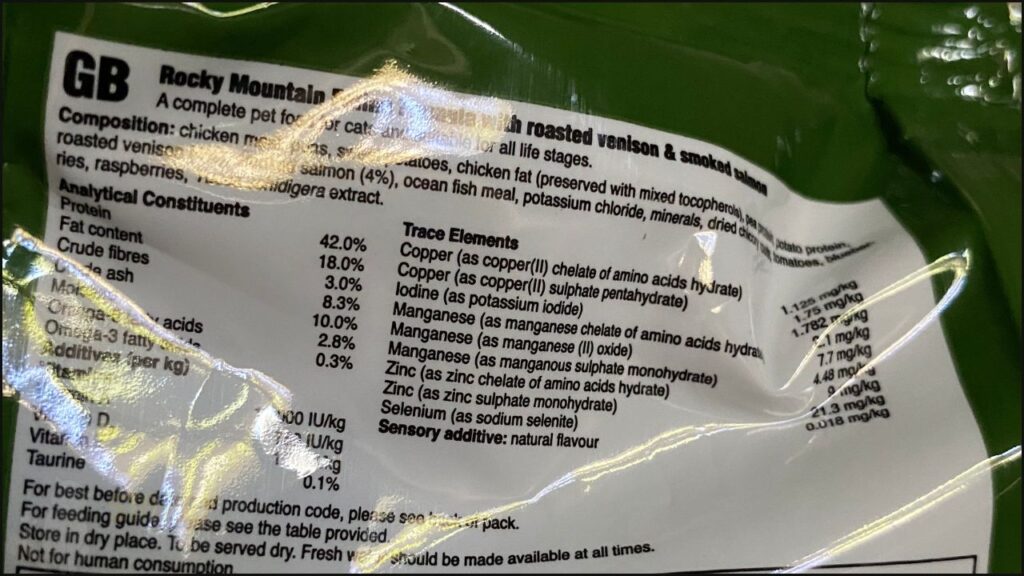 Taste
Not great.
Our cat hated Taste of the Wild.
He turned his nose up and walked off. A very grumpy cat.
Reviews online are more favorable. Most customers report better results with picky cats.
Other notes:
Small size
Mild smell
Round disc shape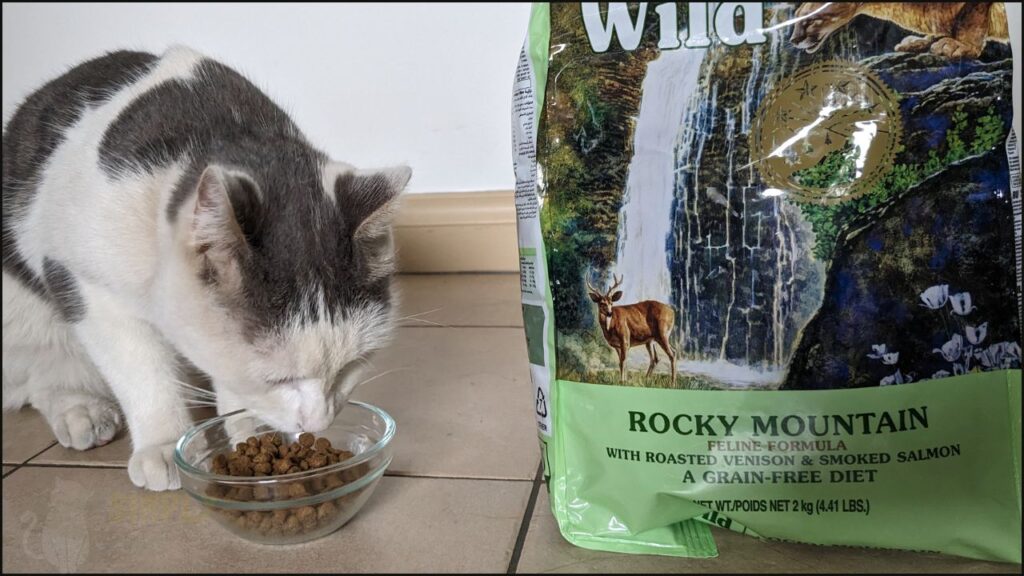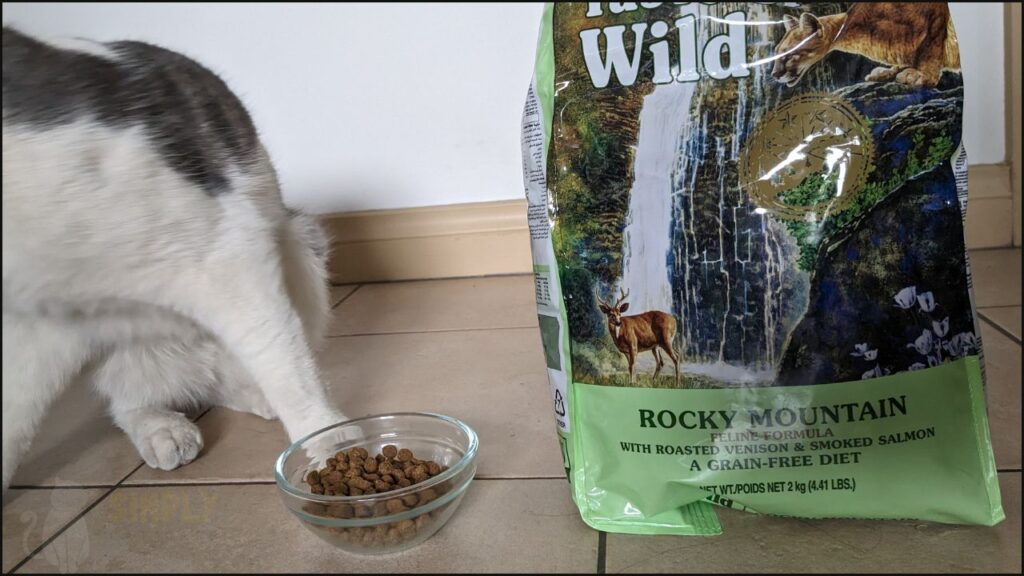 Taste: 6/10
VALUE FOR MONEY
Budget friendly.
Taste of the Wild is very affordable compared to the average cat food.
They offer bulk buy options to save on costs.
Worth?
It's lower carb than most at this price point, a huge benefit if you want to cut down.
Similar brands:
Value: 9/10
Frequently Asked Questions
Is Taste of Wild Good for Cats?
It's average.
Positives are affordability, high protein content, and bulk buy options.
Negatives are the moderate high carb content, and high pea content.
Learn More:
What Are the Top 5 Healthiest Cat Foods?
Depends on your needs.
We've ranked the best for a range of situations.
See below:
Do Cats Like Taste of the Wild?
Mixed.
Some cats like it, but others don't. Our cat Toby didn't approve of the taste.
Can I Feed Taste of the Wild to My Kitten?
Yes.
It's a complete meal for all life stages (that includes kittens).
Where Is Taste of the Wild Made?
USA.
Ingredients are sourced globally.
What Kind of Cat Food Do Cats Prefer?
High protein food.
Cats are carnivores. They eat prey including mice and birds.
Cat food high in these ingredients are great for picky cats.
Related:
Conclusion
Taste of the Wild is a 'sometimes' choice for cats of any age.
It's affordable, popular, and easy to find. Most cats enjoy the taste.
Picky cats won't appreciate the pea content and or cats with diarrhea problems.
Best for:
Bulk buy
All life stages
Grain-free diet
Where to find Taste of the Wild cat food?