Disclaimer: As a Pet Circle affiliate, I earn from qualifying purchases. This does not impact our reviews and comparisons.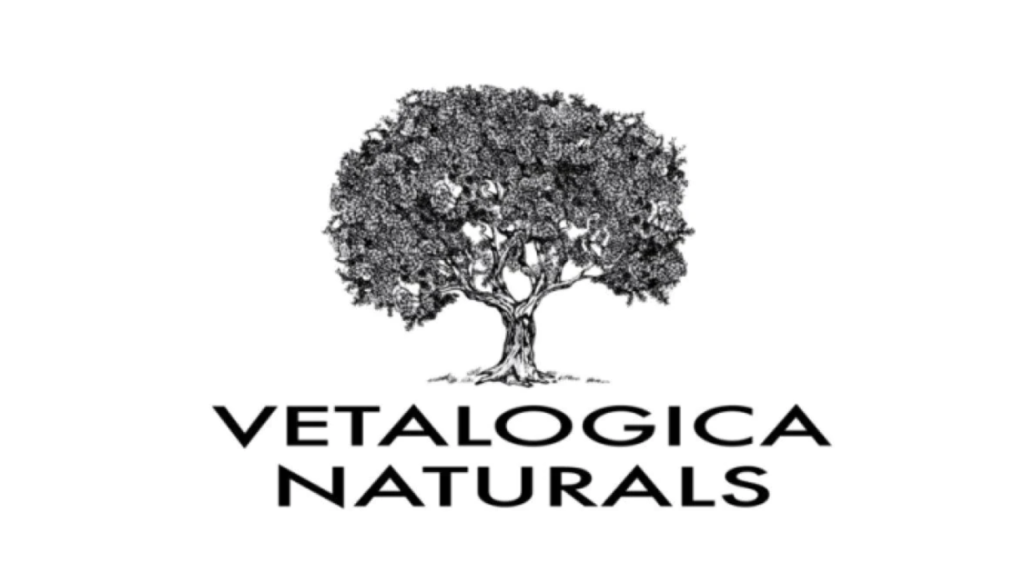 Score: 6/10
Bottom Line
Misses the mark with nutrition quality, but shows promise.
We've done this Vetalogica Naturals cat food review with the help of our cat taste tester Toby.
Vetalogica is an Australian pet food company. They offer 3 types of cat food; Naturals, Kitten, and Biologically Appropriate.
Here's a summary of our review of Vetalogica Naturals:
The good?
Unique flavors.
Vetalogica uses ingredients like salmon and kangaroo. This is an Australian made and sourced product.
The bad?
Pricey.
The brand markets itself as a higher quality choice, and attracts a high price tag. No small size options.
The ugly?
Doggier ingredients.
A common problem in pet brands that focus on dog food first. They make cat food that's more suited for dogs (i.e. higher carb and more vegetables).
In short:
Mediocre.
For the price, I'd hope for more meaty ingredients for cats. With small changes, this could be good with the unique Aussie ingredients.
>> Check out Vetalogica Naturals cat food here.
In the rest of this Vetalogica Naturals cat food review I'll share results from our cat Toby. Then I'll go deep into the nutrition.
Finally, I'll go through frequently asked questions on Vetalogica.
Let's go.
The goal of this website is to help cat owners learn more about taking care of their cats. I am not a veterinarian and I recommend seeking the advice of a vet for any further questions.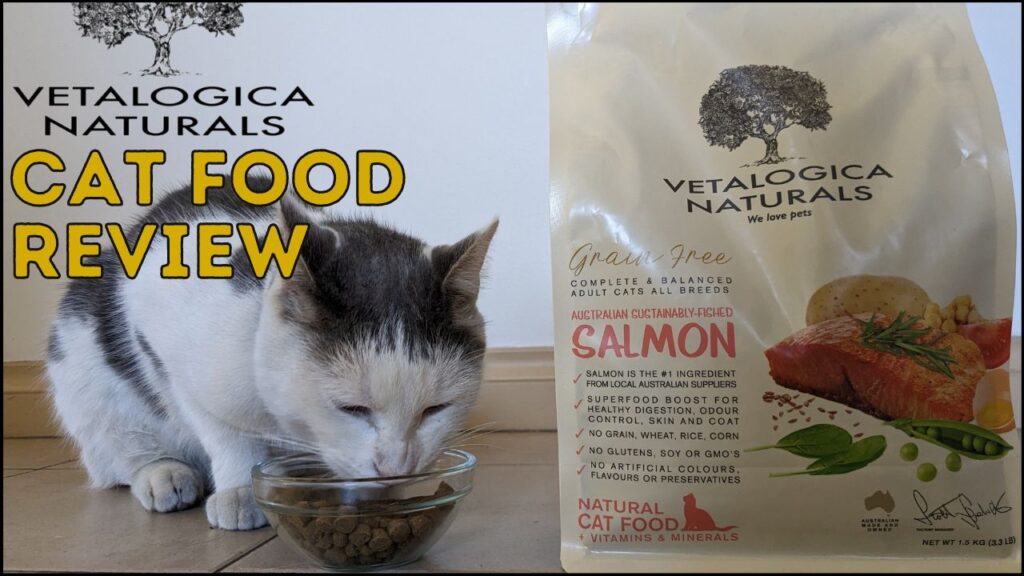 Vetalogica Naturals Cat Food Review
Who Are Vetalogica?
Vetalogica are a private Australian company.
They make dog and cat food.
Products are 100% Australian made. No corn, wheat, gluten, or GMO products are used.
Clear contact info is added to package.
Fast notes:
Australian made
Dog and cat food
Non GMO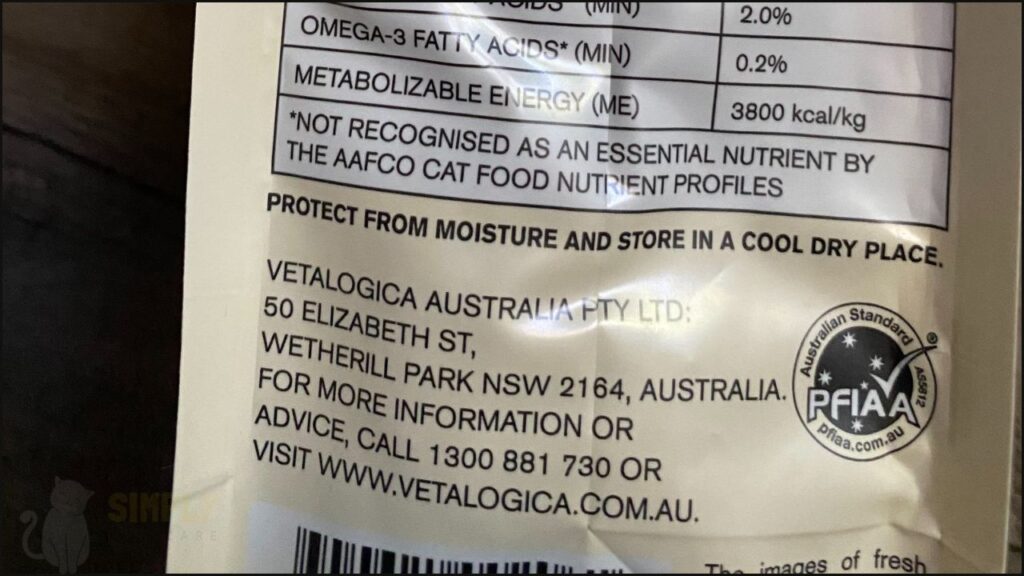 Any Vetalogica Recalls?
Doesn't appear to be.
Australia is lax with pet food recalls, unlike the US. They use a voluntary system of reporting, which vets may report.
Vetalogica First Impressions
Nice and clean.
It's clear what you're getting in the bag, as ingredients are shown (e.g. peas, salmon). The package looks appealing.
Label:
Salmon
Doesn't use any descriptor. This means salmon is in any amount (but higher than any ingredient below it on the list).
Other notes:
Complete & balanced for adults
Clear info on ingredients
Lots of detail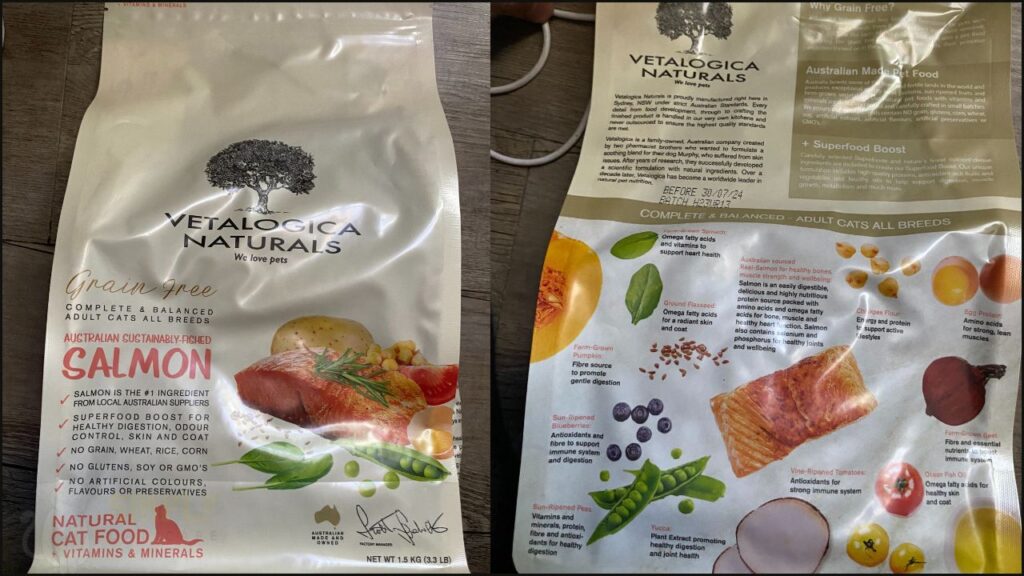 Vetalogica Naturals Ingredients
Average.
I found Vetalogica Naturals to contain more plant based than meat ingredients. It's little 'doggy' for my liking and not carnivore friendly.
Breaking it down:
Here's the ingredients for Vetalogica Naturals salmon (first 10):
Flavor listed on label is highlighted:
Salmon Meal, Peas, Potato Starch, Chicken Fat (Naturally preserved with Mixed Tocopherols), Natural Flavour, Tapioca Starch, Ground Flaxseed, Fish Oil, Dried Blueberries, Dried Spinach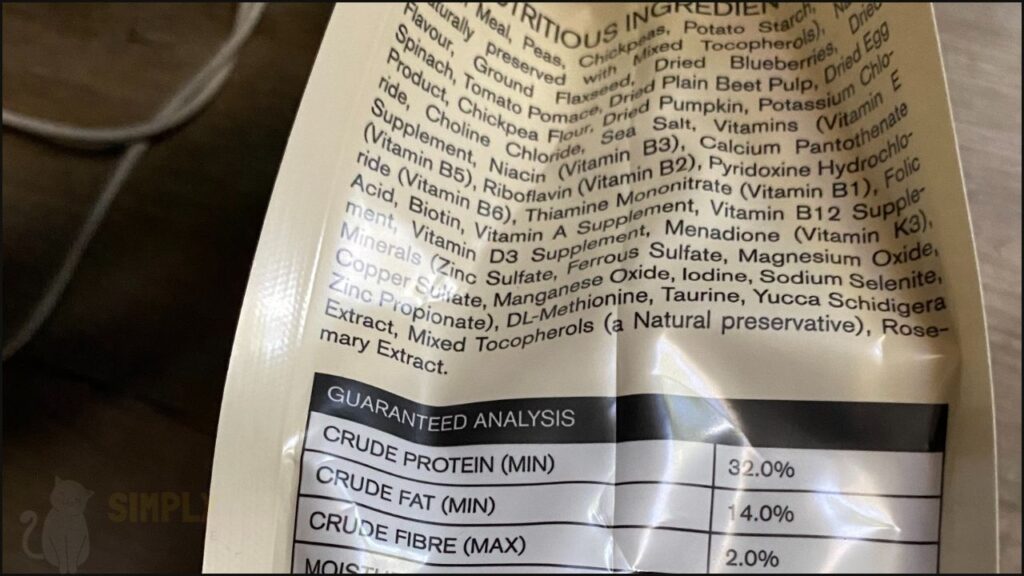 The label said salmon, but uses no descriptor (e.g. dinner, with, flavor).
That means ingredients order by weight, but salmon could appear in any amount (as long as it's higher than any ingredient below).
Walking through the ingredients:
Salmon (first ingredient)
Good ingredient.
Since this is labelled, I find this genuine (i.e. you'd want the first ingredient to match the label).
Salmon is high in protein (albeit lower in quality as it's a meal) and omega 3 fatty acids. Cats enjoy salmon too and it helps stop shedding.
Peas
Mediocre ingredient.
Peas provide moderate quality protein (although improved when adding with meat).
However, peas are high carb. And they contain phytate, which affects nutrient absorption.
On the bright side, a pea & salmon cat food can help cats with allergies.
Potato starch
Low quality ingredient.
Starch is high in carbs, which cats don't need. Not very useful.
Chicken fat
Average ingredient.
Cats enjoy animal fats, which improves taste.
Tapioca starch
Low quality ingredient.
Starch is high in carbs. A common ingredient to thicken things up. Not much value here.
Ground flaxseed
Average ingredient.
Flaxseed is an insoluble fiber. It may help control hairballs, and increases fecal bulk.
From a nutrition perspective, the omega 3 and 6 isn't usable with cats. They must get essential fats from meat.
Fish oil
Good ingredient.
Fish oil provides omega 3 fatty acids, which may help improve arthritis in older cats.
How useful it is in heat treated dry cat food? Not sure.
Dried blueberries
Average ingredient.
It's high in carbs and vitamin C. Cats need neither.
Vitamin C increases the risk of urinary stones.
Dried Spinach
Average ingredient.
Evidence shows cats don't benefit from functional foods like spinach. So this is a speculative ingredient at best.
Overall:
An average list.
Whilst it starts with salmon, it's packed with starchy foods. It looks more suited to a dogs diet (i.e. omnivores).
This is a common problem with 'dog first brands'. You end up getting doggier cat foods, as is the case here.
In short:
Not misleading
Low in meats
Lots of starch
Ingredients: 6/10
Vetalogica Naturals Nutrition
Average.
As the ingredients list suggest, there's not enough meat in the bag. The nutrition profile has a high carb (38%) content.
Here's more:
Vetalogica Naturals offers a statement of nutritional adequacy. It's a complete meal for adult cats.
That means it provides all the macro and micronutrients cats need, defined by AAFCO.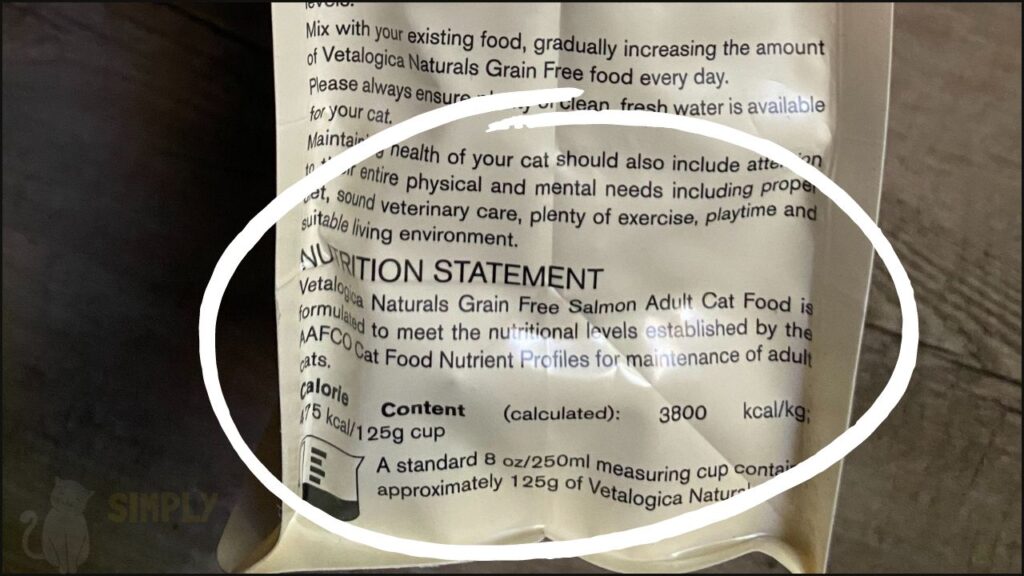 Vetalogica has a comprehensive nutrition panel.
The only missing value is for ash (market average is 7.6% for dry cat food, which I used in place for analysis).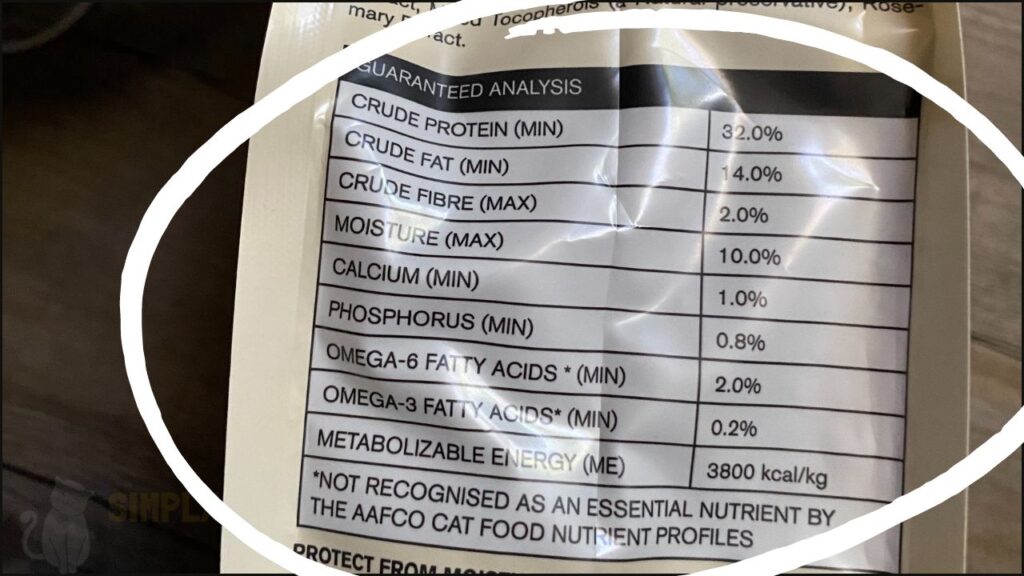 Full analysis breakdown below.
Nutrition breakdown: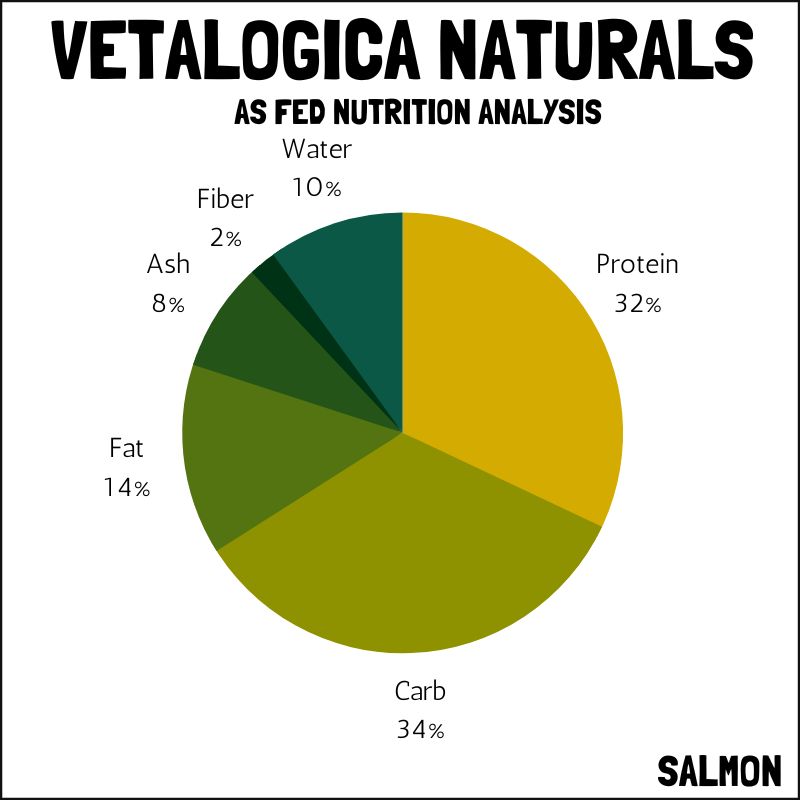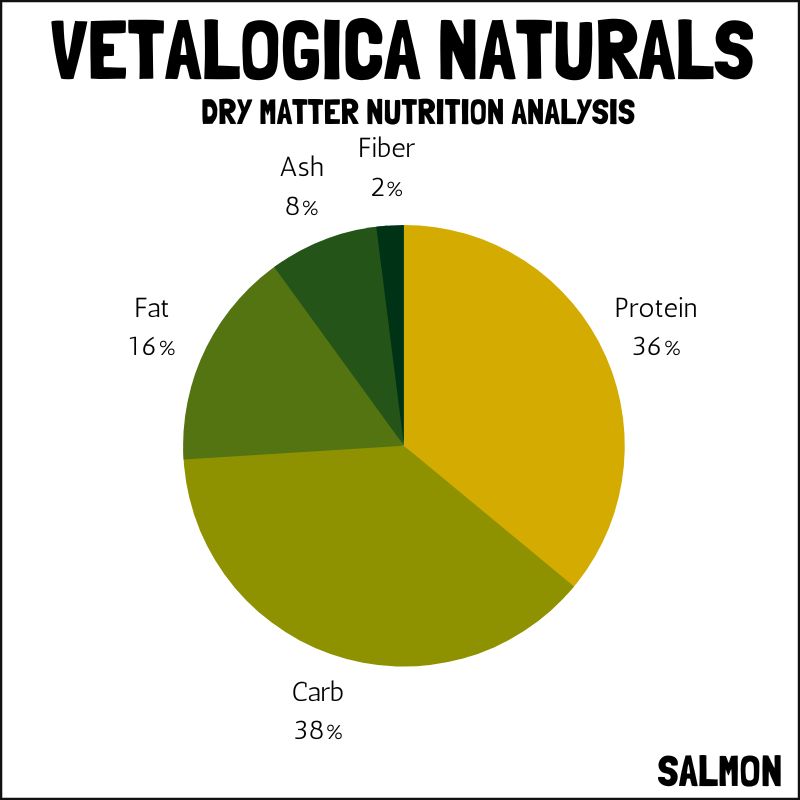 Problematic.
As the ingredients suggest, this cat food is high carb (38% dry matter).
For digestive and metabolic health, researchers suggest limiting carbs to ~12% dry matter. The carbs are too high here.
Protein is 36% dry matter. AAFCO recommend 26% for adults.
The issue is the protein quality. Factoring the whole peas (second ingredient), I calculated the digestible quality as ~30%.
This cat foods barely scrapes in.
Overall:
Too high carb. Too low protein.
This cat food needs more meaty ingredients to boost nutrition quality.
In short:
Moderate protein
High carb
Low fat
Nutrition: 2.5/10
What Did Our Cat Think of Vetalogica Naturals?
Good.
Our cat Toby enjoyed his bowl of Vetalogica Naturals. A satisfied customer.
He refused a pea rich cat food before (Taste of the Wild) so there's something about Vetalogica he prefers. Maybe the salmon or the light smell?
Reviews online are sparse, but seem mixed. Some report problems with a harder texture.
Other notes:
Faint smell
Small pellets
Hard texture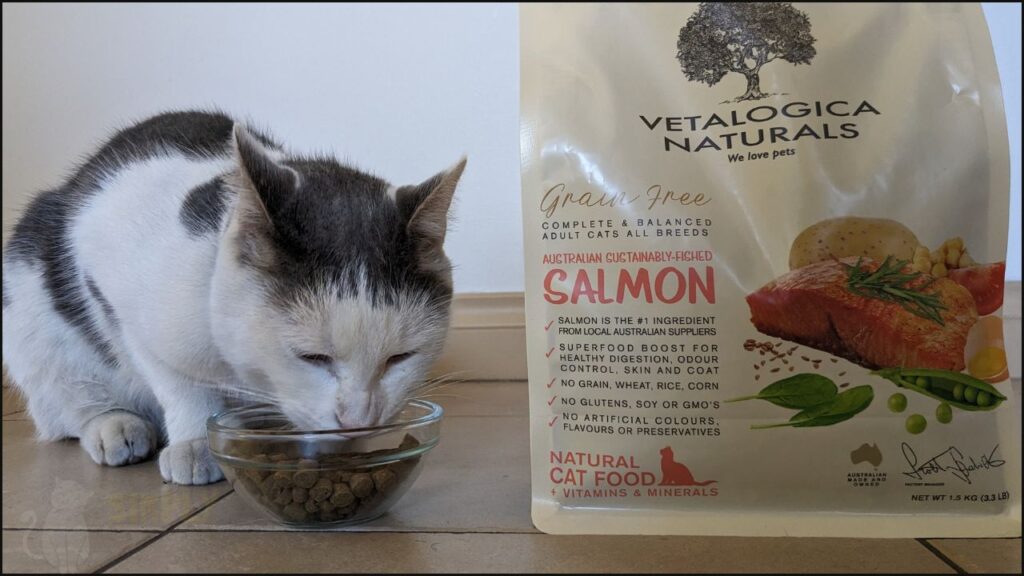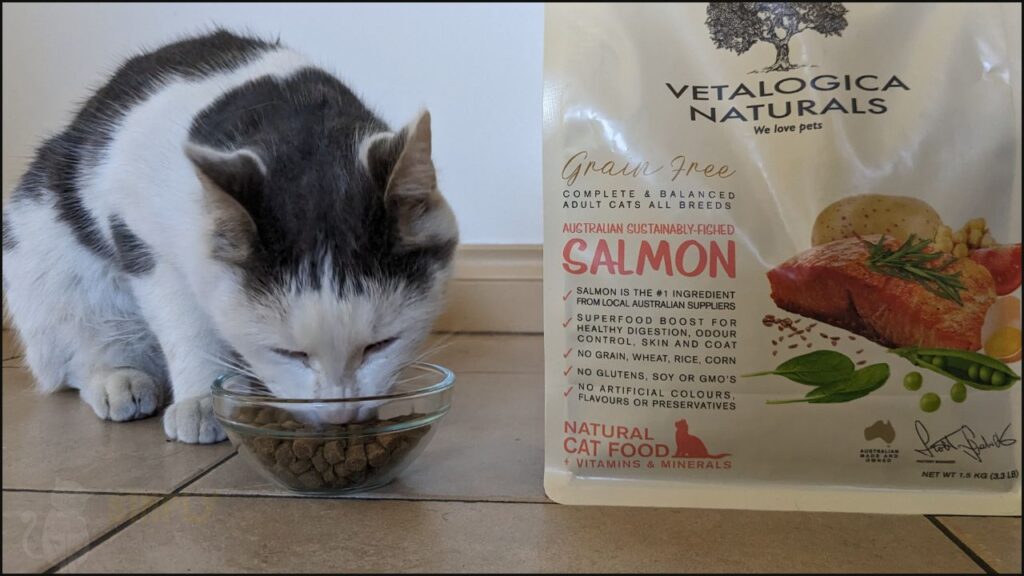 Taste: 7.5/10
Vetalogica Naturals Cost
Pricey.
Vetalogica Naturals is a 'premium' priced cat food. They offer 1.5, 3 and 6kg packaging.
Similar brands:
Related:
Affordability: 7/10
Frequently Asked Questions
Which Cat Food Is Best for Cats?
This is the best dry cat food in Australia, paws down. It's chock full of grass-fed meats and no nasty fillers.
Of course, what's best depends on the cat.
Consider:
Lifestage
Budget
Allergies
Food intolerance
Taste preference
Choose a high protein and low carb cat food. Cats prefer this, as carnivores.
Also ensure you choose cat food that's 'complete and balanced'. You'll find this on the label.
Related:
Conclusion
Vetalogica Naturals cat food is a 'sometimes' choice for adult cats.
It's grain-free, non GMO and Australian made. Our cat enjoyed the taste and it can help with allergy relief.
The downside is the high starch and pea content, which can irritate digestion in some cats. Generally, this food is a little 'doggy' for my liking.
Where to find Vetalogica Naturals?