Disclaimer: As a Pet Circle affiliate, I earn from qualifying purchases. This does not impact our reviews and comparisons.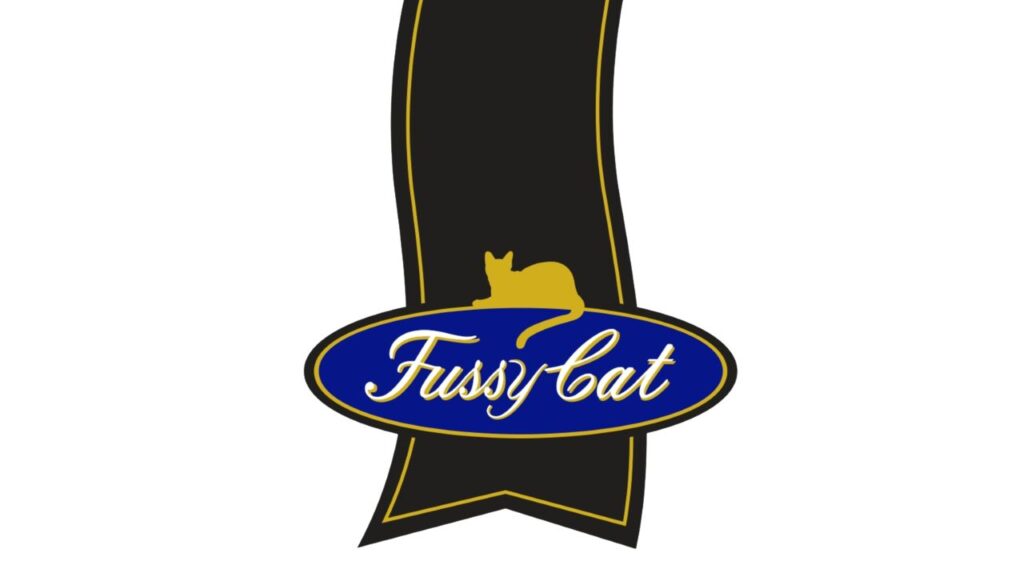 Score: 7/10
Bottom Line
An affordable Australian cat food that cats love.
We've done this Fussy Cat cat food review with the help of our cat taste tester Toby.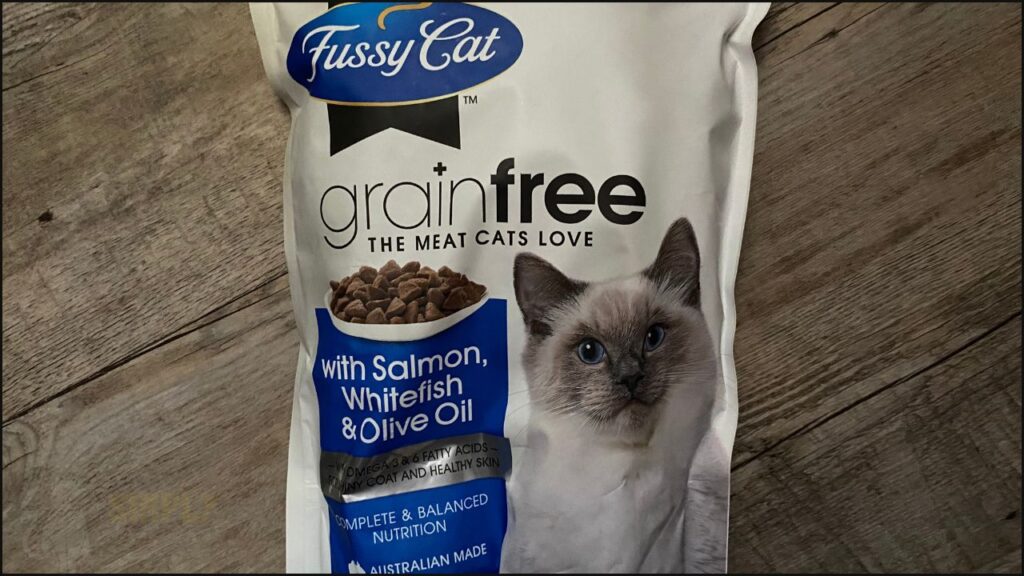 Fussy Cat are an Australian brand owned by Real Petfood Company. They offer dry and wet cat foods.
We reviewed their dry cat food.
Review summary:
The good?
Affordable.
Small sizing bags are great convenience to taste test. Great tasting to boot.
The bad?
Carbs a little high.
At 25% dry matter, it's pushes over what's optimal for cats. Best used sometimes with wet food.
The ugly?
A little misleading.
Ingredients are vague and a mish-mash of meats.
Reviews are sparse online. You have to go through the VIP Petfoods website to find any info on them.
In short:
An ok choice.
Fussy Cat is an affordable and tasty dry cat food in a pinch. I recommend it with wet food.
It's one of the best choices at the supermarket.
Best for:
Adult cats (1-7 years)
Fussy eaters
Budget buy
>> Check out Fussy Cat food here.
In the rest of this Fussy Cat food review I'll share results from our cat Toby. Then I'll go deep into the nutrition.
Finally, I'll go through frequently asked questions on Fussy Cat.
Note: Fussy Cat are not to be confused with Fussie Cat, a Thai made cat food sold in the US.
Let's go.
I am not a veterinarian and I recommend seeking the advice of a vet for any further questions. This article is not intended as a replacement for medical advice.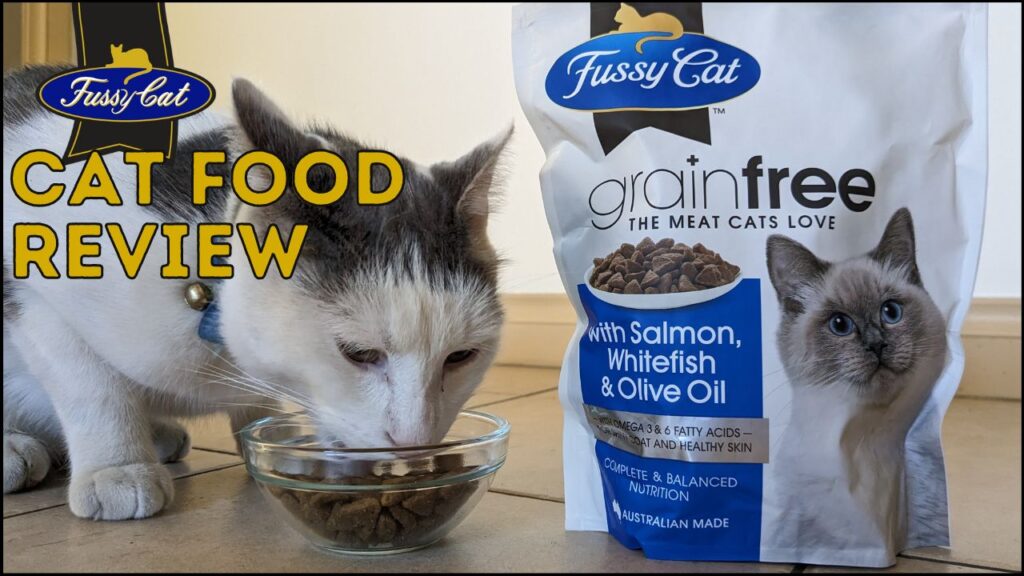 Fussy Cat Cat Food Review
Who Are Fussy Cat?
Fussy Cat are an Australian brand owned by Real Petfoods.
They started business in 1994. Other brands owned by Real Pet Foods include:
V.I.P.
Trilogy
Farmers Market
Ivory Coat
Contact info is found on the bottom of the pack.
Fast notes:
Founded in 1994
Australian based
Owned by Real Pet Foods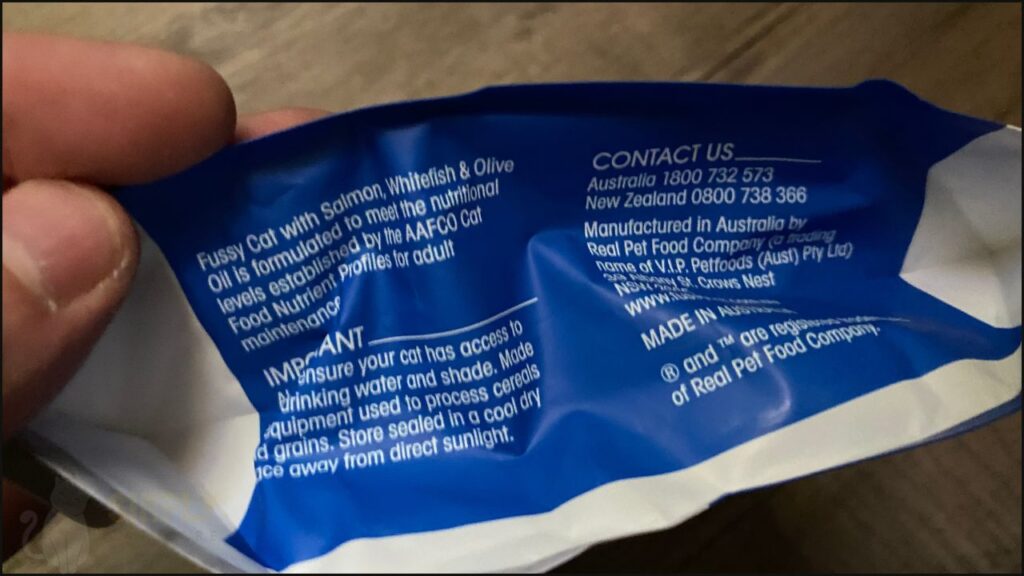 Fussy Cat First Impressions
Simple and pleasant.
The packaging is easy on the eyes. Contact info is a little hard to see as you need to check the bottom.
Label:
Grain free with Salmon, Whitefish, & Olive Oil
The descriptor is 'with'. More on what this means later in the review.
Other notes:
Clean label
Pleasant appearance
Contact info at bottom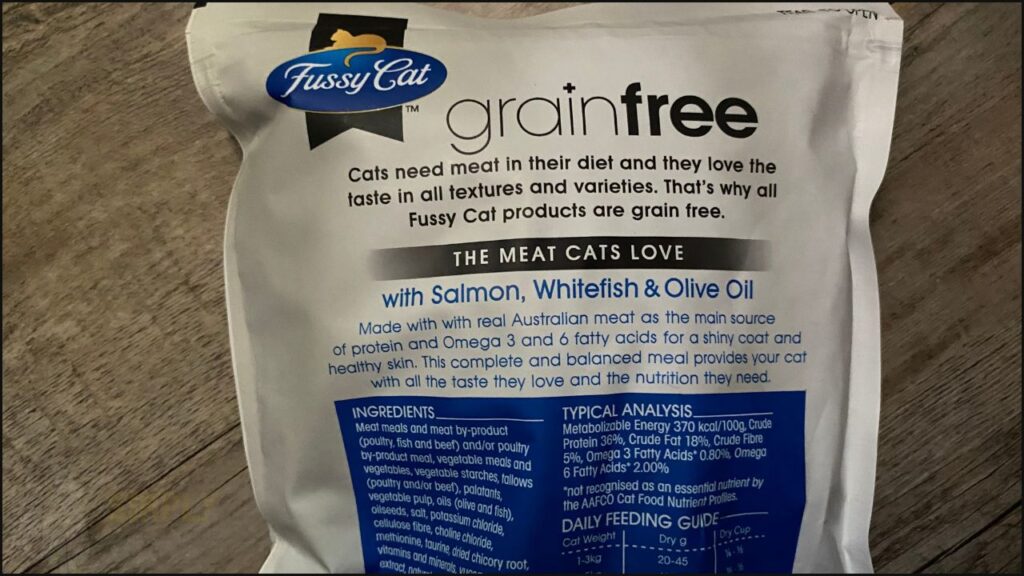 Fussy Cat Ingredients
Average.
It's high in meat by-product meal. For a cat food that says 'Salmon and whitefish' I'm a little disappointed.
Still, meat is meat which is of most value to a carnivorous cat.
Breaking it down:
Here's the ingredients for Fussy Cat grain-free with salmon, whitefish and olive oil (first 10):
Meat Meals and meat by-products (poultry, fish and beef) and/or poultry by-product meal, vegetable meals and vegetables, vegetable starches, tallows (poultry and/or beef), palatants, vegetable pulp, oils (olive and fish)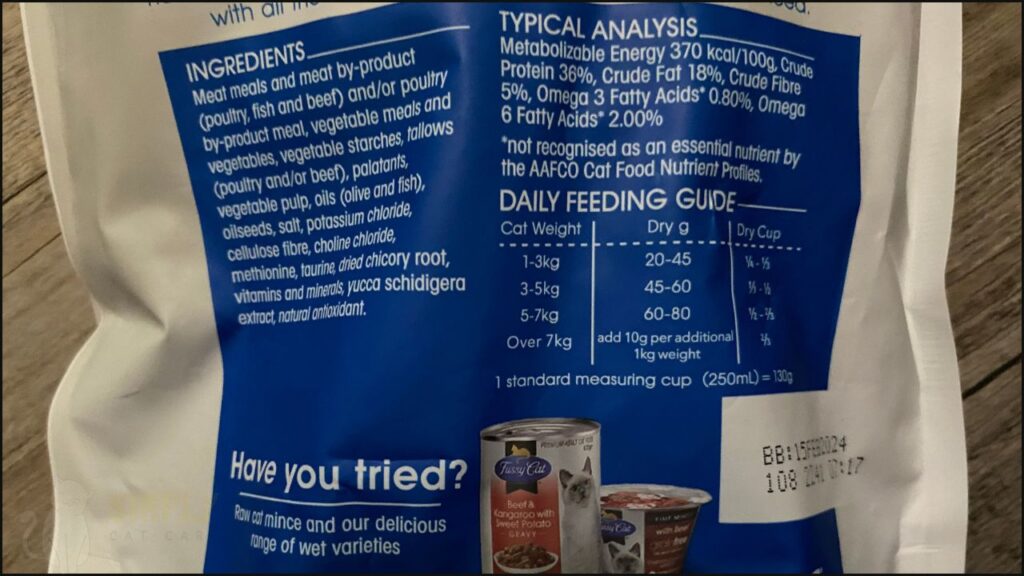 The label uses the with descriptor. That means the named ingredients constitute 3-25% of the bag weight.
It also means 75% of anything else.
Based on this, it looks like this is a mish mash of meats. They only need 3% salmon and whitefish.
Walking it through:
Meat meals and meat by-product and/or poultry by-product meal
Ok ingredient.
Meat meals are rendered. Slightly lower protein quality compared to fresh produce.
Meat by products include mammalian parts including lungs, spleen, kidneys, and brains. Healthful for cats (despite sounding gross).
Vegetable meals and vegetables
Mediocre.
Cats don't need much (if any) vegetables. They provide no nutritional value.
Vegetable starches
Bad.
Source of carbs. Cats don't need any carbs in their diet.
Tallows
Ok.
A source of fat. Cats enjoy animal fat and it provides energy.
Palatants
Used to increase taste, a common tactic in the cat food industry.
Vegetable pulp
Doesn't offer much value. Thickens food.
Oils
Average.
Cat's don't need plant oils. The omega 3 and 6 from plant sources aren't metabolized by a cats body (they need animal sources).
Overall:
Mid-tier ingredient list.
Meat dominates the list, albeit from a mish mash of bits and pieces. This gives cats the protein they need for strength and energy production.
The added vegetable doesn't offer much value to cats, but it's not a problem.
In short:
Lots of meat meals
Lots of veggies
Mish mash of meat
Ingredients: 5/10
Related:
Fussy Cat Nutrition
Average.
Fussy Cat meets protein targets, but could have more. The carb content is a tad high at 25% (although better than most).
Here's more:
Fussy Cat provides a statement of nutritional adequacy. It's a complete meal for adult cats.
That means it provides all the macro and micronutrients cats need, defined by AAFCO.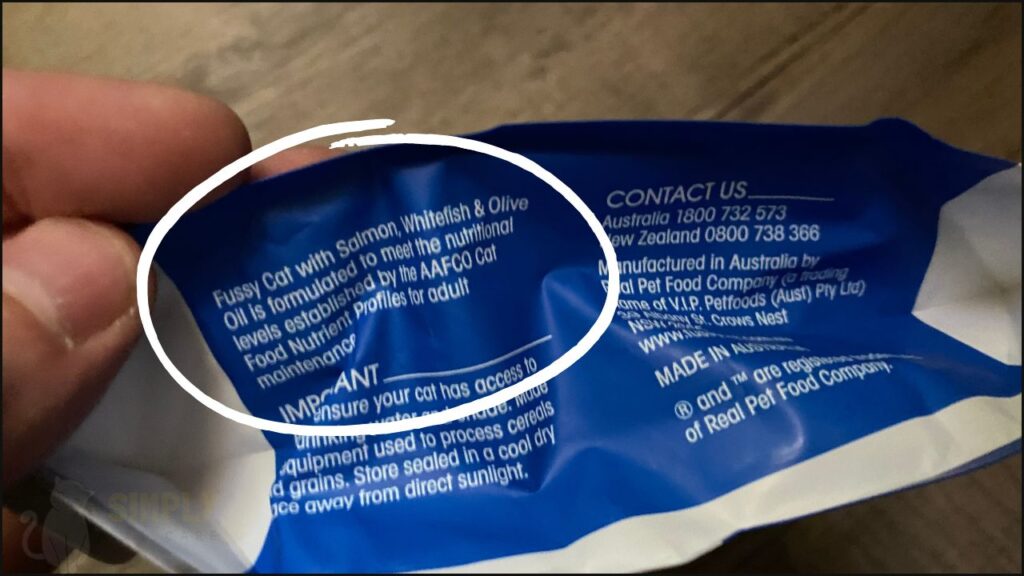 Fussy Cat includes info on protein, fiber, and fat.
They don't have values for ash and water (market average is 10.6% moisture and 7.6% ash). I analyzed nutrition based on the market average.
Calorie content is 370kcal/100g.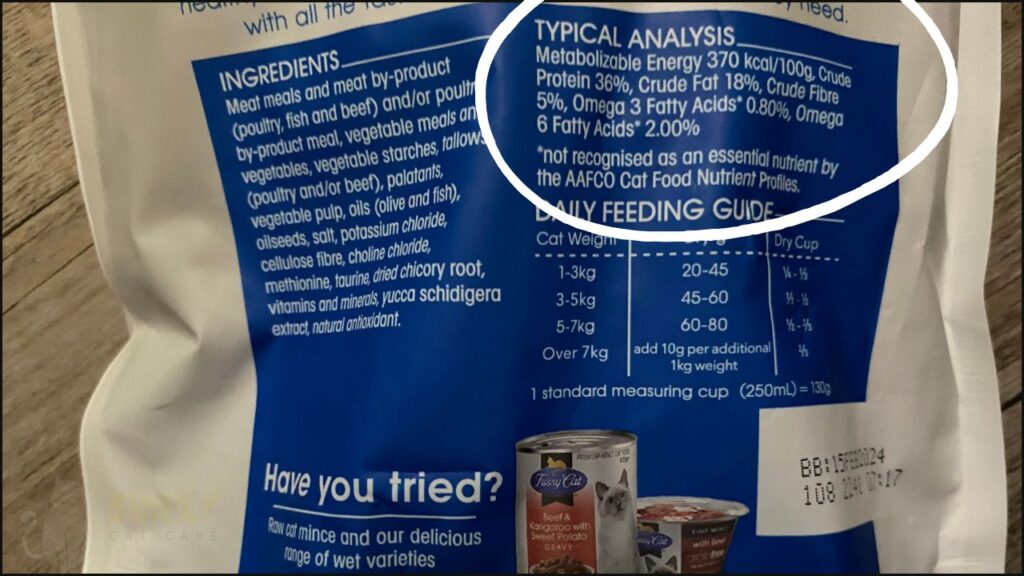 Here's a full nutrition breakdown: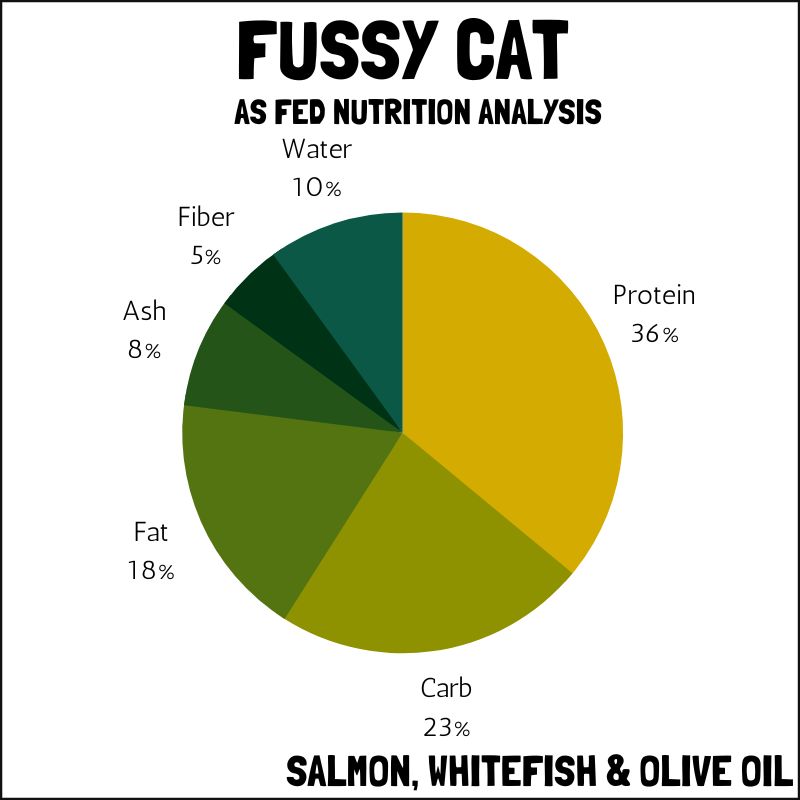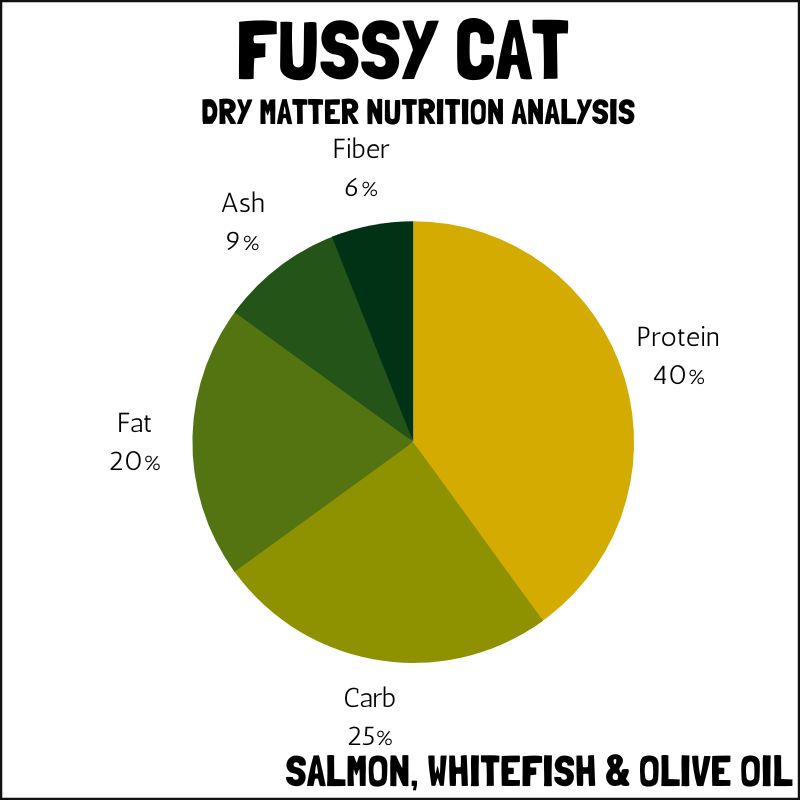 Reasonable nutrition.
The carbs are a tad high at 25% on a dry matter basis. For digestive health, research suggests a limit of ~12% carbs.
Protein is 40% dry matter. AAFCO recommend 26% for adults.
Adjusting for lower quality meat meal, digestible protein is more around ~32%. For senior cats this won't do, as they need a higher protein diet.
Overall:
Mid-quality.
Could have fewer carbs, and higher protein. Meets AAFCO's nutrition targets for adult cats.
In short:
Moderate carbs
Moderate-high protein
Some missing info
Nutrition: 5/10
Related:
What Did Our Cat Think of Fussy Cat?
Great.
Our cat Toby loves Fussy Cat. It's his favorite dry cat food we've served out of 15 Aussie brands.
Reviews online are also glowing for their dry cat food. A winner for fussy eaters.
Other notes:
Great taste
Savory smell
Medium size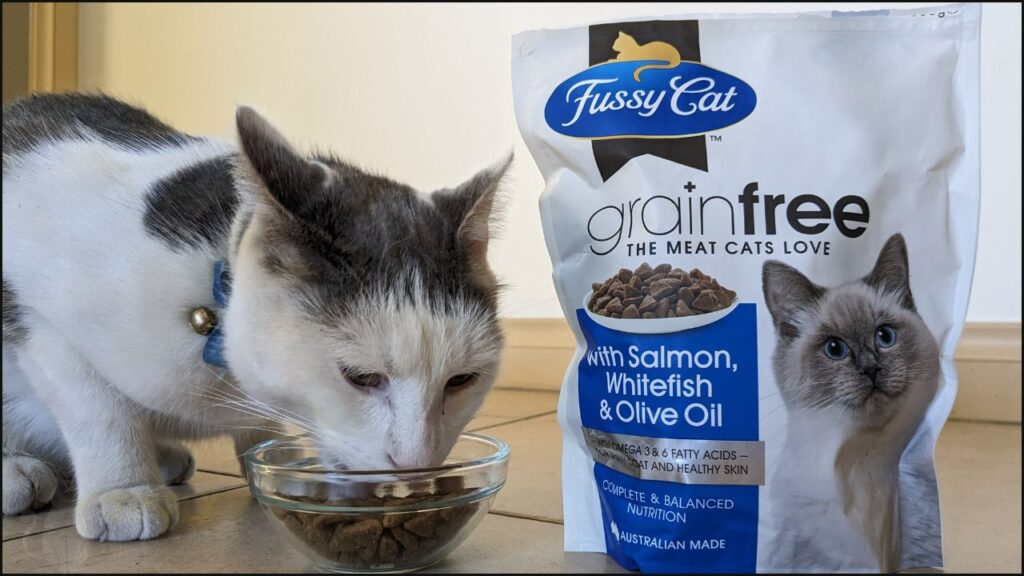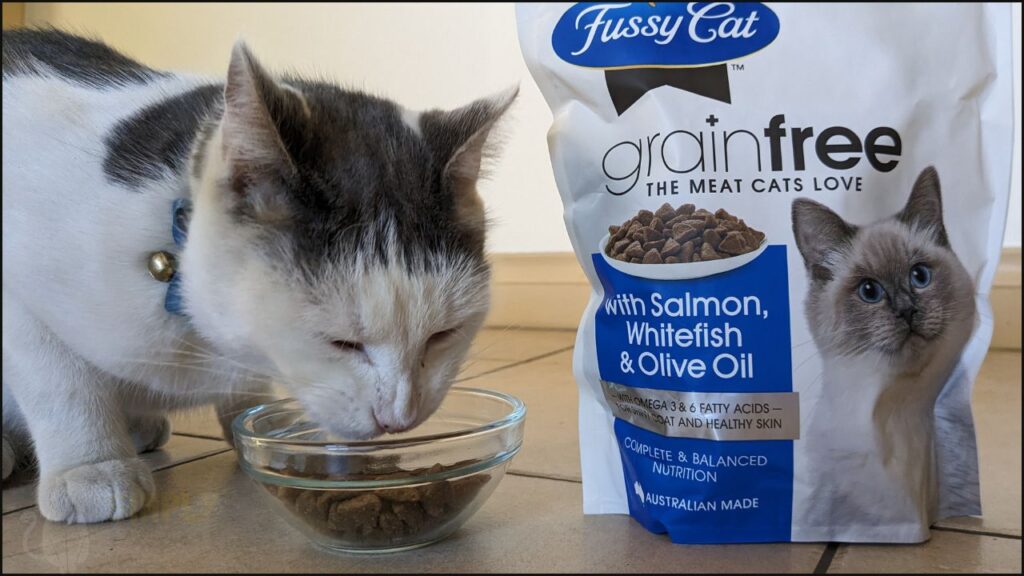 Taste: 10/10
Fussy Cat Cost
Affordable.
Fussy Cat is well-priced for most budgets. They offer bags as small as 500g.
Similar brands:
Related:
Affordability: 9/10
Frequently Asked Questions
Where Is Fussy Cat Cat Food Made?
Australia.
Fussy Cat is owned by Real Pet Foods, and Australian owned brand.
Conclusion
Fussy Cat cat food is a sometimes choice for adult cats.
It's affordable, grain-free and cats love the taste. This is an Australian made product.
The downside is the use of meat meals, vegetables, and high carb content. It's not suited for senior cats.
Best for:
Adult cats (1-7 years)
Fussy eaters
Budget buy
Where to find Fussy Cat?