Disclaimer: As an Amazon, Chewy, and Pet Circle affiliate, I earn from qualifying purchases. This does not impact our reviews and comparisons.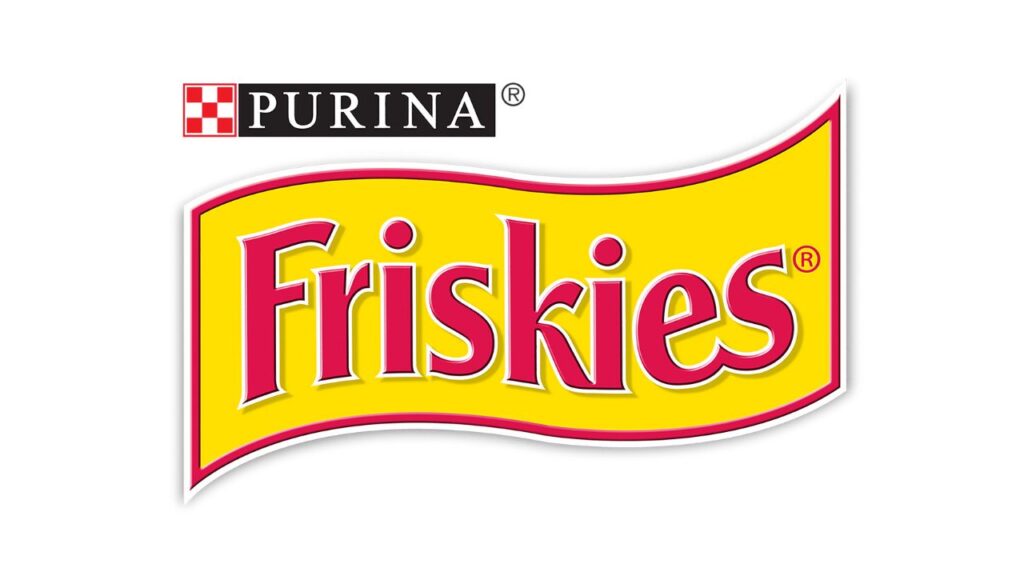 Score: 6/10
Bottom Line
A popular budget pick with questionable quality.
We've done this Friskies dry cat food review with the help of our cat taste tester Toby.
Friskies are a widely known and popular cat food, under the Purina brand.
We reviewed their dry cat food.
Review summary:
The good?
Very affordable.
With bulk bags (10kg) you'll save a heap on bills. Cats love the taste too.
The bad?
High carb.
At 40% (dry matter) this one pushes way above what's best for cats. Could be a problem for health long term.
The ugly?
Low protein.
Offers a paltry 33% (dry matter) using a mix of lower quality ingredients (e.g. cereals). Senior cats need more.
In short:
Questionable.
The taste and affordability impress, but the ingredients and nutrition fall short. A sometimes choice.
Best for:
Adult cats (1-7 years)
Fussy eaters
Budget buy
>> Check out Friskies dry cat food here (or here for Australia)
In the rest of this Friskies dry cat food review I'll share results from our cat Toby. Then I'll go deep into the nutrition.
Finally, I'll go through frequently asked questions on Friskies dry cat food.
Note: Friskies offer regional specific flavors. Our review may not reflect products in different areas.
Let's go.
I am not a veterinarian and I recommend seeking the advice of a vet for any further questions. This article is not intended as a replacement for medical advice.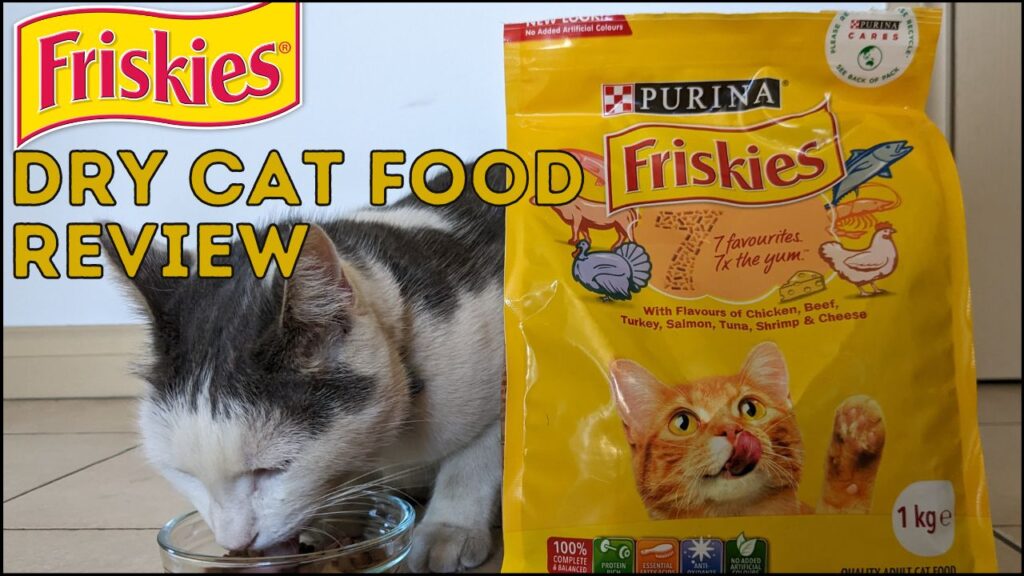 Friskies Dry Cat Food Review
Who Are Friskies?
Friskies are Purina owned, and been in business for over 125 years.
Purina are a subsidiary of Nestle, a well-known organization.
Other brands under the Purina brand name include:
Fancy Feast
Purina ONE
Felix
Fast notes:
Owned by Purina
Purina owned by Nestle
Large company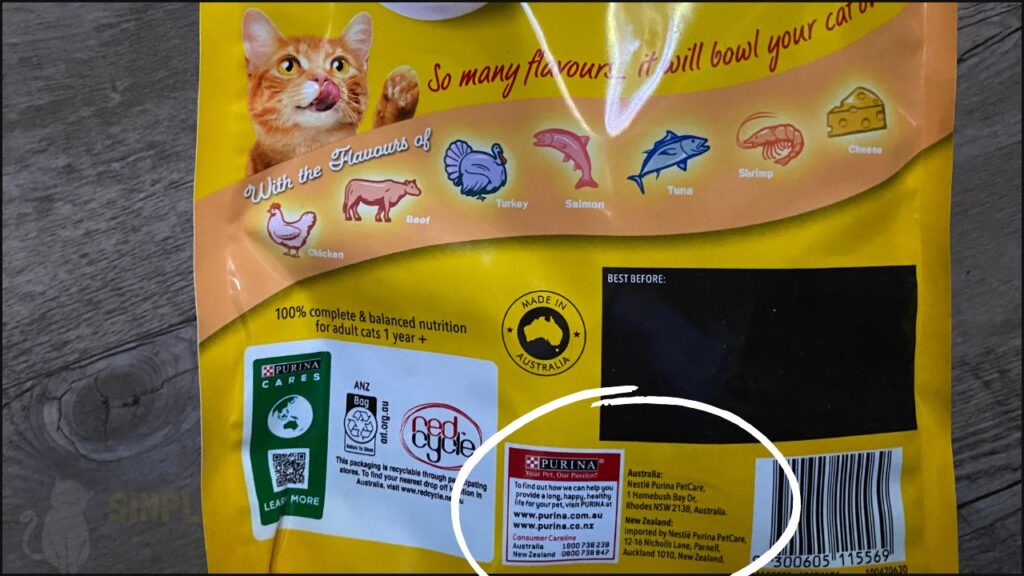 Friskies First Impressions
Bright and eye catching.
Seems to emphasize taste, by showing a hungry cat pawing for food. Not heavy on info.
Label:
7 favourites with flavours of chicken, beef, turkey, salmon, tuna, shrimp & cheese
The descriptor is a little confusing. It uses with and flavors, which have rules (more later).
Other notes:
Bright
Minimal info
A tad confusing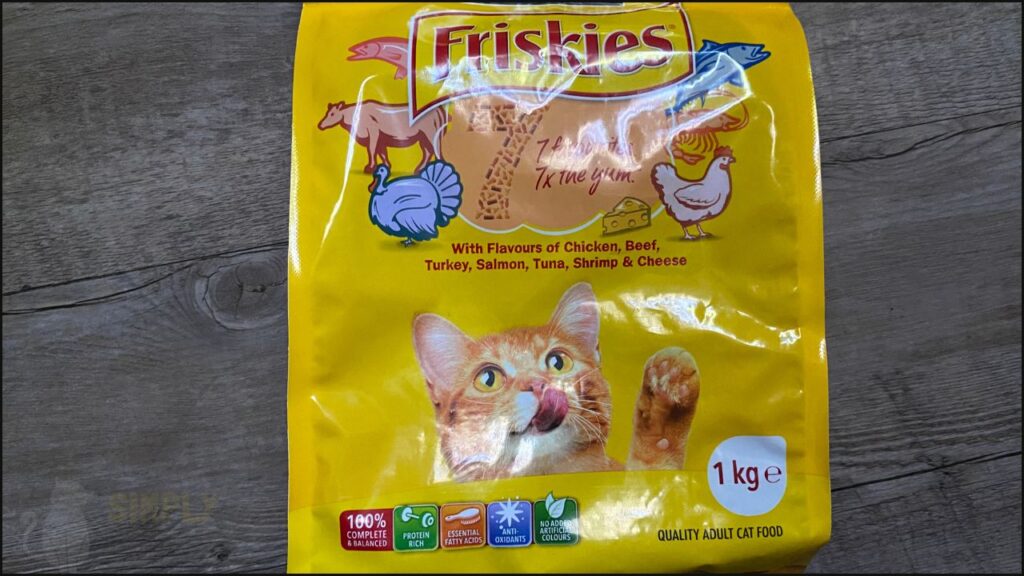 Friskies Dry Cat Food Ingredients
Average.
Cereals are a first ingredient. This raises the carb content and lowers the protein quality in the bag.
Here's the ingredients for Friskies dry cat food:
Ingredients: Wholegrain cereals and/or cereal by-products and/or vegetable by-products; Meat and meat by-products (poultry and/or beef and/or fish and/or lamb and/or pork) and/or poultry by-products; Vitamins, Minerals and Amino acids; Food colours; Flavours
The label uses the with descriptor and flavor which is confusing. 'With' means the named ingredients are 3-25% of the weight.
Since there's 7 named ingredients, it's divvied over a wide spread. 75% are anything else.
Cereals and vegetable by-products from the looks of it. As the main ingredient, it looks the dominant ingredient.
Breaking down the ingredients:
Wholegrain cereals
Average.
Cereals provide low quality protein and carbs. Cats don't need any carbohydrate in their diet.
As the main ingredient, this is most dominate ingredient, Not a great sign.
Meat and meat by-products
Good.
What cats need most of is meat, as they are carnviores. Meat offers good quality protein and micronutrients.
It's not specific what types of meats are in the bag. Can be a mix of chicken, fish, lamb, pork and/or beef.
The rest of the bag has vitamins, minerals, and flavors.
Overall:
Average.
I'd be more confident if meat were the first ingredient. With cereals dominating the list I'm not sure cats get the protein they need.
In short:
Cereals dominate
Range of meats
Not specific
Ingredients: 4/10
Related:
Friskies Dry Cat Food Nutrition
Mediocre.
The protein is quite low, as the ingredients suggest. Couple that with the high carb content (exceeds the protein) and it adds up to disappointment.
It's a sometimes food for me at best.
Friskies dry cat food has a statement of nutritional adequacy. It's a complete meal for adult cats.
That means it provides all the macro and micronutrients cats need, defined by AAFCO.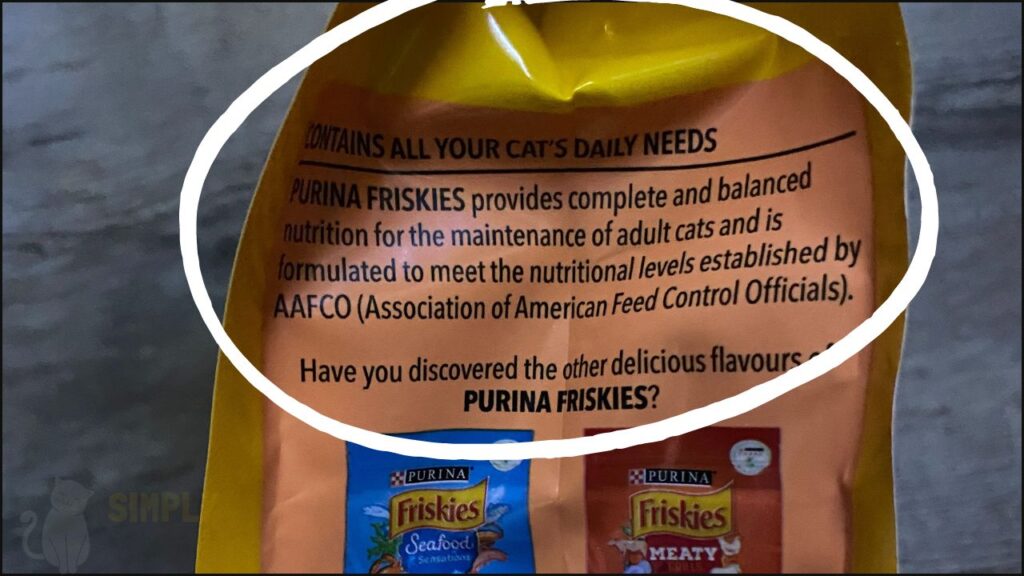 Friskies dry cat food has info on protein, fat, fiber, and calorie content.
There's no values for ash and moisture (I used the market average of 10.6% moisture and 7.6% ash).
Calorie content is 350kcal/100g.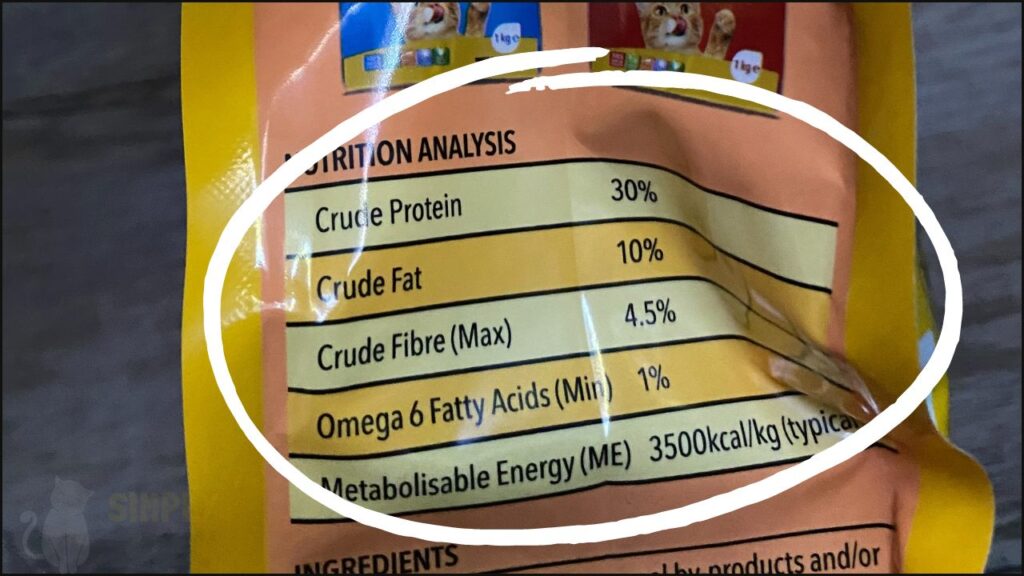 Here's a nutrition breakdown: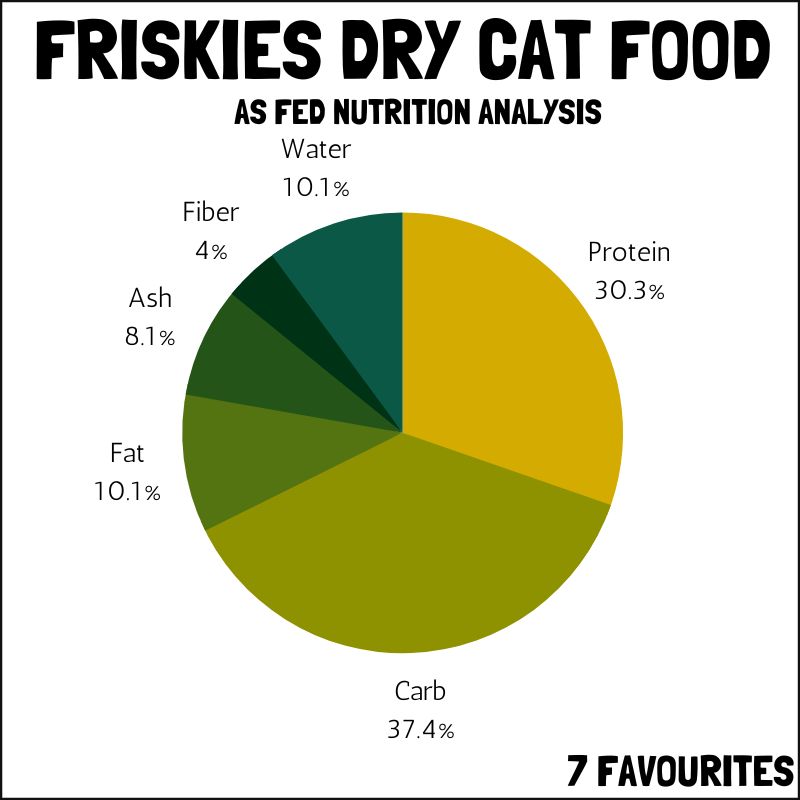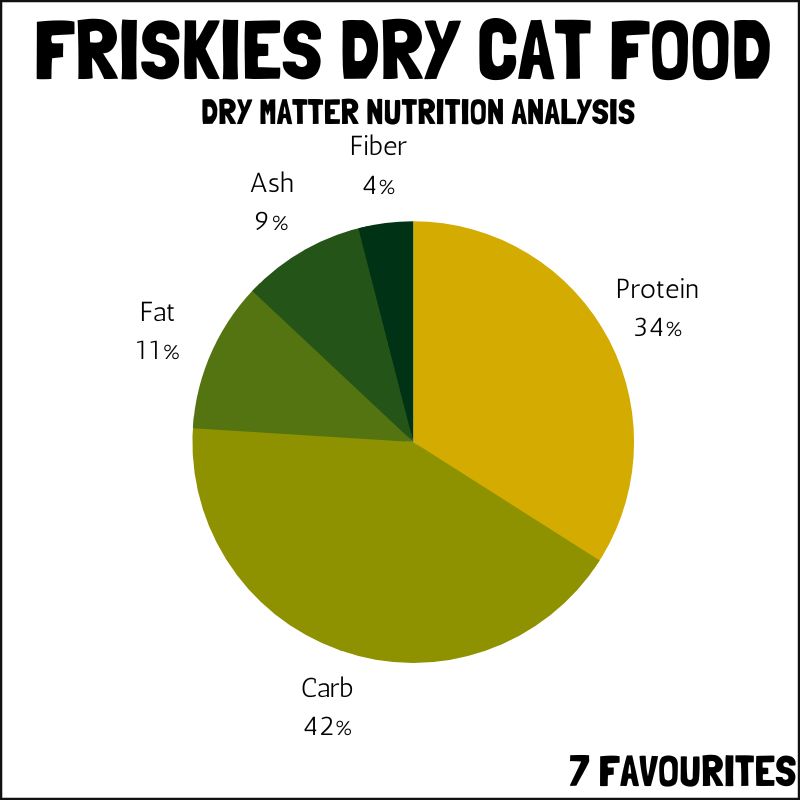 Not ideal.
The carbs exceed the protein at 42% (dry matter). For digestive and metabolic health, researchers suggest ~12% carbs.
Protein comes in at 34%, which meets AAFCO's recommended 26% for adults.
However, adjusting for quality from cereals, my estimate is more around ~20-25%. It's hard to know for sure.
That puts the protein in a precarious spot for me. Senior cats need a higher protein diet as do undernourished adults.
Overall:
Average.
I think this product needs more meat in the bag. Whilst it meets AAFCO's nutrition targets, it falls short for seniors and underweight cats.
In short:
High carb
Moderate protein
Lackluster
Nutrition: 1/10
Related:
What Did Our Cat Think of Friskies Dry Cat Food?
Good.
Our cat Toby enjoyed his serve of Friskies 7 favourites cat food. It's one of his preferred choices.
Reviews online are positive. Friskies is a good choice for picky cats.
Other notes:
Great taste
Mild savory smell
Medium size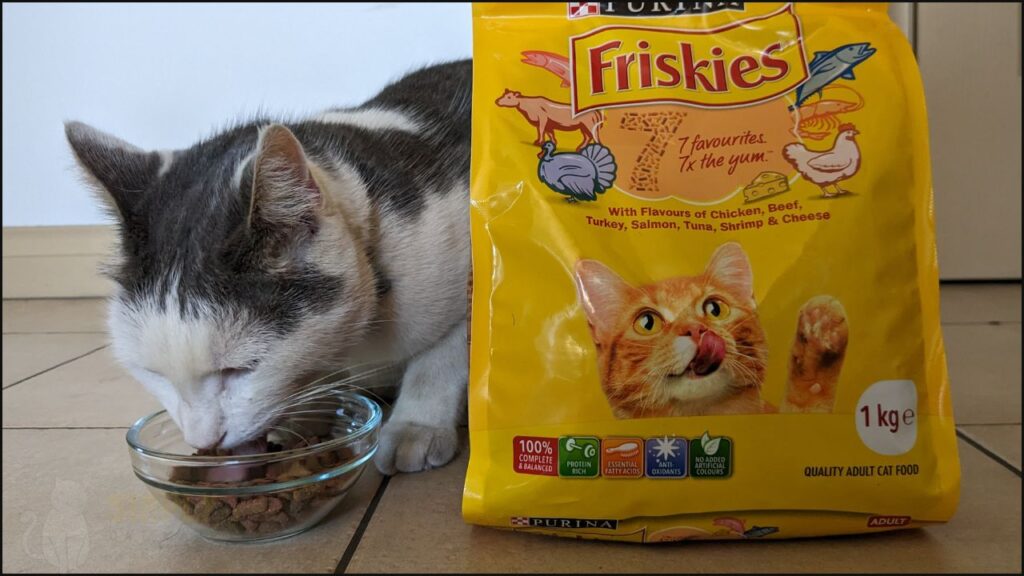 Taste: 9.5/10
Friskies Dry Cat Food Cost
Very affordable.
Friskies dry cat food is suitable for any budget. They offer bags up to 10kg.
Similar brands:
Related:
Affordability: 9.5/10
Frequently Asked Questions
Is Friskies Dry Cat Food Good for Your Cat?
Average.
It meets AAFCO's nutrition guidelines for adult cats. Friskies falls short in protein quality for seniors and underweight cats.
Related:
Can My Cat Be Allergic to Friskies?
Potentially.
1-6% of cats have food allergies. Common protein sources (e.g. chicken and beef) are most likely causes.
Friskies includes a mish-mash of pork, fish, chicken, beef, and lamb. That widens the net of possible allergens.
Why Does My Cat Throw Up Friskies?
Eating too much.
Cats have a small and less distensible stomach. They aren't adapted to large servings.
Make sure to stick to the serving guidelines and avoid free-feeding your cat.
Related:
What Are Friskies 7 Favorites?
Dry cat food.
This is one flavor of Friskies dry cat food. There's a wide range of choice which differ based on region.
Is Friskies Unhealthy for Cats?
Depends.
Any food in excess is problematic due to excess calories.
Friskies dry cat food is higher in carbs. I recommend limiting high carb cat food and using it as a sometimes food.
Finally, all dry cat food suffers from lack of water. Cats struggle with drinking enough if not served wet food, increasing urinary stone risk.
Related:
Conclusion
Friskies dry cat food is a sometimes option for adult cats.
It's very affordable, tasty and offers bulk buy options. There's a range of flavors depending on region.
The downside is the heavy use of cereals and the average protein content. Doesn't suit seniors or underweight cats.
Best for:
Adult cats (1-7 years)
Picky cats
Budget buy
Where to find Friskies dry cat food?