Honest Leaps and Bounds Cat Food Review
Disclaimer: As a Chewy and Amazon affiliate, I earn from qualifying purchases. This does not impact our reviews and comparisons.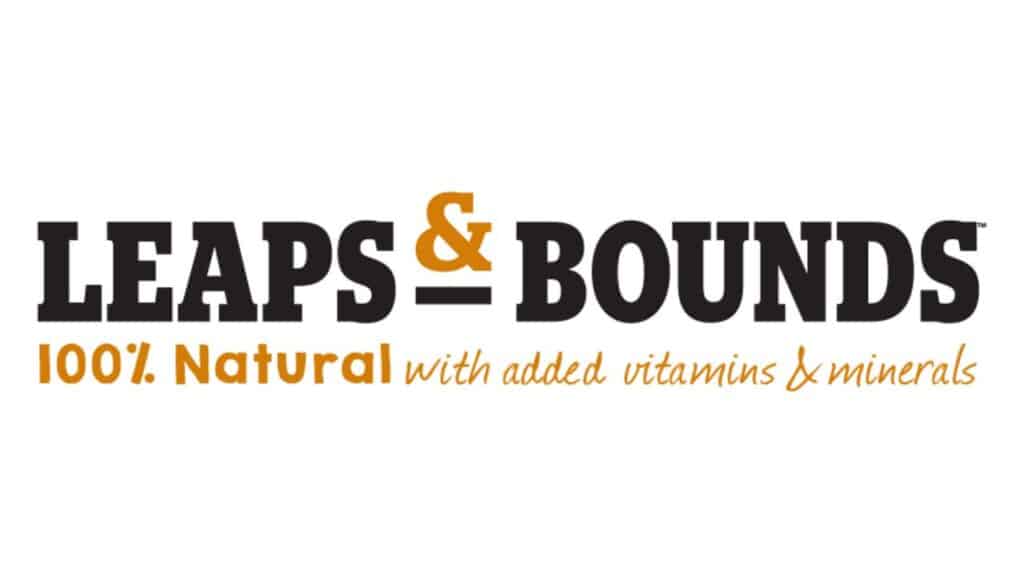 Score: 7.5/10
Bottom Line
An affordable Australian cat food, but mind the thick texture.
We've done this Leaps and Bounds cat food review with the help of our cat taste tester.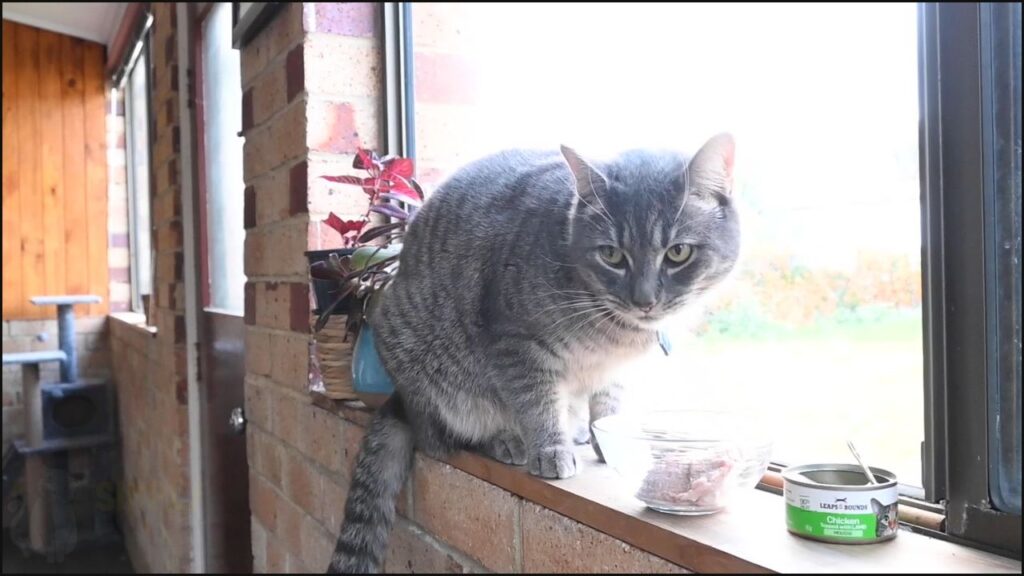 Leaps & Bounds is an Australian cat food brand with a lot of flavors.
I tested a few of their products with our cat.
Review summary:
The good?
Great ingredients.
Leaps & Bounds is chock full of meats at an affordable price. There's no grains or legumes, which is great for sensitive stomachs.
The bad?
Texture and taste.

Whilst our cat loved the fish flavor, he turned his nose up at the chicken. The thick texture seemed to confuse him.

Unfortunately, we found missing nutrition info. That and the mixed taste results mean we are cautious with this cat food.
In short:
Worth a try.
It's a low carb, meat rich can of cat food. Exactly what you want.
The issue is there are proven performers at a more affordable price (e.g. Fancy Feast). Leaps & Bounds is Australian made though.
Best for:
Support local brand
Easy digestion
Adult cat health
>> Check out Leaps & Bounds here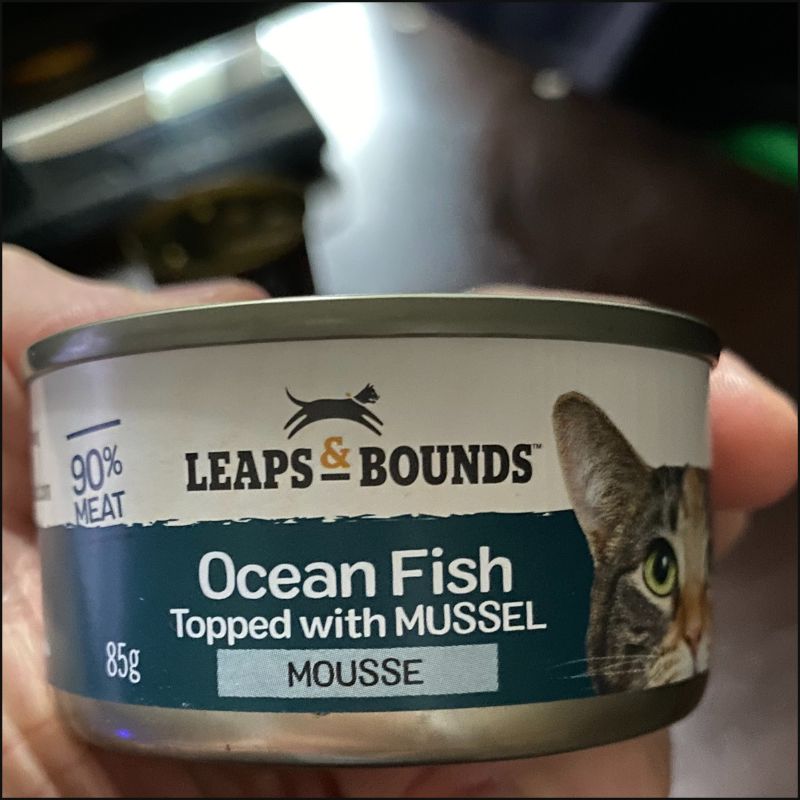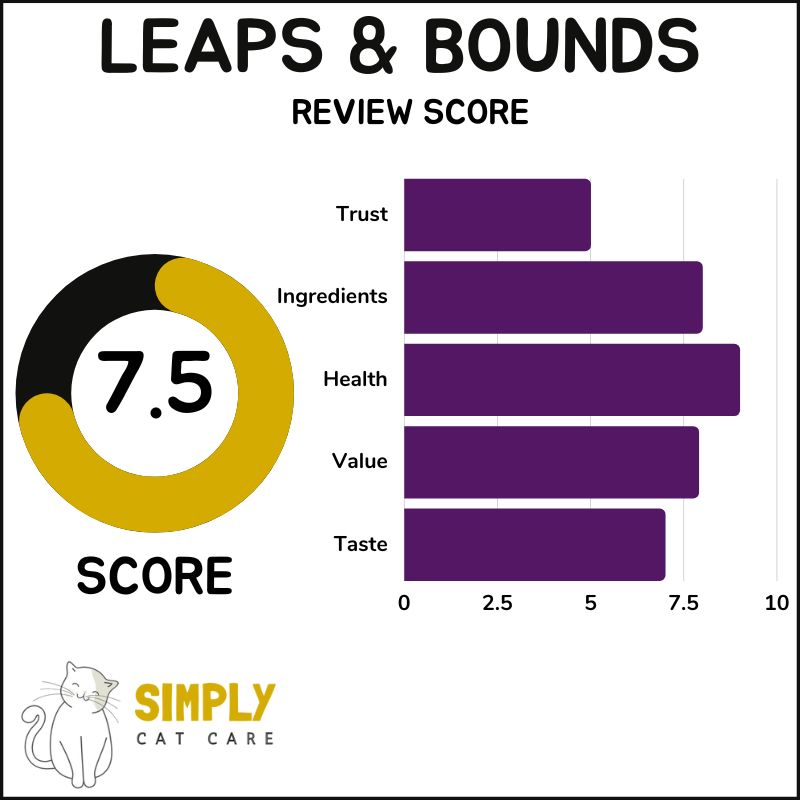 Want more info on Leaps & Bounds cat food?
In this Leaps and Bounds cat food review I'll share results from our cat tester Oscar.
I'll also take a deep dive into the nutrition of this cat food to find which cats benefit most from this product.
More below.
I am not a veterinarian and I recommend seeking the advice of a vet for any further questions. This article is not intended as a replacement for medical advice.
Who are Leaps & Bounds?
Leaps & Bounds is a pet food brand that specializes in natural cat food. They are owned by Petwise and were founded in 2016.
They operate in Australia sourcing produce locally and from New Zealand. According to their website, some food is made in Thai facilities.
Leaps & Bounds make wet and dry cat food.
Quick notes:
Australian owned
Made in Thailand
Make wet and dry cat food
Leaps and Bounds Cat Food Review
I've taken a look at the following areas:
Nutrition
Ingredients
Value for Money
Taste
Here's the results:
Leaps and Bounds Nutrition
Great.
Leaps & Bounds cat food is a complete food for adult cats and/or kittens (with their kitten range). That means Leaps & Bounds is a sole source of nutrition for cats.
I emailed Leaps & Bounds to find out more about their nutrition. They report they add taurine to their wet foods (~1% dry matter basis) and the foods are low in carbs (3-4% dry matter).
Taking them on their word, the nutrition is great. This is a healthy and balanced choice for adult cats and kittens.
In short:
High protein
Low carb
Suited to all ages
Nutrition (Dry Matter Basis):
Protein: 45%
Fat: 25%
Carbs: 3-4%
Fiber: 3%
Calcium to Phosphate Ratio: 1.5:1
Energy: 1,150 kcal/kg
Nutrition: 9/10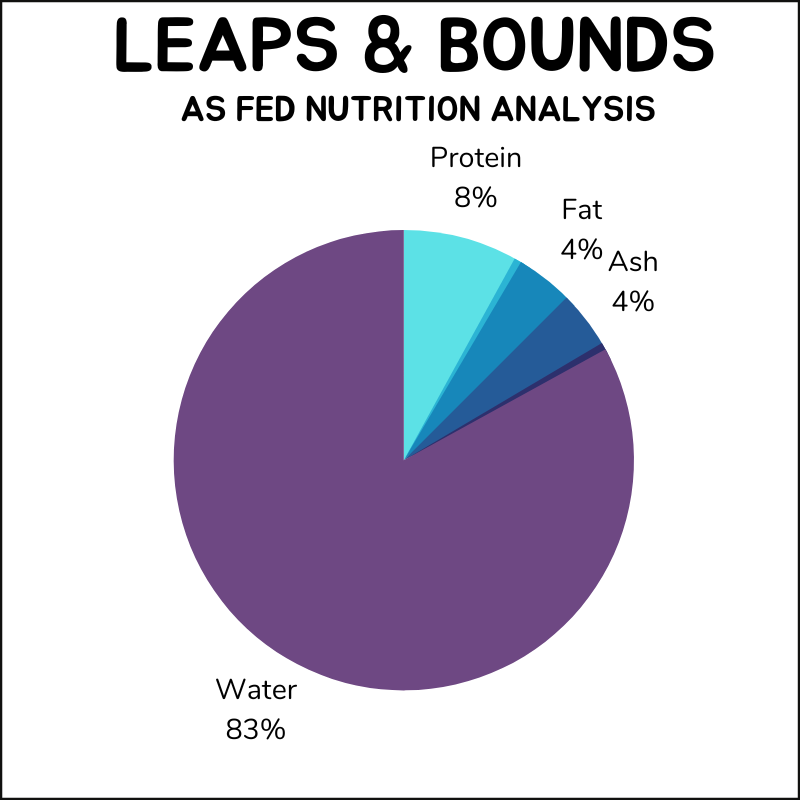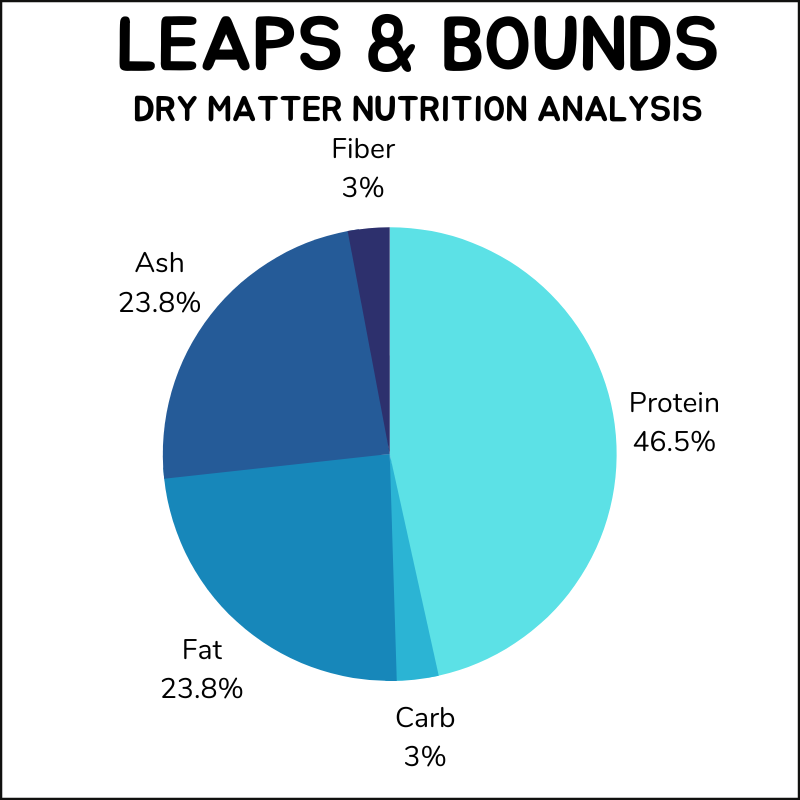 Learn More:
Leaps & Bounds Ingredients
Good.
Here's a look at the ingredient list for Leaps & Bounds Ocean Fish with Mussel (meat ingredient highlighted):
Ingredient List: Ocean Fish, Chicken, Mussel, Chelated Minerals, Omega Oils, Gelling Agents, Essential Vitamins
The first three ingredients are meat based. This includes ocean fish, chicken, and mussel.
These high protein ingredients benefit cats, providing energy and strength.
The label tells us that there is 90% meat products in the tin. Awesome.
The main downside is the use of gelling agents, a vague term that can include gums and carrageenan. It may cause food sensitivity in some cats.
On the bright side, there's no added carb rich foods. Good for blood sugar control.
In short:
Meat rich
Grain-free
Gelling agents added
Check out more about Leaps & Bounds cat food over at their website.
Ingredients 8/10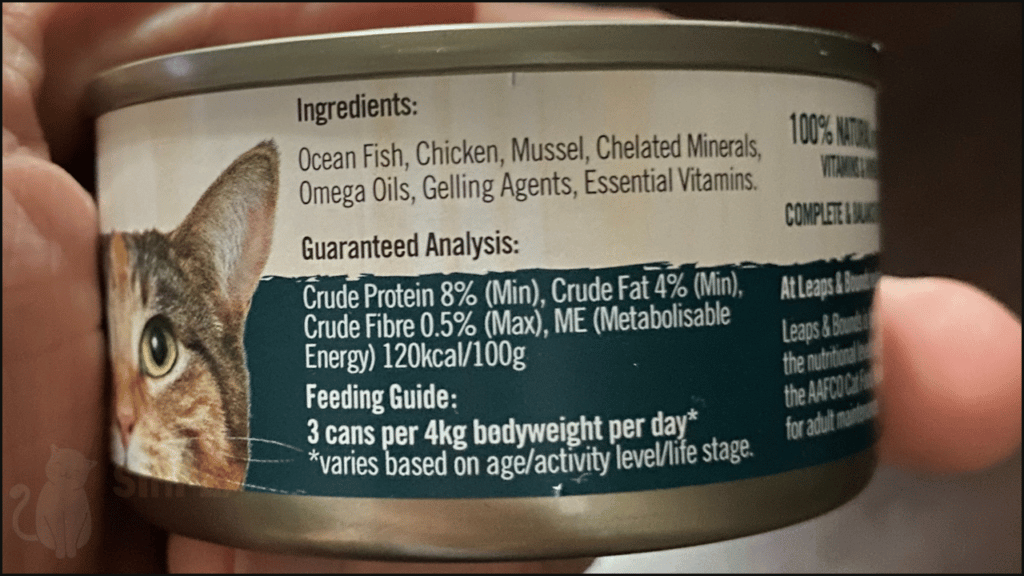 Leaps & Bounds TASTE
Mixed.
We offered 2 wet cat food products from Leaps & Bounds to our cat tester Oscar.
He loved one product (Ocean Fish with Mussel) but didn't enjoy the chicken offering.
Since this is a new product, there's not much going on in the reviews, so we'll hold off there.
One thing we noticed is the mousse texture might be too thick. At one point Oscar pawed at it as it to try to break it up for easier eating (see below):
Flavor Score: 6/10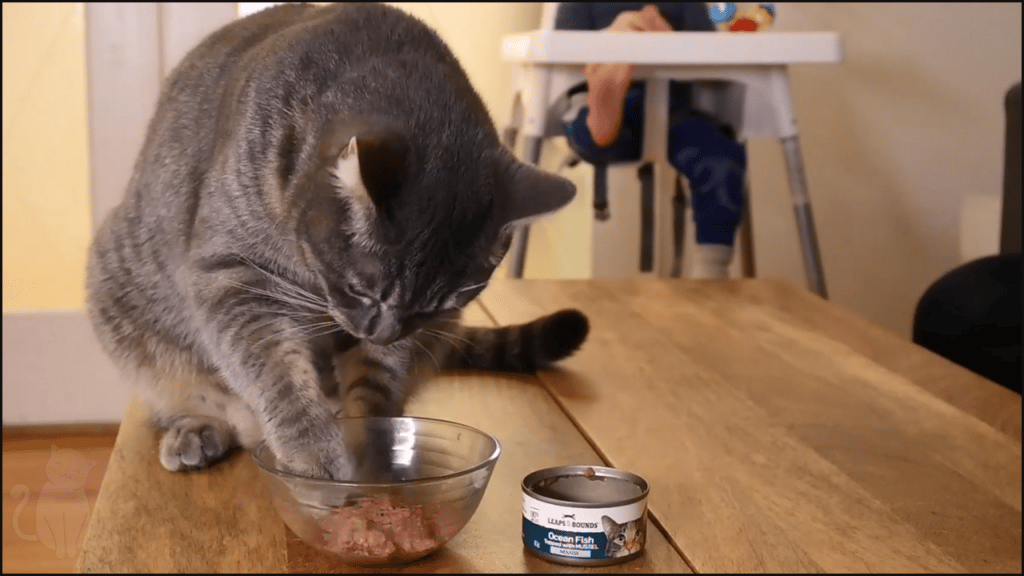 This thick texture seems to be one factor in the long eating time. Usually Oscar takes about 5 minutes to finish one serving of cat food, but this took over 13 minutes!
Here's results from our testing:
Food Test 1: Leaps & Bounds Ocean Fish Topped With Mussel
Amount eaten: 100%
Time to finish eating: 13 minutes and 20 seconds
Food appearance: Thick gelatinous appearance. Mussel looks like a 'smashed bug on a window pane'.
Smell: No strong smell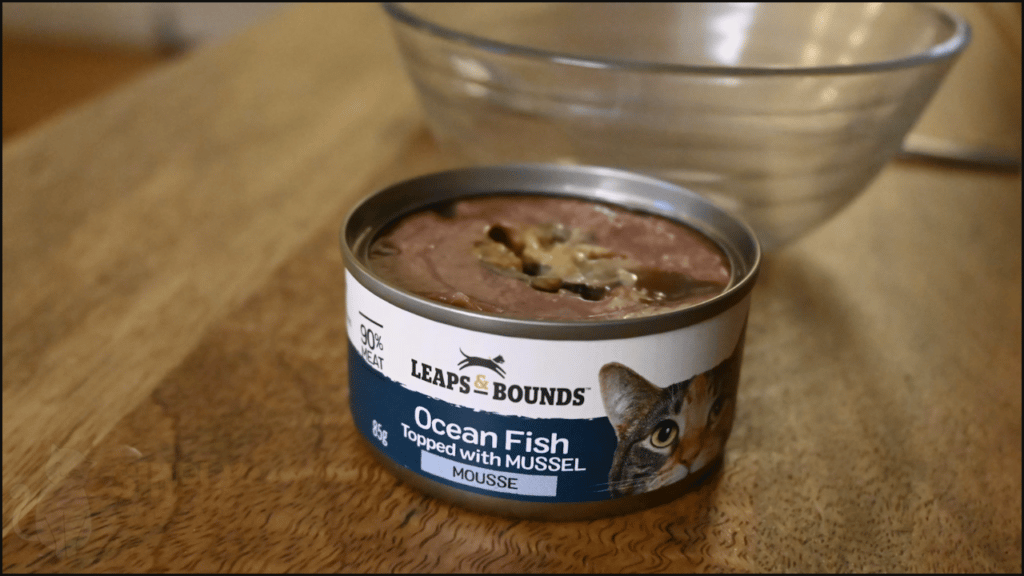 Food Test 2: Leaps & Bounds Chicken Topped With Lamb
Amount eaten: 15%
Time to finish eating: 3 minutes and 20 seconds
Food appearance: Thick paste
Smell: Smelled a little bland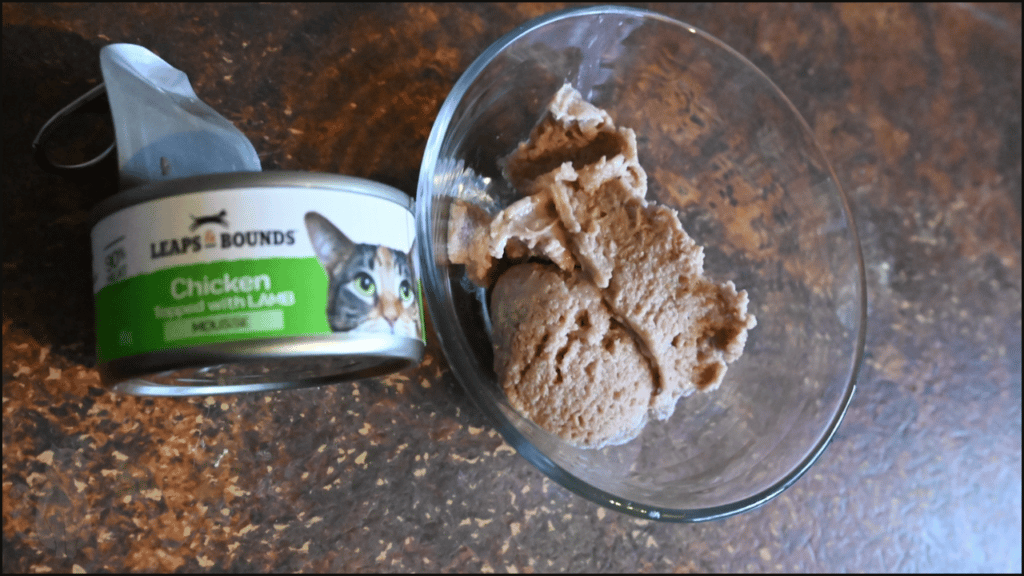 VALUE FOR MONEY
Compared to most premium cat foods, Leaps & Bounds is affordable.
You'll find individual tins at your local Petbarn, but can save by purchasing a large pack.
Similar alternatives to Leaps & Bounds for Australians include:
Value for Money: 8/10
Conclusion
Leaps & Bounds is a low carb Aussie cat food.
It's great for adult cat health, easy digestion, and fish lovers.
However, the mixed taste results and thick texture make us cautious.
Best for:
Support local brand
Easy digestion
Adult cat health
>> Check out Leaps & Bounds here