3 Best Remote Controlled Cat Toys in 2021
Disclaimer
We may receive commissions when you click our links and make purchases. However, this does not impact our reviews and comparisons. We try our best to keep things fair and balanced, in order to help you make the best choice for yourself. As an Amazon affiliate, I earn from qualifying purchases. As a Chewy affiliate, I earn from qualifying purchases.
In this article, I will be reviewing the best remote controlled cat toy on the market. Toys are a great way to stimulate your cats hunting instincts and keep them entertained.
I've analyzed the options on the market to find the best choices to meet your needs. Overall, the best remote-controlled toy I looked at is the Adoric Cat Toy.
This is a great affordable option that is USB charged and gives your cat a tonne of play possibilities.
Here's a summary of the products I reviewed in this article.
A cat is a predator in the wild.
Cat's hunt small prey such as mice and birds for their daily nutrition. As such, they rely on well-honed hunting skills developed over thousands of years of evolution.
Most cats stay indoors for long periods of time. This keeps cats safe from outside harm but limits their ability to explore their natural hunting instincts.
Cat toys are a way to stimulate your cat and reduce the risk of behavioral issues related to boredom.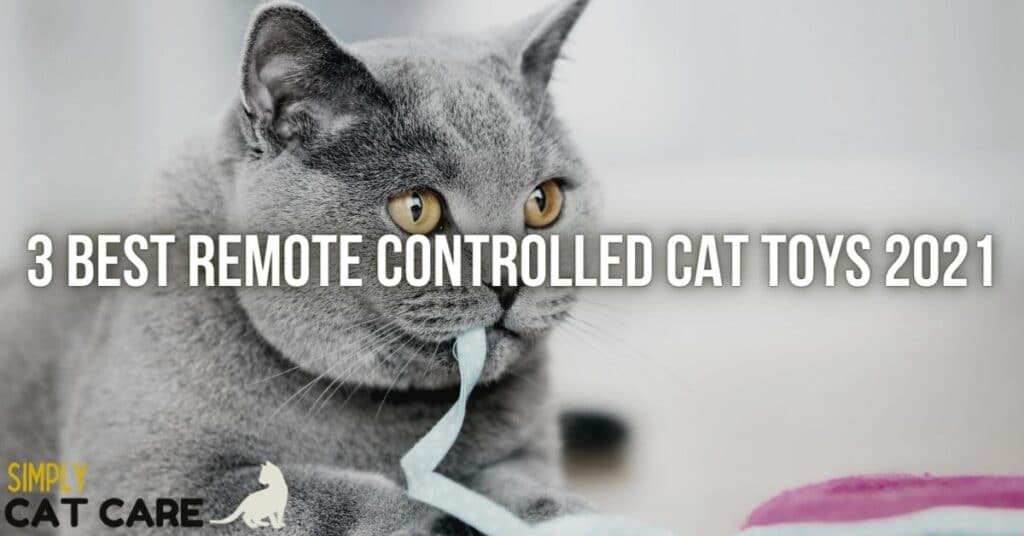 My name is Derrick, and I write for Simply Cat Care. The goal of this website is to help cat owners solve common cat problems and queries with easy-to-read articles. This is done by reviewing any good evidence on the topic and coming up with logical conclusions.
I am not a veterinarian and I recommend seeking the advice of a vet before making a purchase.
Here is what you will find in this article:
Let's get into the article.
---
Product Review: Best Remote Controlled Cat Toy
Let's take a look at the Adoric Cat Toy.
As you may have guessed, the device controls via a remote by hand. This means you can drive the cat toy around the house to entice your kitty to hunt and chase.
I like how this opens up the play possibilities over standard interactive toys (e.g. wands).
The other feature I like is the automatic mode that lets your cat enjoy a play session without having to move. Charged via a USB cable, this device lasts a generous minimum of two hours of playtime.
I found a few downsides to this product.
It doesn't move in a straight line, which might make it hard to control for some people. For some cats, the 'robotic' design even with the feather toy attachment may evoke fear and lead them to run away.
SPECIFICATIONS
Package dimensions: 5.75 x 5.59 x 3.35 inches
Batteries: 2 AAA (included) with USB charging cable
Accessories:
Remote Control
6 replacable feather attachments
---
Let's look at the Boquii Cat Toy.
This is a remote ball toy. I like that the ball bounces and rolls automatically to entice your cat to play.
I also like that the ball toy stays in motion on a variety of surfaces to keep your pet entertained for long periods. There are three play modes to suit cats of all ages and activity levels.
On the downsides, an aggressive biter may break apart the ball. The ball also makes a disruptive sound when bouncing on hard surfaces, so if you're after a quiet toy then this may not be for you.
SPECIFICATIONS
Package dimensions: 4.45 x 2.8 x 1.85 inches
Weight: 3.2 ounces
Batteries: 1 lithium-ion (included) with USB charger
---
Let's look at the Yoyipet MotoMouse.
I like how simple but effective this toy is. The Yoyipet works by inserting batteries and letting the toy run automatically.
The trick to this toy is the spring ends that keep it in motion by bouncing off walls. This adds a lot more entertainment for cats without human input.
Like many cat toys, it's a hit-or-miss option. This toy also lacks a USB charging option and instead requires small LR44 batteries.
SPECIFICATIONS
Package Dimensions: 5.47 x 4.65 x 1.3 inches
Weight: 1.06 ounces
Batteries: 3 x LR44 (included)
---
Buying Guide: How to Choose the Best Remote Controlled Cat Toy
Let's look at some things to consider before buying a cat toy.
There are many things involved in deciding which product is right for your needs. Let's review them.
Why do cats need interactive toys?
Cat's are obligate carnivores and hunt small prey in the wild. This includes things like birds, insects, and mice.
It's natural for a cat to hone its instincts around the house. Even when left indoors a cat still retains its feline hunting desires.
You may notice your cat hunting you around the house at night and gently pawing you. Or trying to attack a dangling curtain.
So that's a problem because:
Cat's get bored without toys. Toys provide the mental and physical stimulation cats experience in the wild.
They keep your cat's attention and improve their quality of life. Toys also reduce the chance of behavioral problems.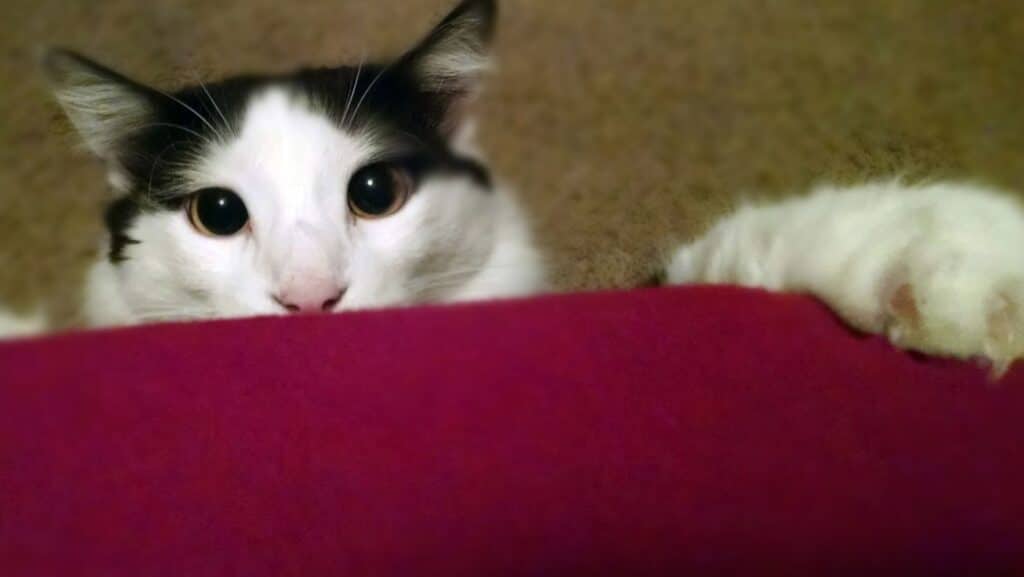 ---
What type of toys can I buy my cat?
There are many different toys on the market.
This poses the question:
'Which one is right for my cat?
Each toy has a range of features that look enticing.
Let's look at some categories of cat toys:
Stationary Toy
A stationary toy is set down in one spot for your cat to enjoy.
There is no need to hold or control anything. This is a set-and-forget type of toy.
These types of toys include things like feathers and balls.
The benefit of these toys is they are passive. They don't require constant effort from the owner to use and operate.
This is great for someone out of the house often or preoccupied with important tasks.
The problem with these toys is they aren't stimulating enough to carry your cat's attention long term. The appeal of a toy is the constant variation and chase.
A stationary toy never changes and your cat will lose interest quicker than an interactive toy.
Older cats are less amused by cheap thrills, but kittens will get more mileage out of stationary toys.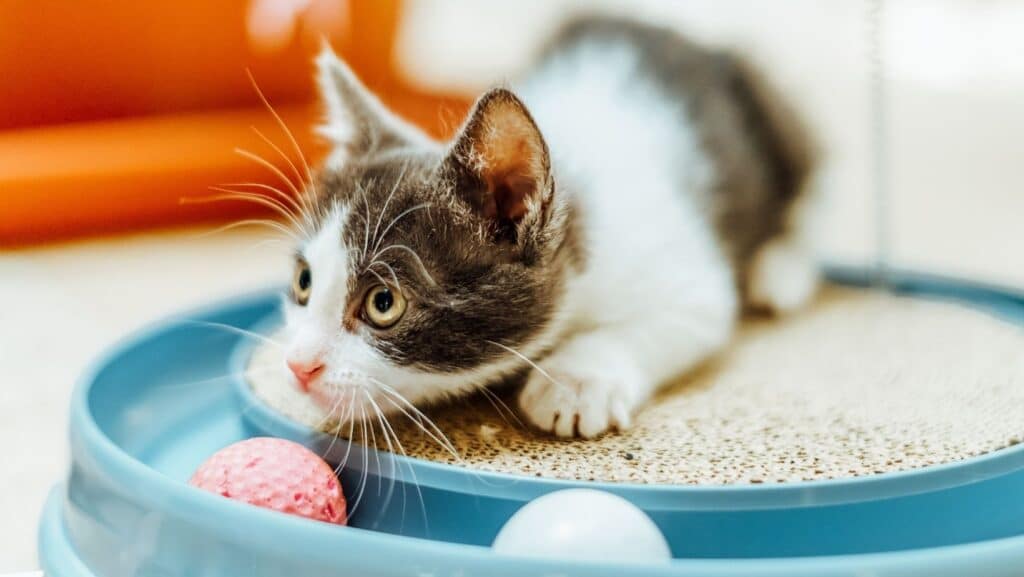 What should I look for in a stationary toy?
I would go for something with a strong base that isn't going to tip over easily.
You want something that will stand the test of time, especially with kittens.
Moveable balls are a good option.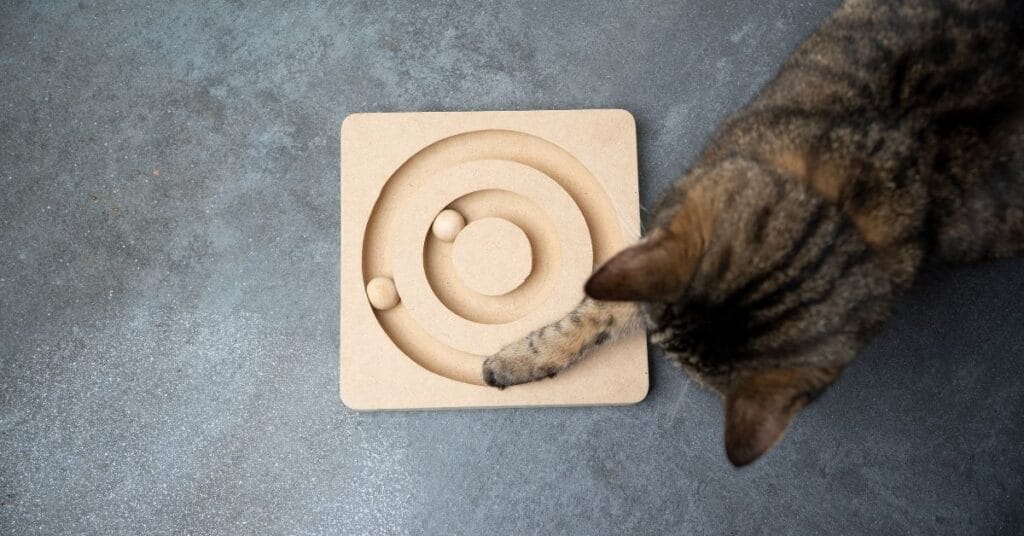 ---
Cat Tunnel
As the name suggests, a cat tunnel is a tunnel for your cat to run around in.
It simulates part of your cat's natural environment (e.g. a hollow tree log). The toys are fun ways for your cat to hone their hunting skills around the house.
The benefit of these toys is they are simple and inexpensive. In fact, you could make your own DIY tunnels and corridors with some cardboard boxes.
There isn't much downside to these toys and some include a feather toy (e.g. fish or mouse) to increase stimulation.
However, they probably won't be enough as a stand-alone toy.
Kittens will get more mileage out of these types of toys and love the interesting hiding spots you've placed down for them.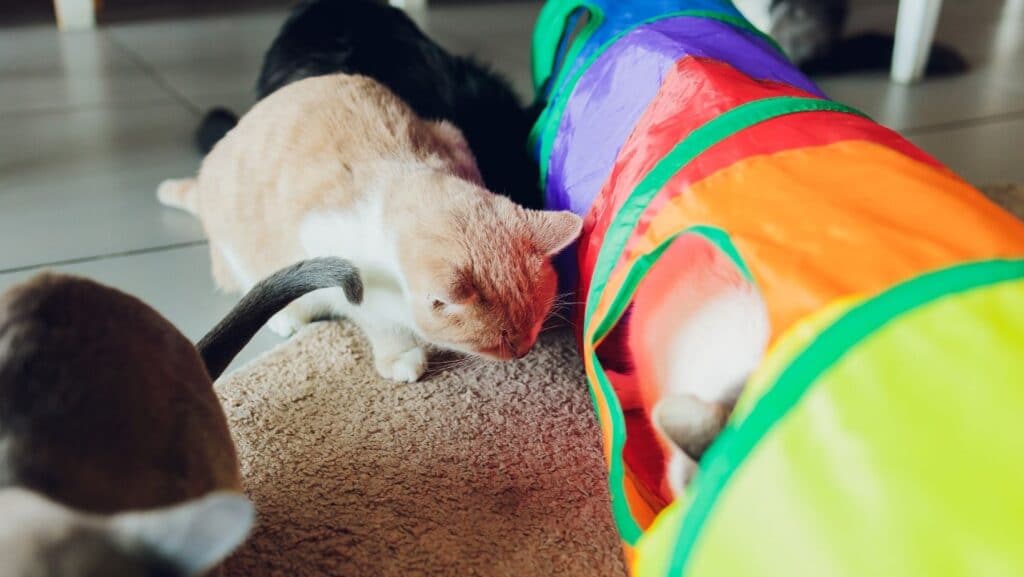 What should I look for in a cat tunnel?
The type of product you go for depends on what features you want.
Most basic tunnels are great and made with scratch-resistant nylon material. For an extra price, you can get something nicer looking to put around the house, or have additional features (e.g. cat bed or more hanging toys).
You want to consider the dimensions of your house and how many entries you want (e.g. a straight tube or a t shaped tube).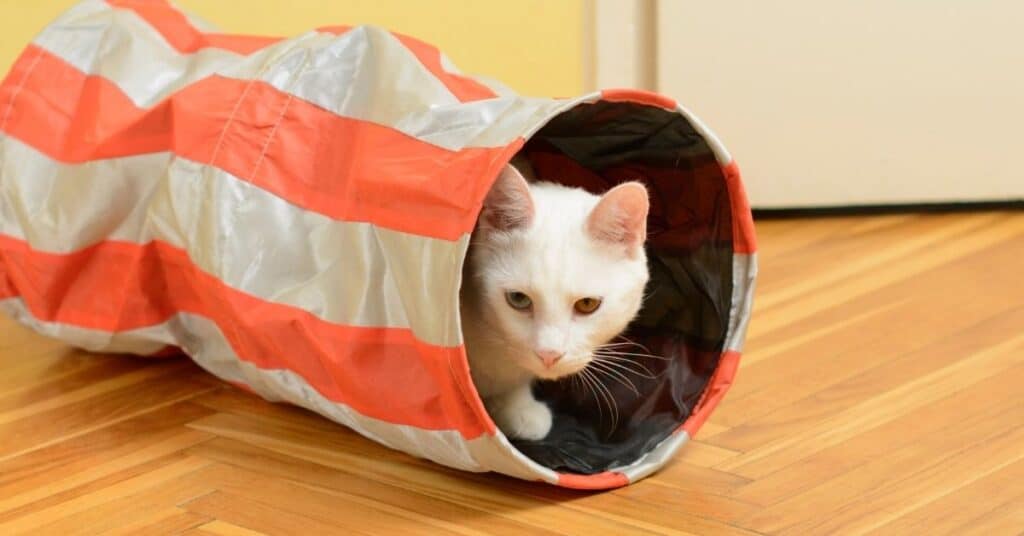 ---
Interactive cat toys
An interactive toy is anything that you hold to stimulate your cat.
These include things as simple as a feather mouse on a wand that you dangle in front of your cat's face.
These toys are generally very cheap and effective.
The main downside is the owner needs to be active in using the toy and turning the interaction into a hunting simulation. That means getting off the chair and exploring different hunting scenarios (e.g. dangling behind a couch, or from an elevated position).
Some of these toys come in a variety of packs of different types of animals (e.g. snake, mouse).
They are a great choice to find your cat's preferred toy.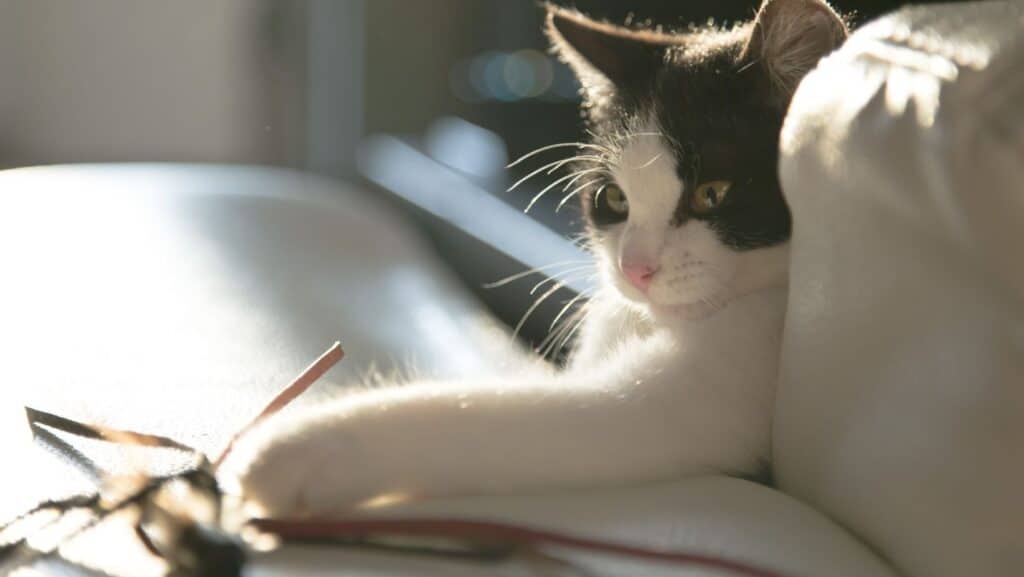 What should I look for in an interactive cat toy?
Make sure the product is safe with no exposed metal parts or ingestible materials.
Spend a little more to get a sturdier toy that holds up to the rigors of play.
Use some common sense around placing the toy in your environment (e.g. don't set it up and walk off – your cat may strangle itself).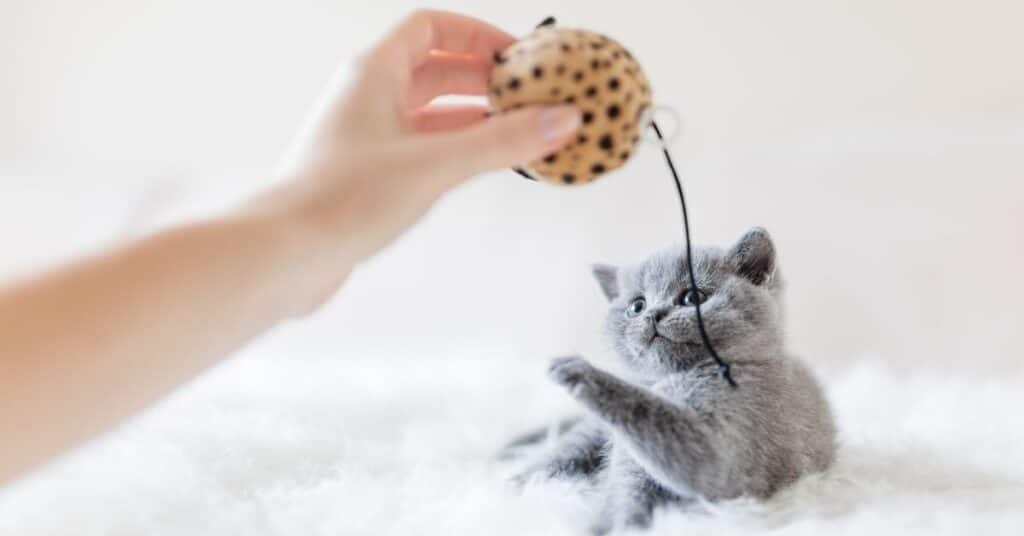 ---
Laser toy
A controversial but popular cat toy is the laser toy.
As you can imagine, these 'toys' are easy to use and control. All you need to do is sit on the couch and keep your cat engaged by pointing the laser at the wall.
The toys have the ability to simulate the fast motion of prey and feature outlines that resembles prey.
However, these types of toys don't allow for biting, chewing, and physically pawing at something.
By itself, a laser toy isn't sufficient for maximal stimulation.
Don't point a laser pointer at your cat's eyes (I hope that is obvious).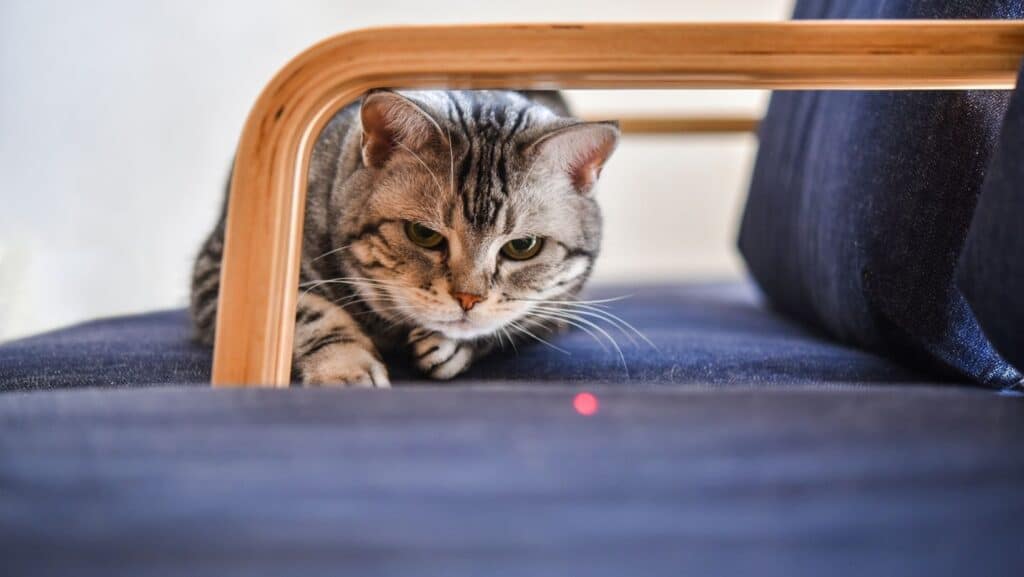 What should I look for in a laser toy?
Cat laser toys should be low wattage and less bright than regular laser pointers.
Make sure you are purchasing a product intended for use with cats (that doesn't mean you should point it at their eyes though). Some people report negative reviews as the light is too dim, but this is intentional to protect your cat.
The products are usually battery-operated or USB-charged. Make sure you have something you are familiar with (if you don't know how to charge a USB toy, then probably use a battery-operated one).
These toys are inexpensive so it pays to invest a little more for a quality product.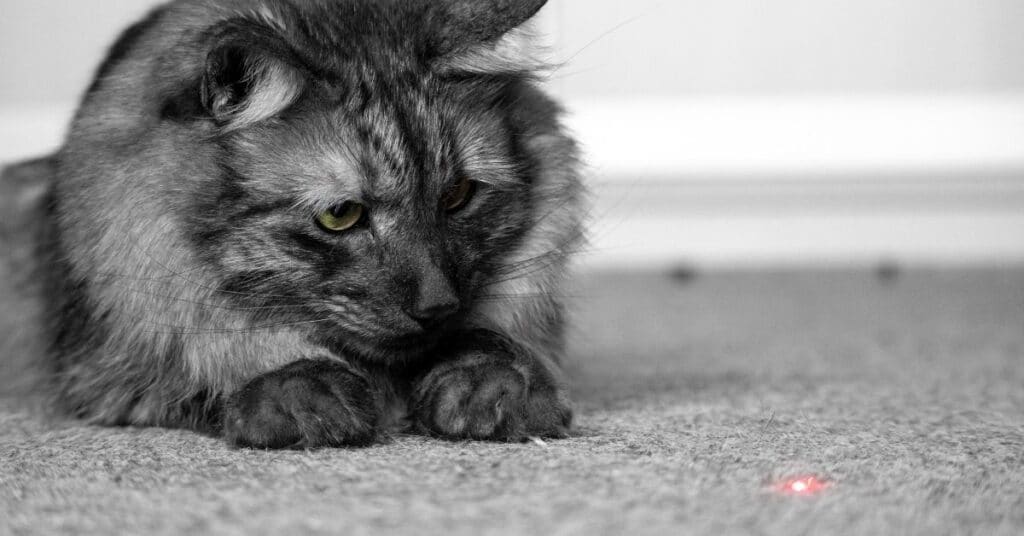 ---
Remote control electronic cat toys
Now we've come to the part we look at remote control cat toys.
These include toys that are battery operated (e.g. charged by a USB) and then move around the house via your control (e.g. remote control mouse).
These toys come in a wide variety of gadgets and inventions. It's hard to know which toys are gimmicks and which cat toys provide superior stimulation versus basic toys.
The benefit of remote control cat toys is their passive nature. If you have mobility issues, a remote control toy helps you engage your cat without having to move around and use an interactive toy.
On top of this, the remote control nature allows for increased play possibilities and simulations.
That final point is important:
Increased play possibilities.
A stationary toy has limited play possibilities but is passive.
Ditto the cat tunnel.
An interactive toy has more play possibilities but requires active participation on the owner's part.
The main benefit we want from a remote-controlled toy is to increase play possibilities with passive participation.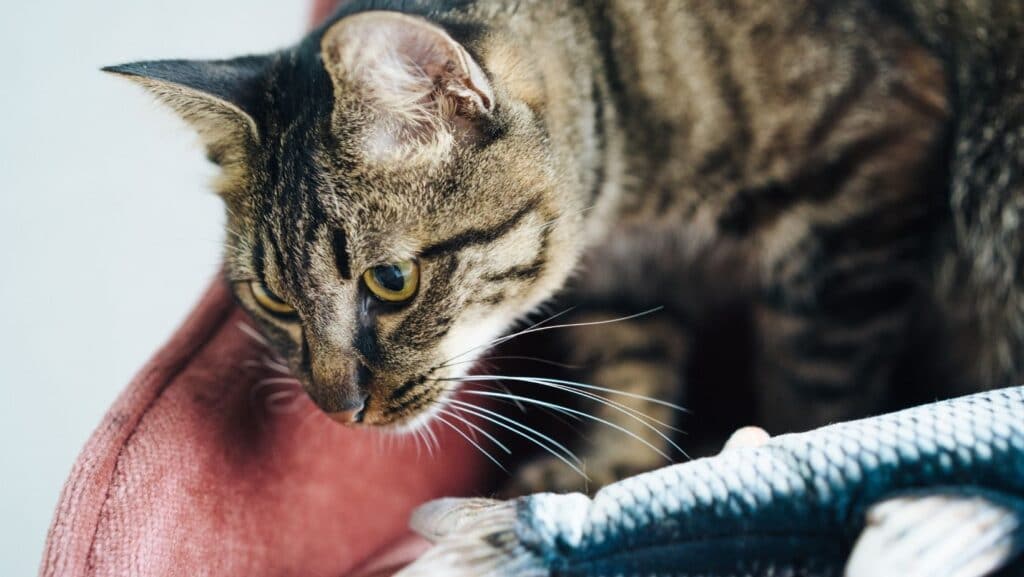 What should I look for in a remote-controlled interactive cat toy?
Look for something simple and safe.
You don't want the device broken easily and materials ingested (e.g. batteries).
If the object is too small, it might not stimulate your cat. Find a cat toy-sized like prey and built to last.
Expect to spend a little more than many other cat toy types due to the increase in automation.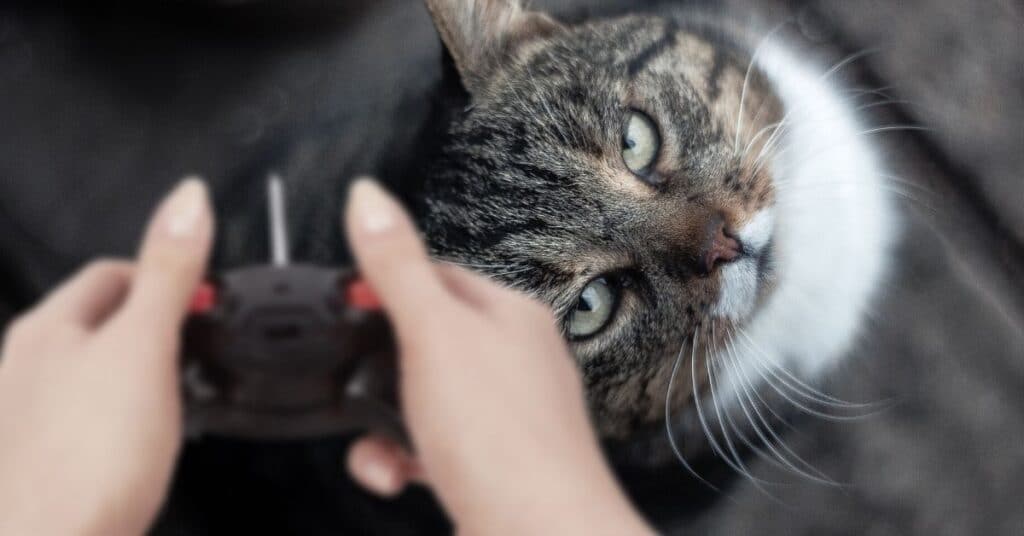 ---
Frequently Asked Questions
What is the science behind using a cat toy?
You might be wondering why you need a cat toy in the first place.
Let's go back to the wild. In their natural habitat, cats hunt small prey throughout the day [1]. Cats are incredibly well-tuned and able to successfully catch prey in at least 50% of attempts [1].
These successful hunts are the key to a cat's survival, by providing them a constant source of nutrition from small prey which includes muscles, organs, bones, and connective tissue. This is also why your cat benefits from a carnivore diet based on those food items for good health.
Most vets and cat experts recommend keeping cats indoors. This helps avoid illness and injury. Car trauma is a major cause of feline deaths in many urban living environments [1].
Check out my article on how to help your cat live longer for more.
The downside of spending excessive time indoors is a lack of stimulation and an increase in behavioral issues including aggression, soiling, and excessive grooming [1].
The indoor environment is far removed from a cat's experiences in the wild.
That's why toys and cat trees are beneficial. They replicate the wild environment (indoors).
Remote cat toys are a way of stimulating your cat's hunting experience from start to finish [2].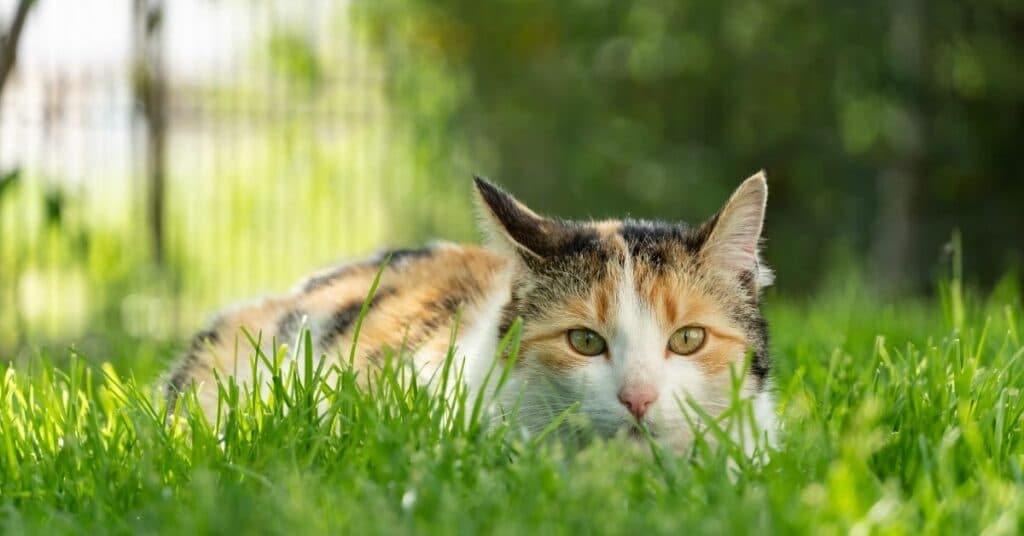 ---
What type of interactive toys keeps a cat entertained?
Cat's prefer a cat toy that allows them to experience all facets of the hunting experience.
This means a toy that allows your cat to stalk, hunt, and then complete the 'kill'.
A toy that ends up with a finishing blow (i.e. bite) is more stimulating for your cat. A ball enclosed in a stationary object doesn't allow your cat to get access to the 'prey' for the finishing blow.
A laser pointer is not an object, so is also inferior to a physical toy.
Any toy that is interactive and allows your cat to finish its kill is a great option for cats.
As long as the device is safe and doesn't contain ingestible objects, it's a good option for your cat.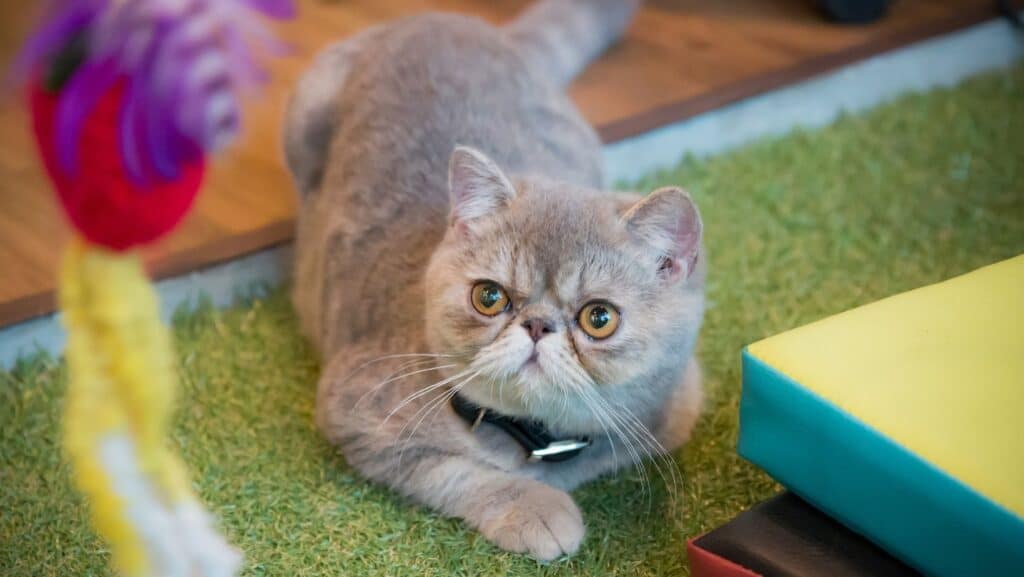 ---
What is the benefit of a remote-controlled cat toy?
A remote-controlled cat toy allows owners to simulate the hunting process of their cat without needing physical movement.
This is great for owners that have mobility issues or want to provide additional possibilities for play beyond a simple interactive toy.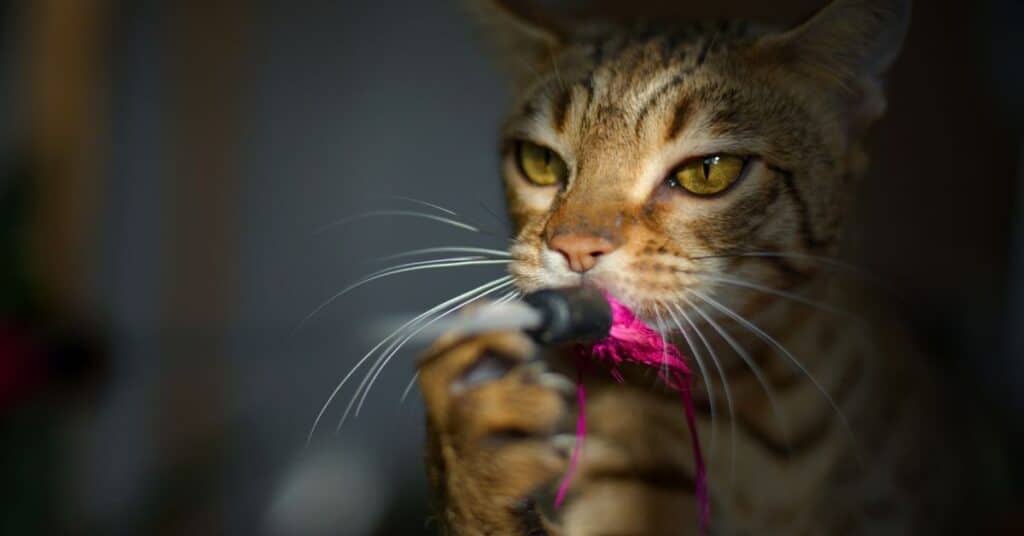 ---
What else can I do to provide my cat with mental and physical stimulation?
There are a lot of things that help improve your cat's home environment.
Cat trees provide comfort and security for cats. A tree with enclosed spaces (i.e. condos) is also good to help reduce stress and keep your cat happy.
Check out my guide to cat trees to find out more ways to improve your cat's quality of life.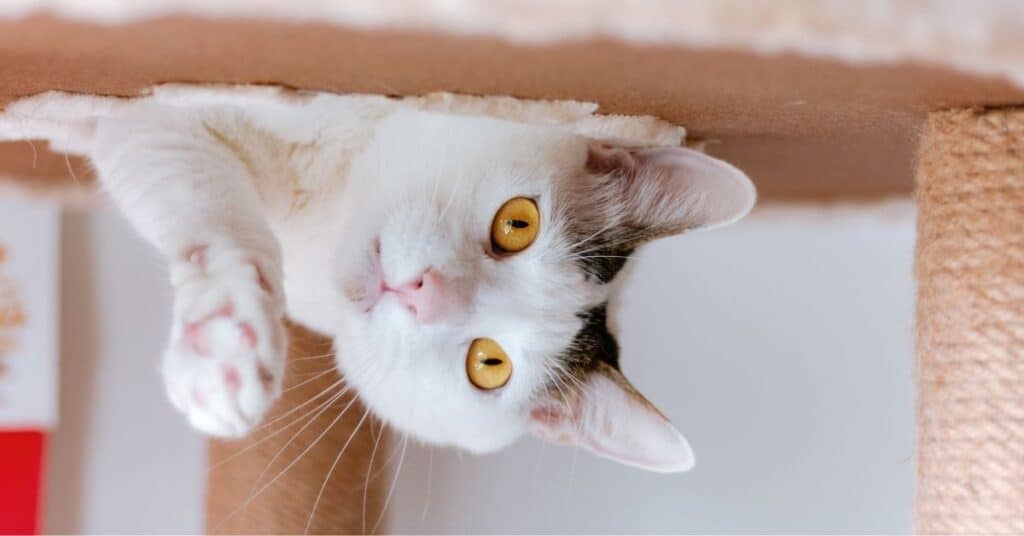 ---
Conclusion: Best Remote Controlled Cat Toy (Final Thoughts)
In this article, I have looked at the best remote-controlled cat toy on the market.
Here are some final thoughts about the best remote controlled cat toy:
Cats are hunters. They hunt small prey for nutrition in the wild.
When cats are kept indoors (domesticated), they get bored if not stimulated.
Bored cats have behavioral issues (e.g. scratching chairs).
Cat toys help your cat enjoy the hunting experience indoors.
Cat toys help reduce boredom and behavioral problems.
Remote controled cat toys are beneficial since they don't require active human participation for your cat to enjoy.
Remote controlled cat toys increase play possibilities versus a stationary toy.
In this article, I've reviewed a remote-controlled cat toy and two other automatic toys to keep your kitty entertained for hours on end.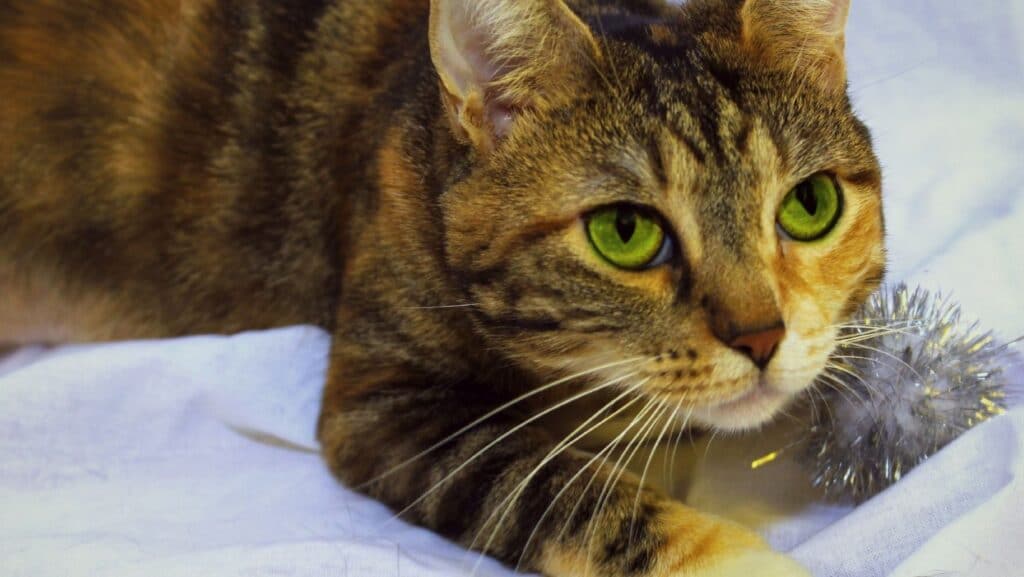 ---
Our top pick: Remote Controlled Electronic Cat Toy
The Adoric Cat Toy is my top pick as the best remote-controlled cat toy.
I chose this toy for the following reasons:
Has USB charging control (modern charging design).
Emulates an erratic 'mouse' like movement to entice a cat to play.
Let's you give your cat play without your active participation.
After more things cat-related?
Check out more of our guides below.
Disclaimer
We may receive commissions when you click our links and make purchases. However, this does not impact our reviews and comparisons. We try our best to keep things fair and balanced, in order to help you make the best choice for yourself. As an Amazon affiliate, I earn from qualifying purchases. As a Chewy affiliate, I earn from qualifying purchases.