Disclaimer: As a Chewy and Amazon affiliate, I earn from qualifying purchases. This does not impact our comparisons.
The main way to help gassy kittens avoid foods with fermentable carbohydrates.
Peas, chickpeas, lentils and starchy foods are key culprits to avoid or minimize.
Tiki Cat Baby is my preferred choice as it is low fiber and contains no added starch, but there's others worth trying too.
Here's my 3 best cat food for gassy kittens:
Flatulence is an unpleasant problem for many kittens.
Aside from stinking up the house, it's a sign your kitten is having a hard time digesting food.
Fortunately, there are easy things that help solve the problem.
I'll go through the best kitten foods to clear the air and a tips on what to look for.
Read on for more…
Why Trust This Article?
As a dietitian, I have a background in researching nutrition for humans, but am also a cat nutrition enthusiast.
Where possible, I've hand tested the products listed in this content and haven't compromised on quality.
Whilst I am not a veterinarian, I have taken every effort to ensure I've pick suitable options that meet research best practices for digestive health in kittens.
Please note that this article is not intended as a replacement for medical advice.
>> Learn More on our About Page
5 Best Cat Food for Gassy Kittens Ranked
Using a database of popular cat foods, I filtered options that will help stop smelly farts in kittens.
I excluded cat foods with:
Peas
Beans
Soybeans
Pinto beans
Lentils
Added milk (lactose)
Foods high in resistant starch (e.g. rice)
Cruciferous vegetables (e.g. broccoli)
Carrageenan
Added fruits
Gums (if possible)
Supplemental cat foods (don't provide complete nutrition)
It goes without saying, that this cuts out a lot of cat foods on the market, particularly dry cat food. Sorry, that's the way it goes.
I sorted the remaining options based on the following criteria:
Price
Ingredient quality
Nutrition
Flavor
Customer rating
This helps isolate the best of the best from the remaining cat foods. I have offered five options to suit a range of needs.
To learn more about how I calculate and grade food, check out our review guidelines.
Best Cat Food for Gassy Kittens Overall
1. Tiki Cat Baby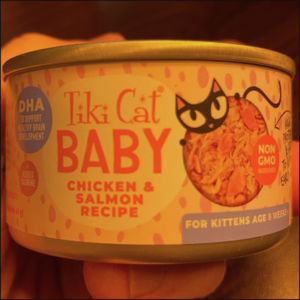 Why This Cat Food?
After using Tiki Cat Baby with my own kittens and taking a close look, it's hard not to rate this highly.
It's packed with easy-to-digest meat and is free of any legumes, so you'll smell the difference right away. This is a complete meal for growing kittens.
The price is hefty though.
Pros
No added peas or soy
Grain-free
High protein
Cons
Pricey
Limited flavors
Best Cat Food for Gassy Kittens Runner Up
2. Weruva Kitten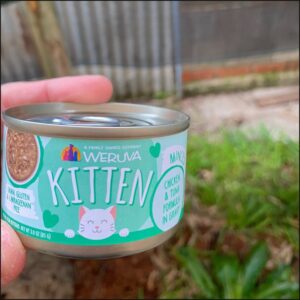 Why This Cat Food?
Weruva Kitten is similar in quality to Tiki Cat Baby, so it's really a matter of preference between the two (if you like the look of them).
It's another Thailand based product with shreds, but this one has a thick gravy that you might like. There's some other flavors to choose from as well to keep boredom at bay.
It's a little less expensive compared to Tiki Cat Baby (still quite pricey though).
This does use potato (contains resistant starch) which isn't ideal, but the use of it seems minor due to the low carb content.
I thought it looked a bit ugly out the tin, but on the bright side my kittens licked it up.
Pros
No added peas or soy
Grain-free
High protein
Best Cat Food for Gassy Kittens Picky Cats
3. Wellness Core Tiny Tasters Kitten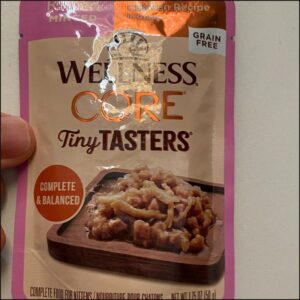 Why This Cat Food?
I've used Wellness Core Tiny Tasters with many cats and kittens with great results.
So if you can't find anything your kitten will eat, then it's worth a look. It's a clean and pleasant pate texture which some cats prefer.
The quality is again excellent with no peas and soy, which will help prevent your kitten from farting.
It is also quite pricey.
Pros
No added peas or soy
Grain-free
High protein
Best Budget Wet Cat Food for Gassy Kittens
4. Nulo Freestyle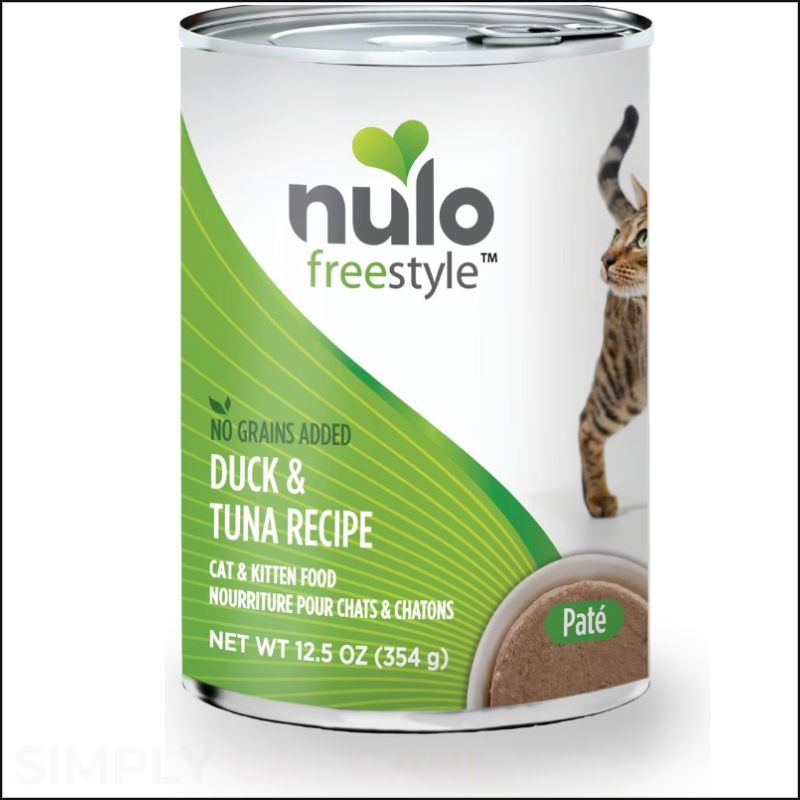 Why This Cat Food?
I looked hard for an affordable wet food that's easy on digestion. Nulo Freestyle is really the best of the lot (although I haven't tried it with my kittens).
Why?
First it doesn't have peas, grains, rice, soy, carrageenan or anything that could promote flatulence. It does have cranberries which is not ideal (especially for urinary health).
It's got Yucca schidigera which is shown to reduce fecal odor in cats and dogs. There's close to zero fiber in the tin, which may help.
Overall, it looks a good option and stood out against the budget picks that just don't boast the quality.
To get the most saving with this one, you do have to get awkward 12 ounce tins though.
Pros
No added peas or soy
Grain-free
Affordable
Cons
Awkward tin sizing
Added cranberries
Best Dry Cat Food for Gassy Kittens
5. Ziwi Peak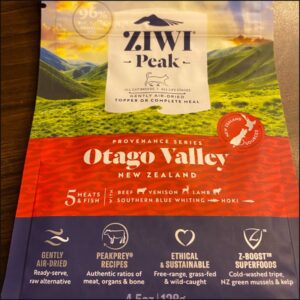 Why This Cat Food?
It's slim pickings for good dry cat food for gassy kittens.
Your best option is Ziwi Peak and that's my final answer. It's really the only good dry cat food option I'm afraid.
Nothing else really tickled my fancy. Ziwi Peak is completely free of grains, peas and soy.
It's mostly grass-fed produce in the bag which is ultimately what cats need as carnivores and what they digest easily.
Expensive, but there's no way around it. Could do without the apple pomace.
Pros
100% meat
Grain-free
Pea-free
Common Causes of Gas in Kittens
Legumes
Legumes are hard to digest.
They're high in oligosaccharides, a type of starch that resists digestion.
Legumes include things like:
Peas
Chickpeas
Lentils
Pinto beans
Undigested food is a fuel for bacteria.
Bacteria ferment this undigested food, and it creates gas. That makes your kitten produce smelly farts.
Since these foods offer no proven benefit, it's best to steer clear of them.
Failing that, try to choose products with less of these ingredients.
The higher on the ingredient list, the more of the ingredient. Foods with peas as a main ingredient aren't ideal.
Quick notes:
Legumes include peas, chickpeas, lentils and pinto beans.
These foods are high in oligosaccharides, a type of starch that resists digestion.
Choose kitten food with lower amounts of legumes for relief from smelly farts.
Functional Foods
Functional foods sound great for health…
However, there's no proven functional foods that help with gas in kittens.
Functional foods include:
Prebiotics
Probiotics
Chinese rhubarb
Rice bran
Apple pomace
Herbs
Gums
Some ingredients such as rice bran and apple pomace decrease taurine digestibility. This is bad since taurine maintains heart and eye health.
Gums and pectin have rapidly fermenting fibers that increase gas. They don't benefit kittens.
Unfortunately gums are common in many wet cat foods so it's hard to get away from this ingredient. But if things don't improve, it's worth looking into wet cat food without gums.
Quick notes:
Functional foods include prebiotics, brans and other 'super foods' (e.g. apple pomace).
They aren't proven to improve the health of cats, based on research.
Gums are high in fermentable fiber, which can increase gas.
High Carb Diets
Cats don't need carbs.
Diets exceeding 25% carbs (dry matter) are hard to digest. Many dry kitten foods go over this.
Cats have fewer enzymes for carb digestion than humans. They digest cooked starch – up until a point (you won't hear this talked about much).
It's the total amount that's the problem, as high carb diets causing gas and diarrhea.
How do you find out if you're giving your cat too much?
Use a calculator.
It takes a minute, but well worth the trouble. Punch in the guaranteed analysis and check for dry matter carb content.
If it's exceeding 25%, it's not worth it. Experts suggest limiting carbs to 12% for best results.
Quick notes:
Cats have no requirement for carbohydrate.
They can digest small amounts of carbohydrate, but struggle with higher intakes.
Limit carbohydrate to < 25% (dry basis) of the total calories to help with digestion.
Allergies
It's also possible for allergies to cause flatulence in kittens.
The problem is that many foods can cause allergies.
Food allergies also involve symptoms such as itching, vomiting, and diarrhea. If you suspect an allergy, you'll need to conduct an elimination diet with the help of a vet.
Things to Keep in Mind When Choosing Food for Kittens
Check the Statement of Nutritional Adequacy
Kittens need more nutrition to help support growth.
A kitten reaches adulthood in one year, giving you a short window to help them develop. They need more protein and calories.
Check the statement of nutritional adequacy. Food should be for either all life stages or growth.
Animal food sources are the best choice for kittens, as carnivores. They are easier to digest and break down.
Kittens need animal-based foods as they provide the nutrients needed for growth.
Quick notes:
Kittens reach adulthood in one year.
They need a higher calorie and protein intake to help support rapid growth.
Choose food suited to either all life stages or growth.
Frequently Asked Questions
Conclusion
Gas in kittens is often caused by eating too much fermentable ingredients.
This includes legumes, dairy, resistant starch and gums. Offering food without these ingredients can help relieve gas.
If the problem persists, speak with a vet for help. Parasites and allergies are other things that can lead to gas in kittens.
>> Our top recommended option for gassy kittens is Tiki Cat Baby. It's free of peas, grains, gums and other irritating ingredients.
Related: