Honest Fussie Cat Food Review in 2021
Fussie Cat is a newcomer on the cat food market, that is getting a lot of attention lately. You might be thinking about whether this brand lives up to the hype.
Finding the right product for your cat is overwhelming with the range of choices on the market.
The following review will help you find out more about the Fussie Cat food brand, its product range, and its ingredients. I'll give you an overview of who should use these products along with some pros and cons of choosing this brand.
---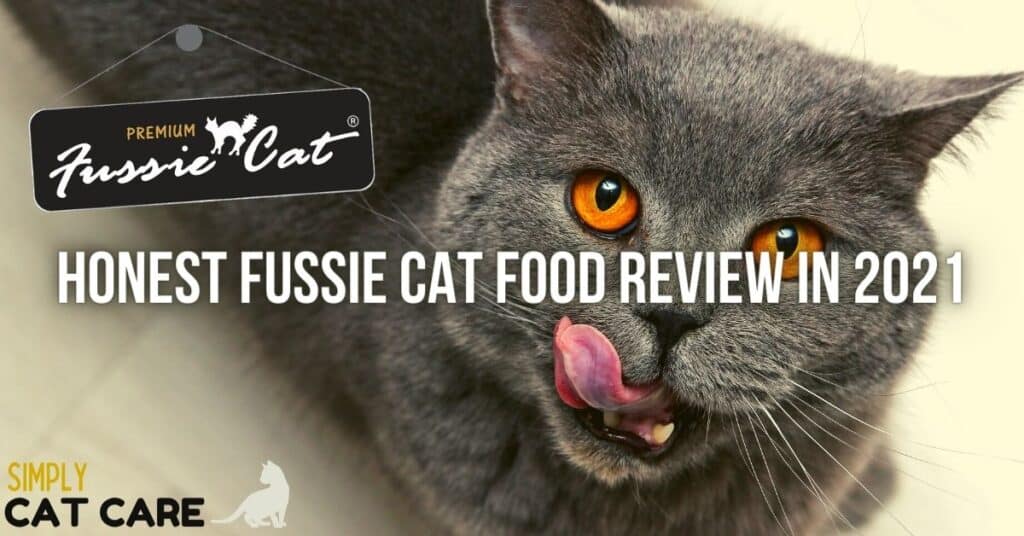 By reading our Fussie Cat food review you will have a better understanding of whether this is the right choice for your feline friend.
My name is Derrick, and I write for Simply Cat Care. Our goal with this website is to help cat owners find the best products for their cat's health.
I am not a veterinarian and I recommend seeking the advice of a vet before continuing.
Let's get into the article!
---
Product Review: Our Best Fussie Cat Food Choices For Health
I chose this cat food choice for its high protein and moisture content. It's also very low in carbohydrates and contains a tasty seafood mixture.
This option also contains beneficial micronutrients such as calcium and omega 3 fats. Calcium is beneficial for strong bones and kidney health.
The main downside of this product range is the use of carrageenan.
I want to point out that Fussie Cat has two wet canned food options: Premium and Super Premium. All the super-premium options are carrageenan-free, whilst the premium tins are not.
Carrageenan may lead to intestinal irritation in sensitive stomachs.
This choice may not be the best choice as a sole source of nutrition due to the tuna. Excess tuna may increase the levels of mercury which results in toxicity.
What are the best uses of this cat food?
Healthy weight control
Improving kidney health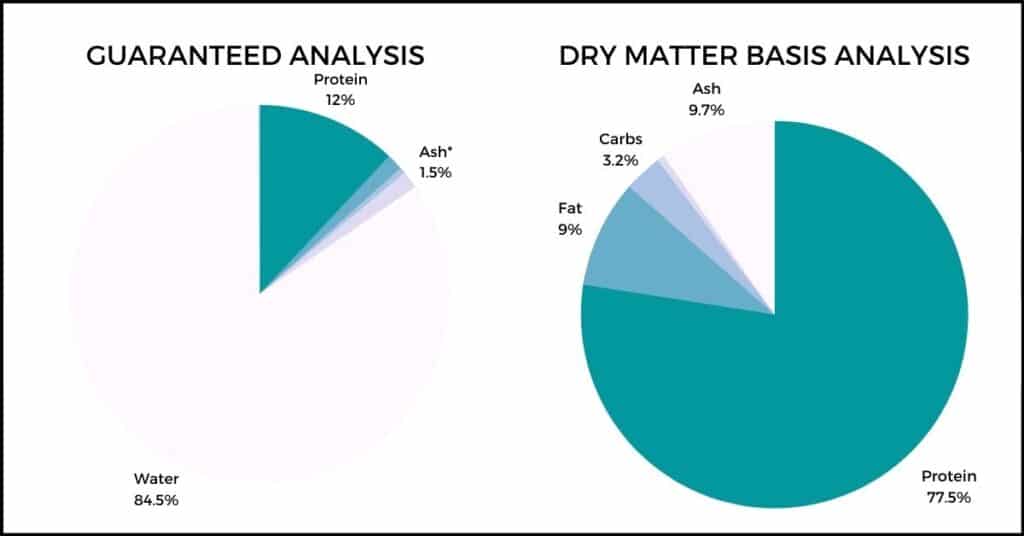 Out of the super-premium choices, this option stood out. The main benefit of this product is it doesn't use carrageenan or gums. This makes it ideal for sensitive stomachs.
As with the rest of the Fussie Cat range, you get all the benefits of this food. In the tin, you get lots of high-quality animal protein and moisture for your cat to thrive on.
The main downside of this choice is the low-fat content.
Research finds a fat level of 25% is the sweet spot for tastiness. Too much or little fat may not be optimal for a picky eater's tastes.
What are the best uses of this cat food?
Sensitive stomachs
Improving kidney health
Healthy weight control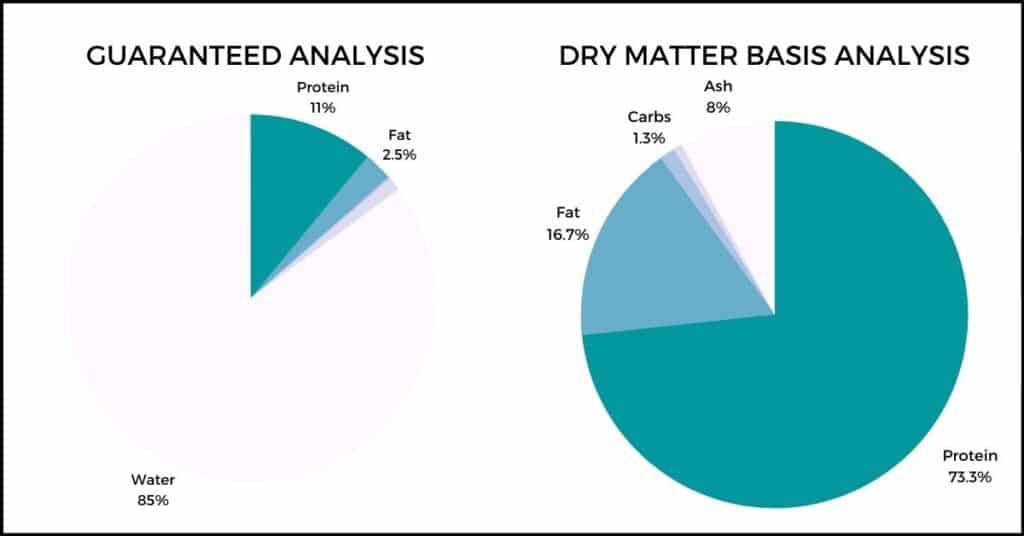 ---
Buying Guide: Is Fussie Cat Food A Good Choice For Your Cat?
Are you looking for new cat food for a picky cat?
Fussie Cat is a newcomer on the cat food market. It's packed with features that make it a worthy consideration.
I'll go into more detail about Fussie Cat with this buying guide. I'll answer questions about Fussie Cat's history, sourcing, manufacturing, ingredients, and main benefits of this product choice.
Click on the shortcut below to check out our best-rated Fussie Cat food choices or read on below to learn more.
---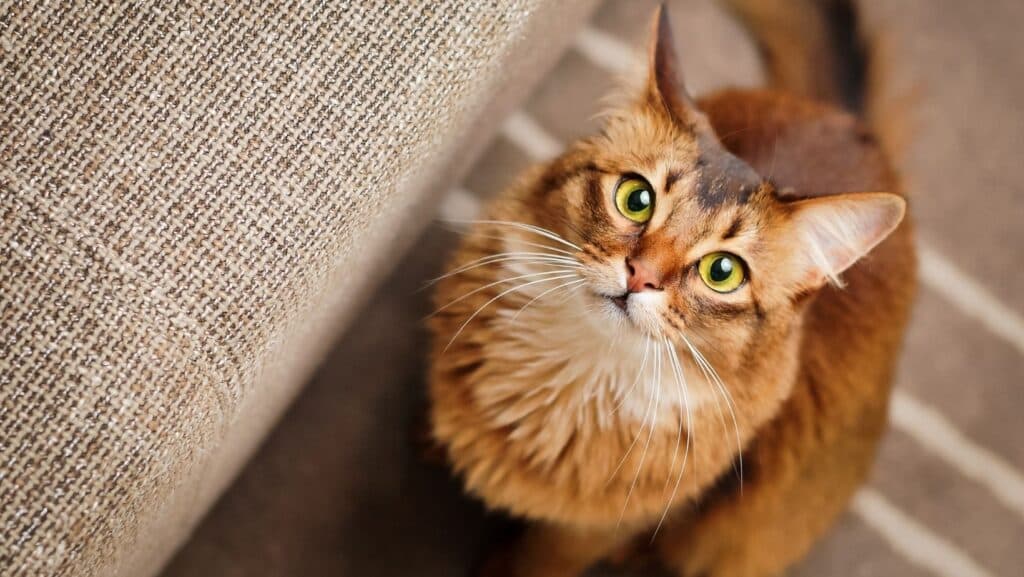 Who is Fussie Cat?
Fussie Cat is a US company based in California. It is one of four pet food brands owned by Pet's Global, a privately held company.
Pet's Global is a relative newcomer, starting up in 2010.
They own the following brands:
– Zignature (dog food only)
– Inception Pet Foods (dog and cat food)
– Essence Pet Foods (dog and cat food)
– Fussie Cat (cat food only)
Daniel Hereford is the president and CEO of Pet's Global as of 2021.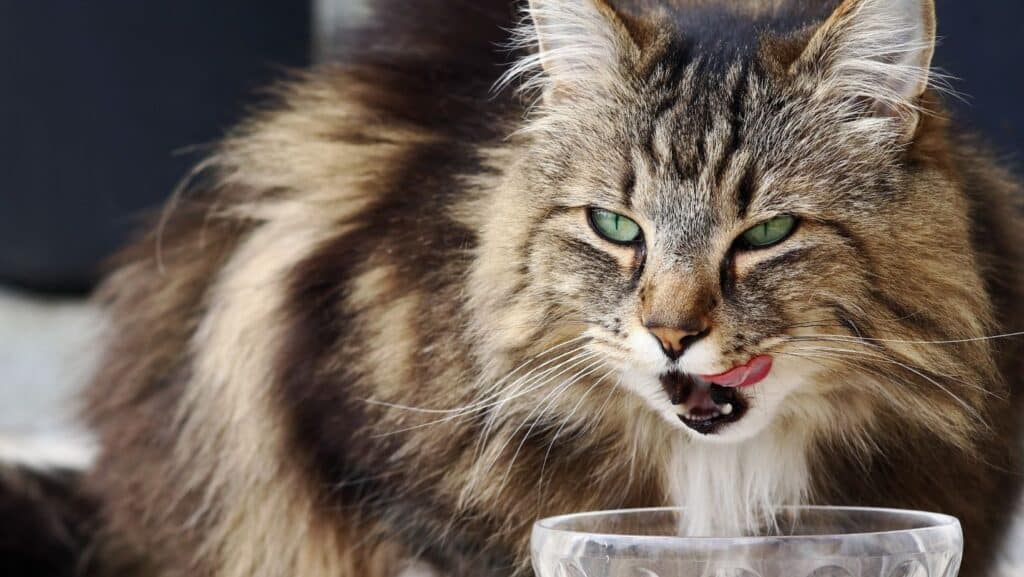 Where is Fussie Cat sourced and manufactured?
Fussie cat sources and manufacturers their wet canned food range in Thailand.
They do not have any facilities in China, where well-known melamine (plastic) pet food contamination scandal happened in 2007.
The Department of Livestock Development (DLD), an analog of the U.S. Department of Agriculture, regulates Thailand facilities.
The standard of these facilities is strict and FDA approved.
Fussie cat sources and makes their dry cat food in the United States.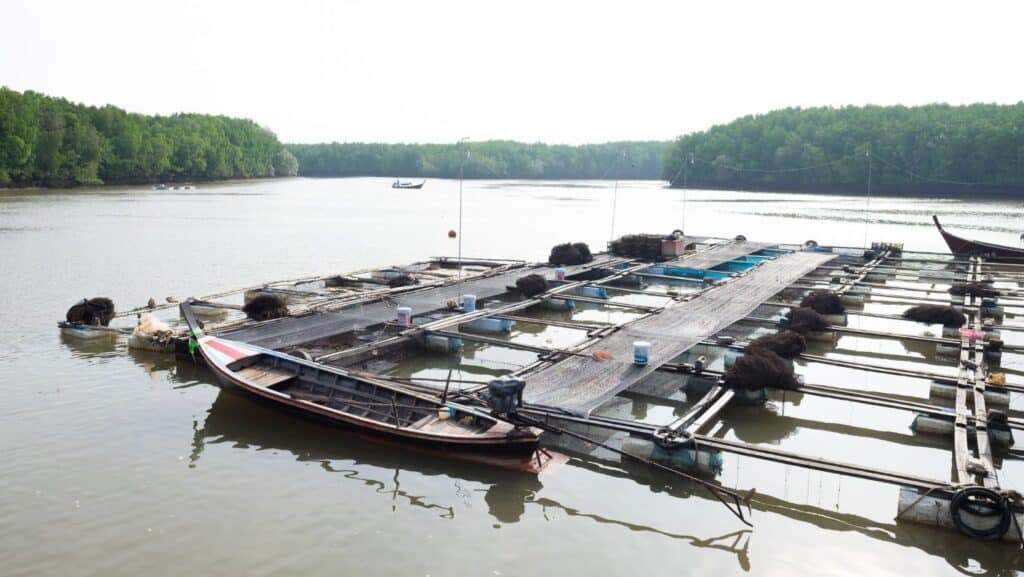 What is the company philosophy of Fussie Cat food?
Fussie Cat food, as the name suggests, is a brand focused on meat-rich species-appropriate cat food.
Their website slogan is Even The Fussiest of Cat's Can't Resist.
Fussie Cat recognizes the importance of a high protein diet for cats.
Their website promotes a meat-first philosophy. They state they always use meat or fish as the main ingredient and recognize cats as carnivores.
For those well-versed in cat food labeling, you'll know this is misleading.
Ingredients on a cat food label order from highest to lowest weight in a product. Some cat foods split up ingredients to mislead consumers.
That said, it appears that Fussie Cat understands and acknowledges the importance of diet in a cat's health.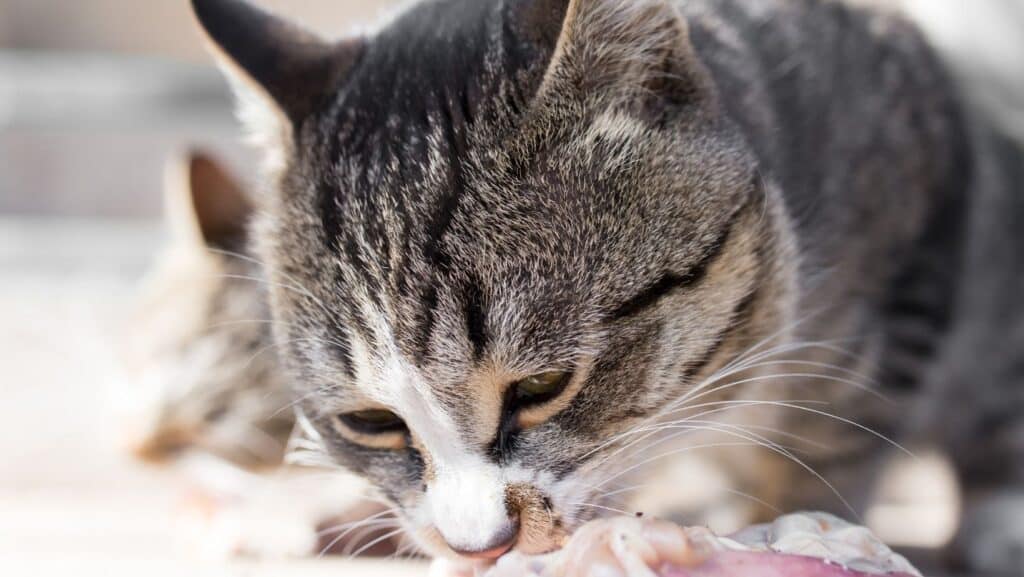 What product range does Fussie Cat offer?
Fussie Cat offers four products in their range.
Premium Canned Cat Food
Super Premium Canned Cat Food
Market Fresh Grain-Free Dried Cat Food
Puree Toppers
Fussie Cat's wet canned range comes in aspic or gravy texture. The meat appears as shreds in both formulas and not a smooth pate texture.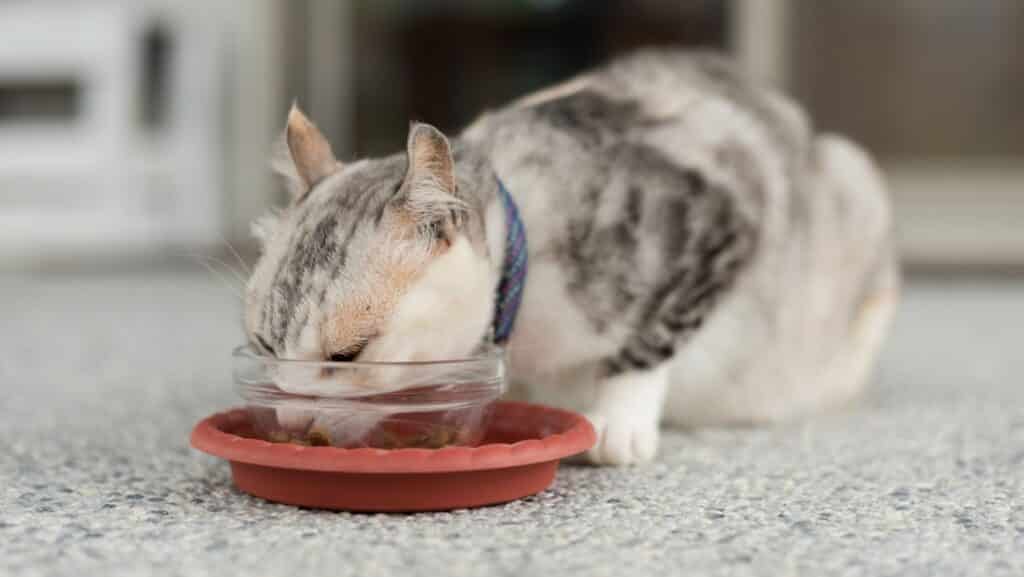 What ingredients are in Fussie Cat food?
The ingredients in Fussie Cat food vary from their wet canned to dry cat food range.
Whilst the wet cat food choices are all very low in carbohydrates, the dry cat food and puree treat are higher carbohydrate choices.
Let's take a closer look at each product range and the ingredients of each choice:
Premium & Super Premium Canned Cat Food: Ingredients and Nutrients
The Fussie Cat premium and super-premium canned range are almost identical.
Their super-premium range is carrageenan-free. Carrageenan is a seaweed-based thickener that may cause intestinal irritation in a degraded form.
Let's take a look at the types of ingredients in their wet canned collections:
Protein 60%+
Fat 10-20%
Carbs <5%
Water 80%+
Here are the common ingredients:
Animal foods including chicken, tuna, salmon, shrimp, anchovy, and duck
Fat from animal fats and sunflower oil (a plant-based oil high in polyunsaturated fats and vitamin E)
Some products have additional vegetables or tapioca starch (a carbohydrate source that helps thicken food)
Additional micronutrients to ensure nutritional adequacy and AAFCO approval for all life stages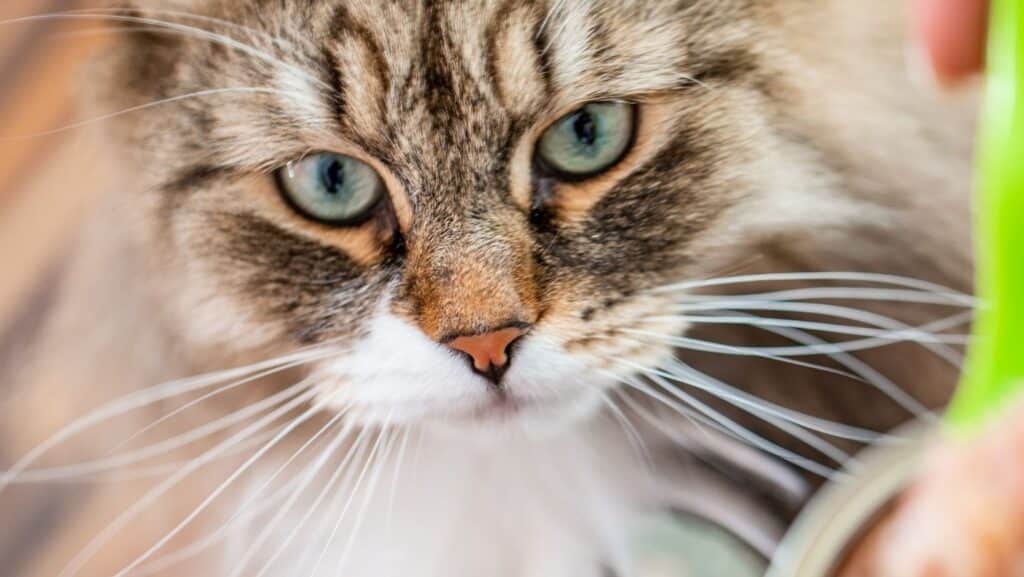 Market Fresh Dry Cat Food: Ingredients and Nutrients
Fussie Cat has one dry food product in their cat food range.
Let's take a look at the typical nutritional profile of their dry cat food range:
Protein 40% +
Fat 15-20%
Carbs 25% +
Water 10%
This product follows Fussie Cat's meat first philosophy using chicken. They also use chickpea and pea flour which raise the carbohydrate level of this food.
When given a choice cats prefer a carbohydrate intake of around 12%. Too many carbohydrates may lead to long-term health problems such as diabetes.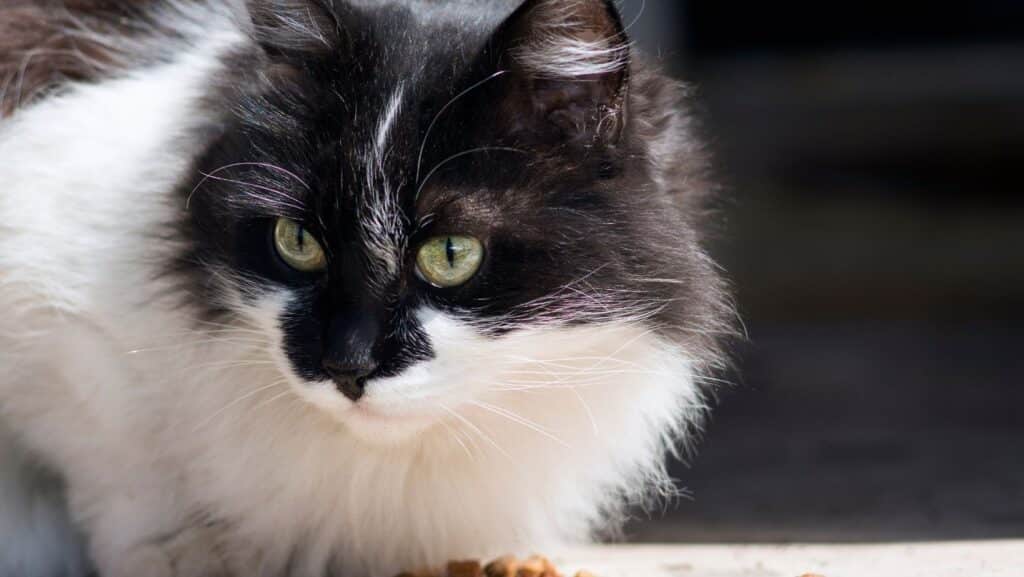 Fussie Cat Puree: Ingredients and Nutrients
Fussie Cat also has a puree range.
Here's the dry matter basis calculation for their tuna & prawn product:
Protein 43%
Fat 10%
Carb 28.5%
Water 86%
The product uses potato puree which is why the carbohydrate level of this product is quite high.
As a treat or topper this may be ok in small amounts but something to keep in mind.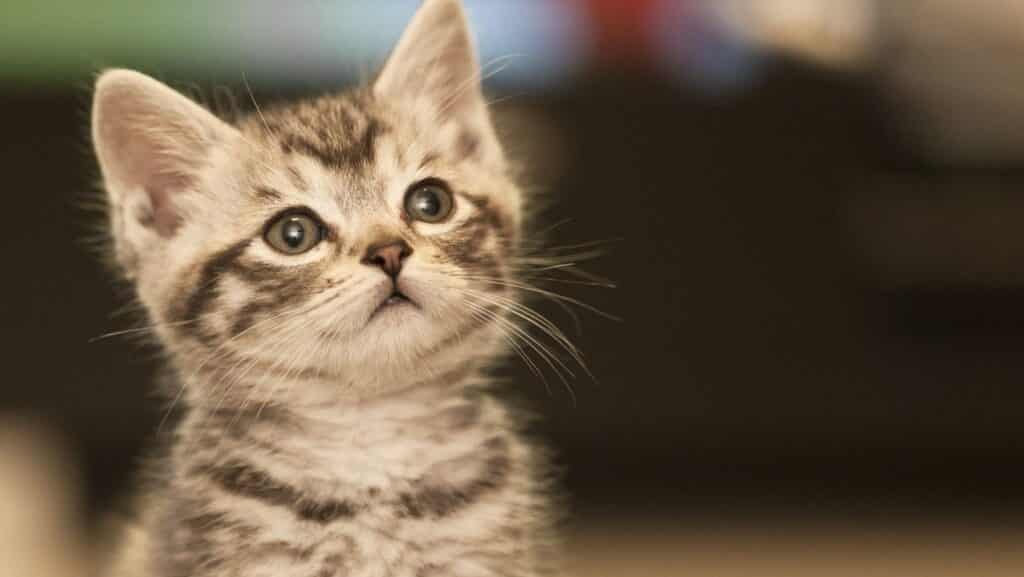 How much does Fussie Cat food cost?
Fussie Cat wet canned food is a mid-high priced cat food. The price varies from flavor to flavor.
Similar products for price include Nulo Freestyle, Weruva Classic, and Fancy Feast Gourmet.
You can check out my reviews on those and other cat food brands on this page.
Market Fresh (dry cat food) is a more affordable choice on a pound-to-pound basis. Similar products to Market Fresh include Blue Buffalo True Solutions and Acana.
Which cats are best suited to Fussie Cat food?
Fussie Cat wet cat range (premium and super-premium) is best suited for the following situations:
Healthy weight control
Improving hydration and kidney health
Sensitive stomachs (Super Premium only)
Picky eaters
Cat's that prefer a shredded meat texture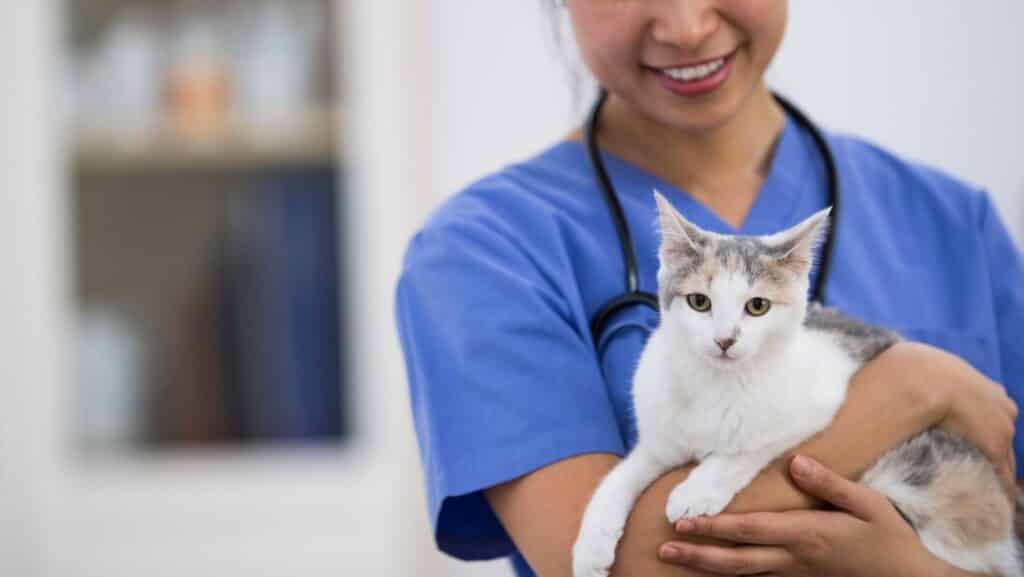 Where can I buy Fussie Cat food?
Fussie Cat is available on Chewy and Amazon to buy.
What are the pros of Fussie Cat food?
Fussie cat's range features the following benefits to consumers
High protein for building strong bodies
No animal by-products
BPA free cans
High moisture content for kidney and urinary health
Grain-free for easier digestion
Carageenan free super premium to reduce irration
High calcium to phosphate ratio products for kidney health
More fish choices such as shrimp, salmon, and anchovy for fish lovers
High quality FDA regulated food production facilities
No history of food recalls
Brand with a focus on cat food products only (means fewer doggier ingredients in general)
What are the cons of Fussie Cat food?
The following main downsides of Fussie Cat foods:
A little low in fat than desirable for picky eaters
Dry Market Fresh cat food product is a little high in carbohydrates
Excessive intake of tuna flavors may lead to high mercury intakes
Puree treat is a little high in carbohydrates from potato
Animal fat may be a more tasty option than sunflower oil used in Fussie's range
Lack of a true 'pate' texture may put off pate lovers
Higher price than the average cat food choice
Lacking a limited ingredient or food allergy option (e.g. duck or turkey only)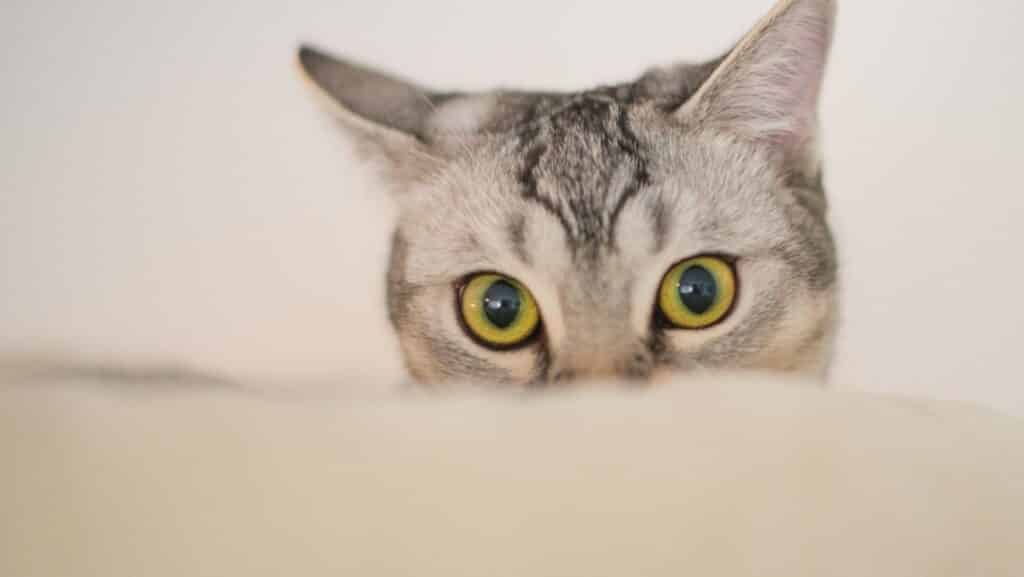 Is Fussie Cat food AAFCO approved?
Yes, all Fussie Cat recipes meet the nutritional levels established by the AAFCO for all life stages.
Fussie Cat provides complete nutrition for a cat. Water should be part of a cat's regular diet, provided with their foods (especially dry cat food).
Word of note:
Fussie Cat provides a statement of AAFCO adequacy on their FAQ page. It is on the bottom of the page and you need to highlight it because the font color is the same as the background.
Has Fussie Cat food been recalled?
No history of Fussie Cat food recalls per a search of the FDA website.
---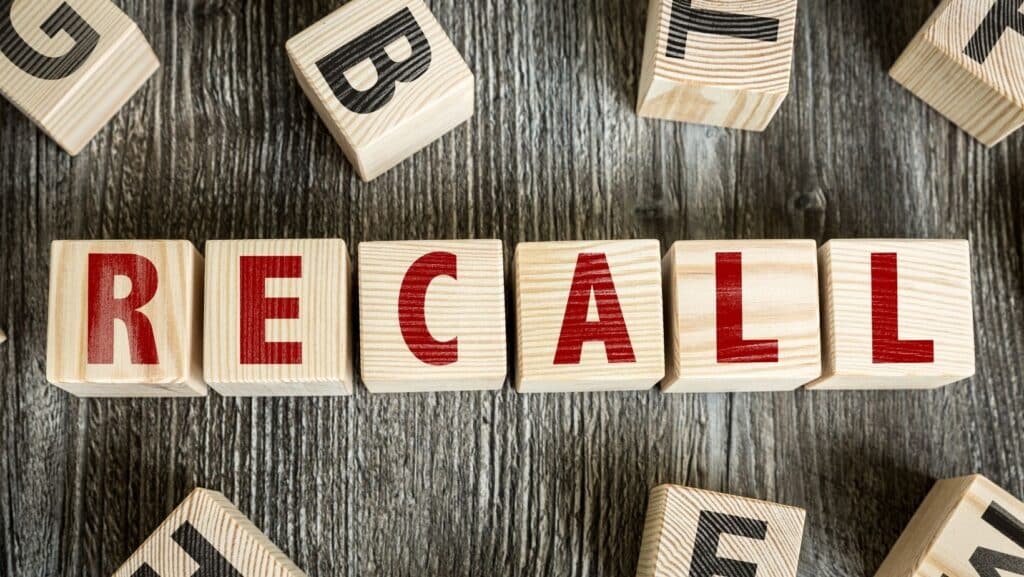 ---
Conclusion: Fussie Cat Food Review
That wraps up my Fussie Cat food review.
Fussie Cat food is a US-based cat food brand owned by Pet's Global. They offer both wet and dry cat food options.
Their wet cat food is high in moisture and protein. Fussie Cat uses chicken and seafood as main food sources. They are a mid-high priced cat food brand.
Fussie Cat wet canned food is a good choice for healthy weight control and kidney health. Their dry cat food and puree are higher in carbohydrates.
I hope this article has helped you learn more about Fussie Cat food and choosing the best food for your cat. For more reviews, check out our cat food review page.
Final Thoughts: Fussie Cat Food Review
Fussie Cat is a newcomer on the market with good choices in their wet canned food range.
Their foods are high in protein, low in carbs, and contain a lot of moisture for good kidney health and healthy weight control.
Overall Rating: B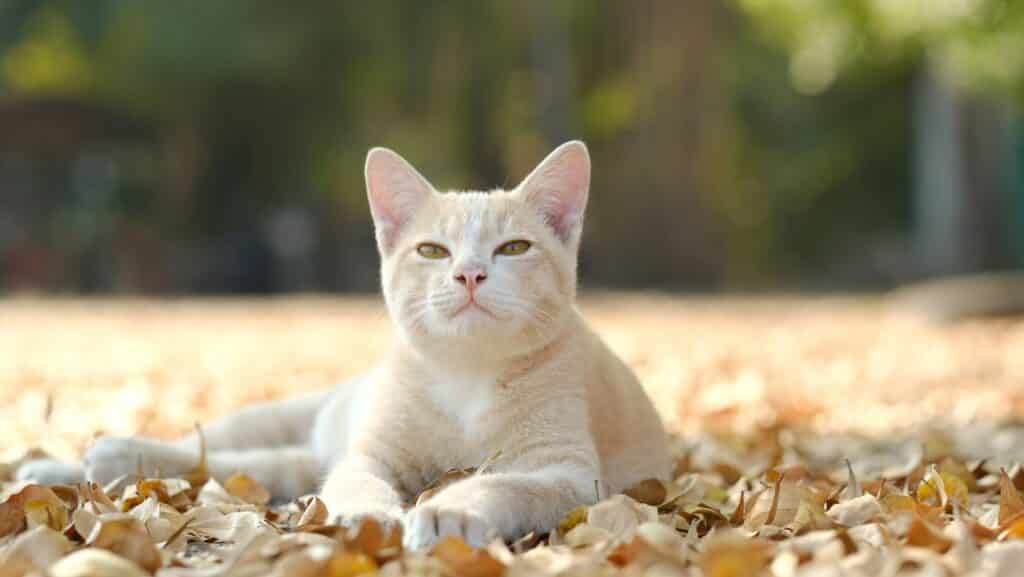 ---
Our Top Pick: Best Fussie Cat Food Overall