Disclaimer: As a Pet Circle & Amazon affiliate, I earn from qualifying purchases. This does not impact our reviews and comparisons.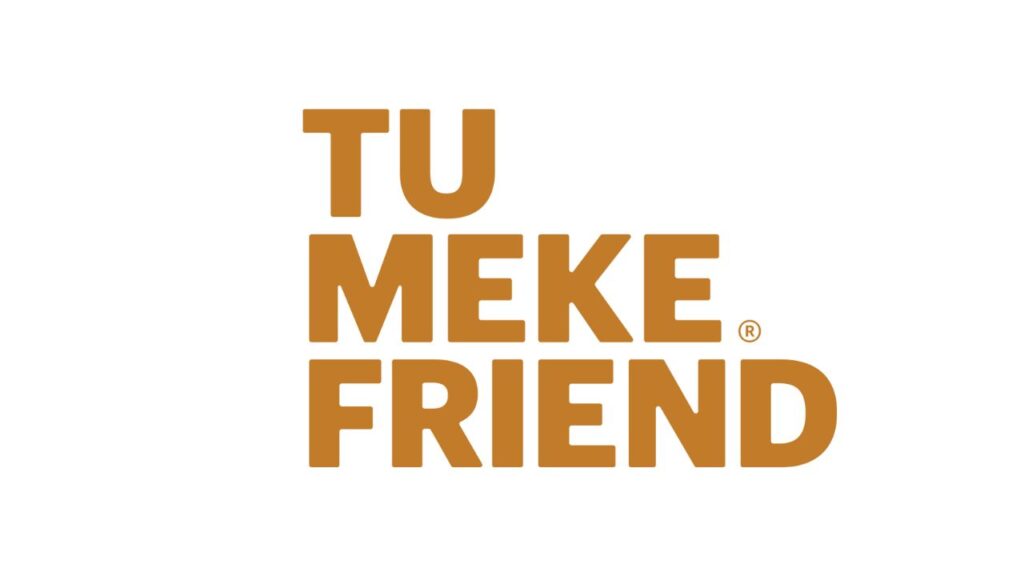 Score: 7.5/10
Bottom Line
Great quality cat food for any age, but costs an arm and a leg.
We did this Tu Meke Friend cat food review with our cat Jordi.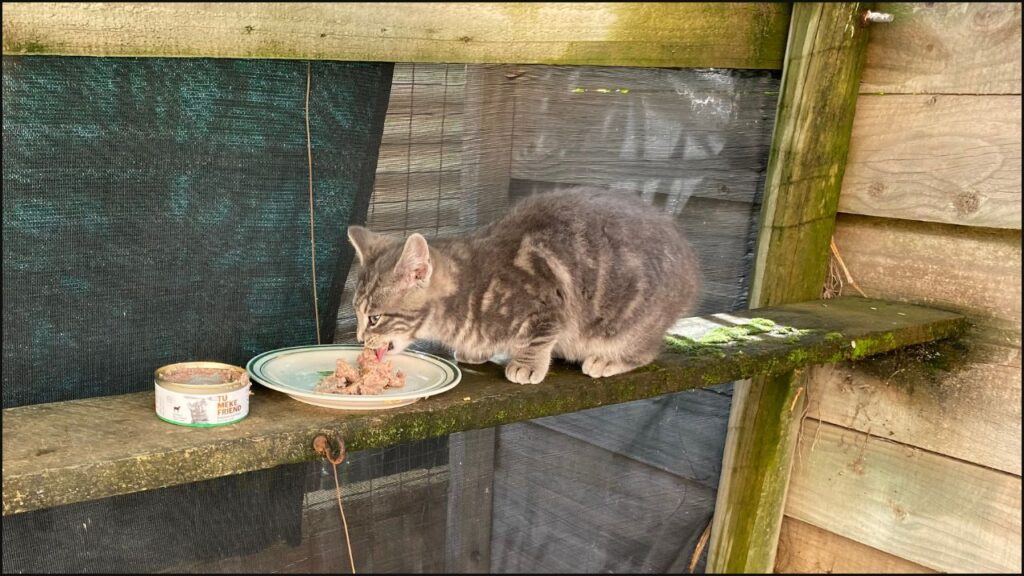 Tu Meke Friend is a New Zealand based premium pet food brand. Intended for all ages as a complete meal.
Review summary:
The good?
Great nutrition.
Low in carbs and jam packed with meaty ingredients offering everything cats need for health.
The bad?
Limited variety.
There's not a lot to choose from here, and some of the flavors are a tad exotic (e.g. lamb).
The ugly?
Expensive.
You'll be forking out for this one. Worth it for your cats health, but could test the budget.
In short:
Quality.
Tu Meke Friend is another winner from New Zealand, offering a wet cat food pate chock full of meaty nutrition.
One of the best choices for quality, and they have options for allergies (e.g. lamb).
All this is great, but the price is a big concern. Without a good bulk buy option, it's hard to justify this one.
Best for:
Senior cat health
Allergy relief
Diabetic cats
>> Check out Tu Meke Friend cat food here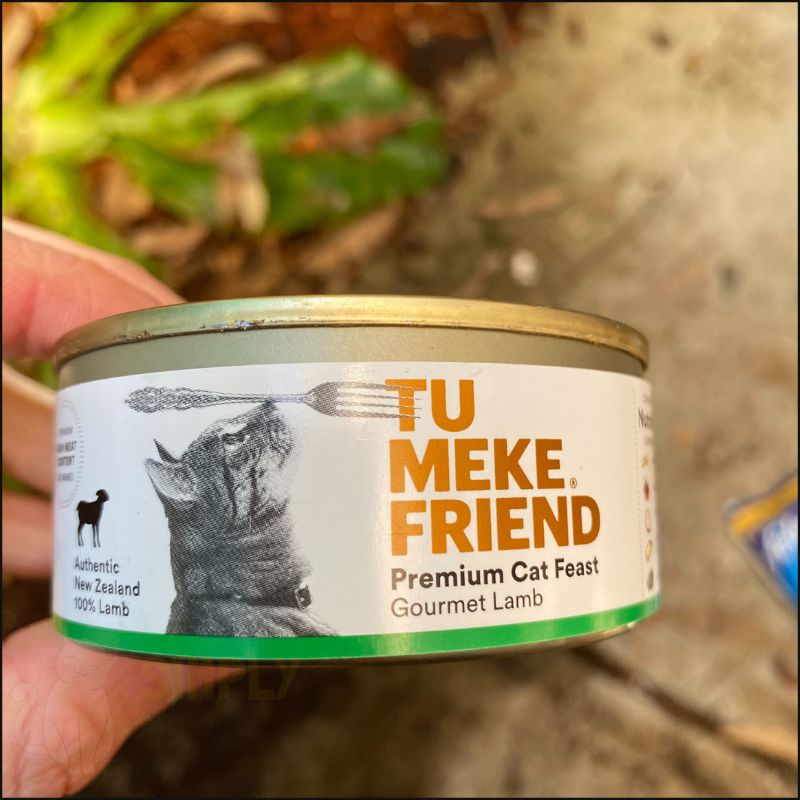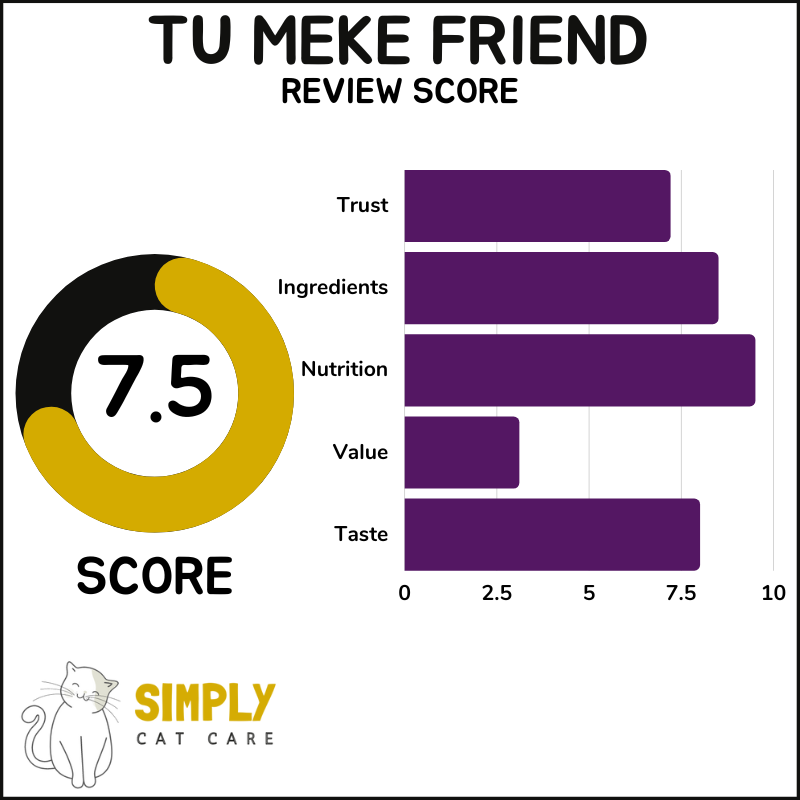 After more info on Tu Meke Friend?
In this Tu Meke Friend cat food review I'll dive into:
Nutrition
Ingredients
Taste
Value for money
This includes giving our kitten Jordi a try of this wet cat food.
Read on below!
I am not a veterinarian and I recommend seeking the advice of a vet for any further questions. This article is not intended as a replacement for medical advice.
About Tu Meke Friend
A New Zealand made pet food brand. Founded in 2018.
Tu Meke Friend is a Māori term meaning "Something awesome".
This is a premium pet food brand with a limited range of wet cat foods and air-dried products. They also offer dairy.
Quick notes:
NZ based
Privately owned
Premium
Tu Meke Friend Cat Food Review
Nutrition
Excellent.
Tu Meke is high protein and fat, which cats prefer. It's also low in carbs, for top digestion.
No info on calcium to phosphate ratio, an important consideration for kidney health. Caloric density high, so might not suit weight control.
Tu Meke Friend meets AAFCO's nutrition guidelines for all life stages. That makes it suitable for kittens, all the way to seniors.
| Nutrient | Dry matter (%) | Target (%)* | Note |
| --- | --- | --- | --- |
| Protein | 41 | 30 | Meets the needs for muscle maintenance |
| Carbs | 0 | N/A | Negligible carb content |
| Fat | 41 | 9 | High fat and best suited to senior cats |
| Fiber | 5 | N/A | |
| Calcium | N/A | 0.6 | Calcium slightly low, needed for skeletal health |
| Phosphorus | N/A | 0.5 | |
| Ash | 14 | N/A | |
| Water | 78 | N/A | Wet cat food is best for urinary health |
| Kcal/kg | 1,445 | N/A | |
| ME/kg | 6,600 | 4,000 | Calorie dense to help with growth of kittens |
A table looking at the nutrition of Tu Meke Friend lamb cat food
*target guidelines AAFCO all life stages
Nutrition: 9.5/10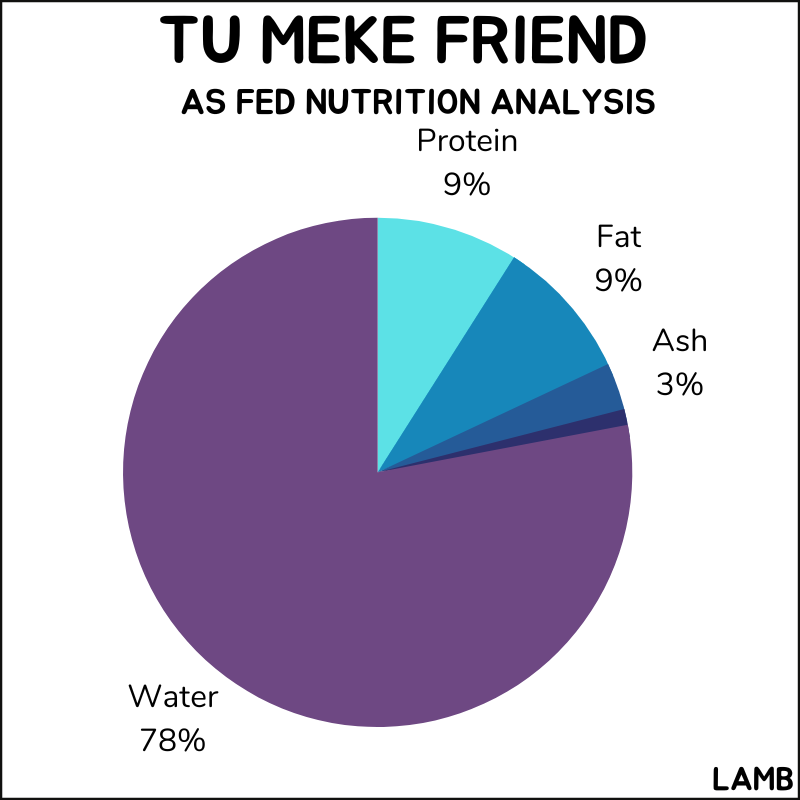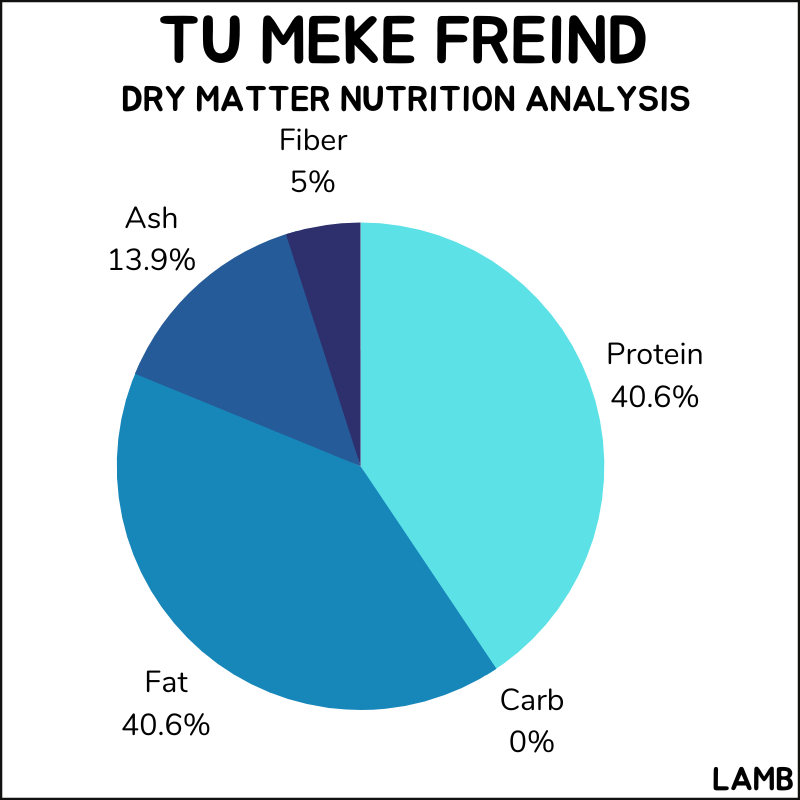 Ingredients
Great.
All five of the first five ingredients are meat based (beside water).
High protein meaty foods benefit cats for strength.
They're all named ingredients, meaning you know what you get in the tin.
It's a long list though, and there's a couple of iffy ones down the list, but nothing too bad.
Ingredient breakdown (top 10 ingredients):
Ingredients in Tu Meke Friend cat food with notes about benefits or drawbacks
Ingredients: 8.5/10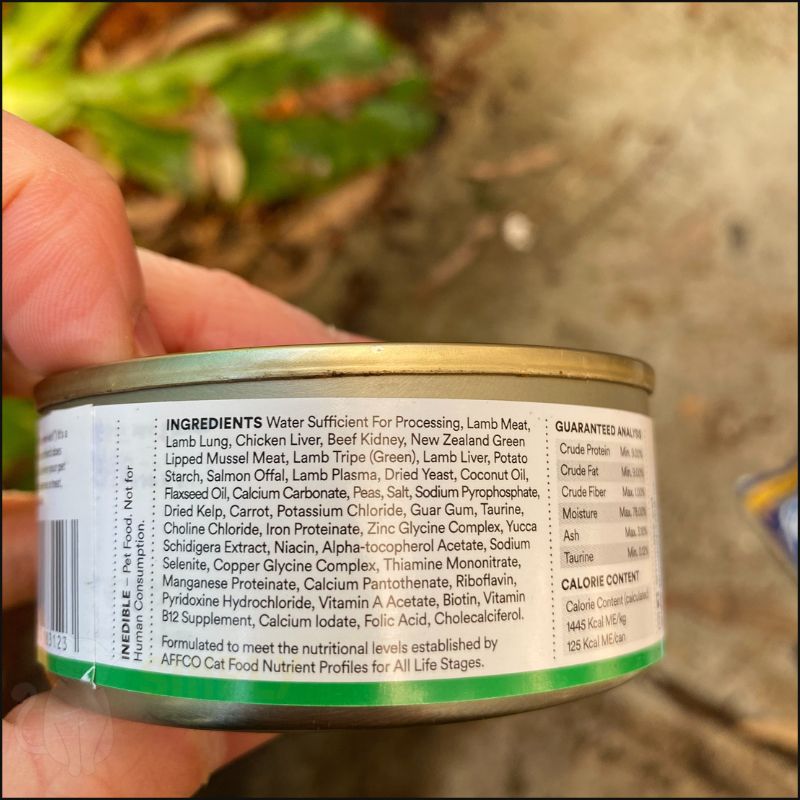 Taste
Good.
I tried Tu Meke Friend lamb with my cat Jordi. He enjoyed the thick meaty pate.
To further analyze the flavor, I presented Jordi his favorite food (Felix) and Tu Meke Friend to compare.
He sort of took bites off both sides suggesting this food was equally tasty for him.
Customers are mixed-positive on this cat food.
Main points:
Thick pate
Sticky texture
Pleasant meaty smell
Product test results:
Product Test: Tu Meke Friend Lamb
Amount Eaten: 100%
Food Appearance: Thick and sticky pate
Smell: Pleasant meaty smell
Pictures below:
Taste: 8/10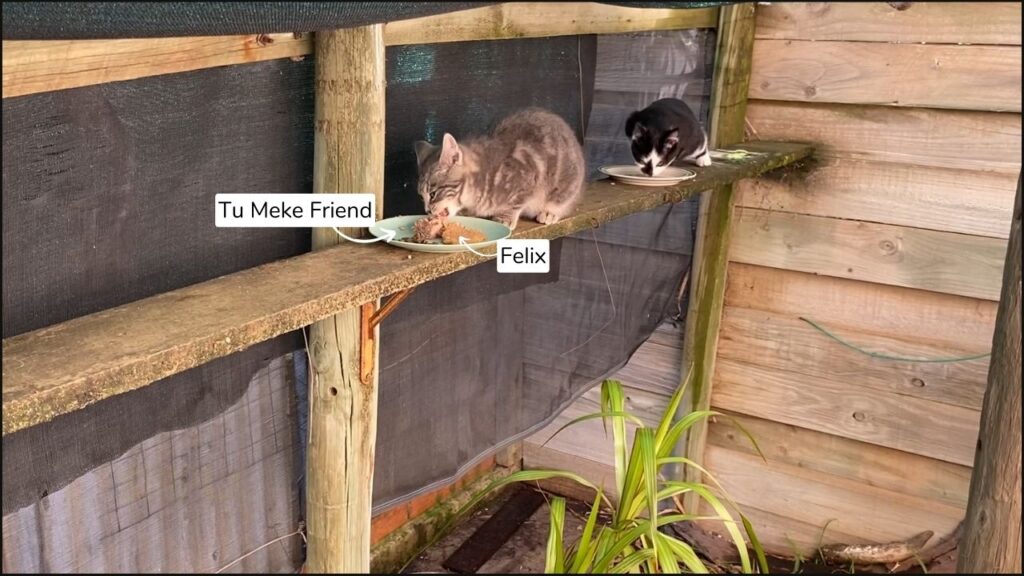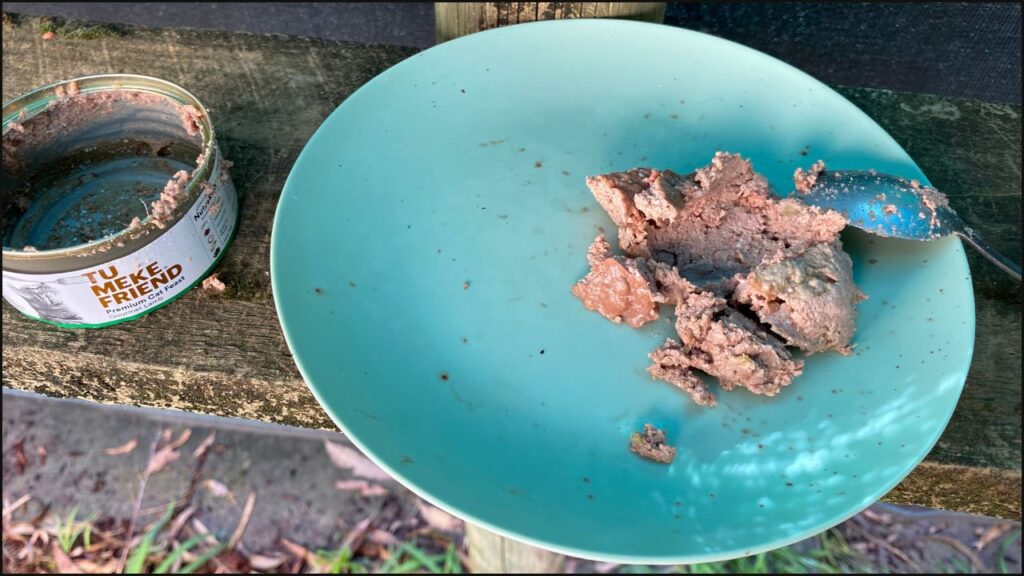 Value for Money
Expensive.
Tu Meke Friend is pricey compared to most wet cat foods on the market.
Worth?
I like Tu Meke Friend, and think it's a nutritious choice for any cat. I'd be happy serving this product, but the budget would get stretched.
Similar alternative products to Tu Meke Friend:
Value: 3/10
Trust
There are no recalls of Tu Meke Friend to this date.
The products follow New Zealand's Ministry of Primary Industry risk management protocols.
Is it something your cat will like?
Maybe.
It would be worth testing this one first, to see what your cat thinks. Reviews are limited.
Trust: 7/10
Conclusion
Tu Meke Friend is a quality pet food brand offering nutrient dense wet foods suited to cats of any age.
It's best suited for senior cat health, allergy relief, and diabetes.
Main downside is the price. Lacks reviews.
Best for:
Senior cat health
Allergy relief
Diabetic cats
Where to find Tu Meke Friend?