Disclaimer: As a Pet Circle affiliate, I earn from qualifying purchases. This does not impact our reviews and comparisons.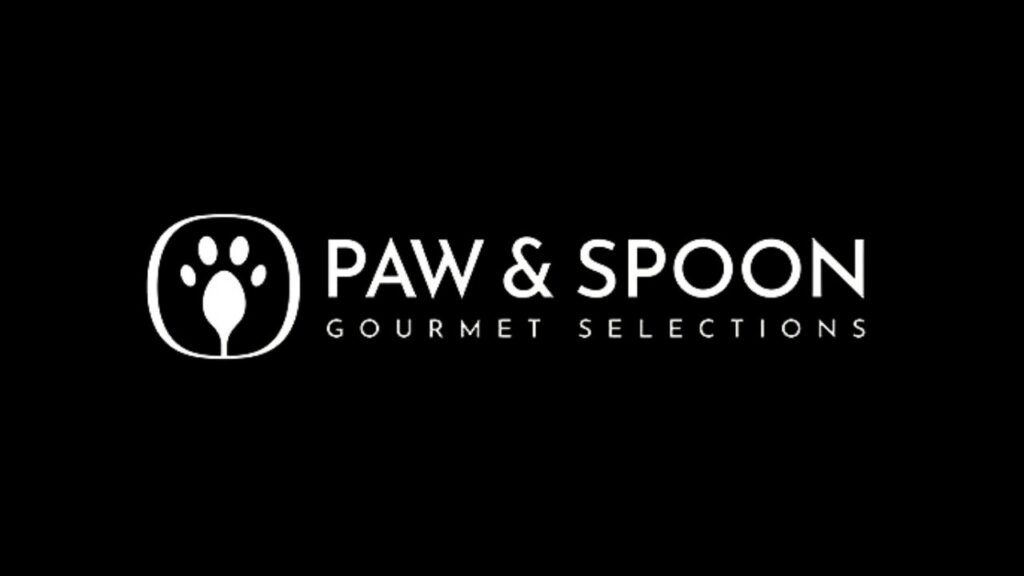 Score: 7/10
Bottom Line
Nice soupy texture, but the carbs are pretty high for my liking.
We did this Paw and Spoon cat food review with our cat Jordi.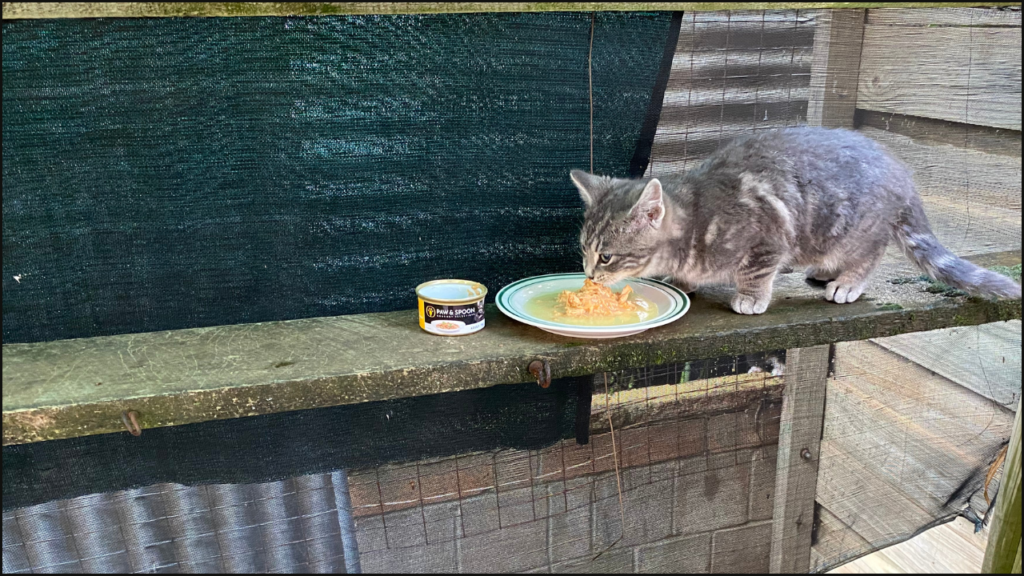 Paw & Spoon is a Thai made cat food brand. They focus on wet canned cat food in broths.
Review summary:
The good?
Soupy texture.
If your cat enjoys broth and needs more hydration, Paw & Spoon delivers.
The bad?
Smelly.
Some products seem to be on the nose a bit (fish). We chose the chicken product, which seems ok though.
The ugly?
High carb.
At 29% carbs (dry matter) this far exceeds what is optimal for nutrition.
In short:
Ok.
Paw & Spoon offer wet canned cat food with hydrating broths. There's plenty of variety and bulk buy options.
The problem is the carb content which stinks. Also, the fish product stinks too.
Fix those things and this might be a winner, but until then I'd look at some of the better choices at this price point.
Best for:
Urinary health
Weight control
Bulk buy option
>> Check out Paw & Spoon cat food here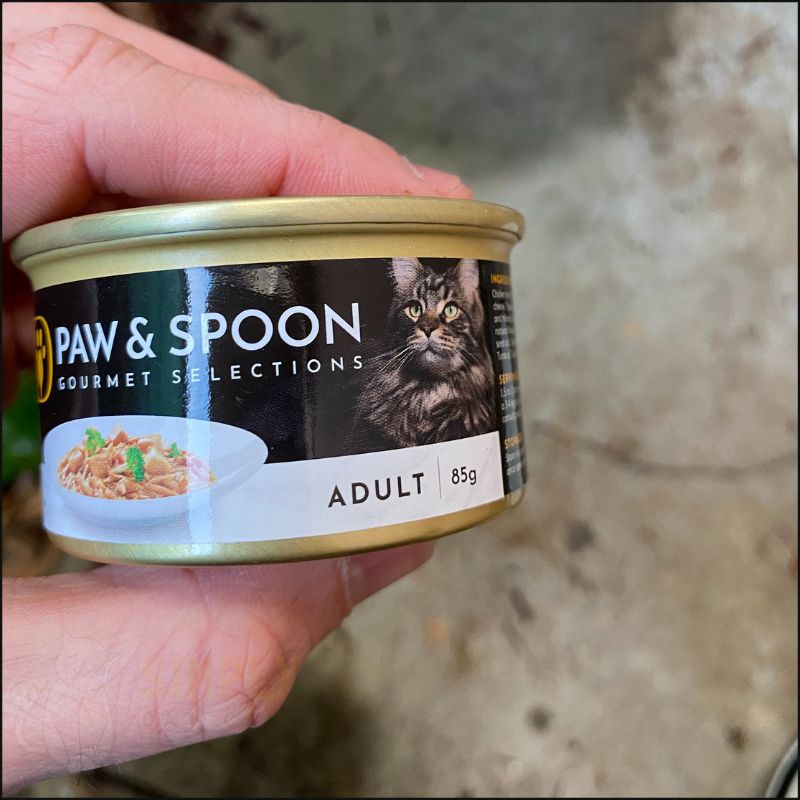 After more info on Paw & Spoon?
In this short Paw & Spoon cat food review I'll go into more detail about:
Nutrition
Ingredients
Taste
Value for money
This includes results from testing the product with our cat Jordi.
More below!
I am not a veterinarian and I recommend seeking the advice of a vet for any further questions. This article is not intended as a replacement for medical advice.
About Paw & Spoon
Paw & Spoon is a private label Australian brand owned by Pet Circle. Products are Thai made.
They offer wet cat food in a range of sizes from single serve to bulk buy.
Their cat foods are complete meals, intended for daily feeding.
Quick Notes:
Pet Circle owned
Wet cat foods
Complete meals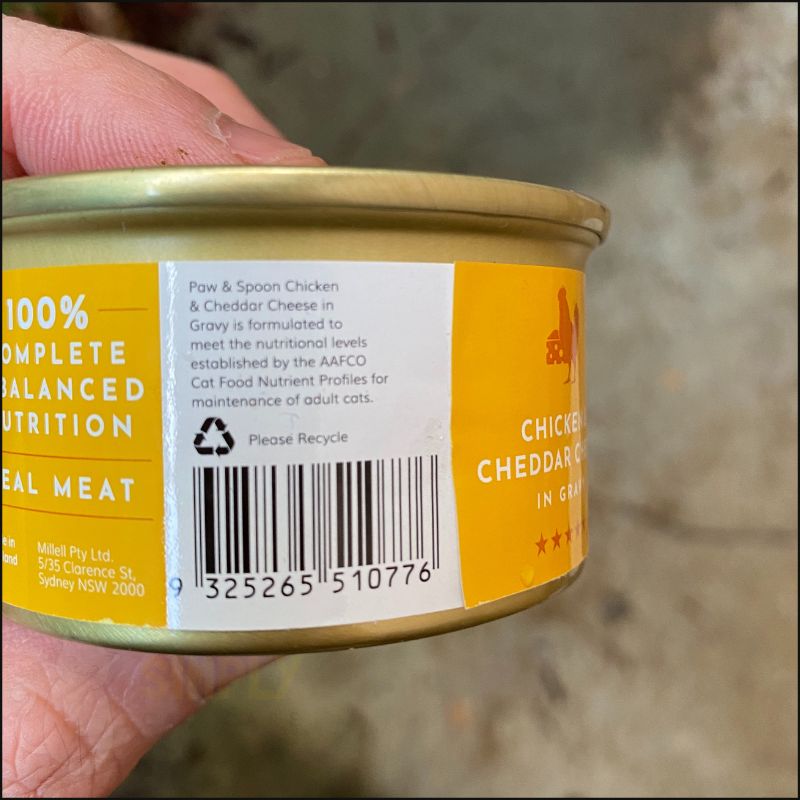 Paw and Spoon Cat Food Review
Nutrition
Fair.
This product is high protein (50%), meetings AAFCO's guidelines for adult cats (26%). It also lines up with what cats prefer.
Carbs are high though, which could be an issue for blood sugar control and digestion.
Paw & Spoon meets AAFCO's nutrition guidelines for maintenance. That makes it suited as a complete meal for adult cats (1-7 years).
A table looking at the nutrition of Paw & Spoon Gourmet Selections Chicken & Cheese cat food
*target guidelines AAFCO adult cats
Nutrition: 6.5/10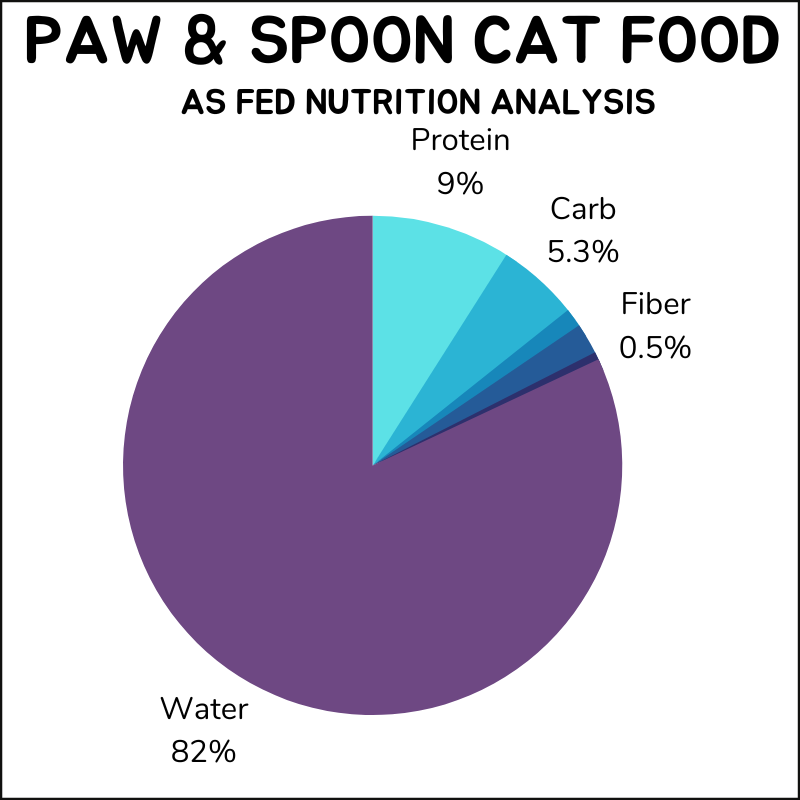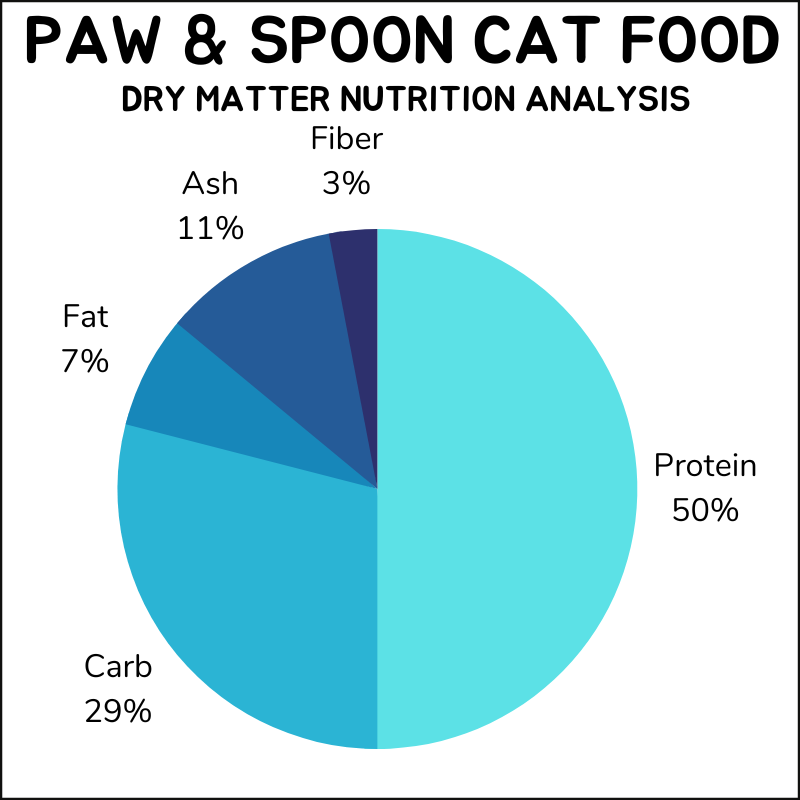 Ingredients
Ok.
Paw & Spoon does not use a labelling descriptor. This means ingredient weighting is evened out.
Tapioca starch is high on the list (fourth ingredient down the list). A high carb ingredient used to thicken cat food.
Unfortunately, this is raising the carb content over what experts deem ideal for cats.
Ingredient breakdown:
Ingredients in Paw & Spoon cat food with notes about benefits or drawbacks
Ingredients: 6.5/10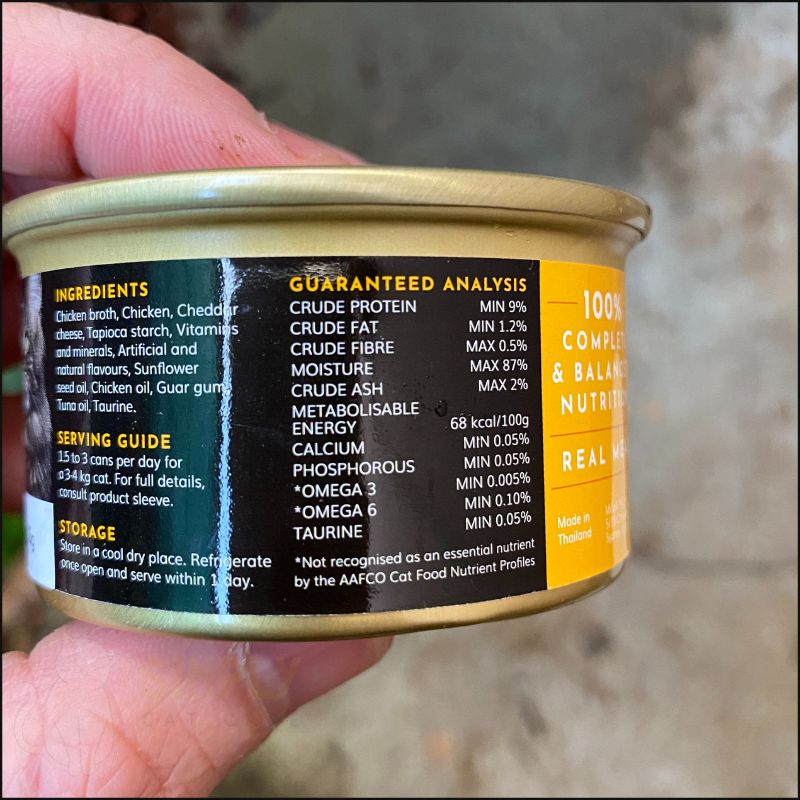 Taste
Good.
Our hungry kitty Jordi was ready to eat and sauntered in. It wasn't his favorite, but he was happy with this product.
Customers report mostly positive results. Exception is the fish based products which have an off-putting smell.
Main points:
Soupy texture
Authentic shreds
Thick
Product test results:
Product Test: Paw & Spoon Gourmet Selections Chicken & Cheese
Amount Eaten: 100%
Time to Finish Eating: 3 minutes
Food Appearance: Thick and soupy
Smell: Light chicken smell
Here's Jordi trying Paw & Spoon and closer look at it: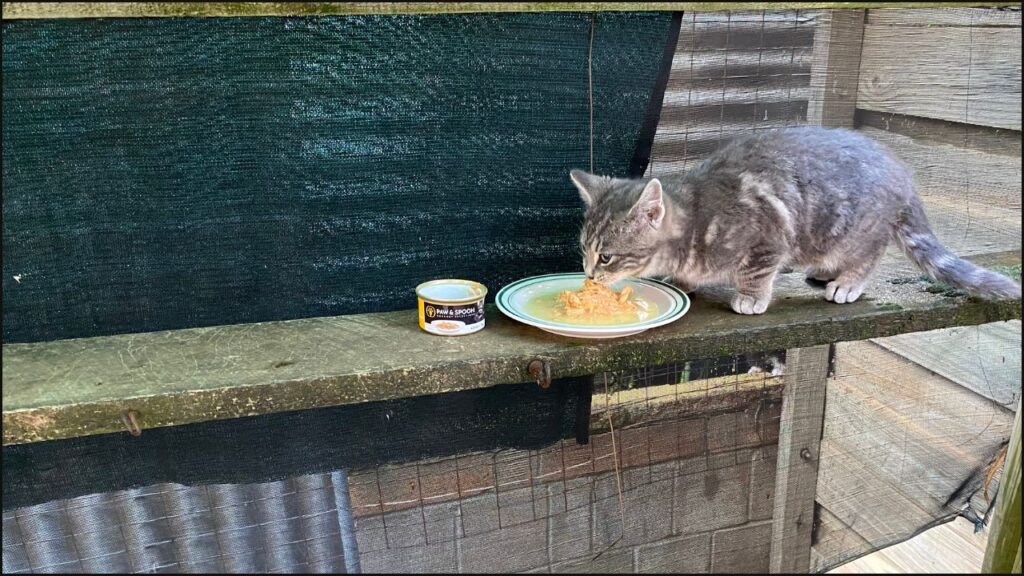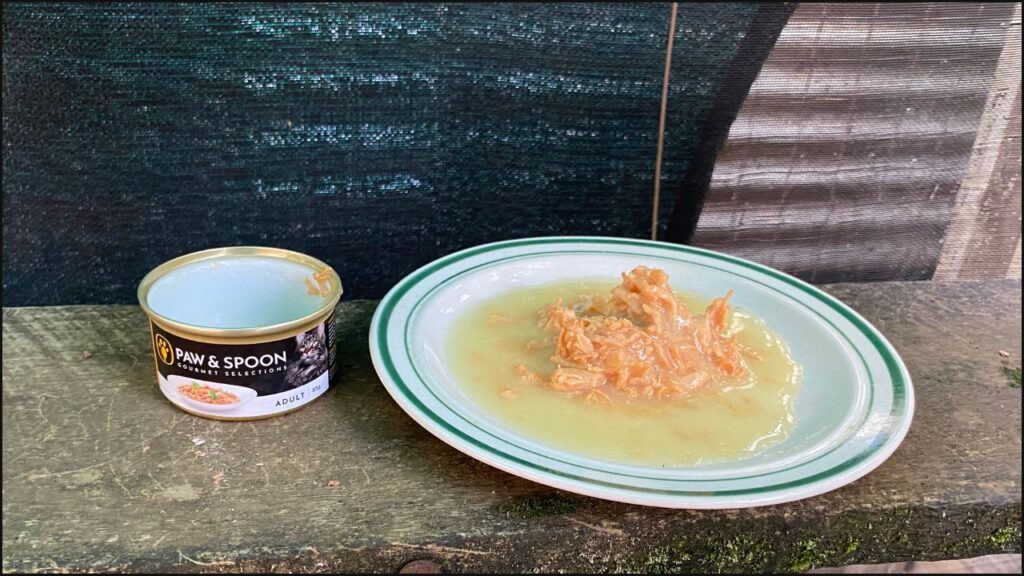 Taste: 8/10
Value for Money
Fair.
Paw & Spoon is a little higher in cost than the average canned cat food.
Worth?
They do offer bulk buy packs to save on costs, which is worth considering.
There's a range of other cat foods which we rated a tad better overall at this price point.
Similar alternatives:
Value: 8/10
Trust
Ok.
Paw & Spoon is Pet Circle owned. It's an Australian pet product store.
There are no recalls of this product.
The product is Thai made, which may have less strict standards than the US.
Is it something your cat will like?
Customer reviews are mostly positive, but could be hit and miss with some (particularly the fish).
Trust: 7.5/10
Conclusion
Paw & Spoon are a wet canned cat food brand with a range of broth rich choices.
They're good choices for urinary health, weight control, and adult cat nutrition. Our cat enjoyed the Chicken & Cheese flavor.
Mixed customer reviews and high carb content are major downsides to consider.
Best for:
Urinary health
Weight control
Bulk buy option
Where to find Paw & Spoon cat food?