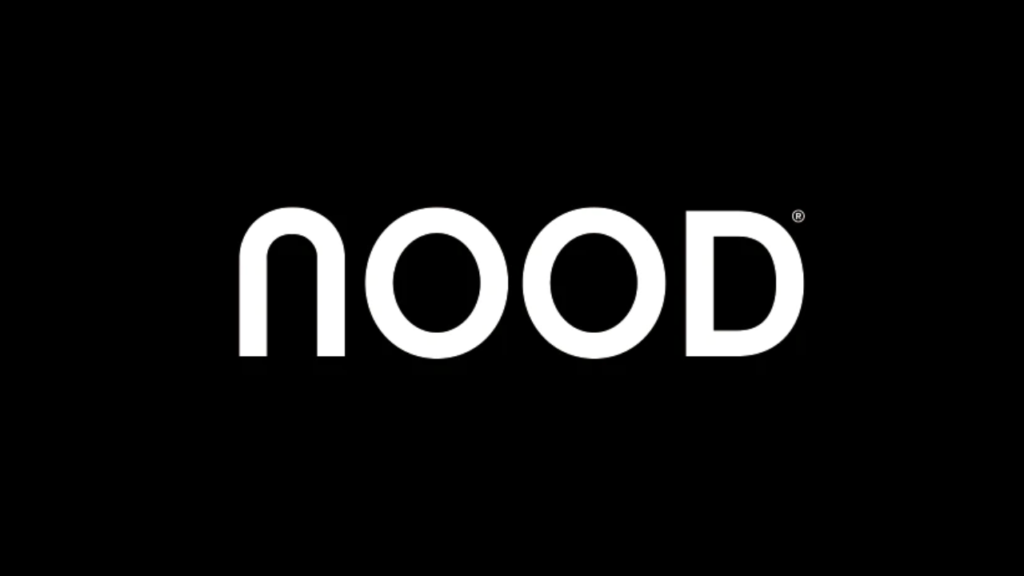 Score: 8/10
Bottom Line
A delicious low carb wet cat food, but needs more info.
We did this Nood cat food review with our cat taste testing team.
Nood is a grass-fed pet food brand made in Thailand. It's intended as a healthy choice for cats of all ages.
I've tested this product with our cat Felicia and her kittens to see what they thought.
Review summary:
The good?
Very tasty!
Our cat Felicia, licked this one clean out the pouch and wanted more. Great for fussy eaters.
The bad?
Missing info.
As a product targeted for all life stages, it would be nice to get more info on micronutrients like calcium.
The ugly?
Lack of reviews.
Whilst I'm confident a fussy cat will like this one, there's a lack of reviews from customers to support my findings.
In short:
Good.
Nood wet cat food is a great choice for fussy eaters and is low in carbs. I recommend it for adult cats, but I'm a little hesitant to suggest it for seniors.
Best for:
Adults (1-7 years)
Fussy eaters
Low carb diets
>> Check out Nood cat food here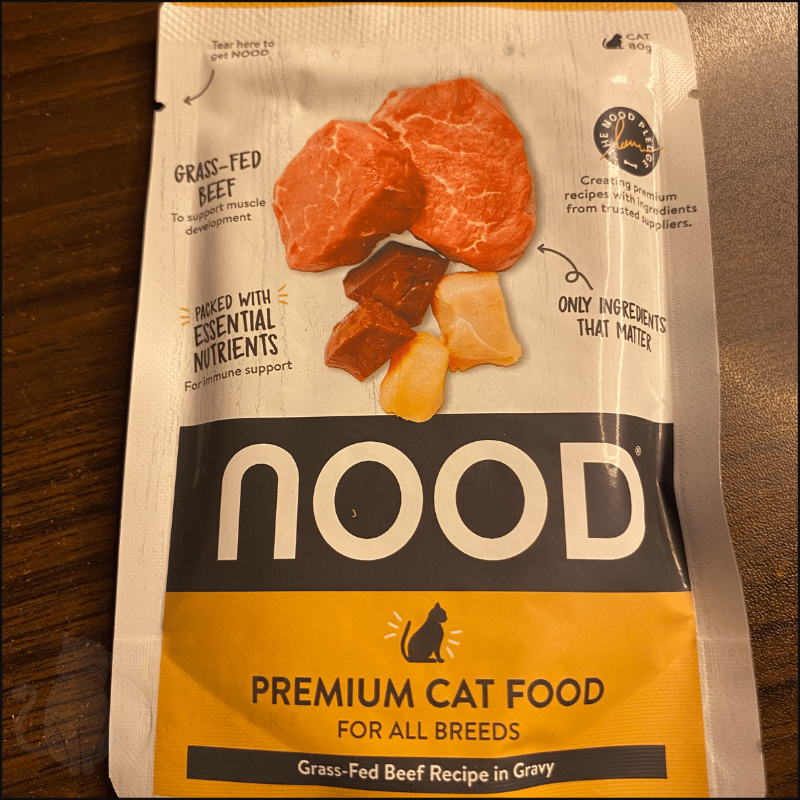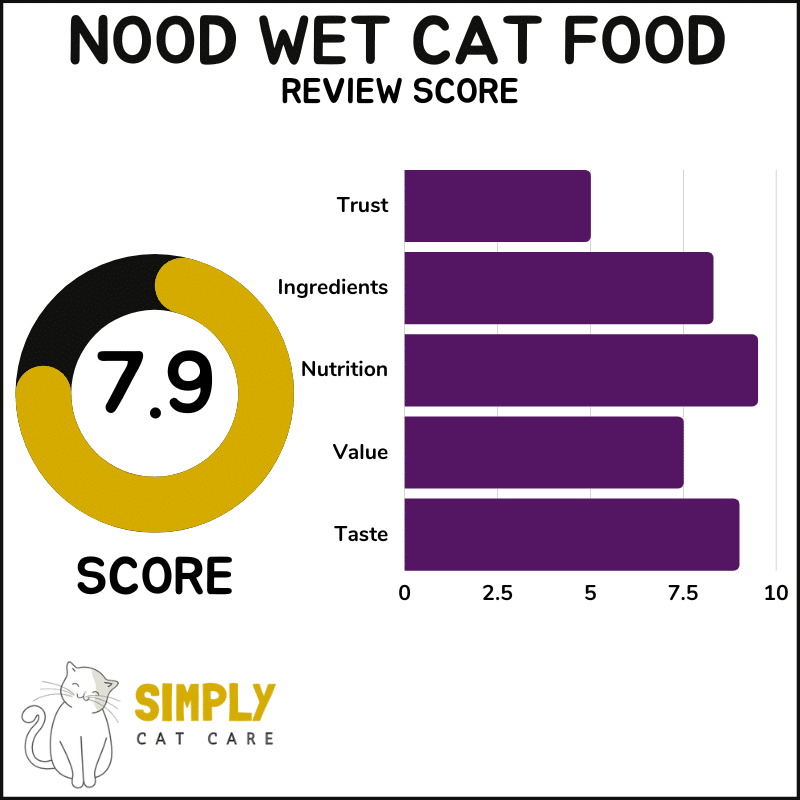 After more info on Nood cat food?
In this short Nood cat food review I'll go into more detail about:
Ingredients
Nutrition
Value
Taste
Trust
This includes results from our taste testing with cats.
More below!
I am not a veterinarian and I recommend seeking the advice of a vet for any further questions. This article is not intended as a replacement for medical
About Nood
Nood is a New Zealand pet company owned by ZURU Edge. Australian pet food products are Thai made.
Nood state that are about creating a premium product for an affordable price.
According to Nood, they don't use:
Fillers
Artificial flavours
Sugar
Wheat
Soy
Nood offer wet and dry cat food at Coles supermarkets in Australia.
Quick notes
NZ owned company
Thai made (for Australian consumers)
Premium affordable foods
Nood Cat Food Review
For this review, I've looked at the following areas:
Nutrition
Ingredients
Value for Money
Taste
Trust
Here's the results:
Nutrition
Great.
Nood is high in protein and low in carbs. Perfect for a carnivorous cat.
Experts recommend low carb cat food for blood sugar control and kidney health in cats.
Nood offers info for:
Crude protein
Crude fat
Crude fiber
Ash
Since they're crude numbers, I'd expect they aren't 'exact' figures (e.g. I think the carbs would be over 0% since Nood has tapioca starch).
One downside is the lack of calcium supplementation. I'd like to see info here to make sure my cat gets enough.
Nood states that it meets AAFCO's nutrition guidelines for all life stages. I'd say it's best suited to adult cats.
In short:
High protein
Low carb
Suited to all life stages
Nutrition (Dry Matter Basis) for Nood Grass-Fed Beef
Protein: 50%*
Carbs: 0%
Fat: 14%
Ash: 29%
Fiber: 7%
Calcium to Phosphate Ratio: N/A
Energy: 1,102 kcal/kg
*based on crude nutrition analysis
Nutrition: 9.5/10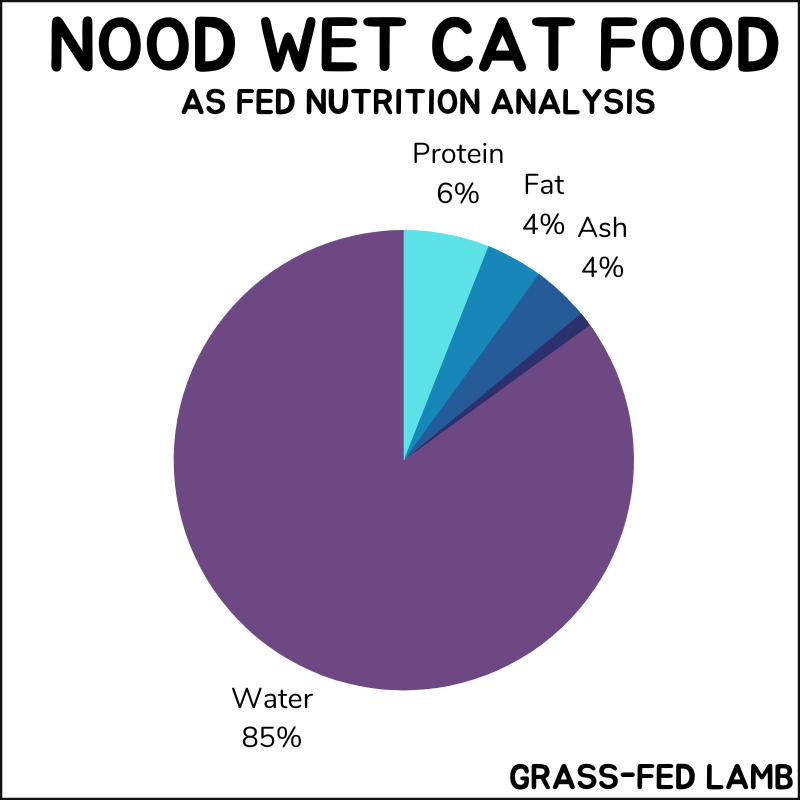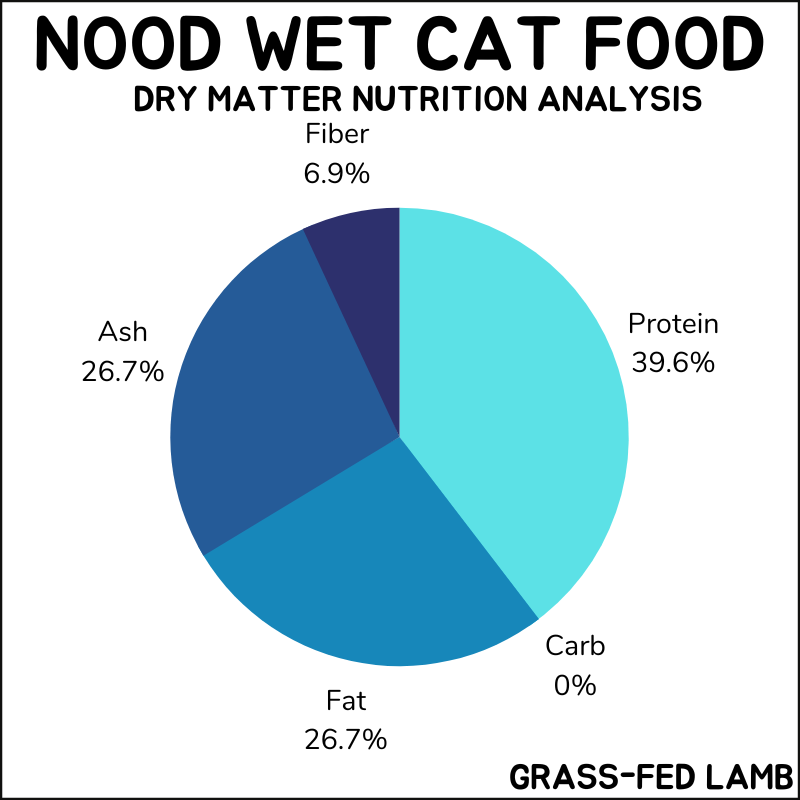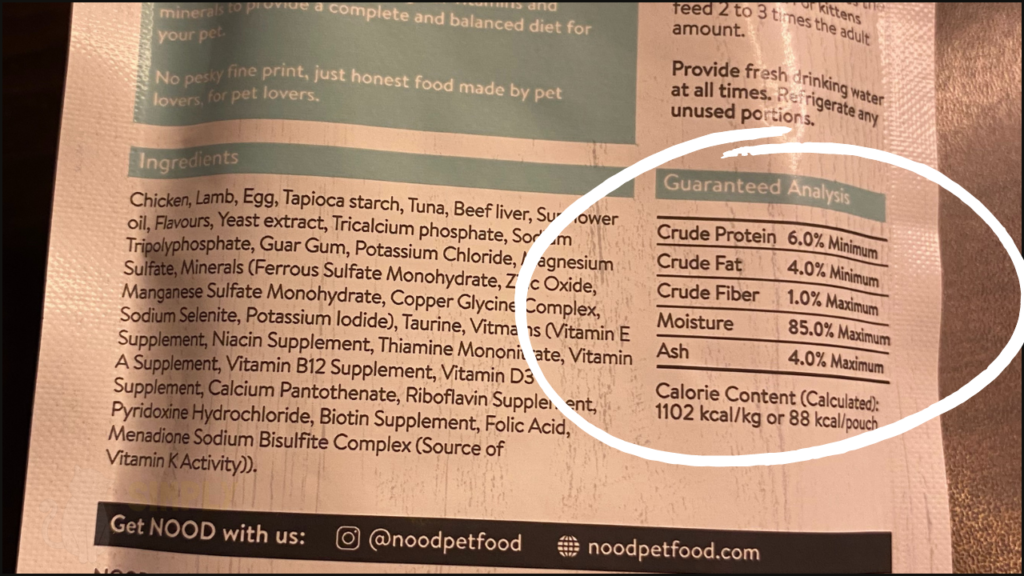 Ingredients
Good.
Four of the first five ingredients are meat based. This includes:
The label uses the recipe descriptor. This means the product contains 25-95% of the named ingredient (in this case lamb).
Chicken, lamb, egg, and tuna are all high in essential amino acids. These are the tastiest meat sources and help cats maintain strength.
Moreover, there's no grain-based protein, a low-quality protein used in some wet foods.
The downside is the use of sunflower oil. This provides linoleic acid, an essential fatty acid that cats cannot convert to 'active' arachidonic acid.
Therefore it doesn't benefit your cats health.
In short:
4/5 meat ingredients
High quality protein
Uses sunflower oil
Ingredients: 8.5/10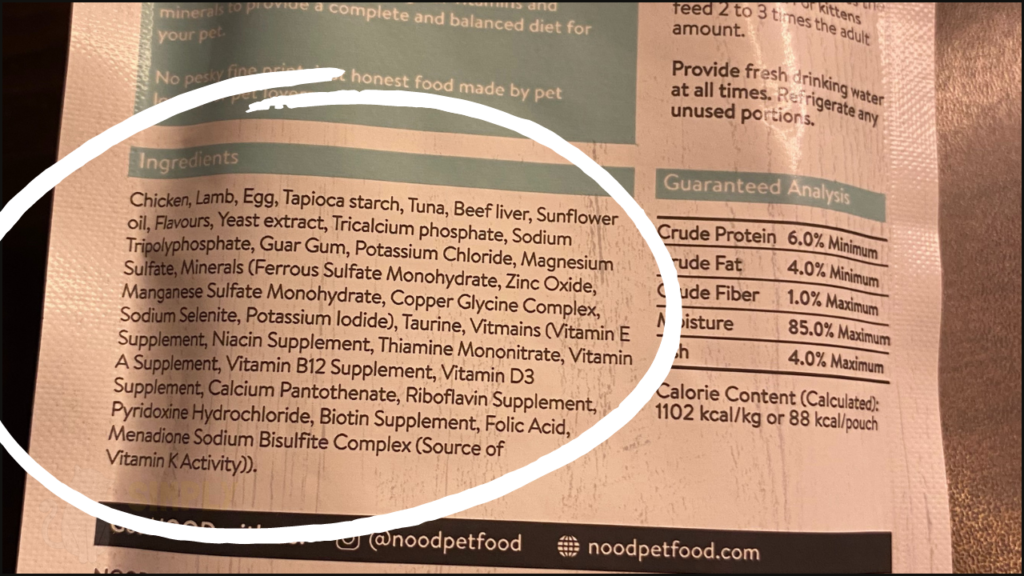 Taste
My cats loved this.
Out the bag, Nood comes in a chunky meat appearance with gravy. Our cat Felicia started getting excited and came to lick it out the bag.
Then her kitten Simba came to join in the feast.
There aren't many customer reviews that I've seen on Nood wet cat food.
Main comments are:
Tasty
Chunky meat
Gravy rich
Here are the results of testing Nood wet cat food:
Product Test: Nood Grass-Fed Lamb
Amount Eaten: 100%
Time to Finish Eating: 40 seconds
Food Appearance: Chunky meat gravy
Smell: Fresh meaty chicken smell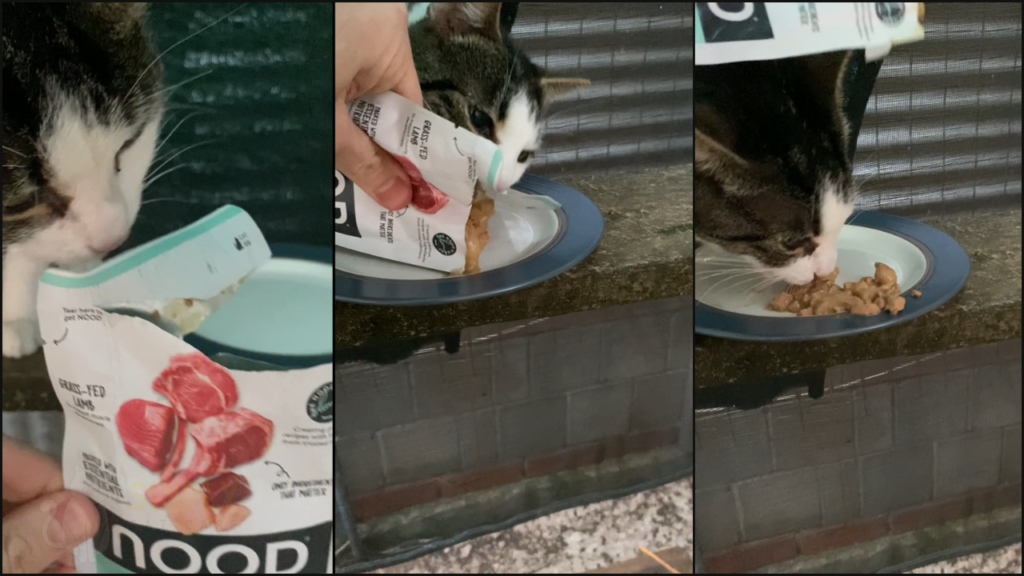 Product Test: Nood Grass-Fed Beef
Amount Eaten: 100%
Time to Finish Eating: 90 seconds
Food Appearance: Chunky meat gravy
Smell: Fresh meaty smell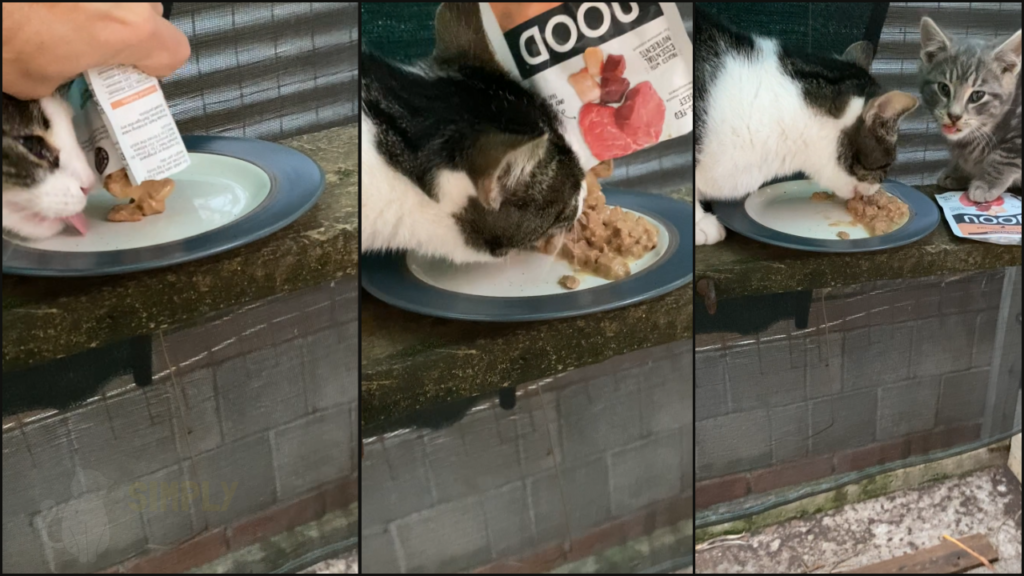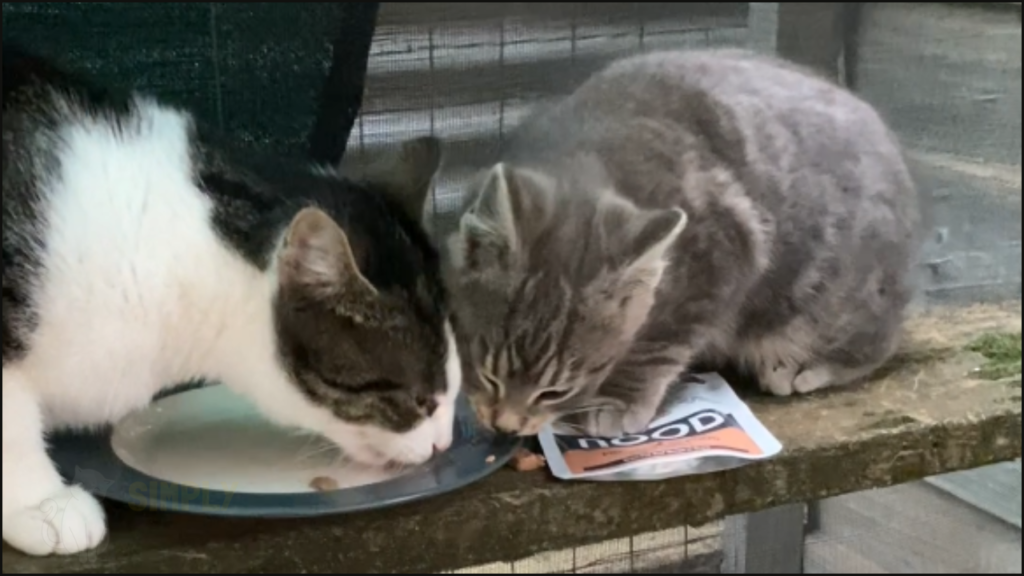 Taste: 10/10
Value for Money
Decent.
The price of Nood is lower than the average price of cat food in Australia. It comes in value packs, but there's no single serve options.
For what you get, it's justified. It's a solid high protein meal that's better quality than most.
Similar alternative products to Nood with comparable price and quality include:
Fancy Feast wet cat food
Dine wet cat food
Optimum wet cat food
Value: 7.5/10
Read More:
Trust
Not much info.
Nood is made in Thai facilities, known for high standards.
There are no recalls as of the writing of this article (check here for recent updates).
Is it something your cat will like?
I'm confident most cats will enjoy this cat food, but there's still a lack of reviews.
Other tidbits:
Easy to read
Contact info available
Offers feeding instructions
Trust: 5/10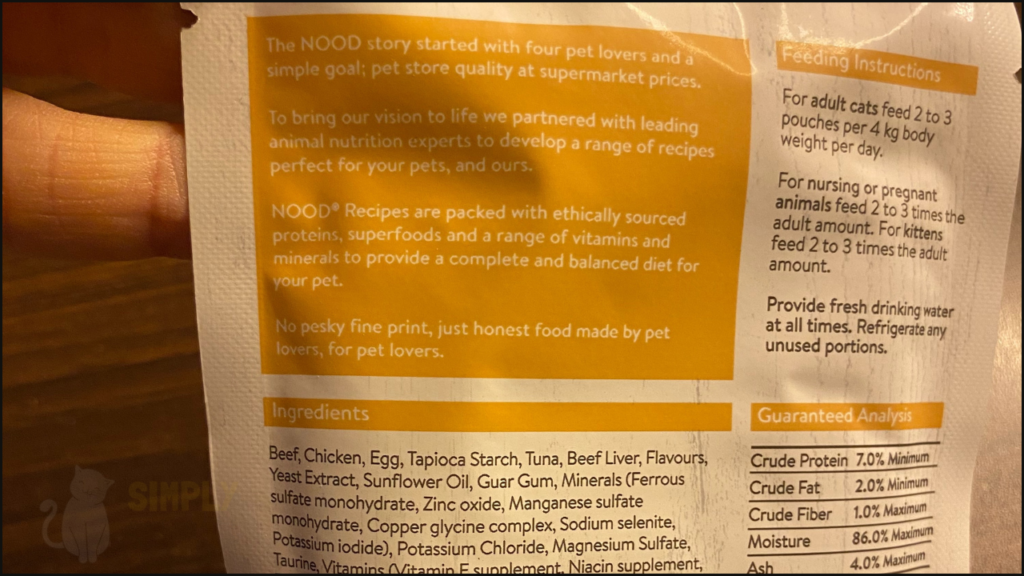 Conclusion
Great.
Nood cat food is a great healthy wet cat food for fussy adult cats.
With more time I think this will emerge as a customer favorite.
Best for:
Adult cats (1-7 years)
Fussy eaters
Low carb diet
Where to find Nood cat food?
>> Check out our top rated wet cat foods in Australia for more