Disclaimer: As a Chewy and Amazon affiliate, I earn from qualifying purchases. This does not impact our reviews and comparisons.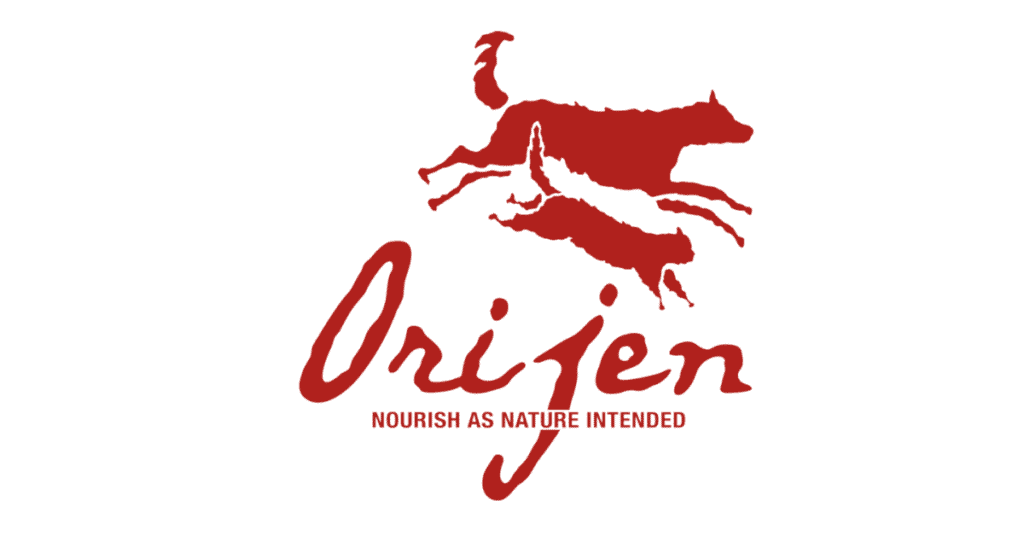 Score: 8/10
Bottom Line
Meat rich and lower in carbs than most, but got mixed reviews from our cats.
We did this Orijen cat food review with the help of our cat taste testing team.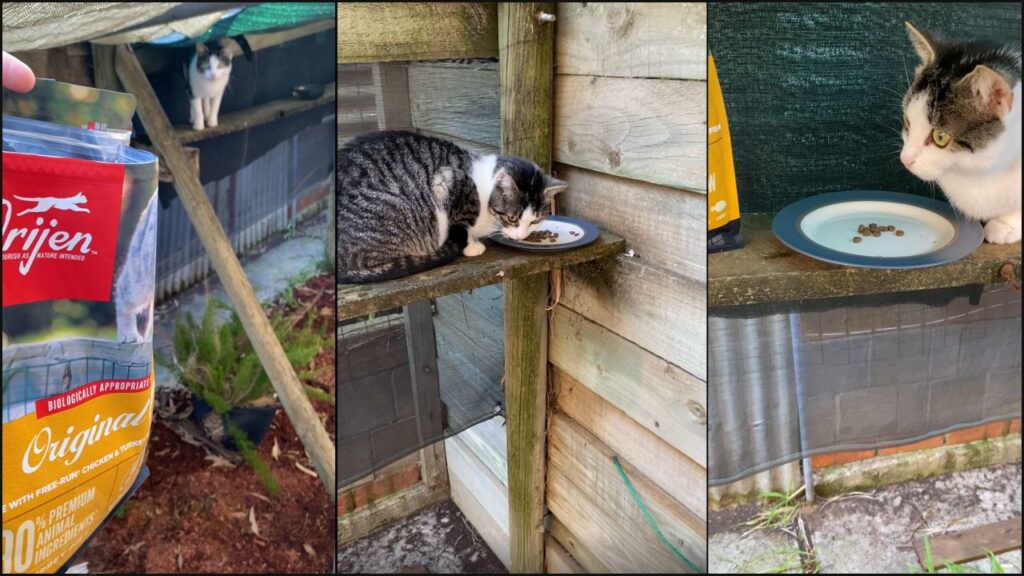 Orijen is US based pet food company offering dry cat food high in animal products.
Review summary:
The good?
Meat rich.
I am impressed with the ingredient list stacked with a range of animal products. The first 14 ingredients in the bag – all meat based.
The bad?
Added legumes.
Whilst this product is grain-free it does use a few legumes. Lower quality protein sources, that aren't as tasty.
The ugly?
Not much.
This dry cat food is pretty solid although it's a tad high in carbs from the legumes (20% dry matter) and got mixed taste results with our cats.
In short:
Good.
Orijen is a convenient choice for the discerning cat owner. It comes in an easy-to-chew small round disc shape.
It's not perfect though, but it's a vast improvement over most dry cat food loaded with grains.
Best for:
Convenience
Occasional meal
All life stages
>> Check out Orijen cat food here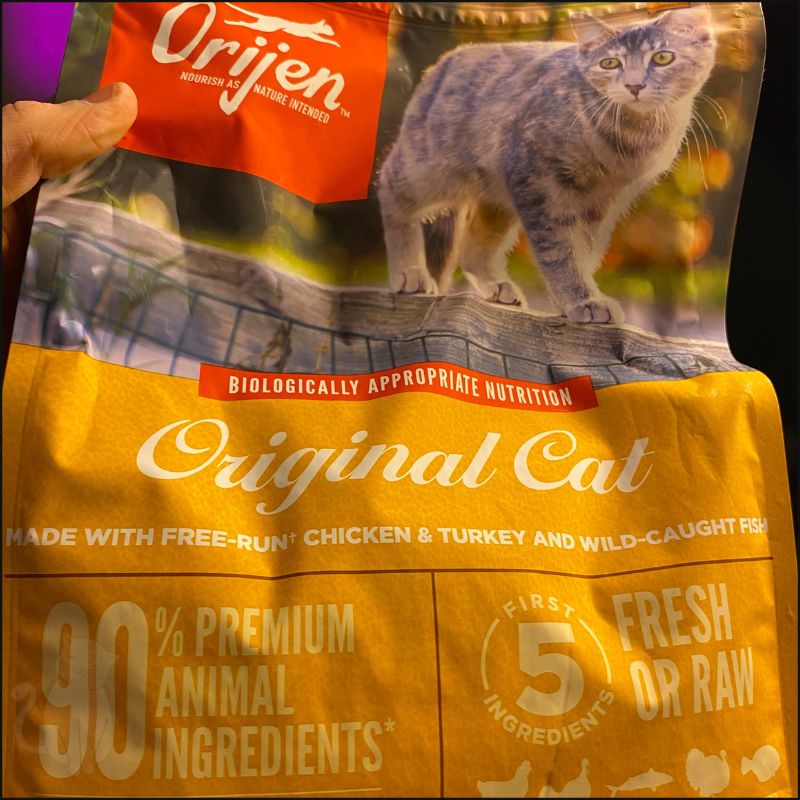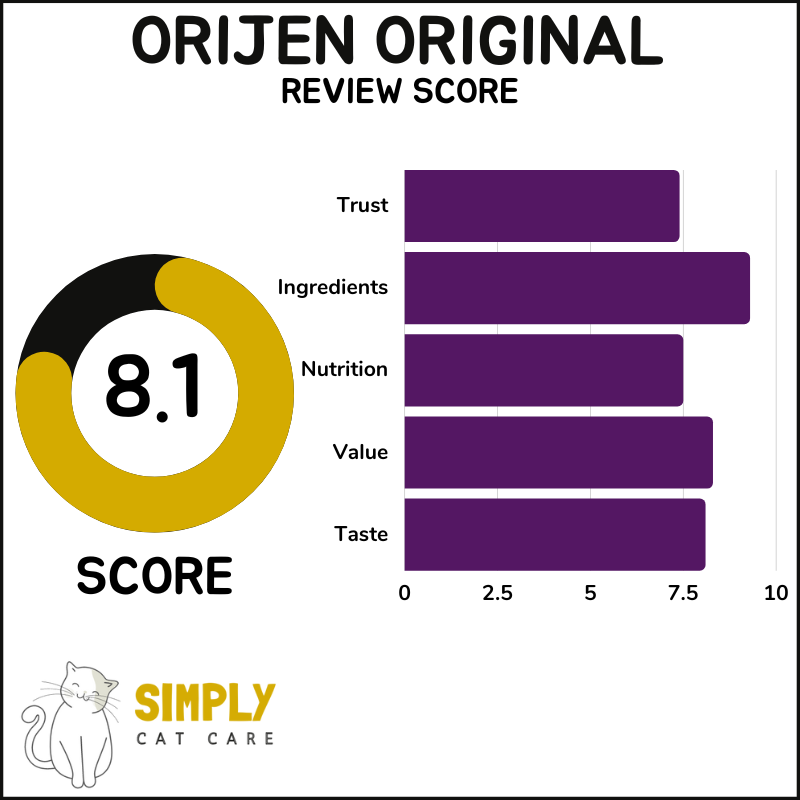 After more info on Orijen cat food?
In this short Orijen cat food review I'll go into more detail about:
Nutrition
Ingredients
Taste
Value for money
Trust
This includes results after testing with our cat Felicia and her kittens.
More below!
I am not a veterinarian and I recommend seeking the advice of a vet for any further questions. This article
About Orijen
Champion Pet Foods Ltd owns Orijen.
Champion Pet Foods started operations in 1985 with a goal to make the world's best pet foods. They also own Acana.
Reinhard Mueller founded Orijen and the company is Canadian-based.
Orijen is sources food locally and internationally.
Recalls?
In 2008, Orijen was recalled in Australia due to a contamination issue due to Australia irradiating their cat food. This resulted in the euthanization of 4 cats due to illness.
No repeat issues have occurred.
Quick Notes:
Canadian based
Sourced locally & internationally
One recall in 2008
Orijen Cat Food Review
Nutrition
Good.
Orijen offer comprehensive nutrition information on the bag, which shows transparency.
Protein comes in at 44% which is above AAFCO's recommendation of 30% for all cats.
Experts suggest 40% protein (dry matter) to combat muscle loss due to ageing in cats, making Orijen senior cat friendly.
Orijen Original comes in at 20% carbs (dry matter). Experts suggest limiting total daily carbs to less than 12%.
Why?
Cats can't digest and metabolize carbs as well as humans. High carb diets in cats increase the risk of kidney disease.
Orijen is best as a sometimes choice, though it's an improvement from many other dry cat foods (which are usually over 30% carbs dry matter).
Anything else to report?
Orijen Original offers 0.2% taurine, which meets AAFCO's nutrition guideline for at least 0.1% in dry cat food.
Taurine is an essential amino acid for cats. A deficiency can lead to health problems related to the heart as well as reproductive issues.
Orijen meets AAFCO's nutrition guidelines for all life stages.
In short:
High protein
Low-moderate carbs
Suited for all ages
Nutrition (Dry Matter Basis)
Protein: 44%
Carbs: 20%
Fat: 22%
Ash: 10%
Fiber: 3%
Moisture: 10%
Calcium to Phosphate Ratio: 1.4:1
Energy: 4,120 kcal/kg
Nutrition: 7.5/10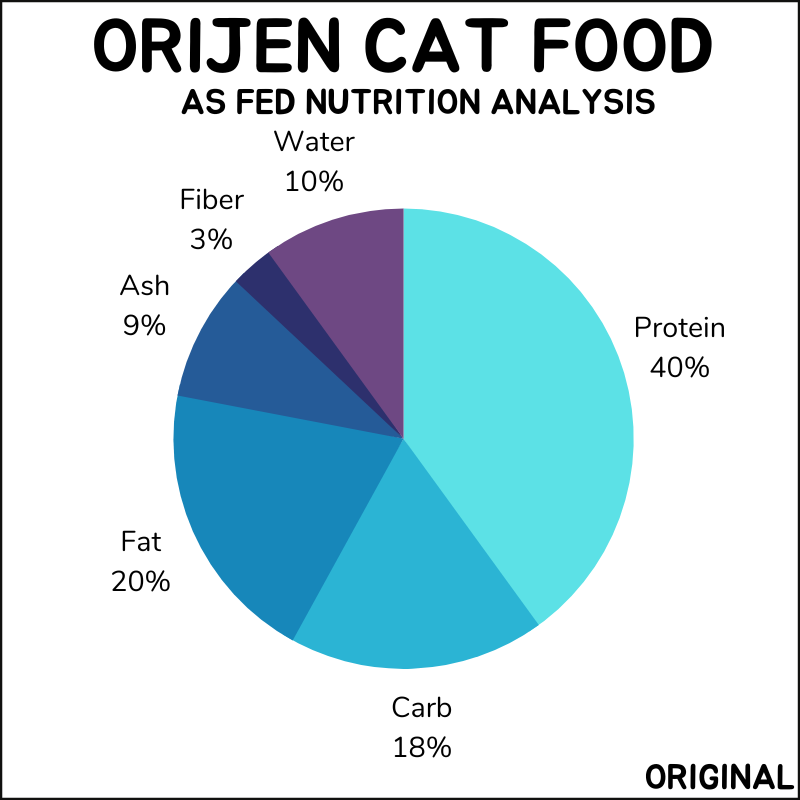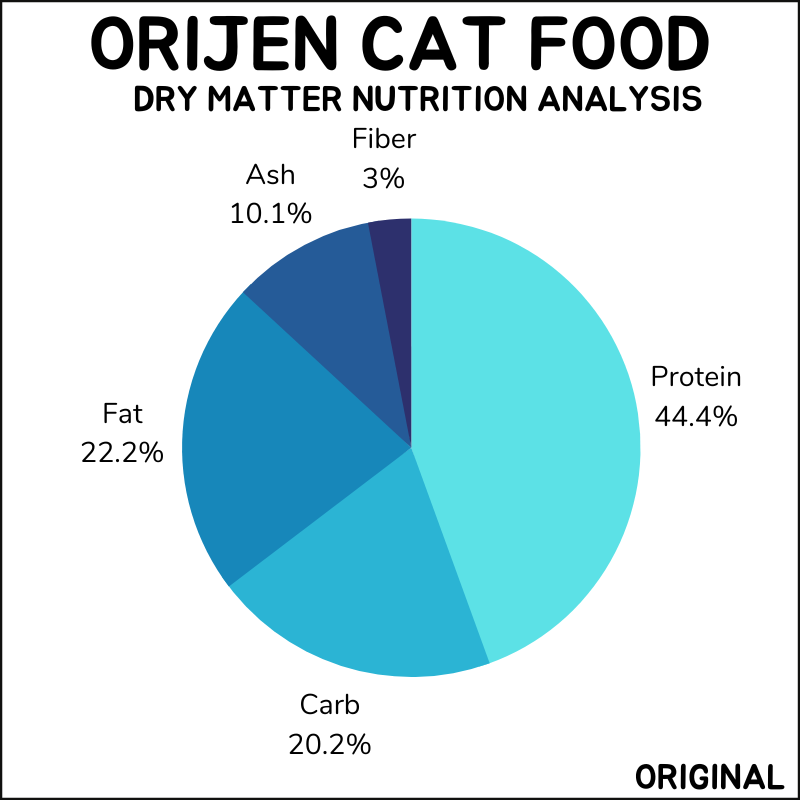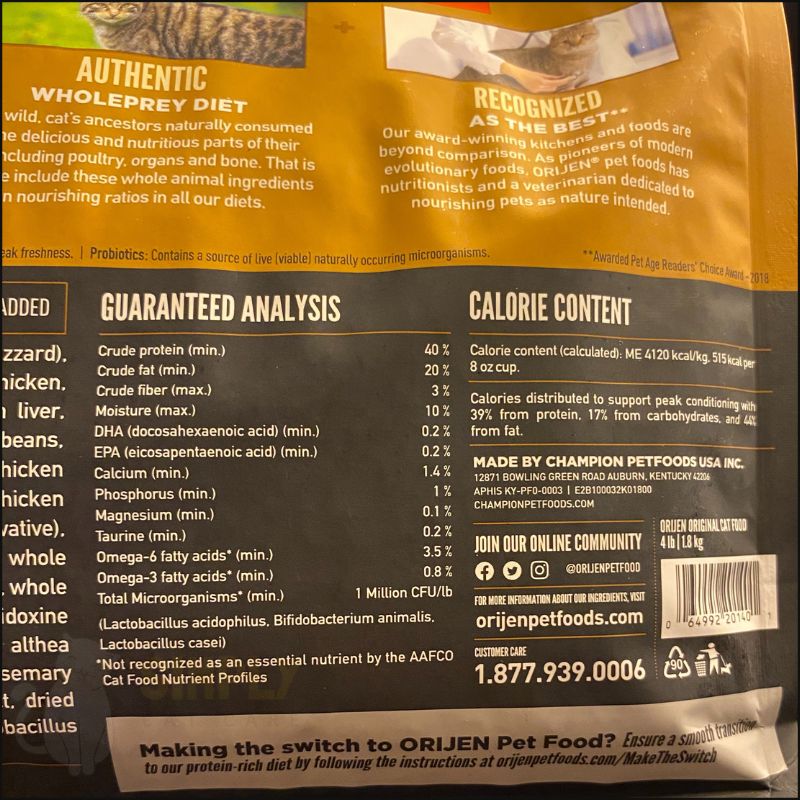 Ingredients
Mostly good.
All five of the first ingredients are meat based, and in fact the first 14 are!
The label uses the amount labelling rule, and declares 90% meat based ingredients.
Cat's eat mice, fish, insects, and birds. The organs, meat, and bones of these foods provide all the nutrients cats need.
Criticisms?
Yes.
There's added legumes in the bag. High carb ingredients raise blood sugar and are harder to digest.
Orijen also add cranberry, a source of Vitamin C.
Cats do not need any vitamin C in their diet, as their own body produces it, and it can increase urinary stone risk.
Short run down (first 10 ingredients):
A table showing the ingredients of Orijen Original cat food with any benefits
In short:
90% meat ingredients
Gluten-free
Has legumes
Ingredients: 9/10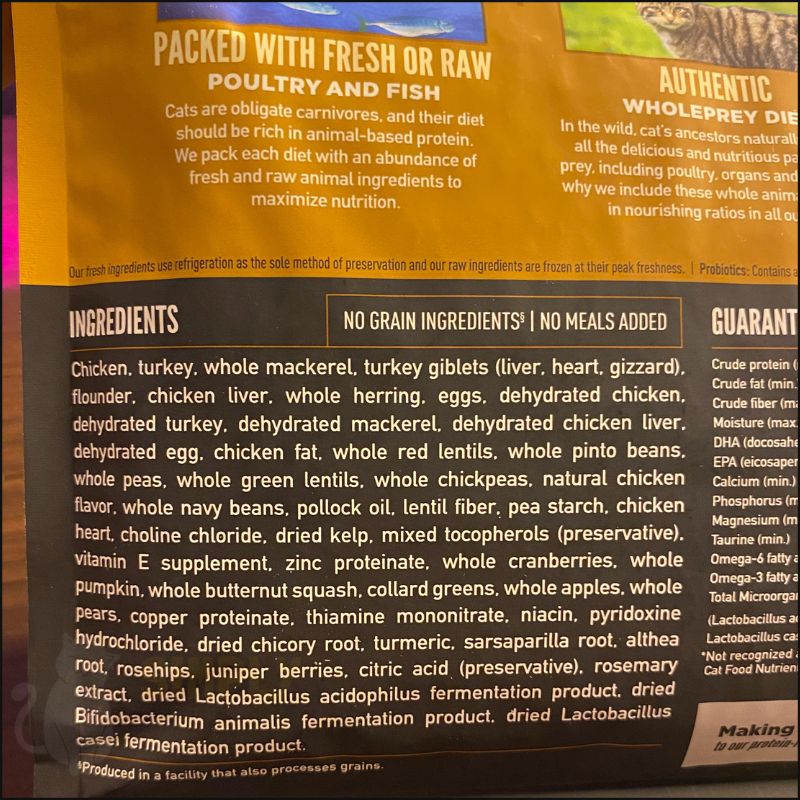 Taste
Mixed.
I tested Orijen Original with our cat Felicia and her kittens. The kitties enjoyed it more than the mother cat and gobbled it up when left out.
Reviews seem mostly positive with this one.
Other notes:
Small disc shape
Rich meaty smell
Zip locking bag
Here are the results of testing Orijen cat food with our cats:
Product Test: Orijen Original
Amount Eaten: 100% (some hesitation)
Time to Finish Eating: 10-30 minutes (needed time)
Food Appearance: Small discs
Smell: Rich and meaty. Inviting smell.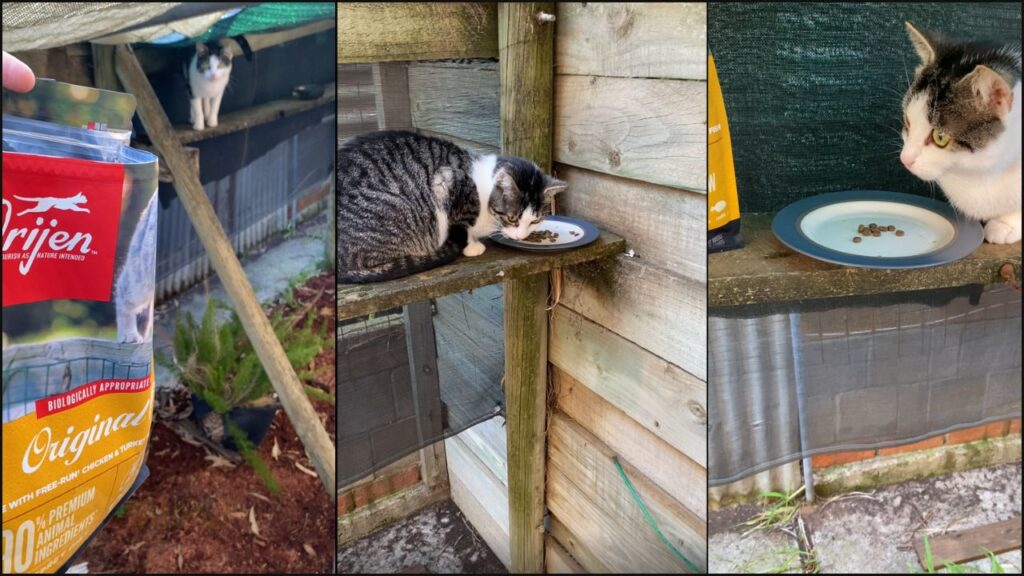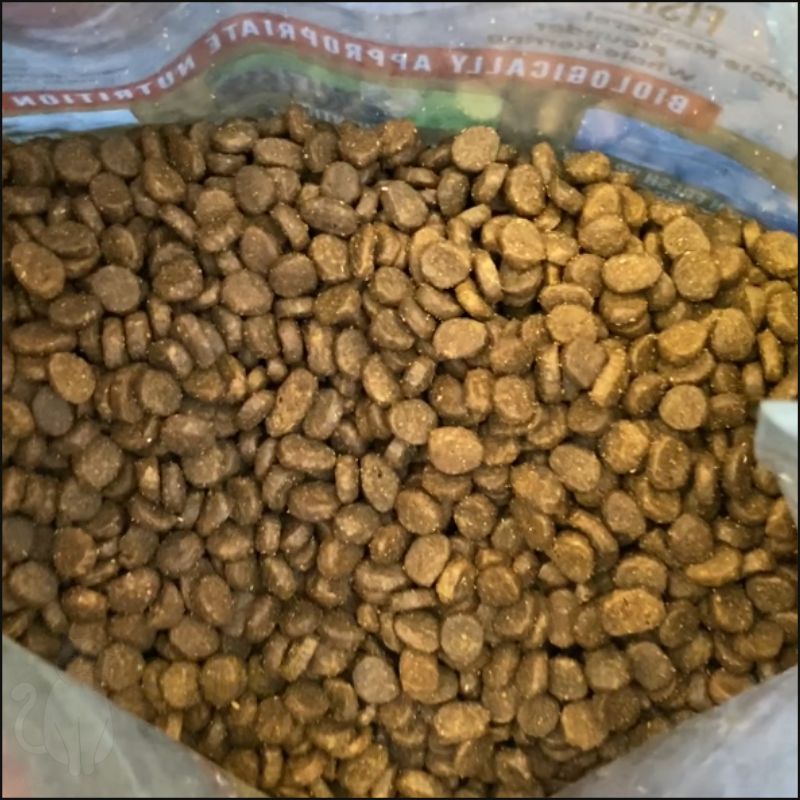 Taste: 8/10
Value for Money
Reasonable.
The price of Orijen is average for all dry cat foods, based on a cost per ounce basis.
Worth it?
Yes.
Whilst I don't advocate feeding your cat too much dry cat food, the quality here is a big improvement over many. A solid occasional meal for convenience.
Similar options to Orijen for price and quality:
Value: 8.5/10
Learn More:
Trust
There's plenty of reviews for Orijen.
Checking some reviews, some report recent negative changes (e.g. more calories in the bag, less tasty), but most are positive.
There's only one recall, but that was back in 2008. Batch numbers are clearly printed as well as a customer care line.
You also get feeding instructions on the bottom of the bag.
Is it something your cat will like?
Hard to say.
I got mixed outcomes, but my kittens enjoyed it.
Trust: 7.5/10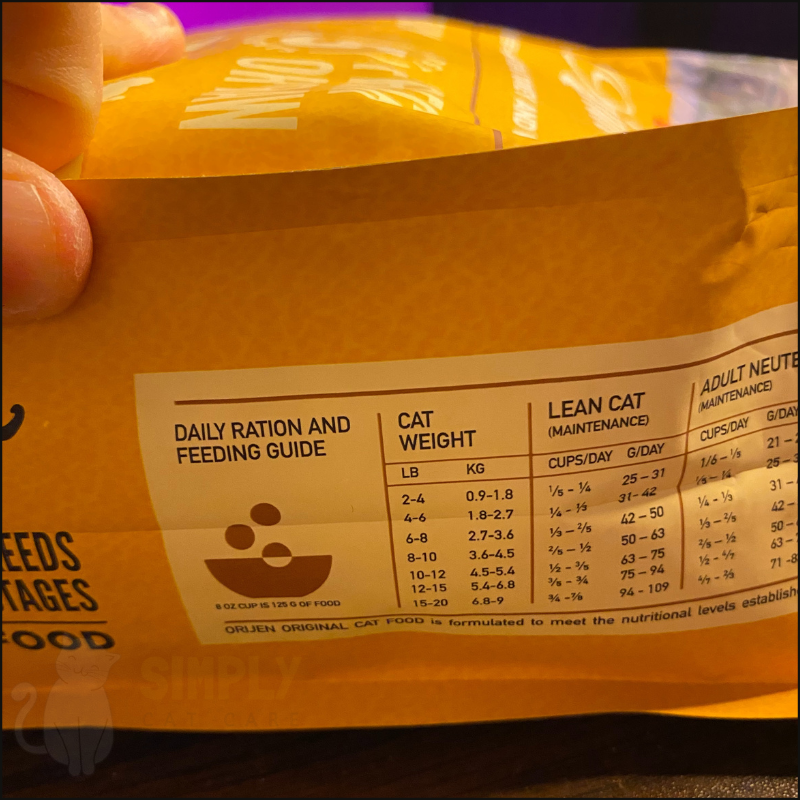 Conclusion
A good quality dry cat food higher in meat and lower in carbs.
Orijen is best suited as an occasional meal for cats of all life stages and offers convenience. Pricing is reasonable.
The main drawbacks are the mixed taste results and the harder-to-digest added legumes. Added cranberries increase urinary stone risk.
Best for:
Convenience
Occasional meal
All life stages
Where to find Orijen cat food?