Disclaimer: As an Amazon, Chewy & Pet Circle affiliate, I earn from qualifying purchases. This does not impact our reviews and comparisons.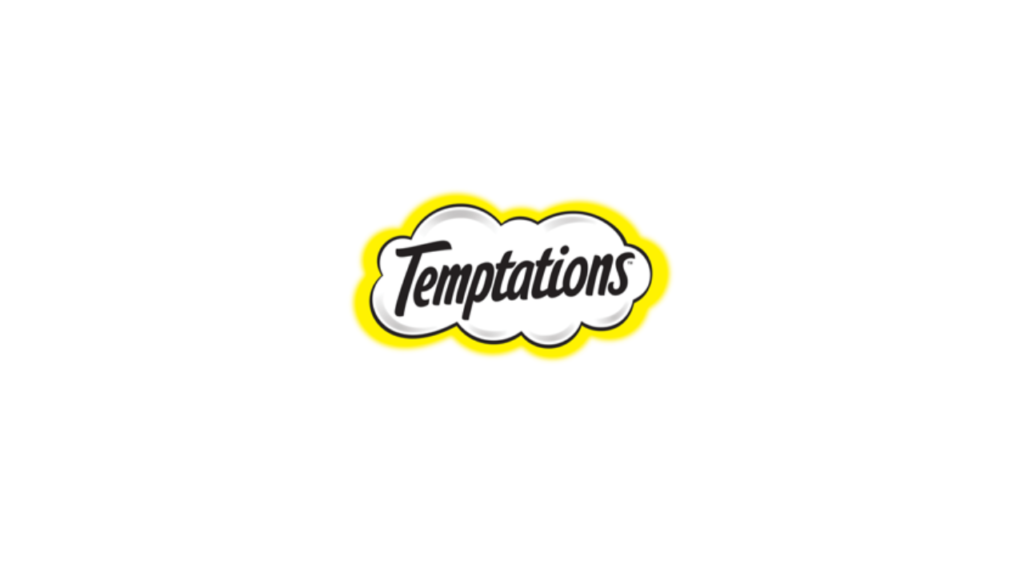 Score: 6.5/10
Bottom Line
Tasty and affordable, but only for occasions.
We did this Temptations cat treats review with our kittens.
Temptations are a hard kibble treat from Mars Petcare.
Here's our review:
The good?
Affordable.
Many cat treats are pricey compared to regular cat food, but not Temptations. One of the best options for a budget price.
The bad?
Hard small kibble.
When I think of cat treats, I'm thinking of something I can hand feed cats.
Small kibble makes it hard to present treats without your hand getting nibbled.
The ugly?
High carb.
Whilst this meets the needs for adult cats as a complete meal, it's high carb content is suspect. At 33%, it's too much for carnivores.
In short:
Temptations are ok for occasions.
Most cats love it, and it's affordable. But the high carb content holds it back.
Best for:
Convenience
Budget buy
Fussy cats
>> Check out Temptations cat treats here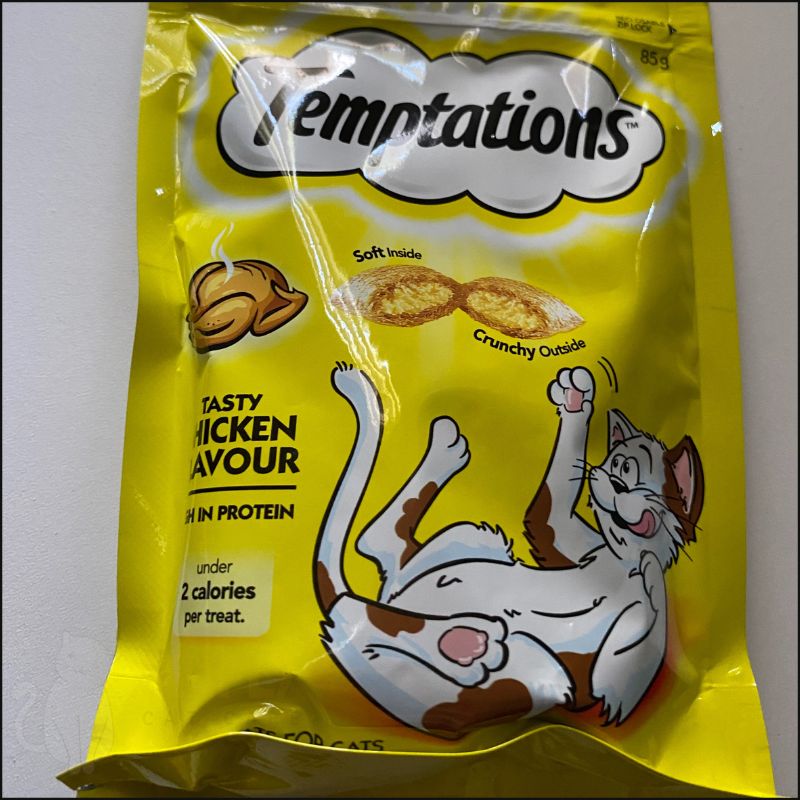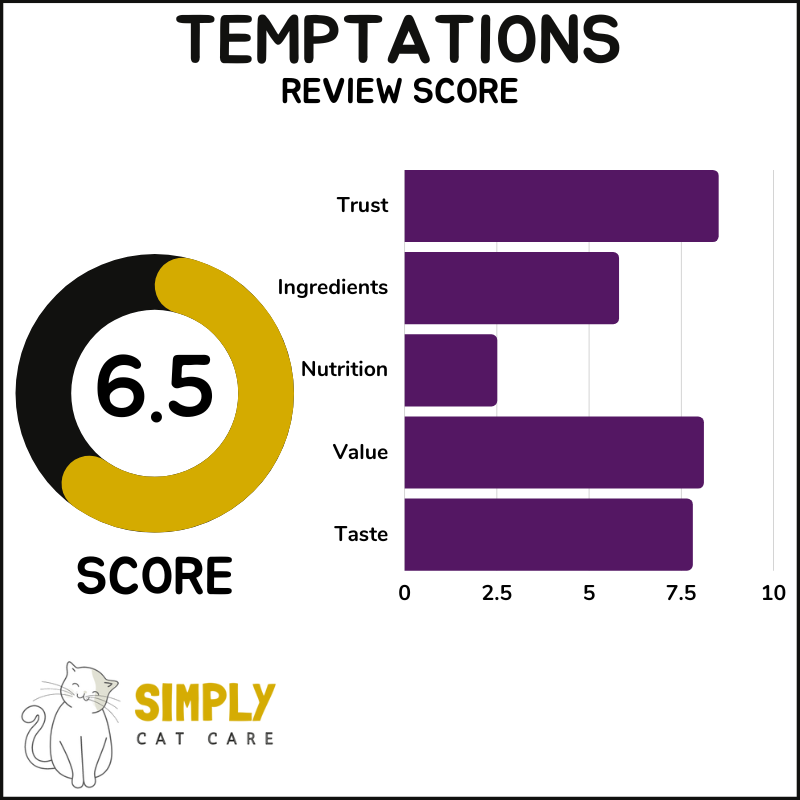 After more info on Temptations cat treats?
In this short Temptations cat treat review I'll go into more detail about this products:
Nutrition
Ingredients
Taste
Trust
Results from testing included.
More below!
I am not a veterinarian and I recommend seeking the advice of a vet for any further questions. This article is not intended as a replacement for medical advice.
Temptations Cat Treats Review
Temptations Recalls
No recalls as of the writing of this article.
I checked the FDA recalls website, which returned no results for Temptations. Nothing showed up on the Petful website either.
In 2016, I customer reported issues with several of her cats getting kidney disease. As it's anecdotal, we don't have all the information about the situation.
About Temptations Cat Treats
Temptations are a Mars Petcare owned brand.
The product is an option for a treat or main meal, suited to adult cats.
Their range of treats include:
Classics (10 flavors)
Kitten (2 flavors)
Puree (3 flavors)
For the purposes of this review, I've looked at the Temptations Classics Tasty Chicken Flavor, as it's the most popular choice.
Note, we taste tested the Australian Temptations products. I've used international product listings to analyze nutrition.
Quick notes:
Mars Petcare owned
Kibble and puree
15 choices
Temptations Cat Treats First Impressions
Stands out.
The chicken flavor comes in bright yellow packaging. It's clear and simple.
The front label clearly shows the flavor in the bag with no distracting words or imagery. The back displays key information that's also easy to read including:
Guaranteed analysis
Statement of nutritional adequacy
Location of manufacture
Ingredients
Customer care line
Overall, the first impression of this product is positive.
Quick notes:
Bright packaging
Clear information
No wild claims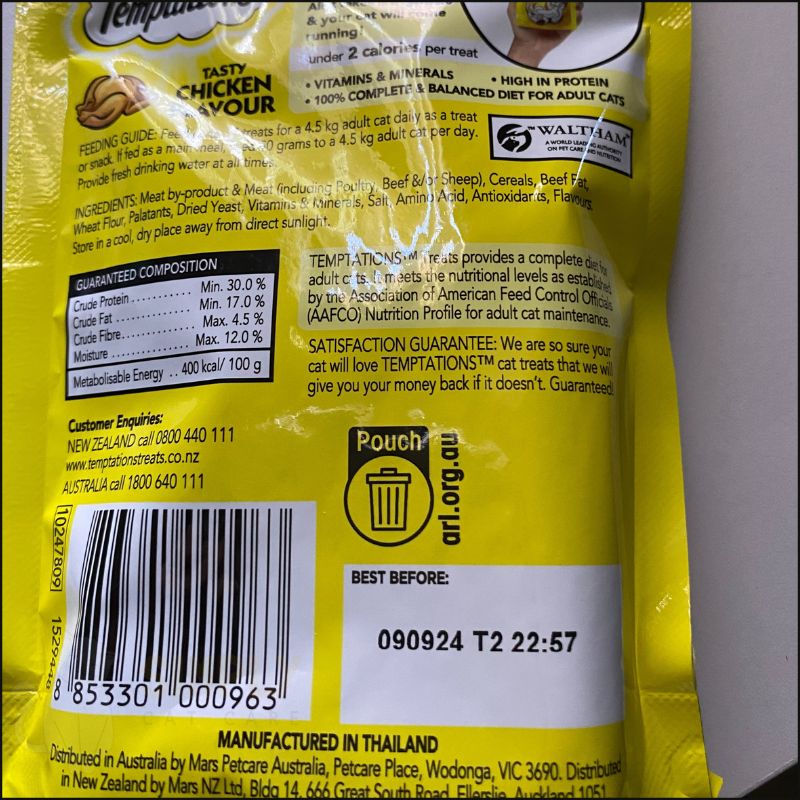 Nutrition
Mediocre.
Protein barely scrapes by at 31%, but adjusting for quality it comes in at 25%. Borderline low based on the 26% target for adult cats.
Beyond that the carb content is 32% which exceeds what experts suggest for cats, as carnivores. Not ideal for blood sugar control.
Limited information on micronutrients, which only phosphate available (1.1% dry matter).
| Nutrient | Dry matter (%) | Target (%)* | Note |
| --- | --- | --- | --- |
| Protein | 31 | 30 | Meets needs for muscle maintenance and energy (barely) |
| Carbs | 32 | N/A | Experts suggest limiting to less than 12% for blood sugar |
| Fat | 23 | 9 | Meets fat recommendation |
| Fiber | 5 | N/A | |
| Calcium | N/A | 0.6 | |
| Phosphorus | 1.2 | 0.5 | |
| Ash | 8 | N/A | |
| Water | 10 | N/A | |
| Kcal/kg | 3,939 | N/A | |
| ME/kg | 4,400 | 4,000 | Calorically dense and can assist in weight maintenance |
A table looking at the nutrition of Temptations Tasty Chicken Treat cat food *target guidelines AAFCO all life stages
Nutrition: 2.5/10
Ingredients
Average
Only two of the first five ingredients are meat based (and that includes chicken fat).
Whilst it kicks off with chicken, a high protein ingredient – the next one is corn. A high carb ingredient that cats don't need.
Brewer's rice and wheat flour also round out the top 5 ingredients. I'd prefer seeing meat by-products higher up the list to boost protein.
Uses the flavor descriptor, meaning the named ingredients are between 0-3% weight.
Learn More:
Ingredient breakdown (top 10):
Ingredient breakdown of Temptations Tasty Chicken cat food with any benefits or drawbacks
Ingredients: 5.5/10
Taste
Pretty good.
I tested Temptations with our kittens who all enjoyed it. No issues here although the small size makes it hard to hand feed.
Beyond that, I tested Temptations vs other cat treats. 1 out of 4 kittens nibbled some, but others had more allure.
Reviews online are positive. Customers report great results with this one.
Other notes:
Small size
Hard kibble
Great taste
Taste: 8/10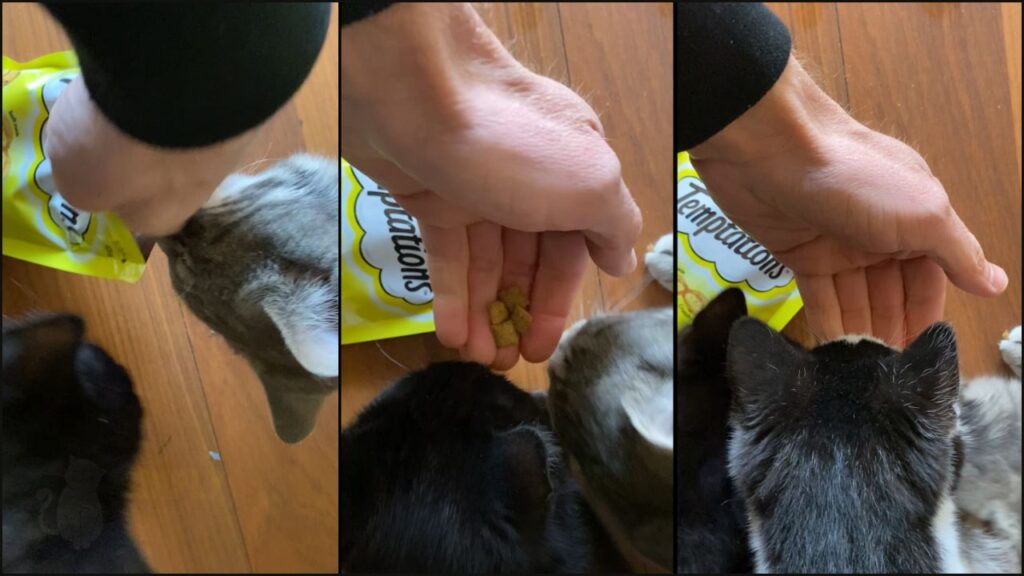 Value for Money
Reasonable.
Temptations falls around average compared to other wet and dry cat foods on the market.
They offer a range of bag sizes. It also makes it easier to try a smaller bag to see what your cat thinks before committing.
Worth it?
Whilst the nutrition leaves a little to be desired, I can't argue with the taste.
As a treat, this product works well. However, as a main meal, I'd consider a higher protein dry cat food (e.g. Orijen).
Similar brands:
Value for Money: 8/10
Frequently Asked Questions
Are Temptations Cat Treats Good for Cats?
An average choice.
Temptations is a complete cat food for adult maintenance. However, due to the high carb content, it's best as a treat.
Can I Give My Cat Temptations Everyday?
Yes.
It's a complete cat food for maintenance. That means it provides all the nutrients adult cats need for health.
However, the quality is lacking. For that reason, I'd limit this option as a treat (some suggest limiting treats to 10% of the diet).
What Is a Better Alternative to Temptations Cat Treats?
Air-dried cat treats.
The quality of air-dried cat food is better, with more animal ingredients. However, the price is much steeper.
Conclusion
Temptations are a tasty treat that most cats enjoy, with a range of options to suit your needs.
They're affordable and suited to the dietary needs of adult cats (1-7 years).
However, the size could be bigger for a treat and the nutrition could be better with more protein.
Best for:
Convenience
Budget buy
Fussy cats
Where to find Temptations Cat Treats?