Disclaimer: As an Amazon and Pet Circle affiliate, I earn from qualifying purchases. This does not impact our reviews and comparisons.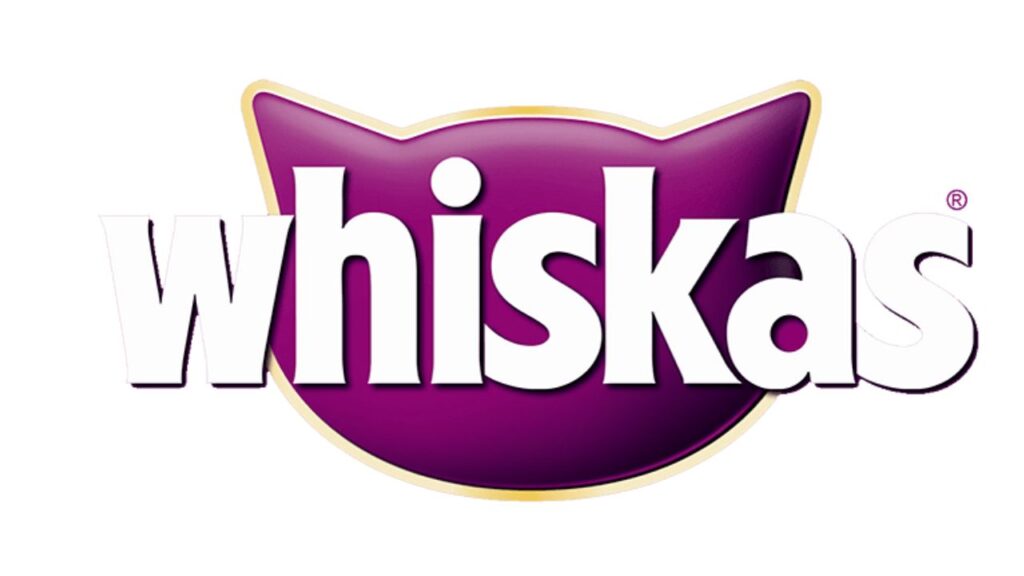 Score: 7.5/10
Bottom Line
A budget wet cat food most will enjoy.
We did this Whiskas wet cat food review with our kitten taste testers.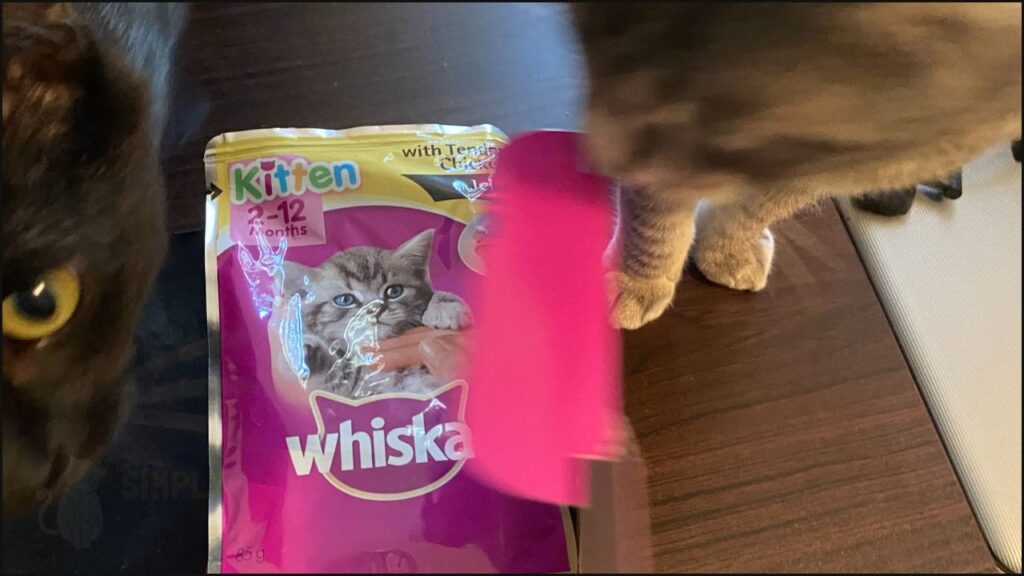 Whiskas is a brand popular in Australia and England. It's an affordable option for kittens and adult cats.
Review summary:
The good?
Affordable.
Hard to beat the price of Whiskas if you're looking for a decent choice at a pinch. There's no carbs loaded in, making it an easier to digest.
The bad?
Vagueness.
Most of the nutrition info is either missing or completely unreliable. Since the product uses meat by-products, it's one of those 'meat of the day' cat foods.
The ugly?
Sloppy and icky.
I tested the mixed favourites for kittens and this thing slides out. That makes it easier to serve, but even the cats had a hard time grasping the slippery morsel.
It also makes me wonder whether the added oil to achieve that effect is great for my cats.
In short:
You could do worse than Whiskas on your cat food shopping.
Yes the quality is essentially whatever bits and pieces they can put in the tin. But meat is meat, and that's what cats need as carnivores.
It's affordable, and our kittens approved. On a budget, it's worth a look.
Best for:
Budget buy
Fussy eaters
Kittens or adult cats
>> Check out Whiskas wet cat food here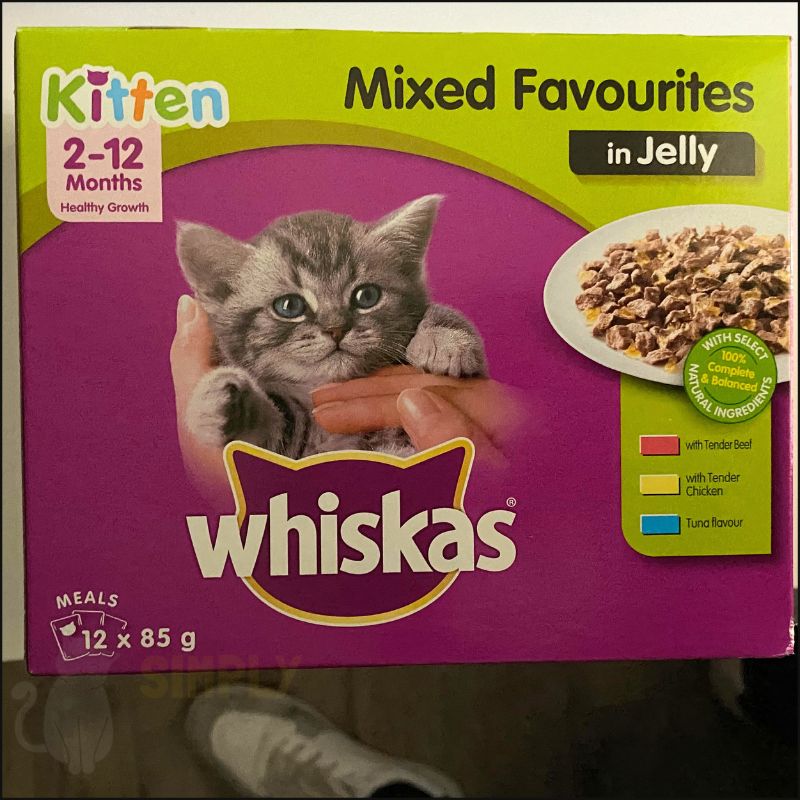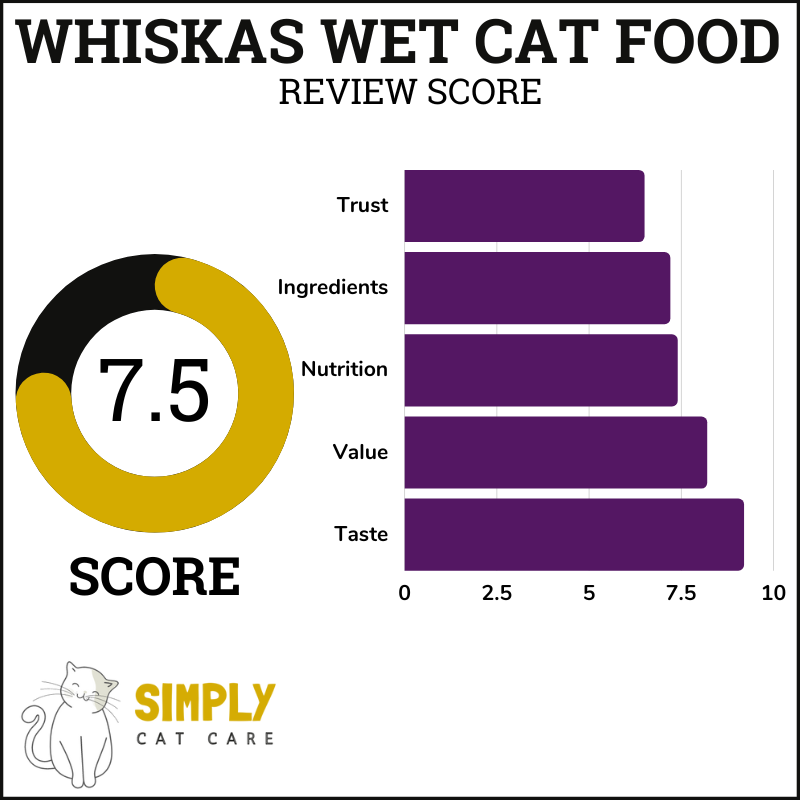 After more info on Whiskas wet cat food?
In this short Whiskas wet cat food review I'll go into more detail about:
Nutrition
Ingredients
Taste
Value for money
This will hopefully assist in figuring out if Whiskas is the right product for your needs. The article includes results from product testing.
For this review I've looked at Whiskas Kitten Mixed Favourites in Jelly. This may not reflect the quality of similar products in the range.
More below!
I am not a veterinarian and I recommend seeking the advice of a vet for any further questions. This article is not intended as a replacement for medical advice.
Whiskas Wet Cat Food Review
About Whiskas
Whiskas are a company founded in 1958.
They're owned by Waltham Petcare Institute, a subsidiary of Mars Petcare. Whiskas replaced the Kal Kan brand in the 80's.
Products vary from region to region. Whiskas offer wet and dry cat food as well as supplements like milk.
Whiskas First Impressions
Bright and clean.
Front label:
The front package stands out with contrast between purple and green. It's clear what I'm getting in the box, and what lifestage this is for (2-12 months).
Quick notes:
Clear lifestage information
Shows amount (12 x 85g)
States it's complete and balanced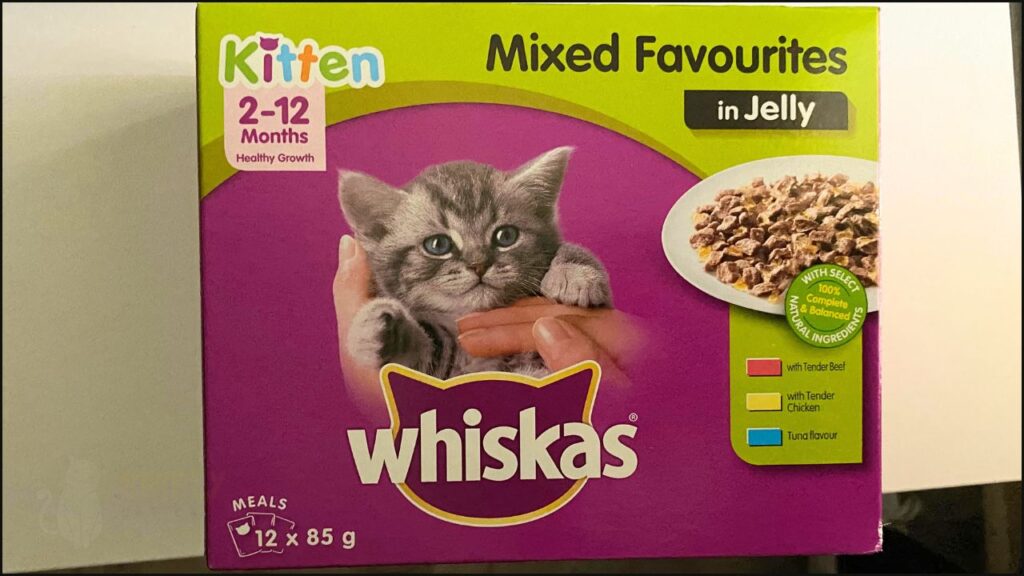 Sides:
Has a statement of nutritional adequacy, which is good. Instructions are easy to follow and there's tips for food transition.
Lacks nutrition info, only showing crude protein and fat. The ingredients are the same for each flavor (a little vague).
Quick notes:
Statement of nutritional adequacy
Easy to follow
Vague nutrition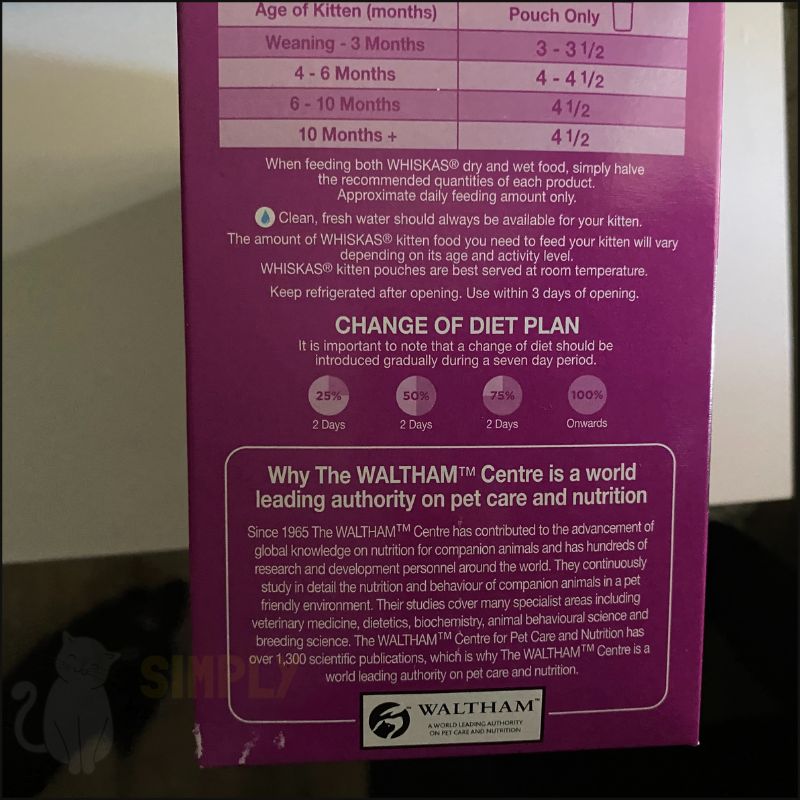 Back:
Includes a little marketing spiel on the back. Nothing outrageous in terms of claims.
They do say 'natural defense support' which they attribute to the antioxidants (they indeed add vitamins and minerals). State their product is small and easy to eat.
Quick notes:
No wild claims
Easy to read
Clean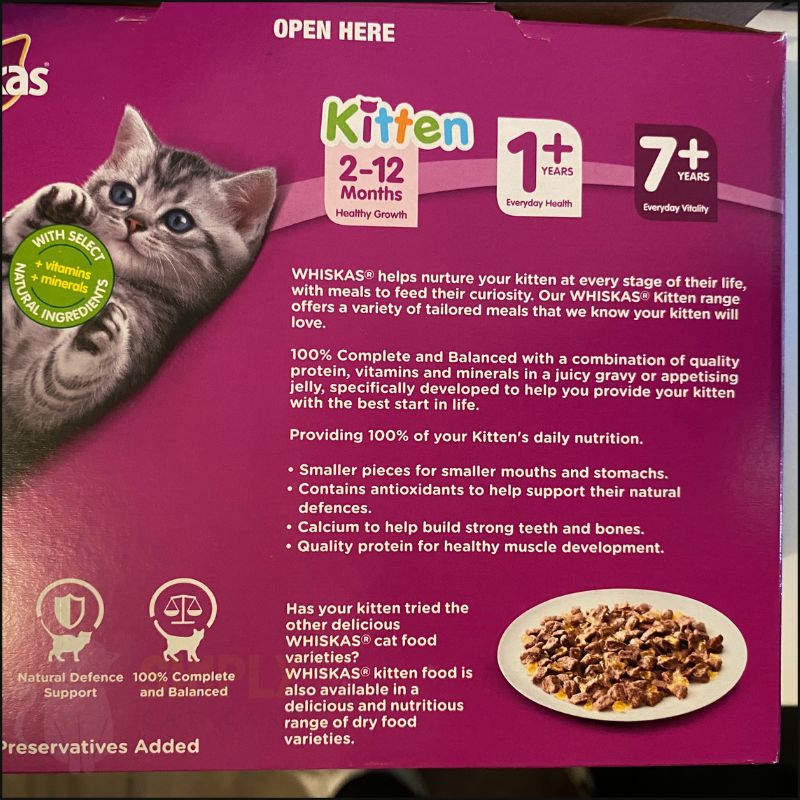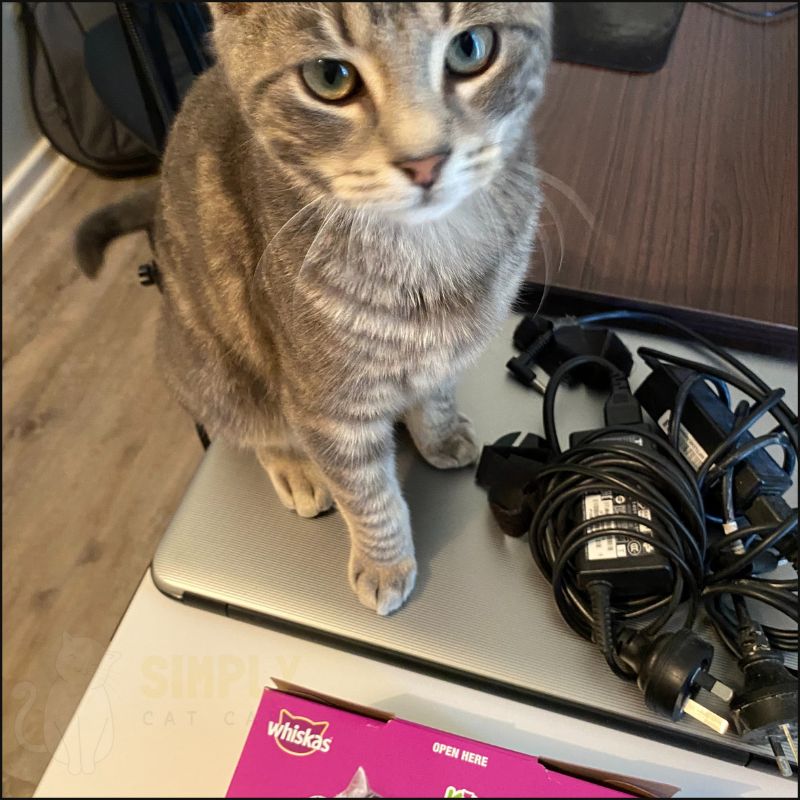 So far, things are looking pretty good for Whiskas, despite the vague nutrition and ingredients panel.
Let's talk about that…
Nutrition
Hard to know.
Whiskas only include information on calories, crude protein, and fat. Plugging that in with market averages gives me a carb content of 34% (dry basis).
That's high, but didn't seem right – given there's no grains, sugar, rice or carb rich food in the pouch. So there's just not enough information here to make a judgement.
Instead I defaulted to market average for analysis, but deducted points for vagueness. Whiskas meets AAFCO's nutrition guidelines as a complete meal for growth (<1 year).
Quick notes:
Lacks info
No added carbs (assume low)
Complete and balanced
Nutrition (Dry Matter Basis)
Protein: 58%*
Carbs: 3%*
Fat: 22%*
Ash: 12%*
Fiber: 5%*
Calcium to Phosphate Ratio: N/A
Energy: 650 kcal/kg
*Estimated based on market average for wet cat food
Nutrition: 7.5/10
Ingredients
Generic.
The first 2 ingredients are meat based, but declare a mish mash of possible parts (chicken, beef, sheep, and/or pork). Meat of the day type situation.
They use cereal protein, a low quality protein. How much isn't clear due to the 'with label' (3-25% of the named ingredient).
More analysis:
| Ingredient | Quality | Note |
| --- | --- | --- |
| Meat by-products & Meat (including Chicken and/or Beef and/or Sheep and/or Pork) | B+ | High protein and nutrient dense, but vague |
| Binder (Cereal Protein and/or Beef and/or Sheep and/or Pork) | B- | Cereal protein offers low quality protein |
| Flavour | N/A | Improves taste |
| Gelling Agents | D | Gums & carrageenan which can irritate digestion |
| All Essential Vitamins & Minerals | A | For complete nutrition |
| Vegetable Oil | D | No nutritional benefit & not palatable |
| Colouring Agents | N/A | No benefit |
| Taurine and Antioxidants | A | Taurine required for heart and eye health |
Whiskas Kitten Mixed Favourites in Jelly
ingredient analysis
Ingredients: 7/10
Taste
Good.
I tested Whiskas side-by-side with our kittens favorite food (Felix). This was to try get a fair comparison (I also tested it by itself).
Our kittens enjoyed both, but finished Whiskas first. The slippery texture makes it easy to slide out the pouch, but hard to chew.
Product Test: Whiskas Kitten Favourites in Jelly (1 x 85g pouch)
Comparison: Felix Kitten (1 x 85g pouch)
Amount Eaten: 100%
Cats: 3 (age 6 months)
Time to Finish Eating: 1.5 minutes
Food Appearance: Meaty and slippery
Smell: Faint cat food smell
Here's pictures of the product test: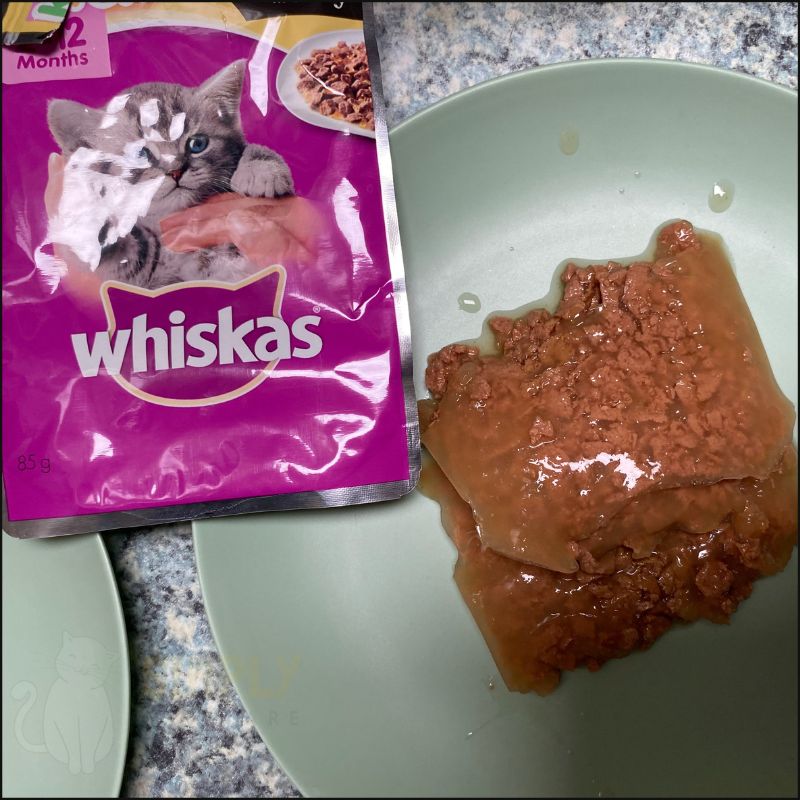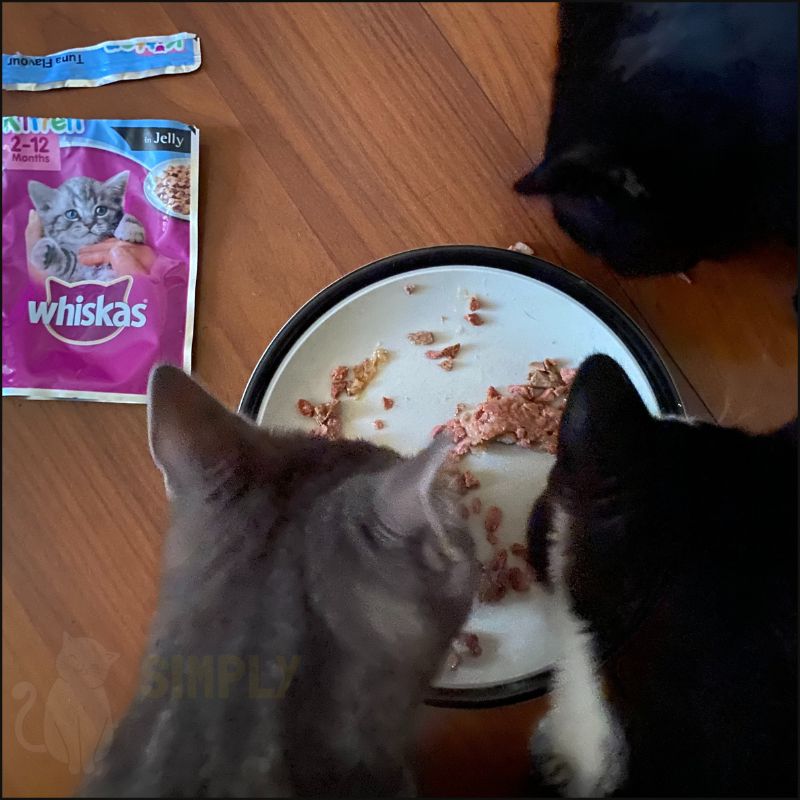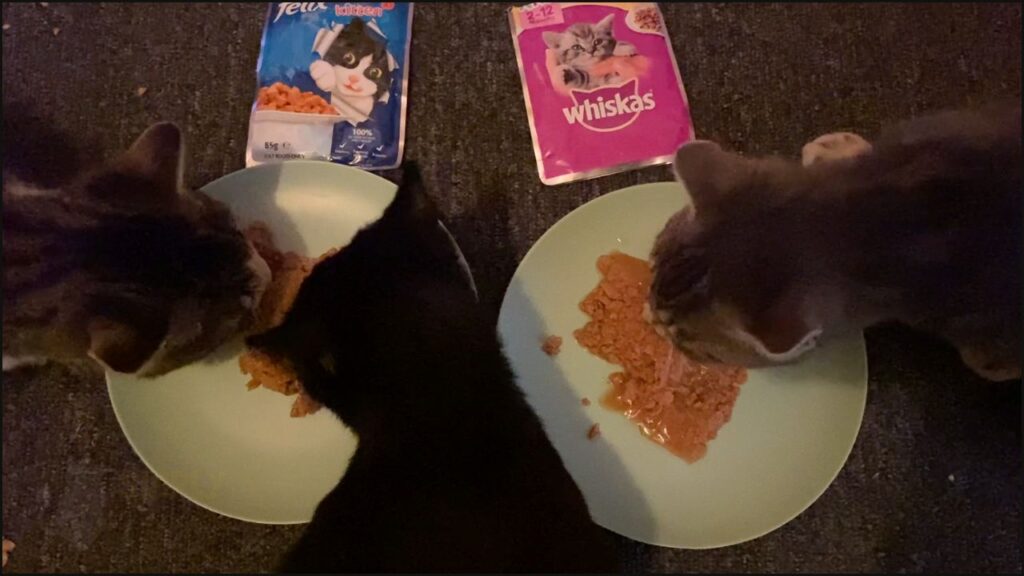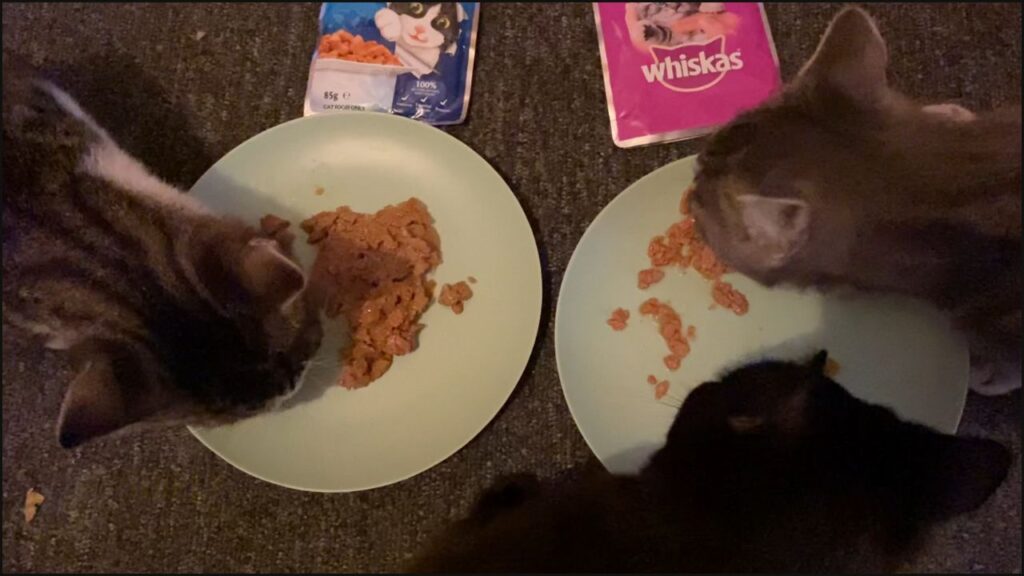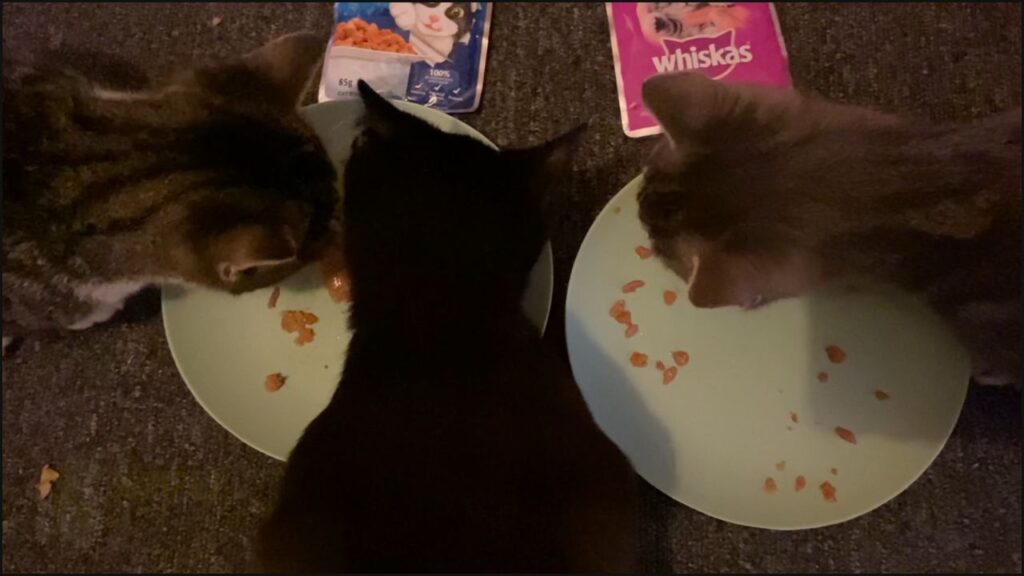 Taste: 10/10
Value for Money
Great.
As far as wet cat food goes, there's not much better on the market.
They also offer 60 x 85g packs online which can save if buying in bulk.
Similar choices:
Value: 8/10
Frequently Asked Questions
Is Felix or Whiskas Better?
Both are similar.
I compared the two side-by-side and our kittens enjoyed both. Similar price too.
You'll find more info on Felix nutrition, which I didn't get from Whiskas. That puts Felix a little ahead.
What Is the Most Recommended Wet Cat Food?
Felix.
I chose this as it's affordable and most cats love it. The product is low carb for easy digestion.
Learn more:
Is Whiskas Wet Food Good for Cat?
Yes.
It's a complete meal, meaning it offers the full range of nutrients cats need. It's rich in meat (albeit from a mix of by-products).
As a long-term choice, the added ingredients (e.g. vegetable oil) might not be optimal, but it's hard to quantify that.
Learn more:
How Much Wet Food Should a Cat Have Daily?
Depends on the lifestage.
Whiskas offer feeding guidelines on the bag to help you decide how much to feed.
To get a more precise feeding amount, use an online calculator.
Learn more:
Do Vets Recommend Wet Cat Food?
Most do.
Advice varies depending on education. Since cats are carnivores, their diet is comprised of prey (e.g. mice).
Wet cat food best matches the dietary needs of carnivores. It helps keep cats hydrated.
Learn more:
Conclusion
Whiskas wet cat food is an affordable choice that offers complete nutrition.
Our cats enjoyed the taste, and it's rich in meat (albeit from a mish-mash of by-products).
However, the lack of nutrition information is of concern. Food quality looks a tad icky.
Best for:
Budget buy
Fussy eaters
Kittens or adult cats
Where to find Whiskas wet cat food?
Read more: