Honest Black Hawk Cat Food Review
Disclaimer: As a Chewy and Amazon affiliate, I earn from qualifying purchases. This does not impact our reviews and comparisons.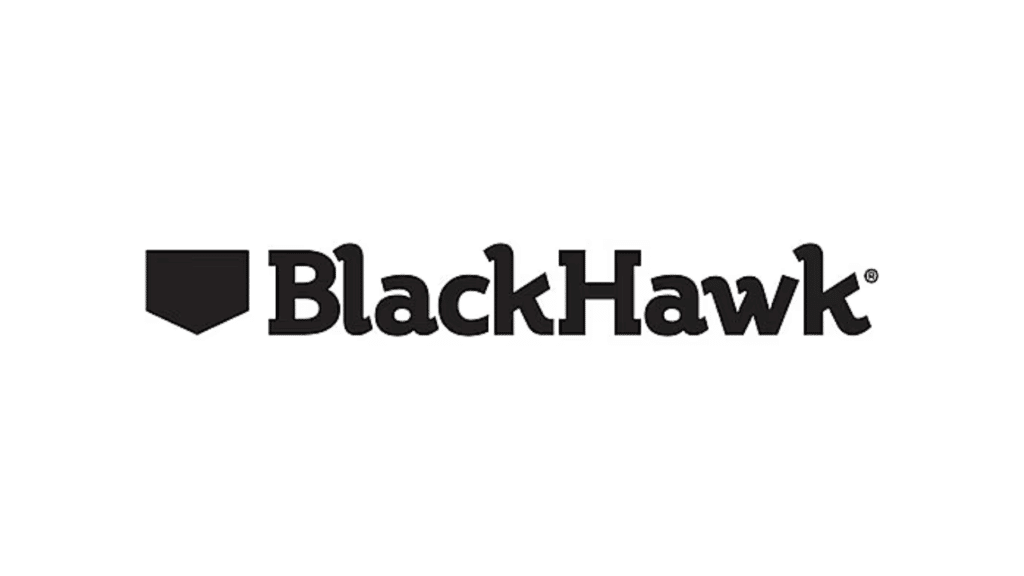 Score: 6.5/10
Bottom Line
A brand that a had high hopes for, but doesn't quite hit the mark for cats.
Black Hawk is an Australian and New Zealand owned pet food brand that offers wet and dry cat foods. They source their products from Australian meat and vegetables, promising quality.
In this Black Hawk cat food review, I'll find out whether this cat food is the best choice for you. I'll cover nutrition, ingredients, taste, and answer frequently asked questions on the brand.
Does this brand live up to the hype?
I am a cat enthusiast and independent researcher. The goal of this website is to help cat owners learn more about taking care of their cats. I am not a veterinarian. The advice in this article is not intended as medical advice.
Black Hawk Cat Food Review: A Short Summary
Unfortunately, Black Hawk is a cat food that loads up on carbs. Our cat turned his nose up quickly when served Black Hawk wet cat food.
It turns out their wet food uses a lot of peas, a high carbohydrate plant based food source. Whilst I did find their customer service responsive, I think the products could use work.
In this article, I'll break down the products in Black Hawk's cat food range. I will compare the following:
Ingredient quality
Nutrition
Taste results from testing
Finally, I'll go over some frequently asked questions about Black Hawk cat food.
Black Hawk Cat Food Ingredients
This cat food has mediocre ingredients. Whilst they include chicken as a first ingredient, there's a lot of peas, an ingredient cats don't benefit from.
Here's a look at the ingredient list for the Chicken with Salmon Mature 7+ wet cat food product.
Chicken, Peas, Chicken Broth, Plasma Protein, Salmon, Ocean Fish, Egg Powder, Fibre, Essential Vitamins & Minerals, Guar Gum, Carrageenan, Salt, Locust Bean Gum, Caramel, Xanthan Gum, Taurine, Emu Oil, Fish Oil, Glucosamine HCl, Chondroitin Sulphate, Cranberries, Blueberries, Coconut, Pumpkin, Dried Kelp
Since this label uses the 'with' descriptor, it means the amount of salmon ranges from 3-25%.
Whilst the first ingredient is chicken, peas come next. By the process of elimination, it's clear that the amount of peas in this food is going to be high.
Aside from this there's gums and carrageenan. I've talked about carrageenan in cat food in this article. It's a thickener linked to some nasty health problems (although speculative).
There's also some ingredients down the list that don't benefit cats. This includes
Cranberries
Blueberries
Coconut
Pumpkin
Dried kelp
Dried fruit like cranberries is high in vitamin C.
Cat's don't need vitamin C. This nutrient can contribute to urinary tract blockages.
Coconut contains medium chain triglycerides. Cats don't prefer the taste of these types of fats, instead liking animal fats like tallow.
Pumpkin offers beta carotene. Unfortunately, cats cannot turn beta carotene to the usable form of vitamin A in retinol.
This isn't the worst list of ingredients you'll ever see, but there's too much doggy stuff cats don't need.
This problem happens a lot in the pet food industry, where the lines get blurred.
Dogs are omnivores, whilst cats are strict carnivores. Whilst these ingredients benefit dog foods, they don't hold up for a cats needs.
Get rid of some of the doggyness of this cat food and this food would be much better.
Note: I take into account relative weighing of ingredients based on the labelling words (e.g. recipe, dinner) as these words equate to different quantities of food. Read more about what that means over in my cat food labelling guide.
Below is our grade for Black Hawk ingredient quality.
Learn more about the ingredients in Black Hawk cat food on their website.
Ingredient Quality Grade: C
Black Hawk Cat Food Nutrition
Unfortunately the nutrition of Black Hawk cat food doesn't hold up. The carbohydrate content is over 20% on all products.
On the bright side, all Black Hawk cat food products meet the AAFCO nutrition requirements for life stages. This means the foods are suitable for kittens, adults, and senior cats.
When given the choice, cat's choose food with around 52% protein, 12% carbohydrate, and 36% fat. Our analysis shows Black Hawk cat foods are a bit higher in carbohydrate than optimal.
Important thing to keep in mind is this food says it's grain free. Just remember that grain-free doesn't always mean low carb.
Here is the nutrition information from our selected product for this review
| Black Hawk cat food | Type | Suitable for | Protein* | Fat | Carbs | Fiber | Ash | Taurine | Calcium to phosphate ratio | Kcal/kg |
| --- | --- | --- | --- | --- | --- | --- | --- | --- | --- | --- |
| Black Hawk Chicken With Salmon | Wet, Jelly | All life stages | 40.0% | 20.0% | 25.0% | 5.0% | 10.0% | N/A | N/A | 795 |
Black Hawk cat food nutrition analysis *dry matter basis
Nutrition Quality: C-
Black Hawk Cat Food Taste
There aren't many online reviews for Black Hawk cat food, being a newer product. Reviews are somewhat positive though on Pet Circle.
Unfortunately our cat taste tester Oscar didn't enjoy this product and turned his nose up half way in. This was one of his least favorite foods, sadly.
My guess is the high pea content (which raises the carb level) contributed to the lackluster taste.
Here are the results of our taste testing:
Food Test: Black Hawk Mature 7+ Chicken with Salmon
Amount eaten: ~50%
Time to finish eating: 1 minutes 20 seconds
Food appearance: Gelatinous and looked very jelly like in appearance
Smell: Unpleasant smell
Here is a short video of Oscar the cat trying this cat food: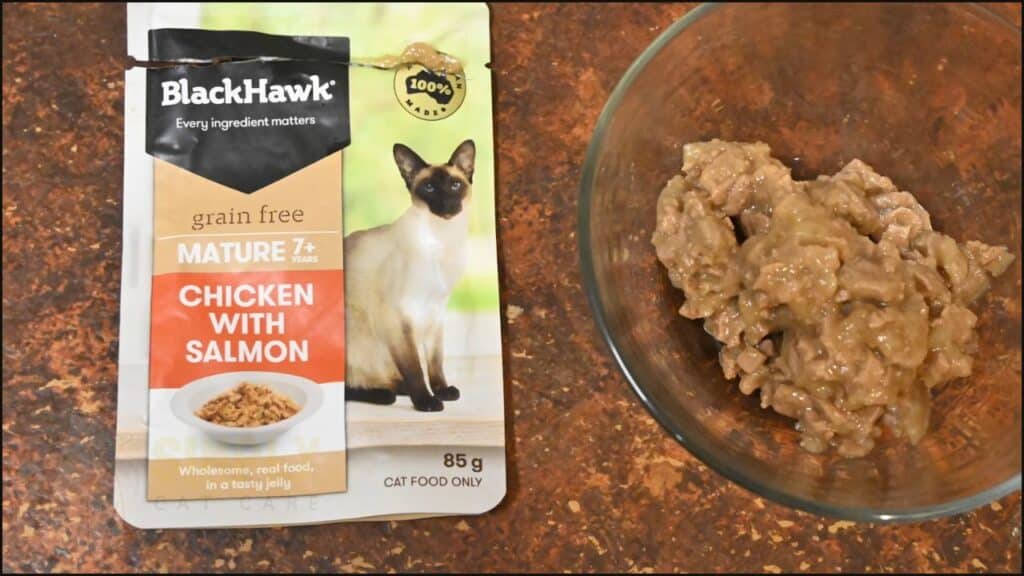 Here's our score for taste:
Taste Score: C-
Frequently Asked Questions
Are There Any Black Hawk Cat Food Recalls?
To date there has been two recalls of Black Hawk dog food in 2018 and 2020.
The 2018 recall was due to a problem with bloody diarrhea, whilst the 2020 recall was due to mold.
There are no recalls of any cat food products as of the writing of this article.
Who Makes Black Hawk Cat Food?
Black Hawk is an Australian and New Zealand company, owned by Masterpet.
Masterpet also owns cat litter brand Trouble & Trix, as well as a health insurance brand. The company was founded in 1954, and is a publicly owned company.
What Are the Top 5 Healthiest Cat Foods?
For Australian cat owners, here are the healthiest cat food brands. They meet a cats dietary needs, are low in carbohydrate, and high in animal protein.
You can read more about these cat foods, by checking out my reviews below.
Learn More:
Conclusion
Black Hawk is a promising cat food brand that falls short in nutrition quality and taste. Our cat didn't enjoy his serve of Black Hawk wet cat food.
Whilst this isn't the worst cat food brand on the market, it could definitely be better. If this food lowered the carbohydrate and cut out peas, it might be a winner.
Looking to try some new cat food? Here's $10 off at Pet Circle's online cat food store!